If you've been hunting for a great pair of welding boots then you've probably been amazed to see how many pairs there are that claim to be the perfect boots for your work.
I understand how confusing this can be.


It's fair to say that you have a huge number of options and they all claim to be right for you and for your feet. Of course, they can't all be the best and I've tested dozens of pairs to come up with 10 work boot choices that won't let you down while you work.
I wanted to make certain that you'd find a comfortable pair of boots that always keep your feet completely safe and that's what you've got in my list.
So, let's take a look at the top picks from my research and then take a look at the qualities that make up the perfect boot for your needs.
Best Welding Boots Comparison Table
Our #1 Timberland PRO Men's 53530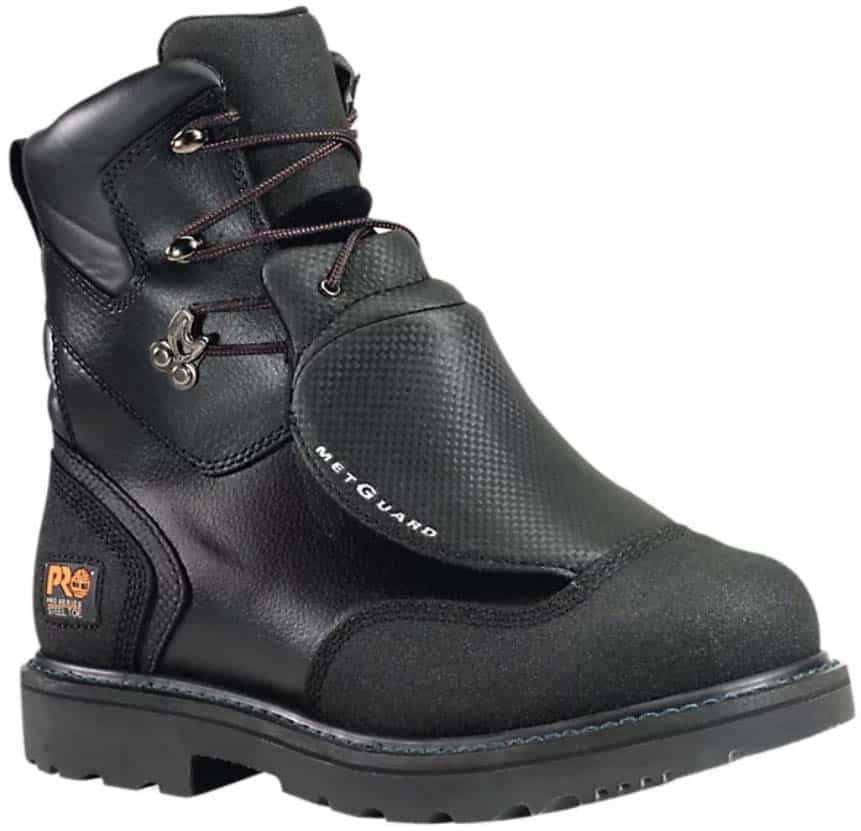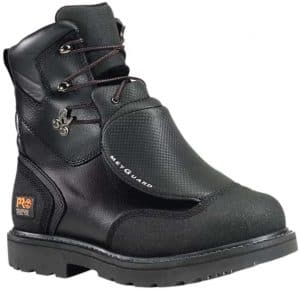 There are no bad welding boots in my top 10 but my favorites were the Timberland Pro Men's 53530 boots.
They're 100% leather with a solid rubber sole.
I really like the mid-cut boot and the Everguard Waterproof Leather Upper is essential if you're going to be working outdoors at all in your boots. These are solidly made too with Goodyear welt construction and Kevlar thread.
Of course, they meet ASTM safety standards and I felt that they'd resist almost all impacts and threats without ever slipping or feeling awkward. They're the best boots that I tested for these reasons.
Best Welding Boots Review
1. Timberland Pro Men's 53530
It's my top choice of boot for a reason. I've found several people who've bought these welding boots that swear they last for a couple of years!
These boots are made for welding and the biggest selling points are the Everguard leather upper with the Goodyear welt construction, the closed-cell PU footbed which is just so comfortable to stand on, and the fact that they are fully ASTM compliant.
I'm not sure that the met-guard will go for a full 2 years, mind you, but maybe I'm just more clumsy that you're average welder? Steel toe welding has never been so comfortable and with a solid range of safety features, these are the absolute sweet spot on my review list.
Pros
Metguard steel toe
100% leather
ASTM compliant
Kevlar thread
Durable and resistant to oil, slip and abrasion resistant
Cons
Heavy
Not very breathable
2. Dr. Marten's – Men's Icon
These boots are one of the best-recognized brands on the market and welding in these work boots is always a pleasure. They are in a classic Wellington pull-on style and are excellent for shock absorption in an impact.
They offer an excellent level of slip resistance. The full grain leather construction is very comfortable and the boots still offer real stability and durability. The PVC midsoles are easy to stand on all day long and I really like the padded ankle support.
The only downside is that the steel toes aren't abrasion resistant. For some reason,. they use a standard leather over the cap and you may find, as I did, that your caps are quickly exposed. This isn't dangerous, mind you, and the toe protection is not affected but it doesn't look great.
Pros
Steel-toe
Meant for heavy-duty industry
Anti-slip features
Ankle bone protector padding
ANSI and OSHA approved
Cons
Leather over the steel-toe cap does not hold up well
3. Wolverine Men's Legend 6 Inch Waterproof Comp Toe Work Shoe
The big differentiator with the Wolverine steel to boot is the Durashocks system which combines a rubber outsole, a PVC midsole, and a cushioned insole to make them among the most comfortable boots to wear on the market.
If you want your welding boots to be ultra lightweight, then you might want to consider these. However, this seems to come at a price of longevity – I doubt these work boots would last much more than a year, particularly, if they're being used outdoors.
Until then though, they'd keep your feet safe enough, though the metatarsal guard doesn't feel particularly substantial. They are slip resistant and these boots are solid choice for someone who uses a welding torch occasionally, as some construction workers are likely to do.
Pros
Fully made of leather
Comfortable and flexible
Composite cap
Slip resistant
Cons
Price
Not really durable for heavy work
4. Ariat Men's Sierra Wide
The best welding boots if you want a cowboy-styled work boot will be the Ariat Men's Sierra Wide boot. I'm not sure that leads to a solid metatarsal guard, mind you, and if you work mainly with very heavy items – then another steel-toe boot might be a better option.
However, the steel shank shaft in this full grain leather construction and design means these welding work boots are very solidly built. They will protect your feet in most circumstances. The steel toes caps fit well to my foot and never rubbed or felt uncomfortable.
The rubber outsole is hard-wearing and the polyurethane footbed shapes naturally to your sole. One welding professional challenged the idea that these boots are completely waterproof though and strongly recommended that you stick to a dry environment in these welding boots.
Pros
Made in USA
Steel-toe cap
Provide comfort of high magnitude
Durable
Completely made of leather
Slip and oil resistant rubber
Stylish
5. Irish Setter Men's 83906
Another one of my best welding work boots is the Irish Setter Men's 83906. They're very stylish and these boots also a comfortable mesh lining which ensures they stay "Ultra Dry".
The padded collar at the neck of the boot means that it won't rub against your shins as you go about welding work. The steel-toe caps provide a solid layer of protection and even when I dripped molten metal on the once, they held up fine.
They are at quite a high price point, however, much of the cost is probably in the waterproof membrane system which does provide exceptional water resistance, you might want to weigh up how this is worth to you before committing to purchasing but I felt that they offered good value for money.
Pros
Very comfortable
Durable
100% leather
Steel cap protection
Great water resistance
6. Timberland PRO Men's 53522
This Powerwelt Wellington Boot style set of work boots is another great choice for welding work boots. They will take a fair amount of abuse and the welt construction, in particular, is excellent.
The upper is made of Ever-guard leather which is important because Ever-guard leather is both heat resistance and designed to be 10 times stronger than ordinary leather uppers.
I found they offered a decent comfort level but weren't quite as comfortable as my top pick.
After a day of wearing them, my leg muscles felt good though and there was no real strain on my legs as they're pretty lightweight. I would like to see a little more ankle padding though as the ankle feels just a bit weaker than it ought to be.
Pros
Durable
Comfortable
Made fully of leather
Steel-toe cap
7. Thorogood Men's GEN-FLEX
The Thorogood contribution to my list of welding boots is a pair of boots that is designed to stand up to almost any conditions. However, I am never entirely convinced by a composite safety toe and it's a bit of a let down on what is an otherwise excellent boot. I just prefer steel toe welding boots.
These boots will stand up to chemical spills though and the rubber sole is very well built. If you think abrasion resistance is essential while you're on a welding project then these welding shoes won't let you down.
I liked the overall level of support that they provided too but I have to note that many users complain that the waterproofing on these boots just doesn't hold up over time.
Given that these are quite expensive – I think that there are probably better boots out there unless you really fall in love with the Thorogood's style.
Pros
Made of leather
Good abrasion resistance
Comfortable
Cons
Expensive
Not durable enough
8. Caterpillar Men's Revolver
The Caterpillar Men's Revolver ins one of the greatest options that I've had the privilege to try for these reviews. I really like the style of these boots and found them to be really easy to pull on and off without losing too much grip (my preference is for laces which these don't have).
The nylon mesh lining plus a Pu sock liner and a removable footbed made the sole feel like it wasn't there. This is a big deal when you want comfort as you work.
The boots meet ASTM standards as you'd expect and they're designed to stand up and be counted in the face of a very wide range of safety hazards. The steel toe cap is also very good.
The full-grain leather upper is very durable and heat resistant. The only thing missing is some Kevlar stitching but it doesn't seem to have a big impact on the overall performance of the boots.
Pros
Good price
Durable
Comfortable
Steel toe protection
Made of full grain leather
Cons
Doesn't have kevlar stitching
9. Dr Martens – Men's Ironbridge Met Guard Heavy Industry Boots
The Dr Martens Men's Ironbridge MG boots are the best welding work boots if the met guard is your top priority. The Ironbridge MG ST system seems capable of tacking the heaviest loads dropped on your feet without breaking them.
The steel toe caps are also some of the most solid-feeling of any toe caps that I tried. While they will definitely keep feet safe, all that extra engineering comes at a price of comfort and they are a bit more awkward to wear for a full day than some of my other boots on the list.
The boots feature excellent hazard insulation and if you deal with tough work conditions then it's possible that the Doc Martens are the best choice for your welding job.
Pros
Metguard steel toe boot
Durable
Great for really tough working conditions
Cons
Expensive
A bit less comfortable
10. Michelin Men's Sledge Steel Toe Metatarsal Guard Boots
If money's no object then these steel toe cap boots from Michellin might be your cup of tea. The boots are built from waterproof leather, and as you'd expect they come with a prominent metatarsal guard.
However, once again the metatarsal guard seems to have come at the cost of both comfort and, in this instance, style. I do like the lace-up design and the full-grain leather construction is good as are the rubber soles.
The laces just seem to wear out a lot and while they are lightweight, they're just a little awkward. I don't think you'll have problems if you wear these all day long but you might want to be certain that this is the design you want before you buy.
Pros
Steel toe met guard
Comfortable
Durable
Made of waterproof leather
Cons
Price
A bit awkward to wear
Welding Boots Buying Guide
It's important to understand that not all work boots are made for welding and you really do need to check out all the features of work shoes before you decide whether they're suitable for the task.
The Comfort Factor
You don't want to compromise on comfort, the best work boots are going to keep your feet comfortable all day. This is the most desirable characteristic from the wearer's perspective.
This is influenced by how much the boots weigh, how the material feels against your feet, and the quality of the inner sole that supports the foot.
In general, the lighter the boot, the better but there are some really cheap boots out there that won't protect your feet and which are very light. Avoid these, if they don't keep you safe, why bother?
The overall material ought to be soft and supple and there should be no hard outcropping seams that push against your feet as you work. You definitely don't want pressure sores – they're no fun.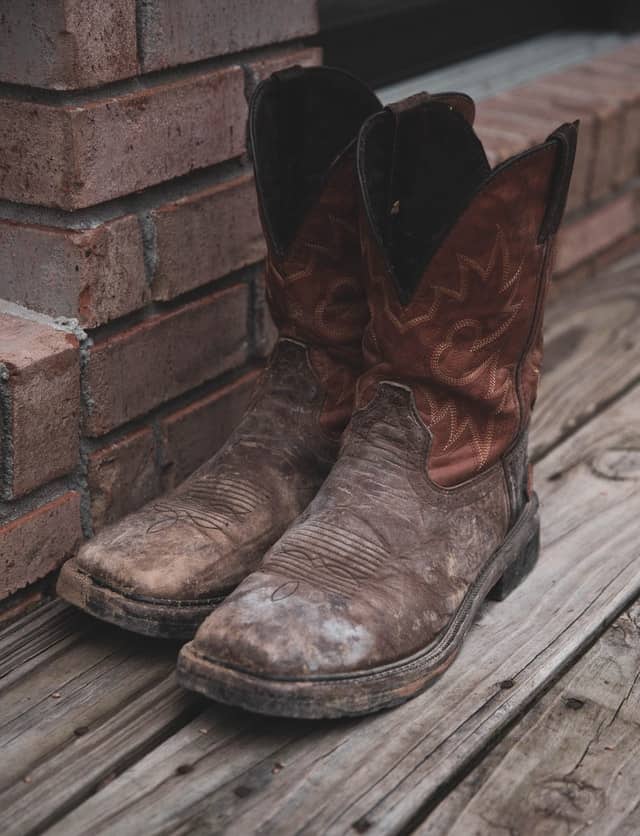 You also want to check out the arch support and make certain that they're soft and malleable to prevent both injuries and blisters from the footwear.
Resilience – They Have To Last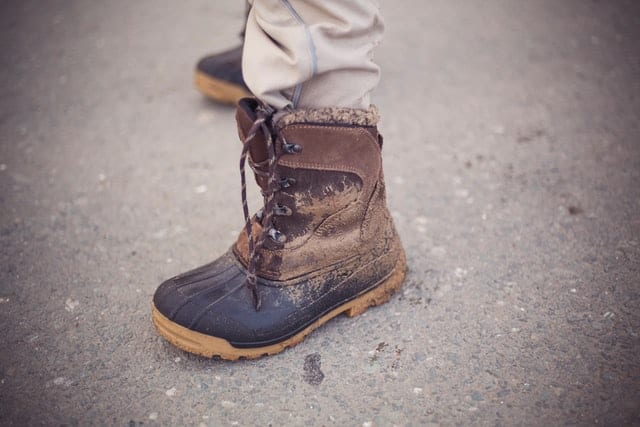 Your work boots need to be capable of standing up the rigors of the working environment. You want a thick rubber sole, a durable material (such as leather) and high-quality Kevlar stitching to ensure they last.
Even the most careful welder is going to cause some damage to their boots over the years as they work with both sharp metal objects and in extreme heat conditions.
However, you want your work boots to stand up to these things for as long as possible.
Protection – The Main Event
You need protection from your boots and the toe caps that you choose matter. The tradition is, of course, to go with a steel toe cap but it's worth noting that while there are other reinforced toe options out there, I'd recommend that you stick with a steel toe boot.
Full-grain leather offers the best protection for the rest of your feet and you want boots that fully cover the ankle as it's all too easy to injure an ankle while you work.
Once you're positive that you've got a pair of boots that will keep your feet safe, you want to examine the options for slip resistant soles because it's all too easy to go flying in welding boots.
If your workplace might expose you to heat, electrical, chemical, etc. risks – you should take that into account while you choose your work boots too.
Style – Because Fashion Isn't Irrelevant
You can choose a work boot from an incredible range of styles and this really boils down to personal preferences. However, as you're going to be wearing these boots – we think that the style is likely to be a major influence on your choice.
One thing that I'd note is that a pair of work boots that are fully laced will be easy to slip on and off when your laces are loose but they will provide the best level of support when the laces are done up.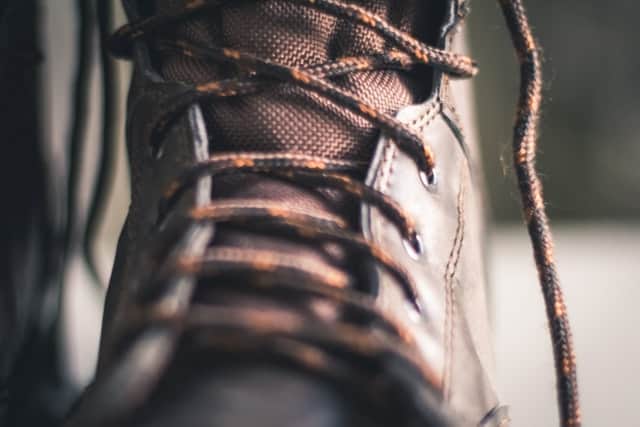 On the flip-side laces are often easily damaged and they can take longer to put on. The alternative is a pair of work boots that slips onto your feet. You won't need any laces for these and they can be very easy to get back on when you're in something of a hurry but they won't ever give quite the grip that laced boots do when you're wearing them. If you do go this way, try to spend a bit more on your boots – this will help ensure that they grip your feet effectively.
Size – Something To Keep An Eye On
It's much easier to buy boots online than it is to get them in a store but it does help to pay close attention to the size guide they provide in order to get the best fit for your feet.
Remember that a steel toe boot will not wear down to become more comfortable over time and that if you receive the wrong size, you should swap them out immediately.
Catterpillar Revolver has a reputation for providing larger than average welding boots but make sure to check out the reviews online to be certain of your chosen boot's size.
Frequently Asked Questions
How Do I Know If My Boots Are Metatarsals?
The metatarsals are the series of long bones that run down the foot from ankle to toe. These bones are highly prone to breaking and the best welding boots will offer protection against this.
Welding work often involves dropping things and thus you want to keep an eye out for "metatarsal guards" which are designed to protect these areas of your foot.
You can get both internal and external metatarsal guards. The former are built into the shoe, the latter are like a turtle's shell for your boot. External guards are safer but they can make it more awkward to walk about and move around.
What Is The Difference Between Steel Toe and Composite Toe?
A steel toe boot has a cap that is made from the metal steel. This offers the highest level of protection for the foot, currently available on the market.
A composite toe, on the hand, will be made from a lighter but less resistant material which could be anything from Kevalr to fiberglass. I wouldn't recommend these for welding work.
How Often Should Safety Boots Be Replaced?
Given the price of welding boots, you're probably hoping that your work boot will last forever. Sadly, this is not to be and a pair of boots that have built-in toe caps will normally need to be replaced every 6-12 months depending on how hard you are on them.
They are designed to provide protection when they are in the best shape, but as they wear down, this will reduce the chance that your work boots will keep you safe.
Are Timberlands Good For Welding?
I think so, yes, that's why I made them the top pick in this review. It' important that your buy Timberland work boots though and not just a fashion boot.
A pair of welding boots should always have steel toe caps, full grain leather exterior, and a solid rubber outsole. You need foot protection when you're working and that means you need a good pair of comfortable boots that won't let you down.
What Are The Most Comfortable Work Boots?
I think so, yes, that's why I made them the top pick in this review. It' important that your buy Timberland work boots though and not just a fashion boot.
A pair of welding boots should always have steel toe caps, full grain leather exterior, and a solid rubber outsole. You need foot protection when you're working and that means you need a good pair of comfortable boots that won't let you down.
What Are The Best Metatarsal Boots?
The boots with the highest level of metatarsal protection in my reviews were the Dr. Martens – Men's Ironbridge Met Guard Heavy Industry Boots. The British manufacturer really has focused on this and the Martens Ironbridge MG ST Steel-toe boot is superb for this purpose.
The leather construction of the boot is very good too. It wasn't quite as comfortable as my top pick but the Martens Ironbridge Steel Toe Boots are the best protection against heavy objects falling on your feet.
Conclusion
The Timberland PRO Men's 53530 is my top pick for good reason. This full-grain leather work boot with Ever-guard leather uppers that include Kevlar stitching and top-end welt construction is simply too comfortable a welding boot. It also ticks all my other boxes including the presence of steel toe caps which are an essential protection against falling objects.
If a prominent metatarsal guard is required then you should check out the Doc Martens which were the best work boot to provide this level of protection for the metatarsal area of your foot. I'm not convinced that every welder will want this, though.
All of the choices on my list are solid boots that won't let you down while you work. Though the toecap really does leave the Thorogood boot as the right call for someone who only welds occasionally.