Last Updated on

Do you need something that has a bigger kick than a small 110V welder? The projects that you are working on are getting a bit more difficult and your old machine seems not to be pulling the weight. Maybe it's time to go for a more powerful machine and get yourself a 220v MIG welder.
Most of us use MIG welders for various types of work. I myself think of the Metal Inert Gas welding process as my go-to choice when I work. But I also know that a suitable welder does half the work for you.
Seeing that most fellow welders are in a pickle when choosing the right tool for the job, I decided to take a look at some prime MIG welding machines and devise a list of MIG welder reviews. I went through and compared a lot of models to come up with the best 220v MIG welders.
Oh, and I also included a buyer's guide so you know what to look for yourself and see how I came up with my list.
Hopefully, you find this info useful when getting your new baby for the job.
Best 220v Welders Comparison Table
Best Overall
Best For Money
Image
Name
Hobart 500553 Handler 210 MVP
YesWelder MIG-205DS
Millermatic 211 MILLER ELECTRIC MIG Welder

YesWelder TIG-250DS

Lotos MIG 175
Everlast Power MTS 211Si
Rating
Specials
10% off Coupon Code:
"July – 10% WeldP"
10% off Coupon Code:
"July – 10% WeldP"
Voltage inputs
110/115/120 V, 220/230/240 V. 60 Hz
120v/220v
110/115/120 V – 220/230/240 V
220 V, 60 Hz.
220 V
120/240
Output Current Type
DC
DC
DC
AC/DC
DC
DC
Amperage Output
25-150A
110v: 30-160A
220v: 30-200A
30-230A
TIG:5-200A,
Stick: 20-180
30-175A
MIG and TIG:240V @ 210A, 120V @ 125A,
Stick: 240V @ 175A
Duty cycle
115 V, 90A @ 20% duty cycle./230V,
150A @ 30% duty cycle
110v [160A @ 60%] 220v [200A @ 60%] TIG: 110v [140A @ 60%] 220v [180A@ 60%] Stick: 110v [140A @ 60%] 220v [180A@ 60%]
50 A at 21.5 VDC, 40% duty cycle (240V),
115 A at 19.8 VDC, 20% duty cycle (120V)
250 A @ duty cycle 60%
20% @175A,
30% @135A Duty cycle.
MIG 160A/22V @ 60% Duty Cycle
TIG 160A/16.4V @ 60% Duty Cycle
Stick 130A/25.2V @ 60 % Duty Cycle
Welding Process
MIG/Flux Core
MIG/DC TIG, DC Stick
MIG/Flux Core
TIG/Stick
MIG/Flux Core
MIG/TIG/Stick
Dual Voltage

Yes

Yes

Yes

No

No

Yes

Where to buy it
Check Current Price
Check Current Price
Check Current Price
Check Current Price
Check Current Price
Check Current Price
Best 220v Welders Reviews
When a 110v is not enough, it is where a 220v has to come into play. Stronger welders are needed for thicker materials, and the 220v ones are usually meant for heavy-duty projects. It works best when you are able to use both types in sync, so you can weld interchangeably. For that, a multi-process welder comes as the best choice.
Even with thorough research, you might find it hard to pick the best 220v MIG welder. But that is because you have to choose one that fits your needs. I have checked many 220V MIG welder reviews and comprised a list that is in my opinion the most suitable for both beginner welder needs but could satisfy some with a more refined taste.
1. Hobart Handler 210 MVP 220v MIG Welder
The Hobart Handler 210 MVP MIG welding machine offers a wider amperage range and high-quality components all at an affordable price. Actually, it is not the cheapest MIG machine out there, but it comes at a great price given its components, reliability, and reputation.
The amperage range is maxed out at 210 amps with a wide wire feed speed from 40 IPM to 770 IPM. It is more than enough to help you control the welding process. What I like about this one is that it is easy to set up. But I also evaluate it as suitable for fabrication work, industrial and environment welding work.
However, the MIG welder Hobart Handler is a stationary machine. At a weight of 79 lbs, it is unsuitable for being moved too often. When I move it across the shop I sometimes break a sweat. Nevertheless, it has a very smooth and consistent arc and does not give off so much spatter as other MIG welder machine does.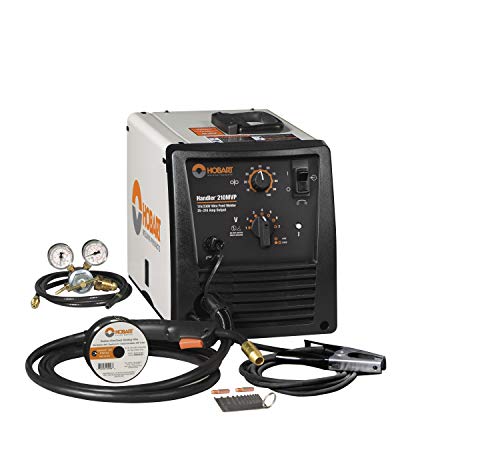 Hobart - 500553 Handler 210 MVP MIG Welder,Small
Your purchase includes One Hobart – 500553 Handler 210 MVP MIG Welder, One 10 ft. (3m) H100S4-10 gun, One 10 ft. (3m) work cable with clamp, Built-in gas solenoid value and dual-gauge regulator with...
Welder Dimensions: 10.62" W x 19.5" L x 12.37" H | Welder weight: 79 lbs. | Input Voltage: 110/115/120 V – 220/230/240 V | Material Thickness: 1/4" – 3/8"
Sized for you to easily transport the unit to the jobsite with the power to weld 3/8 in. mild steel
Keeps wire electrically "cold" until trigger is pulled which gives you ease of use and keeps you safe
Last update on 2021-07-24 / Affiliate links / Images from Amazon Product Advertising API
Specifications:
| | |
| --- | --- |
| Process | Flux Cored (FCAW), MIG (GMAW) |
| Weld Thickness | Mild Steel – 1/4 in. to 3/8 in |
| Weldable Materials | Steel, Aluminum, Stainless Steel |
| Input Voltage | 110/115/120 V, 220/230/240 V. 60 Hz |
| Input Phase | 1-phase |
| Current | DC only |
| Amperage | 115 V: 25–140A, 230 V: 25–210A |
| Rated Output | 115 V, 90A @ 20% duty cycle./230V, 150A @ 30% duty cycle |
| Wire Feed Speed | 40 IPM – 770 IPM |
| Weight | 79 lbs |
Pros:
Welding is smooth, arc quality control
Cost-effective, multi position voltage control
The internal fan cooling system
Industrial cast aluminum drive system
Includes dual gauge regulator, power cord, and ground clamp cable
Spool gun compatible
Drive rolls with 3 grooves for welding wires, 2 for gas, and 1 for flux core wire
Cons:
Expensive
Work cable can be short
Its not very light
2. The YesWelder MIG-205DS MIG/LiftTIG/ARC 3 In 1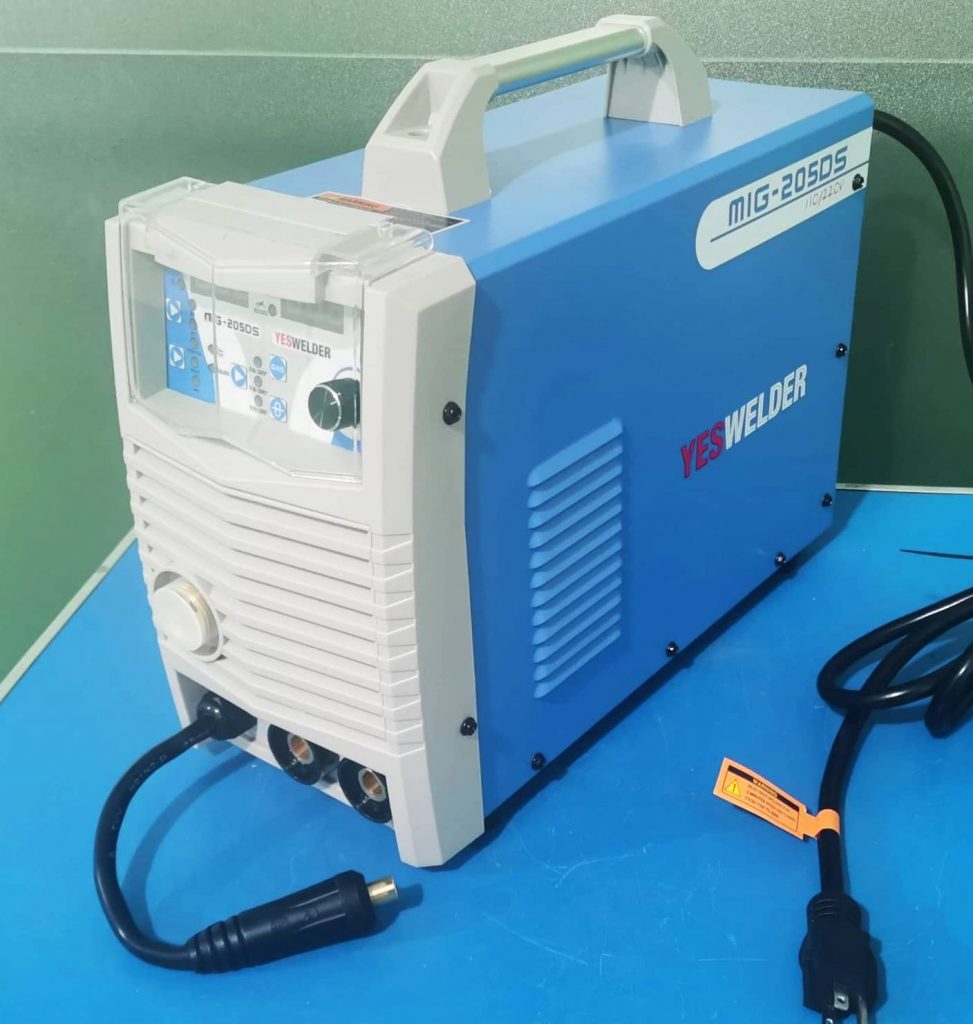 I evaluate the YesWelder MIG-205DS as the best welder for the money. It is a durable multi-process machine that offers high value at a suitable price. This 220V MIG welder can do Stick and MIG Flux Core welding but can be extended with an added TIG torch so it can be used for Lift Arc TIG welding.
The Synergy settings make this machine beginner-friendly, while added manual fine-tuning is also possible. I particularly found the synergy setting useful when teaching newbies how to weld because it really does a lot of work for them so that they can focus on the technique. This is a dual voltage machine, meaning that it gives you options, and at 205 amps packs enough power. I was also impressed with a full metal drive system, which you rarely see at this price range.
The downside is that the welder seems to be very weak when plugged into 120V but luckily works just fine with 220 input voltage. I also recommend it for remote work, as you can carry it around or easily change the plug when needed.
10% off Coupon Code: "July – 10% WeldP"
Specifications:
Process
MIG (GMAW), DC TIG (GTAW), DC Stick (SMAW)
Weld Thickness
Mild Steel up to 3/4 in
Weldable Materials
Steel, Stainless Steel
Input Voltage
110/220V, 60 Hz
Input Phase
1-phase
Current
DC only
Amperage
110V: 30 – 160 A, 220V: 30 – 200 A
Rated Output
MIG: 110v (160A @ 60%) 220v (200A @ 60%)

TIG: 110v (140A @ 60%) 220v (180A@ 60%)

Stick: 110v (140A @ 60%) 220v (180A@ 60%)

Maximum Wire Feed Speed
590 IPM
Weight
33 lbs
Pros:
Very Affordable
A lot of useful features, good for MIG, TIG and stick
Really high 110v and 220v duty cycles
Sturdy build
Lift arc start for TIG
Dual voltage welder
IGBT inverter technology
Wire feed system Brass-to-brass gun connection
Cons:
TIG torch doesn't come with it
3. Millermatic 211 MILLER ELECTRIC MIG Welder,120/240VAC
I would assess the Millermatic 211 as best suitable for small workshops, DIY projects, farm projects, and metal artists. Actually, I rate it as being perfectly suitable for both beginner and experienced workers. The auto set feature and the quick select drive roll system allow you to set things up fast and get down and dirty to work. In my opinion, Miller really tries their best to set the stage for ultimate quality but this does come at a price.
It does have multiple voltage capabilities and can be used for both 120V and 240V input voltage outlets. I also see it as suitable for MIG welding and FC welding. With inverter technology, you also get more power, less weight, and better arc performance.
However, this one is a bit pricier, in my opinion. Also, if you wish to weld aluminum, you need to get a spool gun, which is an added expense. The ground clamp looks a bit flimsy for my taste as well.
But I do love the cooling system which improves the duty cycle which is only at 40%.
Last update on 2021-07-24 / Affiliate links / Images from Amazon Product Advertising API
Specifications:
| | |
| --- | --- |
| Process | MIG and Flux Core (FCAW)(GMAW) |
| Weld Thickness | Mild Steel – 24 GA to 3/8 in |
| Weldable Materials | Aluminum, Steel, Mild Steel |
| Input Voltage | 110/115/120 V – 220/230/240 V |
| Input Phase | 1-phase |
| Current | DC only |
| Amperage | 30 A – 230 A |
| Rated Output | 150 A at 21.5 VDC, 40% duty cycle (240V),115 A at 19.8 VDC, 20% duty cycle (120V) |
| Wire Feed Speed | 60 – 600 IPM |
| Weight | 38 pounds |
Pros:
Inverter technology device
Suitable for welding steel, aluminum, stainless steel
Auto spool gun detect
Aluminum wire drive
Easy start arc function, and precise welding chart suitable beginner welders
Argon regulator (Argon/CO2) with gas hose
Cons:
Expensive
MIG gun can be troublesome
4. YesWelder TIG 250P ACDC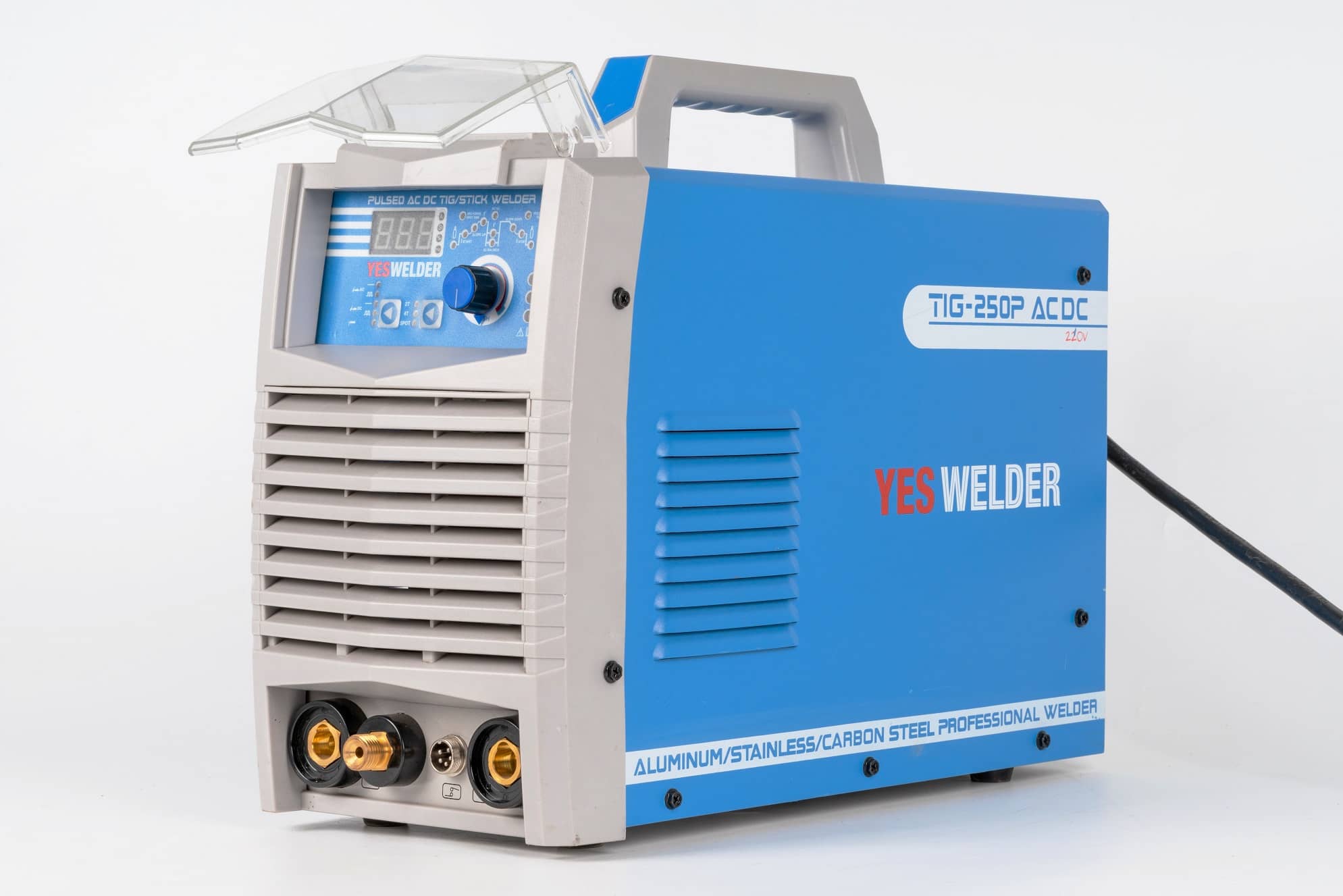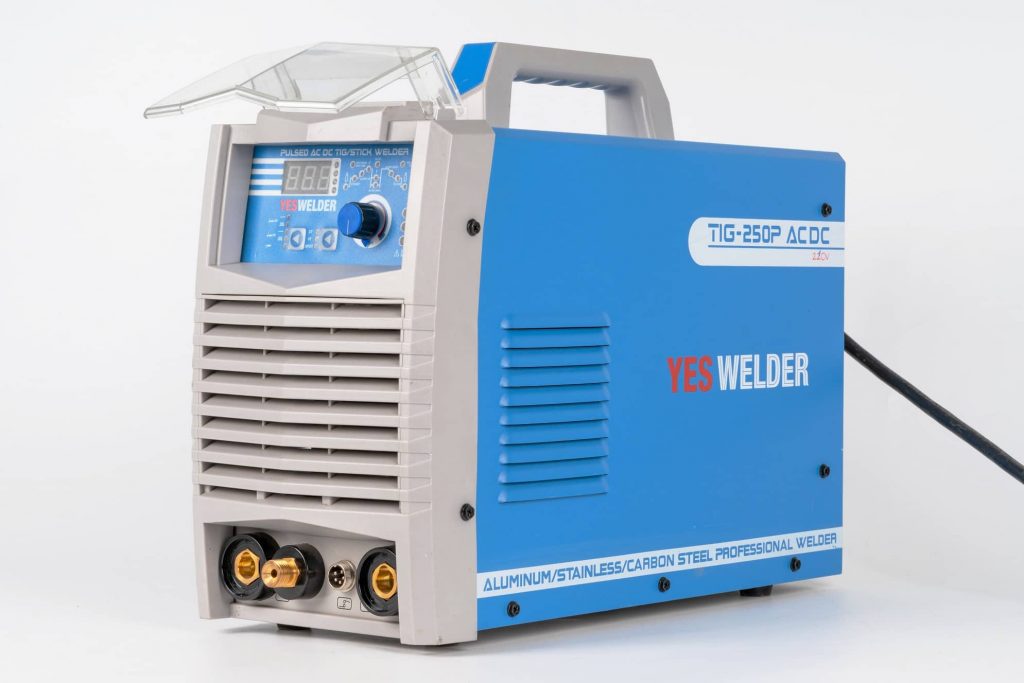 From my experience, the YesWelder TIG 250P is a machine aimed at professionals, but it is used by beginners due to its ease of use. With its multi capabilities, you can do AC pulse TIG, DC TIG, DC Pulse TIG, DC Flux-cored wire MMA, and argon arc welding. These are the features I use often and having it all in one machine is really beneficial.
The features that make this machine professional are the High-Frequency start, the upslope and downslope settings, pre and post flow settings, and low 5 amp start suitable for working on mild steel. The 220v welder even packs in a TIG pedal and a decent duty cycle.
The welding machine is a bit on the expensive side if you are a hobbyist. The advanced features could make things a bit confusing for a beginner. I am not going to say that this is the best 220V MIG welder, but it is up there.
10% off Coupon Code: "July – 10% WeldP"
Specifications:
| | |
| --- | --- |
| Process | TIG welder(GTAW) and Stick welder (SMAW) |
| Weld Thickness | Steel – 24 ga. – 3/8 in. |
| Weldable Materials | Steel, Stainless Steel, Aluminum. |
| Input Voltage | 220 V, 60 Hz. |
| Input Phase | 1-phase |
| Current | AC and DC current |
| Amperage | TIG 5 A – 200 A. |
| Rated Output | 250 A @ duty cycle 60% |
| Weight | 35 lbs |
Pros:
You can TIG weld with a fully adjustable pulse rate
High-Frequency Start, IGBT value welder
It has controls for start and end amps
AC balance
Squarewave AC feature
Easy to set up, quality welds
Very good Aluminum TIG welder
Comes with stick electrode holder, gas hose, brush and foot pedal
Cons:
5. LOTOS MIG175 MIG Welder
I have included the LOTOS MIG175 MIG welder as it is aimed at hobbyists at an affordable price. However, you can't compare the performance to a pricier welder. What I liked is that it can be used for welding aluminum, mild steel, and stainless steel as it has a decent spool gun for aluminum and an aluminum wire feeder.
However, although the spool gun feeds the wire smoothly, the leads and the spool gun itself are the best. The connector is a bit unusual so a standard spool gun won't fit which I find frustrating. But the machine isn't created for industrial work so you don't really need to add a different torch either way. I like to be able to change the gun but if you are not welding professionally you will most likely be fine with it.
The quality of the weld is decent but could be better. The LOTOS MIG175 175amp does not create so much spatter as your standard MIG welding machine, but that is when setting everything properly.
What differentiates this machine from others is that it doesn't have a long warranty.
Last update on 2021-07-24 / Affiliate links / Images from Amazon Product Advertising API
Specifications:
| | |
| --- | --- |
| Process | FCAW, GMAW |
| Weld Thickness | Mild/Stainless steel 18 Gauge –1/4″ Aluminum 3/16" Plate or Thinner |
| Weldable Materials | Welds Steel, Stainless-Steel, Aluminum |
| Input Voltage | 220/240V |
| Input Phase | 1-phase |
| Current | DC |
| Amperage | 30 – 175A |
| Rated Output | 20% @175A, 30% @135A Duty cycle |
| Wire Feed Speed | 50-400 IPM |
| Weight | 85 pounds |
Pros:
Home welder, best used for household repairs and beginners
MIG spool gun included
Temperature control
Welding transformer technology
Gas regulator with hose included
Cons:
Not for heavy duty jobs
They make cheap spool guns
Heavy
6. Everlast 211si MTS Welder
When you compare the Everlast 211si MTS welder with others, what jumps off the page is that it can do multiple processes. So besides MIG welding, it can be used for TIG and Stick and used for different kinds of materials of various thicknesses.
I really liked how the control board works as it clearly shows you the amperage range and the wire feed speed control. Manual settings are also there if you want to go into details. I usually use manual settings because I developed the feel for it over the years but automation when done right is very welcome. The build quality is very nice and you are getting a durable machine that is meant to last.
However, too many settings can make things a bit confusing for a novice. The front panel of the 211Si MTS definitely looked intimidating when I unboxed it for the first time. Also, the MIG gun and the regulator are not as good as you would expect them to be.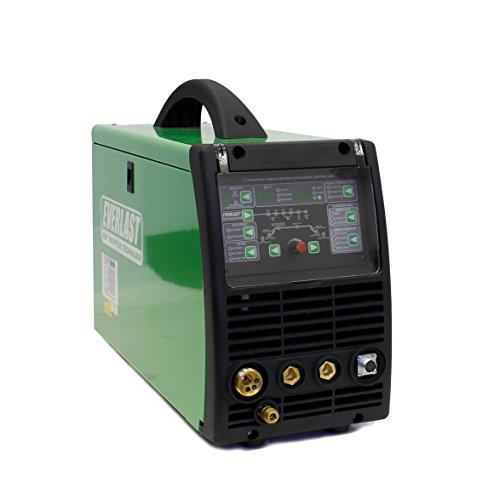 Last update on 2021-07-24 / Affiliate links / Images from Amazon Product Advertising API
Specifications:
Process
FCAW, GMAW, SMAW
Weld Thickness
24 gauge to 1/4″
Weldable Materials
Welds Steel, Stainless-Steel, Aluminum
Input Voltage
120/240
Input Phase
1-phase
Current
DC
Amperage
MIG and TIG 240V @ 210A, 120V @ 125A, Stick 240V @ 175A

120V @ 100A

Rated Output
MIG 160A/22V @ 60% Duty Cycle

TIG 160A/16.4V @ 60% Duty Cycle

Stick 130A/25.2V @ 60 % Duty Cycle

Maximum Wire Feed Speed
600 IPM
Weight
55 pounds
Pros:
Lift and high frequency start
Silent work, no noise pollution, not in audio range
Synergic settings
heat protection system
Decent accessories included
Good controls
Cons:
The instruction manual can be better
Chart not included, you have to figure out settings on your own
The gas hose can leak
Buying Guide to the Best 220V Welders
Now take a look at some factors that I used in determining my choices when it comes to 220V MIG welders. Every person is going to need a welding machine for their own personal purpose.
From my experience, the factors below should have the highest impact on your buying choice.
How Portable It Is?
Portability should be considered based on where you plan to work. If you are only going to do work in a garage, the best MIG welder for the job is a stationary one. However, if you need to go out in the field, be sure to look for a lightweight option.
Besides the weight, I would also make sure the welder can operate on 110V if possible. I know that this is a guide for 220V machines but think about it. If you have to go out in the field and the 220V generator is not available there, it is helpful if your machine is dual voltage.
On another hand, if you don't mind heavy machines you should think about a good cart to help you move it around.
Welder Quality and Price
Quality welders come with better internal hardware and wiring. They also have more quality components and expanded features and settings. But they also come at a greater price. If you are a beginner or are on a budget, you might consider a low-cost machine with adequate welding functions for your needs.
If I was buying my first welder today, I would look for the best quality to price ratio. Back in my day, there weren't this many brands competing on the market. Today you have much more options and finding a perfect machine means hitting that sweet spot of features you need, quality your amount of work demands (if you weld 8h a day you will need a highly durable welder unlike if you are a hobbyist) and the budget you have.
This is a great video of a teardown and a commentary of what you get when you get a poor quality welder. It's a long video, I've linked to the part when the teardown starts and you can kind of skip around and see all of the design flaws from poor capacitor choice to improper placement of elements on the circuit boards.
Multi-Amp Settings
A machine with multi-amp settings could help you manage your electricity bill. Having dual voltage allows you to switch whenever necessary and you also don't have to work with the same amount of heat depending on the material.
Machines that allow for fine-tuning of amperage settings are always preferred. Especially if you do TIG welding or any welding with thin sheet metal.
Welding Power and Material Thickness
More power output means a greater ability to cut thicker materials. You need to determine the purpose of your MIG welder and the materials you are planning to work on. A hobbyist will probably not need to weld or cut more than ¼ and 1/16. But if you are going to work on thicker materials a 220V MIG welding machine is needed.
Take the type of metal into the account as well. Most people will weld mild steel but aluminum may require more or less power depending on the thickness.
Duty Cycle
A duty cycle measures how long your machine is capable of working without overheating. For instance, if a machine has a duty cycle of 60% it means that you can weld without interruptions for 6 minutes. If you need to work on bigger projects and for prolonged periods, a MIG welder with a better duty cycle is needed.
I find low duty cycle welders a bit frustrating but that is because I don't work on small-scale jobs anymore. If you need to weld a whole day you should get a welder with a good duty cycle but if you are a garage DIY hobbyist then this shouldn't concern you that much.
Ease of Use and Build Quality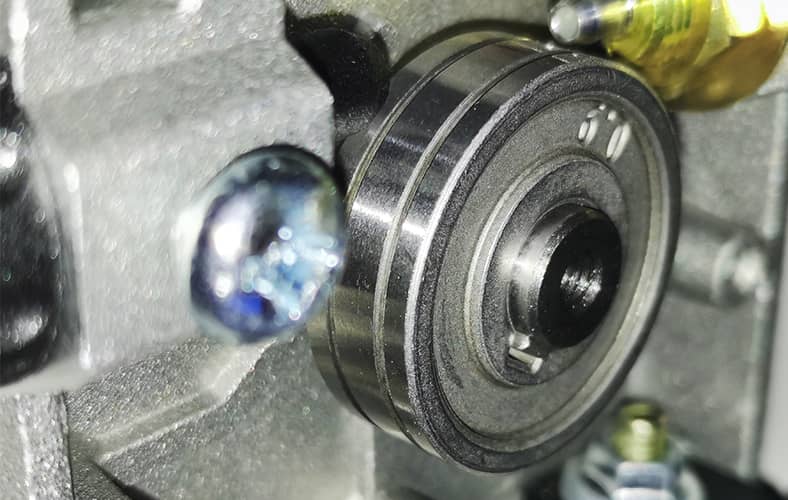 Advanced features can sometimes make it difficult for inexperienced welders. They need to control the MIG welding process for proper work, so sometimes a simple unit can be more suitable.
It is better to get a rugged and sturdy machine, but such a welder may weigh more. Even though the construction quality is important, you will be sacrificing a bit on portability. This is especially important if you are working in rough conditions and in tight spaces where the machine can't be physically far away from the welding area. Sparks and molten drops can damage sensitive hobbyist level equipment and this goes for your whole welding arsenal, not just the machine (safety equipment and etc.).
One element that is particularly important is the MIG wire feed system. It should be made with a full metal drive and with a high precision build. The poor wire feed system can cause many problems down the road and not just bird nesting (basically tangling your MIG wire in a huge bush inside the machine).
Welding Processes
MIG welders are the most popular products on the market, as MIG welding is the most used type of process. But having a swiss-army knife of a welder machine could allow you to do Stick, TIG welding, and even flux core welding.
Multi-purpose welders can be a lifesaver sometimes. They are also a space saver. If you are working with a couple of processes then saving on valuable storage area can be helpful. Especially if you are a hobbyist and don't have a big working area like welding shops do.
MIG/Fluxed-Cored Welding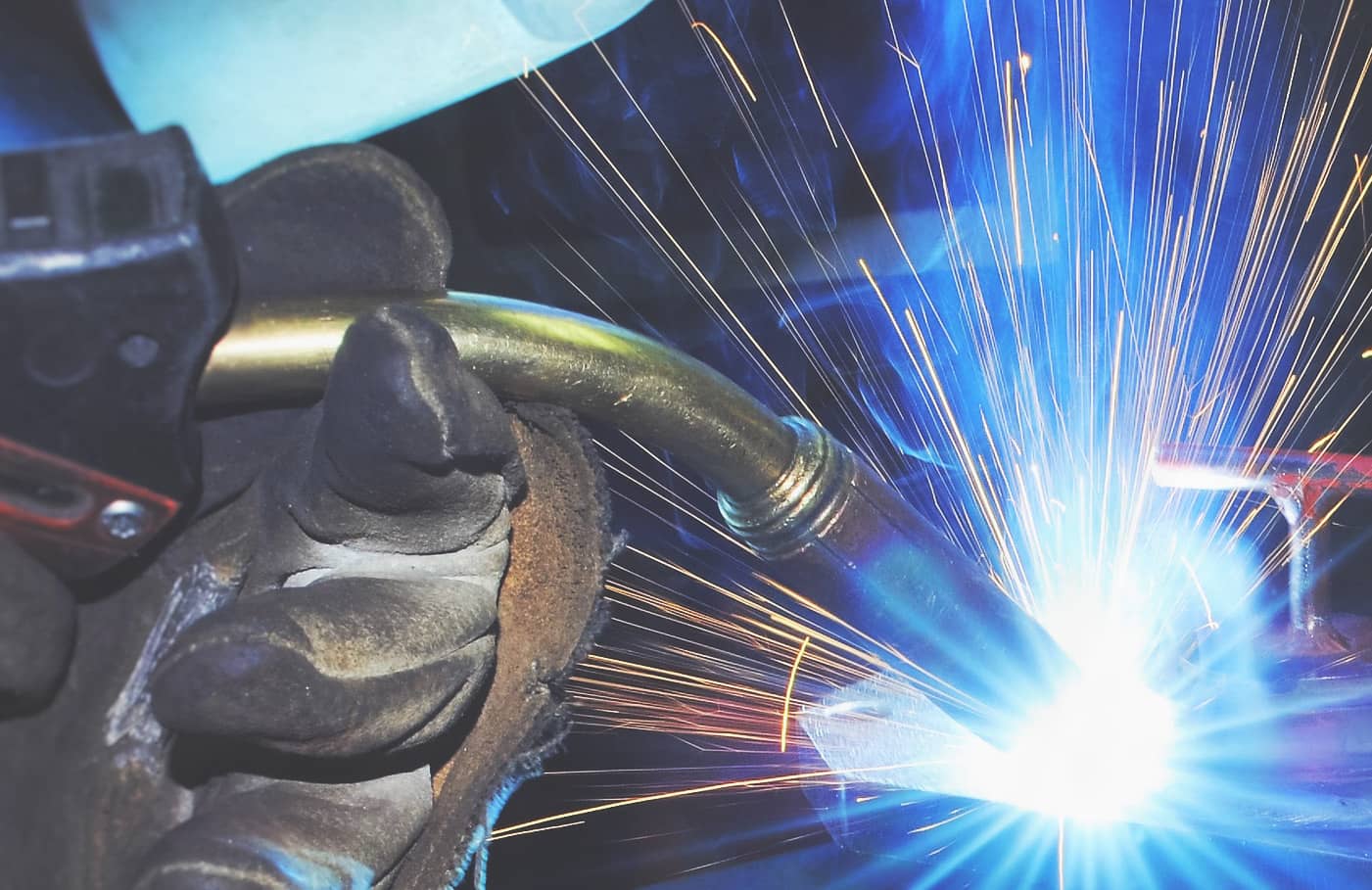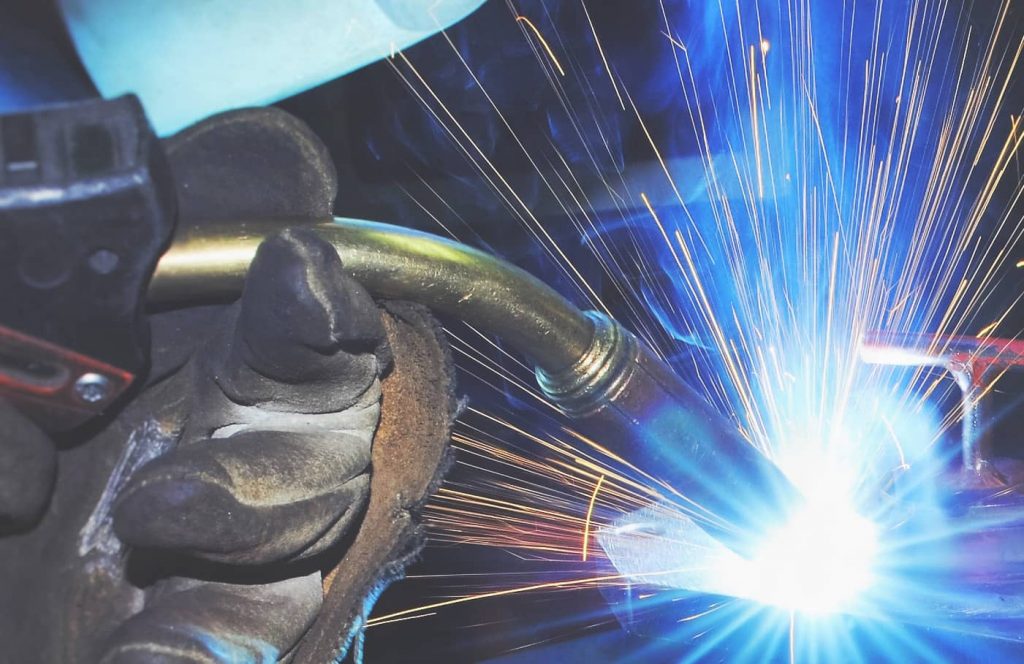 MIG welding is probably the easiest process to use, hence why it is so popular. The welding wire is fed through a gun and melted electrically with an electric arc to join the pieces of metal together.
You need to use an inert gas shield with these types of welders, but a flux-cored can be used instead. The inert gas will prevent the weld from oxidizing, getting impurities and becoming porous.
The flux core usually works without the shielding gas because the flux is in the core of the wire itself. As the wire melts so does the flux and It releases gasses necessary to protect the weld pool.
Stick Welding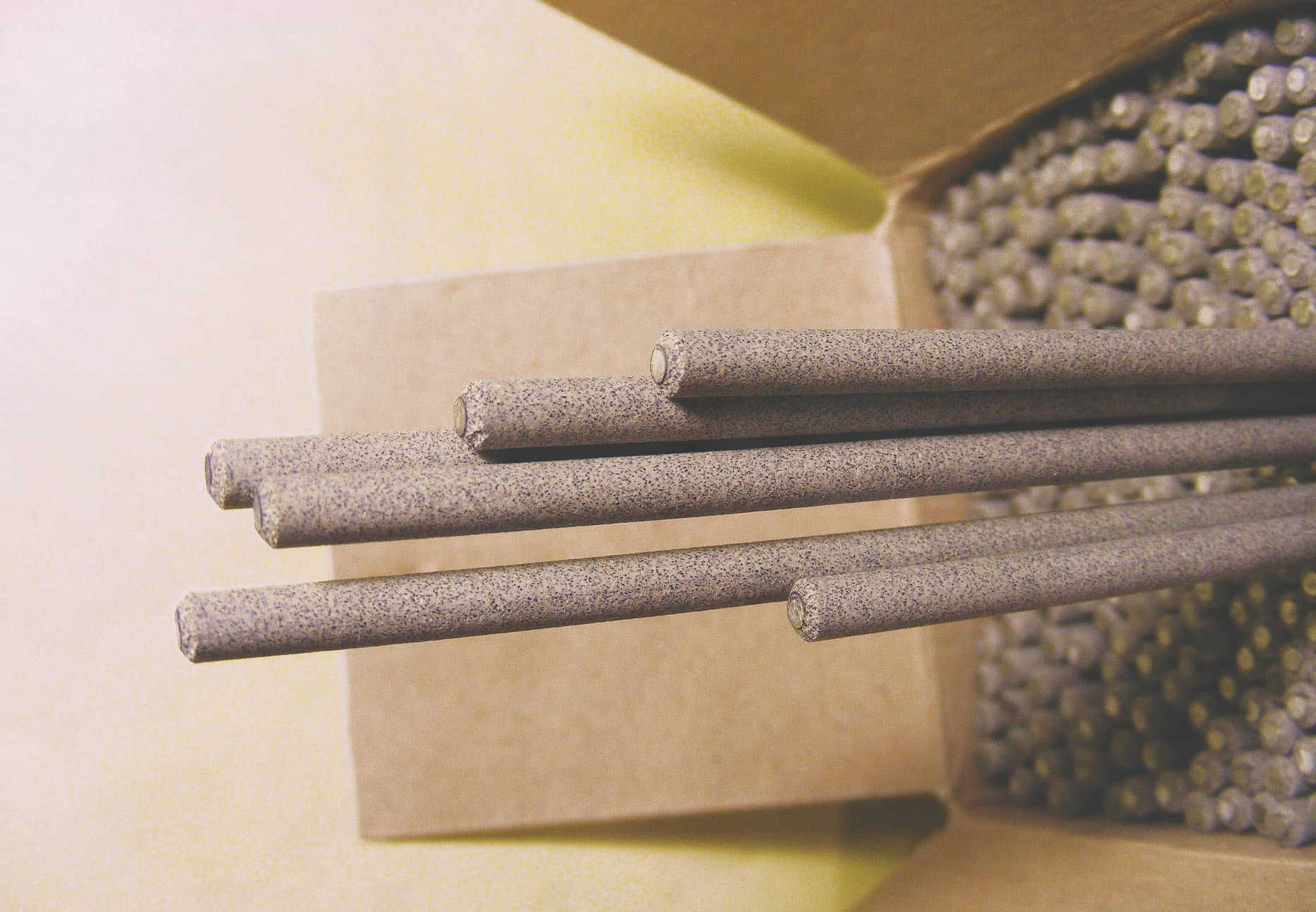 Stick welding is one of the oldest welding techniques known to man. It can weld together most alloys and works well both indoors and outdoors. Arc welders are available in AC, DC or AC/DC, but AC is the most economical option. Unfortunately, stick limits you to welding 18 gauge, creates more spatter, and needs you to clean the finished weld.
Stick welding is more forgiving when it comes to dirty surfaces. You should always clean the surface prior to welding but with stick welding, you can get away with some dirt and rust.
This process is also a bit harder to learn than the MIG. It is not as straightforward because there are multiple factors at play.
TIG Welding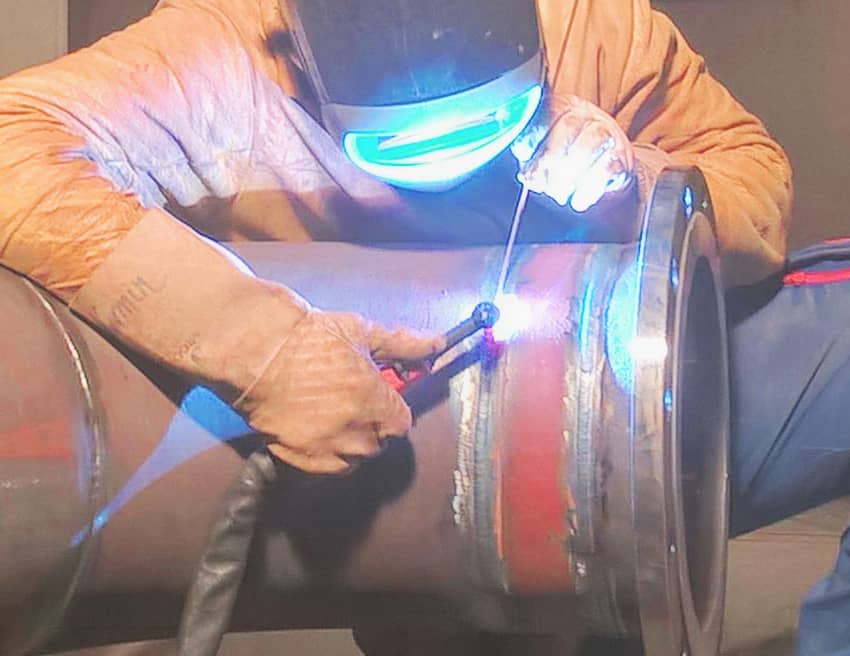 TIG is a very precise and clean method that creates strong and clean welds. With it, you can work on materials such as magnesium, stainless steel, aluminum, chrome alloy, copper, brass, and even gold. However, it is a far more complex process to learn and works a lot slower.
Working with TIG either means that you are doing professional work or you need to make small-scale precise welds on stainless steel. Well, it can mean other things too but this is how it usually is.
If you want to work on aluminum you will need an AC TIG capable machine but if you need to work on stainless or mild steel the DC will do.
Power Options
A welder usually comes at either 110V or 220V voltage. But there are ones that offer better voltage controls and output voltage settings. Basically, you are supposed to choose a welder based on the input power you need. There are those that come with a multi-voltage plug so you can use them interchangeably.
Warranty Options
Machines that have more than 1 year of warranty are good options. Anything lower than that is not. Of course, always look for one which has a longer warranty.
This is also something that should be determined based on the amount of work you will do. If you weld occasionally then a lower warranty will suffice but if you weld all day every day then the machine that is rated for 5 years or more will definitely last longer than the one that has 1-year warranty.
Welder Safety and Protection
Look for machines with better safety features. Those that come with thermal overload protection or a temperature controller are exceptional welding products. You can never be too safe when it comes to welding and always have a welding helmet at hand.
This is a really good short video from Miller explaining thermal overload protection.
Ventilation Exhaust
Be sure to check MSDS (Material Safety Data Sheet) for the materials you are working on. Some may give off dangerous fumes. Proper ventilation should be installed whether it is general ventilation or local exhaust ventilation.
If you don't have an option for proper ventilation then weld outside. This is especially important for hobbyist welders that are planning to work in their garage. It is not healthy to inhale any welding fumes and some of them are bigger hazards than others. Avoid it as much as possible.
Conclusion
We took a look at some of the best MIG welders, and it is up to you to get the most suitable one for you. Remember, you and you alone are going to work with it so trust your instincts and consider the buying guide for help to make the correct choice.
Some of these machines are not very expensive and if you are a beginner you should take a look at them. YesWelder MIG 205DS will be your best bet at getting an all-around machine for a great price to quality ratio.
Frequently Asked Questions
What is the best welder for home use?
Smaller welders, like 110V ones, are better for home use. But sometimes you might need bigger ones and you can check out the review above.
What is the best welder for money?
Take a look at the list above for some good value-for-money options.
What breaker size do I need for a 220v welder?
A breaker size of at least 30 – 40 amp is needed.
Can you use the generator to power the 220v welder?
Yes, you can. You can use it for welding on site, or when you don't have a suitable socket in your home.