Last Updated on

You are looking for a good Stick welding machine for your garage and work around the yard, or people told you that if you want to learn to weld properly, you need to start with "Stick first."
But… The budget is limited and there is not much and room for an error
With that in mind, you should pick the best stick welder you can find.
Not easy, I know…
The solution: Take a little time before you spend your money on reading some reviews and comparing some stats and features (don't worry, SMAW welders are more or less simple inverter machines, it won't be a hustle) and pick the best one for your needs…
Just a quick shout out guys! Rest assured that I put these products on the list due to their quality and my personal opinion as let's say, experienced welder (burn marks, ruined eyesight, and all).

I just want to be transparent with you and inform you that my site Weldingpros.net may obtain a share of sales or other monetary compensation from the links on this page.

So, buddy, I hope that using this article you pick a great welder and put some nice bits on that metal (and if not just grind it a little ;)).
Comparing table.
Welder Reviews.
Things to consider when selecting your welding machine.
Best Stick Welders Comparison Table
Best For the Money
Editor's Choice
Image
Brand Name
YESWELDER 205DS
Hobart 500570 Stickmate 160i
2020 PowerArc 140ST 40 Amp Arc Stick…
Forney Easy Weld 298 Arc Welder 100ST
Lincoln Electric Stick Welder…
Buyer Reviews
Specials
10% off Coupon Code:
"July – 10% WeldP"
Dual Voltage
Yes
Yes
Yes
No
No
Voltage Inputs
110/220V
120/240V
120/240V
120V
230V
Output Current Type
DC
DC
DC
DC
AC/DC
Amperage Output
20-205A
20-160A
10 A – 140 A
10 A – 90 A
AC: 40 A – 225 A, DC: 30 A – 125 A
Duty cycle
60% at 205 amps
30% at 160 amps
35% at 140 amps
30% at 80 amps
AC: 20% at 225 amps, DC: 20% at 125 amps
Features
Great price to quality ratio, Very high duty cycle, Portable, Auto diameter features, works great with 7018, also has TIG capabilities, 1 year warranty
High quality, Hobart's 5/3/1 warranty, rugged case, USA brand
High quality, 5 year warranty, Also has Lift TIG capabilities
Easy to use, Also TIG capable, very portable
Offers both AC and DC, High quality machine, USA brand
Where to buy it
Check Current Price
Check Current Price
Check Current Price
Check Current Price
Check Current Price
Best Stick Welders Review
Whether you are searching for the best stick welders for beginners or want versatility and performance, our stick welder reviews will help you determine all of that. Here are our best picks.
1. Best Budget Stick Welder – YesWelder ARC-Welder 205A
The YesWelder ARC-Welder 205A is a perfect machine for both professionals and hobbyists. It allows great work for DIY projects and all kinds of work around the garage as it is designed for easy weld. Its best feature has to be the select diameter features that is automatically switching from currents and offers the one you need. It performs best with 7018, and comes with an easy start and provides a smooth weld.
This stick machine is our pick as being the best budget stick machine in terms of quality that it provides. Some of the features present on the YesWelder 205A are not offered on some pricier machines. They may offer better quality but when it comes to the money, this one really takes the cake with its price range and should be considered as a good investment.
It is powerful enough to weld  1/4 Inch (220v stick welder) and 5/32 Inch(110V) steel. It is lightweight, convenient, and portable as it weighs only 11 lbs. Besides portability it is also reliable pieces of equipment for any kind of home use as the components are strong.
10% off Coupon Code: "July – 10% WeldP"
Specifications
Processes: Stick (SMAW) and TIG (GTAW).
Weld Thickness Range: Steel – 25 ga. – 1/4 in.
Weldable Materials: Steel, Stainless, Aluminum (stick-only).
Input Voltage: 110/220 V, 60 Hz.
Input Phase: 1-Phase.
Current Type: Direct current.
Rated Output: 205 A @ duty cycle 60%
Amperage Output Range: 20 A – 205 A limit.
Weight: 11 lbs.
Pros & Cons
Pros:
Affordable price 200 amps stick welder
Dual voltage input model with a simple voltage switch
Great performance
Lightest in comparison to other units. Can be carried anywhere which is a big deal
It is also a TIG welding machine with lift start
Has a variety of useful settings
Great customer service
Basic welding tools included
Led display
Best at price point
Cons:
Read the full review on this page
2. Best Stick Welder under 500 – Hobart Stickmate 160i
The Hobart Stickmate 210i may be an expensive product for some welders, but the 160i is specifically designed to meet the needs of both pros and beginners. More so, its design breathes quality and reliability that many welders look for. But the Hobart stick welding crew went out of their way and added some steal features in this one. The infinite amp control mechanism is worth every penny.
What it also comes with is hot-start technology for the great start. It also offers dual volt input of 120 V/240V, a setup that you can easily switch between. Also, the sturdy and rugged design does not mean that it is hard to carry. In fact, at 15-lbs (6.8 Kg) of weight, it is easy to take around the various work sites thanks to its small shape and its carrying strap.
It comes with hot-start technology that is more than reliable. With 160 amperage, it is able to weld 5/32 inches of mild steel with no effort but is also applicable for other thicknesses.
The entire package comes with a full set of accessories that include an electrode holder and a 2-meter power cord with a multi-voltage adapter so that the buyers are all set.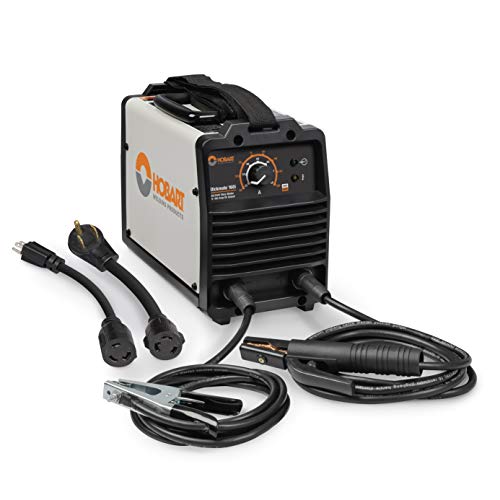 Hobart 500570 Stickmate 160i
Dependable, reliable and rugged
Easy to carry & store. Weighs under 20 lbs; 10 ft. (3 m) electrode cable with heavy- duty holder; 10 ft. (3 m) work cable with clamp ; 6.5 ft. (2 m) power cord with MVP adapters for 120V and 240V .
Last update on 2021-07-23 / Affiliate links / Images from Amazon Product Advertising API
Specifications
Processes: Stick (Shielded metal arc welding).
Weld Thickness Range: Steel – 25 ga. – 3/8 in.
Weldable Metals: Steel, Stainless, Aluminum.
Input Volts: works with 120/240 V, 60 Hz.
Input Phase: 1-Phase.
Current Type: Direct current.
Rated at: 160 A @ duty cycle 30%
Amperage Range: 20 A – 160 A.
Weight: 15 lbs.
Pros & Cons
Pros:
Dual volt unit
Ease of use for anyone
Lightweight and portable
Excellent user experience
Duty cycle indicator
Rugged case
Comes with everything
Has a shoulder strap for the convenience of its users
USA company
Hobart 5/3/1 Warranty. Parts and labor
Cons:
Duty cycle on the low end
full reveiw of Stickmate 160i is here
3. Best Combo Welder – EVERLAST Dual voltage PowerARC 140STi Stick Welder +

Lift TIG
Everlast PowerARC 140oSTi comes to form one of the best brand of stick welder. It is a small utility class welder that provides maximum flexibility and performance. this IGBT inverter-welder has both Stick and DC Lift TIG capability so it can be used for different welding tasks. Accessories included are its own torch and a DINSE style connector. Of course there is the TIG torch and a work clamp added as well.
Interestingly, even though it is a small welder the quality of this TIG stick machine is that of a much larger welder. It provides great stability and quality for its customers. It is also good for sheet metal because it has low amp abilities. Features include auto adaptive arc force control in Stick mode and 120 V/240V dual voltage capability.
However, the Everlast PowerARC does have 140 amp max power available for DC only. It is also characterized by portability as it is very easy to carry around the job site due to its compact design and with a weight of 10 lbs and dimensions of 12 in × 5 in × 9 in.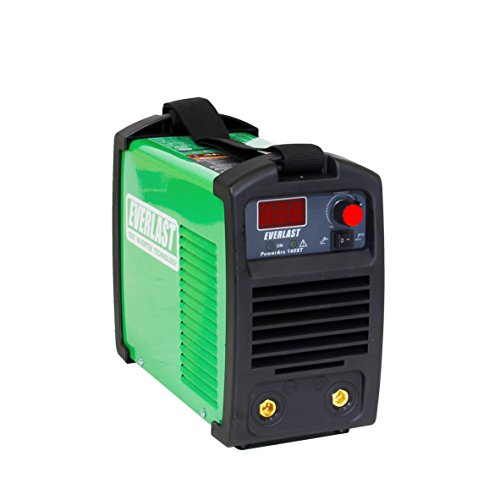 Last update on 2021-07-23 / Affiliate links / Images from Amazon Product Advertising API
Specs
Processes: (SMAW) and DC TIG welding capability (GTAW) methods.
Weldable Materials: Steel, Stainless steel, Aluminum (stick-only).
Input Power: 120/240 V, 60 Hz.
Input Phase: 1-Phase.
Current: Direct current.
Rated Output amperage: 140 A @ duty cycle 35%
Amp Range: 10 A – 140 A.
Weight: 20 lbs.
Pros & Cons
Pros:
Dual volt input
Stick and TIG modes
TIG lead also included
Great quality machine for home shop
5 Year warranty
Lift TIG starts
Cons:
Only issue is no regulator for TIG gases included
4. Best Stick Welder Under 200 – Forney Easy Weld 298 100ST, 120-Volt, 90-Amp
The Forney Easy Weld 298 is an arc welding machine with an inverter technology power system. It comes with a 120 volts input and 90 amp output for production. This inverter stick welder is capable of handling rods of up to 1/8 inches. With this welding machine, you can work on 16 gauge up to 5/16″. The downside is that the TIG stick is sold separately but having TIG welder abilities is an advantage when you need to weld TIG.
Easy Weld 298 from Forney is one of the best arc welders for starers. Novice welders can benefit from the fact that it is really easy to learn how to use it. You can make home repairs or maintenance work with it or any kind of DIY jobs. Also, it is one of the most portable stick welders. It is not larger than a bread box and thanks to this reason you can move it about any way you like and use in different positions as it weighs only 9.65 lbs. (4.38 kg) this also saves you lots on storage space.
Some added accessories are an 8′ (2.4m) electrode holder (electrode clamp) and 8′ (2.4 meters length) ground clamp cables. However, it has none foot operation. Being that it is easy to use, it is also good for beginners who are just getting started or for someone for work around the home – great for consideration.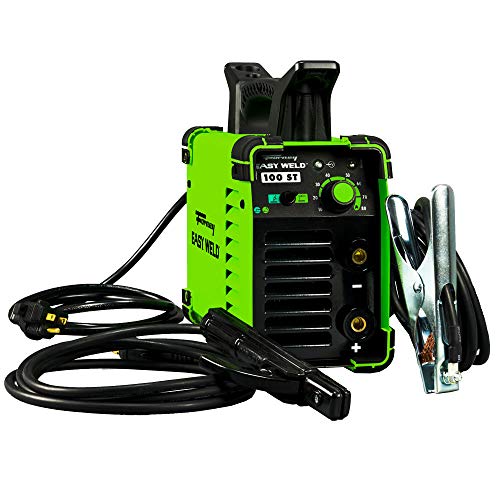 Last update on 2021-07-23 / Affiliate links / Images from Amazon Product Advertising API
Specifications information
Processes: (SMAW) and TIG welding function (GTAW).
Weld Thickness Range: Steel – 16 ga. – 5/16 in.
Weldable Materials: Steel, Stainless, Aluminum (stick-only).
Input Power: 120 Volt machine , 60 Hz.
Input Phase: 1-Phase.
Current: Direct current.
Rated Output Power: 80 A @ duty cycle 30%
Amperage Range: 10 A – 90 A.
Weight: 9.65 lbs.
Pros & Cons
Pros:
Very portable and light. Easy to transport to the field situation
Stick and TIG machine
Great value unit all factors and stuff considered
Simple controls for amp settings
Infrequent arc outages with little exception
Cons:
issues: TIG items sold separately
5. LINCOLN ELECTRIC CO K1297 Alternative current/Direct 225/125
Lincoln Electric might be a brand that is a bit on the expensive side of welders on the market. But it is one that provides quality welding machines with great warranty. All of their products are NEMA rated, UL listed and CSA approved. So is the CO K1297. The Lincoln Welders Stick arc welder is very easy to operate and is a multi-purpose machine. The Alternative/Direct polarity setting is mounted on the front side and it comes with a smooth arc, which makes it easy to weld using different polarities.
It has a 125 amp DC power, good for 1/8" (3.2 mm) sizes consumable welding electrodes and 225 amp AC output, perfect for 3/16" (4.8 mm) diameter general purpose mild steel electrodes. The welding machine is easy to install as it comes with an attached input power cable and plug.
However, although compatible for its size, it is a bit heavy piece (8.8 ounces) and not really easy to carry. It also lacks the infinite adjustability wheel, that welders of its quality usually come with, and a foot pedal. Even though it has a wire feed system. But it is still a good machine for versatile task use, particularly for a hobbyist for some use around the house.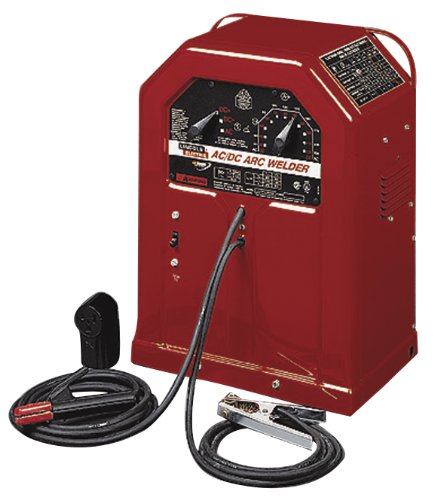 Last update on 2021-07-23 / Affiliate links / Images from Amazon Product Advertising API
Specifications
Processes: (SMAW).
Weld Material Thickness Range: 16 ga. – 1/4 in.
Weldable Metals: Steel, Stainless, Aluminum.
Input Power: 230 V, 60 Hz.
Input Phase: 1-Phase.
Current: Alternating/Direct. (You can use Dc or Ac)
Rated Output Duty cycles: AC: 225 A @ 20%, DC: 125 A @ 20%
Amperage Range: AC: 40 A – 225 A, DC: 30 A – 125 A.
Weight: 124 lbs.
Pros & Cons
Pros:
Device has both AC and DC
NEMA rated, UL listed and CSA approved
Great for workshop, repair, store tasks or for farmers farm work
Runs great and bead result is exceptional
Overall great quality MMA machine
3 Year warranty
Cons:
More expensive than others on the list
Low duty cycle
Heavy body
6. Amico ARC-160D, 160 Amp DC Stick Welder Dual Voltage
This little welder is the right budget-friendly choice for stick welding machines. It is really affordable while offering decent quality for someone who doesn't need peak performance. It will get the job done while providing a decent welding experience.
With its 160 amps of maximum power, dual voltage capabilities, 80% duty cycle, and stick/lift TIG function, you will get a pretty good machine that can make good welds on various thicknesses of materials.
This is one of the best choices for welding around your home, garage, and for people who are new to the welding world and wish to dip their toes into it before investing in something more expensive.
It will also allow you to experience some quality features before you are ready to buy a more expensive machine for more serious work.
You want to know what those features are? Keep reading and prepare to be intrigued.
This cheap welder comes with an arc control/dig knob that will help you if you are about to position the electrode on start. This function helps maintain the arc and its stabilization. This is very helpful for newbies who tend to have their arc cut out. Other than that, it has a hot start function (delivering more current in the arc start moment), multiple safety features like over-voltage protection, under-voltage protection, and a few more.
It has the lowest output set at 5 amps which is useful when using its lift TIG function and when welding thin sheet metal. However, it is questionable whether a very affordable machine like this one starting at a level as high as 5 amps will be able to effectively weld thin metal without blowing holes.
Overall, this is a very affordable and good stick welder for people who just need something that gets the job done if the job is not too demanding. It is undoubtedly perfect for newbies to start and learn TIG welding without spending too much money on a machine.
No products found.
Specifications
Processes: (SMAW), Lift TIG.
Weldable Materials: Carbon-Steel, Stainless, Aluminum.
Input Power: This stick welder works 115/230 Volt outlets, 50-60 Hz.
Input Phase: 1-Phase.
Current: Direct current.
Rated DC power output: 230V/ 80% @ 160A & 115V/ 80 %@ 130A
Amp Range:  230V/ 5-160A & 115V/ 5-130A
Weight: 13 lbs.
Pros & Cons
Benefits:
Two voltage input
IGBT inverter technology
One of the quality DIY arc welders
Number of good safety features
Portable and low weight tool. Easy to take places
Great welder for beginners
Led screen
Drawbacks:
To weld at higher amperages 230 V is a must
Not for industrial class welders
Stick Welder Buyer's Guide
To better understand how to choose a stick welder or the best portable welder in your bight range here are some things that you need to consider and have to be aware of. It is going to help you when buying either a small stick welder or any kind that you need.
Basic Features to Pay Attention to on Every IGBT Inverter Stick Welder
There are certain things that not a lot of people will tell you about when it comes to setting, maintaining, and generally using stick welders. Certain practices can be acquired with experience and usage. But there are some things that you still need to hear from someone.
We are not shy about divulging such information and there are a few things that you have to pay attention to.
Amperage Output Range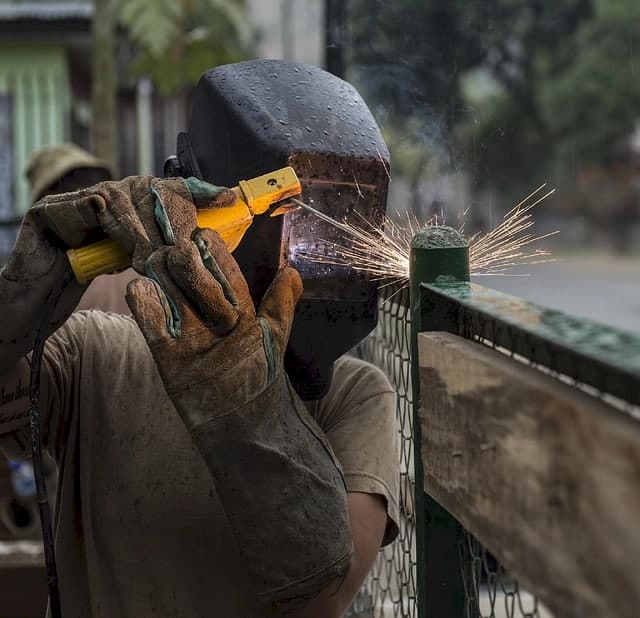 When it comes to stick welding, considering the amperage is an important part of the process. First of all, making single-passes is the most beginner-friendly path of welding. But in order to do it as best as possible, you should look at IGBT inverter technology welding machines that are capable of handling the thickness of the material a little higher than those you are planning to work on.
For making multi passes, more knowledge is required. A 150 amp stick welder can be a good choice as it provides good weld depth and can melt pretty much anything. Combine that with the skill of making multi passes and you are on your way to being capable of doing any kind of work that you have in mind.
However, the main thing to consider is still the amperage range. You should know how many amps you are going to use for a certain electrode. This is particularly important for working on thicker materials. Check the amperage range on the electrodes that you are going to be using. Each one of them has a recommended amperage that you will need to adjust your stick welders by.
The Duty Cycle
A duty cycle is the amount of time a welding machine can operate at a given output without exceeding its temperature limits. So, if a 285 amps/28 volts welder possesses a 40% duty cycle, it means that it can properly function for 4 minutes at 285 amps/28 volts after which it will need to cool down before you can come back at it again.
However, there are certain subfactors that welders need to consider.
The duty cycle and welding output are proportional. Therefore, when welding at lower outputs the duty cycle should increase. In that case, the machine mentioned above should increase its duty cycle to 60%. A duty cycle needs to be evaluated at a certain temperature. Most welders agree that the golden standard is 104o F. If the ambient temperature is lower the duty cycle will increase. Thus a machine welding at 70o F could potentially increase its duty cycle to 100%.
If you are using a multi-process welder with a multi-voltage system the welding outputs will change based on the process used and input power.
Material Thickness
With a stick welder, you can weld almost anything, even the thickest metals. It is meant for heavy-duty work so there isn't even a maximum threshold that you have to worry about. However, you can't go through a 1-inch plate in a single pass, it will most certainly require making more.
With a 120 amps welder, you can easily weld a 1-inch thick metal plate, in multiple passes, and with 140 amps one you can work on almost anything.
Inverter Stick Welder Useful Features to Look for
Let's not forget some features that a welder comes with that you can use to your advantage.
Hot Start Feature
Hot start is a very useful feature that some welders simply can't go without. Having a welding machine with a hot start can greatly improve your stick weld performance. It is a special feature for MMA where a peak current is created by the machine once the arc is struck.
This comes in handy if you are working in unlawful conditions by working outside as it allows you to start the electrodes without issues. Some problems that welders run into are damp electrodes or others that are difficult to run. You might be even working on an imperfect job surface.
All of that can be avoided if your machine has a hot start function, so you can just run it and you are good to go. It works best with the basic 7018 electrodes.
Arc Control or Arc Force Feature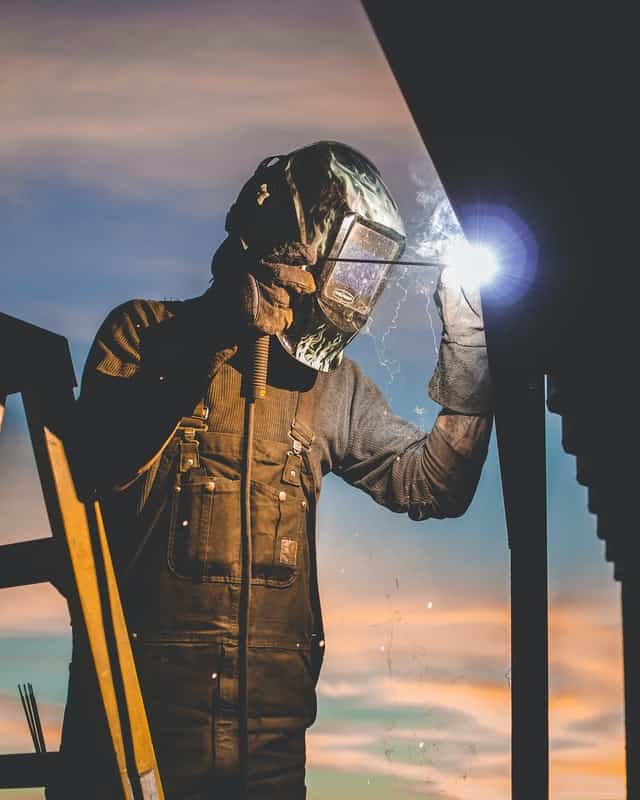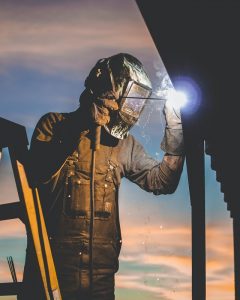 Arc control, or as some like to call it arc force, is a very useful feature and a must-have if you are planning on doing some serious welding work. It is similar to the aforementioned hot start, except that it works during welding and not just at the ignition.
When the welding machine notices a short circuit while welding, it will immediately deliver a peak of current. It helps to stabilize the arc and will not cut you off while welding. It also prevents the electrodes from sticking.
Arc control is perfect when making small adjustments in arc length. Basically, the higher the value the longer the arc length while keeping it lower will result in a shorter arc length. From an operator's perspective, it is comparable to amperage control, but still totally different.
In MIG, arc control allows you to set the inductance and slope. While in Pulse or Accu-Pulse mode, this feature can change the arc characteristics which you can do by preprogramming the factory pulse data. However, tinkering with the factory settings should only be done if you are having major issues with the program that you are using and is not something a beginner should do.
Anti-Stick
The anti-stick does exactly what the name suggests – prevents the electrode from sticking. There are a number of situations when this could happen and it even occurs to experienced welders. Having an anti-stick mode on your side allows you to detach the welding electrode if it starts to stick to the workpiece.
What the machine does is collapsing the welding current once it senses that the electrode is sticking. The electrode will not continue to weld itself to the workpiece and you can break it free easily.
The anti-stick function is something that you should consider using and will help you not to waste so many electrodes.
Multi-Process Machines
A multi-process machine is a great tool to have in your welding arsenal. The biggest advantage of these kinds of machines is that they work as a swiss-army knife. You can use it for different types of welding without having to unplug and set an entirely different machine up. Even professional welders have these types of machines in their garage, just in case.
A single MIG/TIG/Stick multi-function machine allows you to weld in three different styles with a flick of a button. But there are downsides to it, as cheaper machines don't really perform every individual process properly. If you want a really good one, you should invest more money and buy a bigger one.
However, we still recommend getting one. Even cheaper versions are enough for smaller jobs around the house. Plus, a beginner can use this type of machine and start learning some welding processes without having to invest in a single expensive machine.
TIG Capability – Scratch Start vs Lift Start vs High-Frequency Start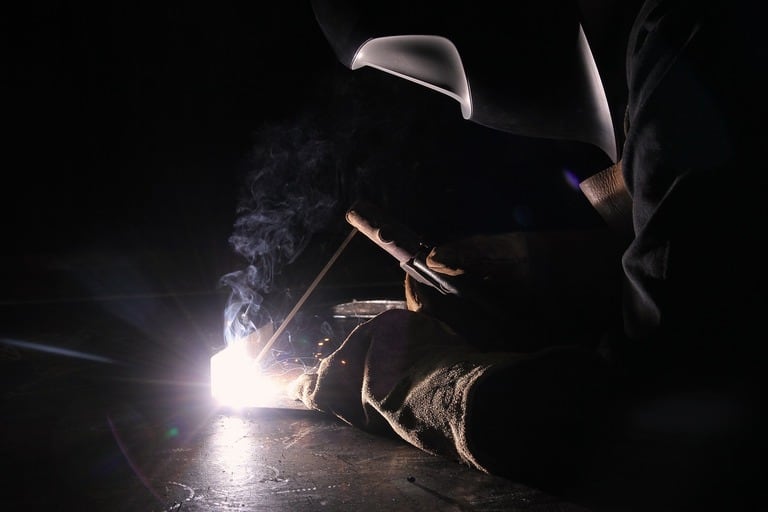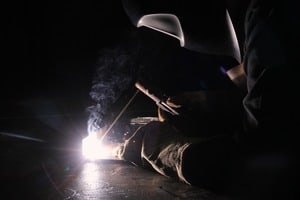 A good TIG welder can come with some advanced features that will help you start the arc. There are three of them, scratch, lift, and high-frequency, and each one of them is beneficial in its own way.
Scratch start TIG ignition means scratching the tungsten electrode on the workpiece and pulling it away quickly to start the arc. At the same time, you can't lift it away too far as it will extinguish the arc. It is the most basic and rudimentary method, but still effective, and is used on the cheapest kinds of inverters.
Lift start TIG ignition involves touching the workpiece with the tungsten electrode and lifting it away. The starting current is not too high so the electrode is not in any danger of sticking to the work. Once the machine senses that the contact is broken, it will start supplying a full welding current.
Finally, High-Frequency TIG ignition is the most advanced and simple one to use as you only need to position the tungsten electrode near your work and press the trigger to ignite the arc.
Comparing all three of them, the scratch start is the least expensive one. However, it is the least effective one as well. If you happen to find a machine with either lift start or HF start, don't miss the opportunity to get one. HF start is particularly good to have and you can usually find it on professional welders.
Budget
people who are simply looking for a welder to help them with occasional work around the house or simple DIY projects are not going to look to spend large amounts of money on a 115-volt welder.
So unless welding is your source of income, you should look at some stick welding machines that do not cost so much but are still able to offer you what you need for occasional work. For those people, stick welders from YesWelders are perfect. They are the least expensive ones on the market but at the same time are capable of providing you with good, quality results. They are also quite superior to the other welder in the same price range.
But if you are ready to spend more cash you should look for stick welders from brands from a manufacturer like Hobart or Lincoln Electric. You should also be aware of the fact the stick welding machines that cost more money also come with a longer warranty as well and may even last for life.
What Type of Projects are you Planning?
You should consider the type of stick welder you need based on your future plans. For example, if your intention is to do some basic work or run a small welder's workshop, you are not going to need all those big and strong machines.
However, even for that type of work, a medium-grade machine works best. The smaller 110v ones should only be used out of necessity. You can't do a lot with them.
Pen to paper and determine the workload and projects that you are planning to work on. That way you can determine the best type of machine that you need to get.
Advantages
Stick welders hold a number of advantages compared to other machines. They can basically do it all. You can work outside and in different weather conditions, not even hampered by the breeze. You can weld in various positions and work on various projects.
Pipe welding and other similar kinds of jobs can be done with a stick welder, the only thing that matters is the power.
Basically, this is the most inexpensive welding method which also does not require expensive equipment. Stick welders themselves are also far less expensive than other types of welding machines.
Disadvantages
Unfortunately, even the best stick welders have their downsides.
You can't weld fast with it as it is generally one of the slower welding processes. It also takes more to master as opposed to other types of welding. You can't be a beginner and start welding off the bat, it takes some time to really get good and learn all the ins and outs.
Also, it is not a process that can be used for welding thinner materials.
Should you Use a Stick Welder for Auto Repair?
In theory, one can use a stick welder for an auto repair, but it is not recommended. Stick is not really good when working on thinner metals and may cause burn through. Using stick for auto repairs will require substantial skill and experience which not a lot of people have.
Being that auto parts are very thin, the most appropriate method to use is MIG. So if you are planning to repair some auto parts, don't waste your time trying to do it with a stick welder. You will just end up losing valuable time.
Input Voltage and Household Current [220v or 110v]
A stick welder can come with both 110v and 220v welding power supply and can perform at both settings well. However, switching to 110v from 220v means working with half the power.
The advantage of using a 220v household circuit lies in having much more available amperage. You can also use larger diameter rods and weld thicker materials. It also has a larger duty cycle as opposed to the range where the 110v one tops out at.
[/su_row]
If you run your welder on at or below the maximum output of your 110v welder you'll see no difference, with perhaps the only one being the diminished duty cycle time for the 110v welder.
At 220v, you get more concentrated heat and more penetration.
Accessories and Consumables
Let's not forget about the accessories and consumables that can sometimes prove to be much more valuable than they seem.
Cable Length and Thickness
A welding cable is used to supply the electric arc welder with power. These types of cables are meant to be both durable and flexible. A welder will constantly need to move around a workshop so you better have a cable that is both long enough and thick enough for the work you are doing.
A weaker cable can easily get damaged due to abrasions, cuts, burns from sparks, and oil and water exposure. When you buy a new machine, they don't tend to supply you with the most quality cables. So it is a good practice to make a trip to the hardware store and get a more quality one. The weaker ones are subject to wear and tear and you are not going to want that while welding.
Things to consider when getting a suitable cable are ampacity, gauge, length, insulation, flexibility, and color. You might think that the color doesn't make a whole lot of difference, but it helps to distinguish cables from one another if you have more of them.
Ground Clamp
Grounding is a necessary safety practice when working with electrical equipment, in this case, an arc welder that may consist of several electrical circuits. Grounding is usually made with the help of a ground clamp. The best ones available are those made entirely of copper as it is the best conductor of electricity.
There are several ground clamps, even magnet ones, but choosing which one to use entirely depends on the work you are planning to do. The most important thing is that the ground clamp is made out of solid material and that you are able to tightly fasten it to the workpiece.
It is very important that the area where the ground clamp is connected is wiped off and cleaned thoroughly. You don't want dust or slag hampering the connection. Also, if the material originally has paint, be sure to brush the paint off to establish a better connection.
If you notice your ground clamp heating up, it may mean that it is faulty. You should definitely replace it as it could potentially start a fire.
Electrode Holder
An electrode holder, also called a stinger, is a device that a welder uses to clamp down an electrode and securely and safely hold it while working in any position.
However, you can't have just any old piece of equipment here, you have to get one made of solid material, copper works best, that can clamp the electrodes properly. The electrode should fit tightly inside and should not be able to move around. If the electrode is loose it can cause a short-circuit.
So our advice is to not be stingy with something that doesn't seem all that important but can create bigger problems at some point.
Basic Stick Welding Electrode Selection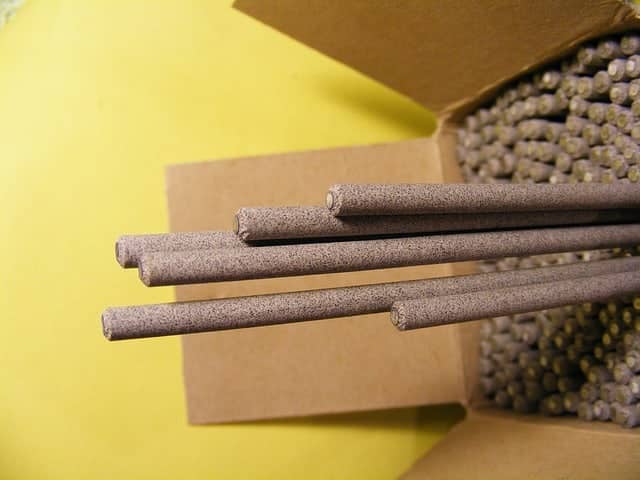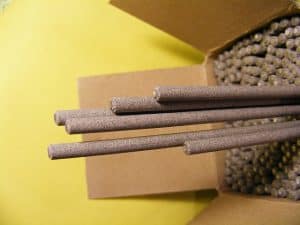 Stick welding is not only difficult to master because of the technique, but it also involves knowing which electrodes to choose. There are many variables that come into play when picking the correct ones. You have to think about electrode diameter, flux composition, storage techniques, and performance. There are literally thousands of welding rods to choose from, but the most commonly used ones are E6010, E6011, E6012, E6013, E7014, E7024, and E7018 electrodes.
The best practice is to pick an electrode that matches the strength properties and the composition of the metal you are about to work on. Next is matching the electrode type to the welding position and the used power source. Some electrodes are only meant for either DC or AC usage, but there are some that are meant for both.
Assess the joint design and choose the electrodes that allow for the best penetration. You should also consider electrodes with maximum ductility to avoid cracking on thick materials. Finally, one should also have production efficiency in mind. Using electrodes with high iron powder content (E7014 or E7024) will offer a suitable deposition rate.
Learning to Weld on a Stick Welder
Stick welding remains the most difficult welding process to learn and that is why you should learn it first
Good preparation and extensive practice are what will help you get the skill level for proper stick welding. Learning how to weld some basic stuff and small repairs will require around 5 hours of practice. It is not going to be pretty and the welds might seem rough, but if you are not looking to make a career out of it, this should be enough.
However, if you are aiming at an entry-level, about 500 hours of practice is needed while intermediate requires 900 hours. Making it all the way to the top requires 1,200 hours of practice and additional training that might last between 18 months to 2 years.
There are some courses that you can apply for and also find certain schools. But it is going to be hard to start doing it by yourself. You are more than likely going to need some professional help.
Inverter or Transformer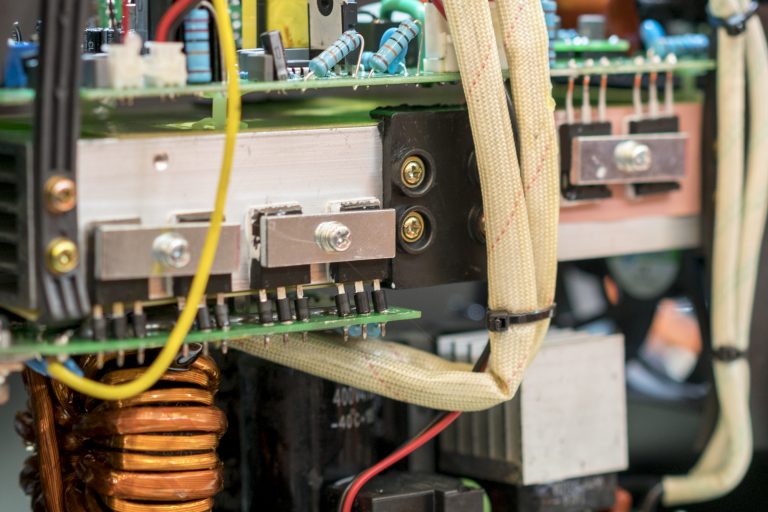 Choosing between an Inverter or a Transformer is like picking from being modern or old-school. Inverters are modern machines with constantly incising build quality that are light and efficient. They can be set to weld in different styles. You can use one to weld a wider range of metals as well. They have overheating and overload protection. Transformers are traditional welders. They are mostly used for industrial-grade stick welding and other heavy-duty work.
Picking between them depends on your project. Inverter welder is more flexible and allows you to switch from one process to the other with ease. They can also be carried around a site as they are a lot lighter.
Transformers are famous for their durability and can be used in various working conditions. It doesn't matter if you use them outside or inside. They do pack a bigger punch and can help when working on thicker metals, but you will need more experience to work with them. A novice is not going to be able to learn how to use it that quickly.
These days most of the main brands don't even consider building transformer machines. The inverter efficiency, its features like overheating and overload protection, light weight, and the ability to weld everything from stainless steel to nickel and brass outway all the benefits of transformer welders.
Should You Buy a Used Stick Welder
It might seem that a used stick welder sounds like a better option but you should consider the risks involved. For instance, it simply may not be able to perform the way you imagine it would. This goes particularly well with the 220v/110v ones.
If you are going for a smaller and cheaper option, you should get a new one. They already come with a warranty and are generally not going to cost you a fortune. But if you have an opportunity to get a used industrial stick welder, you better jump at it. Those machines, even though they are used, can last a lifetime as they are build to last and are high-quality.
Safety
When it comes to safety, there are some standard safety procedures that you have to follow when it comes to arc welding. However, stick welding does create more spatter and a lot of sparks can flay around while you work. This is why you have to take some special precautions.
A welding helmet is a must. The mask will protect both your eyes and face from sparks and spatter. The same goes for your hands and arms. Wearing heavy leather gloves, an apron, and body protection with long sleeves is also necessary. You should button the sleeves up and the collar as well to prevent hot chunks from getting inside.
Finally, ventilation is equally important as with any other welding process. However, with stick welding process, some electrodes might give off dangerous fumes. It helps that most of the stick welding is done outside so the only thing that you have to think about is not holding your head directly above the fumes. But if you are working inside, a proper ventilation fan is needed. Opening a door or a window is basic but you should install an advanced fume extracting system. Also, pay close attention before starting to weld on a possible faulty circuit breaker or damaged power or welding cables.
FAQ (Frequently asked questions)
Conclusion
This may be an age-old welding process but it is definitely one that will not be replaced for a long time. With the quality that it provides and the various welding applications that it offers we are definitely going to see more of it in time.
These welders may not grace the covers of magazines nor do they look like pieces of art but they can come for an affordable price. We have reviewed the best offers that we could find and emphasized their top qualities in this resource. It is up to you and your personal needs to determine which one will be the most applicable one for you.