Trying to find some flux core wire for your next welding project but finding the number of options out there confusing? Don't worry – I can help narrow things down for you.
I've tested several wires and worked out their strengths and weaknesses for you and, at the same time, I've put together a guide on how to choose the right wire for the right welding job.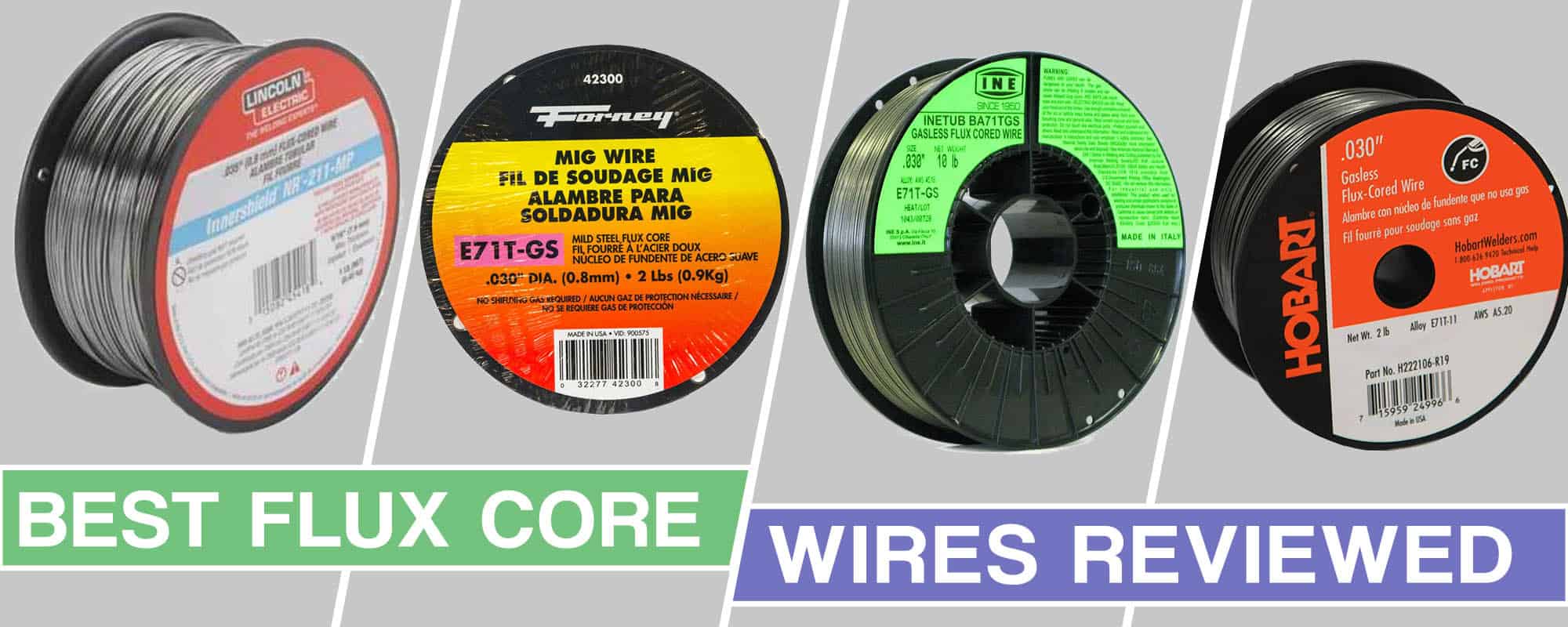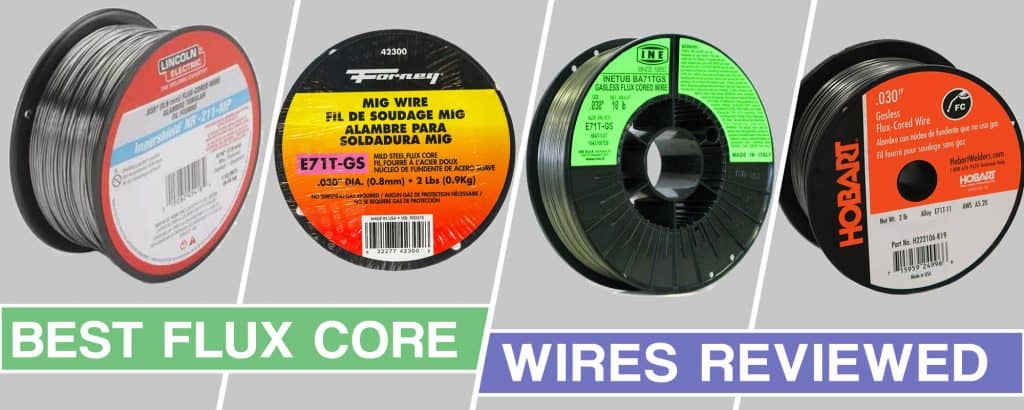 Choosing flux cored wire can be easy when you know how and whether you're working with mild steel or stainless steel – I've got you covered.
Flux Core Wire Quick Comparison
Best Flux Core Wire Reviews
1. YESWELDER Gasless Flux Core Welding Wire .035-inch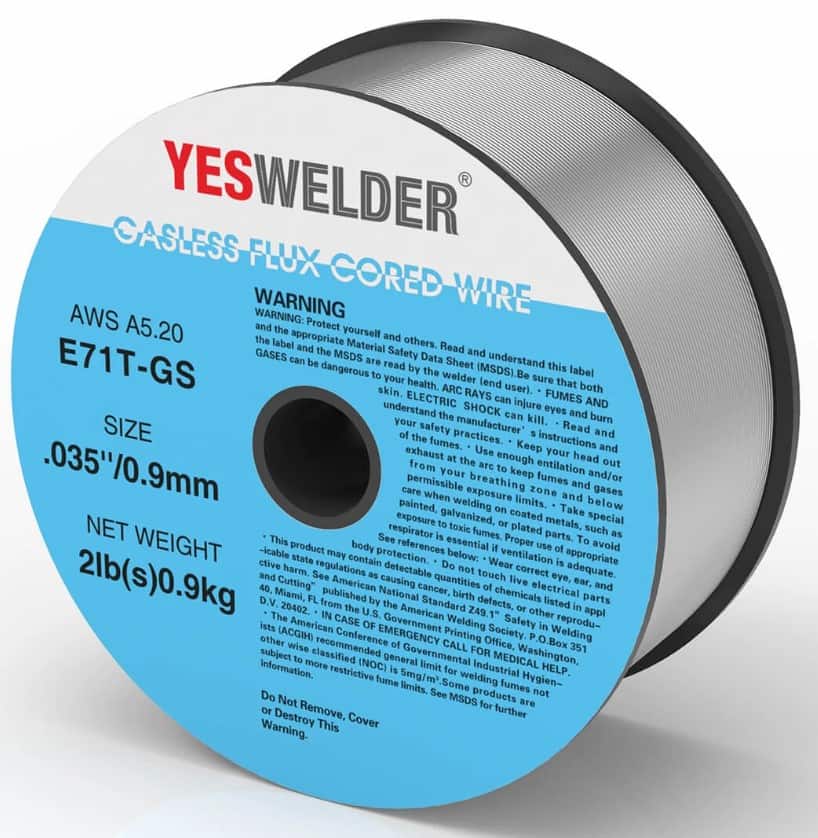 This is a decently priced flux core wire that offers excellent performance. It is an all-position, single-pass, flux core wire that is meant for welding carbon steel, and of course, It does not require any shielding gas.
It produces very little to no spatter, and it provides a smooth and stable arc. YESWELDER Gasless Flux Core Welding Wire creates a full slag coverage that will be easy to remove and chip off when the welding bead it cooled off.
Typical applications include butt, lap and fillet welds, this wire also works well on rusty, dirty and painted Material, It's excellent for windy outdoor conditions.
Note: YESWELDER recommends DCEN polarity when you are using this wire.
The package comes as a 2lb spool sealed in a vacuum package that can be stored without the fear of corrosion.
Overall this is an excellent quality general purpose wire that is decently priced, and I would recommend it.
Pros
Very good bead appearance
Excellent slag removal with a full slag coverage
Little to no spatter with low smoke
Works fantastic in outdoor conditions
Can be used with MIG wire feed welders
Good vacuum package
Cons
Doesnt come in bigger than 2lb spools
2. Lincoln Electric ED030584, MIG Welding Wire, NR-211-MP.035, Spool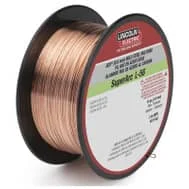 This is a solid welding wire which excelled in delivering a neat bead while we worked with it. In fact, I liked it so much that I felt it might be the best flux core wire in my tests.
It is very easy to work with and I liked the fact that it flowed near perfectly in almost every situation. This means you're going to get a great level of productivity from using the Lincoln wire.
However, I can't pretend that this didn't come at a high price. I'd expect a 2lb spool from most manufacturers at the price of a 1lb spool of the Lincoln Electric ED030584 wire.
So, if you intend to do a lot of flux core welding this may not be the most economic choice for your projects.
Sale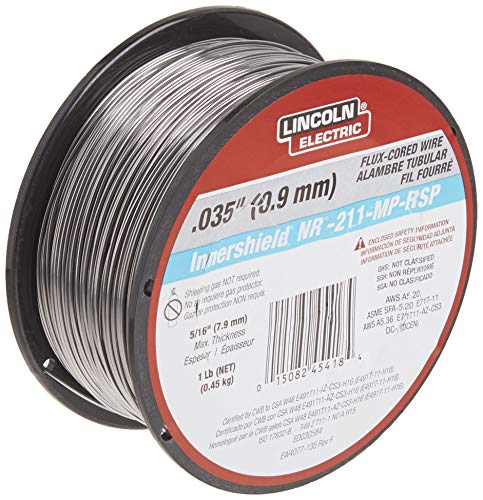 Last update on 2021-10-24 / Affiliate links / Images from Amazon Product Advertising API
Pros
Possibly the best bead appearance
Good welds created in windy conditions (no tenting)
Excellent slag removal and the freezing characteristics were speedy
Can be used with MIG wire feed welders
Cons
The price is a little higher than I'd have liked
Works best with Lincoln welding machines
3. Forney 42300 Flux Core Mig Wire, Mild Steel, E71TGS.030-Diameter, 2-Pound Spool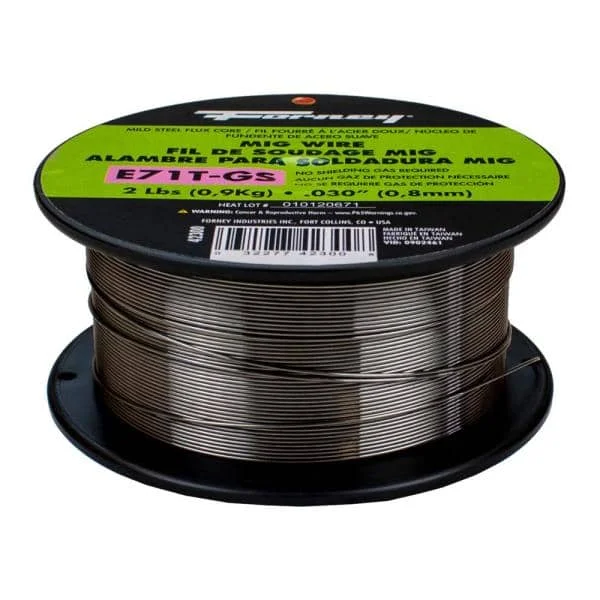 My choice of the best flux cored wire for mild steel is the Forney 42300 flux core MIG wire. I found that no matter what the condition of the material was that it produced excellent quality welds.
The biggest limitation with this wire is that you can only use it for single-pass welding. However, assuming that you can live with this – the price is very fair and the majority of users report nothing but satisfaction with this product.
I'd recommend purchasing it from Amazon com because some users have reported getting broken products when ordering it – that way you can benefit from a money-back guarantee.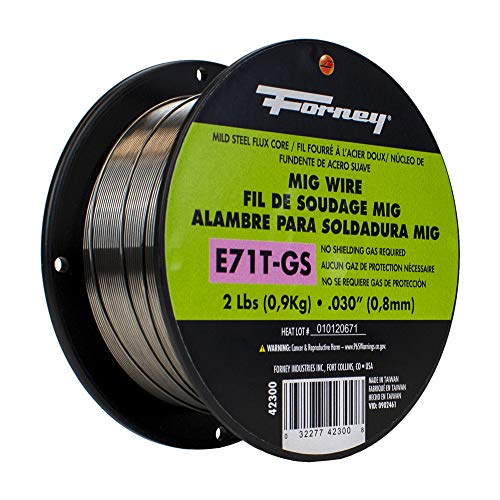 Last update on 2021-10-24 / Affiliate links / Images from Amazon Product Advertising API
Pros
Has no issues at all with rusty, dirty and painted materials
Handles the windiest of outdoor conditions without any problems
Very high travel speeds
Cons
Single-pass applications only – if you need multi-pass look elsewhere
Moderate levels of spatter (this can be reduced if you use a shielding gas)
Some users report receiving damaged spools
4. INETUB BA71TGS .035-Inch on 2-Pound Spool Carbon, Steel Gasless Flux Cored Welding Wire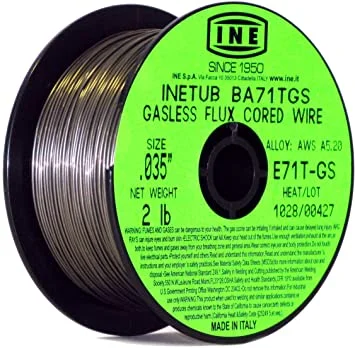 Another candidate for the best flux cored wire for mild steel has to be the INETUB BA71TGS which is manufactured in Italy and claims to offer a much higher level of precision in manufacturing.
This also means that it's made under conditions in which the rights of the company's workers are respected – so, if you're looking for the most ethical choice, the INETUB BA71TGS should be your pick.
found it to be particularly forgiving and that the welds created were very strong and of the best quality. If you're looking for a .035 stainless steel flux cored wire then you can do much worse than this.
I do need to point out that the 10 lb spool that it comes with maybe too much wire for some flux core welding users. Those who do a lot of mild steel welding are going to find that they get value for money, though.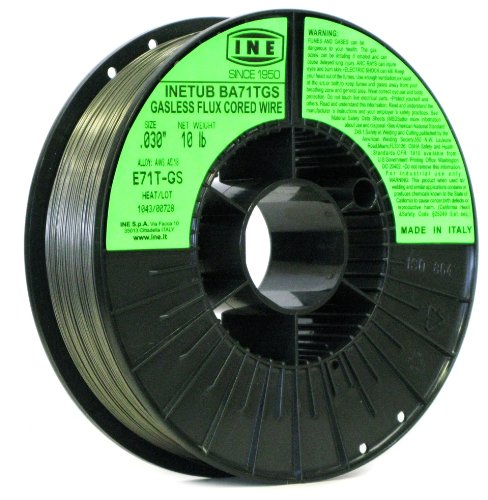 Last update on 2021-10-24 / Affiliate links / Images from Amazon Product Advertising API
Pros
Really smooth arc action
Great levels of feed-ability
Very low spatter
Nice bead appearance
Cons
The price is a little higher than most
Some users have noted that they find the wire to feel a bit brittle
5. Blue Demon E71TGS .035 X 2# Spool Gasless Flux Core Welding Wire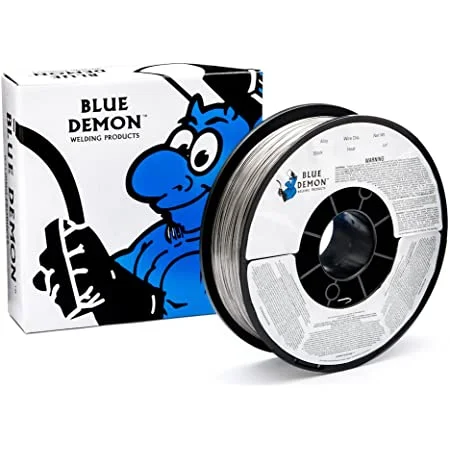 I think the Blue Demon E71TGS is the best flux core welding wire for home users and hobbyists. It's very much aimed at this section fo the market and runs well even with a 110V welding machine.
I had no problems working with galvanized steel with this wire and other welders report similar results. The price is very good and while I don't think I'd want to buy large stocks of this wire unless I was going to use it immediately
You don't have to because they can offer a small spool (though make sure your welder allows for these before you buy) option.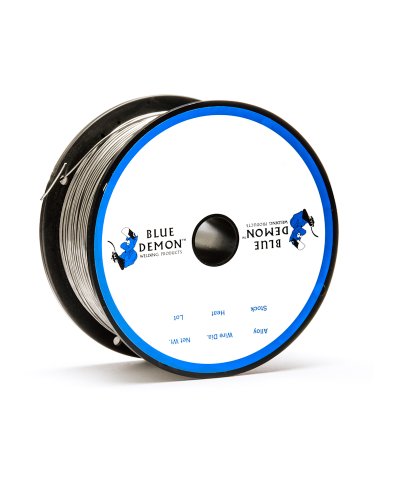 Last update on 2021-10-24 / Affiliate links / Images from Amazon Product Advertising API
Pros
The best price wire – very good for hobbyists
Works well with galvanized steel
Comes in small spool sizes – ideal for testing before you commit to buying more
Cons
Higher levels of spatter than most other gasless flux core wires
Struggles in professional quality MIG welding machines
6. Hobart H222106-R19 2-Pound E71T-11 Carbon-Steel, Flux-Cored Welding Wire, 0.030-Inch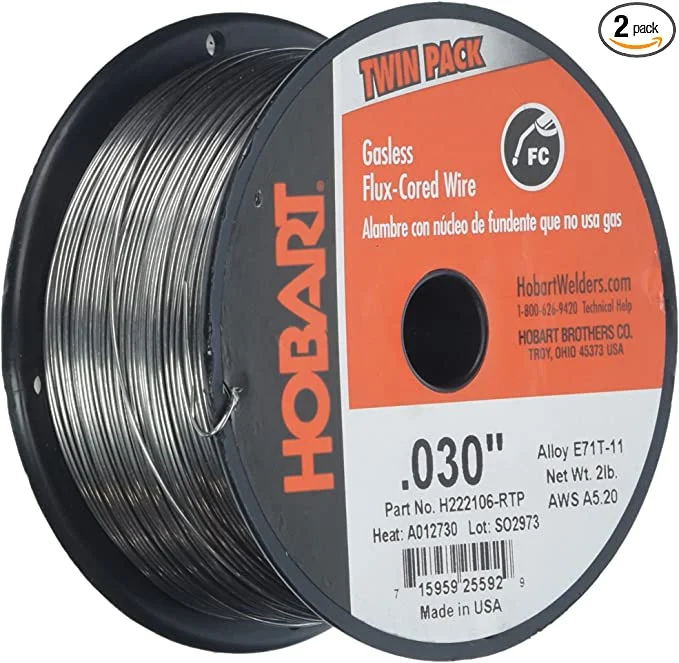 Hobart is a big name in the welding wire market and it should come as no surprise that they make one of the best flux core wire spools on the market. If you want good quality flux core welding wire for small project use – this is ideal.
I found that it feeds well and the bead quality is good even when working on single-pass applications.
The 2lb spool availability means you can try this easily and see if it's right for you without committing to a large order, too.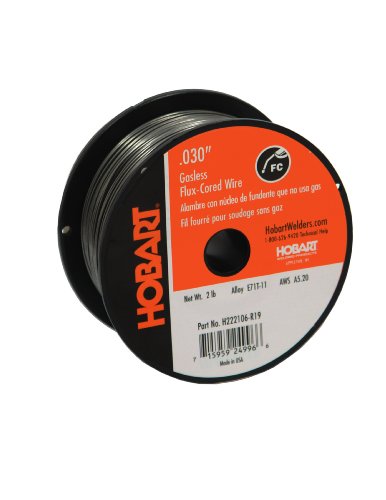 Last update on 2021-10-24 / Affiliate links / Images from Amazon Product Advertising API
Pros
Works in both single-pass and multi-pass use
Very good on galvanized steel
Small spool size available
Cons
Higher price than some other welding wire
Medium level of spatter produced when welding
Higher levels of smoke than I'd expected
Buying Guide For Flux Core Wire
Flux Core Wire vs Solid Wire
t's important to draw a distinction between flux core wire and solid wire, which is the other type of wire using in welding.
Flux core wire has a "flux core" which means that as the wire melts, it creates a gas bubble over the welding pool and the slag created.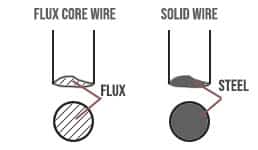 This eliminates the need for gas for shielding, which is mandatory when working with solid wire. However, it is still possible to work with shielding gases when using certain flux-cored wires to create even cleaner welds.
The Diameter And Spool Size
The size of the wire you use is always important. The flux core welding machine that you choose will tend to limit your choices of wires. You can, of course, adjust the feed wheels and nozzle tips to accommodate other sizes of wire but they tend not to be the limiting factor in your wire choice.
What does fix the flux core wire sizes I can use? The amperage the welding machine runs at and the plate type that you're working with.
The rule is that the lower the amperage is set at, the thinner the flux core wire should be. The thinner the plate, the smaller the size of wire required too.
It's important to check the specifications of both the wire and your welding machine when choosing wire size – this isn't' something which is standard between wires – not all wire types are the same.
As for the spool size? You can get a better price for your wire if you buy bigger spools but don't buy more than you need for a reasonable period of time – waste is expensive.
The Application
You must buy the right type of flux core wire for the right type of materials that you intend to weld.
That means steel wire when you weld steel and stainless steel wire when you weld stainless steel.
If you get this wrong then you may find that your welding starts to rust once the project has been completed – nobody wants rust all over stainless steel, do they?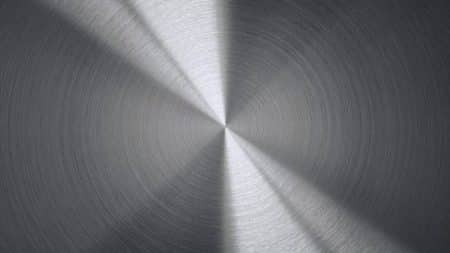 A Guide To The Specification Codes On Flux Core Wire For Mild Steel
There are specification codes for flux core wire that is used on mild steel and I've got a brief guide to help you work out what they mean:
An "E" is a statement that the wire is to be used as an electrode. That is it's continuously fed and will be used up in the weld pool. You feed this through the welder to the nozzle of the MIG welder
A "7" is a statement of the tensile strength of the flux core wire and it will offer a strength of 70,000 lbs. per square inch.
A "1" is a statement that the wire is fit for use in all positions when welding (including overhead, horizontal, flat and vertical)
A "T" is a statement that the wire is flux-cored and can be used without a shielding gas
An "11" is a reference to the usability characteristics e.g. it supports DC polarity, all positions, and multi-pass welding
If you see "GS" this means that the welding wire is only to be used for single-pass welding
Tips For Using Flux Cored Wire
If you are using a MIG welder then you can choose to swap between flux core wire and solid wire. When you are using flux wires, it's important to use the right drive roll when welding. If you choose a knurled drive then it will grip the wire more effectively and, in turn, feed the wire to the MIG gun in a smooth fashion
When changing a MIG welder between flux core wires and solid wires make sure to check and change the polarity of the machine when you change the drive
If you are gasless MIG welding then you're going to need to reduce the tension in the welder when working with flux core wires – this is because the softer center of the wire will distort when the tension is the same as with solid wire and this can make feeding difficult or reduce the quality of the weld
Make certain that when changing between flux core wire types that you are feeding the right diameter of wire into the right diameter drive rolls. If you fail to feed say, 0.030 wire into the 0.030 side of the drive roll – you will have problems working with the wire
If you want good flux core welds then you're going to need to ensure the contact tip matches the diameter of the wire too
You should make sure the wire diameter matches the gauge of mild steel as recommended by the manufacturer. So, for example, 0.030 mild steel flux wire can weld up to 18 gauge mild steel at up to 1/4″ (depending on the amperage your welder is producing)
You need to choose the right size of spool for the welding machine. A 10 lb spool requires an 8-inch spool, for example. Don't forget that a flux wire welder working with a 10 lb spool will save money on wire but might still be better off buying 2 lb spools if they cannot store the wire properly
Make sure you remove the wire at the end of the job and store it properly. If you don't you might need to carry out a huge cleanup project when you next use the welding machine.
If you want to work with mild steel flux cored welding wire then you must have DCEN (direct current electrode negative) support. This, in turn, means you must connect the MIG gun to the negative terminal on your welding machine. If your welding machine is flux core only then you will find this is the default setting.
Don't forget that if you want to work with a shielding gas – you must change the polarity from DCEP to DCEN too.
What Is Flux Core Wire?
Flux core wire is a gasless welding wire which has a hollow center filled with flux that is surrounded by the welding material (usually mild steel).
Inside Flux Core Wire
So, what is flux? It is a collection of compounds that, when melted in a flux core welding machine, form a protective shield for the weld preventing it from being contaminated by particles in the air.
It will also contain compounds to assist in shaping the weld pool while increasing the deposit rate of the metal.
In addition, it may also use scavengers and/or deoxidizers which help to force impurities out of the weld and into the slag (which can then be chipped off after the welding job is finished).
There are two kinds of flux core wire: self-shielded and gas-shielded.
You tend to find gas-shielded wire being used in large commercial operations. Whereas gasless MIG wire tends to be used in home, DIY and small commercial environments (and that's why it's the focus of this article).
Frequently Asked Questions (FAQs)
What Is Flux Core Wire Used For?
Gasless flux core wire is used to generate its own shielding gas for a weld. This prevents impurities from contaminating the weld and because there's no need for gas – it makes for a more portable welding solution than standard solid wire welding might.
This approach to welding is also valuable in windy, outdoor conditions where a shielding gas might be blown away from the weld.
Can I Use Flox Core Wire In A MIG Welder?
Yes, it's fine to use flux core wire in a MIG welder and there's no need to buy a separate flux core welder.
As I touched on previously, this can help make the welding machine more portable or tackle jobs in adverse climate conditions. You may also find that you get a greater degree of weld penetration when using flux core wire.
Is There Flux Cored Aluminum Wire?
No. Though you may find some chancers on the Internet selling "flux cored aluminum wire" when you read the small print – you'll find that it says "we recommend using Argon shielding gas".
In fact, this is not optional it's essential. You cannot use flux core welders to weld aluminum and you must use a MIG welding machine that can provide a shielding gas to the nozzle. This is simply because aluminum is too reactive in the air for the flux core MIG wire to work without shielding gas.
Conclusion
The best wire in my tests was the Lincoln Electric ED030584 which I felt delivered the best value and feature combination.
However, I also felt that if you were mainly welding at home that you might want to consider the Blue Demon E71TGS which was great value for money for hobbyist applications.
The INETUB BA71TGS is also an excellent choice and the premium manufacturing is obvious. We also like the fact that it's an ethical choice. However, you need to buy this in bulk, so make sure you need a lot of it as it won't store forever.
The important thing is to remember that the best flux cored wires for your project will be those which suit the materials you are welding and the power of your welding machine. When you understand these two things, you can then select the right wires with confidence.