Buying a welding machine that only das FC process is much more budget-friendly option, but there are a lot of bad "waste of money" machines in this niche. Choosing the best flux core welder for your project can seem a little intimidating at first. There's a lot of choices (good and bad) of this type of welding machine available to you.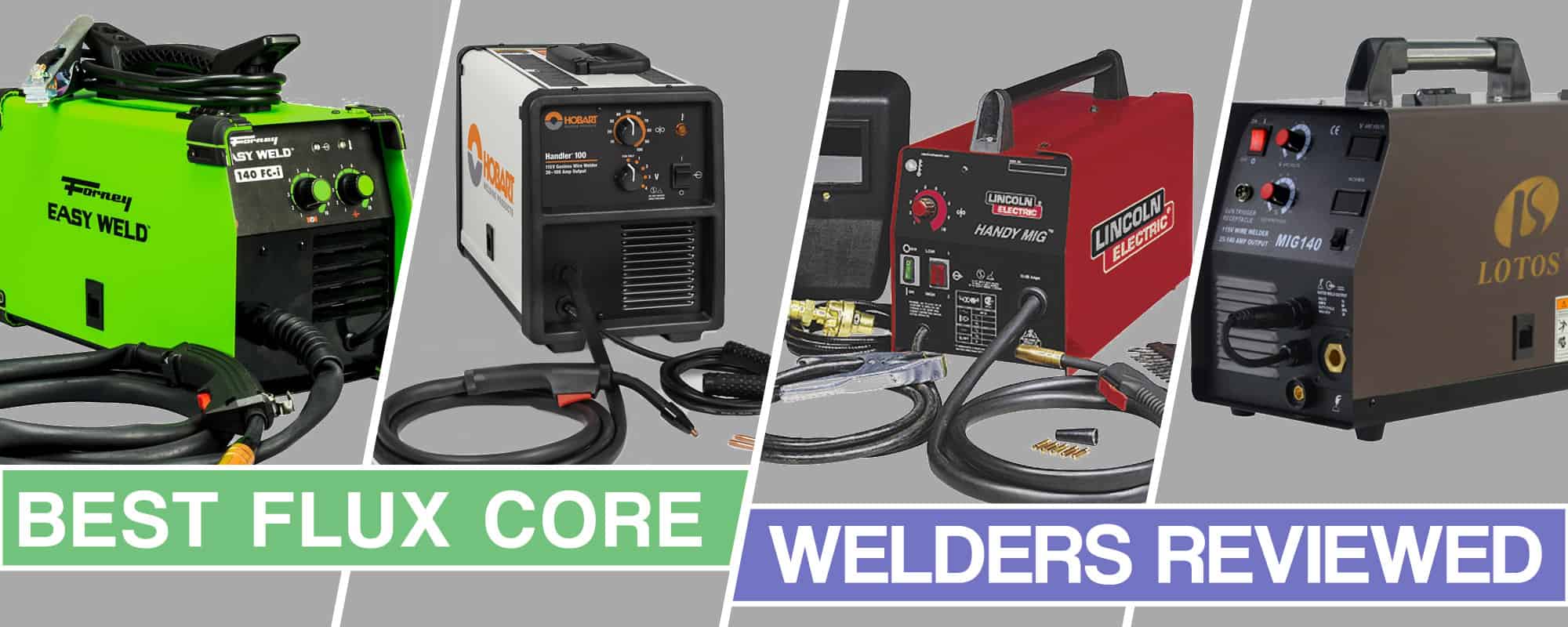 Fortunately, once you've got to grips with the options – it becomes much easier to work out which flux core welder will work for your needs.
So, not only have I narrowed the field down to only 8 best flux core welders but we've also put together a short buyer's guide. It will make choosing the right flux core welder for you very easy, indeed.
Best Flux Core Welders Comparison Table
Best Flux Core Welder Review
Keep in mind that these are 110v/220v welding machines, not the heavy industrial ones that cost from up to $10 000. They will serve perfectly for day to day tasks repair and small to medium welding projects. But you can't build Noah's ark with a welder plugged in on household current 110v outlet.
1. YesWelder 135AMP 110V Gasless MIG Welder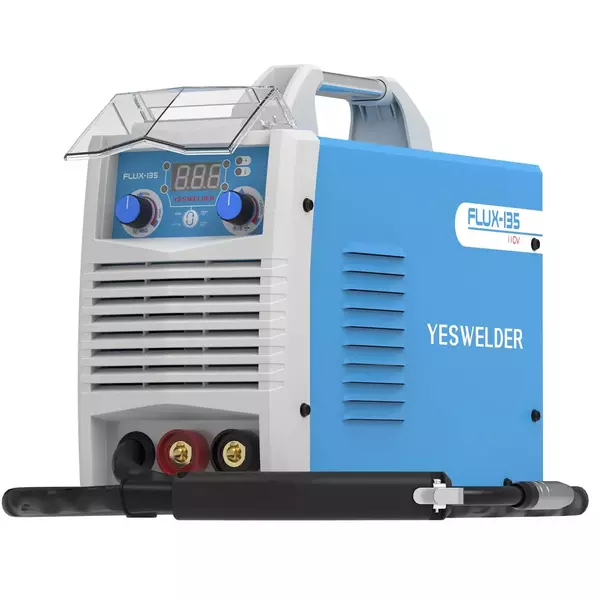 This tiny and lightweight Flux core welder from YesWelder packs a serious punch of power and features at a more than affordable price.
YesWelder Flux 135 is a small machine perfect for DIY, garage, and home welding needs. You can also use it for outside work in windy conditions. To run it, you will need a regular household input of 110V, which means you can use it in any garage, small shop, farm, or remote site location.
With approximately 13 lbs you will find it more than easy to carry around, as most flux core welders, such as Hobart Handler 125 are a couple of times heavier.
Even though we are talking about 110V only machine, the amperage output of 30-135A is more than suitable for medium to light-duty projects. It is rare to see a 60% duty cycle at the max output at this price range, and even brand-name flux core welders such as Lincoln, Hobart, or Miller are limited to 20-30%.
This FC welder features Synergic MIG settings, which automatically set wire speed and voltage based on the amperage you choose to output. This feature makes YesWelder Flux 135 a great flux core welder for beginners which found this unit more than easy to use. However, if you are a seasoned welder you can also fine-tune the voltage from -5 to 5V on top of what the machine set on its own.
One thing you should be aware of is a built-in MIG gun. You will need to open and disassemble a machine if you want to change it, which can be challenging for beginners. However, at this price range, you shouldn't really expect anything better.
The drive roll mechanism consists of two metal drive rolls (above and under the wire), but the rest of the mechanism is made of plastic. You can use either 0.030″ or 0.035″ flux core wire, but compact dimensions will limit you to 2lbs (4″) spools.
When buying affordable units such as YesWelder Flux 135, I suggest you check them straight out of the box. Some owners said they had problems with loose parts as a result of poor shipping, but YesWelder support is more than glad to resolve issues. In addition, absolute beginners find the instruction manual a bit confusing.
Get 10% Off With Coupon: "10% WELDPROS"
Pros & Cons Summarized
Pros
Great amperage output for only 110 V input
Easy to set up and use
You can plug it into any household outlet
Lightweight with less than 15 lbs
Budget-friendly, best for money
Synergic settings adjust voltage and wire speed and make it beginner-friendly
Perfect for DIY, garage, and home flux core welding machine
Cons
Built-in MIG gun
Limited to 4″ spools
The instruction manual is not well written
Specifications
Processes: Flux Core, Arc Welding, Lift TIG
Weld Thickness Range: mild steel up to 5/32" in the plate.
Input Voltage: 110 V
Input Phase: 1-Phase.
Current Type: DC.
Rated Output: 135 A @ 60% duty cycle.
Amperage Range: 30 – 135 A.
Adjustable voltage: – 5 V, 5 V
Suitable wire diameter: 0.30" & .035" flux core wire
Weight: 13.5 lbs.
2. Forney Easy Weld 261, 140 FC-i MIG Welder, 120V, Green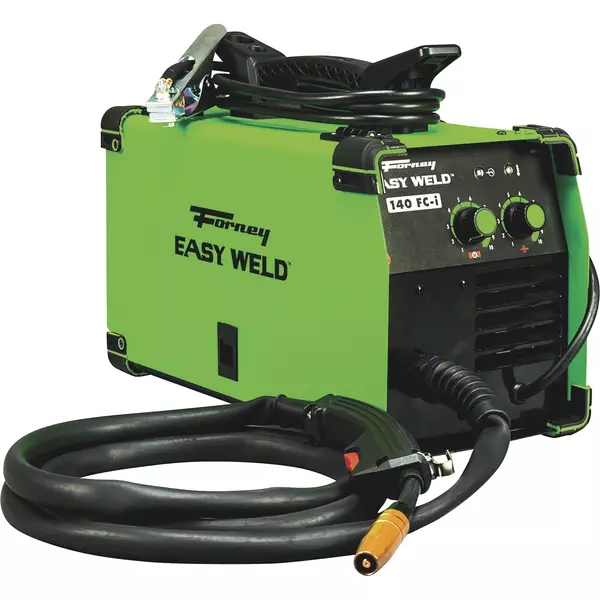 Forney Easy Weld 261 is a great inverter technology and compact welder for do-it-yourself, maintenance, and repair welding projects.
With a decent price and a 12 months warranty, you will be more than happy with the purchase. This is a compact and lightweight unit with 19 lbs, but you can still fit 2 or 10-pound rolls of wire which the YesWelder unit we mentioned was unable to.
With a rated power of 140 amps, you can weld up to 1/4 inch steel with not much spatter. But if you are an absolute beginner it will take some time to get the settings right and achieve perfect beads, especially with a low-quality flux core wire.
That's why I suggest getting some decent quality wire and flux core gun nozzle. In addition, you can use anti-spatter consumables (spray or gel) to get the best flux core welds. Nonetheless, Forney Easy Weld 261 comes with a pretty good welding gun and a ground clamp that is a little on the lightweight side, but as expected in this price range.
One of the things seasoned welders noticed is a somewhat low wire feed speed. However, many welders report they are more than satisfied once they mastered it. Some even said Forney 261 performs better than reputable machines such as Hobart Handler.
Keep in mind that the manufacturer states that you can use both .030 and .035 wires, but the instruction manual says otherwise. Still, you can try using .035 wire, but you will need adequate consumables that are not included in the package.
Overall this is a good Flux core welding machine that will serve you around the house and in the garage for any DIY projects. You might have read on the internet about The Forney Easy Weld 299 125FC Flux Core Welder which is a somewhat less powerful machine. Easy Weld 299 125FC Flux Core Welder is now improved, and incorporated into a model we reviewed here.
Pros & Cons Summarized
Pros
Budget-friendly – provides excellent value
Infinite voltage and wire feeding speed controls
Lightweight and compact
The improvement over Forney Easy weld 299
Capable and versatile machine
You can fit the various size of spools and wires
Cons
The ground clamp could be better
Might take some time to get settings right
Some find wire feed slow
May have to deal with spatter when using cheap flux-cored wire
Specifications
Processes: Flux Core (FCAW)
Weld Thickness Range: 24-gauge up to 1/4 in
Weldable Materials: Mild Steel
Input Voltage: 120-volt input
Input Phase: 1- phase
Current Type: DC
Rated Output: Duty Cycle 30% @ 90A
Amperage Range: 140 AMP output
Weight: 19 lbs
3. Hobart Handler 125 500573 Flux Core and MIG Welding Machine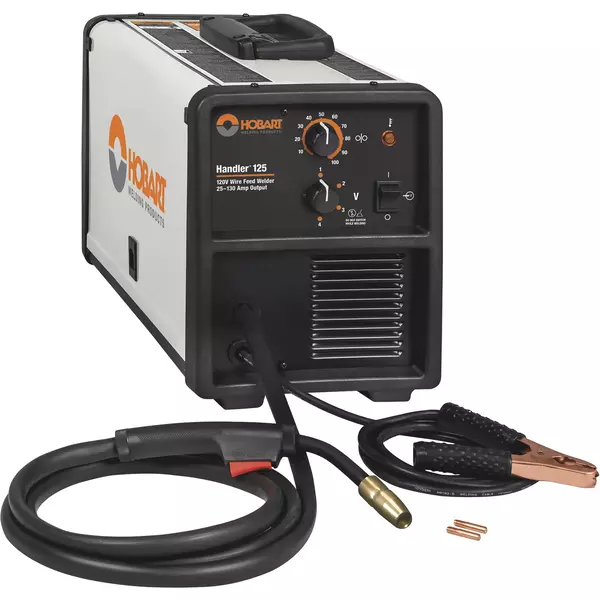 Hobart's little flux core welding machine is one of our review's best flux core welders. This is a well-built and capable brand-name welder that can weld up to 3/16 inch thick steel. For thicker materials, you will need a more powerful flux core welder, such as Handler 140 or Multi Handler 200.
Nonetheless, Hadler 125 is a pretty neat and compact little welder which has excellent arc performance and comes with industry-leading 5/3/1 warranty.
A good thing about this reliable flux core welder is its versatility. Handler 125 requires 110V input power, and with gasless MIG wire, you can use it at a remote location or in windy outside conditions.
Despite the high-quality build, the Hobart Handler 125 wire feed mechanism is made of plastic. That's why some welders had problems with wire feed consistency. Meanwhile, Hobart Handler 140 has full cast aluminum drive rolls, but this little guy is priced less than double than its bigger cousin.
Even though Handler 125 is a quite capable flux core welder, this isn't an industrial-grade machine. The duty cycle of 25% at 80 amps means you are limited to shorter weld periods and thin plate. If you exceed the duty cycle, thermal overload protection will kick in, shutting down the welder until it cools down.
In a nutshell, Hobart Handler 125 is a decent beginner flux core welder you will find easy to use and set up. Compared to lightweight inverters on our list, this is a massive, 57.5 lbs machine you can have issues moving around the workshop. In addition, some found the ground clamp awful, so you might consider getting a replacement.
Pros & Cons Summarized
Pros
Excellent warranty
Decent price for a brand-name machine
Can fit a 8″ spools
Inbuilt safety control that keeps wire electrically cold
Reliable flux core welder
Cons
Plastic feeder
Light duty welder
Specifications
Processes: MIG, Flux Core (FCAW)
Weld Thickness Range: 18 ga (0.8 mm) – 3/16 in
Weldable Materials: Mild Steel
Input Voltage: 110/115/120 V
Input Phase: 1- Phase
Current Type: DC
Rated Output: 80A @ 25% Duty Cycle
Amperage Range: 25 -130 amp
Wire-Feed Speed: 88 IPM 545 IPM
Weight: 57.5 lbs
Warranty: 5/3/1 years
4. Eastwood 90 Amp Flux Core Welder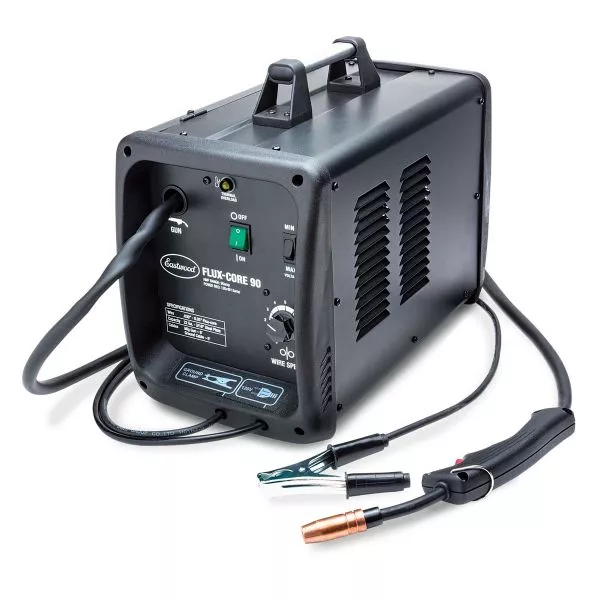 The Eastwood company is well known for its efforts in the hobbyist and auto body market, and their 90 amp flux core welder is no exception. This is a decent and compact machine for garage and or home shop projects.
Even though there are cheaper options on the market, such as the Chinese VIVOHOME Portable Flux core welder, the reliability of US-based companies is unmatched.
To run it, you will need a 120V input and a 15 amp breaker which is regular in any household. That's why Eastwood 90 amp flux core welder is one the best for your everyday home projects. Since you don't need a shielding gas with flux core machines, you can always use it for outside work and harsh conditions.
With the limited input power, you get a somewhat limited output amperage. As the name states, this machine is capable of outputting a maximum of 90 amps. That means you can use it to weld steel 20 ga. up to 1/8″ thick. On the other hand, other welders on our list can join somewhat thicker material. Rated duty cycle of 20% at 90 shows you won't be able to work for too long either.
With this Eastwood welder, you can use up to .030 thick wire which is pretty standard in this price range. However, some are capable of working with thicker diameter wire, but within this output current, .030 will work just fine.
Overall, this transformer-based unit is quite reliable and durable. However, you shouldn't expect the same performance as the expensive flux core welders with dual voltage output can provide. Nonetheless, you will be more than satisfied when you take into consideration the 3-year warranty and affordable price.
Pros & Cons Summarized
Pros
The user-friendly machine that is easy to use and setup
Reliable transformer technology
Requires regular household current
Durable build
One of the great beginner welders
Long warranty and return policy
Cons
Limited to the light workshop jobs
The duty cycle is not that high
Some welders can work with thicker wires
Specifications
Input Voltage: 110-120VAC
Output Range: 60-90 Amps
Duty Cycle: 20% @90 Amps
Weld Material: Steel, Stainless Steel
Maximum Weld: 1/8″
Weight: 36 lbs.
Torch: Tweco Style
Torch Length: 6′
Power Source: Transformer
Ground Length: 6′
5. Lincoln Electric Century FC-90 Flux-Cored Welder — Inverter, 120 Volts, 30–90 Amp Output, K3493-1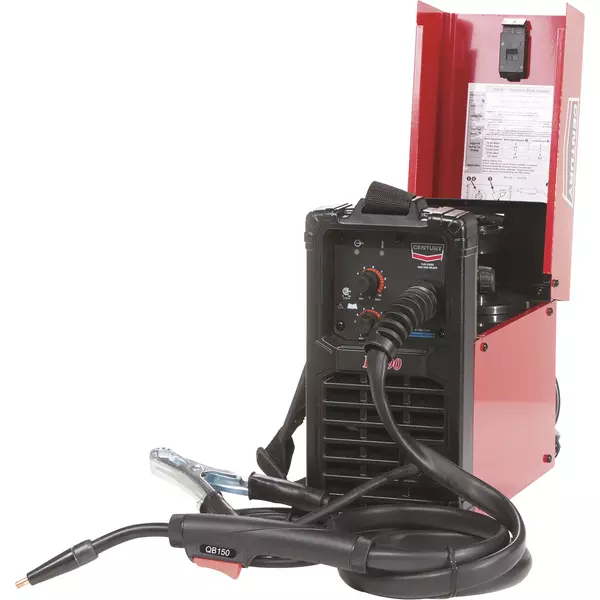 The Century is a Lincoln Electric brand meaning FC 90 is quite a reliable but still an affordable machine. Unlike MIG welding, you don't need a shielding gas to work with it, which increases versatility. However, you can also use it as a MIG welder, but we put it on the list as a great brand-name flux core machine.
One of the things I find interesting is the top-loading wire design. This is a unique feature on the market, as most welders are accessed by opening the side.
That's why you might take some time to get used to this approach, but if you are a beginner, you can master it in no time.
Even though FC90 is a Lincoln Electric brand machine, the price tag doesn't reflect it. Despite being affordable, this is also a decent-quality welder. Compared to cheap welders such as VIVOHOME Portable Flux-Core welder or Goplus welder, FC90 offers infinite voltage settings. That's why this is an excellent welder of ones that like to fine-tune the machine.
Compared to other brand-name MIG welding machines such as Hobart Handler 140, this is a bit less powerful, but significantly cheaper welder. You can use it to weld up to 1/4″ thick metal in a single pass, which is slightly higher than some welders on our list. The Rated duty cycle of 30% at 80 amps is somewhat similar to other flux core welders in this price range.
Despite being well made and sturdy, Lincoln Electric Century FC90 also features a lightweight design. With 18 lbs, this is one of the lightest machines on the market, and the shoulder strap will help you carry it around. In addition, you get a 1-year warranty and decent quality welding gun, clamp, and power cable with 6 ft. long leads.
Pros & Cons Summarized
Pros
Easy to use
Weld up to 1/4″ in a single pass
Infinite voltage control
Sturdy and lightweight
Smooth arc and continuous amperage control
Precise control ad welding chart
Cons
Might take some time to get used to top side wire mounting
Specifications
Processes: Flux Cored (FCAW), (GMAW) MIG welding.
Weld Thickness Range: Mild Steel welds up to 1/4 in.
Weldable Materials: Steel, Stainless Steel welding.
Input Voltage: 110/115/120 V 60Hz.
Input Phase: 1-Phase.
Current Type: DC.
Rated Output: 80A, at 20% duty cycle.
Amperage Range: 30A -90A.
Weight: 18 lbs.
6. Ironton 125 Flux-Cored Welder — Transformer, 115 Volts, 60–125 Amp Output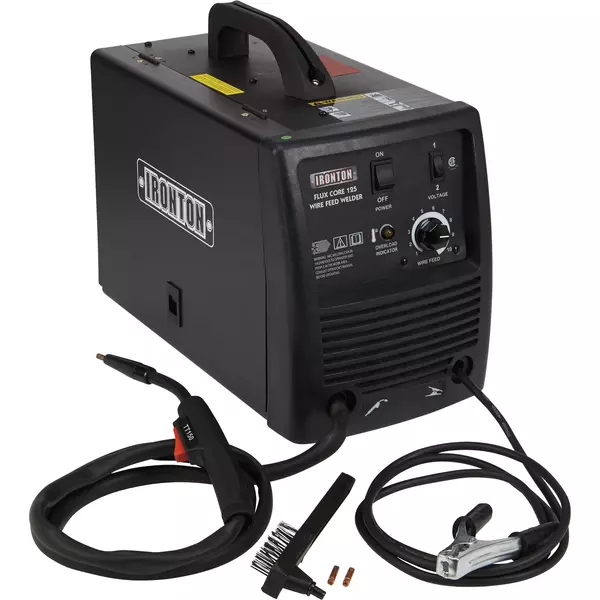 Ironton 125 flux-cored welder is a great machine for a wide variety of jobs around the house, the farm, the shop, even the demolition derby pit. The package includes everything you need to weld straight out of the box, you just need to get some flux core welding wire.
This welder uses transformer-based technology which has proven reliable. In addition, it is easy to use and set up which makes it a great flux core welder for beginners. Regular 115V power input and two voltage settings increase versatility.
To work with it, you can use both .030 and .035 wires and 4″ or 8″ spools. Compared to some machines on our list, such as YesWelder, you can fit more flux core wire to increase productivity. With a peak AC output of 125 amps, you can weld a maximum of 5/16″ metal thickness which is decent compared to other machines on our list.
The downside of transformer technology is efficiency and weight. That's why the duty cycle is rated at 20% while the latest inverters, such as YesWelder Flux 125 have it rated at 60%. In addition, this welder weighs 37.5 lbs, which is double the Lincoln Electric machine we listed.
Nonetheless, this is a decent beginner welder that will fit your light-duty flux-cored welding needs. You can use it to join sheet metal or weld thick metal. The rugged build is reinforced by a stainless steel body. In addition, the welder is protected by a consumer limited 1-year warranty.
Pros & Cons Summarized
Pros
You can weld thin ad thicker metal
You get everything you need to weld out of the box
Improved versatility
Reliable transformer technology
Rugged and sturdy build
Cons
Some find it heavy and hard to move
Not for heavy-duty welding
Specifications
Welding Process: Gasless Flux core welding, MIG welding
Weld Thickness Range: 18 Gauge – 5/16″
Weldable Materials: Carbon Steel
Input Voltage: 115 V/20 A.
Input Phase: 1-Phase.
Current Type: DC.
Rated Output: 20% at 90A duty cycle.
Amperage: 60-80 A.
Weight: 37.5 lb.
Flux Core Welder Buying Guide
Most MIG welders can use flux core wires when you change the settings, remove gas canister and change polarity to electrode positive. But then there are these flux core welders
that are solely made for flux core in mind and are the cheaper option.
Then if you decide that the only thing you will be using is FC, maybe the second opinion is better and more wallet-friendly then full MIG welder.
So, let's take a look at what else needs to go into your purchasing decision:
The Thickness Of The Plate
You want to choose a machine that's capable of welding a bit more than your usual maximum plate gauge.
Why? Because it's likely to struggle with your usual maximum – a machine that can handle something thicker will make that weld much easier.
You will also be giving yourself the capacity to weld something thicker if the need ever arises.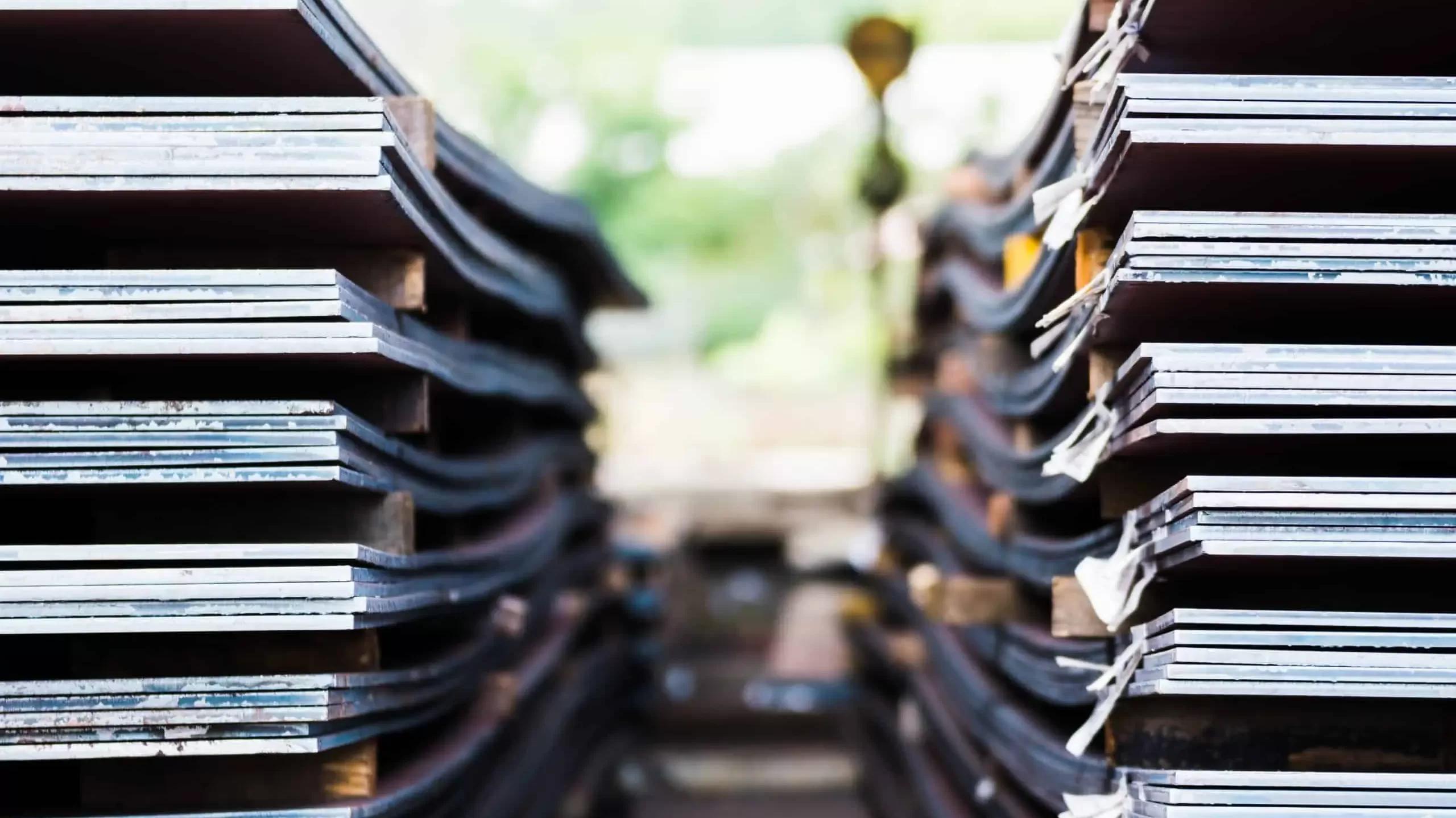 As a rule of thumb: the bigger the amperage range, the thicker the plate that you can weld. Make sure to treat this with caution though as some welders buck this trend, so check the manufacturer's notes before assuming that you can weld thick plate with your preferred choice
Single-Use or Multi-Purpose Use?
Multi-purpose use is possible with any MIG welder, it can use gas or it can go without. This, obviously, gives you more flexibility than a single-use flux core welder but it will cost more.
If you think that you might need to be able to use gas to ensure clean welds, you can invest in a machine that can handle fluxless and flux-cored wire. Both the Hobart Handler 140 and the Lotos MIG140 can deliver excellent results with or without gas.
The Type Of Metal Used
Some welding machines work better than others with different materials. It's important to note that no flux core welders are capable of working with aluminum whereas you can certainly find a multi-purpose machine that can handle fusing aluminum.
AC or DC
One thing you should pay attention to is whether your machine has AC or DC output. AC outputs don't produce the best results with flux-core welding.
Though they can fuse to metal plates together weld will be porous and weak, they will also struggle with stainless steel.
So, if you want to work with stainless steel or just want the best quality welds possible – you'd be better off selecting a welder with a DC output mode.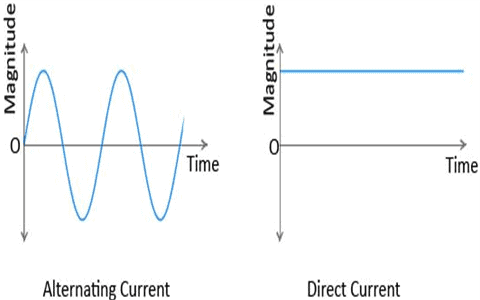 The Quality Of The Leads
It might seem like a trivial thing but the quality of your leads matters for flux core welders. If they're not thick enough, long enough and durable enough – the life expectancy of the leads will vary dramatically and you might end up over-confident about the quality that the machine will deliver.
In general, my advice is to go for the longest lead that you can get. It makes a big difference in the flux core welding experience. For torch (welding guns) leads, you want 10′-24′ and for ground leads 10′-12′.
Not all the supplied leads come in these lengths but it's something you should bear in mind as the longer the lead, the more easily you can move around the weld without needing to move the welder. It is also good to have a lengthy power cord.
Things To Consider About The Wire
The two important considerations for wire are the diameter of the wire itself and the diameter of the reel that the wire comes on.
A household or light workshop is going to, usually, run a 0.30″ diameter wire and have a 6-inch reel diameter for welding projects.
However, if you think you might want or need to lay some thicker beads, it would be handy if you could also run a 0.35″ flux wire.
We'd also note that a 6-inch reel is going to run out fairly quickly, we've found that if your machine can handle an 8-inch reel.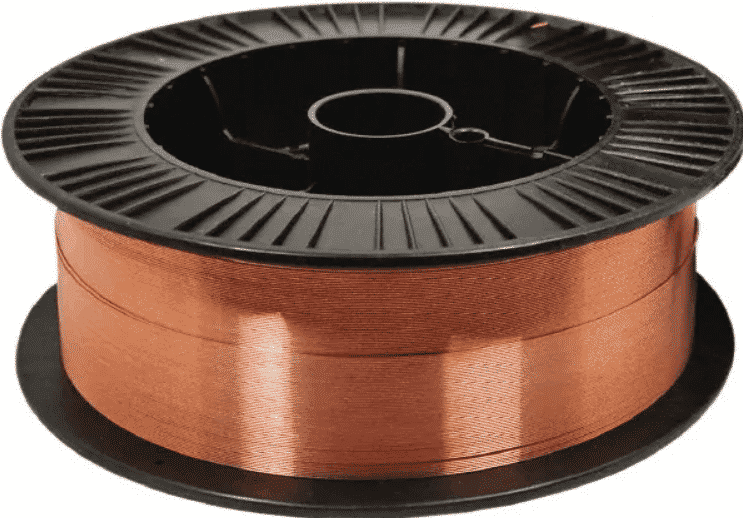 You can spend significantly less money on wire this way and it will last longer before it needs replacing too.
Frequently Asked Questions (FAQs)
Can You Weld Aluminum With A Flux Core?
No. You can't use flux core wire with aluminum. It doesn't get hot enough and the weld quality would be insufficient.
You need Argon gas to shield the weld in order to weld aluminum (even when the flux core wire says on the packaging it can be used with aluminum there will be small print that says "Argon gas recommended with use").
If you think you will need to weld aluminum, it's best to buy a multi-purpose MIG welder.
Do You Push or Pull Flux Core Welding?
The old saying is, "If there's slag, you drag." This means that you should always pull (or drag) the welding gun. You point it back at the weld pool and then move it away from the finished weld.
Slag gets trapped when the puddle gets ahead of the arc, so you're trying to ensure that your wire speed is high enough that you can run the gun ahead of the puddle easily.
Is Flux Core Welding Easy?
Easy is, of course, a relative term but because there's not too much to consider when setting up for flux core welding, it's easier than many other forms of welding and welding surface doesn't have to be pristine clean.
We'd expect most people to be able to be doing some welding within an hour of unboxing their flux welder. Though it may take longer for you to master keeping slag to a minimum as you weld.
Conclusion
We think that the Hobart 500559 Handler 140 MIG Welder 115V is a super deal and it is going to make someone looking for a high-quality flux core multi-purpose welder very pleased, indeed.
However, if you're looking for welding machines with a lower price then you might want to try the VIVOHOME Portable Flux Core Wire model though remember it's DC only and won't handle thick metals very well at all.
Another solid option is the Goplus MIG 130 Welder flux core wire automatic feed Welding Machine and even if the mask in the box isn't great – it is free and will last for a while until you decide what kind of safety equipment you really want.