Have you decided to get yourself a new welder?
Considering you are here means that you did not jump the gun and got one of the first impulses.
It's a good decision!


Not all expensive branded MIG welders are worth their high price, and not all cheaper welders are junk boxes of scrap metal from China.
We worked hard to find the best MIG welder in both 110v and 220v current variants. We made comparison tables and reviews of the top MIG welders for 2021 (in our opinion). Moreover, there is an extensive buyer's guide and welder maintenance guide. Basically, most of everything you will need before and after you get yourself a new welder.
Don't throw your money away but compare, read, and inform yourself before choosing the MIG welder that suits your exact needs. You will not waste your time, I promise.
Best MIG Welders For Every Budget [Quick Comparison Table]
110V MIG Welders
Welder Image
Name
Voltage inputs
Output
Material thickness
Duty Cycle/Rated Output
Welding Process
Check Price


Hobart 500559 Handler 140 MIG Welder
110v/120v
25–140A
Welds 24 ga up to 1/4 in mild steel
Rated Output at 20% Duty Cycle 90 A
MIG/FC
Check Current Price


Black Friday 20% Discount
YESWELDER MIG-205DS Welder
110v & 220v
30 - 160A (110V),
30 - 200A (220V)
Welds 24 ga up to 3/4 in mild steel
Rated Output at 60% Duty Cycle 160 A
MIG/Flux Core and Stick/TIG
Check Current Price


Eastwood MIG 180, MIG/Flux core Welder
120v/240V
30-180A
Welds 24 gauge – 5/16" MS
Rated Output at 30% Duty Cycle 90 A
MIG/FC
Check Current Price


Black Friday 20% Discount
YesWelder FIRSTESS MP200 5-in-1 Welder & Cutter
110v & 220v
MIG/FC/Stick/TIG 20-200A,
Plasma 20-40A.
Welds 24 ga up to 1/4 in mild steel
60% at 68F
MIG/Flux Core
/Stick/
TIG/Plasma
Check Current Price


Forney Easy Weld 140 MP, Multi-Process Welder
110v/120v
10-140A
Welds 24 ga up to 1/4 in MS
Rated Output at 30% Duty Cycle 90
MIG/FC/ Stick/TIG
Check Current Price


Lincoln Electric K2185-1 Handy MIG Welder
110v/120v
25-140A
Welds 24 ga up to 1/8" in MS
Rated Output at 20% Duty Cycle 90 A
MIG/FC
Check Current Price

220V MIG Welders
| Welder Image | Name | Voltage inputs | Output | Duty cycle | Welding Process | Check Price |
| --- | --- | --- | --- | --- | --- | --- |
| | Hobart - 500553 Handler 210 MVP MIG MIG Welder | 110v & 220v | 25 - 140A (115V). 25 - 210A (230V) | 115V 20% at 90 amps; 230V 30% at 150A | MIG/FC | Check Current Price |
| Black Friday 20% Discount | YesWelder MIG-250A Pro Aluminum MIG Welder | 220v | MIG 40-250A, TIG 10-250A, Stick 20-220A | 220V MIG 60% at 250 amps | MIG/FC | Check Current Price |
| | Lincoln Electric Powermig 210 Mp Multiprocess Welder | 110v & 220v | 25 - 140A (115V). 25 - 210A (230V) | 115V 20% at 90 amps; 230V 30% at 150A | MIG/FC/ Stick/TIG | Check Current Price |
| | LINCOLN ELECTRIC CO K2698-1 Easy MIG 180 MIG Welder | 220v | 25 - 210A | 230V 30% at 150 amps | MIG/FC | Check Current Price |
| | Hobart Ironman 240 with SpoolRunner 200 (500574001) | 220v | 30 - 250A | 60% at 175 amps | MIG/FC | Check Current Price |
Best 110v MIG Welder reviews – Editor's Picks
Below are some of the best reviews for MIG Welders (last updated 2020) and important information about the most popular brands and models of MIG welders in the industry.
YESWELDER MIG-205DS MIG Welder
The Hobart 500559 Handler MIG Welder
YesWelder MP200 5-in-1 Welder
Lincoln K2185 – 1 Handy MIG Welder
Eastwood MIG 180 FC/MIG Welder
Forney 299 125FC Flux Core (FC) Welder
These reviews should help you choose one of the best welding units for your needs. Keep in mind that all MIG welders essentially perform the same function. What separates each product from others is its application and additional manufacturer features and components.
1. YesWelder MIG-205DS MIG welder [Best For the Money]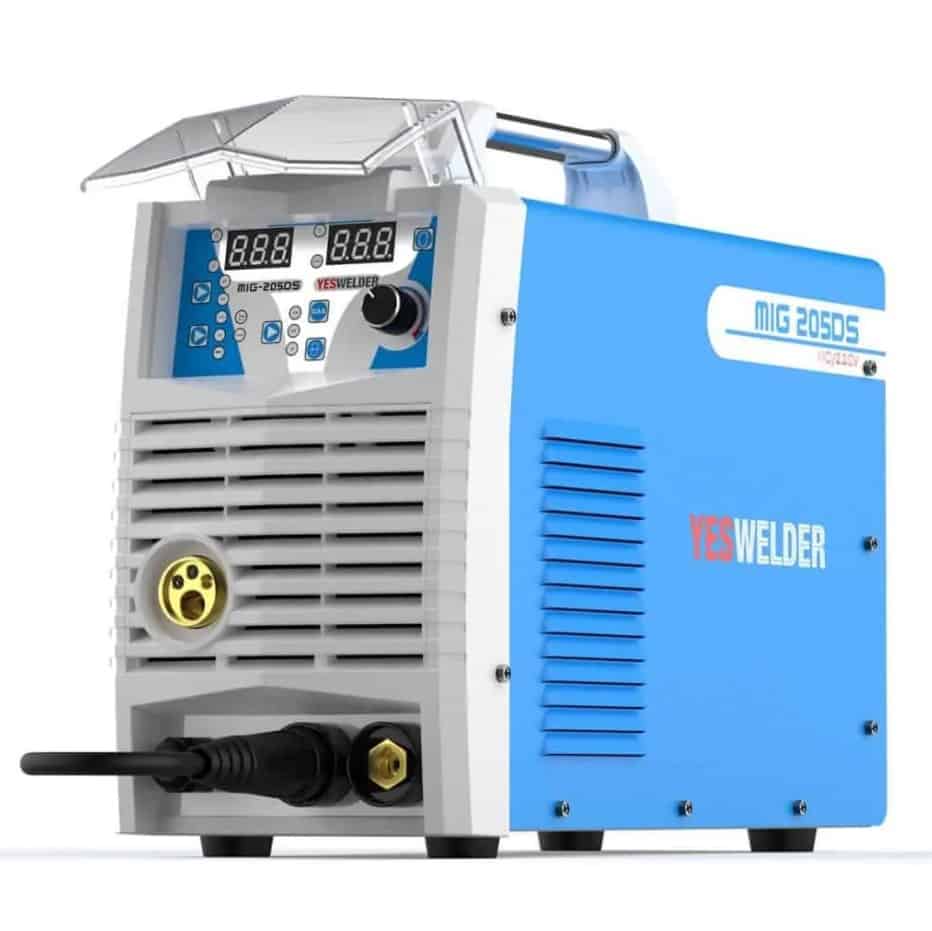 The YESWELDER MIG-250DS is a compact, durable, multifunctional welding machine that is capable of producing quality welds.
But what makes it a good 110v MIG welder is the fact that is lightweight very affordable. In my opinion, you won't find such a price to quality ratio elsewhere.
This GMAW welder is suitable for MIG, Flux Core welding, and Stick welding. Also, you can do Lift Arc TIG welding by adding the optional TIG torch.
The settings are really easy to use and the Synergy setting is great for beginners. Meaning that you simply input the thickness of the material you are about to weld and the voltage and amperage will be automatically set.
Overall the good thing is that you don't need a high skill level to operate this GMAW welder and the beginner welder will feel at home with this one. Good for DIY repairs, hobby projects, and basic metal welding like welding on trailer frames, auto body repairs, making and repairing fences and etc.
Other additions include a really good MIG gun and a stick electrode holder. This is also a dual voltage machine that offers 205 amp with a really good duty cycle. And let's not forget the full metal drive system which is rarely found at this price. You also get a warranty of up to 1 year, rarely offered at this price range.
More on this 110v/220v welding machine here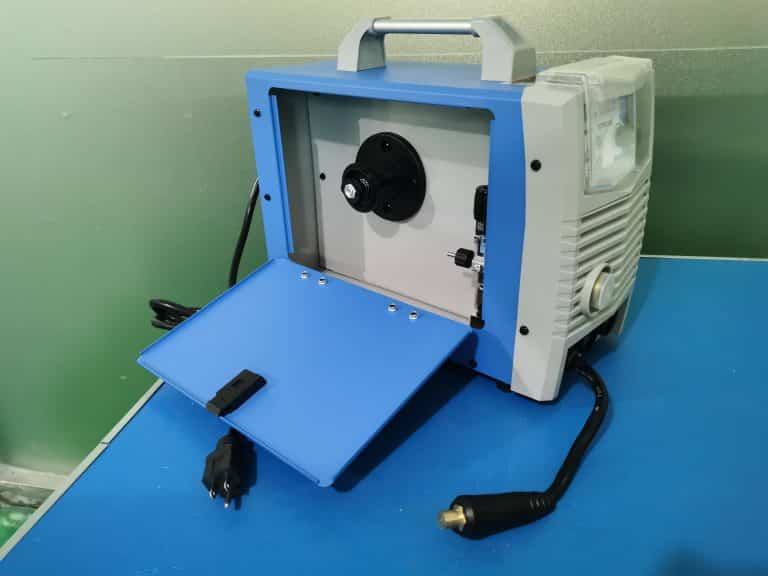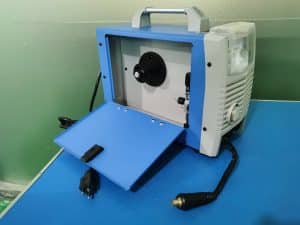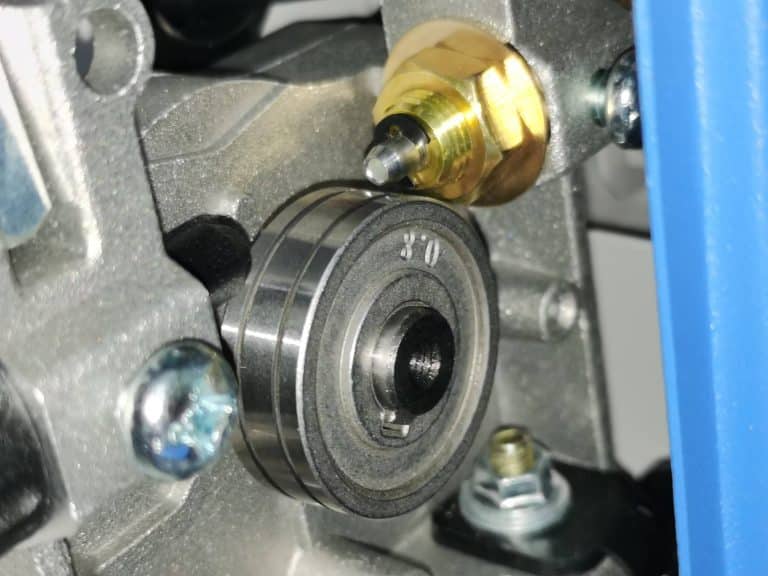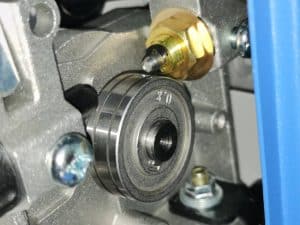 Black Friday 20% Discount
Pros & Cons Summarized
Pros
Very Affordable
A bunch of useful features
Really high duty cycle
High-quality build
Lift arc start for TIG
Dual voltage machine
Has a full metal wire feeder
Highly portable
1-year warranty
Cons
Specifications
Process Type: MIG (GMAW), DC TIG (GTAW), DC Stick (SMAW), Flux Core Wire
Weld Thickness Range: Plain-carbon steel welds up to 3/4 in.
Weldable Materials: Steel, Stainless Steel.
Current Type: DC
Input Voltage: Both 110/220V
Input Phase: 1-Phase.
Max Wire Feed Speed: 590 IPM
Amperage Range: 110V: 30 A – 160 A, 220V: 30 A – 200 A
Max Wire Roll Diameter: 8"
Weight: 33 pounds
2. The Hobart Handler 140 500559 MIG Welder [Best Overall]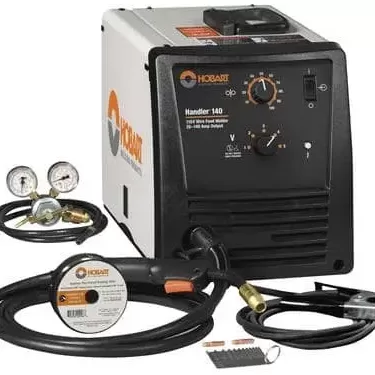 The Hobart 559 Handler Wire Welder, also known as the Hobart handler 140, is a MIG welder with a high-task yield and incredible power.
It is compact and portable. It operates on 115V household power and delivers 140 amps of output power.
The Hobart Handler 140 does not need an additional setup and is ideal for steel, stainless alloys, and aluminum. This 110v machine has a flux core capacity that makes it capable of working thick gauge steel – even 24-gauge up to ¼ in thick materials.
The machine is also can be used for DIY home repairs, basic metal welding, construction jobs, and auto body repairs. Handler 140 is built to be durable. It is Hobart's most popular MIG welder.
It is also the industry's best model for value. It is extremely versatile. It is perfect for the welder in an auto body, farm projects, and household repairs. With a 5-position tapped voltage control, this 115v machine allows you to select how you want to tune your arc. It has a heavy-duty work clamp and gives an industrial performance. For a more extensive review of this Hobart Handler, click here.
Pros & Cons Summarized
Pros
Ease of use
Covered with 5/3/1 Hobart warranty
Lightweight design and compact for usage and storage
Easy setup
Versatile
Cons
Specifications
Processes: Flux Core Wire (FCAW) MIG (GMAW).
Weld Thickness Range: Plain-carbon steel – 24 ga. – 1/4 in.
Weldable Materials: Steel, Stainless Steel, Aluminum with Spool-gun.
Input Voltage: 110/115/120 V, 60 Hz.
Input Phase: 1-Phase.
Current Type: DC.
Rated Output: 90 A @ 20% duty cycle.
Amperage Range: 25 A – 140 A.
Wire Feed Speed: 40 IPM – 700 IPM.
Weight: 57 lbs.
3. YesWelder FIRSTESS™ MP200 5-in-1 Welder & Cutter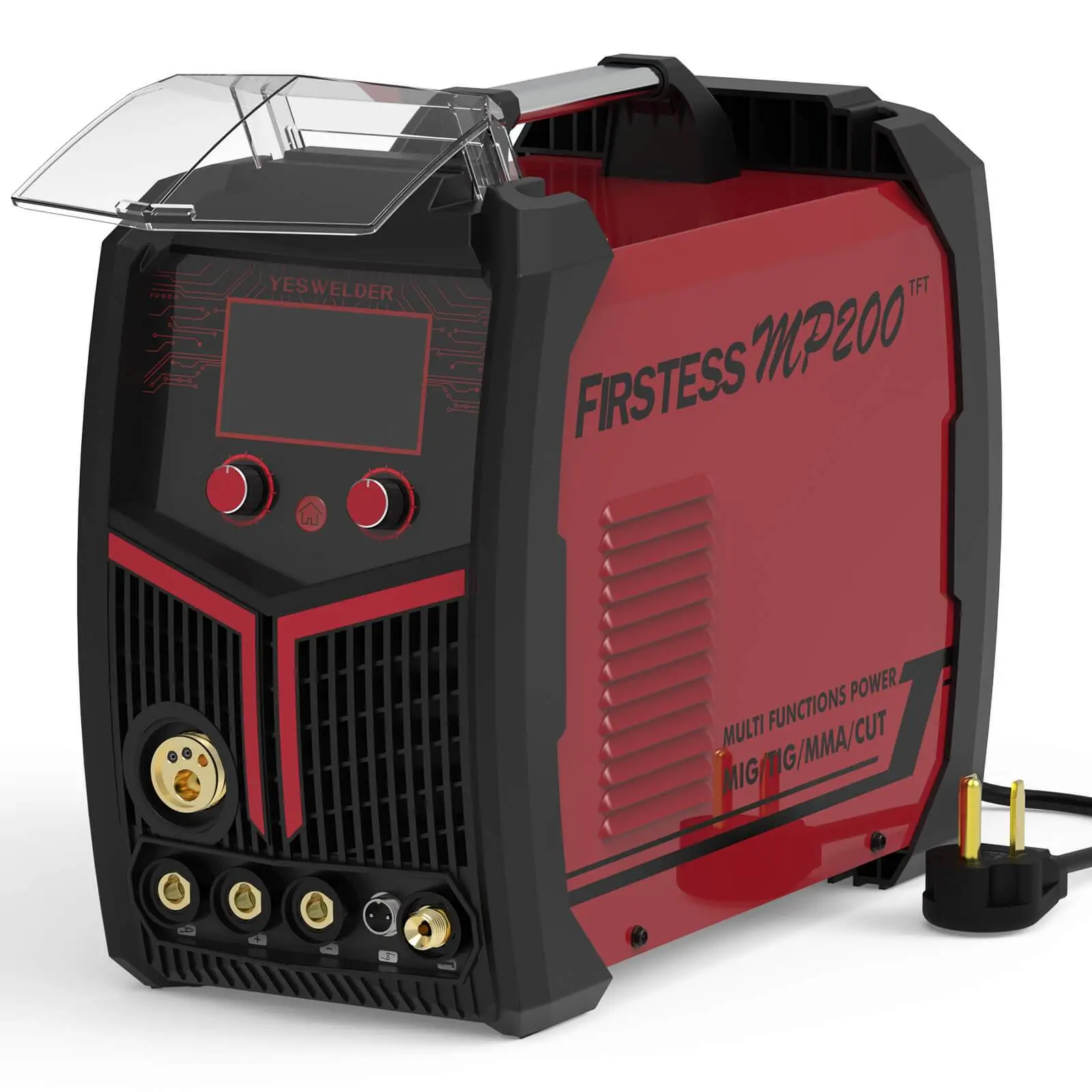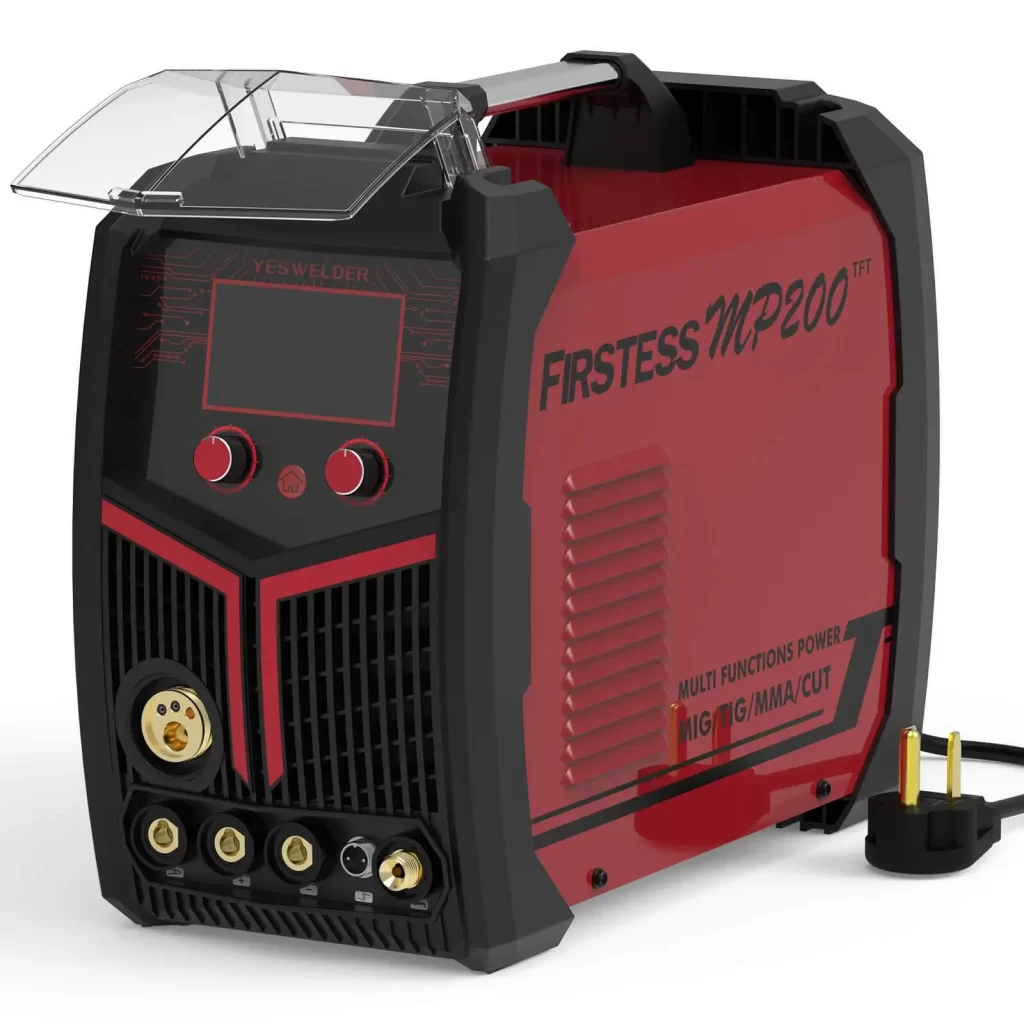 The MP200 is the best 220v MIG welder with multi-process welding capabilities you can get in this price range. Period.
I know you are looking for a MIG machine, but this dual voltage welder also does stick, lift TIG, Flux Core, and plasma cutting!
All for a price that's more than fair. On the MIG side of things, it supports both gas and gasless wire and supports both automatic and manual settings.
Speaking of which, its synergic controls allow for automatic wire feed and voltage adjustments based on your amperage input alone.
You will have a much easier time handling the arc, especially if you are a beginner. It has a full metal drive system just like Hobart, Miller, or other brand names. The machine is sturdy, in fact, it feels more premium and durable than other YesWelder machines. The MP200 can actually take some rougher working conditions.
Your MIG arc will be stable and without excessive spatter. The inverter is designed well to handle the electricity flow efficiently for a close to a flawless experience. With its duty cycle of 60% at a maximum output of 200A, you are getting a way better deal than with most brand names like Hobart 210 which does 30% at 150A for example.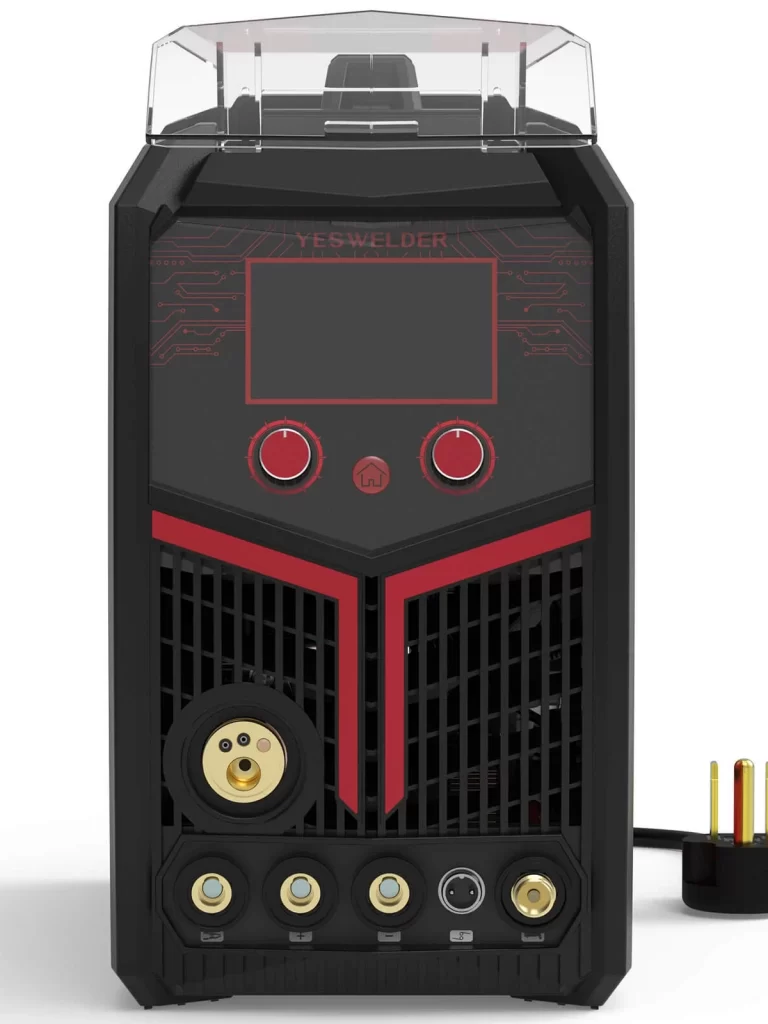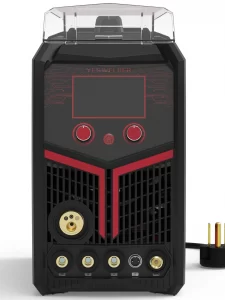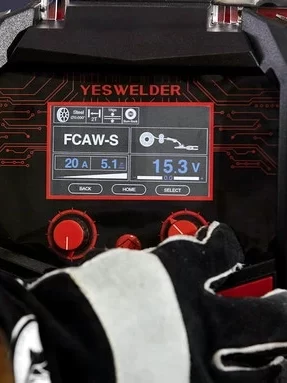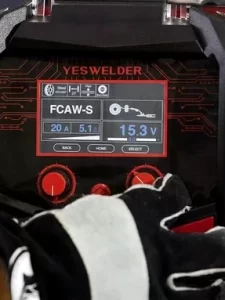 The MP200 is aimed at beginners, DIY hobbyists, and light welding shop use. Unfortunately, it's unable to weld aluminum at all. That's the only downside, from what I can tell. No spool gun support or AC TIG. While AC and TIG weld aluminum is entirely unrealistic at this price point, the spool gun support is something YesWelder should consider.
After all, they do sell a model capable of MIG welding aluminum thanks to the graphene hose liner, the YesWelder MIG 250 Pro. Maybe they can introduce this feature in the MP200 as well.
But let's be real here. For the price of this unit, you are getting an incredible value. Dual voltage, portable, ease of use and large digital screen, 5 processes including plasma… You are unlikely to find a better deal for light use.
If you wish to read more about it, we have a dedicated full review.
I will encourage anyone who doesn't need to weld aluminum to check out this machine. Besides excellent MIG capabilities, you are getting a whole metalworking setup.
Black Friday 20% Discount
Pros & Cons Summarized
Pros
5 in 1 Machine, including a plasma cutter.
Dual voltage
High duty cycle
Intuitive large digital display
Automatic and manual controls
Ten memory settings
Full metal wire feed system
Everything is included in the box
Best value for the money
One year manufacturer warranty
Cons
Not recommended for heavy duty jobs
No option to weld aluminum
Specifications
Welding process: FCAW (Flux Core Wire), GMAW, GTAW, MMA, and plasma cutting.
Metal Thickness: MIG: .031″-0.27″ (0.8-7.0mm), TIG: .031″-.098″ (0.8-2.5mm), MMA: .059″-0.19″ (1.5-5mm).
Weldable Materials: Steel, Stainless-Steel.
Input Voltage: 110/220V.
Input Phase: 1-Phase.
Current Type: DC.
Rated Output: 60% at 68F, 25% at 104F.
Amperage Range: MIG/FC/Stick/TIG 20-200A, Plasma 20-40A.
Wire Speed: 2.2 yd/min – 16.4 yd/min.
Weight: 25lbs
4. Lincoln Electric K2185 – 1 Handy MIG Welder
Lincoln Electric K2185 – 1 can be plugged into a standard 20-amp power outlet. Although gas is essential for function, it can work without gas as well.
Flux Cored welding makes use of a hollow wire electrode that gets fed through the gun.
This machine is compact, lightweight, and portable. It has four settings for voltage and speed adjustment that allows welding from 24-gauge to 1/8" thick metal.
It comes with everything you need for MIG welding in the box. It comes with a cable assembly, gun, clamp and work cable, gas regulator, hose, and gas nozzle, solid welding wire spool, contact tips and hand shield with filtering lens and plate. All you have to do is add protective gas.
The full review here
Pros & Cons Summarized
Pros
Ease of use
Easy setup
Compact and portable
Low skill level needed to operate
Cons
Not intended for industrial use
Welds only Low Carbon Steel up to 1/8".
Specifications
Processes: Flux Core (FCAW) MIG (GMAW).
Weld Thickness Range: Plain-carbon steel up to 1/8 in.
Weldable Materials: Steel, Aluminum with Spool-gun, other non-corroding metal alloys.
Input Voltage: 110/115/120 V.
Input Phase: 1-Phase.
Current Type: DC.
Rated Output: 70A/17V/20% duty cycle.
Amperage Range: 35A -88A.
Wire Feed Speed: 0-300 ipm.
Weight: 46 (20.9 kg).
5. Eastwood MIG 180, MIG/Flux Core Welder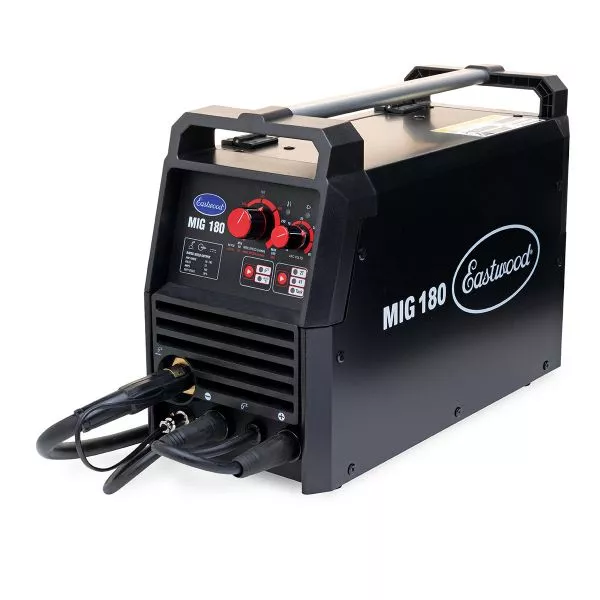 Eastwood MIG 180 is a versatile but affordable MIG welder designed for beginner and intermediate welders that work with mild and inox and aluminum. Dual power 120V or 240V input increases flexibility since you can plug it almost anywhere, but you might have to deal with short leads.
One of the things I like about Eastwood welders is how clean and straightforward the front panel is. There are infinitely adjustable voltage and wire feed knobs, an easy spool gun, Tack, or 2T/4T mode switches.
The Eastwood 180 can weld low-carbon steel with solid wire in the range of 24 ga. – 5/16″ in a single pass. If you are dealing with thicker stock, you can always switch to flux core welding, as it has a welding range of 20 ga. – 1/4 inch. The unit has a rated duty cycle at 120V 30% at 90 amps and a rated duty cycle at 220V 30% at 180 Amps.
Inverter technology is the standard part of the latest machines, and it makes Eastwood welders light and compact units. Eastwood MIG 180 weighs just 25.3 lbs. Still, you can only use 11-pound rolls of wire. In addition, there is no knurled roller that is designed to deal with soft, flux-cored wire.
The full review is here.
Pros & Cons Summarized
Pros
2T/4T options and Tack weld mode
IGBT inverter tech makes it compact and lightweight
Infinite control of the voltage and wire speed
Tweco style torch
Braided wire strap on the ground clamp
Can weld up to 1/8″ aluminum with optional spool gun
Offers great value for the money spent
Cons
Short leads
No knurled drive roller
you can only use 11-pound rolls of wire
Specifications
Processes: Flux Core (FCAW), MIG (GMAW)
Weld Thickness Range: Plate thickness, 24 gauge – 5/16 inch.
Weldable Materials: Plain-carbon steel, Stainless steel, Aluminum.
Input Voltage: 120/240V
Input Phase: 1-Phase.
Current Type: DC.
Rated Output: 110V: 30% @ 90A; 220V 30% at 180 Amps.
Amperage Range: 30 – 180 AMP output.
Wire Feed Speed: 110V: 80 – 280 ipm 220V: 80 – 551 ipm.
Weight: 25.3 pounds.
6. Forney Easy Weld 140 MP MIG Welder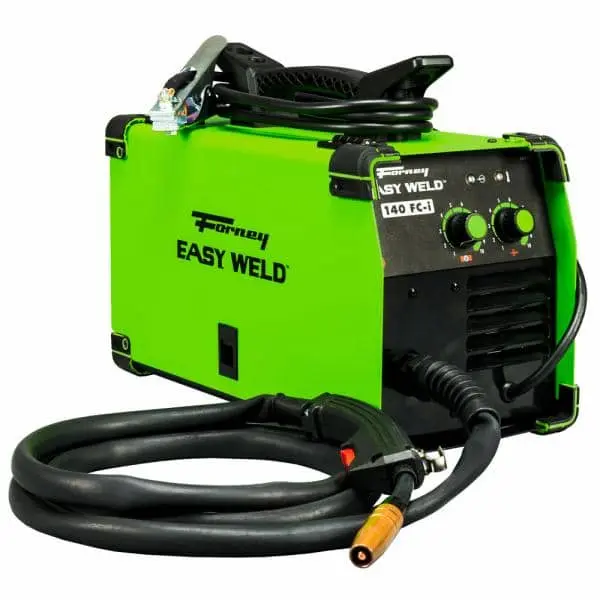 Forney Easy Weld 140 MP is regarded as an entry-level-GMAW welder suitable for various types of welding work. As a multi-purpose welder, it can be used for MIG, TIG, DC, and Stick welding.
The Forney Easy Weld is a small welder that can be used for work around the house and all types of smaller jobs.
It is more than suitable for hobbyists, DIY projects or metal artists. It is very easy to use and you can easily adjust the controls while you work and increase your performance.
With the Forney Welder, you can do MIG welding of up to ¼ inches in a single pass. This is more than enough for any daily activities that you will have in your garage. The Forney Easy Weld is also portable and has a sturdy build. It is a 120v welder so you can plug it in almost any home outlet.
Full review is here
Pros & Cons Summarized
Pros
Wire loads easily and quickly.
Adjustable feed speed
Compact
Power efficiency
Low skill level needed to operate
Lightweight
Compact and portable
Cons
Gas regulator and TIG gear not included
Specifications
Processes: Flux Core (FCAW), MIG (GMAW), STICK (SMAW), TIG (GTAW).
Weld Thickness Range: Plate thickness, 24 gauge up to 1/4″.
Weldable Materials: Plain-carbon steel.
Input Voltage: 120v
Input Phase: 1-Phase.
Current Type: DC.
Rated Output: MIG 30% @ 90A.
Amperage Range: 10 – 140 AMP output.
Wire Feed Speed: 79 – 197 ipm.
Weight: 24.8 pounds.
Best 220v MIG Welder reviews – Editor's Picks
These are the best 220v MIG welders, rigs with a little more welding power in them. 220v models are usually more expensive, but much more powerful.
Yeswelder MIG Pro 250 220v MIG Welder
Hobart Handler 210 MVP 220v MIG Welder
Lincoln Electric Power MIG 210 Mp K3964-1
Lincoln Handheld, 208/230VAC 220v MIG Welder
Hobart 500536001 IronMan 230 W/DP-3545-20 MIG Welder
Forney 318 190-Amp MIG Welder, 230 volts
LOTOS MIG 175 AMP Welder with FREE Spool Gun MIG Welder
They can prove quite useful if you regularly weld thicker steel up to 1/8' or aluminum. With these machines, you have more room to work on developing your hobby or profession.
Some of these best MIG welders come as dual voltage machines (110V/220V) making them mobile and diverse. Please read the reviews (buying guide) and features for each of them so you can make the best choice possible.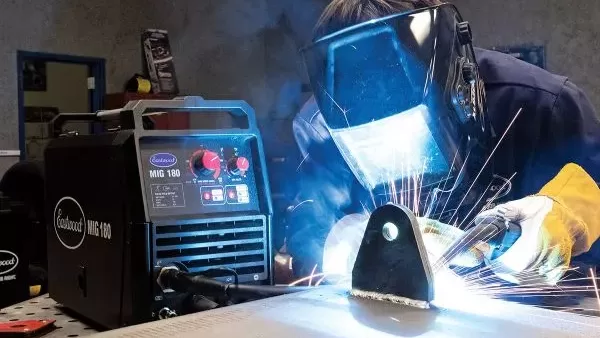 MIG Welder Buyer's Guide
As promised at the start, we have prepared a buyer's guide with enough advice about buying the best MIG welder for your needs. This is our opinion and we are certain that it will help you out in your search.
Wire Feed Speed and Wire Settings
When setting up your MIG welder, you have to think about two things – the wire feed speed and the voltage. The wire feed speed is important because it controls the amperage. You will usually find the wire feed charts on the MIG machine itself. However, good advice about setting the wire feed speed is to set it at about 10% lower than the recommended settings.
But if there are no charts on the machine, just do a test run on a piece of scrap metal. You'll know that you are where you need to be when you hear a sizzling sound similar to when frying some bacon in a pan.
Voltage Settings
Voltage settings need to coincide with the wire feed speed settings. Balancing them out will ensure efficient metal transfer. Voltage determines arc length, but it can also cause the wire to melt off.
Basically, failing to balance out the wire feed speed and the voltage will result in poor penetration.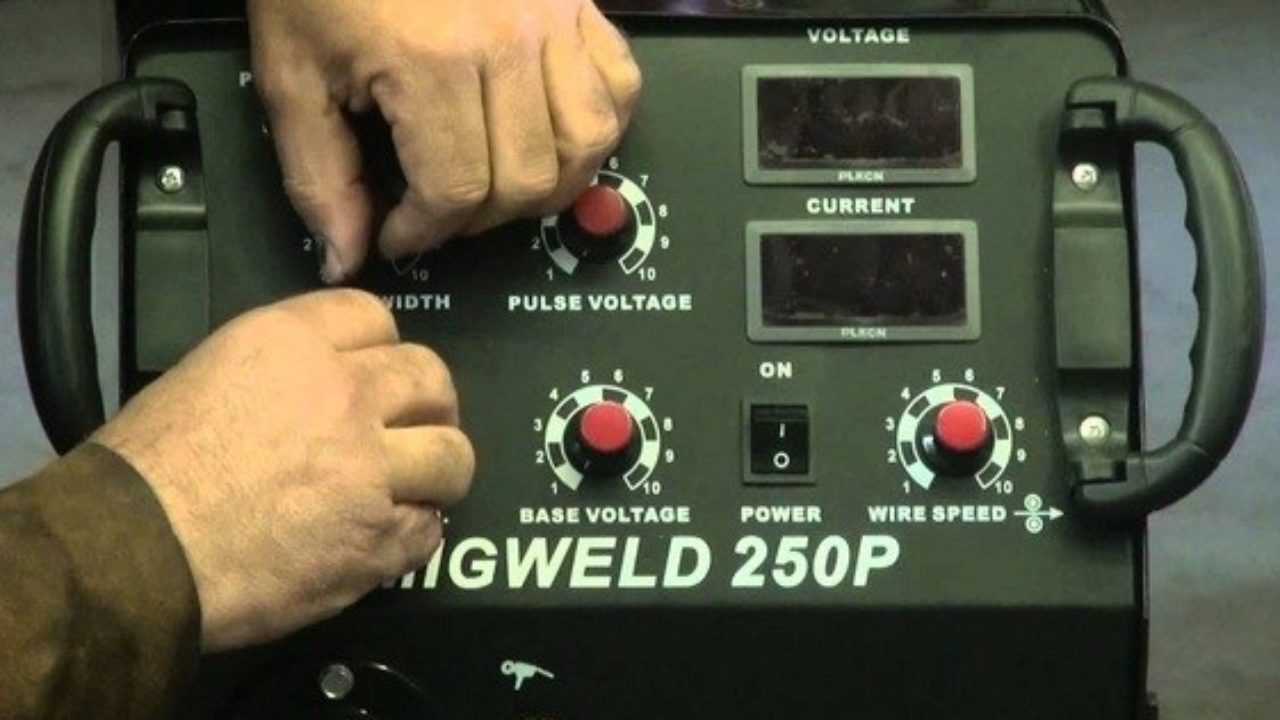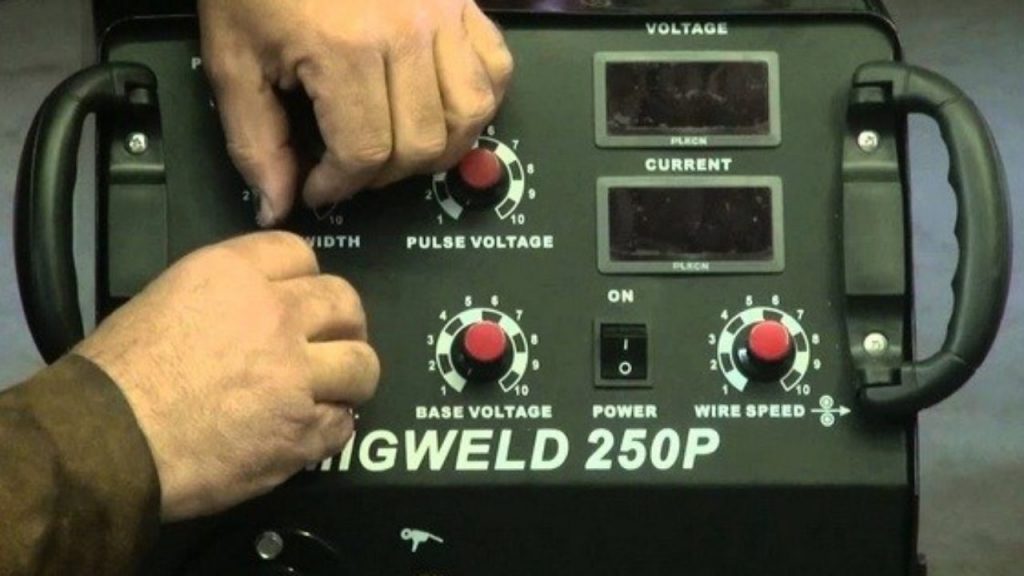 If you decide to keep the voltage at the same level but lowering the wire feed speed, you get more spatter and decreased penetration.
Input Power
The main focus with input power is that it has to be matched to the type of primary power available. You rarely see a DIY welder working on a piece of metal thicker than ¼ inches, which basically requires 100 amps for welding and 20 amps for plasma cutting. A 110v MIG welder to 120v can provide you with these parameters. However, for thicker pieces of metal, a machine that covers both 110v to 120v and 208v to 240v works better.
So be vary when choosing the correct input power source as your typical single-phase input (found in a home or a garage) produces 115, 200, or 230 VAC, while a three-phase (industrial) creates 230, 460, or 575 VAC. You can find some machines that accept both single and three-phase power, with multi-voltage and no manual re-linking
Output Power
When determining output power, welders have to have two things on their minds – the thickness of the metal and the diameter of the wire. A good piece of advice and a general rule is to use one amp of power for every .001 inch of mild steel.
Therefore, welding 1/8 in (.125 in) of mild steel would require around 125 amps. Stainless steel will need about 10% less while aluminum requires about 25% more power.
The diameter of wire electrodes is a bit more complicated as each one of them individually has a specific operating range. The most important thing to understand is that smaller wires carry less current while larger electrodes carry more.
| | | |
| --- | --- | --- |
| Gauge | mm | Required Amps |
| 8 | 4.2 | 165 |
| 10 | 3.4 | 135 |
| 12 | 2.7 | 105 |
| 14 | 1.9 | 75 |
| 16 | 1.5 | 60 |
| 18 | 1.2 | 48 |
| 20 | 0.9 | 36 |
| 22 | 0.8 | 30 |
| 24 | 0.6 | 24 |
Duty Cycle
A duty cycle of a welding machine is the percentage of time that it will safely be able to operate during a certain time frame at a given amperage.
So for example, if a budget MIG welder comes with a duty cycle of 40%, at 285 amps/28 volts, it means that it can properly function for 4 minutes at those parameters. After exceeding those 4 minutes, it will need to cool down before starting to weld with it once again.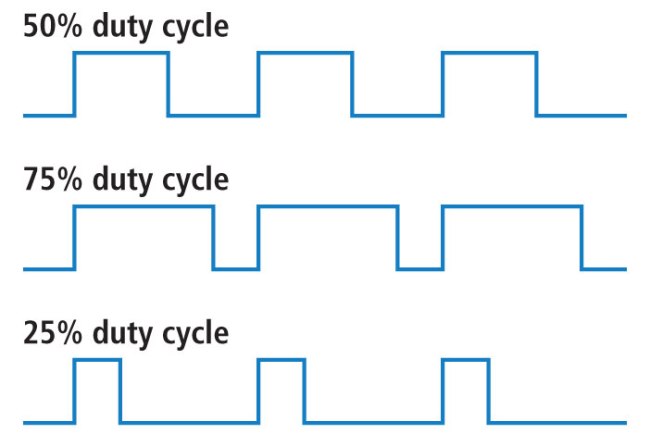 Welding at lower outputs will increase the duty cycle of a machine. Also, a duty cycle is evaluated at a specific ambient temperature, 104o F being the golden standard. However, with multi-process welders, that have multi-voltage welding systems, the output and duty cycle will vary depending on the input power.
Wire Feeder Mechanism Durability
The best types of wire feeders are made out of metal or aluminum. There are three basic forms of wire feeders – push, pull, and push-pull ones.
You shouldn't skim on the wire feeder as the more quality ones are able to endure more wear and tear. Avoid the ones with a plastic mechanism as they are not going to be suitable for prolonged MIG welding.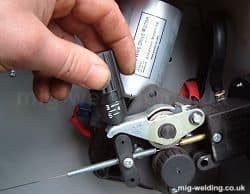 Also, it is important to replace the drive rolls from time to time. These are found in the push and push-pull feeders. Choosing and attaching the correct drive rolls that can feed the welder the correct wire dimensions will ensure fine and constant wire feeding. The most commonly used ones are:
V-knurled, V-groove, and U-groove.
Non-Industrial (110v and 220v MIG Welders)
When it comes to choosing the correct wire, there is no one-glove-fits-all solution. Both flux core and MIG welding have different characteristics that welders have to take into account first.
When picking the correct wire for the job, a welder has to consider: The thickness of the material being welded, voltage and the wire feed speed control, the correct protective gas, location, and weld appearance before making a choice. You have to understand that neither solid wire nor flux core wire is superior to the other. It basically depends on the results you are trying to achieve and the application in which you are using it.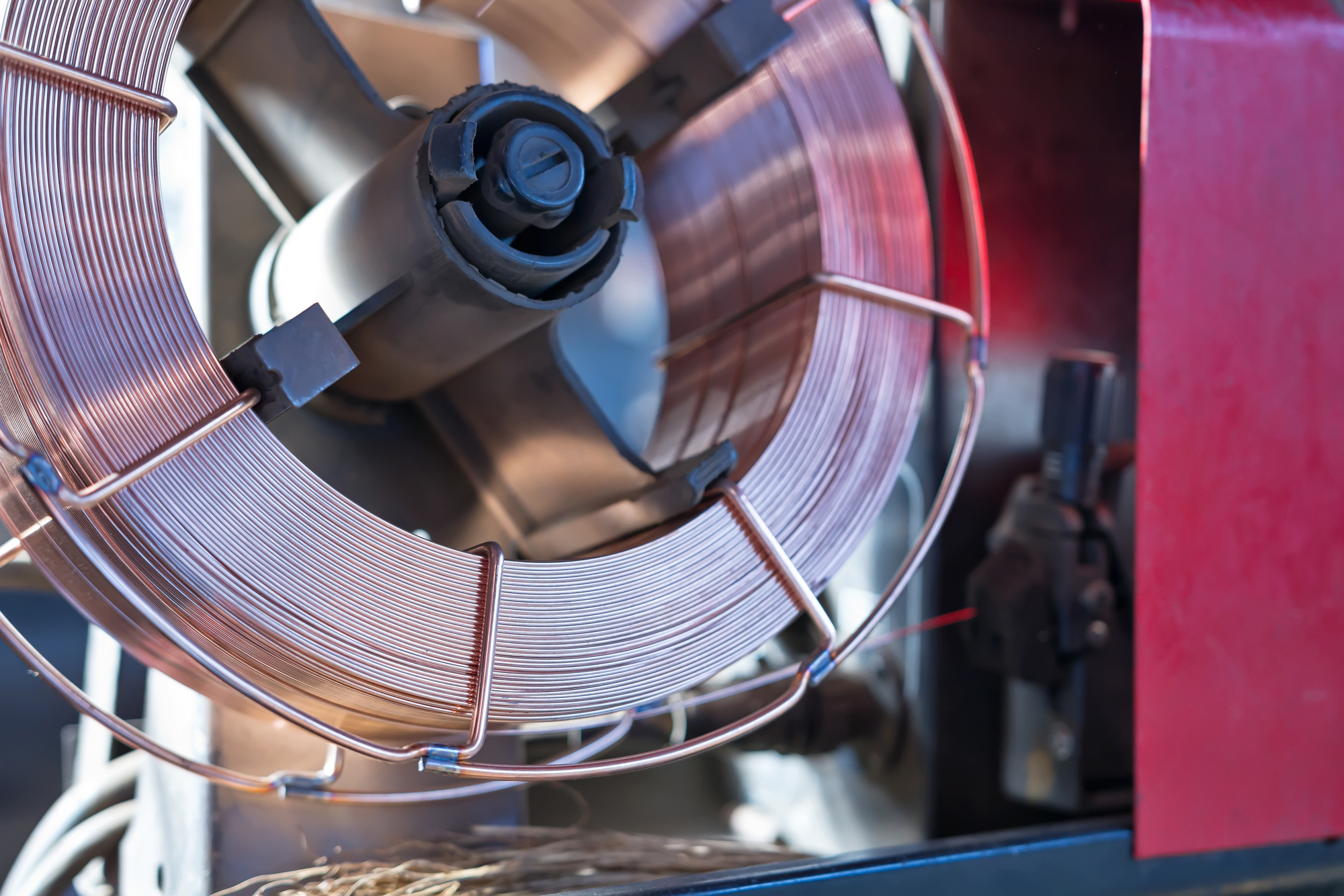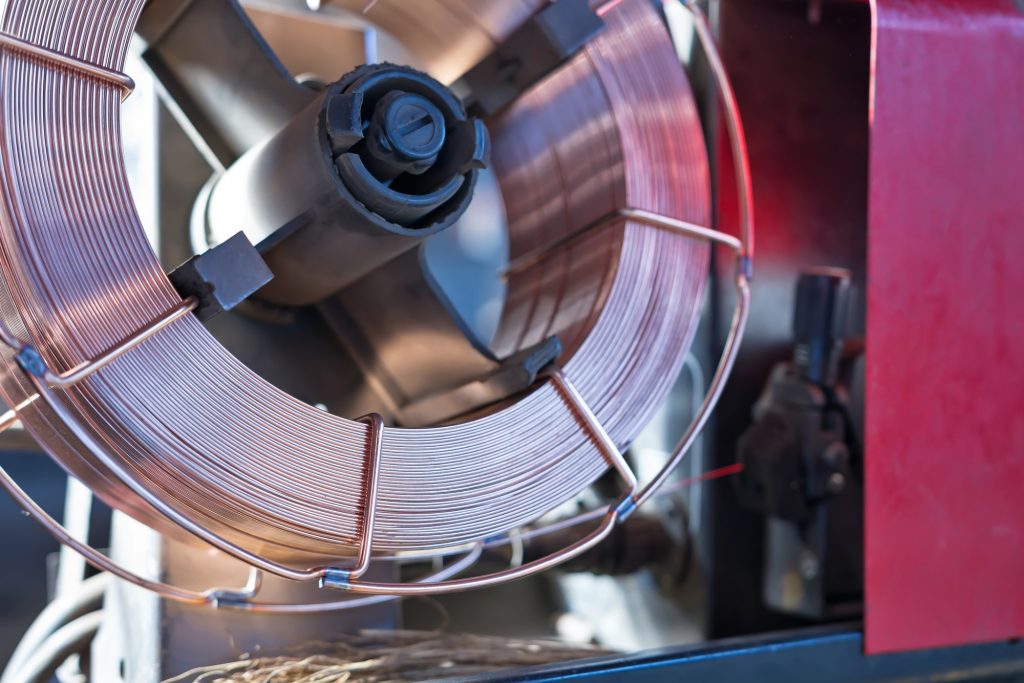 Solid wire provides deeper penetration in the root and creates less spatter. Flux-cored wire produces less spatter but has a larger ball-type transfer. Both self-shielded flux-cored wire and gas-shielded flux-cored wire work equally well. The main thing to focus on is how you apply it and for which type of work.
Portability and Weight
Performance is most important when choosing a metal inert gas welder, but you want to consider the size if you have limited space and if you want to avoid carrying around a giant machine.
Welders can range in size from 40 lbs. to several hundred pounds. It depends on the features and power.
The portability needs depend greatly on the kind of welding you will need to accomplish. If you have to move the welder around a great deal, there are carts available that make things a little easier.
In the case where the machine will be used for auto bodywork, the welding cart is ideal for moving around the car smoothly.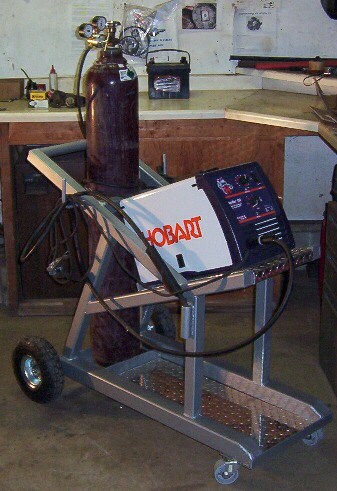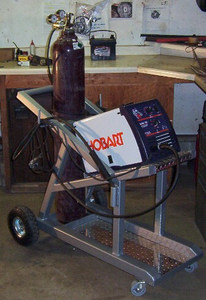 On the other side, you can weld up your own welding cart. You can find the wheels on Harbor Freight or on Amazon or in your local store. You can use ticker material and stronger metal pipes to build a cart that will never fail you.
Note: if you plan on this don't forget to build in a gas cylinder rack on it with room for removing the gas valve (box for welding tools would be nice too).
Branding role in choosing the MIG Welders
Best brands in the welding world and is there an "iPhone" among MIG welders? When it comes to brands, there are a few staples commonly recognized in the welding industry.
Miller Electric is one of the most popular welding brands in the US. Lincoln Electric is your go-to product for TIG and shielded arc welding and has the most durable industrial welders.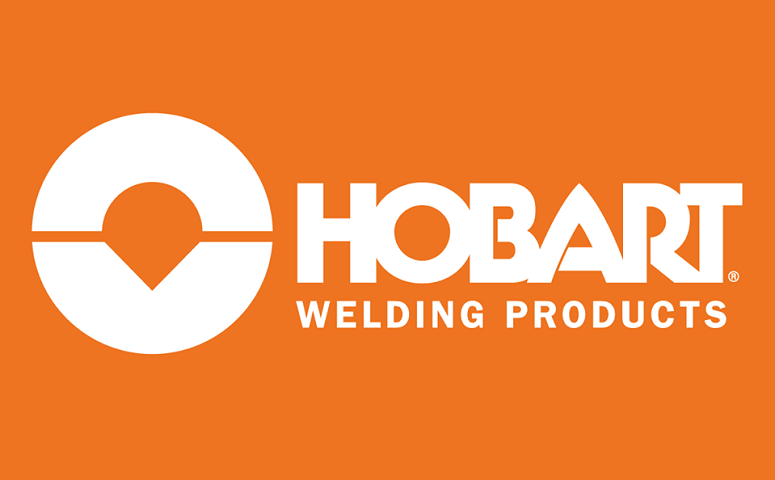 Hobart is renowned for creating numerous reliable non- industrial GMAW welders and is a parent company of Miller Electric. And from Sweden, Europe If you want a piece of machinery that is meant to last, then ESAB is your choice.
However, branding is not crucial when it comes to machines built for home use.
Home hobbyists that are searching for welders for smaller projects and home repairs can find equal value in a machine of lesser quality.

Bigger brands make a difference when it comes to industrial machines, while lesser-known brands work equally well for smaller types of jobs and allow you to save money.
So by buying a GMAW welder from known brands like Hobart or Miller you will not make a mistake. But if you spent some time researching you can find great machines from laser-known manufacturers that will have your money.
And did you know that there are people that make pretty good DIY welders at home also?
Gas Cylinder and Gas Selections
MIG welders with solid welding wire can't work without shielding gas. And if you want everything to work seamlessly, you want to use the correct shielding gas combination.
A 75% argon and 25% carbon dioxide mix (75/25 or C25) is the most commonly used combination. It is known for being the best shielding gas type for welding carbon steel. It creates the best-looking beads, doesn't cause so much spatter, and won't burn through thinner materials.
A 100% CO2 gas offers better gun cooling and slightly deeper penetration.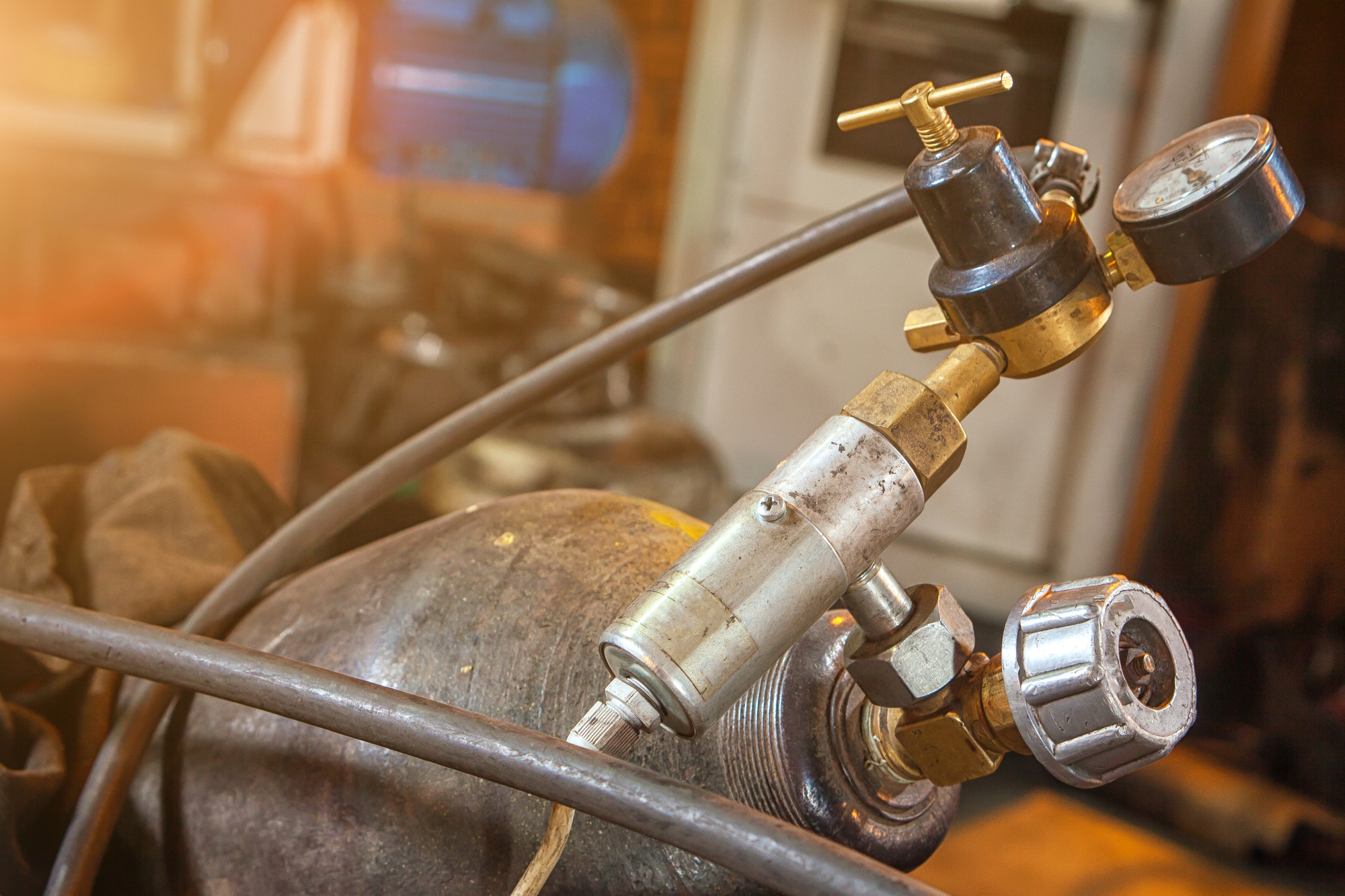 But the bead is not going to look as good and you will end up with more spatter. The given mixtures usually come in 40, 80, or 125 cubic feet cylinders. Choosing the one you need depends on how much welding you are planning to do. But for home use, either one is fine unless you are going to be working on a really big project.
Except for the first one the 80 and the 125 cubic feet versions of the cylinders are to heavy and are hard to move around (at least to heavy for me). You will need a cart for your welder in that case.
Spool Gun For Aluminum
Welding aluminum is not as easy as welding other materials. Aluminum is softer and a welder needs to use specific equipment for aluminum welding. This specifically goes for the aluminum wire being fed, as it is soft and can easily break if the right equipment is not in place.
This is where a MIG spool gun comes into play. If you are planning to MIG weld aluminum be sure to get a welder that has a spool gun attachment, or even better a machine that already comes with a MIG spool gun.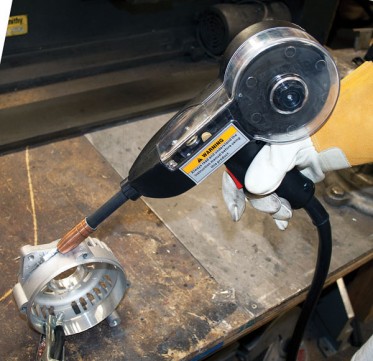 Spool guns make things a lot easier and convenient especially if you are using softer or small diameter wire. It is also recommended for use for people who often switch from welding steel to aluminum.
Safety and Mantnense
Two integral parts in the skill set of every welder and metal worker are proper equipment maintenance and looking out for the safety of his colleagues and himself. The importance of keeping you and your welder at pick performance can not be overstated, especially in today's turbulent times.
Both of these subjects require a few more words put into them, so we have written separate articles on both safety measures and maintenance of your new (or used) welding machine.
More on how to maintain your welding machine you can read here.
A full article on basic safety measures and the hazards that potentially await you at the workplace can be read here.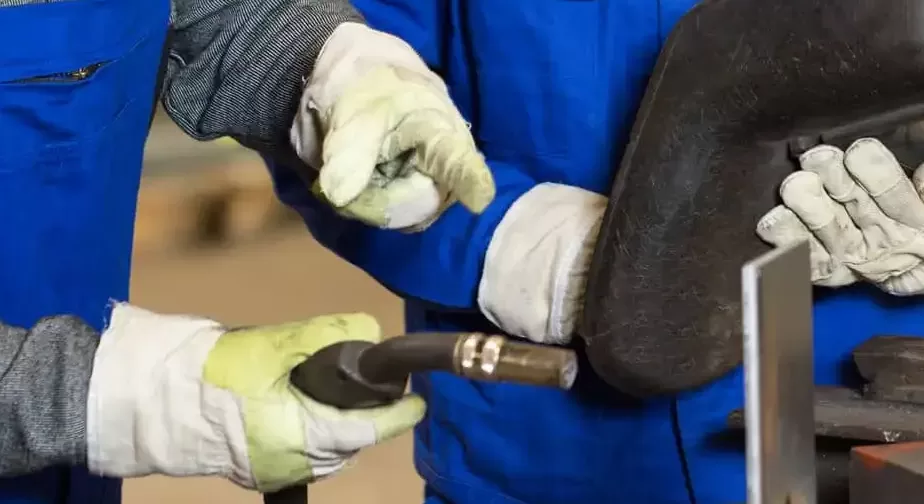 Basics of MIG Welding
We have also decided to add a part about the basics of MIG welding as it will be useful to the newer welders as they get started.
Equipment Preparation
Before you start doing any kind of work, it is best to check everything and make sure your equipment is properly set. This means:
Checking the cables – Check if they are tightly fitted and free of fraying;
Select electrode polarity – DC electrode or reverse polarity for MIG welders;
Set gas flow – Turn on the gas cylinder valve at a gas flow of 20 to 25 cubic feet per hour;
Check tension – too loose or too tight can lead to poor wire feeding performance, and;
Inspect consumables – remove excess spatter on the contact tubes and replace worn-out contact tips.
Metal Preparation
To perform quality welds first use a wire brush and/or grinding stone to remove dirt, filth, and metal corrosion from the weld groove and around 0.7 inches from it. Clean the metal to reach a metal shine on both sides of the metal plate. A good practice is also to preheat the spot that is about to be welded, preheating will remove moisture and allow for a better metal joining and more stable arc.
These practices are also good considering these welders that work on 120v and 220v household current are not industrial grade MIG Welders and have lower power and ability to remove dirt from the weld pool.
Wire selection
The use of thin wire .023 or .030 in. will prevent burning through on light materials. The use of thick MIG wire, such as .045 in., will allow for superior fusion when using more abundant metals. The two most common wire types are ER70S-3 and ER70S-6. The ER70S-3 is perfect for welding purposes of all kinds.
On the other hand, the ER70S-6 wire is typically for use on dirty and rusty surfaces when more deoxidizers are necessary.
The wire size that will be utilized for gas welding will not determine the type of machine you would want to purchase, but the device will play a part in determining the size and type of wire you will use for gas welding.
Push or Pull?
One of the greatest questions when it comes to welding is whether to use the push or pull technique. The push technique, or forehand, means moving the gun away from the weld puddle. A welder creates a flatter and a wider bead but with less penetration. The pull technique, drag or backhand, means pointing the welding gun back at the weld puddle and dragging away. The bead is narrower with more buildup while the penetration is deeper.
There is no definitive answer on which technique to use. The best approach does not exist and the best answer is that you will decide which ones to use based on the material, the equipment, and the process you are using.
Travel Angle and Work Angle
The travel angle is the angle that is relative to the gun placed in a perpendicular position. In normal welding conditions, it should be at 5 to 15 degrees, because positioning it at 20 to 25 degrees will create more spatter and cause less penetration.
The work angle is the angle where the gun position is relative to the angle of the welding joint. The angle varies based on the position and joint configuration. Therefore, the butt weld should be held at a 90-degree angle to the workpiece, the T-joint should be kept at a 45-degree angle, and the lap joint at 60 and 70 degrees.
Voltage and Amperage
Deciding on the voltage and amperage settings depends on a lot of factors. You have to take into account the thickness of the metal, welding position, joint configuration, wire diameter speed, and welding gas.
Frequently Asked Questions (F.A.Q)
What is the best 110v/220v MIG welder for a beginner?
Probably the best type of MIG welder for beginners is the Hobart 500559 Handler. This is a type of welder that has a high gas yield and a lot of power. The welder is compact and portable, perfect for inexperienced welders to move around.
Is Arc Welding stronger than MIG?
If we only consider the filler material strength, Arc Welding is not stronger than MIG welding. Electrodes for the stick and the wire used in MIG welding can utilize the same tensile strength materials. So for example, the 70 in E70s6 bare wire and the 70 in 7018 stick rods basically have the same strength. Additionally, 70,000 psi tensile strength is as strong or even stronger than the majority of steel types a person will weld.
How thick can a MIG welder weld?
Most MIG welders(that operate on 110v or on 220v) can weld up to the 3/8" (that is considered sheet metal) in a single pass. However, this will be different from welder to welder. Best that you check the chart on the MIG welder before using it. More on welding sheet metal.
What is the correct amperage for MIG welding?
There are several factors to consider when determining the correct amp welder. First of all, you need to choose a MIG welder with enough amp for the type of job you are doing. This will probably depend on the thickness of the materials you are welding. Secondly, the limitations of your electrical outlets also need to be considered.
Conclusion
The bottom line when you go to purchase your welder, you want to know your requirements well. Knowing what to look for will ensure you are making a wise investment for years to come. Remember to think about what you will regularly be welding. You want to buy the MIG welder that definitely has enough power for the jobs you need. Higher voltage MIG machines for 220v household outlets are the way to go if you have the power outlet installed in your home. If not you can start with entry-level 110 voltage MIG but as soon as you can install a 220v power outlet, you should go for it. Alternatively, you can buy these dual voltage machines but be warned that the price tag is quite higher.