Getting into plasma cutting can be very confusing as there are so many different machines to choose from out there.
Which models are best in class and which ones should go to the back of the class? Finding the best plasma cutter for you takes some research.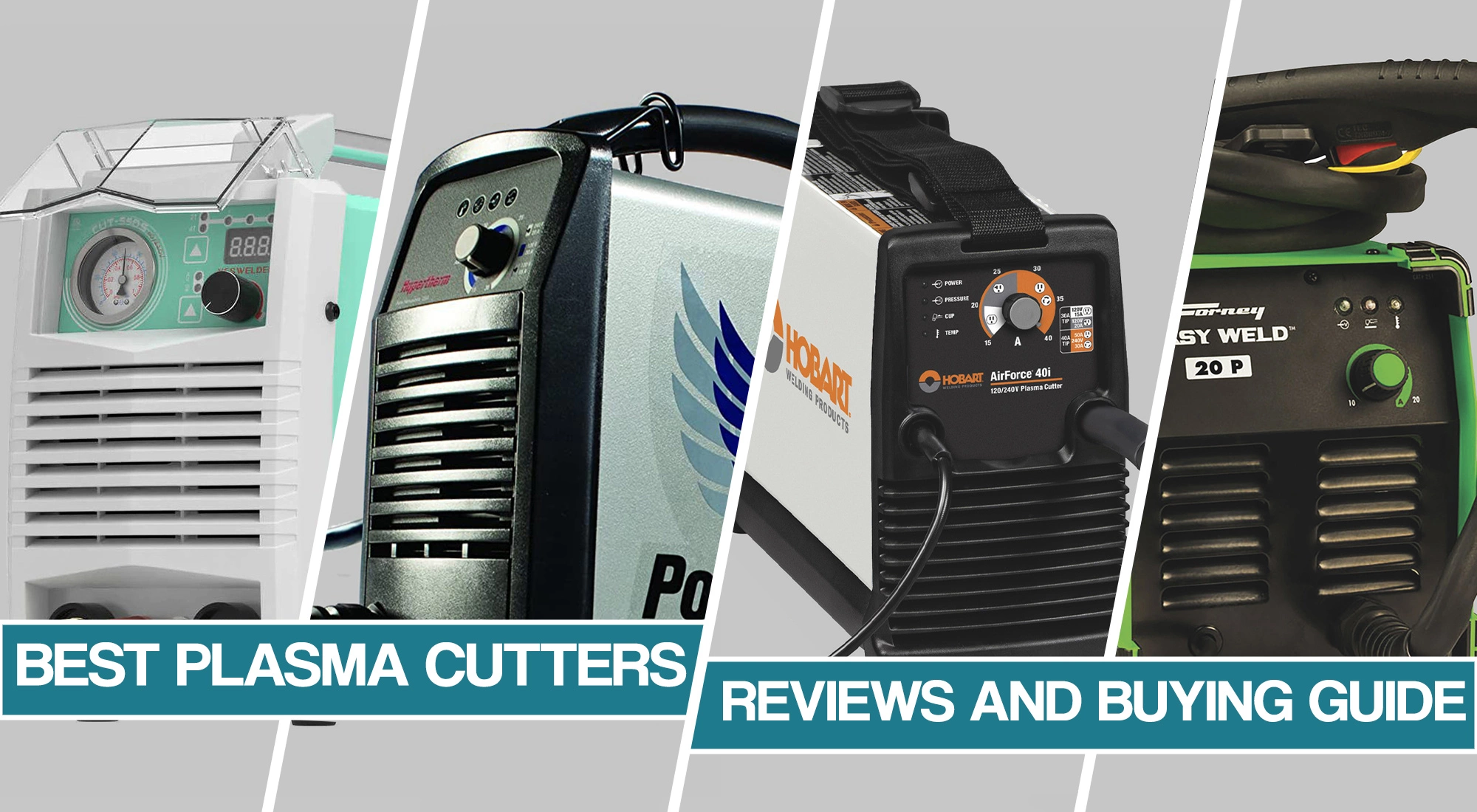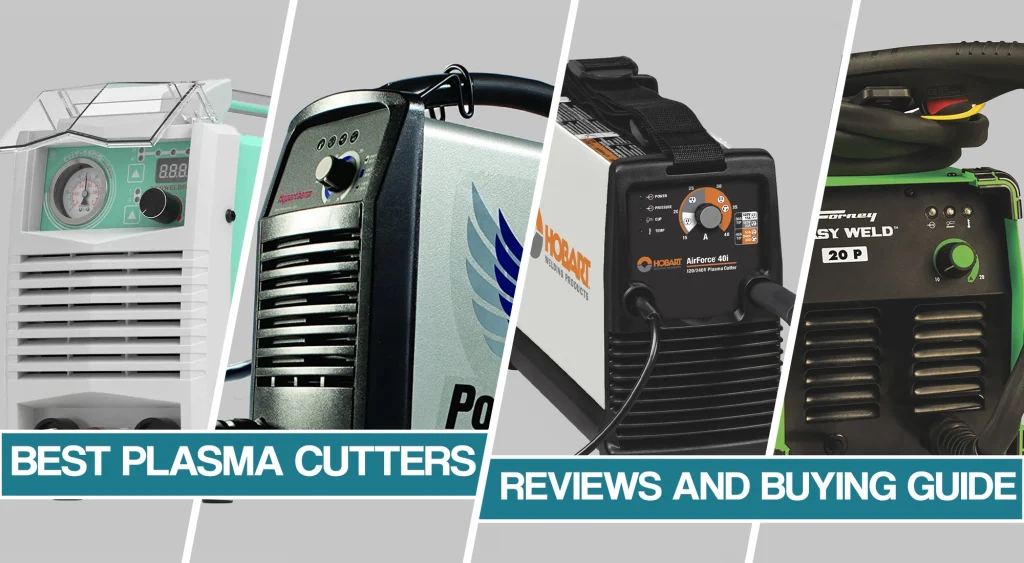 You don't want to purchase the wrong model, do you? Particularly when some of these plasma cutters are very expensive. Fortunately, I've got your back – I've been testing a lot of cutters to find out which you can rely on and what exactly they are best suited to.
So, check out the 10 best plasma cutters for the money that made the grade and see for yourself. There's something here for every budget and for every project. Whatever you are working on, you can find a cutter that will allow you to cut with confidence without spending more than you need to.
Comparison table.
Plasma cutter Reviews.
Things to consider when selecting your cutting machine.
Best Plasma Cutter Comparison Table
Cutter Image
Specials
Voltage Inputs
Maximum Cutting Amps
Duty cycle
Maximum Cut Thickness
Air Requirements
Check Price

YesWelder
FIRSTESS CT2050
Welder & Cutter

Get 10% Off With Coupon: "-10% WELDPROS"


7-in-1
96-265V
45A
100% at 45 amps
1 3/16" clean cut, 19/32″ severance
5-7CFM
Check Current Price YesWelder

Hypertherm
Powermax
30 XP Hand System
Best Overall
120V/240V
30A
35% at 35 amps
3/8in neat cut
5/8in maximum cut
6.7 CFM
@ 90 PSI
Check Current Price Amazon

Arccaptain Cut50
Beginner-friendly



5% Discount Code: "WELDPROS"

120V/240V
50 A
60% at 50 amps
1/2 clean cut
3/4" severance
5-7 CFM
@ 40-70 PSI
Check Current Price Arccaptain

Eastwood Versa Cut 40
Editor's Choice

120/240V
40 A
60% at 40 amps
24 gauge up to 3/8-inch
5-7 CFM
@ 60 PSI
Check Current Price Eastwood

Hobart 500566
Airforce 40i Plasma Cutter
Best for Hobbyists
120/240V
40 A
50% at 40 amps
5/8" cut and 7/8"
max severance cut
6.0 CFM
@ 90 PSI
Check Current Price Northern Tool


YesWelder CUT-55DS

Get 10% Off With Coupon: "-10% WELDPROS"

110/230V
55A
60% at 55 amps
1/2" cut and 3/4" max severance cut
5-7 CFM
@ 60 PSI
Check Current Price YesWelder

Forney Easy Weld 251 20 P Plasma Cutter
Entry-Level
120V
20 A
35% at 20 amps
1/4" cut
1.5 CFM
@ 30 PSI
Check Current Price Amazon
If you want to learn more about plasma cutting in general and are not ready to pick the quality plasma cutters yet, you can read this article that tackles this subject.
Best Plasma Cutters Reviews
The plasma cutters below are the best in class. Each is meant for a different workload and different users. A hobbyist might need something more affordable while a professional welding shop will need durability and performance.
However, since we are talking about the best options on the market, there are many cutters below that are meant to satisfy the needs of DIY hobbyists and professionals. Pick your machine according to your needs and the budget and you are unlikely to go wrong.
1. YesWelder FIRSTESS CT2050 Powerful 7-in-1 Welder & Cutter – Best For Money
The YesWelder Firstess CT2050 is an excellent 7-in-1 multi-process welder that combines welding and Plasma cutting. Therefore, besides cutting, you can also use this machine for TIG welding delicate metals, making it an all-around choice in your small shop.
CT2050 is a dual voltage welder with built-in PFC technology that allows it to work with a broad 96-265V input. Even though this is a dual voltage cutter, it shows the best results when plugged into a 220V outlet.
At 220V, the YesWelder CT2050 is rated at 12-45 amps and 12-25A amps at 110V. I was surprised with the 100% duty cycle rated at the maximum output, meaning you can use longer cuts. The maximum clean cut is placed for 1 3/16″ @ 220V and 25/32″ @ 110V. If you put in enough time and patience, you can cut up to 19/32″ severance thickness.
I liked the fact there is a built-in air compressor, but if you trust your tools, you can switch input to an external compressor for the best results. In addition, you get a moisture separator that will keep the moisture out of the cutting system.
The plasma torch utilizes a non-contact pilot arc with a blowback start. As a result, you can cut dirty, painted, or rusty metals without damaging the consumables. In addition, there is no high-frequency, so that you can use your cutter with a CNC table or other electrically sensitive devices. The torch is comfortable, but the provided consumables will keep you going only for a while.
Besides plasma cutting, CT2050 is capable of AC/DC TIG, Pulsed TIG, and Stick welding. It is scarce to see a multifunctional AC/DC TIG welder combined with a plasma cutter today, so this is a well-worth investment. Some may dislike the bulky TIG torch and overall weight of the welder. With 61 lbs, this is certainly not our list's most portable plasma cutter.
Get 10% Off With Coupon: "-10% WELDPROS"
Pros & Cons Summarized
Pros
Non-touch pilot arc for dirty, rusty, and painted metal
Dual input voltage with PFC technology
Can work with built-in or external air compressor
A smooth cutting process with little dross
Blowback start suitable for CNC table
Can also be used for AC/DC TIG, Pulsed TIG, and Stick welding
Cons
Works best at 220V input
Not so portable
Specifications
Processes: Plasma cutting, AC/DC TIG, Pulsed TIG, Stick.
Cutting Thickness: 1 3/16″ @ 220V clean cut, 19/32″ @220V severance
Cuttable Materials: Steel, Stainless Steel, Steel mild, Aluminum, etc.
Input Voltage: 96-265V, 50-60 Hz.
Input Phase: 1-Phase.
Current: AC/DC.
Maximum output: 45A
Rated Output: 45 A @ duty cycle 100% (can cut for long without overheating)
Weight: 61 lbs.
Specifications Dimensions: 21.65″*"16.92*14.96″
Pressure Requirements: 5-7 CFM
2. Hypertherm Powermax-30 088079 Plasma Cutter – Best Overall
Hypertherm plasma machines are high-quality heavy-duty units and thus Hypertherm Powermax-30's price reflects that.
However, advanced features distinguish it from cheap plasma cutter, which makes it one of the favorites.
This cutter offers a dual input voltage as you would expect. Powermax 30XP is exceedingly lightweight and it comes with a very long torch lead of 15 feet.
The power supply provides excellent cutting capacity for a 1/4″ steel plate and you get very good quality cuts from it. You also get very good cutting speeds as it cuts 1/2 in at 10 ipm.
If you want a handheld plasma cutter that can support delicate work and sculpture then look no further, this is the best choice in my cutter reviews in terms of quality. You get what you pay for and the plasma cutter price is fair here because the quality is outstanding.
However, it won't gouge unlike some of the other Powermax models and some may find the fact that it's not a 50 amp plasma cutter somewhat limiting. So you can't tackle the thickest of materials with this plasma cuter but its efficiency is still great and a top pick.
In addition, some owners report you shouldn't consider Hypertherm Powermax 30 as a commercial cutter, as extensive use may damage the internal water separator, eventually causing leaks. Still, this is a high-quality plasma cutter for light fabrication jobs and projects. For industrial use, we recommend big brother, Hypertherm Powermax45.
On the other hand, Hypertherm Powermax 45 is a super portable and lightweight professional cutting machine, and a real workhorse. The best part is you can hook it to the CNC table for a small fab shop. Even though you will have to pay some more, high-end plasma machines pay off real quick.
Pros & Cons Summarized
Pros
Quality for long term use
Professional plasma torch
Made by a reputable company in the industry
Powermax30 XP Supports dual volt outlets with plug adapters included
Comes with everything, trigger safety gear, shoulder strap, and standard and fine cut consumables for any detail
Also offers a high-quality drag tip for extended consumable durability
Smooth cutting process
Probably a top pick for small fabrication business
Low weight portable plasma cutting machine
Cons
Price
Not for extensive heavy-duty use
Specifications
Processes: Plasma cutting.
Cutting Thickness: Steel – 3/8in neat cut and 5/8in maximum cut.
Cuttable Materials: All kinds of metal, Steel, Stainless, Aluminum etc.
Cuts: 1/2 inch at 10 inches per minute
Input Voltage:120/240 V, 60 Hz.
Input Phase: 1-Phase.
Current: DC.
Maximum output: 30A
Rated Output: 120V @ duty cycle 20%, 240V @ duty cycle 35%
Weight: 21 lbs.
Specifications Dimensions: 14 x 5.5 x 11.5 inches.
3. Arccaptain Cut50 Plasma Cutter – Beginner-friendly Cutter
Arccaptain Cut50 is a portable plasma cutter that combines decent quality, good cutting performance, and affordable price. The perfect combination makes it an excellent value plasma cutter for beginners and occasional users looking for a proper machine without breaking the bank.
For convenient plasma cutting, you get everything you need to cut metal straight out of the box. The plasma cutting torch is durable and comfortable, and I liked the 16 ft long leads.
However, the biggest surprise is the pre-installed air pressure regulator. You get one with most plasma cutters on our list, but you usually have to install it manually, which can be troublesome for beginners. This way, you get more of plug and cut approach.
Cut50 utilizes an IGBT inverter technology, which makes it compact and lightweight. With approximately 13 lbs and added shoulder strap, you can easily carry it around the shop. However, this plasma cutter is exceptionally well built despite its compact dimensions and low weight. Each Arccaptain machine is subjected to various tests and exposed to realistic conditions such as condensation, water, metallic dust, or vibrations. Therefore, you can be sure your investment is well protected.
Besides low weight, inverter technology provides consistent results and high efficiency. The rated output of 50 amps will allow you to cut up to 1/2 inch thick alloy steel, stainless steel, copper, mild steel, and other colored metal materials. The severance thickness is rated at 3/4 inch, but even with a 60% duty cycle, it will take time and a lot of dross. In addition, you will need a recommended air pressure of 40-70 PSI to function appropriately.
Keep in mind the plasma torch utilizes a contact, high-frequency start. While high-frequency gives good arc starting characteristics, it emits an electrical noise that isn't suitable for electrically sensitive devices and, more importantly, CNC tables. In addition, touching the base metal provides more precise cutting, but it damages the torch consumables, especially when working with rusty or painted metals.
A full review of the Arccaptain Cut50 Plasma Cutter can be found here.
5% Discount Code: "WELDPROS"
Pros & Cons Summarized
Pros
Good value for the money spent
Easy to use and setup
Pre-installed air pressure regulator
Good cutting capability
Smooth cutting results
Lightweight, portable, but sturdy
High duty cycle
Cons
High-frequency start interferes with electronic devices
Contact cutting
Specifications
Cutting Capability: 1/2 clean cut
Cuttable Materials: Steel, stainless steel, or aluminum
Input Power: 110V/240 V, 60 Hz.
Input Phase: single phase.
Current Type: Direct Current
Air supply requirements: 5-7 cfm @ 40-70 PSI
Amperage output: 20~50A
Rated Output: 60% @ 50 Amps
Weight: 13 lbs.
Arc start method: Contact high-frequency
Warranty: 2 years
4. Eastwood Versa Cut 40 Plasma Cutter – Editor's Pick
Versa Cut 40 is yet another great hobbyist, auto restoration, and light fabrication plasma cutting machine perfected by Eastwood. This plasma cutter works at both 110V/220V input to run, and the unit requires 5-7 cfm of air at 60 psi.
With the provided versatility, you can use this metal cutting machine at your garage, home, farm, ranch, or remote job site location.
In addition, air pressure requirements can be supplied by a common external air compressor in your shop. I was surprised with how much power rated at 40 amps, you can use to cut up to 3/8″ thick metals. At the lower end, you can use Eastwood Versa Cut 40 to slice through 24 ga. sheet metal.
Even though Eastwood is a US-based company, Versa Cut 40 is manufactured overseas, precisely in China. Nonetheless, manufacturers are following company specs and standards during the assembly, meaning you get a reliable unit. Reliability is proven by a 3-year warranty which is huge in the hobbyist market.
Overall, you get a decent and cheap plasma cutter for the money spent. In addition, package content features a comfortable torch with a 20 ft. long lead which can cut any electrically conductive metal. Non-touch technology makes it perfect for cutting rusty or painted metal.
If you plan to use Eastwood Versa Cut 40 more than occasionally, you should purchase additional consumables, as the package content seems a bit short. Luckily, the torch is compatible with regular consumables you can find at your local welding shop.
Pros & Cons Summarized
Pros
Inverter technology increases versatility and power
Dual voltage plasma machine
Great for automotive cutting, hobbyists, and DIY lovers
Comfortable torch with long and well-insulated lead
Decent metal cutting performance
Compressed air flow requirements are not that high
3-year warranty
Cons
Very few consumables in the package
Specifications
Cutting Capability: 24 ga up to 3/8″ in the maximum cut.
Cuttable Materials: Steel, stainless steel, or aluminum
Input Power: 110V/240 V, 60 Hz.
Input Phase: single phase.
Current Type: Direct Current
Air supply requirements: 5-7 cfm @ 60 psi
Maximum output: 40A
Rated Output: 60% @ 40 Amps
Weight: 36 lbs.
Specifications Dimensions: 16.5″ Long X 8″ Wide X 13 Inches Tall
5. AHP AlphaCut 825i – Powerful Plasma Cutter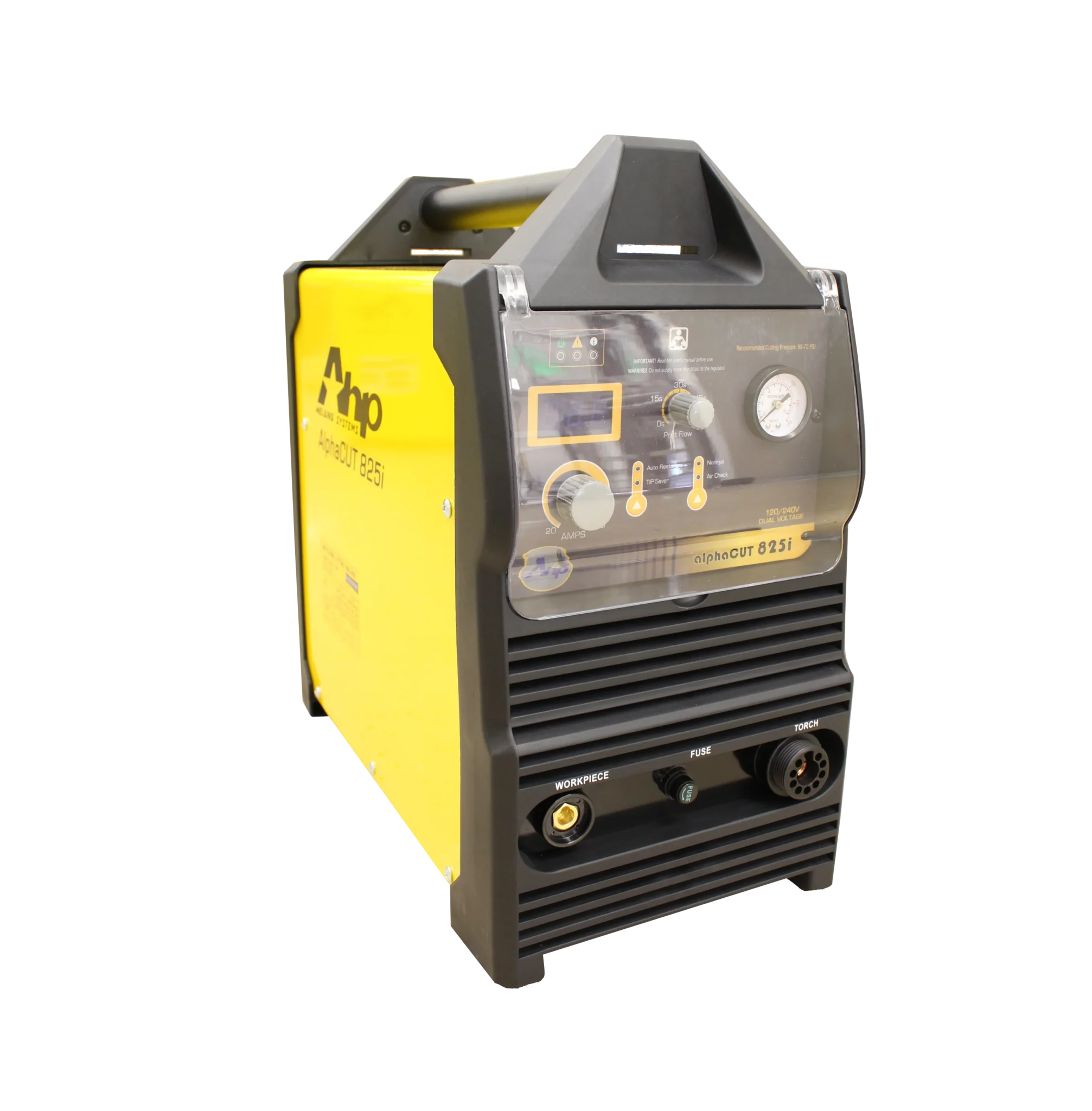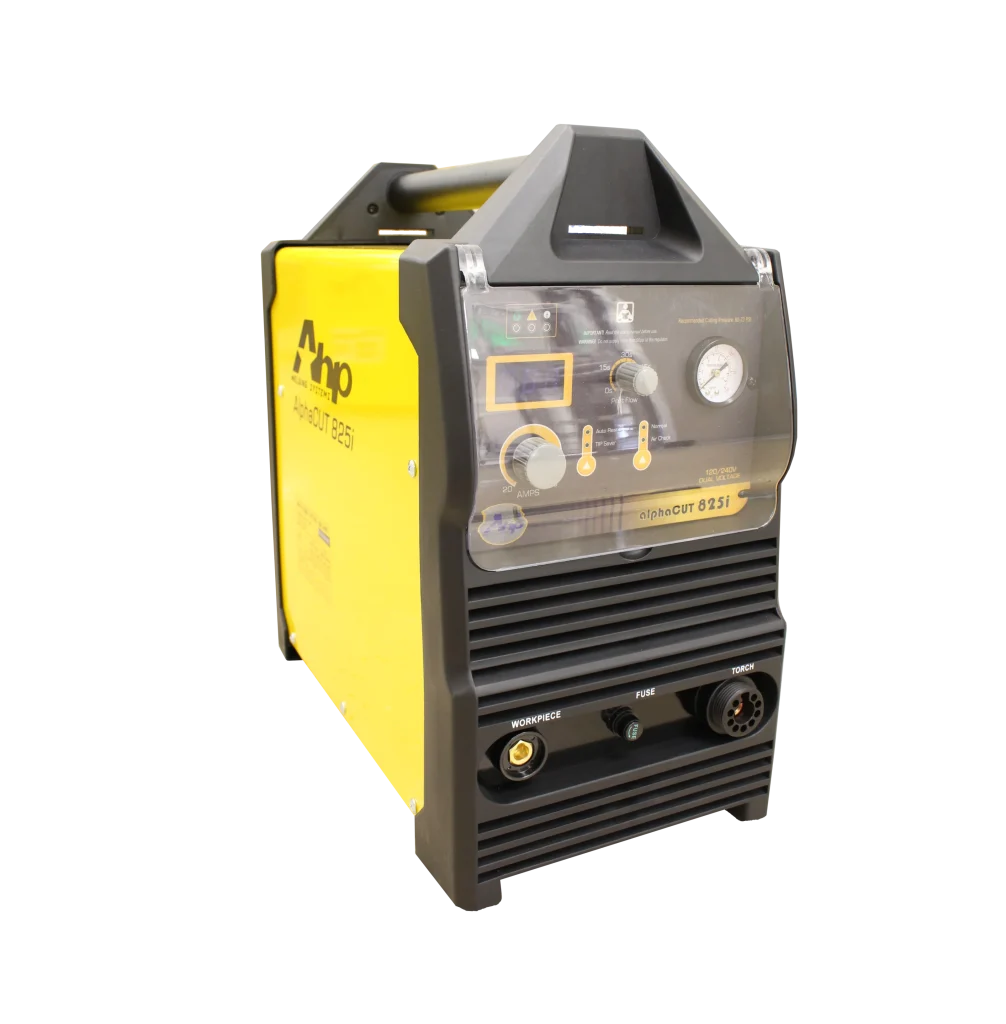 AHP AlphaCut 825i is an inverter-based plasma cutter that combines great cutting power with a highly durable build and excellent efficiency. This is a highly versatile cutter for both beginners who are new to the world of plasma cutting but also small fabrication and shop owners who need excellent results at reasonable prices.
The first thing that catches the eye of many welders is the excellent build quality of AHP AlphaCut 825i.
The first look leaves an impression of a well-built machine designed to last and perform. Even though it is robust, this plasma cutter features an efficient inverter-based platform, which makes it lighter but still capable of cutting thick pieces, up to 1″ in maximum cut.
I liked the Innotec iPT 60 torch, which is ergonomically designed and durable. The consumables are easy to find, and they are relatively inexpensive, which is essential if you do a lot of cutting because no consumable is eternal. The torch uses a blow-back design and pilot arc function, which are rarely seen in mid price range. As a result, you don't have to worry about high-frequency interference with electronic devices and CNC tables. The pilot arc design allows the arc to restart automatically after the cut is lost. Additionally, this is a non-contact method, which means the consumable life is extended, and you can cut through rusted or painted metal with ease.
The cutting power of AHP AlphaCut 825i is rated at 60 amps at 220V, which is enough to cut 5/8″ thick steel daily. The cutter can produce clean cuts up to 7/8″ and a maximum cut capability of over 1″. However, remember that this is a dual-voltage cutter, which means you can use it to cut thinner materials at 110V. Nonetheless, you'll need different consumables since the ones in the package are rated at a maximum output of 60 amps.
Pros & Cons Summarized
Pros
Durable and well-built cutter
Inverter-based technology makes it lightweight and efficient
High cutting power
Non-contact cutting method for a longer lifespan and good cuts on rusted or painted metal
Ergonomic torch with cheap consumables
Cons
Provided consumables are aimed at maximum power cutting
Specifications
Voltage Input: 120V/240V
Output: 20-60A
Duty Cycle at 40° C: 35% @ Maximum Output
Post Flow Adjustable: 0-60 Seconds
Torch Type: Innotec iPT 60, 14 ft. CNC Capable, not rated for CNC use
Minimum Compressor Size Requirement: 4.5 to 5 CFM @ 90 PSI
Maximum Severance Cut Thickness: 1″
Maximum Clean Cut Thickness: 7/8″
Maximum Rated Cut Thickness (For Daily Use): 5/8″
Unit Weight: 50 lbs.
6. Hobart 500566 Airforce 40i 240 V Plasma Cutter – Powerful Hobbyist Cutter
Hobart is one of the big players in the welders market and the Hobart 40i Plasma Cutter's price range reflects this. However, it cuts mild steel at 7/8″ at 50% duty cycle at a speed faster than an oxy torch! Among plasma cutters, this is a serious tool worth your consideration.
Keep in mind that the older Airforce 40i's were a 240V only machine rather than a 110v 220v dual voltage plasma cutter meaning you should get a proper power source installed which is expensive.
However, the latest improvements feature the characteristic Hobart MVP plug, meaning you can use both 110V/220V power options.
The Hobart Airforce 40i is one of the best plasma cutters that I've tested and I really like the fact that the airflow is designed to conserve air as much as possible. This aspect allows for a lot more flexibility than most air plasma cutter tools allow for. The duty cycle is decent, and automatic post-flow cools down the torch, extending the lifespan of consumables and the torch.
With the latest improvements, you can use this machine at home, garage, ranch, farm, or remote site location. In addition, 40i excels once you need to slice through the hot metal piece in the way that a knife slices through butter and you need to do it a lot in your workspace.
Even though it might be pricier than budget-friendly options such as LOTOS LTP5000D, Primeweld, or Eastwood, you really get what you pay for. Your investment is well protected by an industry-leading 5/3/1 year warranty.
If you are a beginner looking for a budget friendlier option, you should consider the weakest of three primary modes in the line, the Hobart Airforce 12ci plasma cutter. This machine has its own air compressor, meaning it is super easy to use. But you shouldn't expect any heavy-duty cutting, as it is best used for cutting sheet metal.
Pros & Cons Summarized
Pros
Sturdy case
Great for professional shop and jobs
Wind tunnel technology (protects internal components)
XT40R torch consumables and add ons
Fan on-demand cooling system
Made in the US – a company with a lot of reputation
Cuts fast through metals thanks to high temperatures
Efficient airflow
Lightweight with portable dimensions
Cons
Specifications
Processes: Plasma cutting.
Cuttable Thickness: 5/8 – Steel – clean-cut and 7/8in max cut.
Cuttable Materials: Steel, Stainless, Aluminum, Brass etc.
Input Voltage: 120/240 V, 60 Hz.
Input Phase: 1-Phase.
Current: DC.
Maximum output: 40A
Rated Output: 40 A @ 50% duty cycle
Weight: 31 lbs.
Specifications Dimensions: 17 x 18.25 x 11.63 inches
7. YesWelder CUT-55DS 55Amp Non-Touch Pilot Arc Plasma Cutter – Best For Money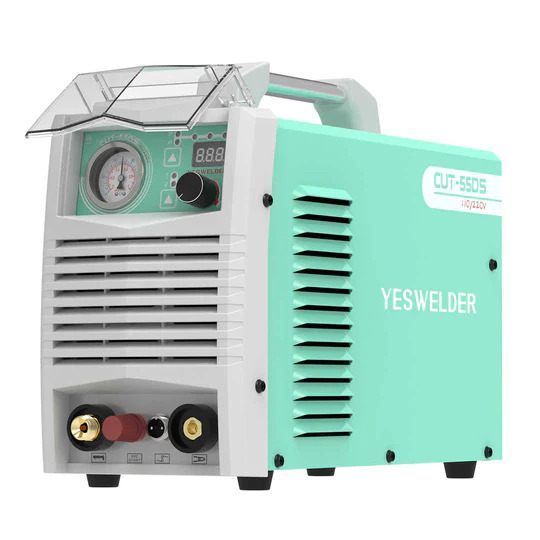 I love this plasma cutter and for the money, it's absolutely the best small plasma cutter you can buy. It is relatively low-cost (it's not the cheapest plasma cutter for sale on the market but it's not far off) and it has a lot to like about it.
YesWelder Cut 55DS features a non-touch technology that will make it so easy to cut through rough or painted metal without producing massive amounts of recrement. In addition, a continuous pilot arc preserves your nozzle, which results in lower maintenance fees.
The 30-day money-back guarantee is really impressive too, give it a try and if you're not happy with your YesWelder then send it back for a refund, they want to make sure that you're happy.
It's the best value plasma cutter in my tests, built-in parts are durable and solid, and the customer service they back is responsive and ready to back you up.
The dual-voltage capacity is a good function and it means you can get great cutting performance on nearly any metal. The 110V input is well suited for sheet metal up to 12 gauge thick, but you can always switch to the 220v plasma cutter mode to cut thicker stock. Keep in mind that the manufacturer states a maximum severance thickness of 3/4″, but most owners recommend you shouldn't try cutting over 1/2″ thick metals.
The 30-day money-back guarantee is really impressive too, give it a try and if you're not happy with your YesWelder then send it back for a refund. Owners had mixed experience with customer service, but most agree they did their best to resolve an issue. In addition to the return policy, you get a 1-year warranty, which is great for this price.
Cut 55DS is the best value plasma cutter in my tests and there is a reason. This is a portable plasma cutter with 19 lbs. while built-in parts are durable and solid. Provided accessories might seem cheap, but the torch will do the job accordingly. However, you shouldn't count on the instruction manual which is almost useless.
Get 10% Off With Coupon: "-10% WELDPROS"
Pros & Cons Summarized
Pros
Non-touch cutting method
Dual input voltage for more versatility
Best plasma cutter for the money
This plasma cutter has a lot of power
Works on air consumption (for pressure)
Comes with 13ft pilot arc technology torch, 10ft work lead, air filtration systems (air regulator/ air filter), air hose and consumables
A smooth cutting process on different metals
Easy to operate at a push of a button with a screen for amp reading
Lightweight and portable to a job location
Inverter technology
Cons
The display could be bigger
Cutting power might be slightly lower than specified
The instruction manual is vague
Specifications
Processes: Plasma cutting.
Cutting Thickness: metal – 1/2 inch clean cut and 3/4in maximum cut.
Cuttable Materials: Steel, Stainless Steel, Steel mild, Aluminum etc.
Input Voltage:110/230 V, 60 Hz.
Input Phase: 1-Phase.
Current: DC.
Maximum output: 55A
Rated Output: 55 A @ duty cycle 60% (can cut for long without overheating)
Weight: 34 lbs.
Specifications Dimensions: 16 x 6 .29 x 11"
8. Hobart AirForce 12ci – Light-duty Plasma Cutter with Built-In Air Compressor
If you are a hobbyist or plan to cut thin metal in your shop, you don't need to look for the most powerful plasma cutter. On the contrary, you will be more than fine with a machine such as Hobart AirForce 12ci. This is a 110V plasma cutter rated at 12 amps that will allow you to cut electrically conductive metals up to 1/8 inch.
As you can notice, this machine is not aimed at industrial use, but you will be more than fine with thinner pieces. The duty cycle is rated at 35%, meaning you also won't be able to cut for too long at maximum power. Some users confirm that, as they had issues maintaining arc when welding thick metal.
Nonetheless, as long as you use AirForce 12ci within its limits, you won't have any issues. This is a US-made machine that is built to last, and I really loved the build quality. Satisfied owners say this cutter lasted well over its warranty period, which is not always the case with off-brand, other plasma cutters.
Like other high-quality plasma cutters, AirForce 12ci features a built-in compressor comfortable torch with an ergonomic handle, thermal overload protection, and post-flow cooling. With Hobart's 5/3/1 warranty, you can be sure your investment is well protected.
Keep in mind that AirForce 12ci weighs 33 lbs., which makes it somewhat harder to move around the shop. That weight is expected, and you can see it in our reviews, from much more powerful cutters, but it is not characteristic of light-duty units.
Pros & Cons Summarized
Pros
High-quality build
Sturdy and built to last
US brand cutter
Fan-on-demand and built-in protection features
Built-in compressor with low compressed air requirements
Ergonomic torch with flexible leads
Suitable for thin mild steel and other metals
Hobart 5/3/1 warranty
Cons
Not for heavy-duty cutting
No non-touch pilot arc
Heavy
Specifications
Processes: Plasma cutting.
Cuttable Thickness: 1/8 in clean-cut and 1/4 in the maximum cut
Cuttable Materials: Steel, Stainless, Aluminum etc.
Input Voltage: 120 V, 60 Hz.
Input Phase: 1-Phase.
Current: Direct current.
Maximum output: 12A
Rated Output: 12 A @ duty cycle 35%
Weight: 33 lbs.
9. Forney Easy Weld 251 20 P – Entry-level Plasma Cutter
The Forney Easy Weld 20P is an entry-level 120V metal cutting machine that offers great value. Even though manufacturers specify it will cut mild steel to about 1/4″ thick, you should really expect to use it for materials thicker than 1/8″.
You can even cut 3/16″ but it will take some time and you should expect a lot of dross. The dross occurs once molten metal re-solidifies at the perimeter of the cut.
However, this is a reasonably portable cutter (though with 21.5 lbs is not so light that you want to be moving it around all the time).
This cutter features special drag torch technology which makes cutting super easy and precise. Thanks to the drag feature, you'll spend less on torch expendable materials in the long run and that's always great news.
You will get a solid 1-year warranty, and if something goes wrong, their servicing department hires real professionals, so it's clear that the customer experience matters here. Replacement parts for this Forney plasma cutter when you need them are very easy to get access to, and you can buy them after hours in your local welding shop.
The only thing missing for this mid-range machine is dual voltage capability which would be nice to have. This is the best machine at this level I could find. Nonetheless, with given input power, output power, and capability, this is a good plasma cutter for beginners, hobbyists, and light fabrication use. When buying a plasma cutter online, make sure you do it from a trusted supplier as we listed below.
Pros & Cons Summarized
Pros
Great for beginners, hobbyists, and DIY enthusiasts
Drag torch capabilities
Easy to use with a single knob
Non-touch technology
Portable and low weight
Cons
Not a lot of power
Medium duty cycle
Short power cord
Specifications
Processes: Plasma cutting.
Cutting metal Thickness: – 1/4in cut.
Can cut metals: Steel, Stainless Steel, Alloy, Aluminum, etc.
Input Power: 120 V, 60 Hz.
Input Phase: 1-Phase.
Current Type: Direct Current
Maximum output: 20A
Rated Output: 20 A @ duty cycle 35%
Weight: 21.5 lbs.
Specifications Dimensions: 15.13 x 8.13 x 12 inches
10. Eastwood Versa Cut 60 – Powerful Autobody Plasma Cutter
Eastwood welders and cutters are well recognized in the autobody industry, and its Eastwood Versa Cut 60 is a must-have tool for anyone in metal fabrication, auto restoration, or creating metal artwork.
Compared to Versa Cut 20, which we also highlighted, this is a powerful, dual-voltage cutter rated at 60 amps. You can use it to cut plates up 7/8″ thick at 220V or 3/16″ at 110V input voltage.
Keep in mind that Eastwood recently updated Versa Cut 60, which now features a digital display, 2T/4T mode for longer cuts, a breaker switch, and 20 ft. long leads. I especially liked the last one, as Eastwood machines are known for their 6 ft. leads that tie you close to the welder or cutter.
This is yet another US-built machine with the excellent build quality. The machine uses IGBT inverter technology, and there is a built-in moisture separator and adjustable air pressure regulator. As a result, this is a heavy-duty but portable plasma cutter built to last. However, you will need a 50 amp breaker and a dedicated outlet to run it at full power.
Eastwood offers a 3-year warranty, and it seems like it can compete with a much pricier Lincoln or Miller Spectrum X-Treme plasma cutter. I also liked the 60% duty cycle at maximum power, and the non-touch pilot arc will help you cut any electrically conductive material or rusted and painted metal surfaces. However, Versa Cut 60 uses a high-frequency start, meaning you cannot use it with a CNC table.
Pros & Cons Summarized
Pros
Reliable cutter with a high-quality build
High power output and duty cycle
Dual voltage and long leads for increased versatility
IGBT inverter technology
Built-in moisture separator and protective features
Decent quality ground clamp
Lightweight but sturdy
3-year warranty
Cons
Requires dedicated outlet and 50 amp breaker for maximum output
Cannot be used with a CNC table
Specifications
Processes: Plasma cutting
Cuttable Thickness: max cut 7/8″ at 240 V
Cuttable Materials: Metal, Stainless Steel, Steel mild, Aluminum etc.
Input Power: 120/240 V, 50,60 Hz.
Input Phase: single phase.
Current Type: Direct Current
Maximum output: 60 A
Rated Output: 60 A @ duty cycle 60%
Weight: 31 lbs.
Air Compressor Requirements: 5-7 cfm @ 20 – 60 psi
11. PRIMEWELD Premium & Rugged 50A Air Inverter Plasma Cutter 110v 220v
Whether you need a 110v plasma cutter or a 220v model, Primeweld CUT50 got you covered. If you are a buyer that wants to get working with a plasma cutting torch without breaking the bank then this is a solid choice as a decision.
With a 60% duty cycle at 50 amps, you will be surprised by cutting capacity.
You can choose from a range of duty cycles which is great and it will cut cleanly through up to 1/2 inch sizes without any problem.
However, it does seem to eat up consumables at a much faster rate than the other machines in my tests. So their life span is not great which you should take into account.
The PRIMEWELD Cut50 customer support is excellent too if you find yourself struggling with the training guides in the box (though they're very well put together too). Nonetheless, one of the greatest part of this cutter is the value. This unit is significantly cheaper than the brand-name cutters we mentioned above. Compared to Lotos LTP5000D offers more versatility, overwhelmingly positive reviews are on Primewelds's side.
However, the ground cable is a bit short of this plasma machine and you're going to want to replace it to ensure you get your amps safely. The portability of this equipment isn't great either but given that it's aimed at the DIYers, hobbyist market, that's probably not a big deal for this too. The cost makes it a very attractive option for buyers without a doubt.
Pros & Cons Summarized
Pros
The dual volt input tool
Good for beginners and hobbyists
Cheap plasma machine
A lot of power
Surprising cutting ability
3-year warranty
Cons
Scratch start
Does't have a built-in air compressor like some units
Specifications
Processes: Plasma cutting.
Cuttable Thickness: Metal– 1/2 inch clean-cut and 3/4in maximum cut.
Cuttable: Iron, Stainless, Alu etc.
Power Input: 110v or 220v, 60 Hz.
Input Phase: 1-Phase.
Current Type: Direct Current.
Maximum output: 50A
Amperage rating for duty cycle: 50 A @ duty cycle 60 percentage.
Weight: 22 lbs.
12. YesWelder FIRSTESS™ MP200 5-in-1 Welder & Cutter – Budget All in One Machine
The Firstess MP200 is a more expensive option in the budget price range but it's still the best value for the money IF you need the other four welding processes it supports.
This is literally the entire welding setup a beginner or a DIY person would ever need. It's got MIG, TIG, stick, flux core, and plasma.
While it's more expensive than YesWelder CUT 55DS, it's significantly more versatile and with a more durable build.
If you compare this machine with Hypertherm Powermax, you'll notice that it's much cheaper and has all the additional welding processes. That being said, Hypertherm is geared toward professional, demanding work while the MP200 is for a DIY enthusiast or light welding shop use.
On another hand, if we take a look at Hobart Airforce 12ci, we'll easily conclude that it's got nothing that's better than the MP200 while costing just about the same. MP200 took a lot of brands and models like a storm. A lot of what's out there doesn't justify its price anymore since MP200 hit the marketplace.
It's got a big digital display with very intuitive controls, supports dual voltage inputs, it's very lightweight and portable, and has a 1-year warranty.
On the 110v side, all of its welding processes work great except for plasma… It stutters a little and can even cut off the arc. On the 220V side, it all works well though.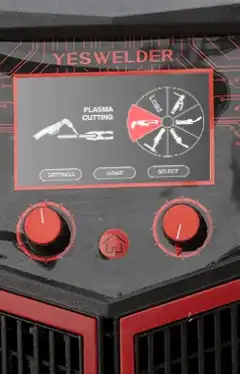 It's got a lot of power when cutting. With its maximum output of 40A, you can sever up to 1/2″ of steel (compare that to Hobart's 12A for the hobbyist grade machine). You can modify its pre and post-flow gas setting and work in both 2T or 4t modes.
If you want Hobart's 40i, you can get the same cutting power as MP200 but without the dual voltage support, digital display, more weight, and without any other welding process included.
When it comes to plasma, the MP200 is certainly not the best but overall this is a perfect hobbyist grade machine for all of the included processes. It's no wonder that its Kickstarter campaign sold an incredible 3.5m dollars worth of units. Everyone loved this machine.
A full review of the MP200 can be found here.
Get 10% Off With Coupon: "-10% WELDPROS"
Pros & Cons Summarized
Pros
5 in 1 Machine
Dual voltage
Excellent duty cycle
Big digital display
Intuitive controls
Ten memory settings
Everything is included in the box
Two fans cooling system
Best value for the money
One year manufacturer warranty
Cons
Not recommended for heavy duty jobs
Plasma cutter may stutter on 110v
Specifications
Welding process: FCAW, GMAW, GTAW, MMA, and plasma cutting.
Cuttable Thickness: Metal– 1/4 inch clean-cut and 1/2in maximum cut.
Cuttable: Iron, Stainless, Alu etc.
Weldable Materials: Steel, Stainless-Steel.
Input Voltage: 110/220V.
Input Phase: 1-Phase.
Current Type: DC.
Rated Output: 60% at 68F, 25% at 104F.
Amperage Range: MIG/FC/Stick/TIG 20-200A, Plasma 20-40A.
Weight: 25lbs
Best Plasma Cutter – Buying Guide


The products that we placed on our list have been comprised based on our own professional opinion. But to help you get a better understanding of which one to choose, we also have a buyer's guide that is sure to provide added insight and a better understanding of what to look for.
What is Plasma Cutting?
Plasma cutting is an operation that uses a melting process where a jet of ionized gas heated up to temperatures above 20,000°C is used to melt and expel material from the cut. Similar to some welding processes, an electric arc is struck between an electrode and a workpiece.
The electrode is recessed in a gas nozzle which constricts the arc and causes a narrow stream of high-temperature plasma to come out of it. Once the plasma touches the workpiece, the gas will revert to its normal state as recombination takes place. Further on, the heat melts the metal as the airflow ejects it from the cut.
Plasma Cutting Benefits
Once you go plasma you never want to go back to either oxy-acetylene cutting or mechanical cutting. All you need is one simple swoop of a hand and the cut will magically appear. There are many benefits that only plasma cutters have as opposed to all those conventional cutting processes.
It produces much faster cuts.
You don't need to pre-heat.
You can literally cut any type of metal that conducts electricity.
Minimize the heat-affected zone
Operating a plasma cutter is also very simple. In fact, it is so simple that it will take you more time to choose the correct machine for you than to learn how to use it.
Learn how hot is plasma here.
Input Power and Power Source
The first thing to look at when you are buying a plasma cutter is the power outlets and power source you have at home. You will need two power sources to run a plasma cutter. The first one is for the machine itself and the second one for the air compressor to provide pressure. There are plasma cutting machines that come with an air compressor integrated within the machine so there is that option.
Voltage and Power Input
You also need to pay some attention to the form of electrical input that your plasma cutter will need. The more powerful and one can say heavy-duty industrial cutters use three-phase 480/277 V supplies.
The most affordable plasma cutters and most suitable for home or small shop purposes will use US standard of 110/120V, 220/240V, or a dual supply that allows both types of input. The only place you're likely to find a three-phase machine is in an industrial setting. In most instances, it's more useful to have a dual supply of 100v/200v.
120v/110v Plasma Cutters
This is the standard and default supply that most people have at home or in a garage. Thus, if you can use your plasma cutter at 110-120 Volt, you can use it at home.
Unfortunately, this isn't a high enough voltage to allow the machine to operate at maximum power and temperature and chances are that you may struggle to cut metal thicker than 1/4″. So, if you are planning to cut some thicker plates upgrade the household current to 220v.
240v/220v Plasma Cutters
If you need this voltage, you're going to have to install a power-point designed for this type of supply.
That means spending more, if you want to cut through thicker materials though, you're going to have to invest in this supply. You will of course also find that you cut faster and of a much higher quality with your plasma torch than on 110/120 Volt.
Do You Need an Air Pressure Source? (Air Compressor )
The basic air requirements that a plasma cutter needs are about 4-8 SCFM delivered at 90-120 PSI. This is more than enough to enable you to cut 3/8″ to 7/8″ thick steel.
The main parts of a cutter are an air compressor and an air drying/filtering system. This system is used to provide enough air for the plasma cutter to work properly.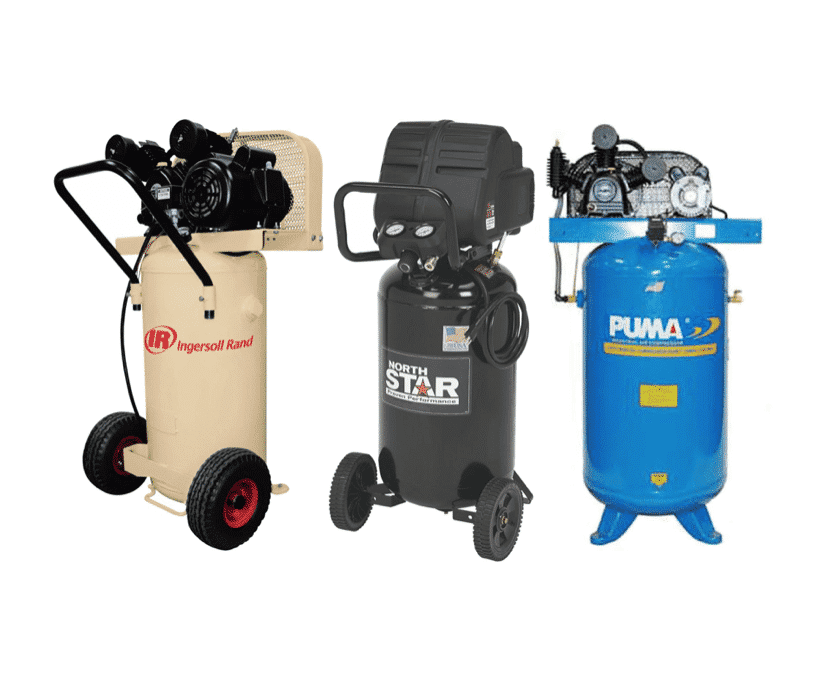 Using a plasma cutter with a built-in air compressor comes with various benefits. First of all, having an air compressor improves the quality of cutting and especially precision. The more pure the flame is the cleaner the cuts are. You can also adjust the pressure coming out of the tank and replicate the situation that suits you the most.
Secondly, built-in air compressors allow for more portability. If you are using a machine that has an air compressor separate from it, it will become much more difficult to move it around. Creating a lot of problems around the workshop.
However, the biggest advantage of plasma cutters with a built-in compressor is that it is a lot cheaper. The ones with an added compressor may be easier to move, but it is also going to be more expensive for your budget.
Power output is also an advantage of cutters with a separate compressor. Those with a compressor do not have to boot up the unit or feed it with constant power. It may not affect your power bill so much but it certainly affects the potency of a machine.
Power Required, Plate Gauge And Material Thickness
You will find that most cutters can cut through almost any kind of metal surface. However, it's the thickness of the plate that they can cut that should determine the plasma cutter that you buy.
The rule is simple: the thicker the plate you want to cut, the more amps you will need. This determines your power needs.
You can cut through different gauges of plates based on the amp and the type of metal with your plasma torch. So, let's say your plasma cutter can only cut 3/8″ of alu plate, it will be able to cut through 1/2 inch of stainless steel and up to 5/8″ of Metal sections.
In my experience, it's always best to factor in some room between the machine's maximum stated cutting width limit and the plate thickness you need to cut. In most cases, you won't get a tidy cut if you try it at the maximum level and you won't get the job done if you need to cut through something thicker.
Rated Duty Cycle
A duty cycle is basically the time a machine is able to work properly without overheating. All electrical equipment comes with one and so does a plasma cutter. It is measured within a 10-minute span, 10 minutes being the maximum or 100% that it can successfully go. So if a unit is labeled with a 30% duty cycle, it means that it will be able to operate for 3 minutes after which you will need to leave it to cool down.
When it comes to choosing a plasma cutter with an adequate duty cycle, hobbyists or people cutting around the house will not need more than a machine with a 50% duty cycle. However, if you are going to do some mechanized cutting you will probably need to cut for longer periods of time at which point 5 minutes are not going to be enough.
Advanced Features And Do You Need Them?
Like any type of welding and cutting equipment, plasma cutting devices come with certain advanced features. Professionals are going to have more use of these added features, but that is not to say that hobbyists can't use them.
Unfortunately, machines with advanced features also cost more money. So depending on your needs, you will have to determine – how badly do you need all those features? Are there some that you can do without? Does it really worth investing more money in advanced features?
Automatic Torch Re-Strike
This feature allows all kinds of useful additions to your work. With it, you can achieve a machine-like "U" or "J" when working on heavy plates, round or flat surfaces. At lower costs, it can groove, bevel, gouge, and of course, cut any type of material. With it, you can create a better kind of finish than with any older method. You can also speed up fabrication by being able to prepare both plates at the same time.
Automatic Air Flow Adjustment
To put it simply, this is a torch power system that includes a compressor and a controller configured to adjust the output of a compressor in response to feedback comprising of the compressor output. It also includes adjusting the operational parameters of a torch unit to account for environmental conditions that might affect the performance of the torch.
The torch power unit might include a plasma cutting circuit, paired with a compressor, a motor, and an interface with a plasma torch connection. A compressor and an environmental feedback controller are fitted to adjust power output or compressor output.
This system might help the plasma cutter to function better when affected by outside conditions. The pressure and airflow are not going to be impeached and the danger of overheating is lessen.
Computer Numerical Control
In the past, users had to pick between doing the work fast or doing it precisely. Today, cutters have evolved to such an extent that they can do both in an effective way. Machines used today are quite capable of achieving a top speed of 100 inches per minute on 0.25-in. steel.
They can even reach a speed of 150 IPM or more if working on long, straight edges or when cut quality is not imperative.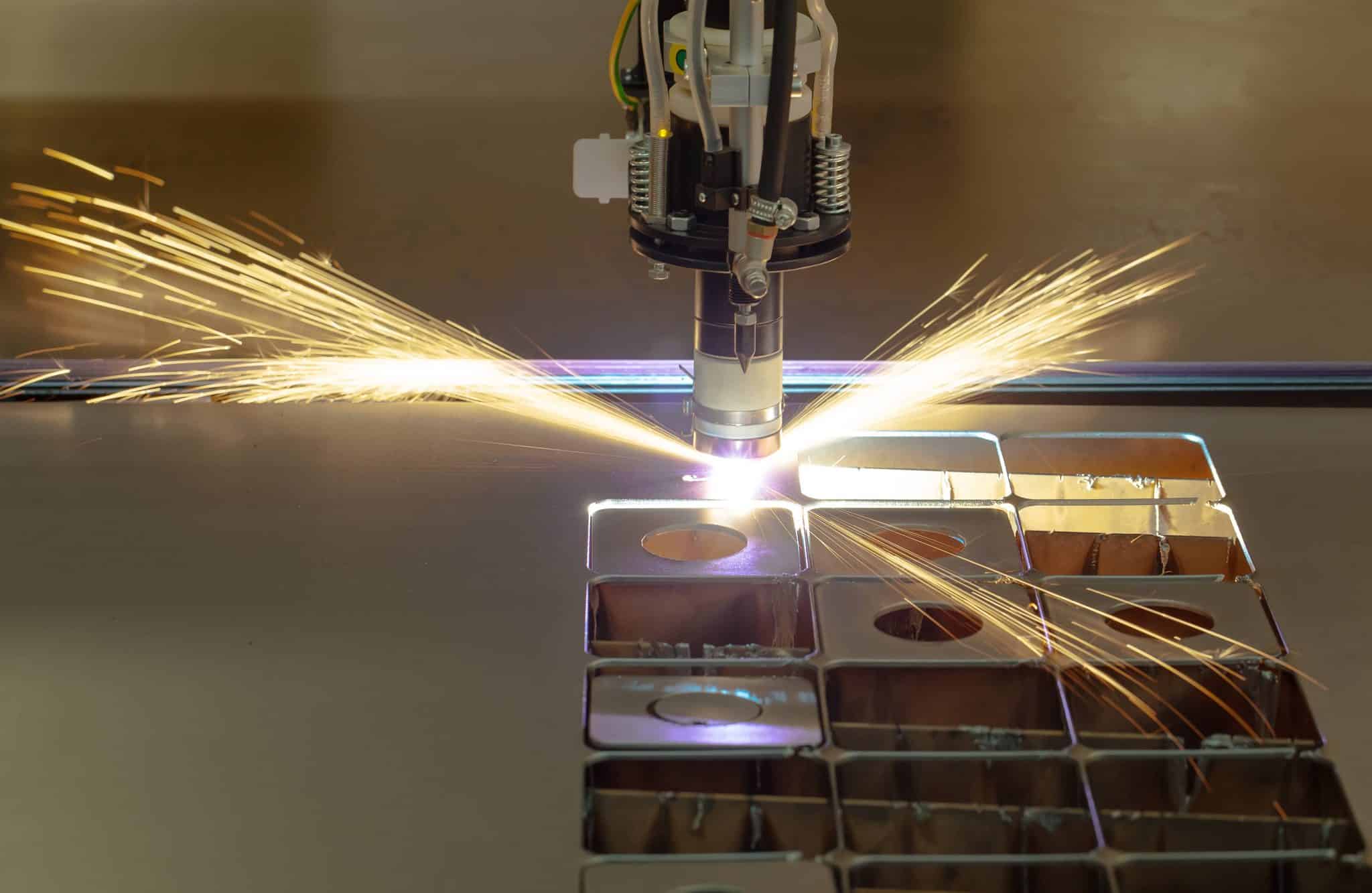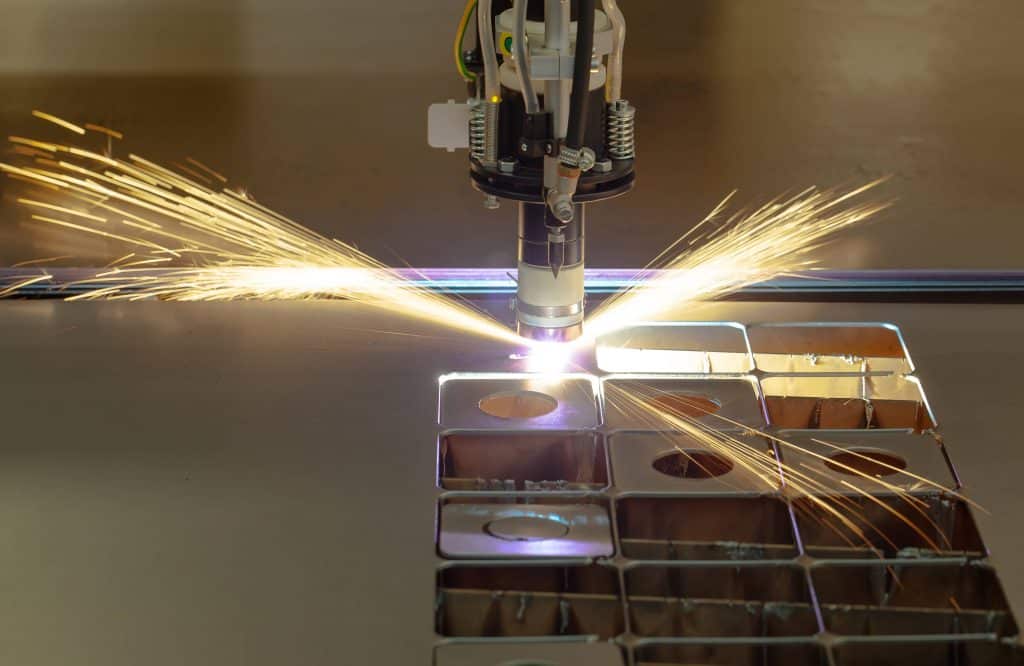 Computer numerical control is one such advanced feature that enables this kind of cutting. You can adjust the settings as precisely as possible and get some really good results. However, CNC is a feature not often seen on regular machines.
If you want a machine that has it, you have to spend more money. In fact, things can get really expensive here so you have to determine whether you really need it or not.
Types of Torches and Arc Start To Consider:
A variety of torches also come into the mix. You can't go with just any old thing as consideration is still needed.
High-Frequency Start (HSV) vs Mecanincal Blowback Start (NH)
A plasma torch requires a way to heat up the gas so it can reach its ionized temperature. The gas is then heated until it becomes electrically conductive resulting in DC energy coming from the power supply to superheat the air and turn it into a plasma gas that eventually creates a high-temperature cutting process.
There are two ways currently used to ionize the gas in a torch – High-Frequency, or high voltage discharge, and Contact Start also called the blowback start method.
1. High-Frequency Start – HSV
A high-frequency start uses a high voltage HF AC generator to create and send a pulse and create a high-intensity spark within the torch to heat up the compressed air or cutting gas.
A frequency pulse goes through the electrode and the nozzle and then through the workpiece establishing the pilot arc and subsequently the full cutting arc.
The discharge is created using circuitry in the plasma power supply and is transmitted through wires found in the torch lead that go all the way to the torch.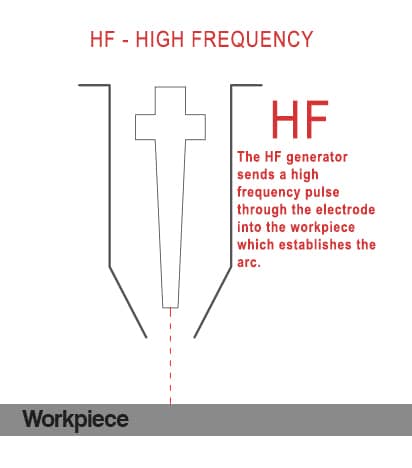 This type of cutter discharges a lot of electrical noise inside the work environment. Certain CNC machines that use a standard PC as a controller have problems created with electrical noise interference that the starting method causes. To combat these problems, modern CNC machines have complex grounding and filtering that allow the frequency to go without a hitch. And modern handheld plasma cutters are made in a way to bypass this problem altogether.
You will have no problem buying the plasma cutter that works on high-frequency technology if you get one from the top brands or if you make an inquiry with the manufacturer about these problems.
2. The Contact Start or Blowback Start (NH)
The contact start method, also called the blowback start, uses a moving electrode on a spring found inside the torch. The spring is there to keep the circuit closed and prevent the electric loop. When you press the torch button and the air starts gushing through the torch it pushes the spring back. This opens the circuit and causes the spark and starts the pilot arc, the moment the arc touches the workpiece it will ground and a proper cutting arc will be established.
The main DC power is activated within the torch which causes the gas flow to start in the torch only moments after its activation. The gas flow will then enable the spring-loaded electrode to slide back away from the nozzle creating a short circuit spark that ionizes the gas flow.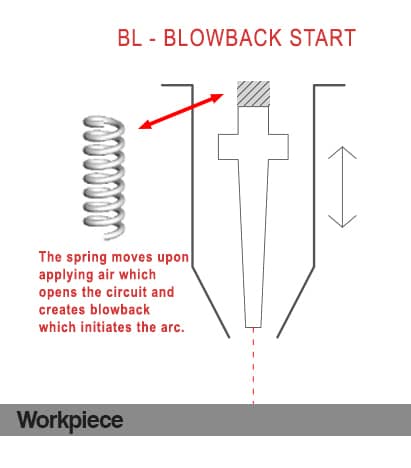 This method, as well as the HF, start one, is used to cut through rusty, dirty, and even painted materials. These methods are used predominantly by units in today's industry for both hand and mechanical cutting operations.
Many welders prefer one of these two types of starting plasma cutters but both are good and you will not make a mistake with either one, especially when it comes to machines for hobbyists.
Pilot Arc vs Non-Pilot Arc
When it comes to using pilot arc, it can be attached to both machines with no touch start and those with blowback start. A pilot arc is a high-intensity arc that fires in the air. These types of torches work particularly well when transferring the arc to rust or painted surfaces. Having a pilot arc makes cutting any materials a lot easier, to say it simply.
1. Plasma Cutters With Pilot Arc Torch
Modern machines usually come with a pilot arc. Actually, you are rarely going to come across a machine without one in recent times. Some might think that this feature adds to the price but it makes cutting a whole lot easier, particularly when working on rusty or painted surfaces and/or on fences and workpieces with a mesh.
A pilot arc works without having to touch the material that you are planning to work on. Contactless working makes it more suitable even for dirty material. It makes things a lot easier and you can go through expanded metal and mesh without a hitch.
The problem is that you will burn through consumables very fast and you will constantly need new ones. Expensive torches have more expensive consumables, so it can prove to be a problem which is something you should keep in mind.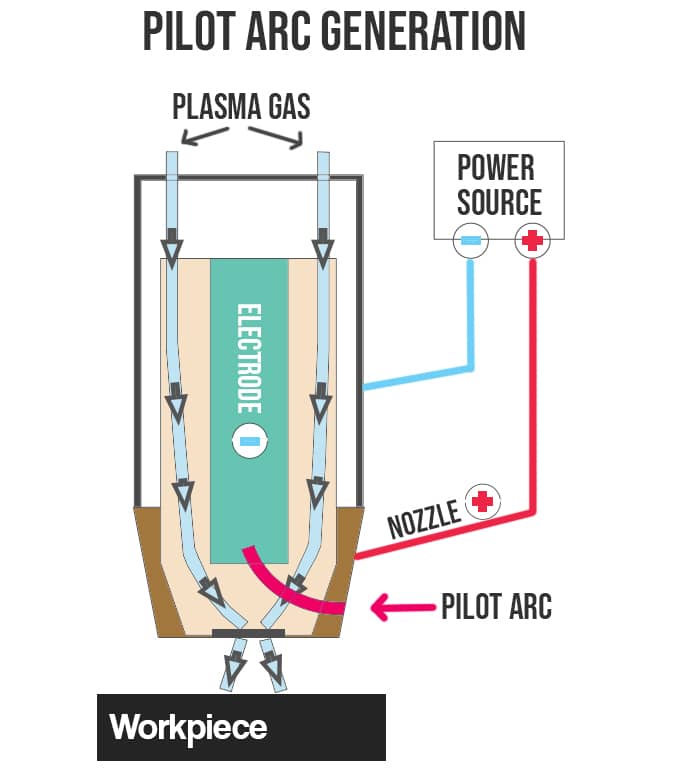 2. Plasma Cutters With Non-Pilot Arc
As we mentioned, you are rarely going to find a non-pilot arc machine nowadays. It is considered older technology but if you do find it know that it is going to make cutting expanded metal more difficult. If you do plan to cut expanded metal with a non-pilot arc, you can place a piece of thin scrap metal beneath it as it makes things a lot easier.
The best part of using a non-pilot arc machine is that the technology is much simpler and does not require you to use so many spare parts. However, in order to establish the arc, you need to make contact with the surface that you are working on. This is much more difficult to achieve if you are working on a dirty or rusty surface. It can even cause a backsplash to the torch and blast out your nozzle and contact tips.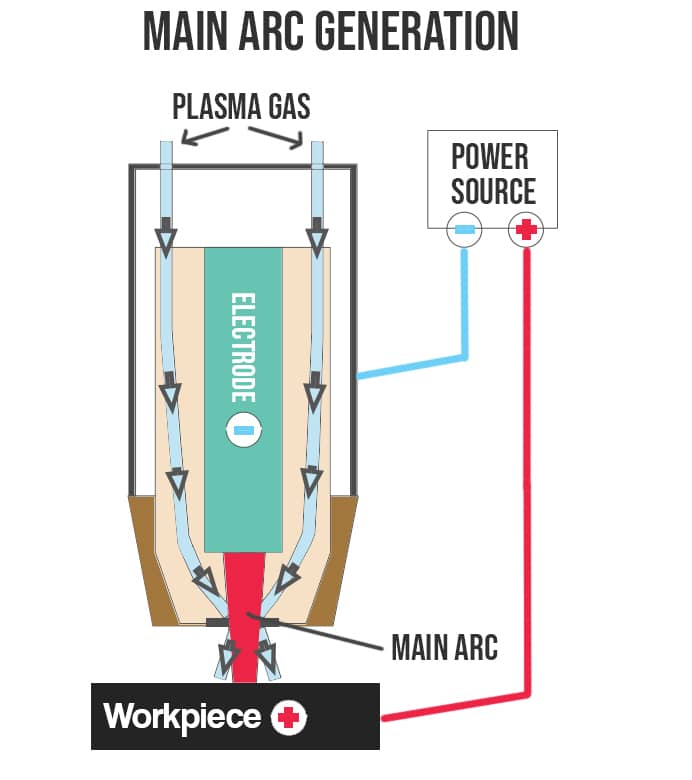 Plasma Cutter Standoff
A plasma cutter standoff also called a plasma cutter drag shield, is a small piece of metal that you can put over a ceramic heat shield of a torch to create distance between the cutting tip and the metal of about 1/8 of inches.
A great little tool to elevate the cost of the pilot arc plasma cutter torch by prolonging the life of consumables.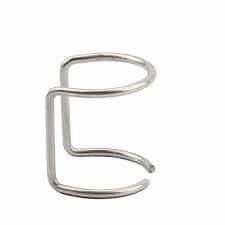 Also, it allows you to stand the torch while following a pattern. Finally, since the tip of the torch is not making contact with the surface, the backsplash is also avoided.
The main reason why a standoff is used is that it makes it a lot easier to glide the torch above a sheet of metal without having to touch the metal with the torch.
The best part comes with using a pilot arc torch when cutting rusty or painted metals as you don't have to clean the surface you are working on.
Cut Finish and Cutting Speed
Knowing the exact cutting speed for the thickness of the material that you need to work on basically determines production rates. This is usually determined in parts per hour and manufacturers usually provide a cutting speed chart to go along with their machines.
Having a chart allows you to compare cutting speed performance. However, there are no universal standards and comparisons are facilitated with two types of standards – rated cut and sever cut.
Cutting speed chart
Material
Thickness
Current
Maximum Cut Speed
inches
mm
amps
pm
mm/min
Mild Steel
10 Ga 1/4 1/2 3/4 1
3 6 12 19 25
45 65 65 65 65
205 145 50 24 13
5000 3900 1430 610 350
Stainless Steel
10 GA 1/4 1/2 3/4
3 6 12 19
45 65 65 65
168 120 40 19
4200 3800 1150 490
Aluminum
1/4 1/2 3/4
6 12 19
65 65 65
190 60 30
5500 1660 770
Rated Cut
The A-rated cut is the thickness of the material that the operator can cut manually at a rate of 15 IPM. This should be considered as a minimum speed that the operator uses to achieve a smooth and steady cut with the best possible quality.
Sever Cut
When it comes to a severe cut, it is the rating at which the operator pushes the machine to its maximum limits and a thickness of around 1-1/4 inches for a 55-amp unit. This results in very slow cutting speeds and it will usually require more clean-up afterward. Luckily, the speed will increase as the material gets thinner.
Required Consumables and Parts
Experienced cutters know just how valuable consumables can be when making quality cuts. But some that are not familiar with this concept, failing to realize how important the relationship between consumable components actually is. A single faulty component can misalign everything and cause the entire system to suffer.
When it comes to a plasma torch, there are five integral consumables to consider:
The shield – There are a lot of sparks and molten metal flying around while plasma cutting. The shield helps to protect the rest of the consumables.
Retaining cap – This part is used to hold the rest of the consumables together and is fixed on top of the stack up.
Nozzle – This part is used to primarily focus the plasma arc and to funnel the gas flow, shaping and constricting the arc at the same time.
Electrode – The electrode helps to carry the current from the torch to the plate.
Swirl ring – This part is used to help channel the gas in various directions as it comes down the machine and to the torch.
Plasma Cutter Torch Maintenance
Taking care of your plasma cutter will help it work properly and last longer. The main issue comes with consumables that you are needed for a cutter as they have to be swapped out if they get faulty. Most machines come with a chart or a diagram of consumables that it comes with and which you are going to be using. It makes it a lot easier when you need to order spare parts.
the first part is the swirl ring that helps direct the air down to the torch. Next comes the electrode which is usually made out of tungsten. If you notice a pit of at least 1mm, it means that you have to throw the electrode out. Be sure to have the correct nozzle for the system that you are using. If your nozzle starts getting an elliptical hole or you notice some burns, throw that baby away and change it. This part shouldn't make contact with the material because it may tear the orifice of the nozzle and ruin the cut quality.
It is near impossible to mess up the way you stack your consumables together. The torch will simply not work and you will get an error code on your machine that will prevent you from trying.
Different Plasma Cutting Uses
As the name suggests, plasma cutting is mainly used for cutting materials. But which types and for what kind of cutting?
Autobody Repair and Automotive Cutting
A plasma cutter comes more than useful when doing some autobody repairs. A machine with a cut rating of 3/8 inch and a sever rating of 5/8 inch is perfect for automotive fabrication. If you plan to work on thicker pieces of metal, a more powerful machine should be used.
If you happen to need to do any repairs on your car or around your house, a small plasma cutter with the mentioned parameters above is perfect. You don't really need a more powerful one.
Industrial Cutting
Plasma cutting is very useful in industrial cutting. Since machines are able to provide precision cuts at low cost it is very much applicable in industrial CNC work. However, although these machines do exist they are not really useful for a hobbyist or a person who needs repairs around a home.
The units described above are aimed at smaller types of projects and home use. They are not going to be suitable for industrial work. At the same time machines that are more powerful and that come with CNC features are much more expansive. Investing in a machine like that for home use is not a good idea, that is why a list with all the machines above does exist.
Artwork Cutting
Using a plasma cutter doesn't have to be all work. It can be fun as well and can help you produce fabulous pieces of art. The metal artwork is very much a thing and there are many people that have been able to hone their skills and turn it into an art form.
A plasma cutter is a basic instrument needed to cut some metal up and turn it into pieces that can become fabulous art pieces.
Small Welding Shop or Home Repair
A plasma cutter is a useful piece of equipment if you own a small welding shop or for certain home repairs. In fact, a combo machine that can cut as well as TIG/Stick weld is much more useful to have. Being that you are working in a small shop, it means that you are more than likely not going to work on any serious projects. So this type of combo machine could be useful.
However, don't expect it to cut thicker pieces as it is simply not meant for that. But if your work consists of only home repairs or cutting something up for your neighbor, particularly if you reside in a rural setting, this type of combination will be perfect for the job.
Portability
Doing work around a house or within a small welding shop also requires maneuverability. Small projects do not require so much power but do need to be more mobile. Thus lighter machines have an advantage here.
Machines with built-in air compression account for more maneuverability but can be more expansive for your home shop. CNC machines are also expensive and are not really suitable for smaller applications.
What you need to aim for when getting a cutter for home use is for it to be suitable as a hand-held device, to be lighter, of compact size, and for it to automatically connect to 115V or 230V primary power.
Performance vs Price
These two variables are important and need to be considered and compared when choosing a plasma cutter. Basically, if you are not planning to use it so often, you should consider getting a cheaper one. Why spend all that cash if you are not going to use it that often?
At the same time, you need to take care of it and clean it after using it. That way, you will prolong the life span of the welder no matter if you are dealing with a cheaper kind.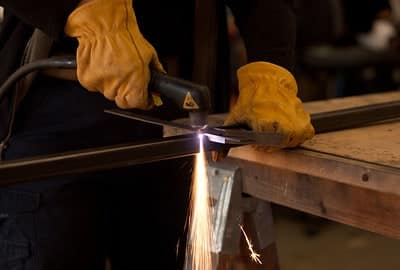 But if your welder is going to go through a lot of abuse and you are planning to use it quite often, then investing a bit more money is a good idea. You still need to maintain it though, but the machine will be able to endure more wear and tear over time as it has more quality.
Warranty
When it comes to warranty, the basic rule, and the sanest one, is choosing a company that offers a better and longer warranty. However, you should also consider a brand that has better customer service.
If they are polite? Are able to meet your needs and answer complaints? More so, if they are kind enough to send replacement parts if you happen to need them, this is the brand to go with. So consider the warranty and customer care at the same time.
Frequently Asked Questions [F.A.Q]
How Do I Choose A Plasma Cutter?
You can determine the best plasma cutter for the money you wish to spend by taking some time to consider aspects like the power source (particularly the electrical inputs – will they be enough to support the right cutting thickness of the metal and still provide clean cuts).
As well as the finish that you need, the kind of lead you want for the torch (your projects should dictate a long or short lead), and the specific torch technology that you think will make it easiest for you to get the precise cutting that you as a metal fabricator will need on the Jobsite.
How Much Air Pressure Is Needed For A Plasma Cutter?
There is a rule of thumb that you should buy a compressor that provides around 1.5 times the (cubic feet per minute) CFM required by the plasma cutter and that this is then delivered at the PSI (pounds per square inch) required by the cutting tool.
Most plasma cutters will operate in a range of 60-120 PSI depending on the output range of the individual machine.
Why Does My Plasma Cutter Cut On An Angle?
A plasma metal cutter can end up plasma cutting at an odd angle for several reasons these can include: the torch nozzle has become worn, there is not enough power to the arc, you're cutting too quickly for the power rating, there's not enough gas flowing to the nozzle or you're working at too slow a speed.
However, it's worth noting that most plasma cutters will have a slight "bevel" (the angle to the cut) of about 1-3 degrees, this is simply due to the shape of the gas jet as it comes through the nozzle – you can reduce this but you can't make it go away entirely.
Conclusion
For verdict, I say that my favorite plasma cutter is the YesWelder CUT-55DS. It's a great place to get started with cutting as it is a budget plasma cutter. It's not expensive and it packs a lot of bang for the buck into the package but it will struggle with some heavier jobs. Either way, in my opinion, it is the best plasma cutter for its price range.
The Miller Electric Spectrum 625 and the Hobart 40i are going to be the plasma cutters choices for many workshops that have a high demand for this kind of cutting, the extra cost in prices is surely going to be easy to justify.
Finally, if portability features are your top priority then the Powermax45 is a really excellent pick and among the best in the top picks above.
None of the cutters in this roundup will let you down, though, they're all solid choices depending on your specific needs.