Years of my welding experience have taught me that the welding gloves are well worth the investment. Most of the welder injuries are hands or face related. Gloves should provide safety, dexterity, and durability.
Is that too much to ask?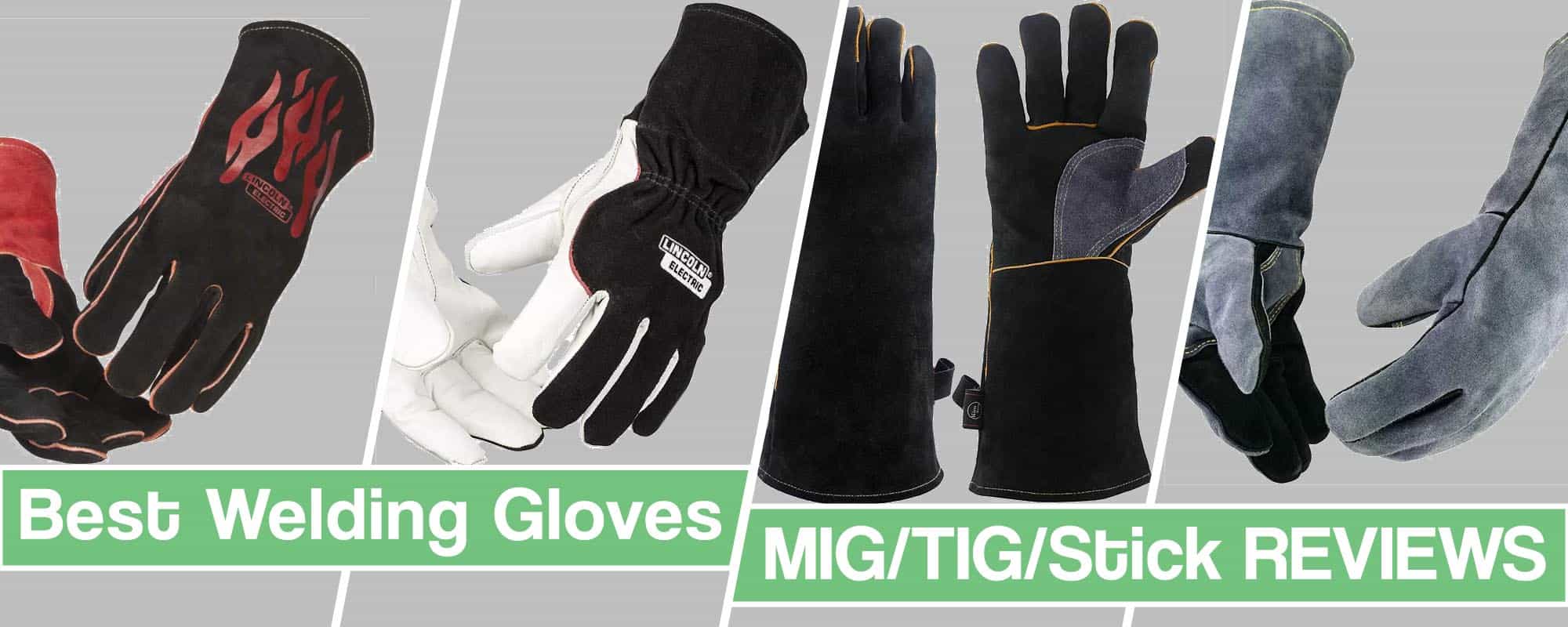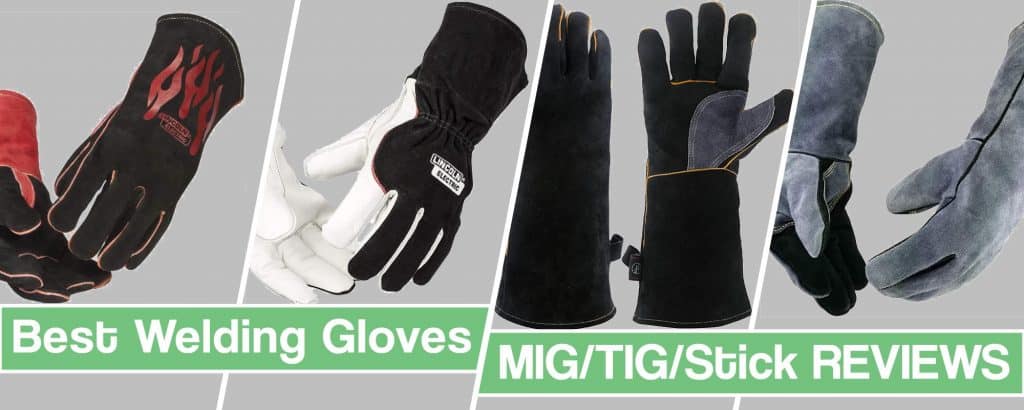 Well, apparently it is. Most gloves on the market are cheap shadows of what a good welder's glove should be.
Depending on the type of welding you are working on, gloves can severely impact your health and the quality of work.
Welding gloves should be durable, flexible, and long-lasting, especially if you have to pay for them yourself! On that note, I have put down a list below of the best welding gloves I have been using in the past years.
So please check the reviews and make the best decision before you spend your hard-earned money.
Here are our recommendations for the best welding gloves in the four major categories; Stick, MIG, TIG, and Flux Core.
Quick Comparison Table
| Image | Name | Best For Welding Process | Leather Type | Heat Resistance/Amperage Range | Stitching | Check Price |
| --- | --- | --- | --- | --- | --- | --- |
| | RAPICCA 16 Inches Leather Gloves | Stick welding (SMAW), Mig welding (GMAW) and FC (FCAW) | Genuine Cowhide Split Leather | Finger, Palm, Back Contact heat at 932°F for 16 secs | Kevlar - x3 | Check Current Price Amazon |
| | Lincoln Electric Traditional | Stick welding (SMAW), Mig welding (GMAW) and FC (FCAW) | Split Leather | Great /25 - 300 A | Kevlar - x3 | Check Current Price Amazon |
| | Lincoln Electric DynaMIG HD Professional | Stick welding (SMAW), Mig welding (GMAW) and FC (FCAW) | Premium Grain & Split Leather | Great /10 - 400 A | Kevlar - x3 | Check Current Price Amazon |
| | KIM YUAN Extreme | Stick welding (SMAW), Mig welding (GMAW) and FC (FCAW) | Cow Leather | Gloves can withstand temperatures at least 662 °F(350°C) | Kevlar - x2 | Check Current Price Amazon |
| | WZQH 16 Inches Gloves | Stick welding (SMAW), Mig welding (GMAW) and FC (FCAW) | Durable cowhide leather with Insulated high-tech aluminum foil and soft heat-resistant cotton | Extreme temperatures up to 932°F(500℃). | Kevlar - x3 | Check Current Price Amazon |
| | Steiner 21923-L Welding Gloves | Stick welding (SMAW), Mig welding (GMAW) and FC (FCAW) | Shoulder split cowhide | Gloves withstand temperatures at least 662 °F(350°C) | Kevlar - x3 | Check Current Price Amazon |
Best Welding Gloves Reviews
1. RAPICCA Leather Forge Welding Gloves Heat/Fire Resistant
The RAPPICA leather forged welder gloves are not aimed for welding protection. In fact, their heat resistance properties allow them to be used equally well for other types of work where you need to shield your hands from heat.
These welding gloves are designed to protect your hands from the forearm to the fingertips. The added extra padding and a double layer of leather on the palms and fingers reinforce heat and flame resistance.
The RAPPICA welding glove is 16 inches extra long and adds 7.5 inches of long sleeves so your forearms are completely protected from all the debris and welding sparks that spatter around and allows for quality welding. It protects the entire palm area equally well and will minimize skin burns and allow you to finish all of your welding projects without injuries.
The glove offers heat resistance of up to 932°F(500℃) due to the fine shoulder split cowhide leather which is also oil resistance, abrasion resistance, and puncture-resistant.
Pros
Reinforced Kevlar Padding On Five Fingers
Reinforced Kevlar Padding On Elbow and back
Long Sleeve
Flame Retardant Insulated Liner
Cheap
2. Lincoln Electric Traditional MIG/Stick Welding Gloves
The Lincoln Electric welding gloves are designed to endure high temperatures and can protect specifically with TIG, MIG, and stick welding. What makes them one of the best MIG welding gloves is the fact that they are very comfortable with an incredible thumb design for quality work and good dexterity.
The appearance is definitely an advantage as they do not look like your typical welding gloves. They have a two-tone aesthetic design with black and red flames making them look really cool.
But what makes them applicable is the durability. They allow for resistant welding as the Lincoln welding gloves are made out of top grain leather. Add to that the Kevlar threading and reinforced stress points and you have yourself some TIG welding gloves best for all kinds of work.
But durability protection from UV radiation is not everything with these gloves, they are also extremely comfortable. Thye have a cotton liner which is really soft and does not let your hands get so much fatigued. But the Lincoln Electric traditional are also functional. YOu won't get the feeling like you are wearing oven mitts as you do with some other types of welding gloves. They provide added dexterity and even add inside cuffs that help in absorbing moisture.
Addiotanlly, the price of these gloves is a bit lower than any other Lincoln products, but the quality and usability make give it a really good value for money.
Pros
Traditional Stick/MIG Welding Gloves
Great Durability
Comfortable
Used by professional fabricators on a daily basis.
Cheap
Cons
One Size (universal size)
3. Lincoln Electric DynaMIG HD Professional MIG Welding Gloves
The DynaMIG welders gloves from Lincoln Electric offer high quality safety and protection. They are made out of white, top grain cowhide leather and black split cowhide. Add to that the 3 to 2 layer liner and you get some gloves that provide both dexterity and strategic heat resistance.
With the DynaMIG gloves, you also get dynamic protection as they can shield your hands from both low and high amperages. They even come with twin sweat absorption cuff, seamless index finger, kevlar thread, and multiple layers and types of leather making them quite a good pair of gloves.
The glove is really comfortable as it has foam padded cotton liner to cushion the knuckles. Combine that with an elastic top hand and you get a firm fit. The seamless trigger finger allows for greater movability. The gloves also offer industrial durability thanks to the different types of layers and protection added. they offer extra protection when dealing with molten metal and you also don't have to worry about hand fatigue do the comfort of the work gloves.
But, you should note that these types of gloves don't come cheap. They are the most quality ones and the priciest ones as well. Thanks to the quality leather materials the heat shield level makes them perfect for any kind of a welding project and for professional use.
Pros
3 Layer Top Hand FlameSoft Liner
Great moisture absorbing
Used by Professionals
Excellent heat resistance and comfort without sacrificing dexterity or durability
4 Available Sizes
4. KIM YUAN Extreme Heat & Fire Resistant Gloves Leather with Kevlar Stitching
KIM YUAN prides itself on being a very responsible company in the welding industry as it provides gloves for arm protection and increased safety features. Thus their KIM YUAN extreme heat resistant oven mitts provide an excellent choice for any professional welder.
They are entirely made out of cow leather with a thickness depth of 1.2mm. They are lined with cotton material and provide heat insulation, sweat absorption, and are fireproof. They provide good heat protection at 662 °F(350°C).
But the gloves are not only safe, they are extremely soft. Being made out of specific parts of cowhide, they are comfortable and fit well for a human hand. The kevlar quality lining makes it more durable while the wool lining does not make your hands tire dan helps with finger alignment. Heavy duty welding is more than possible and you can safely grip any stuff that you might be working on. It is also perfect for all types of welding processes for working at different temperatures.
Additionally, this pair of gloves can be used for Welding, Grill, Barbecue, Wood Stove, Oven, Fireplace, Cutting, Gardening, Animal Handling Camping, Campfire, welders and so much more. The gloves are primarily aimed for professional use, due to the vast range of protection that it provides. However, people in need of good protection can also make good use of them.
Pros
Hook design
Excellent performance in heavy duty welding
The cuffs are made of denim jean material
Wide range application
Cons
Denim could burn faster then leather under the heavy industrial flux core welding or when you hold the filler rods or electrodes
5. PrWelding Gloves HEAT RESISTANT Cow Split Leather BBQ/Camping/Cooking Gloves Baking Grill Gloves
These are some very nice gloves best for all types of usages. You can use these leather gloves for baking and arc welding equally well. They are made out of premium leather and have a full cow split leather surface with a thickness depth of about 1.2mm. They protect the thumb area, have palm reinforcements, and provide protection up to your elbow.
They are heat resistant and are made to deal with various temperatures. But they are also made so they can survive wear and tear and last longer than others. The main thing about them is that they are very versatile. They are not only meant for welding protection, it is a product that can be used for any kind of work where you need to keep your hands safe. It has heat insulation, oil resistance, cut and puncture resistance.
With the ability to protect your hands from welding heat of up to 662 °F(350°C), these gloves are also very soft. The seams are set in such a way so they combine with the padding to help you have complete control of what you are doing at high performance. While at all times keeping your palms soft. It has a good length as it goes above the cuff. The price point also needs to be mentioned here as they are not too expensive.
Pros
Durable Gun Cut
Reinforced double leather
They promise that if there is an issue with gloves you can get refund or replacement
Denim jean cuffs
6. Steiner 21923-L Welding Gloves, Burnt orange Y-Series
With the Steiner 21923-L Welding Gloves, you get a product that has superior durability. It has been meticulously designed and is aimed at professionals. Steiner is all about quality and their aim is to create 1st-grade products. These forge welding gloves are capable of providing hours of quality work and protection. You're not going to need a replacement any time soon.
The Burnt orange Y-Series are made out of quality leather material. They comprise out of select shoulder split cow hide and have a foam insulated back.
Also, a reinforced thumb strap, full cotton lining, and being fully welted makes these gloves perfect for handling hot metal and any type of welding work.
Quite notable is the wing thumb design that allows you to more the welding torch more naturally. The gloves are flame resistant and come with Kevlar stitching for added strength. The gloves also come in one size and the glove length is 23″. This makes their forearm protection quite high as these quality gloves do not only protect your palm side from hand injuries but almost the entire arm. However, if you are not comfortable working on such long gloves you can still use the 18″ ones.
Pros
Reinforced thumb strap
Fully welted
Super long sleeves
Weak reinforced inner heat resistant liner
Cons
Not for heavy flux-core welding and plasma cutting
7. Lincoln Electric Roll Cage Welding/Rigging Gloves
If you are planning on doing both welding and rigging work you don't have to have two pairs of gloves when you can only use one. Lincoln Electric Roll Cage gloves for welders are specifically created for that purpose. These welding gloves are more than durable as they are made out of durable cowhide and sewed with kevlar stitching. More so. the added protection is made with knuckle protection so besides heat protection you can endure work in harsh environments.
The Roll Cage welding gloves are made for industrial durability and offer cut protection and impact protection. The silicon knuckle protection will shield your hands from any possible injuries even during MIG stick welding.
Extra palm padding reinforces the high wear areas of the palm. Inside lining provides cut protection while the kevlar stitching adds maximum safety. Additionally, a wrist guard and fastener are a specific feature that does not only protect but also makes it more comfortable to wear.
Besides being made out of top-grain leather material the gloves are a great choice for various types of work. They can endure extreme heat and are strong enough for different types of jobs that you may plan on doing. Welders also agree that these gloves are some of the coolest looking ones as well. They have a racing glove feel to them with black leather and red stitching. Another piece of equipment that will make a welder look cool while doing their work.
Pros
Heat and Impact protection
High-grade grain leather exterior with industrial durability
Great Versatility
Silicone Impact Protection
Reinforced Leather Hand
Choosing the Type of Welding Gloves Depending on the Welding Process
1. Dexterity
Flexibility and dexterity are high on your list of considerations for TIG and Flux Core due to the small wires used. It is achieved with thin fabric between the fingers. Protection and flexibility are highly important with Flux Core, which means specialized gloves are needed. Depending on the types of welding and the wide range of tasks you do the mobility will impact your glove choice.
2. Fitting
Be sure your gloves fit your hands with a comfortable fit. Oversized gloves are easily caught in a weld and tend to catch hot slag. Gloves that are too small will bind your movement and cause you to sweat. So check different sizes.
3. Sleeves
Sleeves are recommended for MIG, Stick, and Flux Core gloves for welding because of high hand coverage. TIG welders may not need sleeved gloves unless doing an overhead weld- in which case gloves are always recommended.
Dexterity or Durability of welding gloves for Stick Welding
Many stick welding applications call for gloves that are long-sleeved to protect from slag spatter and sparks. They do not need to offer you a great deal of freedom as the wrists and finger do not need to do a lot of moving. But it's nice to have the extra manual dexterity that a superior glove can offer as long as the protection level isn't reduced.
The most important factor for stick welding is protection due to the fact that high heat and spatter can put a serious damper on your day. The best gloves will have a reinforced layer between the thumb and forefinger since that's where most of the hot slag is going to fall. An area of added protection can sometimes extend up onto the forefinger, but this is not necessary.
Finally, the best Stick welding gloves are going to be made from time-tested, high-quality materials like elk skin, cowhide, or pigskin.
Durability And

Sleeve Length

is more important than Dexterity with MIG
MIG Welding gloves have roughly the same requirements as Stick gloves. Proper pair of welding gloves for MIG welding needs to be able to protect your hands from splatter and sparks that Metal inert gas welding produces and to offer high heat protection while offering a reasonable amount of flexibility. Again, flexibility is not held at a premium, but it is welcome when it is available for MIG welding.
What else?
Gloves for MIG welding earn high marks for added strength for the thumb and the forefinger since these get the most exposure this goes for both mig stick welding gloves. A thick area of protection should be found at the back of your non-dominant hand to protect the hand while in the common resting position.
As with stick welding gloves, elk skin is a good material. Other good materials are deerskin and cowhide.
Gloves For Flux-Core welders
Flux Core uses some of the highest amperage ranges. Therefore, when welding with Flux Core, you need suitable gloves that provide the most protection you can get.
Because Flux Core welding produces a lot of various debris, blowback and high levels of smoke you need the most durable gloves you can find. So think hard which brand you use to prevent injuries. This will be highly familiar to every Flux Core welder. Flux Core gloves should be exceptionally sturdy with a reinforced area between the thumb and forefinger since it is there that the wear will happen soonest from holding the welding gun.
What kind of materials can endure these conditions?
Flux welding gloves need to be made from the strongest materials available such as side-split cowhide, elk, or thick deerskin and should be sewn with kevlar threads. These materials will also withstand higher temperatures and offer higher level of heat protection. In the best leather welding gloves for this process, you will find aluminized material on the top to reflect heat away from your hand.
Material For Welding Gloves
Cowhide, Elkskin, Deerskin, and Pigskin are the more durable materials for leather welding gloves. Choose these for most applications. Goatskin or Kidskin (Kidskin welding gloves are basically the goatskin but made from younger goat they are softer and smoother then goatskin made from older goats) gloves are best for TIG welding.
FAQ
What kind of gloves do welders wear?
Welders wear different types of welding gloves depending on the type of work and the welding process they are using. Automated welding, for instance, requires no gloves at all. But some other processes that create lots of spatter will require thicker gloves for added protection. The more heat is emitted during work, the more durable gloves a welder will need.
How long should welding gloves last?
A typical welding glove will last somewhere between 1 to 8 weeks. Gloves are exposed to all kinds of harm during work. The more you use them and the harder the work is the shorter will they last. They may tear or shrink depending on the situation. Those with heat resistance and heat shields are going to last longer.
How much are welding gloves?
The price of welding gloves differs greatly based on the manufacturer and the quality. Those that are made for harder work and manufacturing will cost more. However, there are still some quality ones that come for a lower price offered by a not-so-famous brand. The more protection and the more usability the glove offers the pricier will it be. This is specifically characteristics for multi-purpose gloves that are used for an added type of work besides welding.
What is the difference between MIG and TIG welding gloves?
The difference between MIG and TIG welding gloves is in their padding. MIG welders usually rest their non-dominant hand while doing their work. The design is such that a welder may use that hand to quickly take off the glove if needed. Also, due to more heat, these gloves provide more protection for the whole hand. As for TIG welding. the gloves used there are much thinner and use softer materials. Since this type of welding requires precision the gloves are designed in a way to provide the welders movability when needed. The danger in TIG welding comes from sparks and the blinding light and not really due to spatter that comes off.
In Conclusion
Safety is your primary consideration when you work with MIG and stick welding considering different workplace accidents. Welding burns can happen in an instant, and they can be extra debilitating. So protection is the first thing you need to consider when choosing a pair of welding gloves. Second, comes performance. You cannot do the job with the gloves that feel restrictive – you need a level of comfort. Take the time to choose the right pair of welding gloves that offer the proper protection for the job and for your hands. Wear the gloves that protect you, are durable and comfortable enough to wear and you will be making welds for years to come.