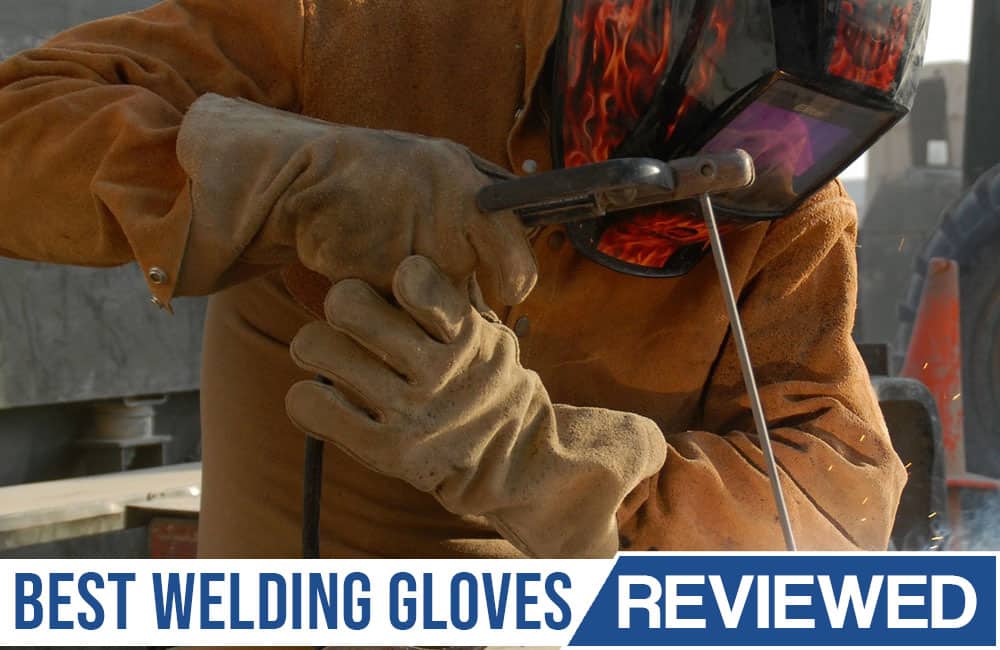 Years of my welding experience have taught me that the best welding gloves are well worth the investment. Most of the welder injuries are gloves related. Gloves should provide safety, dexterity and durability.
Is that too much to ask?
Well, apparently it is. Most gloves on the market are cheap shadows of what a good welder's glove should be. Depending on the type of welding you are working on, the choice of gloves can seriously impact your health and the quality of work. So it is not surprising that welders like myself are only choosing the right pair of quality gloves even if they are only a few in the marketplace.
Every welder worth his salt takes his safety gear very seriously. It's one thing to have an adequate piece of equipment that protects you from the extremes of heat and radiation that come with working the job. It's another thing entirely to possess a superior piece of equipment that is well made, long lasting, and actually contributes to quality work.
When it comes to your welding gloves, there may be no piece of equipment more commonly overlooked when it comes to quality. A cheap pair of gloves might protect you from sparks and random pieces of flying slag while working, but they will take away from your comfort and dexterity, and they could fail- leaving you vulnerable to an uncomfortable encounter with white hot metal.
Table of contents – Jump to:
Here are our recommendations for the best welding gloves in the four major categories; Stick, MIG, TIG, and Flux Core.


Just a quick shout out guys! Rest assured that I put these products on the list due to their quality and my personal opinion as let's say, experienced welder (burn marks, ruined eyesight, and all). I just want to be transparent with you and inform you that my site Weldingpros.net may obtain a share of sales or other monetary compensation from the links on this page.

So, buddy, I hope that using this article, you pick a great gloves that will keep you safe for years to come.
Quick Comparison Table
Image
Title
John Tillman and Co 850L 14" Top Grain...
Miller 263342 Arc Armor Heavy Duty...
Miller 263343 Arc Armor MIG/Stick...
Steiner 21923-L Welding Gloves, Burnt...
John Tillman 1488 M True Fit Medium Top...
John Tillman and Co 822L Leather and...
Image
Title
John Tillman and Co 850L 14" Top Grain...
Image
Title
Miller 263342 Arc Armor Heavy Duty...
Image
Title
Miller 263343 Arc Armor MIG/Stick...
Image
Title
Steiner 21923-L Welding Gloves, Burnt...
Image
Title
John Tillman 1488 M True Fit Medium Top...
Image
Title
John Tillman and Co 822L Leather and...
Last update on 2020-04-08 / Affiliate links / Images from Amazon Product Advertising API
Best Welding Gloves Reviews
1. The John Tillman 850L
Last update on 2020-04-08 / Affiliate links / Images from Amazon Product Advertising API
The John Tillman 850L is one of the best welding gloves in every category for Stick welding applications.
This pair of welding gloves is made from the highest quality elk skin. They are resistant to high temperatures and the elk skin shell stays pliant even after exposure to intense heat.
With some use, the high-quality elk hide conforms to your hands shape for an even better than off-the-shelf comfortable fit. The superior fit means these gloves will help keep your stamina up during long shifts and makes them extremely comfortable. The leather used in these gloves is resistant to both water and to the oils that your hands will subject them to.
Tillman gloves incorporate welted fingers. This offers an additional layer between your fingers for added protection. The reinforced thumb adds a welcome additional point of protection. As you know, a hurt thumb can slow you down big time.
Tillman gloves contain an added foam liner in the back of the hand for extra heat shielding. Finally, extensive Kevlar thread stitching offers a massive durability boost to an already high-quality glove.
No glove is perfect, and the one major drawback to these is the lack of arm protecting sleeves.
Excellent elk skin
Provides Comfortable fit
Welted fingers
Kevlar thread stitching
No arm protecting sleeves
2. The Miller Electric 263342 MIG STICK Welding Glove
Last update on 2020-04-08 / Affiliate links / Images from Amazon Product Advertising API
This leather welding glove from Miller electric uses a pigskin shell that is oil resistant. It's not as flexible as the Tillman gloves, but it has the reinforced thumb and Kevlar thread stitching.
The glove also uses cowhide for the cuff and the back of the glove which is durable and flame and heat resistant. The back of the hand uses triple layered split cowhide leather material.
While these are not as well made as the Tillmans, they are still very good- and they have sleeves. Depending on your needs, that could make all the difference. Sleeves could save you from the hot splatter from the stick welding process and are always good to have especially for overhead welding.
Triple layered split cowhide for backhand
Provides large sleeves
Kevlar thread stitching
3. Miller Electric 263343 MIG STICK Welding Glove
Last update on 2020-04-08 / Affiliate links / Images from Amazon Product Advertising API
These standout welding gloves may be the runner up in stick welding, but in MIG- they're tops- in our opinion.
They're made from double split cow leather with two layers on the palm (padded palm), an affordable and effective material choice.
You get an extra layer of protection on the palm and wrist.
The stitching is made from flame resistant Kevlar.
The back of the gloves are reinforced with a 100% wool lining for added thermal and impact protection.
The pre-curved shape design allow the glove to be made extra thick- without the need to sacrifice protection for flexibility.
Like our first winner, the one drawback of the Miller electric 263343s is their lack of sleeves. You might be able to make for this with a long-sleeved welding coat, and if you want these otherwise top-notch gloves MIG welding gloves, you might need to start wearing those studded bracers metal heads wore in the 80s.
Provides Extra protection on palm and wrist
Pre-curved shape
Kevlar thread stitching
No arm protecting sleeves
4. Steiner 21923
Last update on 2020-04-08 / Affiliate links / Images from Amazon Product Advertising API
These MIG welding gloves from Steiner are made from top quality cowhide. They're foam insulated with a full cotton back lining. They have a reinforced thumb, flame resistant Kevlar stitching, and welted fingers.
They also have a reinforced wing thumb design that offers more versatile movement and has fewer exposed stitches than the keystone thumb which also offers more durability.
And, just like our Stick welding runner up, these have sleeves. So once again. If your work sends a lot of slag or sparks at your forearms- for whatever reason- these might actually be the better pick for you.
Their only drawback is that they are of a slightly inferior fit and finish, which- in most cases is purely superficial.
Foam insulated
Welted fingers
Kevlar stitching
Provides large sleeves
5. John Tillman 1488
Sale
Last update on 2020-04-08 / Affiliate links / Images from Amazon Product Advertising API
These gloves really have it all for the TIG-heavy welder. Their one drawback is pretty minor. Overall, it's a very good and popular choice.
The Tillman 1488 features high-quality flexible goatskin on the palm and the back of the hand. This type of leather delivers reasonable durability with good mobility.
The goatskin gives you the maximum sensitivity, (so you can tell by touch what you're doing), and high durability.
These gloves are light and sturdy with Kevlar stitching for added heat protection.
The proprietary Super "V" thumb lets welders fit the glove on hand almost perfectly.
The Tillman 1488 welding glove is designed with a Velcro strap on a wrist that makes taking them on and off a little bit inconvenient. It's a minor gripe since it actually enhances fitting- but welders might find it annoying.
High quality goatskin
Provides Great sensitivity
Super "V" thumb
Some people may not like Velcro strap
6. John Tillman 882
Last update on 2020-04-08 / Affiliate links / Images from Amazon Product Advertising API
The Tillman 882 are, in our opinion, the best welding gloves for Flux Core work on the market today.
It features an aluminized Carbon Kevlar back to withstand and reflect temperatures up to 1500F and deflect molten metal fragments. Considering the nature of flux core this is a highly appreciated feature.
The palm is made from Cowhide split, which is both strong and reasonably flexible. A reinforced padded thumb adds durability and protection for a longer lasting glove.
And finally, the Tillman 882 features a wool lining for greater insulation.
Once again, this high-quality glove is not long sleeved which is a real shame but the sleeves are not short either as the glove is 14inches long in total and covers the wrist and more.
Aluminized carbon Kevlar
Heat-resistant to very high temperatures
Heavy-duty
Provides wool lining
7. The TIG Finger
Last update on 2020-04-08 / Affiliate links / Images from Amazon Product Advertising API
There really is no reason to challenge the Tillman 1488 in TIG. So we thought we'd suggest a perfect complimentary item to these gloves.
This is a simple heat resistant sleeve of an affordable price that you fit over one gloved finger.
This lets welders rest their hand against hot metal without burning themself through relatively thin TIG gloves.
Choosing the Type of Welding Gloves Depending on the Welding Process
What is Important For Gloves For Stick Welding?
Many stick welding applications call for gloves that are long-sleeved to protect from slag spatter and sparks. They do not need to offer you a great deal of freedom as the wrists and finger do not need to do a lot of moving. But it's nice to have the extra manual dexterity that a superior glove can offer as long as the protection level isn't reduced.
The most important factor for stick welding is protection due to the fact that high heat and spatter can put a serious damper on your day. The best gloves will have a reinforced layer between the thumb and forefinger since that's where most of the hot slag is going to fall. An area of added protection can sometimes extend up onto the forefinger, but this is not necessary.
The leather used in welding gloves for Stick is:
Finally, the best Stick welding gloves are going to be made from time-tested, high-quality materials like elk skin, cowhide, or pigskin.
What is Important For Gloves For MIG Welding?
MIG Welding gloves have roughly the same requirements as Stick gloves. Proper pair of welding gloves for MIG welding needs to be able to protect your hands from splatter and sparks that MIG welding produces and to offer high heat protection while offering a reasonable amount of flexibility. Again, flexibility is not held at a premium, but it is welcome when it is available for MIG welding.
What else?
Gloves for MIG welding earn high marks for added strength for the thumb and the forefinger since these get the most exposure this goes for both mig stick welding gloves. A thick area of protection should be found at the back of your non-dominant hand to protect the hand while in the common resting position.
As with stick welding gloves, elk skin is a good material. Other good materials are deerskin and cowhide.
What is Important For Gloves For TIG Welding?
TIG welding is the most forgiving welding application since the amperages are low and there is less or no slag spatter or flying sparks. That means TIG welding gloves can afford to be lighter and more mobile.
In fact, because TIG welding means you have to work with thin wire, you really need your TIG welding gloves to be much MUCH more flexible than the ones we've already talked about. The touchpoints (fingertips and spaces between the fingers) need to be even thinner than the rest of the glove so that you can handle that thin wire.
Softer and thinner leather should be used on the thumb, back of the hand and other vulnerable parts of your hand.
So a really good pair of TIG gloves are not just a wimpy version of stick or MIG gloves. They actually need to be very carefully designed for TIG welding to get an important mix of adequate protection and the right level of mobility.
Another thing that's important to keep in mind is that because of the elastic flexibility requirement of TIG welding gloves, the material will actually be more prone to wearing out. That means skimping on quality is not a good idea. That's why we're offering our best of picks for protective pair of welding gloves.
What is Important For Gloves For Flux Core welders?
Flux Core uses some of the highest amperage ranges. Therefore, when welding with Flux Core, you need suitable gloves that provide the most protection you can get.
Because Flux Core welding produces a lot of various debris, blowback and high levels of smoke you need the most durable gloves you can find. So think hard which brand you use to prevent injuries. This will be highly familiar to every Flux Core welder. Flux Core gloves should be exceptionally sturdy with a reinforced area between the thumb and forefinger since it is there that the wear will happen soonest from holding the welding gun.
What kind of materials can endure these conditions?
Flux welding gloves need to be made from the strongest materials available such as side-split cowhide, elk, or thick deerskin and should be sewn with kevlar threads. These materials will also withstand higher temperatures and offer higher level of heat protection. In the best leather welding gloves for this process, you will find aluminized material on the top to reflect heat away from your hand.
Choosing the Right Welding Glove for You
1. Material For Welding Gloves
Cowhide, Elkskin, Deerskin, and Pigskin are the more durable materials for leather welding gloves. Choose these for most applications. Goatskin gloves are best for TIG welding.
2. Dexterity
Flexibility and dexterity are high on your list of considerations for TIG and Flux Core due to the small wires used. It is achieved with thin fabric between the fingers. Protection and flexibility are highly important with Flux Core, which means specialized gloves are needed. Depending on the types of welding and the wide range of tasks you do the mobility will impact your glove choice.
3. Fitting
Be sure your gloves fit your hands with a comfortable fit. Oversized gloves are easily caught in a weld and tend to catch hot slag. Gloves that are too small will bind your movement and cause you to sweat. So check different sizes.
4. Sleeves
Sleeves are recommended for MIG, Stick, and Flux Core gloves for welding because of high hand coverage. TIG welders may not need sleeved gloves unless doing an overhead weld- in which case gloves are always recommended.
In Conclusion
Safety is your primary consideration when you work with MIG and stick welding considering different workplace accidents. Welding burns can happen in an instant, and they can be extra debilitating. So protection is the first thing you need to consider when choosing a pair of welding gloves. Second, comes performance. You cannot do the job with the gloves that feel restrictive – you need a level of comfort. Take the time to choose the right pair of welding gloves that offer the proper protection for the job and for your hands. Wear the gloves that protect you, are durable and comfortable enough to wear and you will be making welds for years to come.