Acquiring a reliable TIG welder is a big deal. Welding TIG is a process that gives the best results if you want beautiful welds. You need to TIG weld, but to do that, you need patience and experience.
And a relaible TIG welding machine!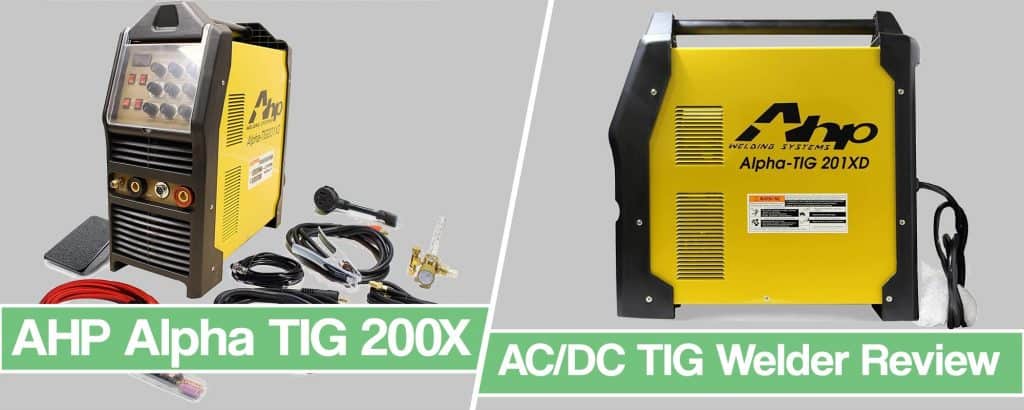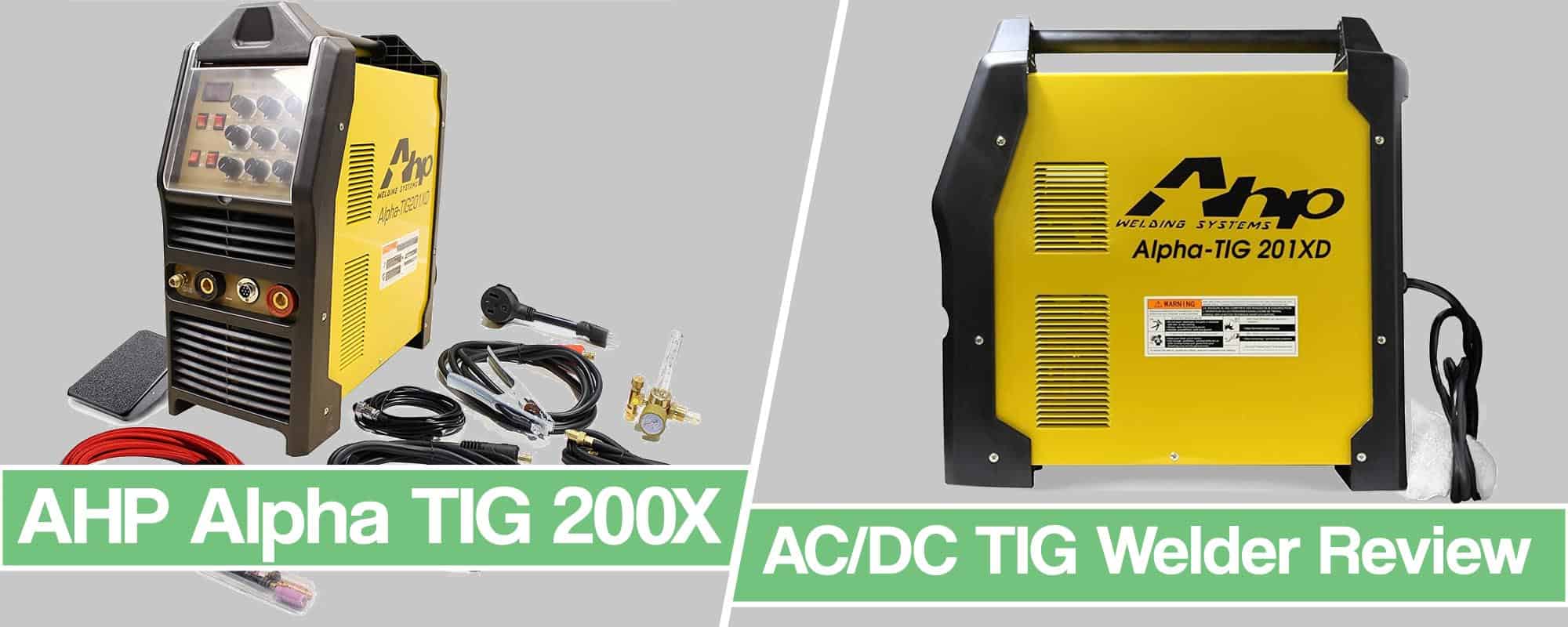 Thus we get to the AHP TIG 200X, which is a welder that I recommend for home use. It is light and powerful enough to do some essential work around the garage, but it also offers so much more.
Check out my extensive AHP AlphaTIG 200X review for more details about it.
AHP Alpha TIG 200X Review
The AHP AlphaTIG 200X welder is considered a mid-tier welding machine compared to the price of other TIG welders. However, its advantage comes in it, providing a lower-end professional experience.
Meaning that it is not really a professional TIG welding machine, but it can do most of the work a professional welder would. The AHP AlphaTIG 200x can do almost all types of TIG welding that you require except for the most advanced stuff.
It does come with a plethora of features but lacks the ability to fine-tuning the settings. This is also an AC DC TIG welding unit meaning that you can weld aluminum, stainless steel, and can precision weld various types of thin-gauge materials and mild steel. This is more than achievable with all the added settings that the machine comes with.
It is light enough to carry around but at 69 lbs, not the most portable machine to handle.
No products found.
Pros & Cons Summarized
Pros
A lot of settings
High Frequency start
Foot pedal included
Works on 120 and 220v power source
Very good duty cycle
AC and DC TIG welding
Does TIG and also Stick
3 Year warranty
Cons
Specifications
Processes: TIG (GTAW) Stick (SMAW).
Weld Thickness Range: Plain steel – 24 ga. – 3/8 in.
Weldable Materials: Steel, Stainless, Aluminum
Input Power: 110/220 V, 60 Hz.
Input Phase: 1-Phase.
Current Type: alternating/direct current.
Rated Output: 200 A @ 60% duty cycle.
Amperage Output Range: TIG 10 A – 200 A.
Weight: 69 lbs.
Welding Power and Performance
The AHP AlphaTIG 200X 200 amp welder is more than equipped for handling materials like stainless steel and aluminum. But due to its power and precision, one can handle both thick and thin materials.
You can weld aluminum of up to 1/4″ and mild steel of 3/8″ at 200 amps. And besides the power, this welder also has a great duty cycle to boot.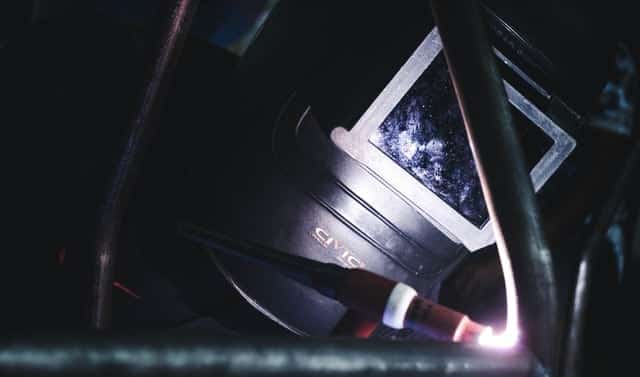 Another thing worth noting is that the welder is capable of a very low amp start, which can go as low as 10A. This can be quite useful when working on sheet metal as it helps beginners from burning through the metal or warping it.
The AlphaTIG 20X comes with a dual voltage capability of 110V and 22V. This means that you can plug it in almost any output. The machine is capable of performing quite well even on a 110V output unless you plan to work on something very thick.
Also, the AHP stick welder is more than capable of doing beautiful stick welding work, making it a versatile unit for multiple types of work.
Welder Settings and Controls
At first, the design of the control panel of the AHP TIG welder can be somewhat intimidating. But when you get the hang of it, it becomes so much easier. You control the settings using buttons and knobs, and after a certain period of use, it will become second nature for you.
Every button is clearly marked, allowing you to make adjustments. However, the biggest drawback is that it does not allow you to make precise settings. So you have to develop a feel for it when adjusting the amperage or anything else.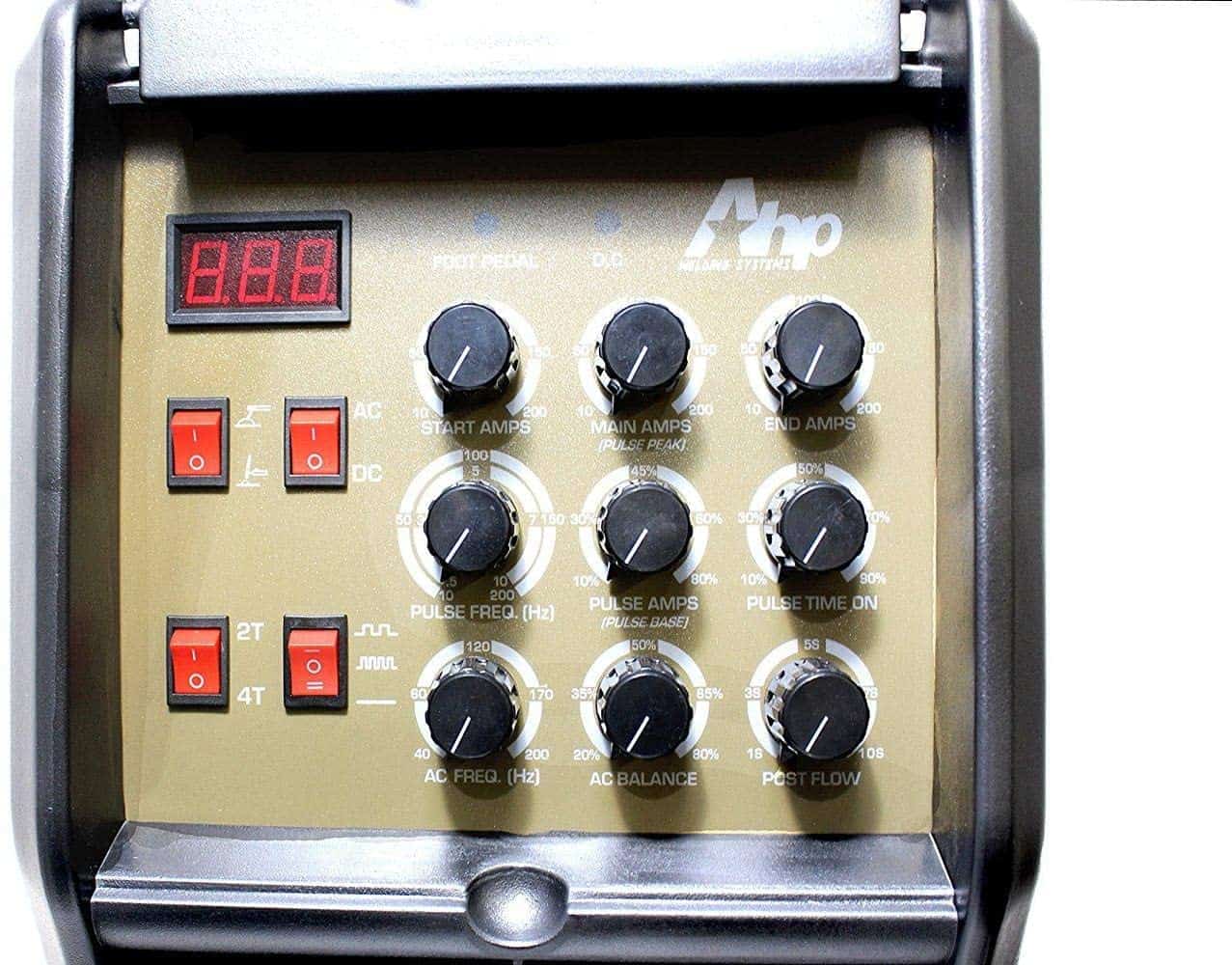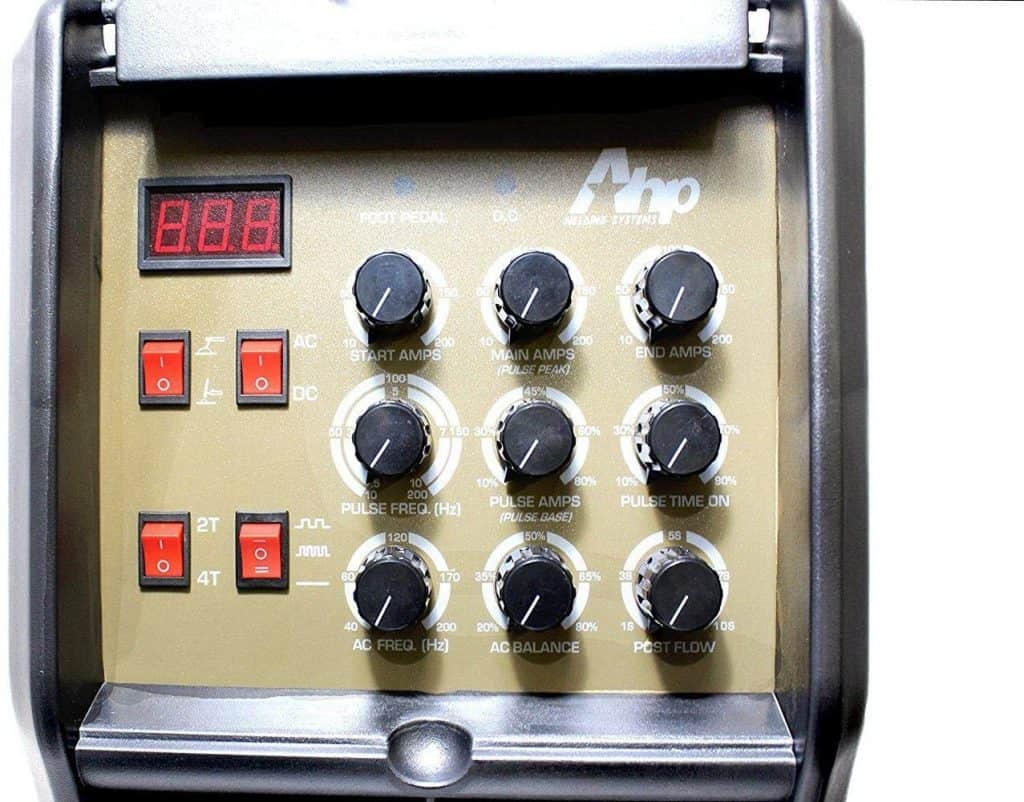 But you do get a pretty decent foot pedal with the product. I would still recommend getting a more quality one later on, but this one will suffice for starters.
Features of AHP Alpha TIG 200X that I Liked
The AlphaTIG 200x TIG welder has many useful features. As part of my AHP 200x review, I will mention the most important ones that I see the most fitting.
The High-Frequency arc start is an essential feature, in my opinion. The HF start is the best way for a TIG welding machine to start an arc.
Setting start and end amps with the IGBT technology is the second most important ability of this welder. The advanced inverter technology makes it easier to gradually increase the amperage to your required amps, so you don't warp the metal.
Besides this, the AHP AlphaTIG comes with TIG pules amps, pulse time on, pulse width modulation, AC frequency, and AC balance. Why are these features so important? They serve in making the welds look better, and the entire welding process more comfortable. The AC balance is the most useful one as it helps when deciding between more cleaning or penetration while you work.
The Build Quality
Simply by looking at it, you can tell that this is not a premium machine. But it is not a cheap one either. It is a pretty good mid-range welding machine.
The quality of its components is pretty good, and everything is screwed on pretty well. The panels are sturdy, and the plastic is thick and of good quality. A see-through plastic lid protects the front panel, and the knobs look premium as well. But the buttons do look a bit cheap.
It can be a bit loud, but it is something to be expected at this price range. But it rarely overheats and is more than reliable.
Who Should Buy This Welder?
The AHP AlphaTIG 200x is a great semi-professional TIG welder. It definitely can't do all the work that a pro machine can but offers just enough and a little bit more for the money you pay for it.
The thing it lacks the most when compared to high-end machines is the absence of fine-tuning. But welders with more experience will not have problems with tampering with the settings.
I would recommend this unit for any work around the home, the garage, or DIY projects. Popular brands in the same range may offer more but do come at a higher price. This model is perfect for hobbyists and will finish most of your jobs.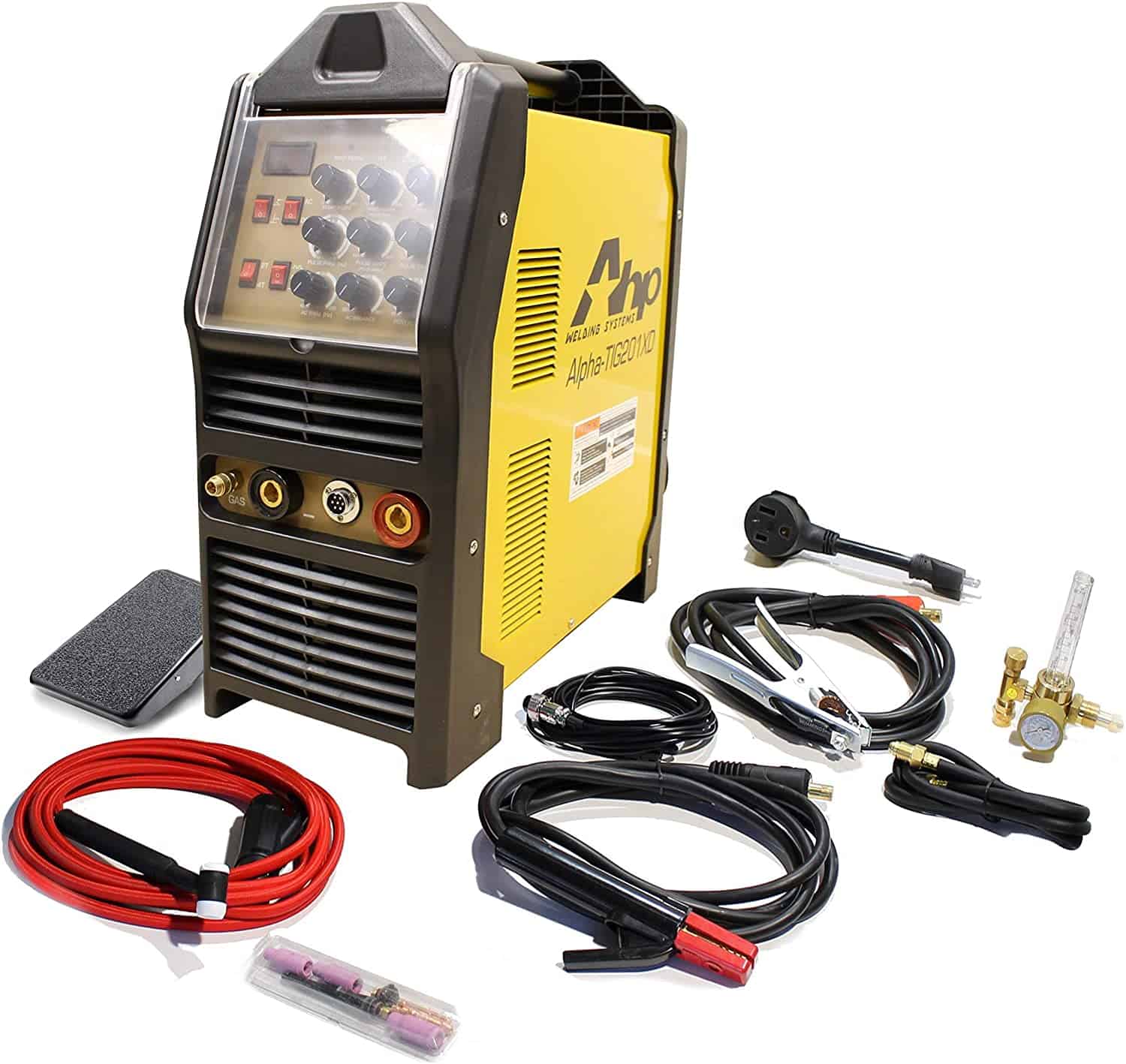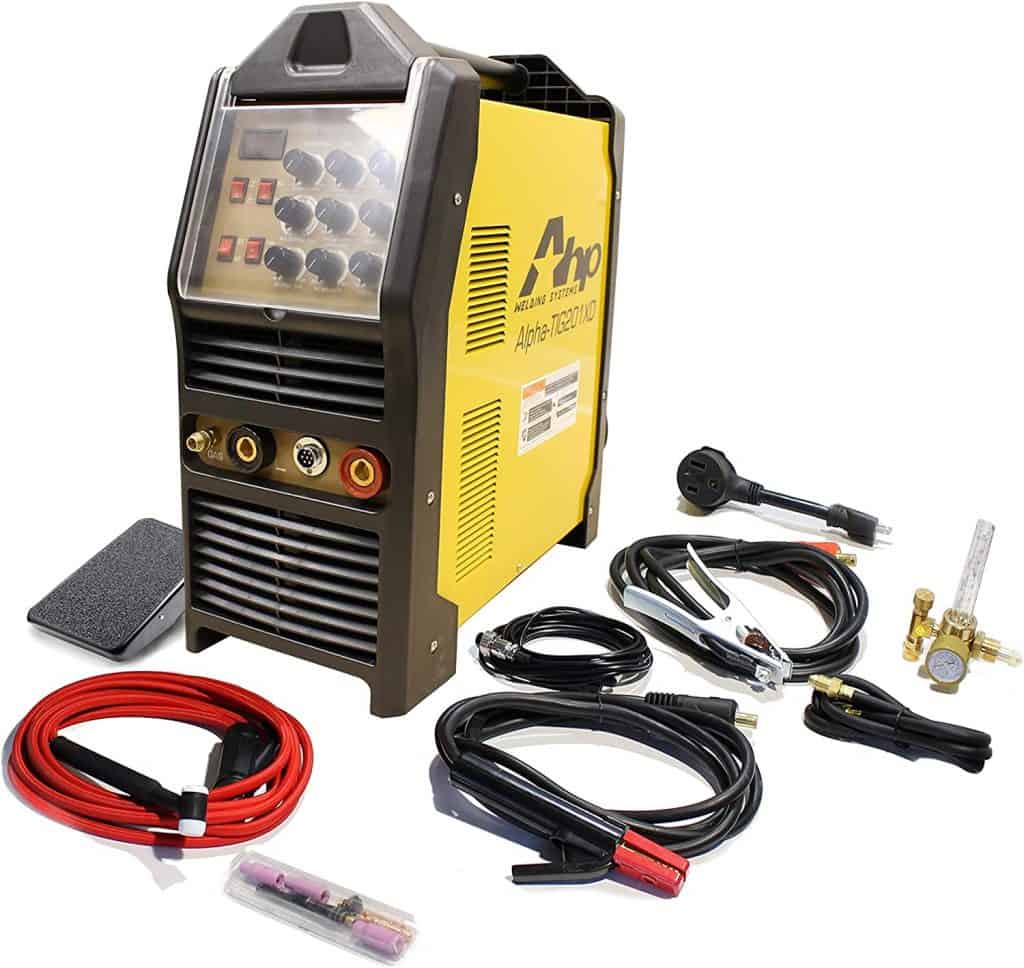 Warranty Information
AHP offers a three-year warranty when purchasing their machine. But the warranty only stands when purchased from an authorized dealer. Also, the warranty only applies if you are able to provide proof of purchase from the said dealers. You can find the list of the approved dealers on their site.
But generally speaking, AHP puts a lot of faith in their machine since they are ready to offer a warranty of three years.
Conclusion
As you can see from my AHP TIG welder review, this is a really good machine that I would recommend for everyday use. With AC DC capabilities, stick welding options, and dual voltage, it is a very versatile piece of equipment to have. Not to mention the advanced inverter technology that it posses.
The features alone are enough to convince you to buy this machine. Although a bit heavy, it can do an eery job properly, which is most important. Also, you will not get a better machine for the same price.