Arccaptain is not a new welding equipment manufacturer, but its latest machines caught our eye. That's why we decided to review their most popular welding machine, Arccaptain MIG200.
Arccaptain MIG200 is a multi-process synergic MIG welder that comes at an affordable price. As a 6-in-1 welder capable of doing MIG, Flux core, Stick and lift TIG, you get an all-in-one welding machine for DIY and home repair projects.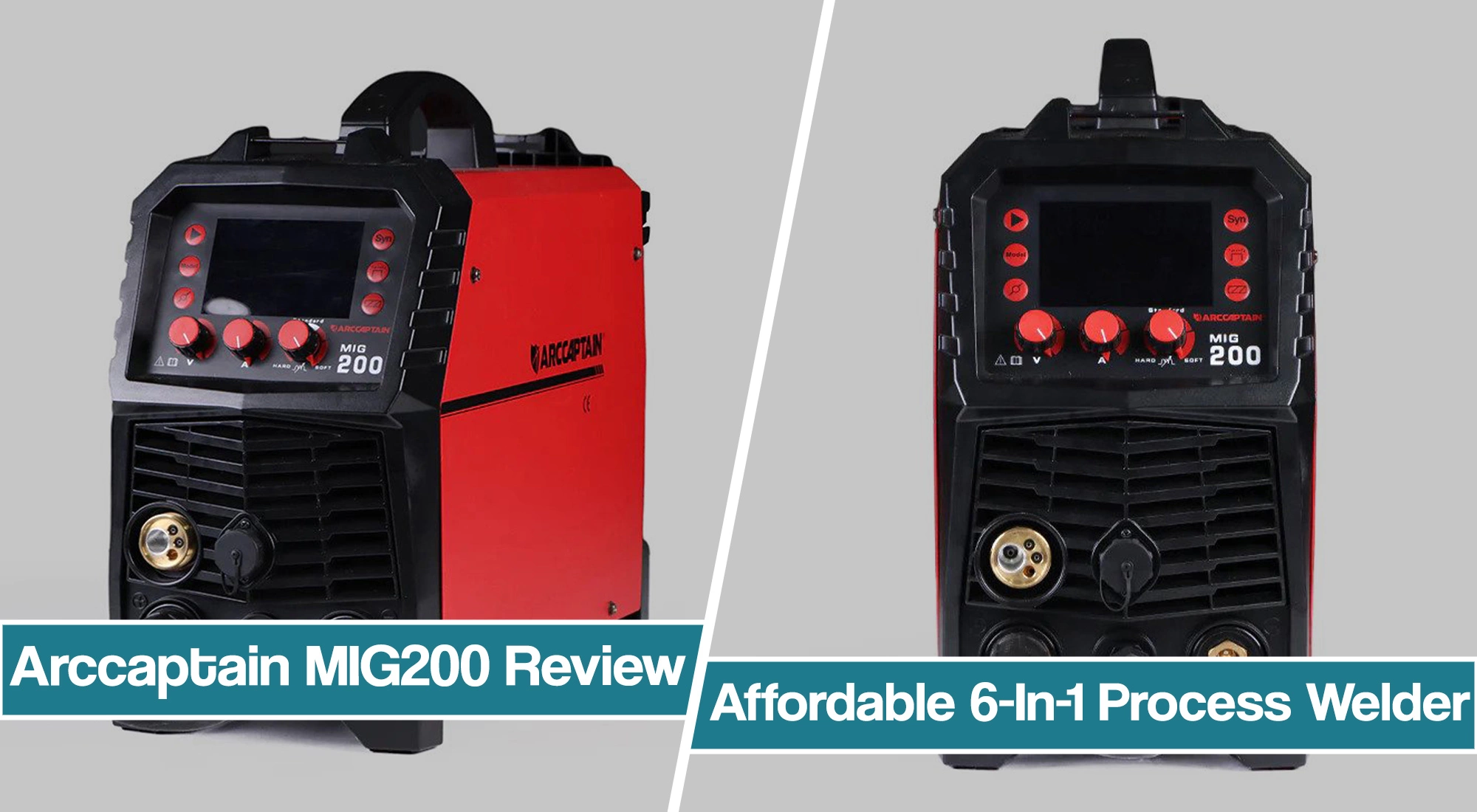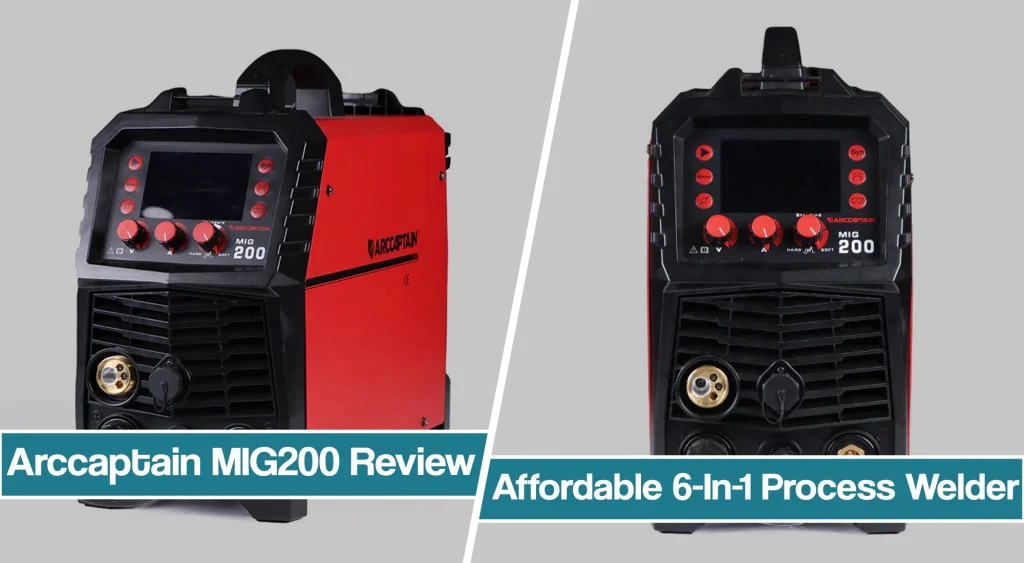 In this Arccaptain MIG200 review, we will review the welder features, the good and the bad.
ArcCaptain MIG200 Package Content And Technical Specifications
Arccaptain MIG200 is an affordable welder that offers excellent value for the money spent. For a reasonable price, you get everything you need to weld steel straight out of the box, including:
Budget MIG Welder with TIG/Stick features and Modern Display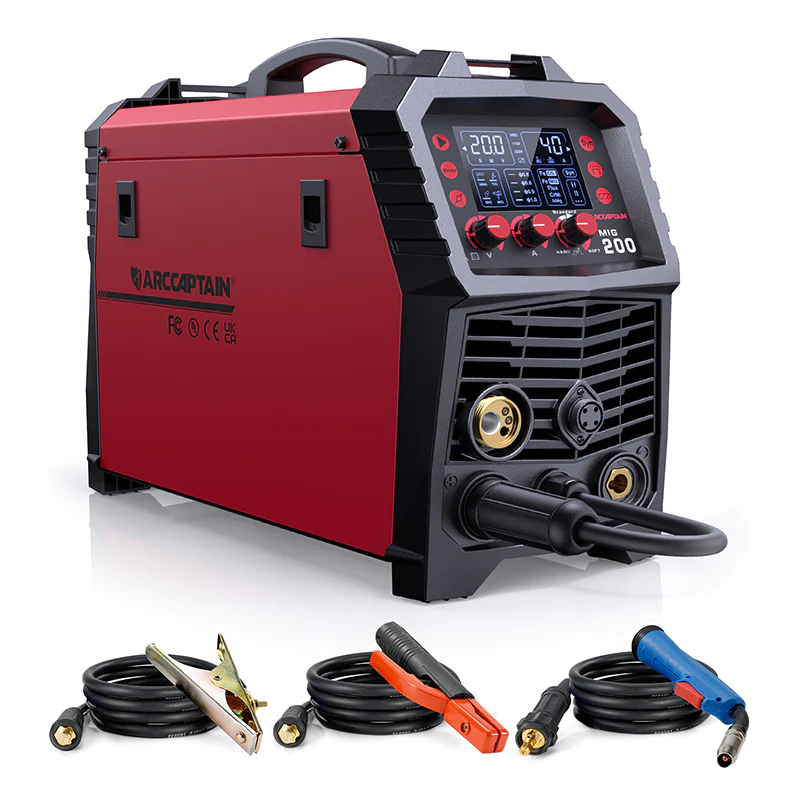 MIG Welding Torch
Welding Ground Clamp
Welding Electronic Holder
Welding Gas Hose
Brush&Hammer
Nozzle
Rollers
Diffuser
Contact Tips
User Manual
Like with other budget manufacturers, the Arccaptain accessories are not the highest quality, but they will get the job done. For example, a brush with a chipping hammer is practically useless, but it will help you if you don't get any.
Christmas 20% Discount Code: "CHRISTMAS002"
To MIG weld aluminum, you will need a separately sold spool gun, which is not included in the box. In addition, like with YesWelder MIG welder with a multi-process option, you don't get a TIG torch for lift TIG. Nonetheless, grooved drive rollers for .023″/.030″/.035″ solid wire and .023″/.030″/.035″ flux core welding wire are included.
Technical Specifications:
Supply Voltage:
110V/220V 50/60 Hz
Output Current (MIG):
110V: 30-160A;
220V 30-200A
Output Current (MMA):
110V: 20-135A;
220V: 20-180A
Output Current (TIG):
110V: 20-135A;
220V: 20-200A
Rated Duty Cycle:
60% at maximum output
Welding Efficiency(%):
85;
Insulation Grade: H
Protection Degree:
IP21S
Machine Weight:
12.8KG/28.2LB
Machine Size:
20.9 "x8.5″ x16.1"
Gasless Flux Core/MIG Wire:
0.024″/0.030″/0.035″/0.039″
Stick Electrode Diameter:
1/16 "-5/32" (1.6-4.0 mm)
ArcCaptain MIG200 Review – Build, Controls and Power
After a brief overview of the package content and technical specifications, it is time to get to the business. In this section, we will talk about build quality, control options, and welding capability, including MIG welder features.
Arccaptain MIG Welder Build
Cheap, off-shore MIG welders usually bring out the doubt in welders, but Arccaptain MIG 200 is an exception. The first look at MIG 200 leaves an impression of a well-built and sturdy machine. My claims are backed by the IP21S protection rating that proves the unit passed tests in simulating extremely harsh environments such as dirt, water, or dust.
But remember that the test simulated the conditions that can occur in the workshop or indoors, such as condensation, flipping, or metallic dust. For outdoor maintenance, which includes working in rain or snow, you will at least need an IP22-rated machine. These are usually industrial-grade multi-process welding machines such as the Lincoln Power Wave line.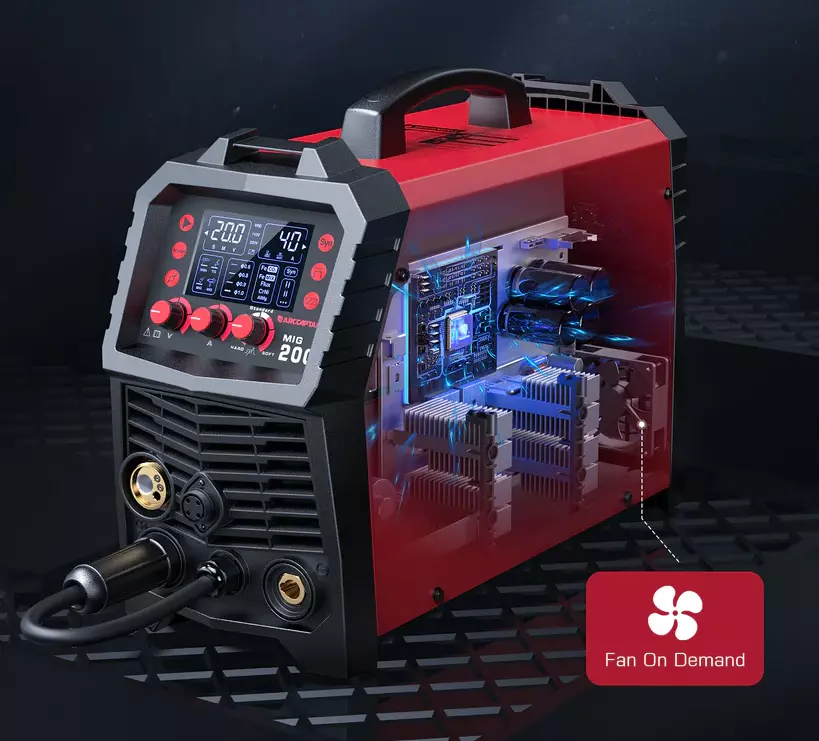 Nonetheless, this multi-process welding machine is well-constructed and lightweight. With 28.2 lbs, you can move it around the shop frequently. In addition, I like the fan-on-demand, which turns on only once the heat starts to build up. That allows quiet operation, and the feature is usually found in much more expensive machines from Miller.
The wire feed system features a full-metal wire drive system that provides smooth wire feeding. There is a marked tensioner that, when set right, will prevent birdnesting or burnback. For a convenient gas MIG weld, you can use 2lb or 10lb spools of .023-.035″ solid wire or up to .045″ self-shielded flux core wire.
Control Panel and Welding Parameters
The control panel of Arccaptain MIG200 might have a bit more buttons than I would prefer, but it is still super easy to use and set up.
In addition, the exclusive human-computer Interaction LED screen design is easy to read and provides exact values for smoother welding.
Knobs will allow you to set wire feeding speed, voltage, and inductance. Meanwhile, there are buttons that will help you choose welding mode, memory settings, MIG wire diameter, synergic settings, 2T/4T/spot welding, and MIG material choice.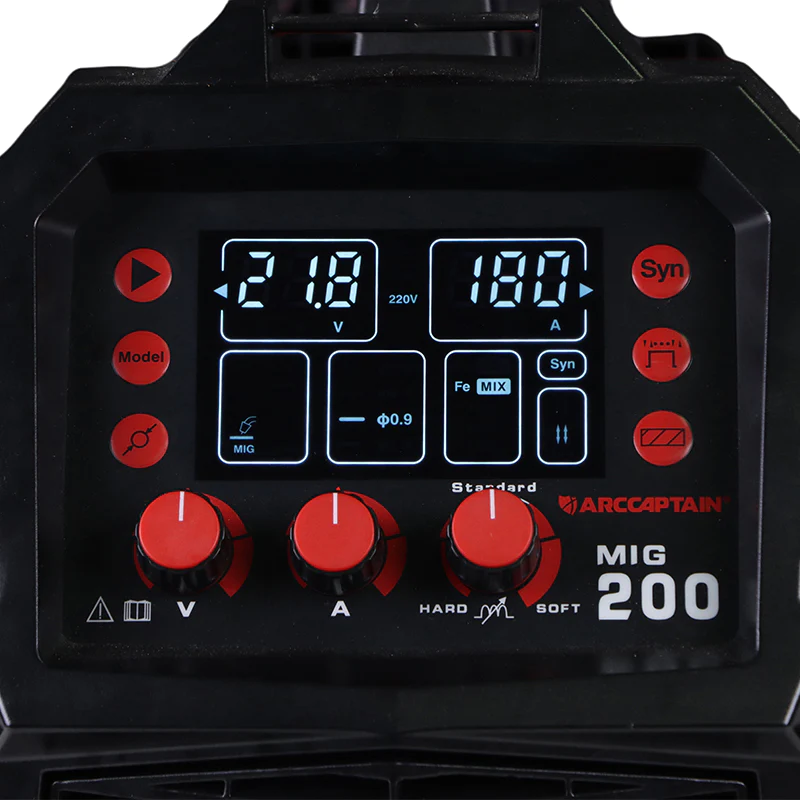 As a beginner, you will appreciate this synergic MIG welder. The welder automatically adjusts wire feeding speed according to voltage, input metal materials, and MIG welding wire diameter. Synergic settings are usually reserved for more expensive machines aimed at hobbyists, so it is a decent feature to have. Still, they work even more friendly at Miller Millermatic or YesWelder MIG-250DS. Meanwhile, professional welders can fine-tune their welding machines.
There is also a memory mode that will save your last welding parameters for your next welding job, and advanced IGBT inverter technology will allow you to set arc force, hot start, and inductance. These will make welding easier, and we will talk more about them in the welding process section.
I disliked the fact there is no reference chart that you can use to get the settings right. Instead, you will have to rely on synergic MIG, but for Stick welding or TIG welding, you will have to experiment with scrap metal.
Welding Power and Capability
Arccaptain MIG200 is a multi-process welding machine capable of doing MIG, Flux core, Stick and Lift TIG welding.
With a dual voltage capability, you can run it off a regular 110V household outlet or dedicated 220V power source. At 220V, this machine is capable of outputting 30-200 A as a MIG welder or 20-200 A as a TIG welder.
The high duty cycle rating of 60% at maximum output is courtesy of inverter technology, and as a result, you can weld longer without stopping. In addition, if you pair it with a 4T start, you can weld significantly longer sections without waiting for it to cool down.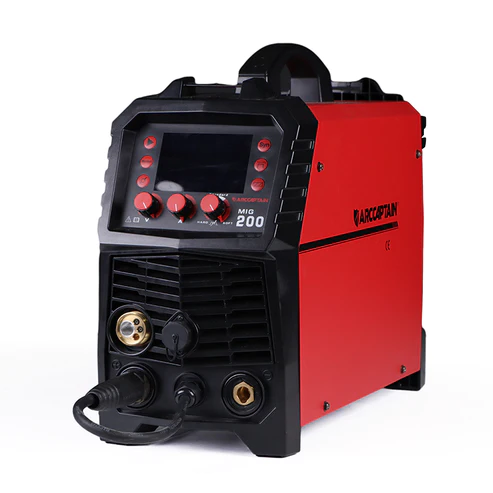 As a MIG welder, you are more than fine welding stainless steel and mild steel or any light to medium-duty welding job. However, keep in mind that this is a DC-only TIG welding machine, meaning you cannot TIG weld aluminum with it. As we mentioned at the beginning, you can only perform spool gun weld aluminum. The spool gun requires a Euro-style connection, and you can buy it from the Arccaptain store.
With MIG welding, you can set the inductance to adjust how fast the current rises to reach the amps to reduce the spatter. You can also adjust burn-back and pre-flow/post-flow for fine arc results. Once welding projects require outdoor maintenance, farm, road equipment repair, or any repair work, you can always switch to Flux core welding.
The lift tig weld is pretty basic, and you will have to buy a TIG torch separately. Still, you can use it for occasional projects and practice. Conversely, Stick welding is quite advanced, as this is an excellent and portable MMA welder machine.
You can adjust Stick welding features such as arc force, hot start, or anti-stick. Arc force will provide a stable welding arc, even if voltage fluctuations occur. The hot start will provide an easy arc start, and the anti-stick prevents electrodes from sticking and allow easier unsticking. These features are found in ESAB Rebel, a brand-name arc welding machine, or budget stick welders such as YesWelder ARC200.
Welder Protection
The Arccaptain welder machines passed various authoritative laboratory tests, and you get all the fine systems to protect your investment. There is a VDR, a voltage reduction device, that reduces an open circuit voltage to prevent shock when not welding.
In addition, there are built-in over welding current, voltage, load, and heat protections that immediately shut down the welder to avoid permanent damage to the internal components. These will prolong the lifespan of your welder, and in my experience, it will last as long as you treat it right.
Treating it right means it is a hobby, a light to medium-duty machine suitable for thin sheets and medium-thickness metal materials.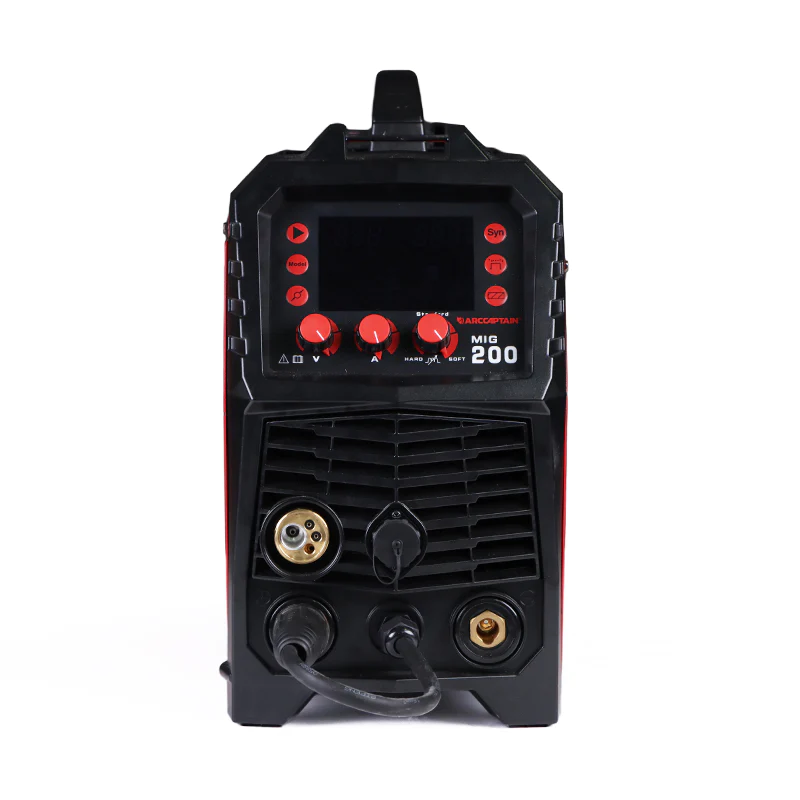 Trying to do some miracle work or extend its limit might shorten the working hours, and yes, it is a $500-ish welding machine, so you really shouldn't stress-test it.
However, I liked the fact welder comes with a 2-year warranty. Many budget manufacturers such as YesWelder protect welders for a year, but brand names such as Hobart or Lincoln usually give a 3-year warranty. In addition, there is a 30-day return policy with Arccaptain MIG200, so you can always give it a try.
Pros And Cons Summarized
Arccaptain MIG200 is a new budget-friendly welding machine on the market that brings some advanced features you find at much pricier machines. It uses an IGBT inverter technology that makes it lightweight and efficient, will retaining good arc performance.
You can use it as a MIG, Flux core, TIG, or Stick welder, but you don't get all the accessories. In addition, the accessories are not the highest quality, but they will get the job done.
With a maximum output of 200 amps, you can use MIG200 for various DIY, hobby, and repair tasks around the garage, at home, or in a small fab shop. Still, you should treat it as a $500 welder without trying to exceed limits. Yes, you don't get the reliability of a $2k Lincoln or Miller, but the value for the money spent is excellent.