TIG welding is one of the most challenging processes to master, but learning how to do it doesn't have to be that hard as long as you have the right TIG welder. Arccaptain TIG200 is a lightweight welder that comes with decent features and controls.
However, the best part about it is the affordable price so it might be an excellent first welder.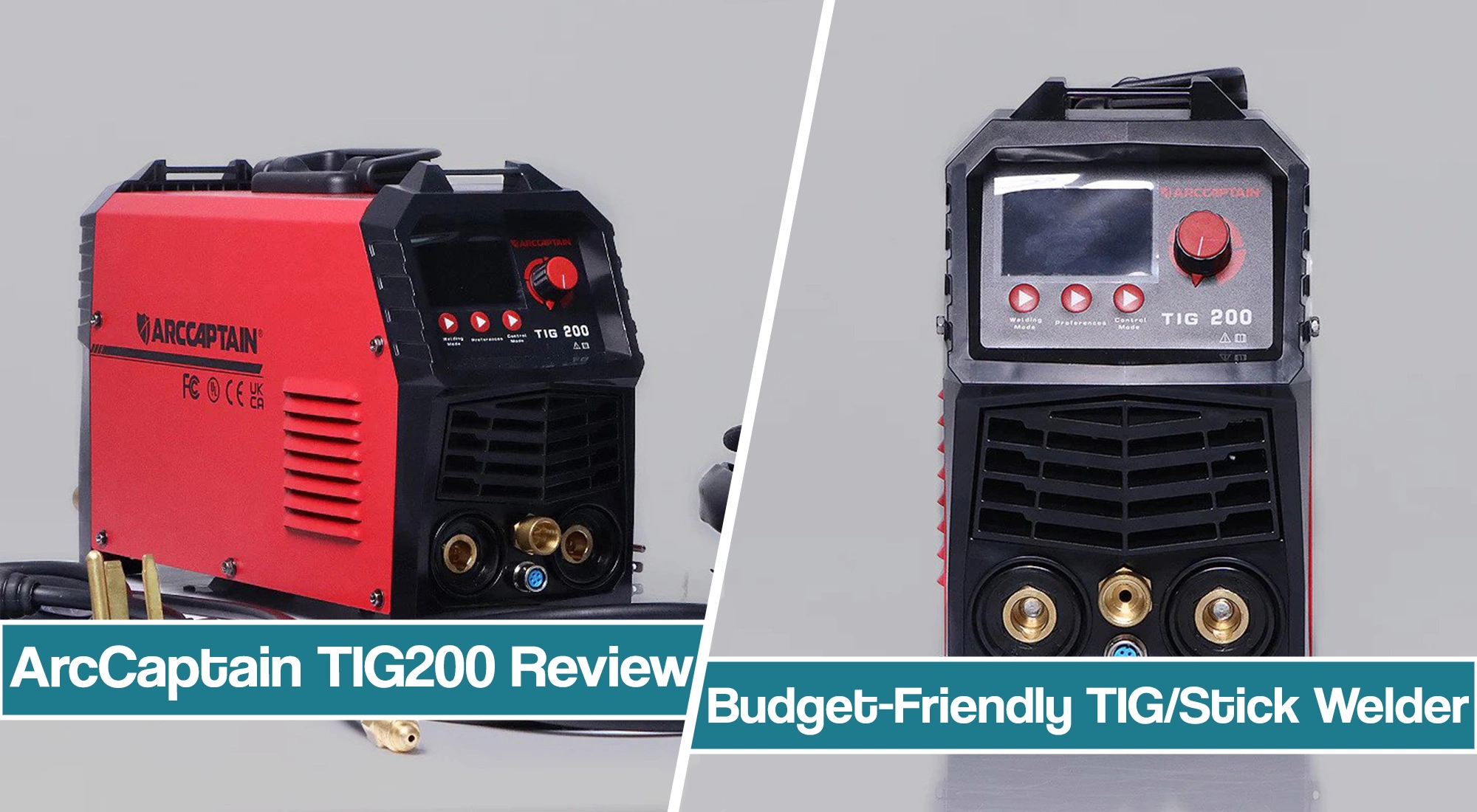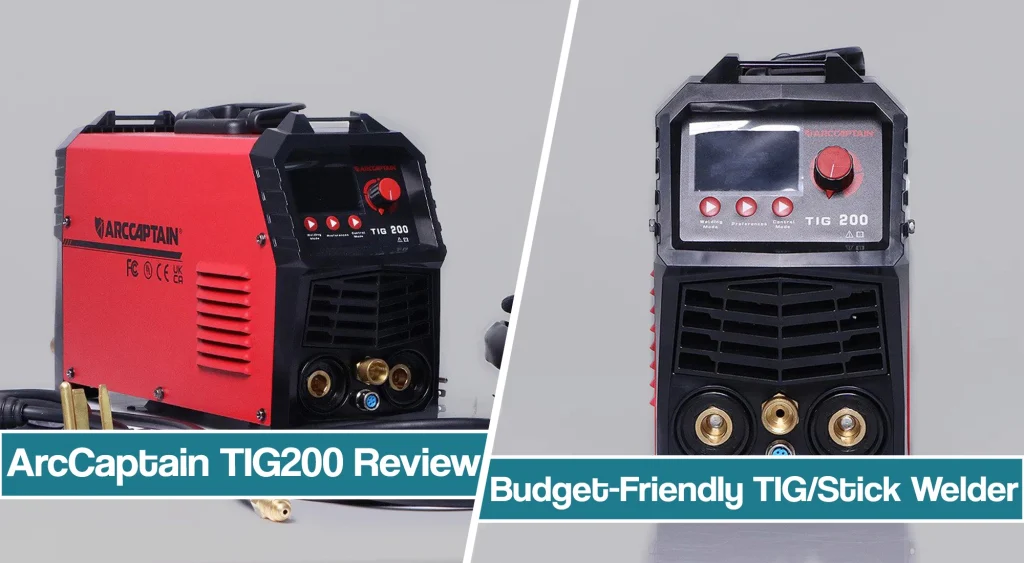 But with a rated output of 200 amps, this little TIG welding machine can handle different projects and material thicknesses. In our Arccaptain TIG200 review, we will discuss its build, features, values, and the good and the bad.
Arccaptain TIG200 Package Content and Technical Specifications
We will start our review with a quick overview and explanation of package content and specifications. For seasoned welders, a quick look at these can be enough to tell if it is a suitable welder for them, but we will also explain what these mean for you as a beginner. So when investing in Arccaptain TIG200, for the money spent, you get:
Budget-friendly TIG Welder With HF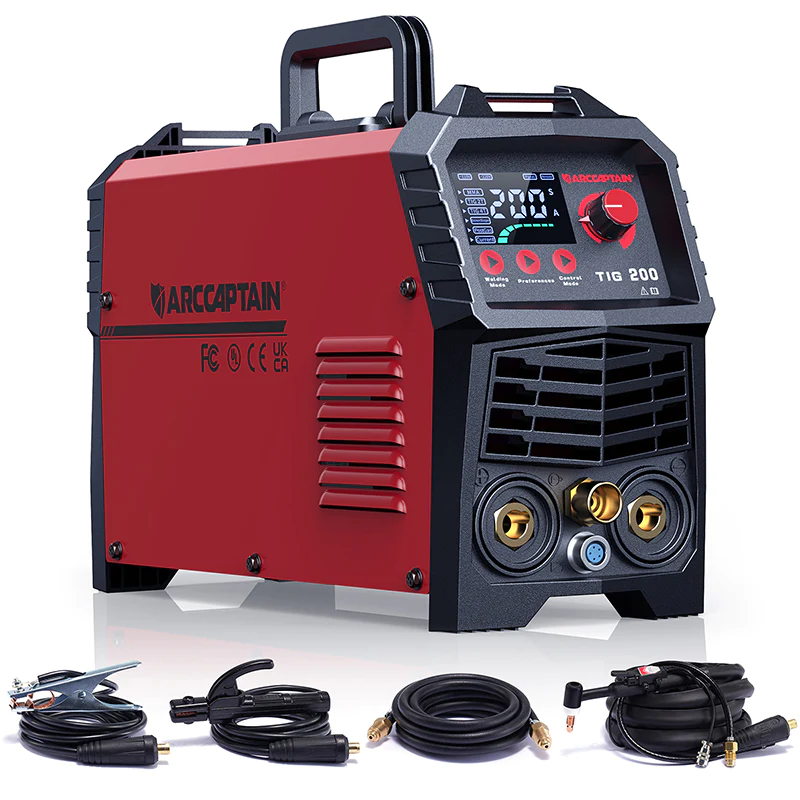 Arccaptain TIG200 TIG Welder
13ft WP-17 TIG Torch
10ft Ground Clamp
10ft Electronic Holder
Conversion adapter
8ft Argon Gas Hose(with connector)
Brush&Hammer
Tungsten electrode
Shoulder Strap
User Manual
Looking at the package content, you get everything you need to weld steel straight out of the box.
5% Discount Code: "WELDPROS"
Long leads on a clamp, electrode holder, and WP-17 size torch mean you are not strictly tied to your welder. I love the fact Arccaptain includes a shoulder strap with their lightweight welding machines. You can easily hang the machine for convenient welding on a ladder or in other uncomfortable positions.
Like any modern TIG welder, TIG200 is compatible with a foot pedal for remote process control. However, the foot pedal is not included, which is surprising since many budget manufacturers, such as YesWelder, started packing them with their TIG welders. In addition, pedals are typically included with US manufacturers such as Eastwood TIG.
Technical Specifications
Welding Process:
DC TIG, Stick welding
TIG Welding Thickness Steel
0.020 in. (0.5 mm) – 13/64 in. (5mm)
Weldable Metals:
Steel, Stainless Steel
Steel
Input Voltage:
110/220/ V
Input Phase:
1-Phase
Input Hz:
50/60 Hz
Current Type:
DC
Max Open Circuit Voltage:
48 VDC
Amperage Output:
5-200 A
Duty cycle:
60% at 200 amps
Weight:
12 lbs
ArccaptainTIG200 TIG Welding machine build, features and power
After a brief overview of the package content and technical specifications, it is time to get to the main part of our article. In this section, we will discuss the crucial features, build quality, and welding capability of the Arccapain TIG200 welding machine. Shortly said, this is a well-built TIG machine with enough features for your everyday TIG and stick welding medium-thickness plates. But let's get to each aspect a bit more thoroughly.
TIG200 Welder Build Quality
I was surprised by the compact dimensions and light weight of this Arccaptaing TIG welder. Low weight and high efficiency result from IGBT inverter technology. So with approximately 12 lbs, you can carry the machine around the shop, and there is a shoulder strap for convenient transport. Compact dimensions won't take up too much space in your garage or truck once you decide to bring it out in the field. In addition, the machine is pretty stylishly designed.
Despite its light weight and size, the Arccaptain TIG200 leaves an impression of a well-built and sturdy machine that is built to last. I know many of you doubt the quality of off-shore welders; I was skeptical myself.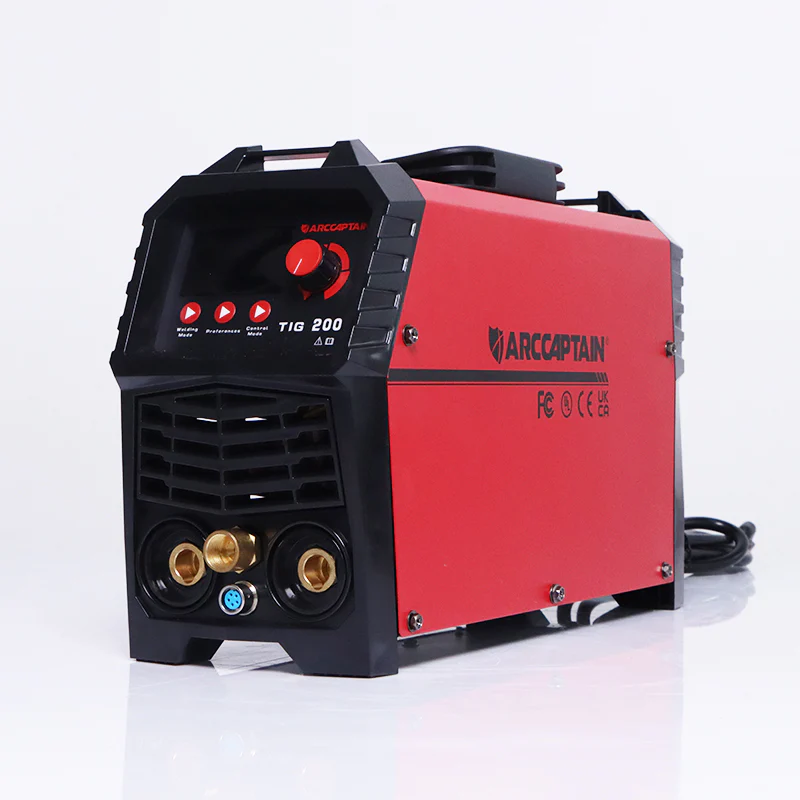 Still, all Arccaptain welding machines are subjected to various tests in simulating harsh environments. As a result, you can be sure your TIG welder is protected from dust, condensation, vibrations, or falling impact, or the conditions you can encounter in a garage or small fabrication shop.
I liked the fan-on-demand feature, where the fan turns on only when there is a need for cooling. This is a pretty good feature if you don't like the noise in your garage or workshop, and it is often reserved for pricier TIG welders.
Welding Settings
The control panel of Arccaptain TIG 200 is pretty straightforward and simplistic, but you still have enough welding parameters for precise welding. As a beginner, you won't be intimidated by a control panel that only features a display, three buttons, and a knob. , which can, with some TIG welders like Everlast, seem like you are operating a spaceship. The ease of use is courtesy of the large LED display, which shows precise data, mode, or parameter selection.
Still, professional welders can fine-tune the machine according to their welding habits. Even though there are fewer settings than advanced TIG welders, you can still set the downslope, post/pre-flow, or opt for 2T/4T mode. In addition, you can control the TIG welding remotely with a foot pedal, which, unfortunately, is not supplied.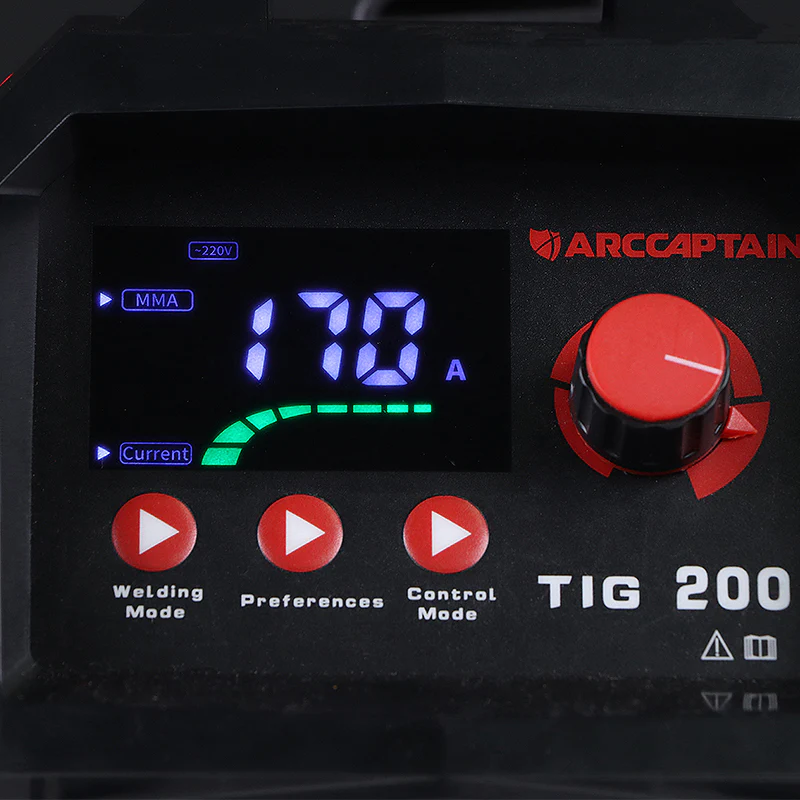 Nonetheless, I like the plug and TIG weld approach, as it won't take you too long to start welding. The ease of use makes Arccaptain TIG 200 a beginner-friendly machine and, in my opinion, an excellent entry-level TIG welder.
Welding Process Selection And Capability
The Arccaptain TIG200 is an Arc/TIG welding machine that is rated at 200 amps at 220V. You can also plug it into a 110V regular household outlet for thin plate welding at a maximum of approximately 140 amps. I was surprised by the high-frequency start, which you rarely see in a 300-ish bucks TIG welder. Most affordable welders offer a lift TIG, so HF is definitely a good bargain. High frequency will give you a reliable and easy arc start with a lower risk of tungsten contamination.
The amperage output goes down to 5 amps, which is crucial when dealing with thin pieces. The arc welding thickness is also decent, and it goes up to 170 amps, which is more than enough for your everyday household projects.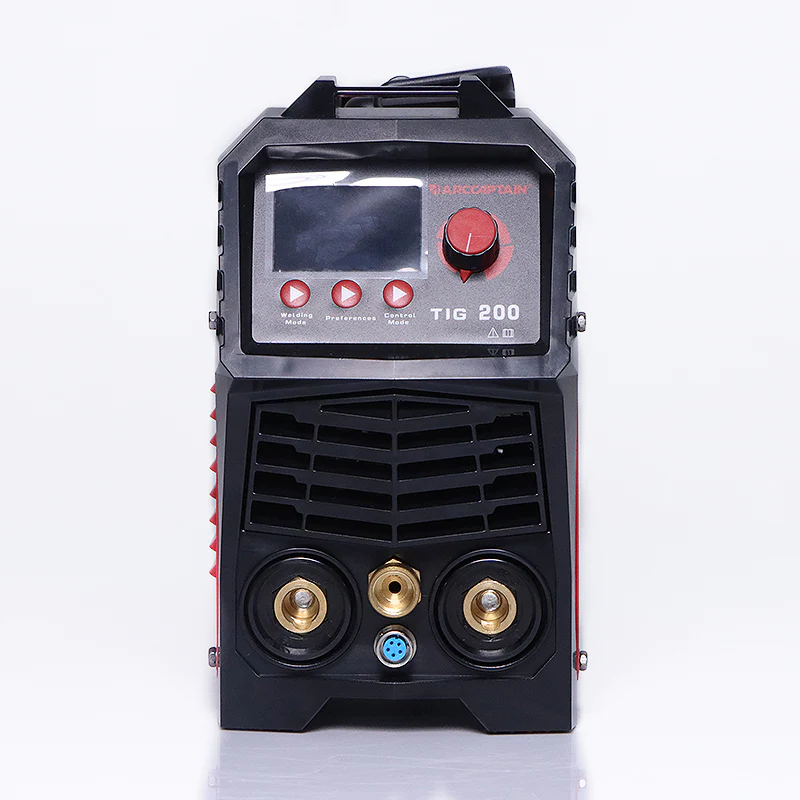 Besides welding performance, this TIG welder also provides excellent welding performance. MCU digital control and IGBT inverter technology provide smooth device function, stable arc, and reliable performance.
Stick/Arc welding is packed with modern features such as hot start, arc force, or anti-stick. These provide a smooth start and stable arc throughout the entire stick welding operation. So besides indoor TIG welding, you can bring your TIG200 outside for on-field stick repairs.
Can You Weld Aluminum With Arcaptain TIG200?
Unfortunately, no. TIG200 welding machine is a DC-only TIG welder, so you cannot use it for aluminum welding. Even though it has a high-frequency start, which is a must-have to weld aluminum without contamination, trying to do any aluminum work at DC is not a good practice.
Welding aluminum will require an AC current, which is reserved for much more expensive TIG welders. Honestly, you shouldn't even expect it from a $300 welding machine, so if you expect to weld aluminum night and day, you should look further or maybe opt for an Arccaptain MIG welder, which supports spool guns for aluminum welding.
Welder Protection Systems
To make sure your investment, which initially isn't really high, is well protected, Arccaptain TIG200 is packed with safety and protection systems. This TIG welder has built-in overload, over-current, overheating, and over voltage protection. Protection features will shut down the welder to prevent permanent damage to internal components, so your welder will last longer even if you mistreat it.
In addition, the TIG200 welding machine is covered by a 3-year warranty, which is scarce in this price range and typically reserved for brand-name manufacturers. You usually get a 1-year manufacturer warranty with budget-friendly machines, so it really seems like Arccaptain is trying to reach its customers and prove worthy on the market.
Pros And Cons Summarized
The Arccaptain TIG 200 is an excellent budget-friendly TIG welder with a high-frequency start that offers enough features, ease of use, and decent capability. It caught my eye as a good entry-level choice for new welders, but you'll find a use for it even if you are a professional welder. IGBT inverter technology makes the welder lightweight, efficient, and compact but decently built.
You don't get as many options as with some state-of-the-art machines that allow you to set peak or slope amperage output, balance, and more, but that's what makes it essentially easy to use. I'm not fond of the fact you don't get a foot pedal, but at this price range, you shouldn't really expect it.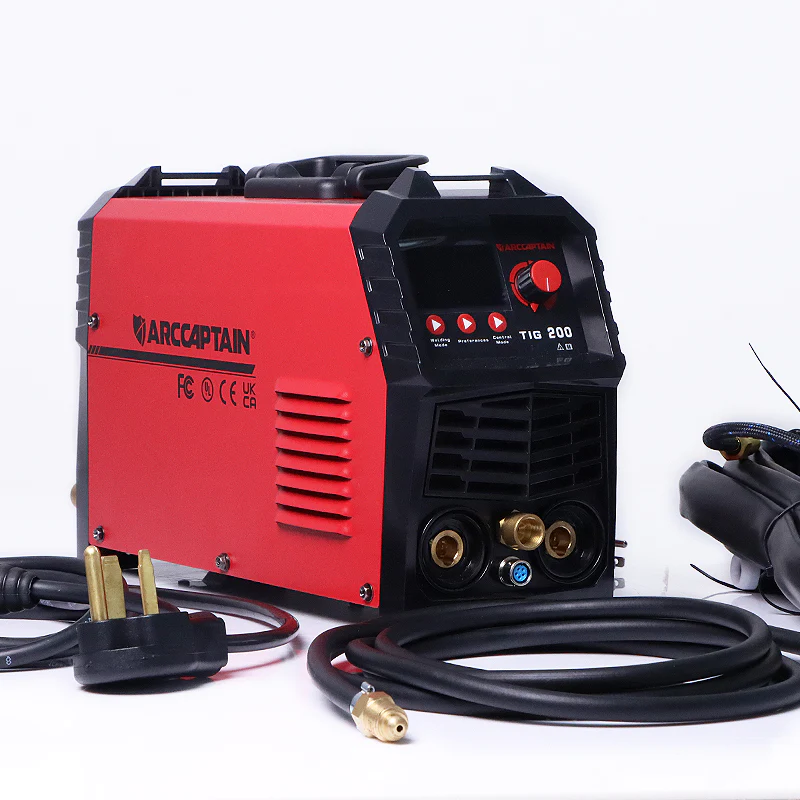 TIG200 is a dual voltage TIG welder, and you even get an appropriate power converter. However, this is a DC-only machine, meaning you cannot use it to TIG weld aluminum. Nonetheless, it is more than suitable for your everyday home projects that involve welding steel.