Bulk electrode packages put more wire into production to extend welding time.
Welders are shifting their preferences for the way bulk electrodes are packaged and used and are leading a move toward larger bulk electrode packages that reduce downtime and changeovers.
Bulk packaging for electrodes has been around since the 1920s, when automated welding was introduced.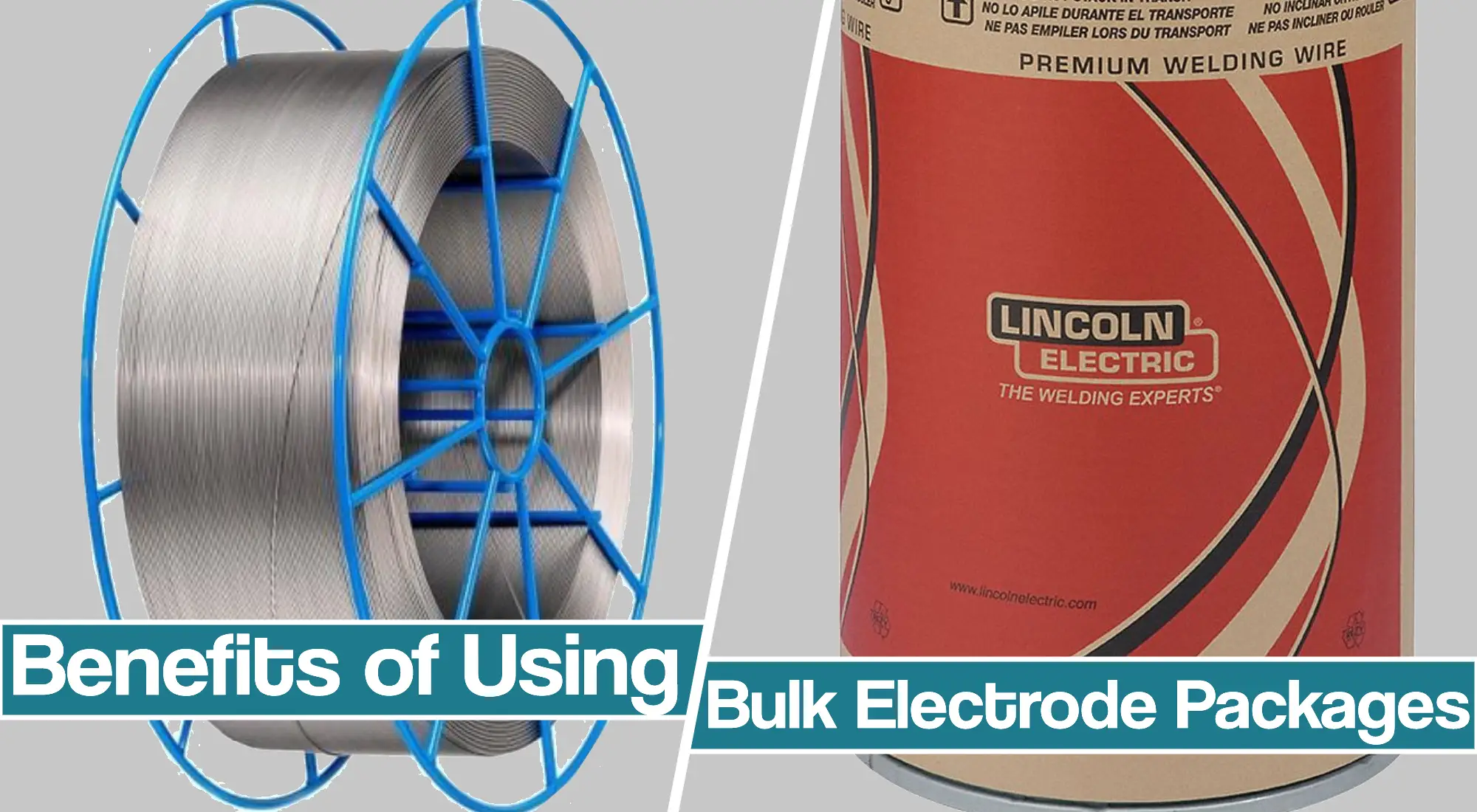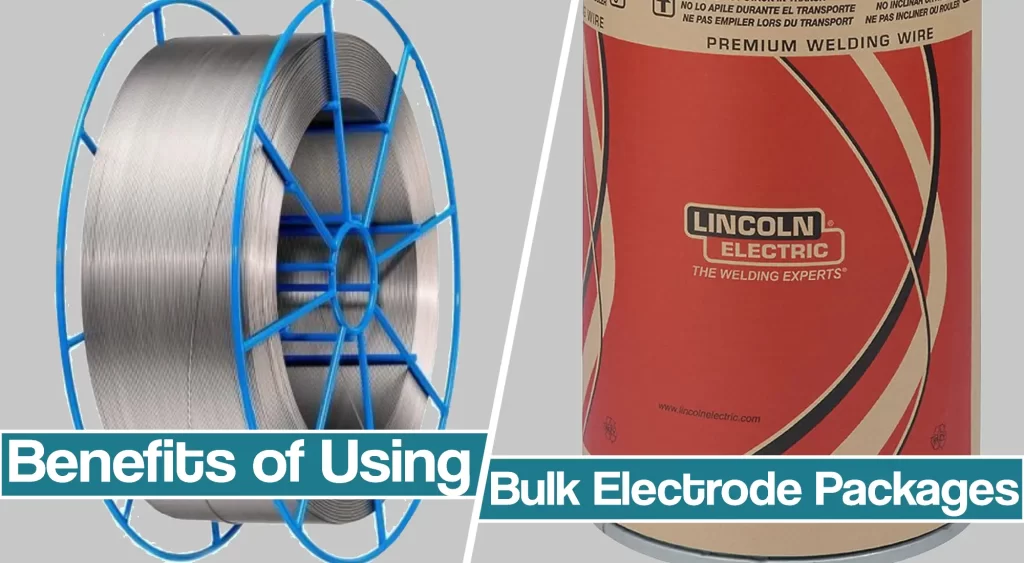 Bulk packages of electrodes are used in automated welding settings to maintain consistent feeds for the automated process and feed wire continuously to the welder.
Why Buy Welding Electrodes In Bulk
The adoption of the larger-sized drums for automated applications and for shop floor applications is increasing. It's time-saving as well as a cost-saving – welders don't have to stop the welder every hour or so to change out the 60-lb. spool.
There are several advantages to bulk electrodes, including fewer wire changes and threadings. Such bulk packages are available for all types of MIG wire, so it doesn't matter if you are performing regular MIG welding or using flux-cored or metal-cored wires.
Bulk MIG Welding Electrodes Packaging
Typically, bulk electrodes are delivered in drums that weigh 500 lb to 1,000 lb.
Some manufacturers offer bulk electrodes in boxes of 250 lb for lower volume applications, while others provide drums that can weigh as much as 1,200 lb. Lincoln Electric's bulk electrode products for MIG welding are an example of the latter.
There are various types of packaging for bulk electrodes, including drums, boxes, and reels, and each has its advantages.
Many customers want "green" packaging that can be easily recycled, and numerous companies offer to recycle the packaging for you.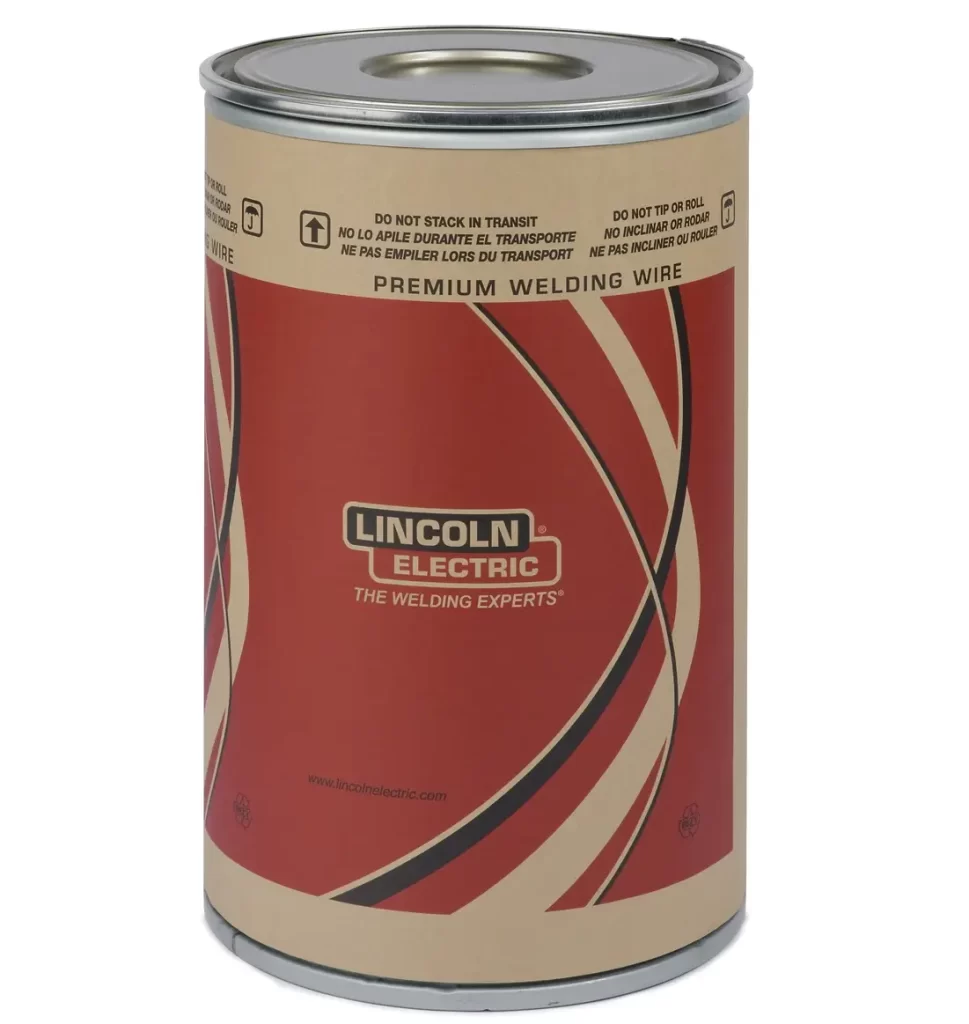 The problem with most drums is that you have metal chimes on them. A box crushes down more easily, so a lot of customers are going to the boxes just for that reason.
Smart Welding Electrode Packaging Design Minimizes Downtime
Hobart has introduced their 900-lb recyclable drum that the company said minimizes downtime and costs for welding wire changeover.
The X-Pak for metal-cored welding wire measures 35-in. tall, 23 in. in diameter, and is comprised of 100 percent recyclable fiber. The company offers five types of metal-cored wire in that new 900-lb. X-Pak, including its Tri-Mark Metalloy Vantage and Metalloy 76 Hobart Fabcor 86R; and Corex Metalcor Maxim and Metal-Cor 6 in .045 in. and .052-in. diameters.
Compared with standard 600-lb drums, the new 900-lb X-Pak minimizes the number of changeovers necessary per month/year by approximately 33 percent.
And it also reduced the amount of downtime and associated labor costs for handling by a similar amount.
The company packages and ships its X-Pak products on individual skids to further simplify handling, compared with traditional drums that must be maneuvered off of more oversized skids.
Separately, it offers an optional overhead lifting device from Wire Wizard that works on cam action to stabilize the drum during transport and to expedite handling of the drum.
Reducing Welding Electrodes Cost Through Design
Other features incorporated into the new X-Pak include an available 23-in. chime-less cone that also is supplied by Wire Wizard to allow the entire X-Pak package to be recycled. The chimeless cone reduces costs for chime removal and overall drum disposal.
Continuous Welding Using Lincoln's Electrodes
Lincoln Electric introduced its bulk electrode packaging at Fabtech.
The company's trademarked Infinity-Pak is designed to have two ends extending from the box, a start end and a finish end.
The packaging and packing of the electrode wire were designed in that way to allow the finish end to be connected to the start end of a replacement box to allow for continuous welding.
This is beneficial for customers doing very long welds and who don't want a start or stop, or for multiple arcs on a part, so that both arms can keep running on a part rather than having to shut the automation down. It's a niche package for those applications.
Lincoln Electric offers MIG welding packages for bulk electrodes for high-productivity, automated system applications and for welding very large parts or high-volume parts at manual welding stations.
Many of the domes that are used to cover drums and facilitate electrode feeding, such as the Dura-Domes Electrode Payout Systems from Electron Beam Technologies, also are reusable and recyclable.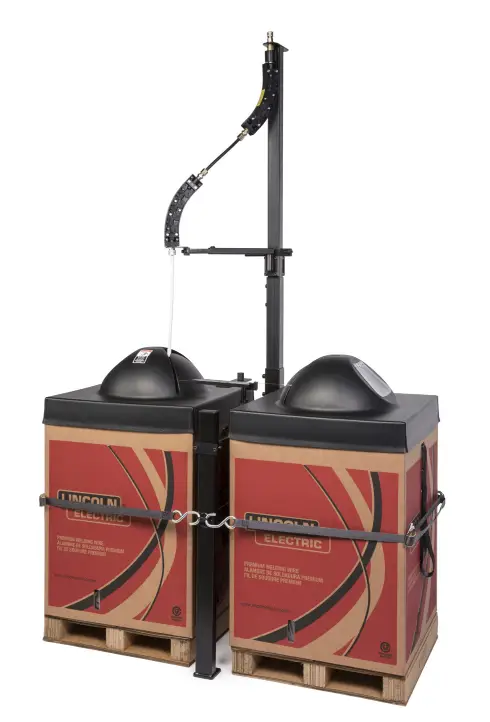 The company also manufactures electrode conduit systems that are designed for easy, consistent feeding of the wire.
MIG Electrode Wire Feeder
Bulk electrodes operate in a "push/pull" fashion, with a feeder or conduit system that pulls the electrode from the bulk back and pushes it through the torch cable to the welding head and arc.
That makes the feeder a critical piece of equipment.
Electron Beam Technologies has developed a wire feeder – named the Fast 'N Easy – that is designed to make bulk electrode installation or changeover faster and easier.
The Fast 'N Easy feeder is designed to load and feed continuous welding electrodes from the build distribution pack to the welding wire feeder at 3,000 in. per min. The combination of the bulk loading system and continuous feed is expected to reduce loading and set-up times.
Electron Beam Technologies' unit is portable, has no cords, and handles most electrode systems without requiring additional changes in equipment.
Electron Beam Technologies has seen a greater demand for its bulk electrode payout systems in recent years, mainly because automation in welding has seen wider use.
Conclusion
In the United States, the trend toward bulk electrodes began probably a decade ago, and that trend is still increasing. Now we're also seeing most of the foreign markets rising in demand.