Many angle grinders are good enough to get the job done. But, if you want to get the best angle grinder for your budget and the work you typically do, it takes some "grinding" through the market.
If you go to any tools webshop right now and pick a grinder at random, you are likely to be "fine," unless you are a heavy-duty contractor. But, that's not a wise way to spend your money or pick your tools.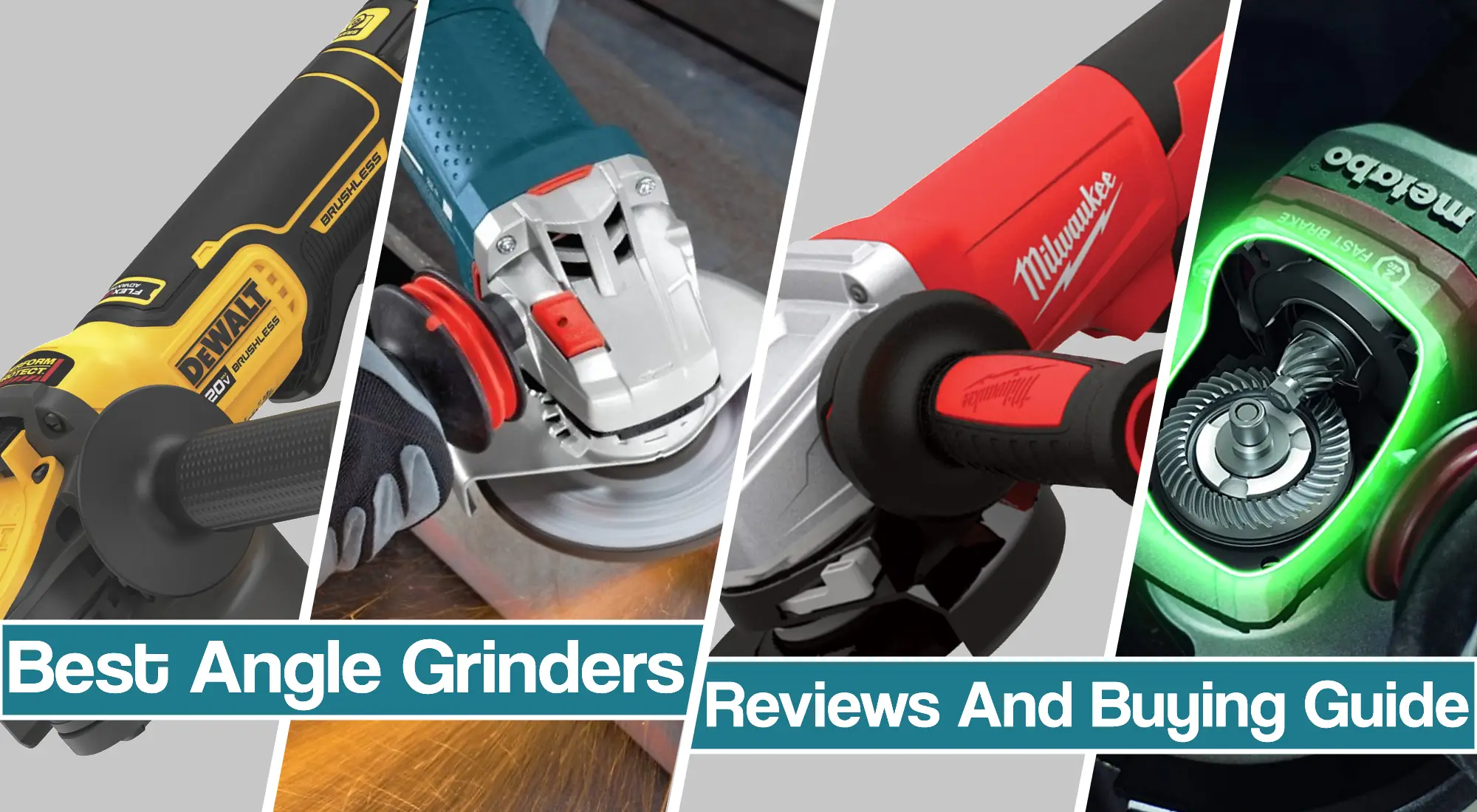 We did our best to scourge the market and separate the wheat from the chaff based on multiple criteria. For example, a grinder may have a high RPM but a low torque power and weak real-life performance. You don't want that, especially since there is always a better option at a similar price.
So, let's get started.
Best Angle Grinders Comparison Chart
Best Angle Grinders Reviews
We separated the reviews based on angle grinder characteristics and the users' needs. If you are unfamiliar with some of the terms used to explain the grinders, please read the buying guide at the bottom of the article.
The grinders below are the best choices in their price categories today. Most angle grinders we reviewed use a 4 and 1/2 inch disc size because that's what most hobbyists and professionals use.
1. Milwaukee Small Angle Grinder For Hobby Work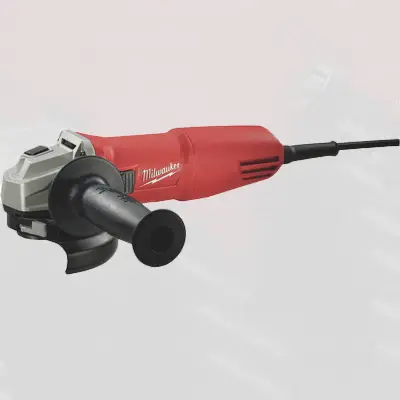 This is the smallest corded angle grinder from Milwaukee and their cheapest model. I know that there are slightly less expensive import brands, but do yourself a favor and stay clear from those. Milwaukee provides a 5-year warranty. Do Skill, Ironton, or Wesco do the same? Nope, they do not.
The Milwaukee will actually put out the RPM they claim and will hold pretty good when put under load. Most of these random imports use weak electric motors that just cut out if you apply force while cutting.
Plus, Milwaukee installed a quality gear drive into this angle grinder, providing a smooth cutting and grinding experience. Most cheap grinders use a poor gear set, diminishing the quality and reducing their life cycle.
While this Milwaukee model is not powerful enough for professional use, a hobbyist will do just fine. It uses a slide switch that's easy to turn on and off with a light touch and doesn't require keeping the button depressed to stay switched on.
The guard is easy to re-adjust without tools, saving you time and effort. This angle grinder is built well and has the necessary protection that deflects debris from the airflow intake vents. This prevents dust build-up and ensures long life.
And another thing worth pointing out is that Milwaukee stayed true to the price and the quality of this grinder for many years. The price has remained the same for a decade, and the quality hasn't diminished.
Pros & Cons Summarized
Pros
Affordable
Best angle grinder for hobby work
Exceptional build quality
Holds well under load
Tool free guard adjusting
Dust deflecting airflow design
Quiet
5-year warranty
Cons
Brushed motor
The switch is too light and you can turn it off accidentally
Specifications
Size: 4 1/2 in. wheel
Input voltage: 120V AC
Power: 7A, 750W
Speed: 11,000 RPM
Variable speed: No
Switch type: Slide switch
Country of origin: China
Weight: 3.5 lbs
2. Milwaukee 5in. Angle Grinder 6117-31 For Power Users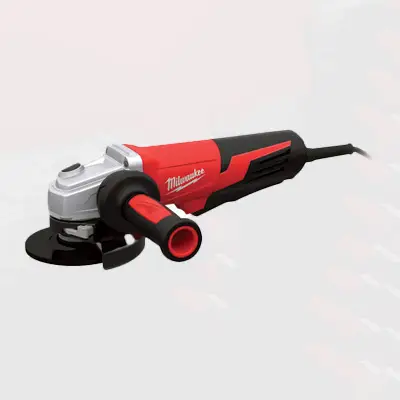 The Milwaukee 5 in. grinder is designed for industrial use. Its 2100W electric motor outputs 11,000 RPM with 13A power output, allowing you to cut and grind almost anything.
The engine uses a constant power technology to maintain consistent speed as you apply the load, while the overload protection prevents the motor burn-up.
Like the small angle grinder, the 5 in. model uses a tool-free guard positioning system. But the power switch is different.
This Milwaukee model uses a paddle grip switch for added protection. This means that if you accidentally drop the angle grinder, the grinder will turn off.
This angle grinder provides exceptional power. However, professional power tools should have more control, and this Milwaukee model uses a fixed RPM speed. So, if you do sensitive work like wood carving, cutting tile, or metal finishing, you will be better off with our next pick.
Pros & Cons Summarized
Pros
Best angle grinder for power users
Exceptional build quality
Handles load well
Tool free adjusting
Overload protection
Electronic clutch
Soft Start to prevent kickback
Anti-vibration side handle to prevent wrist strain
Dust deflecting airflow design
Quiet
5-year warranty
Cons
Brushed motor
No variable speed control
Specifications
Size: 5 in. wheel
Input voltage: 120V AC
Power: 13A, 2100W
Speed: 11,000 RPM
Variable speed: No
Switch type: Paddle switch, no lock
Country of origin: China
Weight: 5.7 lbs
3. Bosch 5in. Variable Speed Grinder GWS13-50VSP For Advanced Power Users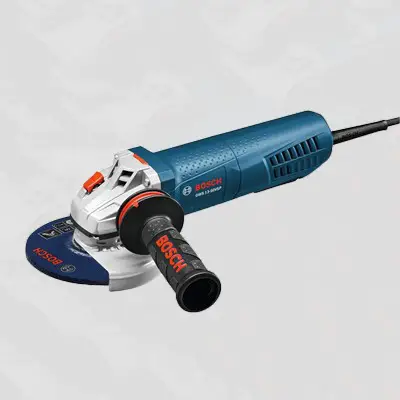 For the same price as the Milwaukee above, you can buy Bosch 5 in. GWS13-50VSP model. The Bosch uses carbon brushes, which are more durable than standard brushes (stay tuned, we will also look at brushless angle grinders).
But most importantly, the Bosh angle grinder has variable speeds ranging between 2800 and 11,500 RPM. The biggest downside? It has just a 1-year warranty, unlike Milwaukee's 5-years.
However, Bosch is not a random brand. That 1-year will likely endure 5 or more years of demanding work. This is a professional grinder meant to handle heavy-duty jobs.
The variable speed lets you match it with the work at hand. For example, finishing a stainless steel surface requires various speeds with various grit sizes on the wheel.
It's also a paddle switch angle grinder, and the airflow design keeps the vital parts from overheating and diverts the dust away for long life. The handle is equipped with a two-position vibration control to prevent strain on the wrist, making it easier to endure a hard day's work.
Unlike Milwaukee, it has an integrated acceleration sensor that limits the recoil, making it safer for workers.
If I were getting a corded angle grinder for a welding shop today, I would go with the Boch. However, I know a warranty means a lot to many people, and Milwaukee is typically a more popular brand, so I placed Boch in the third spot. But either is a great choice.
Pros & Cons Summarized
Pros
Top-notch build quality
Tool-free adjusting
Soft Start to prevent kickback
Anti-vibration prevents strain
Airflow diverts dust away from vital components
Variable speed
Carbon brushes
Cons
Brushed motor
1-year warranty
Specifications
Size: 5 in. wheel
Input voltage: 120V AC
Power: 13A, 1500W
Speed: 11,500 RPM
Variable speed: Yes
Switch type: Paddle switch, no lock
Country of origin: Germany
Weight: 5.3 lbs
4. DeWALT Max FlexVolt DCG416B Best Cordless Angle Grinder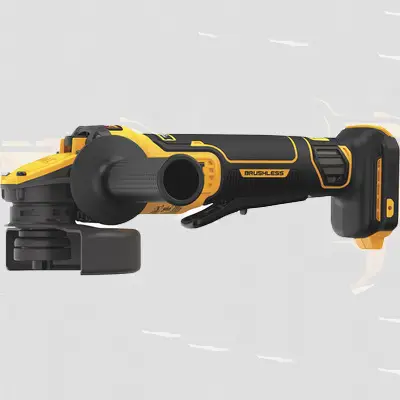 The DeWALT DCG416B is one of the best cordless angle grinders you can get. It's designed for professional work, but it's expensive. It uses a brushless motor for maximum durability, and the 3-year warranty is good enough when paired with this level of build quality and brands reputation.
The DeWALT tools are the cream of the crop, just like Milwaukee, Makita, and Bosch. This is a successor to the popular DCG413 cordless angle grinder, and the most significant improvement is the addition of "FlexVolt advantage," as DeWALT calls it.
This means that if you use the FlexVolt battery, the angle grinder will have "up to 54%" more power. Of course, DeWALT doesn't explain the specifics. That's probably because, in their "perfect world" tests, they managed to increase the power by 54%.
However, if you do use a FlexVolt battery, the difference in power is definitely noticeable and worth the added cost. If you are a professional and prefer cordless grinders, the DeWALT DCG416B and FlexVolt are your best bet.
The Milwaukee M18 FUEL line of cordless angle grinders is also an exceptional choice. But DeWALT's kickback feature that stops the wheel in case of a bind-up and E-clutch that shuts down the engine in a tenth of a second if a pinch/stall is detected offer more safety.
Plus, the DeWALT angle grinder supports the Tool Connect application that lets you connect your angle grinder to the smartphone for productivity tracking and asset management. This may sound silly to some guys, but at times this is useful. For example, if you track your productivity for some time and have the data, and then you train the apprentice and track their productivity, you can determine when they are approaching your efficiency level.
Pros & Cons Summarized
Pros
Excellent build quality
Cordless angle grinder with an exceptional power output
Tool-free adjusting
Soft Start
Kickback brake
E-clutch for maximum safety
E-switch protection in case of a power outage
Tool Connect app compatibility
Brushless motor for maximum durability
Low vibration
Supports FlexVolt advantage
3-year warranty
Cons
Expensive
Battery and charger not included
FlexVolt battery is very expensive (but it's not necessary)
Specifications
Size: 4 1/2 – 5 in. wheel
Input voltage: 18V battery
Power: 1550W
Speed: 9000 RPM
Variable speed: No
Switch type: Paddle switch, no lock
Country of origin: China
Weight: 3.92 lbs
5. DeWALT 4 1/2in. Compact Small Angle Grinder DWE402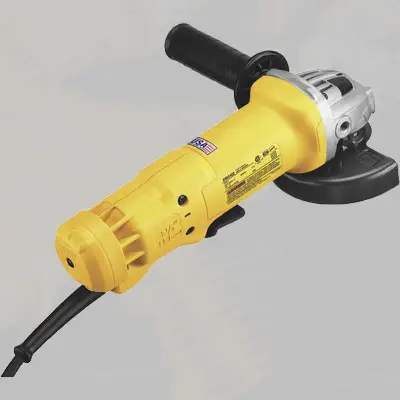 The DeWALT's small angle grinder is a medium between a professional angle grinder and a tool for hobby work. I guess it can work both ways. Some people really love DeWALT, so I included it in the review. But, my opinion still stands that Milwaukee's small angle grinder is a better choice. However, the DeWALT is a more compact angle grinder.
The DeWALT's small angle grinder is a medium between a professional angle grinder and a tool for hobby work. I guess it can work both ways.
Some people really love DeWALT, so I included it in the review. But, my opinion still stands that Milwaukee's small angle grinder is a better choice. However, the DeWALT is a more compact angle grinder.
This DeWALT angle grinder is more expensive than Milwaukee and has just a 1-year warranty. However, it uses oversized brushes for extended brush life and offers DeWALT's quick-change wheel release. This allows a tool-free wheel removal, which is definitely more convenient.
The paddle switch offers more safety, but it can tire your hand. Unless you work in a professional environment where such safety levels are necessary, it may not be what you really need.
Pros & Cons Summarized
Pros
Very good build quality
Tool free adjusting and wheel release
Small diameter barrel grip for good comfort
Oversized brushes for longer life
Dust ejection system
One-touch guard for simple adjustability
Auto brush shutoff when brushes need changing
Paddle switch with a safety lock
Cons
Expensive
1-year warranty
Brushed motor
No overload protection
No variable speed
Specifications
Size: 4 1/2 in. wheel
Input voltage: 120V AC
Power: 11A, 1400W
Speed: 11000 RPM
Variable speed: No
Switch type: Paddle switch
Country of origin: United States
Weight: 4.6 lbs
6. Makita 9564CV 4-1/2-Inch High-Power Angle Grinder
Just like Milwaukee, Boch, and DeWalt, Makita is an exceptional brand well-known for tool quality. The Makita 9564CV is a power tool designed for professional work.
It offers a variable speed between 2,800 and 10,500 RPM, allowing you to set the output according to the material needs.
It's an excellent choice for working on stone, wood, or metal, and thanks to the 5-speed settings, it works well for polishing and grinding.
The most significant advantage of this Makita angle grinder is its low weight. Weighing just 4 lbs makes it lighter than the Milwaukee 6117-31 and Bosch GWS13-50VSP we discussed earlier. So, if you grind a lot, it will be less cumbersome with Makita.
The "labyrinth" construction, as Makita calls it, keeps the motor sealed from contaminants like dust. This is especially important when grinding wood or stone because the tiny airborne particles can and will damage most angle grinders over time.
Pros & Cons Summarized
Pros
Excellent build quality
Tool free adjusting
Variable grinding speed
Labyrinth construction for maximum contamination prevention
SASS technology prevents motor and gear damage
Soft start
SJS – Super Joint System
Low weight
Cons
Expensive
1-year warranty
Brushed motor
Specifications
Size: 4 1/2 in. wheel
Input voltage: 120V AC
Power: 13A, 1380W
Speed: 10500 RPM
Variable speed: Yes
Switch type: Slide switch with lock on
Country of origin: Australia
Weight: 4 lbs
7. Metabo – 5in Variable Speed Angle Grinder
Metabo is a German brand, and its tools are actually made in Germany. Many angle grinders from DeWALT, Milwaukee, and others are made in China. They do offer exceptional performance, but if you value top-of-the-line production quality, the Metabo is your best bet.
However, keep in mind that this angle grinder costs like many Milwaukee or DeWALT's cordless angle grinders.
This is the best-corded angle grinder in our review, but it's also the most expensive. But be careful. There are Chinese versions of Metabo tools, and they are not as good. I am linking to the verified page where the angle grinder originates from Germany.
It has a variable grinding speed and a high torque 13.5A motor, providing sufficient power for almost any job. This is a powerful angle grinder. You could slice through a thick I-beam with little to no trouble. The Metabo uses a simple on/off slide switch, so it does lack some safety features.
Additionally, it's louder and produces slightly more vibrations than the Makita model above. However, unlike other angle grinders in our review, it has a unique airflow design. Instead of positioning the air exhaust on the sides, it keeps it at its back.
Welders, stone, and tile workers will benefit most from this design. If your gloves are constantly greasy, oily, or filled with dust, and you hold the angle grinder with the air vents on the sides, the dirt will eventually enter inside it no matter how good a protection system it has. But the Metabo solves this issue by keeping the air vents on the bottom of the grinder.
Another significant advantage of Metabo is that you can easily convert it to a 6-inch angle grinder. Remove the guard and attach the 6-inch one from Metabo (sold separately). This angle grinder has the same specs as their 6-inch model and costs less. Plus, the 6-inch model doesn't have a variable speed. So, by converting it, you get the best of both worlds.
Pros & Cons Summarized
Pros
Flawless build quality
Tool free adjusting
Variable grinding speed
Soft start
Restart protection prevents unintentional start in case of service interruption
VTC Technology keeps the motor running at the same speeds under load
Metabo-S Safety clutch
Double-sealed heavy duty bearings
Overload protection
Patented dust protection for long service life
Low weight
3-Year warranty
Cons
Specifications
Size: 5 in. wheel
Input voltage: 120V AC
Power: 13.5A, 1550W
Speed: 9600 RPM
Variable speed: Yes
Switch type: Slide switch with lock-on
Country of origin: Germany
Weight: 5.5 lbs
How to Choose an Angle Grinder – Buying Guide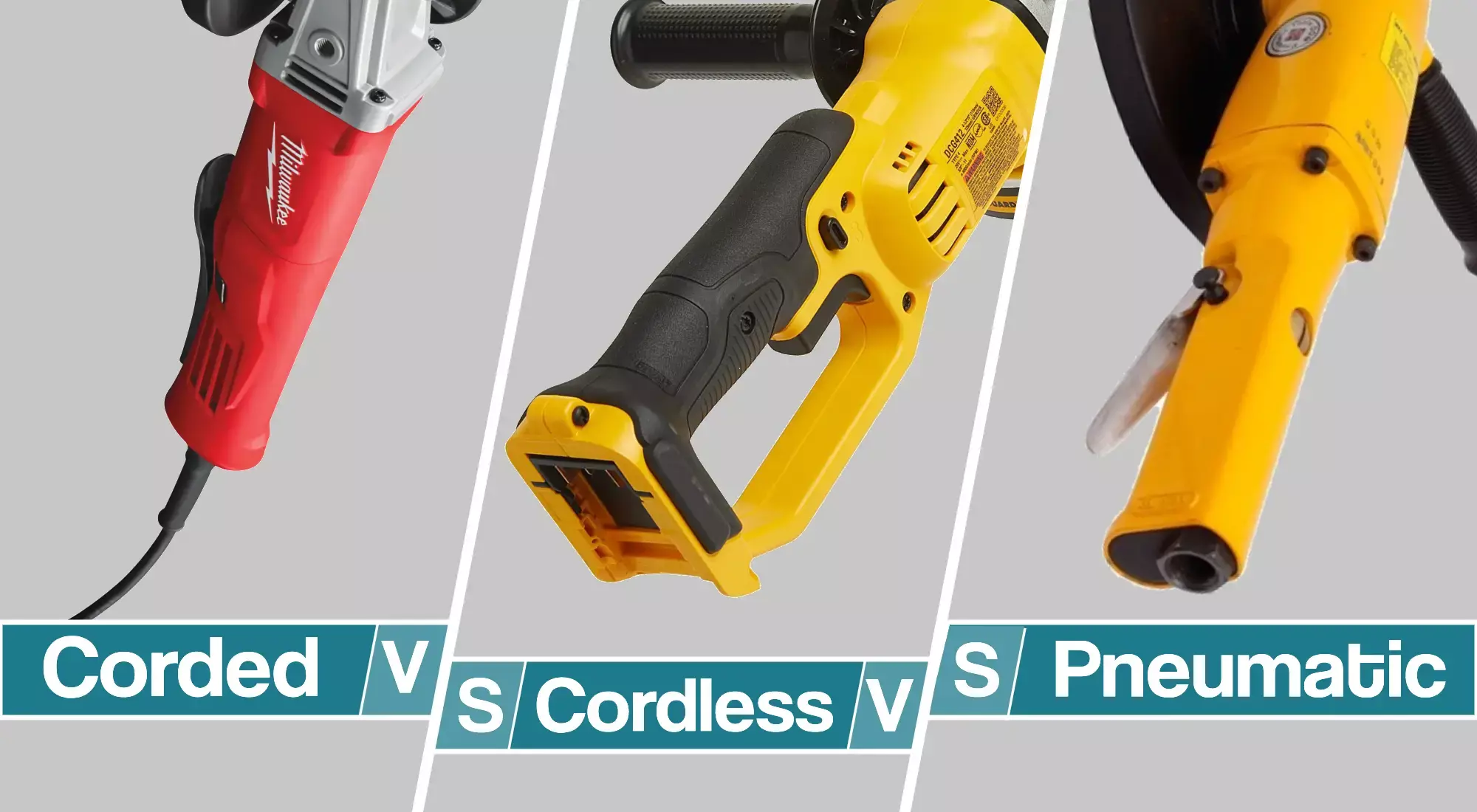 If you are a hobby weekend warrior, there may be a few things about these power tools you aren't aware of. So, we wrote a small buying guide to accompany our reviews. This will help you pick the best angle grinder for your needs because some of the terms we used in the reviews may be confusing. So, let's start with the types of angle grinders.
Corded Angle Grinders
The corded angle grinders require constantly available electrical power. This is a problem when working remotely or if you can't get the electricity to the work area.
However, for most jobs, the corded angle grinders are the advantage. They are significantly cheaper and do not experience the sag in power, and you can use these angle grinders indefinitely. Plus, a corded grinder is often lighter because it doesn't have the added weight of the battery pack.
Cordless Angle Grinders
A cordless angle grinder is battery-powered and does not need a power source. Additionally, you can maneuver around the work without the cables getting in the way.
However, these angle grinders are much more expensive, and the battery and charger are often not included, further increasing the costs.
The Li-ion batteries typically used in cordless tools have a life cycle of about 500 charges, giving you about a year and a half of maximum power output if you use them daily.
After these 500 cycles, the battery will still work, but it will have a lower capacity.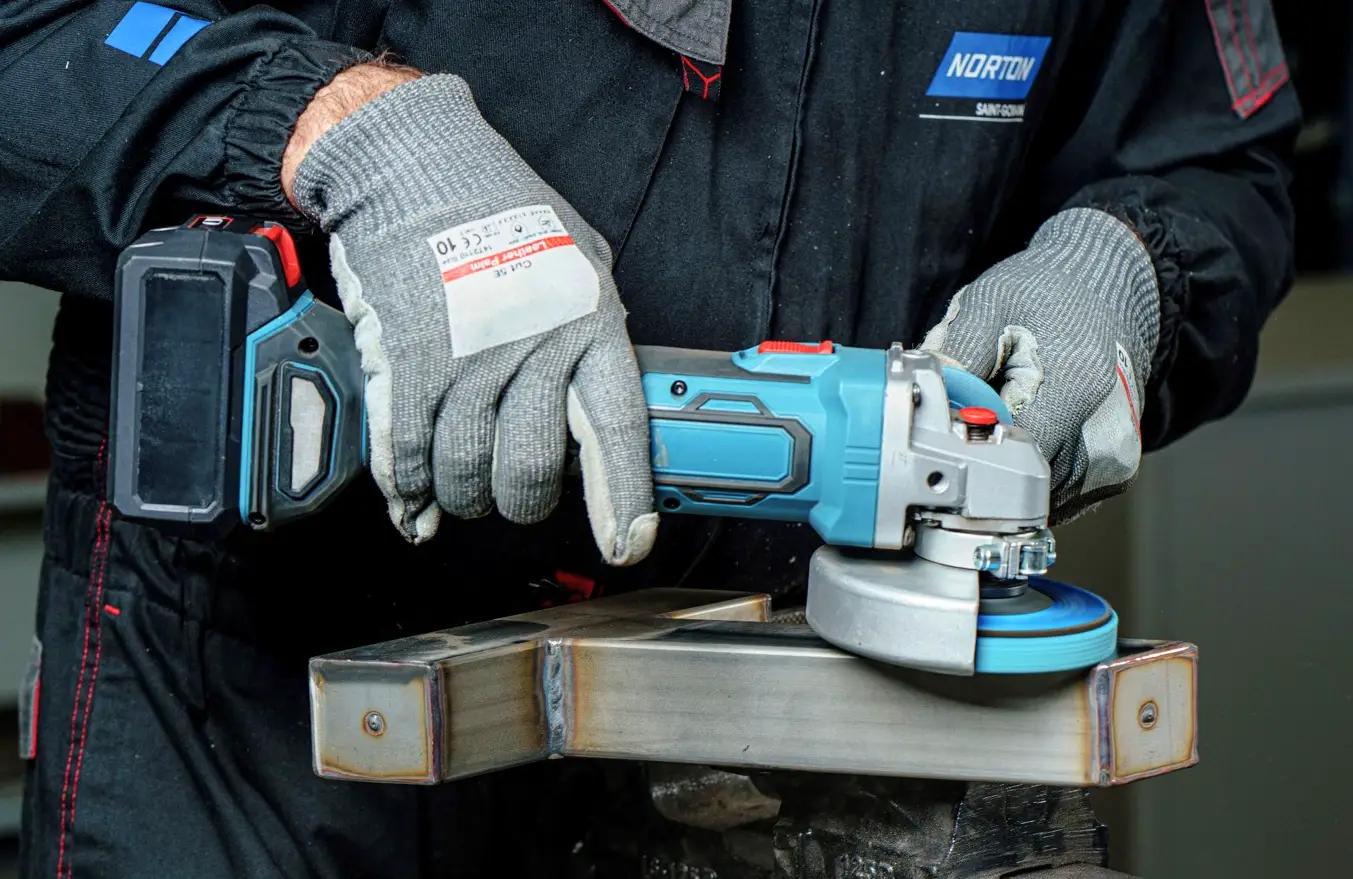 The precise number of cycles depends on the exact chemistry and work conditions. Another problem the cordless grinders have is the drop in voltage as the battery drains. For example, if the fully charged battery is 24V, as you grind and spend the battery's capacity, the voltage will drop as well.
This results in power sag and lower torque and RPM. Not all cordless models experience these issues because there are many electronics that can help, but it's something to keep in mind.
Additionally, if you push the battery and grind hard, it will overheat. This heat negatively impacts Li-ion cells and reduces their cycle life. So, if you do heavy-duty jobs, you can count that the battery will wear out faster. Plus, it's never a good idea to get to the job site with just one battery. Some guys and gals even carry the charger and the extra battery for their cordless tool to the worksite.
These batteries are not cheap. The DeWALT's Flex-Volt 20V battery costs $200, and Milwaukee batteries are $250. That's more expensive than the angle grinder. So, if it dies on you a year or so down the road, that's a considerable expense.
And lastly, the battery adds weight to the angle grinder, making it more challenging to hold all day. But even with multiple drawbacks, the cordless grinders have taken the market by the storm. Professionals love them because they are just so convenient to use on the go.
Pneumatic Angle Grinders
We haven't covered any pneumatics in our review, but it's worth pointing out that they do exist. Still, most people won't use such angle grinders because they require an air compressor. It's not as simple as plug and grind because the compressor must first reach the necessary pressure. But they are used in welding shops and other stationary work areas where air compressors are available.
Angle Grinder Disc Size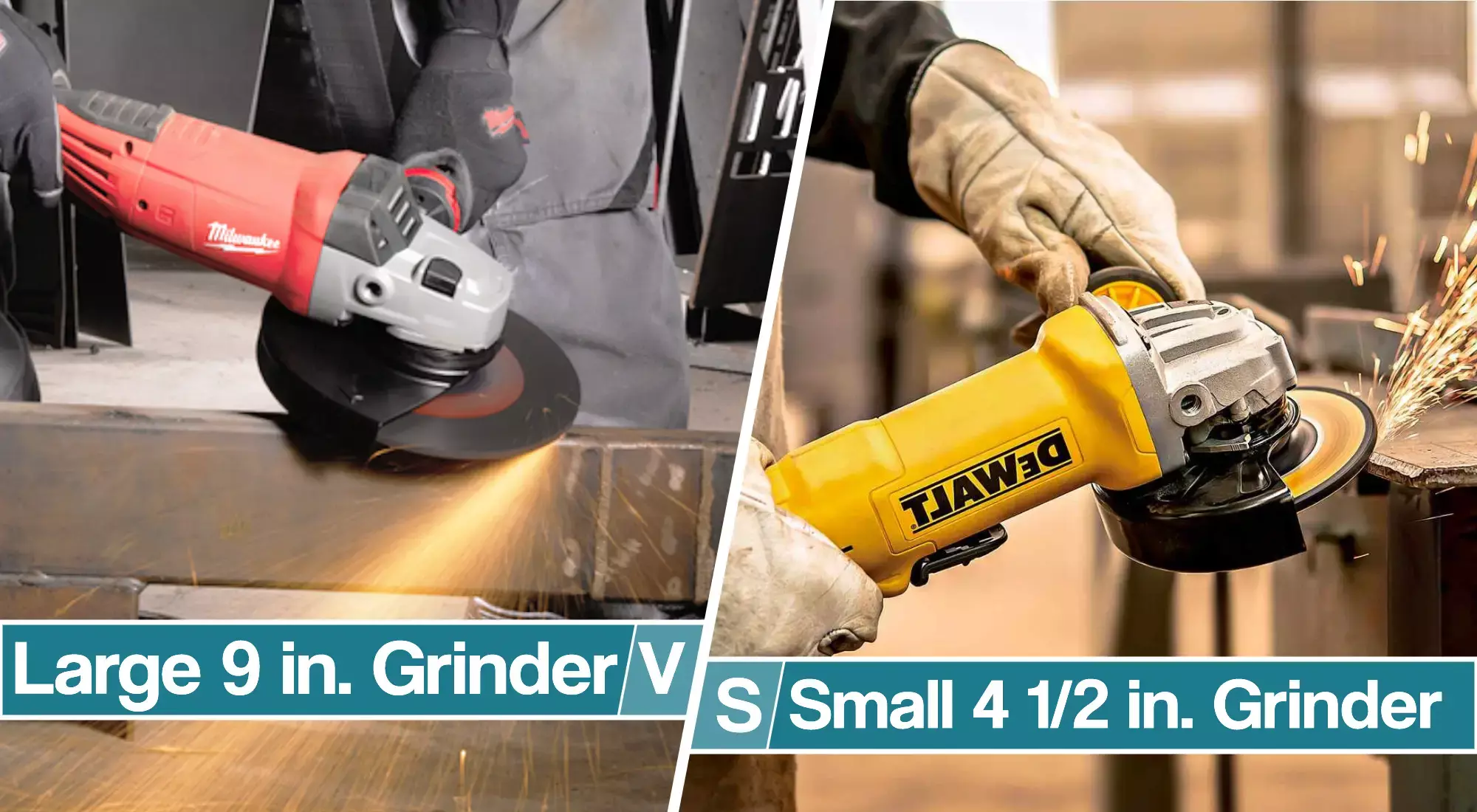 Every angle grinder is rated for the supported wheel size. Most people need a standard small angle grinder that supports 4 and a half-inch disc size.
The angle grinders are available in the following disc sizes:
4½ inch – 115mm
5 inch – 125mm
6 inch – 150mm
7 inch – 180mm
9 inch – 230mm
Some angle grinders like the Metabo angle grinder can handle larger discs than what they are designed for but double-check everything before using a larger disc on a smaller angle grinder.
Large angle grinders with larger discs operate at lower speeds, while small angle grinders allow higher RPM. The higher the RPM, the faster you'll cut, but the disc will also wear out more quickly. However, smaller discs are cheaper, so this offsets the difference.
On the other hand, larger discs are used for heavy-duty work like cutting concrete or very thick steel parts.
Speed (RPM)
RPM or Revolutions per minute is how we rate the speed of the angle grinder. But, keep in mind that the manufacturers provide the RPM rating for the angle grinder without a grinding wheel. So, the metric will drop as soon as you install the grinding wheel.
The higher the angle grinder size, the lower the RPM. This is not always the case, but it's a general rule. Also, keep in mind that the grinding wheels are rated for the maximum RPM they can be used with. So, don't load an 11,000 RPM disc to a 12,000 RPM grinder.
Additionally, random import brands are more likely to use obscure data or straight up lie about the provided RPM. So, don't be fooled by a brand claiming 13,000 RPM at 5 in. disc size.
Guard
Every angle grinder comes with an equipped guard. This is a safety feature that prevents serious injuries or death.
Keep the blade guard on at all times and constantly adjust it to protect you if the grinding wheel explodes and sends the shards flying.
So, keep the open end of the guard away from you and the closed guard pointed towards you.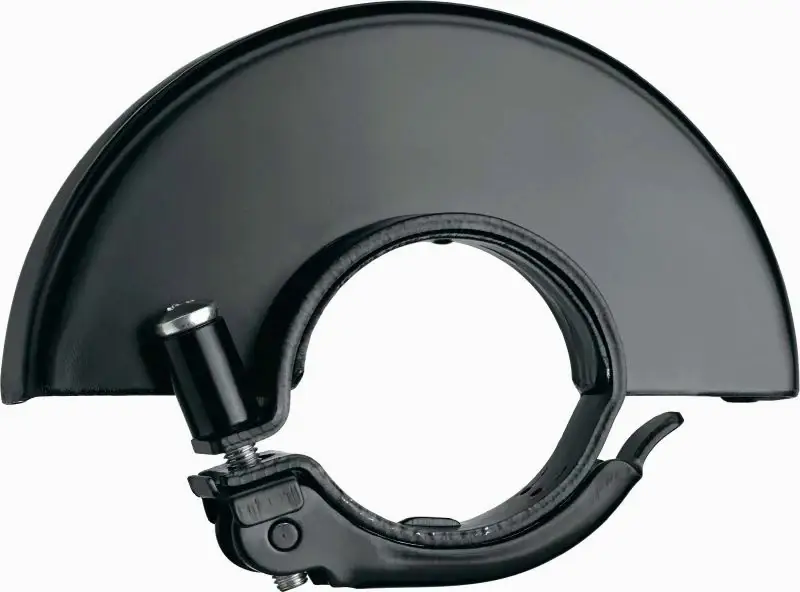 Angle grinders like the 4 1/2 and 5-inch angle grinder from Milwaukee allow simple guard adjusting without the tools. This is convenient and makes it more likely that the operator won't "wing it" and not adjusts the guard because it's just a "small cut."
Some people remove the guard altogether, but this is not advised and is against OSHA and every other angle grinder safety standard. So we can't in good conscience recommend doing something like that.
Handle
Just like the guard, the handle needs to be attached at all times unless it's absolutely necessary to remove it. By holding the grinder's handle, you achieve a powerful enough grip over the tool and significantly reduce the chances of the angle grinder kicking out of your hands.
All angle grinders we recommended in this review support handle switchover for right and left-handed people. Additionally, all reviewed grinders have ergonomic, non-slip handles for the safe handling of the tool.
Switch Type
There are three on/off switch types for angle grinders, and depending on the safety level, your work requires one is better than another.
Slide switch – The most common and simplest is the slide switch. It locks in place in the ON position keeping the angle grinder running without holding the trigger. Most grinders today require a very light touch in the OFF direction, and the switch will turn off the grinder. This switching method won't get your hand tired, but it's more dangerous because it will keep running if you drop the angle grinder. It can cause damage to your work area or even injure you.
Paddle switch – A paddle switch is usually a part of the angle grinder's body located at the bottom of the grinder. For both DeWALT angle grinders, we recommended using the paddle switch. To turn on the grinder, you must squeeze and hold this trigger, and if you release it, the power cuts off. This is a safer switch than the slide switch, but it will get your hand tired after some time. However, if you drop the angle grinder, it will have less chance of injuring someone.
Trigger grip – These are typically found on large size grinders like 7 and 9-inch sizes. They look similar to the drill with a handle located at the back of the grinder.
Dust Protection
Best angle grinders have some sort of a dust ejection system or a protection system to prevent dust from entering the motor and gears.
The Metabo has the best dust protection in our review, but Milwaukee and DeWALT are solid too.
Brush vs Brushless Angle Grinders
Electric motors use an electromagnetic field to generate rotational power. Without getting too technical, the older brush motor uses a pair of carbon brushes to transfer DC power and create the electromagnetic field that rotates the permanent magnet.
The brushless motor uses electronics in the engine to optimize the power into the stator and create the electromagnetic field without the use of carbon brushes.
The brushless motor is significantly more efficient, but it's typically available with cordless angle grinders. It generates less heat than the brush motor, which translates into a longer lifespan for the power tools. Additionally, it provides a high output power, and it's more difficult to stall out.
Conclusion
Hobbist or Professional and DYI or some serious welding projects, every weld needs a decent prep and finish and the angle grinder is the second most important tool for a welder to have in his shop. So, my advice is to get the small angle grinder from Milwaukee, and you won't be disappointed. Please ignore other reviews on the internet that are trying to sell you some cheap grinder that's not as safe, has questionable gear and motor quality, and has a poor warranty.
Professionals already know most of what I wrote here. But if you are unsure about which brand and make to get, consider the added features some of these brands provide. For example, DeWALT's cordless angle grinder provides significantly more safety features, while BOSCH offers variable speed, unlike the 5 in. Milwaukee.