Last Updated on

It is not easy to find a reliable MIG welder that is at the same time affordable. Most really good and powerful welding machines will cost you a hefty amount of dollar bills. But it doesn't always have to be that way.
There are a lot of MIG welders under 500 USD that can be a good choice for anyone.
What are some of the considerations that you have to take into account when choosing your MIG welding machine?
Just a quick shout out guys! Rest assured that I put these products on the list due to their quality and my personal opinion as, let's say, experienced welder (burn marks, ruined eyesight, and all).

I just want to be transparent with you and inform you that my site Weldingpros.net may obtain a share of sales or other monetary compensation from the links on this page.

So, buddy, I hope that using this article you pick a great welder and put some nice bits on that metal (and if not just grind it a little ;)).
Best MIG Welders Under 500$ Reviews
A good MIG welding machine does not have to cost a whole lot of money. If you play your cards right, you can end up with a really good machine that is both affordable and reliable. Most people think that these machines are underpowered and are made out of cheap stuff. While some part about this is true, there are a number of them that will cost you less than $500 but will give you everything that you need.
Here is our take on the best MIG welder under 500 dollar!
1. YesWelder MIG-205DS MIG Welder
What makes the YesWelder MIG-205DS one of the best welders under $500 and one of the top picks is the fact that it is both multifunctional and great for newbies. The machine is durable and compact, making it easy to use and carry and considering the price a great budget mig welder. It can be used for MIG welding, Stick-welding, and Gasless Flux Core welding. Also, with the additional TIG-torch, that you can attach optionally, you have the capacity of doing Lift Arc welding with it.
Probably the prime feature of the MIG-205DS MIG welder is its Synergy technology. With these settings you can just enter the thickness of the materials and both the welding voltage and the amperage will be automatically set. You don't have to input voltage as it does everything for you. This makes the machine perfect for beginners as you really don't need a high skill level to operate it.
A very affordable machine that is perfect for welding tasks like home use, DIY projects, hobbyists, small repairs and some lightweight work.
10% off Coupon Code: "July – 10% WeldP"
Specifications
Processes: MIG (GMAW), Flux Core(FC),  Stick (SMAW), (GTAW)

Weld Thickness Range: Welds 24 ga up to 3/4 in mild steel
Weldable Metals: Steel, Stainless Steel, Aluminum, Cast iron
Input Voltage: 110/220 V dual voltage, 60 Hz.
Input Phase: 1-Phase.
Current Type: DC
Rated Output: 60% Duty Cycle 160 A
Amperage Range: 200 Amp Gas/Gasless MIG welder with a 50 Amp plug(220V), 160 Amp Gas/Gasless MIG welder with a 35 Amp plug(110V)
Weight: 33 lbs
Pros & Cons
Pros
Easy to use setting options and Easy to set up

Lightweight, easy to carry with a compact design which saves storage space

Synergic Controlled on MIG function, very easy and simple operation.

4 Functions in 1 of Gas MIG /Gasless MIG (flux cored welding) / Lift-TIG / Stick

Can take up to .035″ MIG solid wire (Gas MIG) and .035″ MIG FLux wire (Gasless MIG)

Low Price

Dual voltage inputs

2t 4t switch

Detailed instruction manual

1-year warranty

Metal wire drive system (feed drive)

Wire feed speed control

Best MIG welder under 500
Cons
Not made in US

Not made by a famous manufacturer
2. Hobart 500572 Handler 100
The Hobart brand is known for making durable and practical equipment. The Hobart 500572 Handler 100 is not a fancy piece of equipment but is more than capable of getting the job done as perfectly as possible. Particularly if we consider the price to quality ratio, the Hobart Handler 100 is a really good machine for the price you are going to pay for it. It even comes with a cold contactor safety feature and overload protection.
This wire feeder machine is not really capable of doing any heavy-duty work but is still capable of welding 3/16 in. (4.8 mm) using flux core wire but its more powerful version Handler 140 is. It can run on 115v power output and also comes with four output voltage settings on a voltage control selector. This means that you can adjust the arc depending on the type of metals you work on. It comes with a spool hub and allows you to use both small or large spools in order to accommodate your welding needs for your home repairs welding project.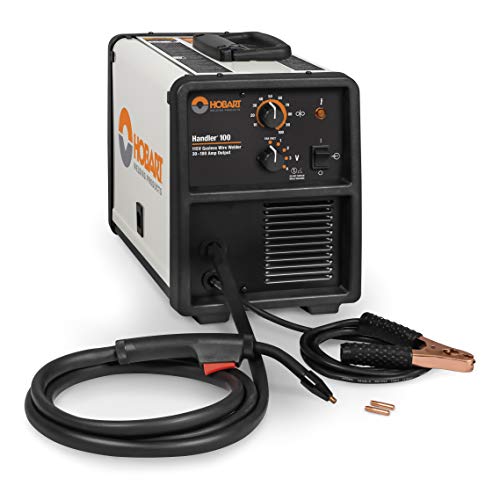 Hobart 500572 Handler 100
Allows you to weld up to 3/16 in. (4.8 mm) steel with flux-cored wire.
Provides a broad operating window for each wire, with quick and easy adjustment for different thicknesses and joints.
Offers you flexibility to use small or large spools of wire to better suit your welding needs.
Eases use and excellent safety feature which makes wire electrically "cold" until trigger is pulled.
Last update on 2021-07-24 / Affiliate links / Images from Amazon Product Advertising API
Specifications
Process: Flux Core Welder (FCAW)
Weld Thickness Range: Mild-Steel up to 3/16in.
Weldable Metals: Steel
Input Voltage: 115 V.  60 Hz
Input Phase: 1-Phase.
Current Type: DC.
Rated Output: 80A @ 20%.
Amperage Range: 30-100 A.
Wire Range: 030"-.035" Flux-Cored.
Weight: 44 lbs.
Pros & Cons
Pros
Quite a portable compact machine

Made by USA company

Great build quality

Has output voltage control

Self-resetting thermal overload

Beginner-friendly
Cons
Not a lot of power

Low duty cycle
3. YesWelder MIG Welder 250A MIG Pro Aluminum Welding Machine
The YesWelder 250A MIG Pro is a really powerful machine for a price under $500. Its greatest advantages are its maneuverability, weighs only 15.5 kg, and versatility. The MIG gun is the standard one, but it can also be used to weld Stick while the TIG-torch is sold separately. Nevertheless, it is one of our top pics to weld aluminum.
What makes this one unique is that it is much more powerful than other welders on the list. With 250 amps and a duty cycle of 60%, it is a machine that can weld stainless steel, mild, and various kinds of materials of different thicknesses for your welding jobs.
It also comes with both a manual setting and the Synergy system making it much more suitable for novice welders. This is particularly good when setting the wire feed-speed, the power source, and the spool gun.
10% off Coupon Code: "June – 10% WeldP"
Specifications
Processes: Flux Cored (FCAW), MIG (GMAW), (SMAW), (GTAW)
Weldable Metals: Steel, Aluminum, Stainless.
Input Voltage: 220/230/240 V.  60 Hz
Input Phase: 1-Phase.
Current Type: DC.
Rated Output: MIG 60% 250A , TIG 220A 60%, Stick 250A 60%.
Amperage Range: MIG 30-250A, TIG 10-250A, Stick 20-225A
Wire Range: 025"-.035" solid,  .030"-.035" Flux-Cored wire spools
Weight: 34 lbs.
Pros & Cons
Pros
Very light and portable

Makes smooth welds with great welding experience

Affordable

Well built

Immense power in this price range

Beginner friendly

LCD screen

Good user manual
Cons
TIG welding gun not included
Read more on this machine here
4. Lincoln Electric K2185-1 Handy MIG Welder
The Lincoln Electric K2185 is one of those welder machines that are both versatile and well-built. It can produce an easy weld on mild steel and is much more suitable for DIY projects around your garage. But it does come with a dual voltage input for both 120v and 230v.
This is one of the best MIG welders as it is also good for newbies that are starting with gas welding with metal inert gas. With its diamond core technology, it provides awesome arc control. The controls are really intuitive and quite easy to use.
What makes the K2185 Handy MIG welder a good machine is that it covers both MIG and Flux core welding process. It is affordable, of great quality and it is aimed at beginners, hobbyists and people interested in DIY work. This welder comes with welding tools for beginners like a hand held welding mask, wire brush, contact tips and other essential things like a MIG gun, gas hose and a work clamp (aka ground clamp or work lead).
Sale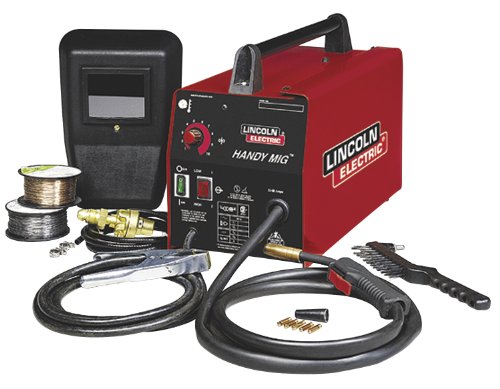 Lincoln Electric K2185-1 Handy MIG Welder
Enjoy of a compact, portable and lightweight wire feed welder that is user friendly | Shielding gas sold separately
Welder dimensions – 12.8" H x 8.8" W x 18" D | Welds up to – 1/8 in. mild steel | Power cord length – 6ft. | Cored Wire Size Range – .035 | Voltage – 115V, 20 Amp
Cold contactor safety feature keeps welding wire electrically "cold" until gun trigger is pressed
Great for home repair and hobby projects on light gauge mild steel found around most households
Last update on 2021-07-24 / Affiliate links / Images from Amazon Product Advertising API
Specifications
Processes: Flux Cored (FCAW)  MIG (GMAW).
Weld Range: Mild-Steel up to 1/8 in.
Weldable Metals: Steel, Aluminum with Spool-gun and aluminum wire, Stainless.
Input Voltage: 110/115/120 V (household current)
Input Phase: 1-Phase.
Current Type: DC.
Rated Output: 70A/17V/20%  duty cycle.
Amperage Range: 35A -88A.
Wire Feed Speed: 0-300 ipm.
Weight: 46lb.
Pros & Cons
Pros
Very simple to use and set up

Compact and portable machine

Makes quality welds

Low skill level needed to operate

Made by a reputable USA company
Cons
Not for heavy use

Welds only Low Carbon Steel up to 1/8".
Full article on this welding machine is here
5. Forney Easy Weld 140 MP
The Forney Easy Weld 140 MP is probably the best entry-level welder in the $500 suitable for multiple welding projects. It can be used for MIG (gas mig ability), TIG, Stick, and DC welding. It is on the smaller side, so it is both portable and suitable for work around the house.
The Forney Easy Weld has a sturdy build and an output power that can sustain 120v. The Forney easy weld can be used on 1/4 inch steel on a single pass, which is more than suitable for any home projects you happen to have to go on. What makes this welder suitable for beginners is the fact that it comes with a three-position switch allowing you to change process fast. Another good feature is the wire feed speed. You can control the wire speed feeding adjustment and has a rated output voltage range from 12v to 23v. The rated output current range is 43 to 110A.
The forney easy weld 140MP comes with electrode holder, welding torch, cable assembly (power cable) and work clamp.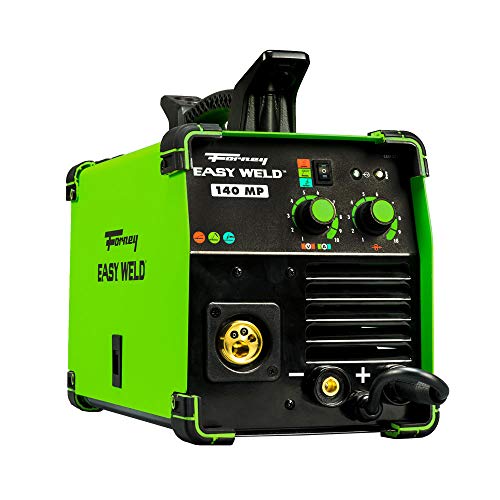 Forney Easy Weld 140 MP, Multi-Process Welder
MULTI-PROCESS WELDER- 3 in 1 Stick Welder, MIG Welder and DC TIG Welder (Accessories for TIG Welding not included) everything you need in one machine
EASY TO USE- Easy start makes every strike EASY! Three position switch allows you to change process quickly
CONTROL YOUR WELD- Infinite voltage and wire feed speed controls allows you to dial in the perfect weld. Rated output voltage range- 12 - 23V. Rated output current range- 43 - 110A. Full output curren...
RUGGED- All metal case, Built to take the day to day. Big enough to handle 2 and 10 pound rolls of wire. Full metal wire drive assembly
Last update on 2021-07-23 / Affiliate links / Images from Amazon Product Advertising API
Specifications
Processes: Flux Core (FCAW), MIG (gas shielded), STICK (arc welding), (GTAW).

Weld Thickness Range: Plate thickness, 24 gauge up to 1/4″.
Weldable Materials: Mild Steel.
Input Voltage: 120v (household power outlet)
Input Phase: 1-Phase.
Current Type: DC.
Rated Output: MIG 30% @ 90 Amps.
Amp Output Range: 10 – 140 Amps.
Wire Feed Speed: 79 – 197 ipm.
Weight: 24.8 lb.
Pros & Cons
Pros
Quick and easy wire load.

Adjustable feed speed

Compact design

Power efficient

Wire feeding settings

Low skill level needed – easy setting adjustments

Lightweight and portable
Cons short overview
TIG gear and gas regulator are not included in box
MIG Welder Buying Guide
Welder Power and Thickness of the Metal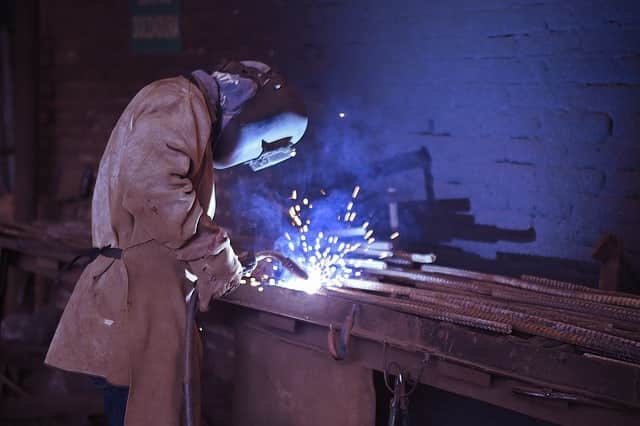 Bigger is always better and when it comes to welding more power is always valued more. So a machine with a higher amperage output can MIG weld thicker materials, it is simple as that. But in this case, you might not need the extra power. So a machine with a lower amperage range might do the trick.
The best piece of advice from this buyer's guide is to determine which machine to buy based on the thickness of the metals you are planning to weld for repair jobs. So always check the welding output of the machine you are planning on buying. Experienced welders can make do with lower amp power. Sometimes adjusting the settings can help or simply making extra passes when working.
But we still recommend that you buy a machine with the welding power high enough to weld the metal without added adjustments even if you are planning on doing only DIY tasks.
If you need to weld aluminum with MIG welder then you need spool guns.
Duty Cycle
Another important part to consider when buying a welder machine is its duty cycle. This actually determines how much time you are going to spend working and how much waiting for the machine to cool down. Some machines have a better duty cycle and some don't. So you have to consider this part carefully when buying a new one.
About duty cycle
You should know that the duty cycle of a machine is represented in percentages. It is actually the amount of time you are going to spend working on a certain welding process with the machine withing a ten-minute interval. The bottom line is that a machine with a 30 duty cycle will be good enough for 3 minutes of work and 7 minutes of rest.
Each machine is labeled based on amperage which shows the percentage of the duty cycle the machine is capable of.
Price, Quality and Warranty
What to buy
The best way to look at it is that you need to get a machine that is durable enough to last and also capable to get the job that you are planning to do done. Basically speaking, all the MIG welders mentioned above have a great price to quality ration.
Some mig welder brands may be more expensive, as the Hobart ones, but they do come with a longer warranty and usually include parts and labor. Perhaps the prime choice is the YesWelder as it checks out all the boxes of an affordable welder with high quality capable of doing the necessary job.
Weight and Portability
Weight and portability will become an issue if you move the welder a lot when working. It is also something to consider if you are doing work in the field and not from your garage. In this case, the weight of the machine becomes a factor and opting for a IGBT inverter machine (inverter technology) rather than a transformer technology is a good idea.
So depending on how you plan to weld and where you need to carry the machine, pros lightweight machine. The ones with straps are also easier to carry.
Frequently Asked Questions [F.A.Q]
What size of MIG welder do I need?
It actually depends on the type of work you are planning to do and the thickness of the material you are going to weld. Smaller units that use a household 115v outlet and produce 140 amp output, they can weld up to 1/4 inch thick steel. On the other hand, 220-volt welders have an amperage range of 200 and can weld up to 1/2 inches thick materials. It really depends if you are a DIY enthusiast or someone who plans to do a lot of heavy work.
Should I buy a MIG or TIG welder?
It also depends on what type of work you are planning to do. A quality MIG welder is superior as it is much more diverse. TIG welding can also be used on various types of materials, but its limitations come with thicker materials. Also, don't be mislead thinking that TIG means welding aluminum, yes it can but only AC. You can also do aluminum with MIG using a MIG spool gun but MIG does make more welding spatter.
Conclusion
So if you want one of the best MIG welder that is at the same time reasonably priced, you should consider one of the given ones here. Each welder on the list has been picked carefully and studied based on its quality and compared to the price. Some of them have a higher welding capacity while others come with added protection like thermal overload.
But either way, it will ultimately depend on your need. Whether you plan to weld mild steel, stainless steel, 8-inch thick steel, or 24 gauge materials you will pick the welder based on the given quality. But know that all of them are of high quality in terms of build based on its price.
Consider a welder from our list when thinking of expanding your arsenal.