Last Updated on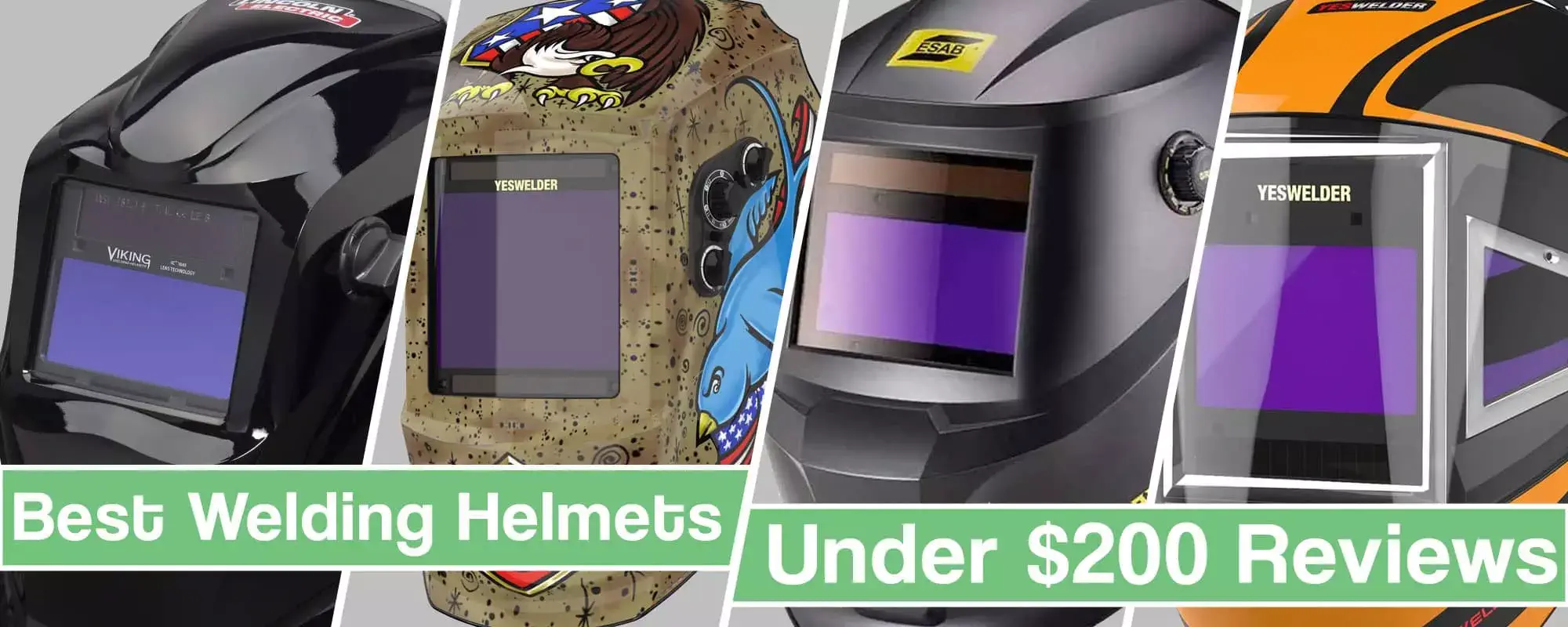 Two hundred dollars or less is the amount of money that most people are ready to spend on a welding hood. This is a circle of hell where old welding helmets from big brands share a room with new hoods from small sellers and manufacturers.
Place where you can probably make most for your buck.
So we have prepared extensive and personal reviews of the best welding helmets under 200. Helmets that we picked and think will give you the best value for the money spend.
Best auto darkening welding helmets under 200 – comparison table
Best Value
Editor's Choice
Best Cheap Welding Helmet
Cheapest Welding Helmet
Side Windows
Image
Brand Name
Jackson Safety 46101 welding helmet
Lincoln Electric Viking 1840 Black
ESAB Black Savage A40
YESWELDER With Large Viewing Screen
YESWELDER Panoramic 180 View Welding Helmet
Buyer Reviews
Specials
10% off Coupon Code:
"AUG 10% WELDPROS"
10% off Coupon Code:
"AUG 10% WELDPROS"
Number of Sensors
4-sensor array
2 Sensors
4 Sensors
4 Sensors
6 Sensors
External Grinding Button
Yes
Yes
Yes
Yes
No
Shade Range
4/9-13
3.5/9-13
4/9-13
4/5-9/9-13
4/5-9/9-13
Standard Cheater Lens
Yes
Yes
Yes
Yes
Yes
Where to buy it
Check Current Price
Check Current Price
Check Current Price
Check Current Price
Check Current Price
Best welding helmets under 200 – Reviews
5 YESWELDER Panoramic 180 View Welding Helmet – cheapest welding helmet with Side Windows
Welding helmet manufacturers have experimented with side windows and panoramic views for some time now. Usually, this novelty was reserved for flagship auto-darkening helmets from known brands and for cheap Chinese knock-offs.
Lately, this implementation can be found in good welding helmets of modest price. This another welding helmet from Yeswelder is such. This one features 1/1/1/1 optical clarity technology intro 3 LCD screens with ADF filters.
They all should work Synchronously because they are all connected to the same four arc sensors in the front and two sensors on the side windows, in a total of 6. Screens are as big as possible at 3.94×2.64″ for the front and 1.38/2.56×2.36″ on the sides. The helmet also features true color sight tech but it still has that green hue even do visibility and homogeneity is better than with 1/1/1/2 optical tech.
It also has 3 modes for plasma cutting, grinding, and welding with standard 4 shade in light mode, 5 – 9 in plasma cutting mode and classic 9 – 13 for welding.
Powered with lithium-ion batteries and one solar cell at the bottom. lithium batteries are coin-shaped standard and they might be a little week for 3 screens, they might last much less than with other helmets. This in theory should not be such a problem considering they are quite inexpensive.
Five-point headgear design is an improvement considering many people had problems with the headgear on the other Yeswelder welding helmets. They also implemented oversized sweatbands for extra comfort. Yet it still can't be compared with the headgear featured in new Jackson and Lincoln helmets.
If the headgear breaks, you can always pick up one of those, considering how cheap this helmet is, it's probably still within the budget.
Pros & Cons Summarized
Pros
Side windows with their own arc sensors
extremely cheap welding helmet
1/1/1/1 optical clarity with a true color filter
Plasma cutting mode
five-point headgear
Compatible with cheater lenses
Cons
Headgear is not made for professional extended use
Only one lithium battery
Specifications
Dark state: Shade level 5-9/9-13

Light state: DIN 4

Materials: Polyamides (nylon)

View Area: 3.94×2.64″ Side Windows 2pcs: 1.38/2.56×2.36″

Response time: 1/10 000 sec

Power supply: Solar cell and Lithium Ion Battery

Features: 3 screens and 6 sensors, true color filter, 1/1/1/1 OC
Buyer's Guide When Buying Cheap Welding Helmets
This is the most important thing to remember when you find affordable welding helmets and other cheap helmets from less-known brands. These hoods are a white label product and like many other, are made in China. That is not the problem, all welding helmets are probably made there. Problem is that the manufacturer does not test these products before shipping them to the trader and that many times defective helmets lend in the hand of buyers.
Big brands have time and money to put in testing their welding helmets before shipping but small companies don't. So even with all the fancy features, you can end up with a malfunctioning hood. What you should do in this case is to make sure that the seller has a return policy and you should send your welding helmet back right away and ask for a new one. They will have to honor their return policy and besides that hustle, you will get a working helmet.
Welding helmets from big brands have their patented technologies like Miller's clear light lens technology with blue tint instead of green and x mode.
They take pride in them and will always try to be in front of the competition and so are more reliable (in most cases) and durable than their budget alternatives.
They might have a smaller viewing window on their ADF filters or a lesser number of sensors but they follow the standards more and use better components in their hoods.
So depending on what are you; professional, student, or just a hobby welder you should consider hoods that will fit your work and the budget the best. For example, if you are a full-time welder, 8 hours a day 40 hours a week and you are doing overhead welding or you are in some other more complicated parts of the welding trade you should probably get yourself a Lincoln hood or something similar from a list of best welding helmets in general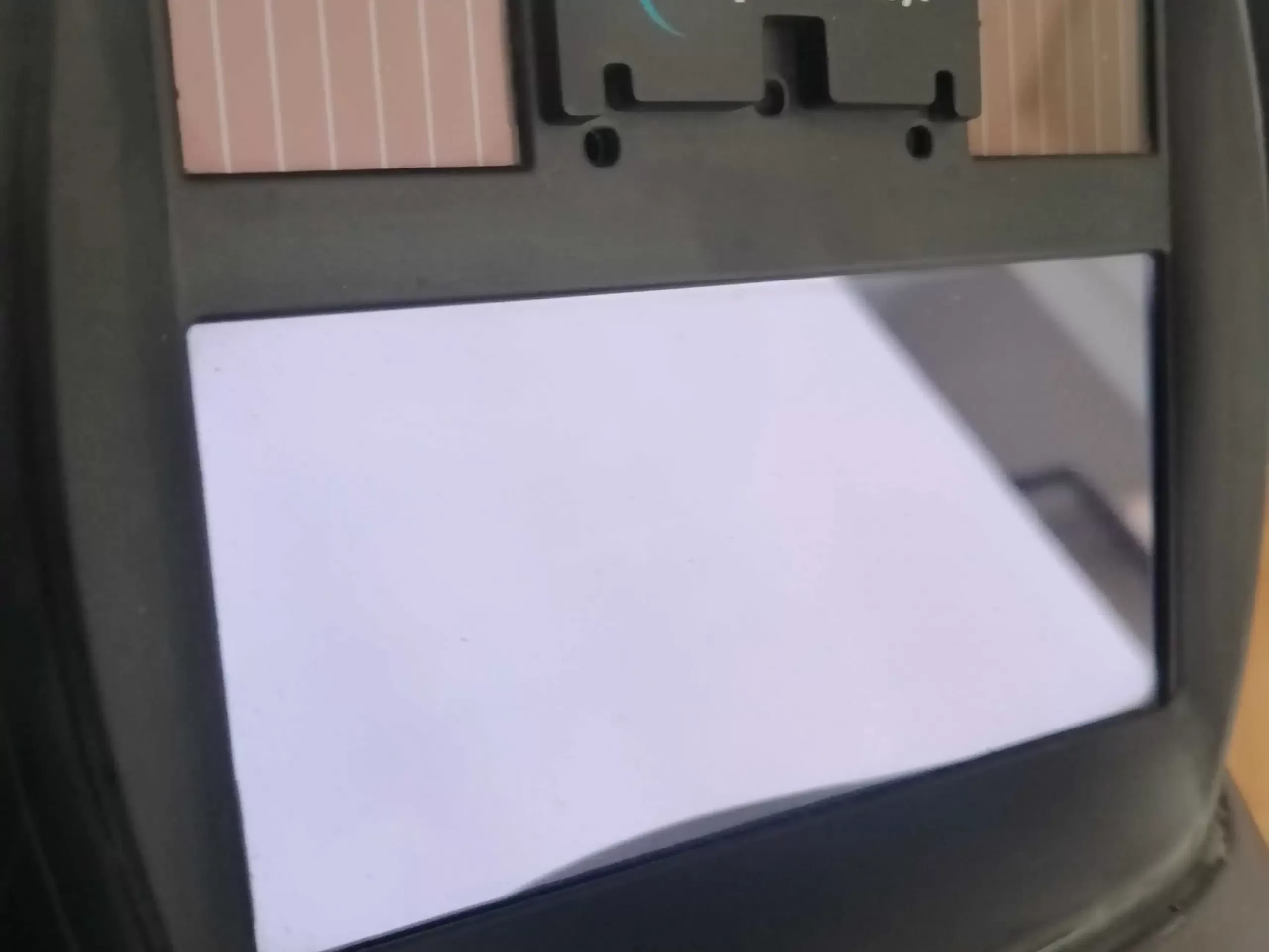 On the other side if you are a student or welding is not your primary way of money-making you can afford yourself some risk in buying welding helmets from less known brands.