Last Updated on
MIG welding is one of the most straightforward processes to master, as long as you have the right tools. It doesn't matter if you are a professional or an occasional welder that welds a couple of times a week in a garage or auto-body shop; you will need a powerful machine to do it.
Buying the right MIG welder can be tricky since there are way too many machines on the market. Luckily, Eastwood MIG 135 welder is one of the low-priced units for occasional use that provides enough features to fit your everyday needs.
Eastwood 135 MIG welder is a decent go-to budget unit, but is it a suitable machine for you? Keep reading to find out.
---
Eastwood MIG 135 Review – Package Content, Specifications, Pros & Cons
To make the right choice and choose a perfect welder, you must first define your needs. You should consider the power, utility, duty cycle, controls, and other essential factors. To help you choose, we will go through this affordable package content, specifications, pros, and cons. Later on, we will talk about features, good sides, and drawbacks.
Package Content
Extra 0.023 Contact Tip; Gas regulator with hose
Tweco-Style Gun and Consumables
8′ Ground Cable and Gun Cable
3-Year "No Hassle" Warranty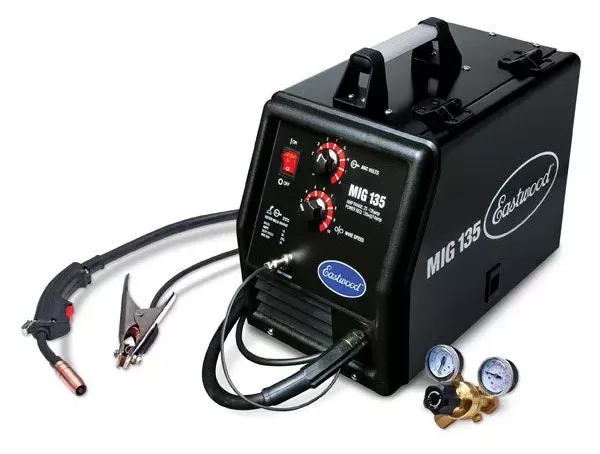 Specifications, Pros & Cons
| | |
| --- | --- |
| Welding Process: | MIG, Flux Core |
| Input Voltage: | 110/120 V |
| Maximum Output Voltage: | 28 V DC |
| Duty Cycle: | Rated 20% @ 90 amp |
| Amperage Range: | 25-135 Amp |
| Materials: | Mild, Stainless Steel, Aluminum |
| Voltage and Wire Feed Control: | Infinitely adjustable |
| Ground and Torch lead length: | 8 ft. |
| Input Power Cord Length: | 6 ft. |
| Mild/Stainless Steel Welding Range (MIG): | 24 gauge – 3/16 inch |
| Mild/Stainless Steel Welding Range (Flux Core): | 24 gauge – 1/4 inch |
| Aluminum Welding: | Metal Thickness Ranges from 14 ga. to 1/8 in. (w/ optional spool gun) |
| MIG Wire Thickness: | 0.023 – 0.035 in |
| WFS – Wire Feed Speed Range: | 40 – 450 IPM |
| Wire Spool Sizes: | 4-in., 8-in. |
| Dimensions: | 9.5 in. x 16.1 in. x 14.5 in. |
| Welder Weight: | 56 lbs. |
| Warranty Options: | Three-year warranty |
Pros
The great value of the money spent
IGBT inverter technology makes it lightweight and portable
Infinite voltage control provides efficient welding and a nice weld pool
Infinitely adjustable wire speed control, placed on a straightforward control panel
Can weld up to 3/16 in. mild steel, stainless steel metal thickness with solid core wire
Flux-core welding can weld up to 1/4 in. thick steel with
Spool gun ready, makes it fit for aluminum
Can weld aluminum up to 1/8″
MIG welding gun consumables are easy to find
Braided wire strap on the ground clamp
The gas regulator is included
Precise and well-written side door chart
3-year no-hassle warranty
Cons
Not an industrial MIG welder
You need to buy a flux wire
You are going to need knurled drive roll to run flux core wire smoothly
Gound and torch leads are slightly shorter compared to similar welders
You will need a spool gun to weld aluminum
Older models use transformer technology build, which means they can run on a generator slightly heavier.
Eastwood 135 Features – Is This the Right MIG Welder for You?
Curt Strohacker launched in the fall of 1978. a business to better serve the burgeoning market of auto restoration and customization hobbyists, which he named Eastwood.
Eastwood company recognizes the changes in the marketplace and strives to stay abreast of these developments by placing customers' wants and needs at the forefront.
In recent years, the market for automotive hobbyists has expanded beyond the "classics," and Eastwood has seen increased requests for products geared towards muscle cars, street rods, trucks, and motorcycles. In addition, the company makes excellent budget machines.
Let's go through essential features to find out if this is the right MIG welder for you.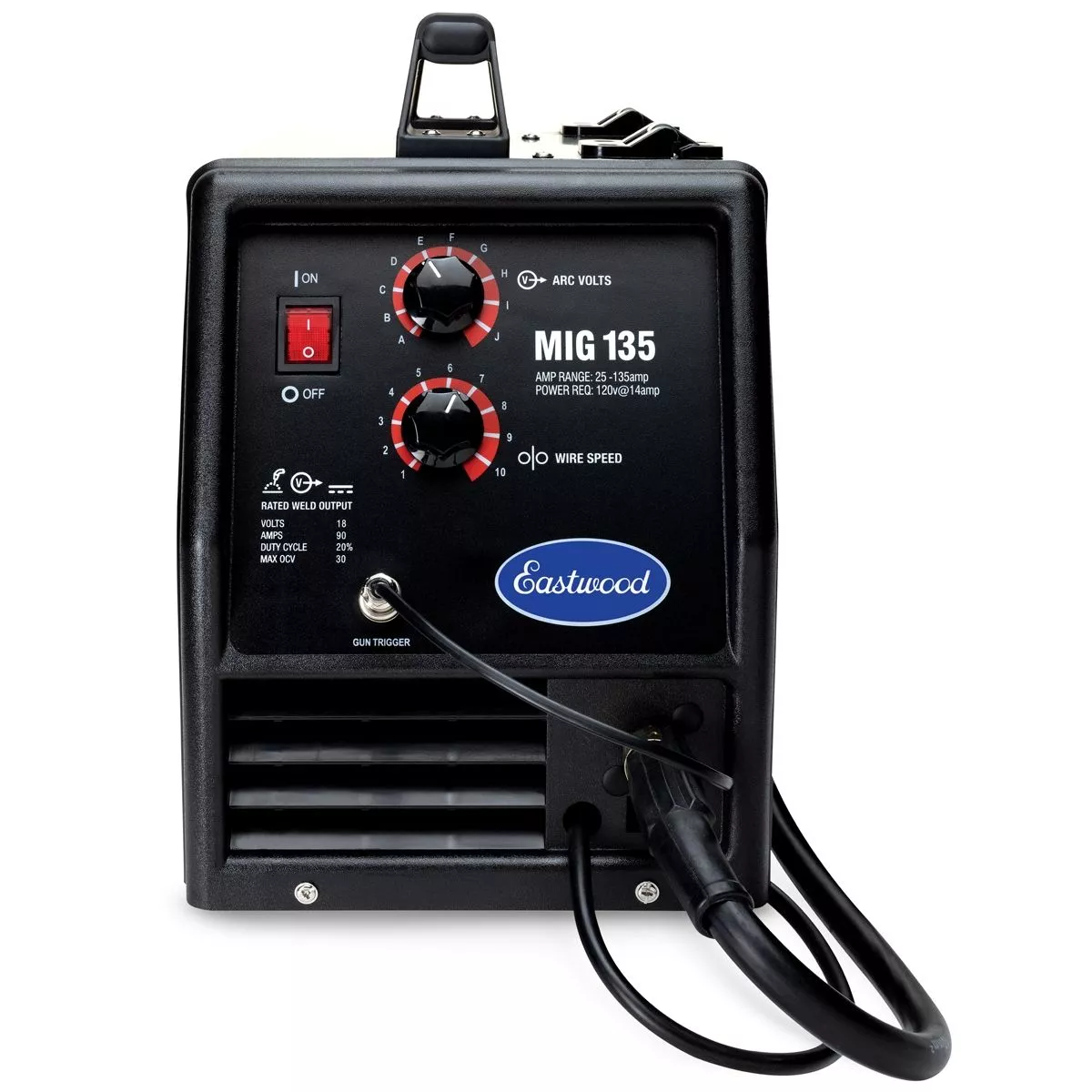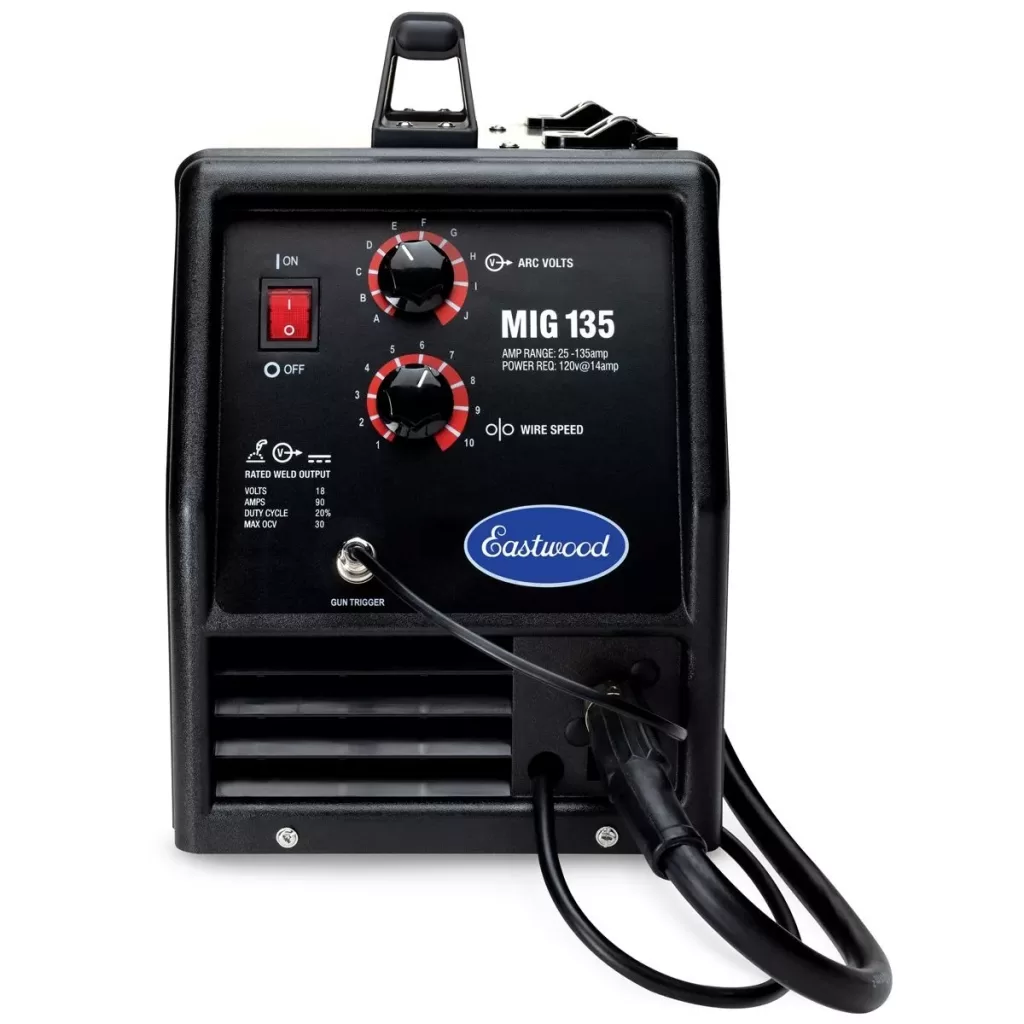 Power Source Options
Eastwood 135 is one of the MIG welders that can run on a regular household current outlet. That makes it perfect for the occasional welders and hobbyists.
This welder needs a 120V outlet, like other lower amperage welding machines, such as Hobart Handler 140 or Harbor Freight Titanium 140. Remember that you will need a 20 amp breaker to use virtually almost anywhere without any issues.
The latest models of Eastwood 135 MIG welder use an inverter-based technology design. That means you can use a generator to power it almost anywhere you want, as it increases flexibility a lot. In addition, IGBT technology makes this 135 amp welder lighter, ergo, more portable.
If you run into an older model that uses a transformer-based technology design, note that you can't use a generator to power it. That's why you should pay attention to the production date.
Duty Cycle
For those unfamiliar with what a duty cycle represents, the easiest way to explain it is the time you can weld with your machine during the 10 minute periods. For example, Eastwood 135 MIG welder has a 20% duty cycle rated at 90 amps.
That means you can weld 2 minutes at 90 A before you need to take a break; that will last 8 minutes. That's why we should mention that this is not an industrial unit, made for some heavy-duty and intensive work.
Nevertheless, the rated duty cycle @ 20% 90 amps is pretty much the same as all the 140 amps other MIG welders, such as Lincoln Easy MIG 140 and Miller Millermatic 140. Still, Forney Easy 140 provides a slightly higher duty cycle, rated at 30% percent.
So, if you plan to weld daily on a heavy basis, you should look for a high-quality portable welder. But, on the other hand, suppose you are an occasional DIY welder, handyman, mechanic, light fabricator, farmer/rancher, or plan to use it for welding bicycle frames or other simple welding tasks and thin steel. In that case, this duty cycle will fit your needs.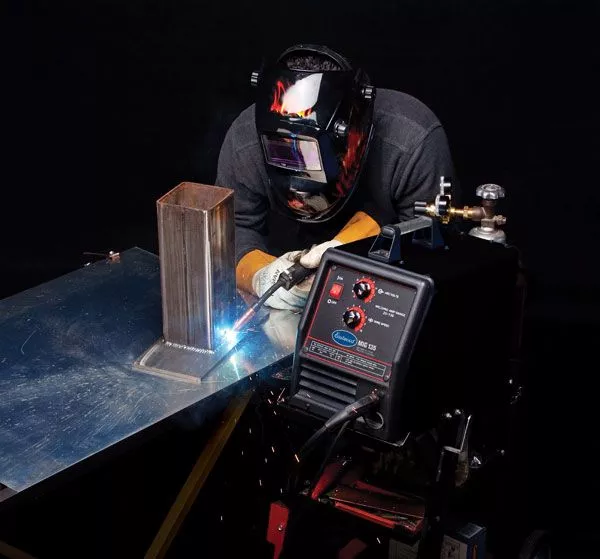 Amperage Output and Welding Power
Eastwood 135 MIG welder can output amperage between 25-135 amps. For you as a welder, that means you can weld 24 gauge sheet metal up to 3/16 of an inch thick mild and stainless steel with it.
Still, this is slightly less power than some welding machines, such as Hobart Handler 140, as it can weld up to 1/16 inch thicker steel. Nevertheless, you can achieve more by doing several passes or by using the flux-core welding process.
If you are a novice that doesn't tackle the more serious projects, this power is high enough to satisfy your needs. In addition, since it is an affordable MIG welder, you can use it until you master your welding skills, and once you get the hang of it, you can always opt for an advanced welder.
Keep in mind that Eastwood 135 has a slightly lower wire feed speed, which means you cannot weld aluminum straight out of the box. Nevertheless, this welder is spool gun-ready. With an additional 20172 spool gun, you can weld aluminum 14 gauge to 1/8 in. thick. In addition, the spool gun reduces birdnesting chances and increases aluminum welding capabilities significantly, but you will have to buy it separately.
Welder Design and Build
One of the first things you notice is that this welder is made in China, but the unit doesn't feel cheap when looking at it. Instead, the overall design looks like the one you should expect in brand-name US machines.
Nevertheless, one of the things that don't feel right is the drive roll system. You really shouldn't expect the cast aluminum drive roll system in this MIG welding price category, but the biggest drawback is that welder doesn't come with a knurled drive roll.
That means you cannot perform flux core welding tasks efficiently, as knurled roller provides smooth wire feed and increase flux core capabilities. In addition, if you decide to weld flux core, you should buy some flux-core wire while you are at the store since the package content is relatively limited.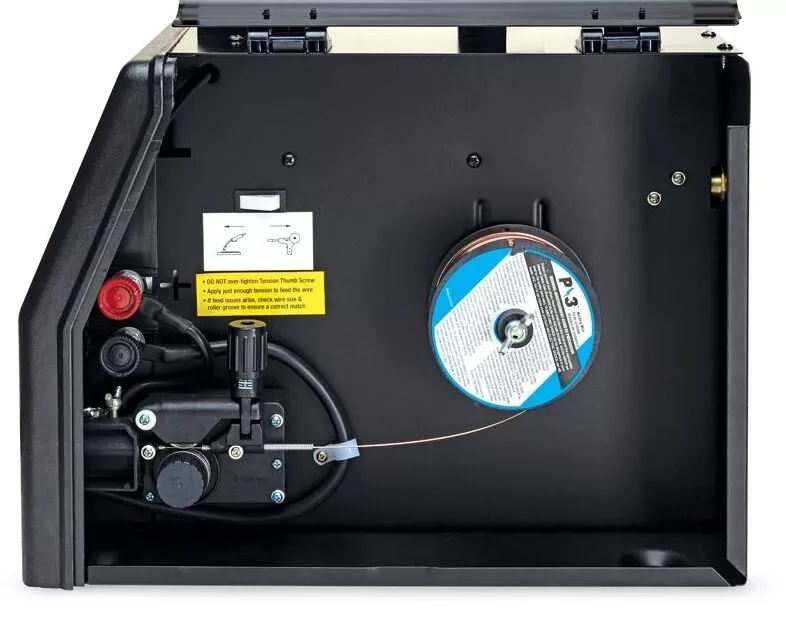 Side Panel Settings Chart
We can agree that all decent welders should have a side panel setting chart. That's especially important for beginners that are still learning and trying to produce excellent bead quality.
Luckily, Eastwood 135 is one of the MIG welders that comes with a well-written and detailed chart right on the unit's door that helps you choose the correct settings for the given material thickness. Keep in mind that you might want to tweak the settings later, but they are good to get you going.
Welder Controls and Settings
Eastwood MIG 135 welder comes with a straightforward but functional control panel. There are only an on/off switch, wire feed speed, voltage control knobs. That means setting your welder with all the buttons and screens won't feel like operating a plane.
Looking at the welder price range, you can usually find a four or five-stepped voltage knob. That's where Eastwood MIG 135 steps up, as you have an infinite control voltage knob, like the one you find at much more expensive units, such as Millermatic 140.
That means you can fine-tune your heat, as it is one of the great features you can have in a budget machine. In addition, there is an adjustable wire speed control, which makes it perfect for anyone that likes to set up their welder to perfection.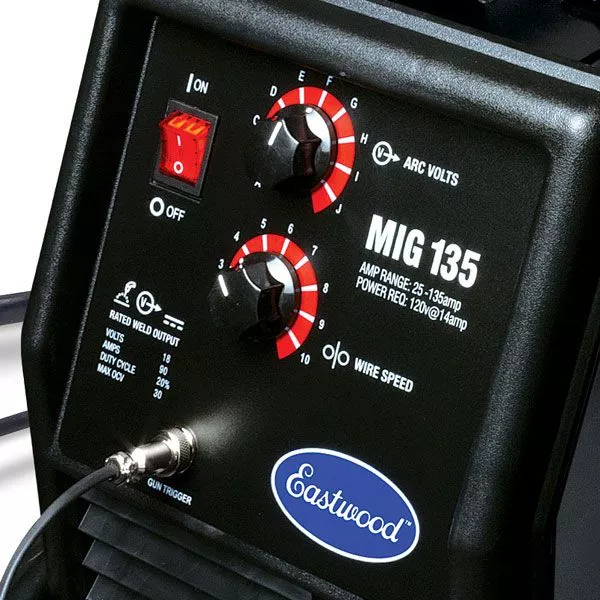 MIG Gun, Ground Clamp, and Leads
Eastwood 135 uses a Tweco style torch, which means you can find consumables and replacement parts almost anywhere. Also, you can find a replacement part on weekends, including big box stores.
We already mentioned that this welder doesn't come with a spool gun, but you still get a great value from the unit even with an additional cost.
One of the things some may dislike is the lead length. Eastwood 135 has 8 ft. leads, slightly lower than other models such as Hobart Handler 140 or Millermatic 140, with 10 ft. Nevertheless, leads are long enough to work in a small shop, but you might want to buy a more extended replacement if you plan on welding outside.
Price to Quality Ratio
One of the most significant advantages of an Eastwood 135 MIG welder is its price to quality ratio. This unit offers some of the excellent features and fine settings you find at more expensive, competing welders, such as Forney Easy 140 or Hobart 140. Still, it is noticeable cheaper than both mentioned welders.
Nevertheless, a lower price doesn't always mean a cheap unit. Eastwood made sure the build quality was suitable for the intended applications. That's why we can say Eastwood MIG 135 offers a favorable price to quality ratio.
Weight and Portability
The newest model of the Eastwood MIG 135 uses an inverter-based design, so it weighs about 56lbs., while the older model used a transformer technology, so it weighed 64lbs.
Even though slightly heavier, this is still a reasonably portable MIG welder. But, carrying a shielding gas cylinder with you might be pretty annoying, depending on the size of the bottle. So you might want to make a decent welding cart for it or even make it your first project with your new welder.
Compared to similar input amperage welders, Eastwood MIG 135 is significantly heavier than Forney Easy 140, which weighs 27 lbs, but slightly lighter than Millermatic 140, which weighs 60 lbs.
Satisfied Owner Experience
While browsing the forums where Eastwood MIG 135 appears to be a topic, you notice many threads where satisfied owners share their positive experiences. Most of the positive comments are related to build quality, bead smoothness, and favorable price.
In addition, beginners can't stop talking about how easy it is to use, which is essential. One of the things that stands out when reading reviews is free technical support.
Eastwood tries to answer all the customer questions, and usually, they want to know that manufacturer cares about them.
Overall, according to owners, Eastwood MIG 135 is a decent welder you will love and find easy to use.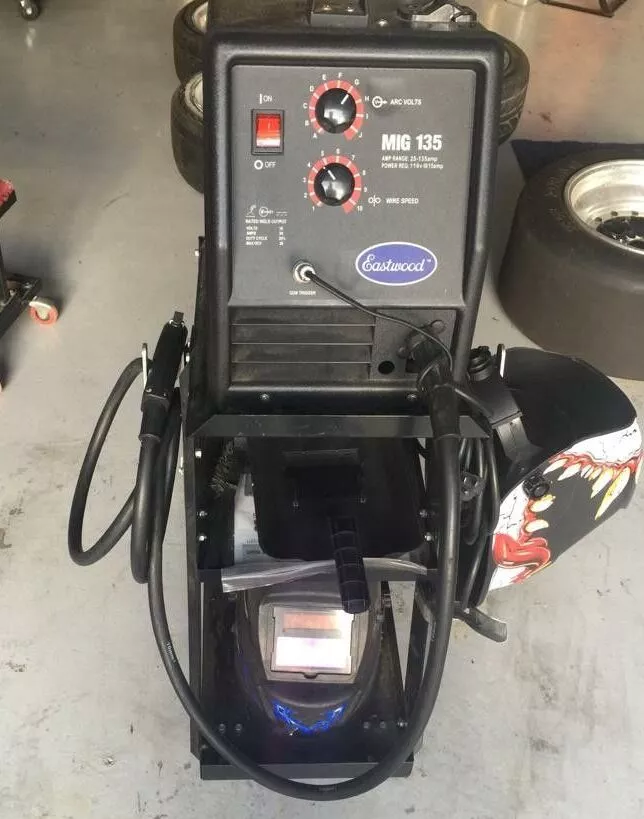 Summing Things Up
MIG welding, in general, is a beginner-friendly method to learn, and that is one of the reasons this versatile welder would suit novices perfectly. Besides the intuitive systems and perhaps the most crucial factor, it is also a relatively cheap welder to learn the craft.
Looking into this Eastwood MIG 135 review, we can say this is only a 135 Amp machine. That means it is perfect for working on thin weld materials, exhaust pipes, farm projects, or restoration projects since it does not burn as hot as heavy-duty welders. If you are a metal fabricator or home hobbyist by coincidence, it would be more than likely a suitable top-quality machine for you as well.
Eastwood MIG 135 is a perfect welder if you do not need to weld extremely thick metals for long periods. However, if that is the case, I recommend a more capable machine for a better welding experience.