If you are a hobbyist or an occasional welder, you can always settle with a 120V MIG welder, but if you decide to step up your game and open a small welding business, you need a more powerful tool.
First, of course, you will need a 220V unit for the more complex tasks but a welder that can still work with thinner materials.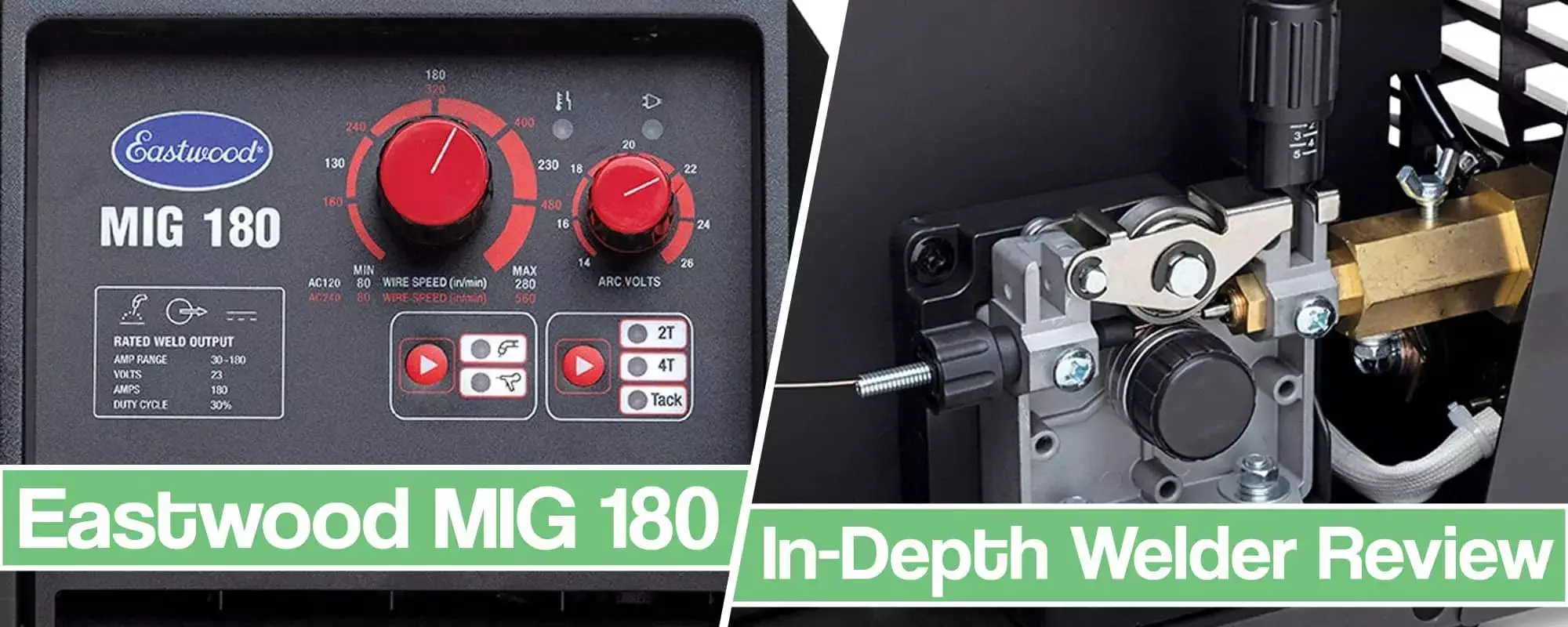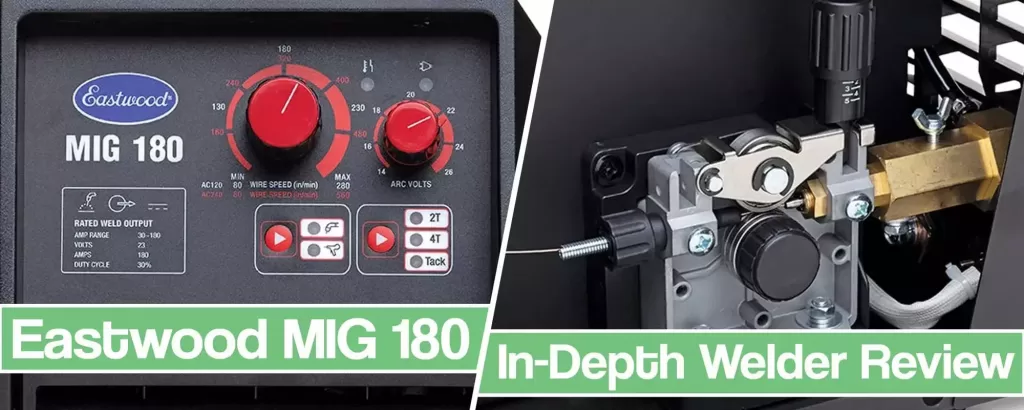 Luckily, Eastwood MIG 180 welder will fit your need nicely. This is a versatile but affordable MIG welder designed for beginner and intermediate welders that work with mild and stainless steel and aluminum.
This machine has some features you usually find in more expensive MIG welders, but is it a suitable unit for you?
Read this Eastwood 180 review to learn more about package content, specifications, good sides, and drawbacks.
Eastwood MIG 180 Review – Package Content, Specifications, Pros & Cons
Let's have a quick look at what does this newly designed Eastwood MIG welder offer. Here is a brief overview of this welding machine's package content, technical specifications, good sides, and drawbacks.
Package Content
Solid MIG Wire Spool 0.030, 4 inch
NEMA 5-15P to NEMA 6-50R Adapter Cord (240v to 120v), 2″ long
Tweco style torch with Nozzle and 8.5″ long lead
0.030″ Contact tip, Additional contact tips (0.030″ and 0.035″)
Face shield with lens and handle
3-year "No Hassle" Warranty
Specifications, Pros & Cons
Welding Process:
MIG, Flux Core
Input Voltage:
120V or 240V with 30A circuit breaker
Rated Duty Cycle at 120V:
30% at 90 Amps,
60% at 65 Amps,
100% at 50 Amps
Rated Duty Cycle at 220V:
30% at 180 Amps,
60% at 130 Amps,
100% at 100 Amps
Amperage Range:
120V: 30-120 Amps
220V: 30-180 Amp
Materials:
Mild, Stainless Steel, Aluminum
Voltage and Wire Feed Control:
Infinitely adjustable
Lead Length:
Torch 8.5 ft., Ground 9.5 ft
Flux Core Welding Capability
24 gauge – 1/4 in.
MIG Welding Capability
24 gauge – 5/16 inch
Aluminum Welding Capability
14 ga. – 1/4 in. (w/ optional spool gun
Aluminum Welding:
Metal Thickness Ranges from 14 ga. to 1/8 in. (w/ optional spool gun)
Wire sizes:
0.023"– 0.035" (Solid Wire) 0.030" – 0.035" (Flux core wire)
WFS – Wire Feed Speed Range:
120V: 80 – 280 IPM
240V: 80 – 551 IPM
Wire Spool Sizes:
4-in., 8-in., up to 11lbs.
Dimensions:
18" X 8.5″ X 13.25"
Welder Weight:
25.3 lbs
Warranty Options:
Three-year warranty
Pros
Offers great value for the money spent
2T/4T options and Tack weld mode you don't see at this price category welders
IGBT inverter tech makes it compact, a lightweight, portable MIG welder
Infinite control of the voltage and wire speed help you achieve excellent bead quality
Can weld up to 5/16″ thick steel
Can weld up to 1/8″ aluminum with optional spool gun
You don't need to open a wiring compartment to switch polarity
You can find replacement parts for a Tweco style torch easily
Several package bundles that include gas regulator with hose, spool gun, and more consumables
Braided wire strap on the ground clamp
A precise, quick set chart on the side doors makes this welder great for beginners.
Great for sheet metal projects; portability is increased
Cons
The on/off switch is located on the back of the welder.
You would need a knurled drive roll for the flux-cored wire smooth feed
Duty Cycle rated at 30% might be low for more complex tasks, meaning you cannot do long welds.
Ground and torch leads might be short if you have a more extensive shop
Wire feed speed is theoretically enough to MIG weld aluminum, but spool guns increase MIG welding aluminum capability greatly
Eastwood MIG 180 Vs. Eastwood MIG 175 – A Noticeable Improvement
Eastwood MIG 175 is a popular unit among light metal fabricators and auto restoration shop owners, but Eastwood company stepped up a game with Eastwood MIG 180.
The most significant improvement, in my opinion, is the latest IGBT inverter technology build, which replaced the old transformer-based technology.
In addition, the dual voltage feature makes MIG 180 a more versatile machine, with a slightly better duty cycle. One of the things I liked is the metal wire housing mechanism that improved durability significantly.
To better represent all the changes Eastwood made, we made this simple table.
| | | |
| --- | --- | --- |
| | MIG 180 | MIG 175 |
| Voltage | 110V/240V | 240V |
| Build Technology | IGBT Inverter | Transformer |
| Weight | 25.3 lbs. | 62 lbs. |
| Rated Duty Cycle | 30% @ 180A | 30% @ 130A |
| Amperage Range | 30 – 180A | 30 – 175A |
| Wire Feed System Material | Metal | Plastic |
| 2T/4T and Tack Feature | ✓ | ✗ |
| Overload Indicator | ✓ | ✗ |
| Polarity Switch | In front of the welder | Inside wire compartment |
Things You Should Consider for Optimum MIG Welding with Eastwood 180
The duty cycle represents the time you can weld during the 10 minutes without taking a break. For example, Eastwood 180 has a rated duty cycle of 30% at 180 amps.
That means you can weld 3 minutes at the maximum power of 180 amps before you need to make a 7-minute break. However, you can weld for more than minutes but with reduced power. But, keep in mind that intensive welding can lead to overheating and damage your machine permanently.
So, if you are looking to make longer welds and thicker materials, you might need to look for a more powerful welder. However, welders that run small auto restoration shops will be satisfied with the results.
Compared to other dual voltage welders rated at 180 amps, Eastwood is rated the same as Hobart Handler 180 or Miller Electric Millermatic 180.
Welding Power
Eastwood 180 can MIG weld mild steel metals in the range of 24 ga. – 5/16″ in a single pass.
If you are dealing with thicker stock, you can always switch to flux core welding, as it has a welding range of 20 ga. – 1/4 inch.
When compared to similar but more expensive welders, Eastwood 180 has the same rated welding power as Hobart Handler 180 or Millermatic 180. In addition, this welding machine can weld up to 3/16 thicker material than a Lincoln Electric PRO 180, but it has lower power than Forney Easy 180, which can MIG weld up to 1/2″ thick metals.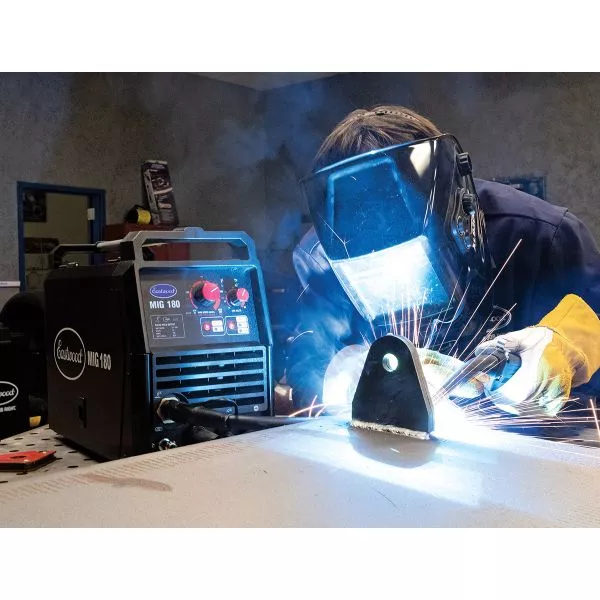 Consumables
Since this machine uses a Tweco style MIG torch, you can find common Tweco style consumables almost anywhere. In addition, the package includes a 2lb roll of wire, three contact tips, and one nozzle, which is enough to get you started.
Still, if you decide to tackle more serious welding projects, you should consider buying more consumables, and of course, a bottle of shielding gas. The great thing is you can buy them at big box stores, even at weekends.
MIG Welding Aluminum
Eastwood MIG 180 welds aluminum from 17 ga. to 1/8 inch, but there's a catch. Even though wire feed speed is enough to weld aluminum as it is, you should consider replacing your MIG torch with a spool gun if you plan to do it often.
A spool gun will increase your aluminum MIG welding capability and reduce the chance of birdnesting or tangled wire.
Eastwood MIG 180 Features I Liked
Here are some of the industrial quality features that we liked. You can find some of them in much more expensive units, which makes this welder stand out from the crowd.
IGBT Inverter Technology
Inverter technology is the standard part of the latest machines, and it makes Eastwood welders light and compact units. In addition, inverters produce a smooth, user-friendly arc.
One of the benefits of IGBT technology is that you can use a generator of a minimum of 10KW to power it.
This unit weighs just 25.3 lbs. That means it is significantly lighter than Millermatic 180 with 72 lbs. or Lincoln Electric PRO 180 with 56 lbs. Still, this welder is slightly heavier than Forney Easy 180 with only 14 lbs.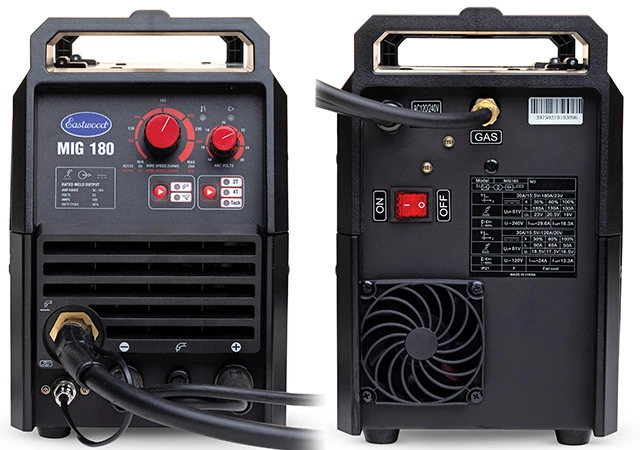 Dual Power Input
Eastwood MIG 175 was only powered by a 240V input power, and that's what the company improved when designing the new MIG 180 welder.
Dual power 120V or 240V input increases flexibility since you can plug it almost anywhere. In addition, you get the ability to work with thinner materials.
Control Panel
One of the things I like about Eastwood welders is how clean and straightforward the front panel is. Novice welders will especially love this since setting their welder won't feel like operating a plane.
Nevertheless, you should think simplicity means this is a beginner-friendly only machine.
Experienced welders that like to fine-tune their settings will love the infinitely adjustable voltage and wire feed settings.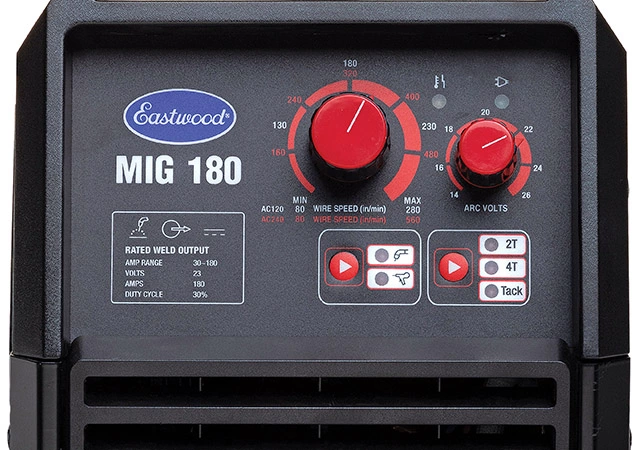 Besides two kobs, there are two additional buttons. You can use one of them offers an easy spool gun switch, and the other to switch between Tack or 2T, 4T modes.
Tack Mode Setting
If you like to tack your materials before producing your bead, you will love a tack mode. Besides being a great feature, a different tack mode option will ensure you don't damage the components.
In addition, if you are a beginner, you might need some practice to get the tack timing right. Poor timing may result in poor bead quality, so that's where the tack mode feature shines.
Eastwood 180 tack weld setting will help you make steady and consistent tacks without any additional effort.
2T/4T Welding Mode
If your projects require making longer welds often, your trigger finger can tire quickly using a standard 2T mode. In addition, your hand can get very hot.
Using the 4T mode, you need to pull the trigger to start it and then let it go. Once you decide to end your bead, use the trigger again, and the arc will slowly end.
2T/4T mode is perfect for anyone that does longer weld, either they are an experienced welder or a beginner. I was pleasantly surprised since you usually see this feature at much more expensive welders.
Indicator Lights
Besides knobs, there are a couple of indicator lights on the control panel. For example, there is the lighted power switch, green power-on light, high-temperature light. In addition, the indicator light will present your selection.
Keep in mind that the lighted power button is now located on the back of the welder. A green power-on light will indicate your welder is on, while a red overload light will appear once you exceed the limits of the welder.
Two different lights will show your mode selection, as well as given gun selection.
Easy Polarity Switch
You might opt for flux-cored welding if you don't own a gas bottle but want to handle thicker material. To switch the polarity, you don't need to open the wiring compartment.
With Eastwood 180, you need to simply unplug the gun cable and ground cable and insert them into proper positive and negative sockets.
You don't have to deal with difficult-to-reach bolts or complex tools. In addition, you can check the polarity by simply looking at cable positions.
Price
Besides awesome improvements, one of the best things about this great welder is the value you get for the money spent. In addition, some of the features I mentioned you find at similar welders, which cost way too much.
For example, Eastwood 180 is significantly cheaper than Lincoln Electric PRO 180, Millermatic 180, or Hobart Handler 180 while providing advanced features.
In addition, compared to MIG 175, if you don't want to weld aluminum, you can opt for a cheaper bundle that doesn't include a spool gun.
On the other hand, if you decided to upgrade your welder, you can still use your old Eastwood 175 spool gun.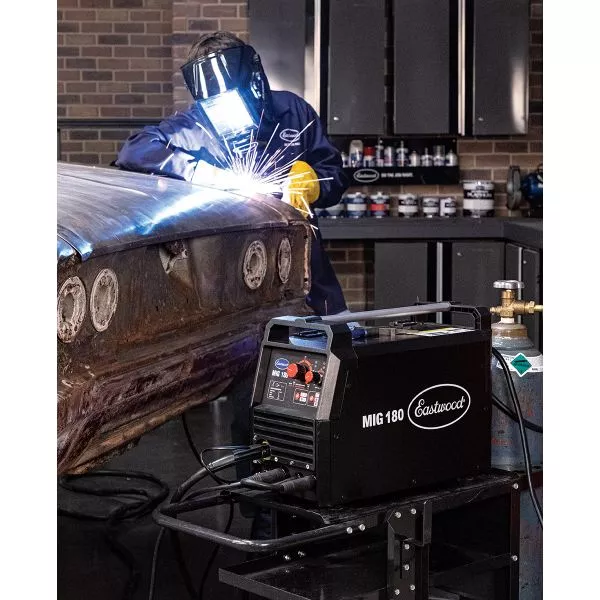 Eastwood MIG 180 Things I Disliked
When talking about this new welder, you've noticed a lot of great things and features. But, unfortunately, there are a couple of drawbacks I noticed while looking into this welder.
Nevertheless, Eastwood is looking into the customer needs and constantly improving, so I hope there will be more features in the future.
Short Leads
One of the things I noticed when looking into Eastwood 180 and other similar Eastwood welding machines, such as Eastwood 130 or Eastwood 175, is the short leads. If you own a small shop, you probably won't mind the lead length.
Still, if you plan on working an all-around metal fab shop, you might want to improve the leads or even buy new ones. In addition, working in cramped spaces can be a nightmare.
Wire Spools Limitations
With the Eastwood 180, you can only use 11-pound rolls of wire. However, some of the 8-inch rolls can weigh more. In addition, the spool should be beefy enough to accept the heavier rolls.
Knurled Drive Roll
Eastwood offers an improved metal drive roll mechanism, but the biggest drawback is noticeable when using a gasless wire.
The company suggests the smallest grove roller when working with flux-cored wire. However, remember that smooth groove rolls are made to fit solid wire, so they might not be suitable for providing smooth feed while working with gasless wire.
Eastwood confirmed there is still no knurled roller that is designed to deal with soft, flux-cored wire.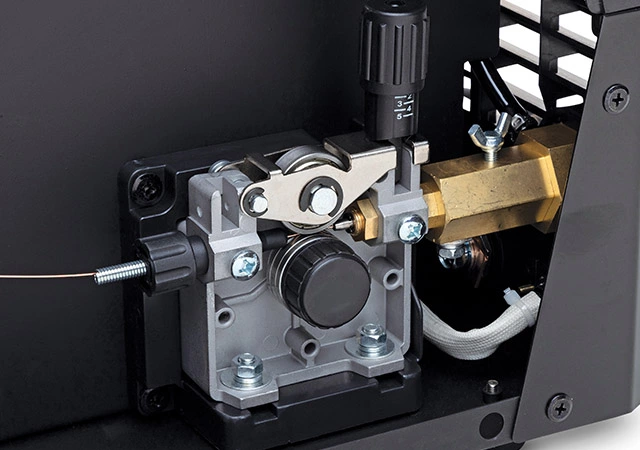 Conclusion
Eastwood MIG 180 is a well-built welder that will eventually replace an older version MIG 175. Eastwood company once again understood customer needs and made noticeable improvements tailored to fit various needs.
This is a perfect yet beginner-friendly welder designed for intermediate users. One of the greatest things is the value you get for the money spent. Eastwood 180 offers some great features you find at much more expensive units.
Still, there are a couple of drawbacks you can't ignore. Nevertheless, this is a decent unit for regular use. If you think you cant surpass the flaws, you can always look for some more capable machines.