If you need a small utility inverter the Everlast PowerArc 140ST is the best one for you.
Designed for maximum flexibility and performance, this Everlast welder could be a perfect choice for beginner welders or as a backup machine that you can easily put in the back of your van.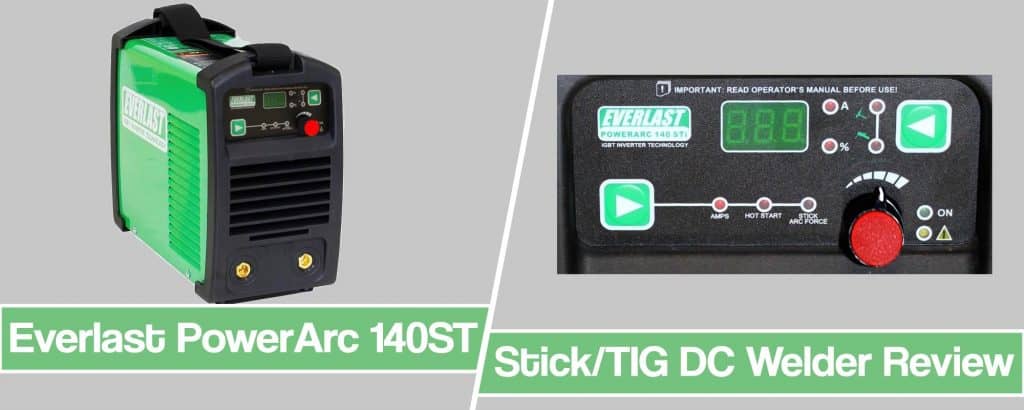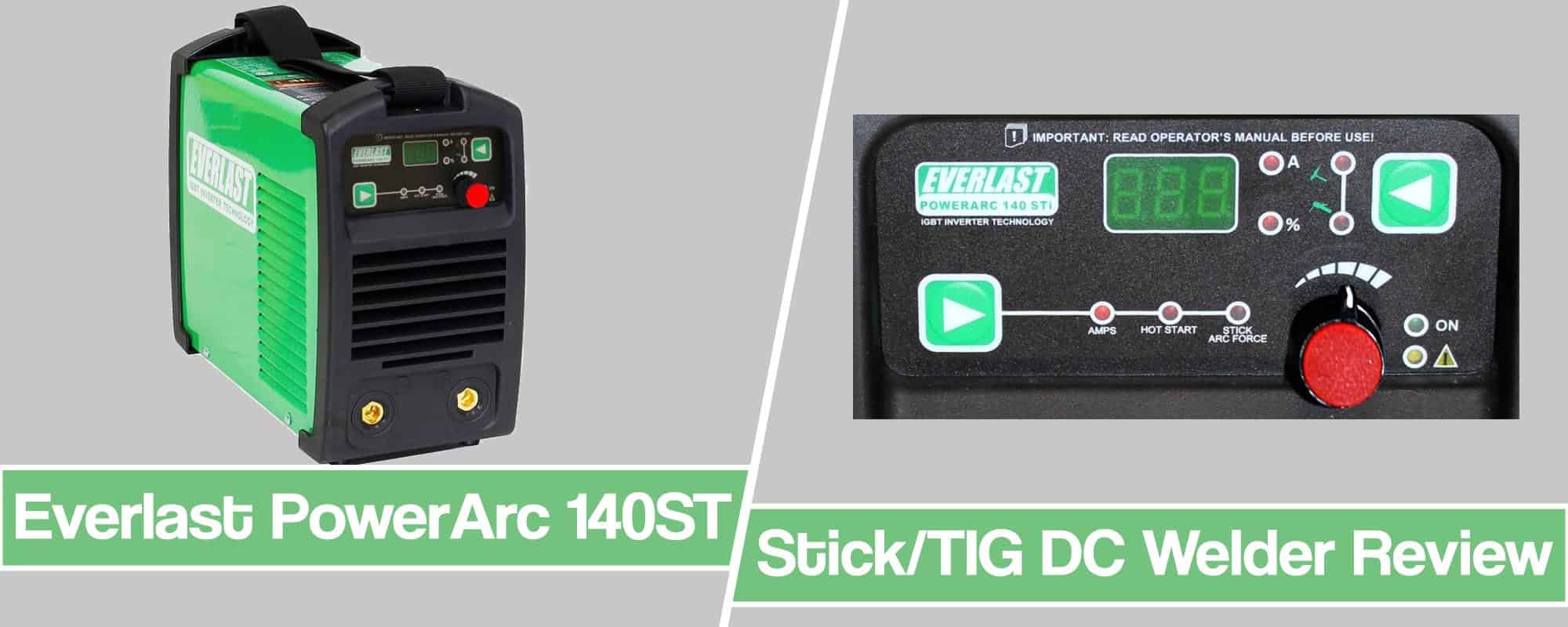 More so this utility class machine is also a TIG/Stick welder with dual voltage capabilities.
It is also not as expensive and is more than a reasonably priced welding machine with very good performance.
Our comprehensive review will tell you everything you need to know about this Everlast product.
PowerArc 140ST 40 Amp Arc Stick Lift Start TIG Welder, IGBT, Dual Voltage 110/220V
The Everlast PowerArc 140ST truly gives you a lot for your money's worth. These Everlast Stick Welders are small in size, weight only 10 lb. But don't let the size fool you, it performs exceptionally well when compared with larger machines in terms of arc stability. The arc quality can be compared with other commercial types of welding machines.
The Everlast 140ST is very energy efficient, so you won't be running your energy bill too much. It is very simple to use and easy to set so beginners will have no problems setting it up and start welding with it. Professionals can also make use of it as an inexpensive backup machine as you can also run it off a generator.
The video below from Kevin Caron demonstrates nicely the stick function.
The Everlast Stick welder has an adaptive hot start and an auto-adaptive arc force control. This feature is more than helpful when one has trouble with a hard-to-start electrode or with rod sticking. Besides welding Stick, this machine is also capable of TIG welding, making it that much more versatile.
Also, what makes the Everlast PowerArc 140ST an adaptive welding option is that it comes with a dual voltage capability of 120v and 240v power. Meaning that everything you need is a power outlet where to plug it in.
Finally, the Everlast 140 comes equipped with all sorts of accessories. Besides its own carry case, a Stick torch with a cable and DINSE style connector is also added. More so, you will also get a gas valve TIG torch with cable and DINSE connector and a work clamp.
No products found.
Pros & Cons Summarized
Pros
Dual voltage input
Stick and TIG support
TIG lead also included
Very nice quality machine
5 Year warranty
Lift Start TIG
Ability to make low 5 amp DC TIG start
Lightweight and portable
Affordable
Cons
There is no regulator for TIG included
Specifications
Processes: Stick (SMAW) and TIG (GTAW) methods.
Weldable Materials: Steel, Stainless Steel, Aluminum (stick-only).
Input Power: 120/240 V, 60 Hz.
Input Phase: 1-Phase.
Current Type: Direct current.
Rated Output: 140 A @ duty cycle 35%
Amp Range: 10 A – 140 A.
Minimum Amp DC TIG Start: 5A
Weight: 20 lbs.
Energy Efficiency of Everlast PowerArc 140ST
One of the most impressive features and certainly the biggest advantage of the Everlast PowerArc 140 is its energy-saving capability.
The Everlast PowerArc machine is perfect for green-minded people who want to preserve the environment and not consume too much energy. Or simply for those who want to lower their electricity bill.
Lift Arc TIG and Small Everlast Utility Welder
The PowerArc 140 comes with a lot of features. One such is the auto-adaptive arc force control. It makes things a lot easier on the user by adjusting the arc length as you work. But with the added auto-adaptive hot start you are also less likely to have problems with rod sticking.
The Everlast PowerArc also provides more procession with the Lift-Start features, which secures a quick start each time you use it.
The video below from Kevin Caron shows how the TIG function works.
The welding machine also offers a 35% duty cycle at 140A, which is more than impressive for a machine of this size.
As far as TIG welding goes, the gas regulator is optional so you will have to buy it separately. The machine only has a DC TIG output which also means that you cannot weld magnum nor aluminum with it.
However, if you really need to weld aluminum you can stick weld it by using the added specialized rods. However, they can be a little bit expensive.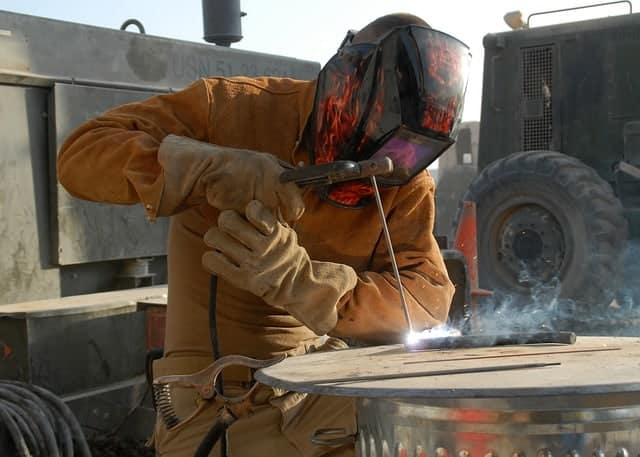 What is necessary to note about this Tig Stick welder is its size. You don't need to put a lot of effort to carry it around. Its dimensions are 12 in × 5 in × 9 in, making the PowerArc 140 a portable machine that you can easily move about for doing work around your home.
Dual Voltage and Arc Quality
The Everlast PowerArc 140 can run on both 120v and 240v, meaning that you can use it almost everywhere as long as you have a nearby power input. It is important to understand that combining these features with lightweight design makes this machine not only portable but highly usable. You can carry it with you wherever you go with ease or move it about your home for repairs.
You will get the greatest degree of efficiency when you run the machine at 240V.
Welders will also appreciate the exquisite welds that the Power Arc 140ST is capable of producing. This is accounted for by the arc quality of the machine. As you weld, the arc force control will adjust the arc length. As the length falls, the voltage will be reduced and the current boosted. You will have no problems with the arc dropping and will achieve greater performance when making welds out of position.
[F.A.Q] – Frequently Asked Questions
Is there any gas regulator included?
No, unfortunately not. The gas regulator for TIG welding is an optional item and is sold separately.
What is the maximum output of the Everlast PowerArc 140ST welder?
The maximum amp output of the Everest PowerArc 140 is 140 amps when operating on 240v power for TIG and Stick welding.
Should You Buy This Welder or Some Other Stick Welder?
If you are looking for a small utility-grade welder, then the Everlast PoweArc 140 is the one to get. It has everything you need for a beginner and comes at more than an affordable price. The IGBT inverter welding unit is also more than easy to use and novice welders can pick it up in no time. The settings feature found on it don't only look pretty, but require little effort to master.
Most reviews about the Everlast PowerArc 140 also state versatility. The Machine is a very solid TIG welder with a duty cycle that will meet your welding needs. It is more than useful for any type of work around the house or can be used as a backup machine as well. It is compact and can be carried without a problem.
If you liked this review about the Everlast PowerArc 140 and would like to see more similar or better Stick welding machines, you can check out our Best Stick Welder article and see how we comment on them.