If you are tired of having to pay for backyard repairs or looking forward to getting into a welding trade, you will need a good piece of welding equipment to do it.
Everlast Power i-MIG 140e is a 110V, budget-friendly MIG and Flux core IGBT inverter welder that provides excellent value for the money spent.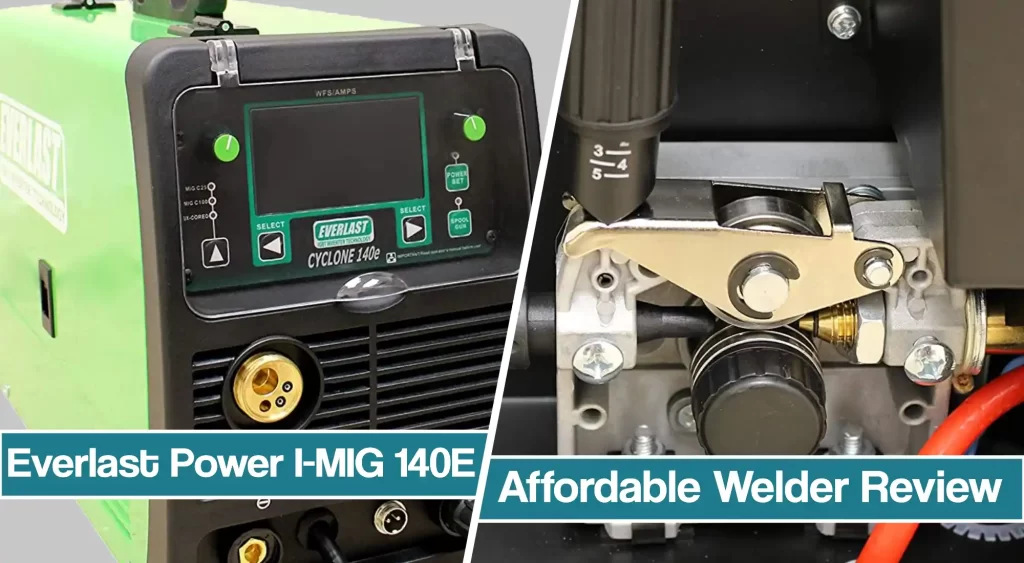 This MIG welder is easy to use and set up, and the capability will be more than enough for your hobby or occasional light-duty projects and needs.
In 2021, Everlast launched an improved model Cyclone 140E, where they decided to answer customer complaints. Still, a few flaws were unattended, so read this Everlast Poweri-MIG 140E MIG welder review to learn more about the good and bad sides.
Everlast Power i-MIG 140E MIG Welder Review – Package Content and Technical Specifications
With the 2021 improvements, Everlast decided to drop out cheap accessories they used to provide, such as plastic welding mask or useless chipping hammer and brush. After numerous complaints, the company decided to invest more into a build rather than accessories.
So now, for the money spent, you get:
15 Series MIG Gun with 10 ft. cable
Work clamp with cable
Ar/CO2 Regulator
Spare contact tips
Drive Roll V Groove .023 "-.030" (Single)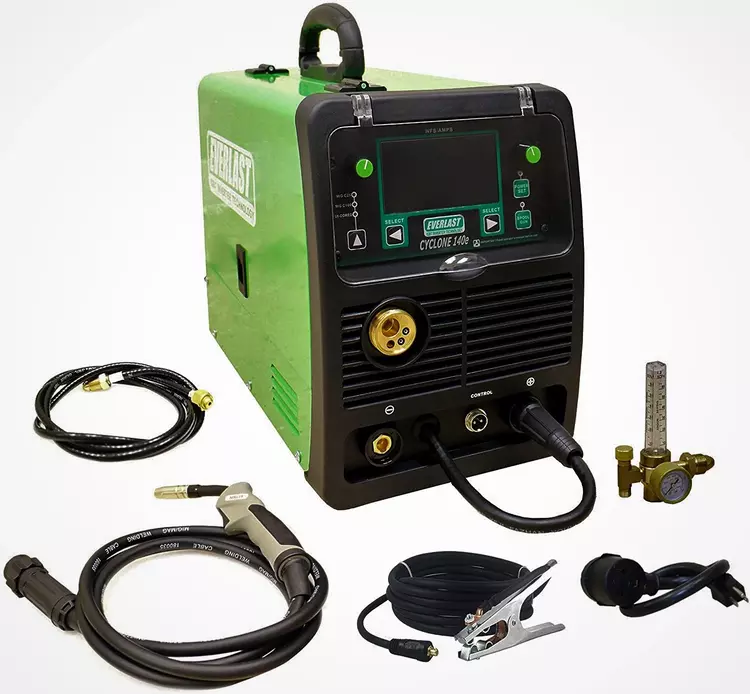 The MIG torch is comfortable enough, and it utilizes Tweco style consumables, which you can buy in every local welding shop. In addition, the torch uses a Euro-style connection, which improves conductivity while being easy to disconnect and change.
On the other hand, most negative comments are related to an awful ground clamp. The spring won't hold at all, and the lead is approximately 5-6 ft. long, which I find very limiting. However, a decent AR/CO2 regulator will measure correctly and won't cause leaks.
Even though Everlast Power i-MIG 140e is capable of flux-cored welding, you will need a knurled drive roll that provides a smooth flux-core wire feed. Unfortunately, you don't get one. In addition, there is no welding wire, while most brand-name MIG welders provide at least sample spools. So, this is an entry-level welder, but you won't be able to weld straight out of the box.
Technical Specifications
| | |
| --- | --- |
| Welding Process: | MIG/Flux core welding |
| Input Power: | 120V |
| OCV: | 60V |
| Weldable Materials: | You can weld mild steel, stainless steel, aluminum |
| Welding Output Power: | 25-140A, 15.5-21V (±3V) |
| Duty Cycle: | 25% @140A; 60% @ 90A |
| Wire diameter: | .023-.030" |
| Wire Speed: | 400 IPM |
| Wire Spool Capacity: | Can fit 4″ -8″ wire spools |
| Dimensions: | 17.5" L x 12.5"H x 8.5"W |
| Weight: | 26.5 lbs. |
| Warranty: | 5 years |
Input Power
Everlast Power i-MIG 140E uses the IGBT inverter design, providing higher amp output and a better duty cycle than transformer-based units. You will need a 120V power input to run it, meaning you can plug it on a remote job site, farm, or in your garage. In addition, this is a super-lightweight welder so that you can carry it easily around the shop or yard.
For increased versatility, you can use a generator to power it. However, the provided generator must be rated as Clean Power Output and must provide at least 4500 Surge Watts. If you fail to follow the recommendations while using the generator, the MIG welder may void the warranty.
Everlast MIG Welder Power Output and Capability
Everlast Welder Power i-MIG 140E can output 25-140A amps, which is more than enough for any light fabrication, home hobby, and portable repair projects. You can use this welder to join 24 ga. up to 3/16″ thick mild steel and stainless steel in a single pass or 3/8″ in materials in a multi-pass approach. If you are looking for deeper penetration, you can always opt for Flux core welding, which can help you join up to 1/4″ thick steel.
Compared to other 140-amp hobby welders, this 140E MIG welder provides decent welding capability. This welding machine can weld the same material thickness as Hobart Handler140, Lincoln ProMIG 140, or Forney 140 MIG.
However, this MIG welder has a 25% duty cycle, rated at the maximum output of 140 amps. Transformer-based welders usually provide a 20-30% duty cycle with a maximum output of 90 amps. Power i-MIG 140E offers a 60% duty cycle rated at 90 amps, meaning you can weld significantly more extended periods before having to cool down. Nevertheless, if you try to weld thicker materials in a single pass, you might exceed the duty cycle, forcing the welder to shut down.
Keep in mind that Power i-MIG 140 is a spool gun-ready welder, meaning you can MIG weld aluminum 14 ga. up to 1/8″ thick. However, the spool gun is sold separately, meaning you will have to pay extra bucks for aluminum welding capability. Nevertheless, most brand-name units, such as Hobart, Miller, or Lincoln welder, sell spool guns independently.
MIG Welder Build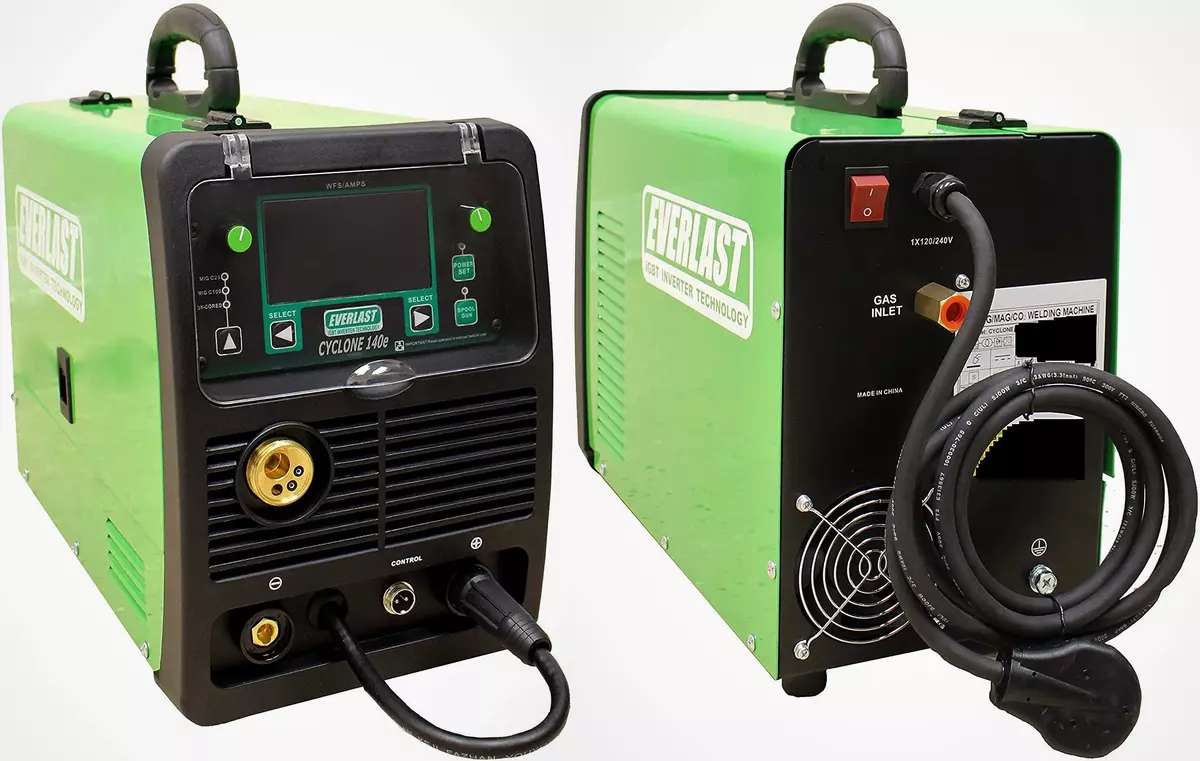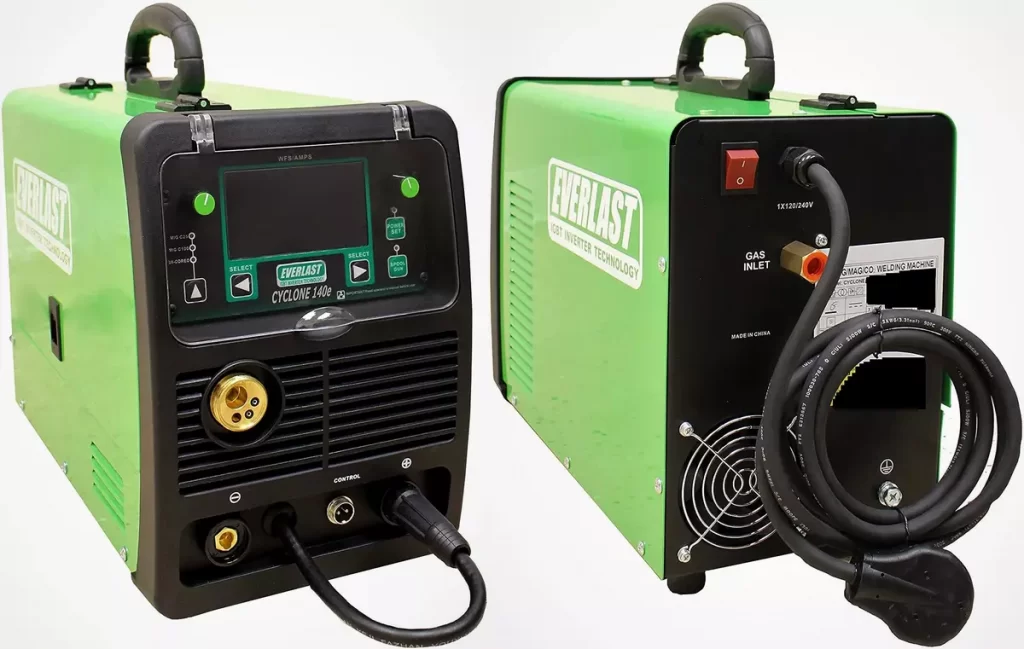 Everlast Power i-MIG 140E seems pretty sturdy and decently built. In addition, IGBT inverter technology makes it lightweight, weighing only 26.5 lbs. Even though it is not a robust unit, you won't have to worry about breaking it, as everything seems tight.
Looking at the control panel, you can notice a pretty good and large LCD screen, which you usually find at hobbyist machines. For example, even brand-name welders such as Hobart Handler 140 or Millermatic 140 don't provide a digital display. I understand digital display can be a liability in a workshop, but some prefer reading the same wire feed and voltage settings rather than remembering the knob positions.
In addition, there is plastic protection that covers the control panel and protects it from dust, flying sparks, and debris. However, if you like to change the settings occasionally, you might find it hard to flip up the protection each time, so you want to take it off. Meanwhile, one of the things I liked was a front panel polarity change. You won't have to open the wiring compartment to switch from the solid to a flux-cored wire.
Opening the wiring compartment, there is a sturdy construction cast aluminum wire feed mechanism. Dual aluminum rolls provide smooth .023-.030 solid wire feed.
However, if you decide to use thicker or flux-cored wire, you will need to buy additional drive rolls that can support them. Failing to do so, you will have to deal with occasional birdnesting.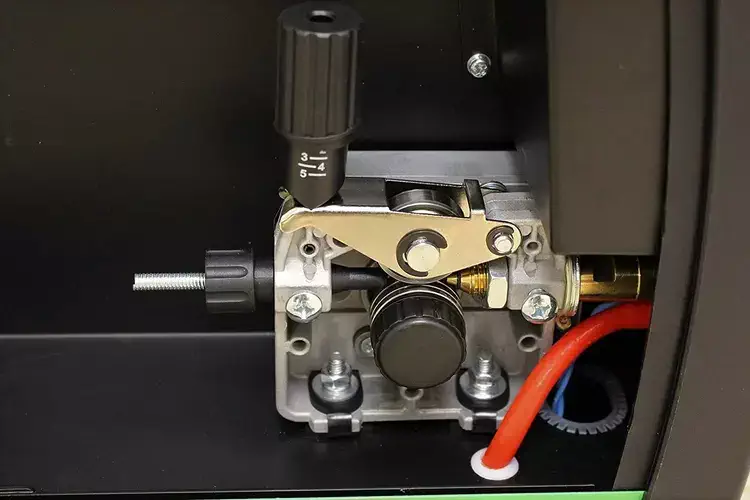 MIG Welding Settings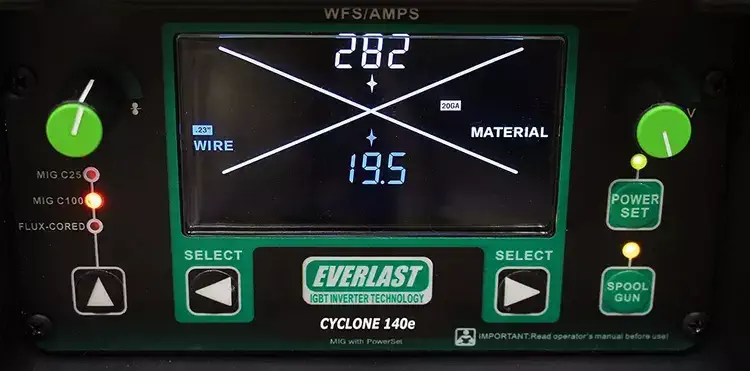 Since this welder is aimed at beginners, many criticized that no side door chart would give you a starting point regarding the wire speed and voltage, Everlast MIG welder introduced the PowerSet feature with simple and responsive controls to deal with this problem. So, before you start MIG welding, you need to input material thickness, gas type, and wire thickness, and the machine will adjust the settings accordingly.
Browsing across the web in the same category of 140-amp MIG welders, you come across auto-settings feature only at Millermatic 140, a significantly more expensive MIG welder. However, you should use the given settings as recommendations since they might be too hot or cold.
Nevertheless, you can constantly adjust the MIG machine manually. You can use infinitely adjustable wire speed and voltage settings to fine-tune the device. Remember that most 140-amp machines, such as Hobart Handler 140 or Lincoln ProMIG 140, feature tapped settings voltage control knob.
One of the things I've noticed with this MIG welder is that you cannot adjust the pre-flow or post-flow. So you shouldn't be surprised if you see gas flow even if you stopped welding, meaning you might have to deal with slightly higher shielding gas consumption.
Price and Value
The Everlast company is focused on building economic, beginner-friendly welders, which are getting tremendous popularity on the market. Everlast Power i-MIG 140E is no exception. This is an affordable MIG welder that offers great value.
Power i-MIG 140E offers the same welding capability, with increased versatility and portability than other MIG welders such as Hobart, Miller, or Lincoln, for more than a reasonable price. However, you cannot match the reliability of build quality that renowned welders offer.
To protect your investment, Everlast provides a 5-year warranty on parts and labor. Remember that you get a 5-year warranty with Hobart and Forney units, while Miller and Lincoln usually keep you protected for three years, with a separately sold 2-year extension. However, you should study the warranty terms thoroughly, as some buyers had problems with customer service.
Who Should Consider Buying Everlast Power i-MIG 140E?
Suppose you are a beginner that's learning about MIG welding, or you are looking for a capable, portable, and versatile MIG welder for light fabrication, home hobby, automotive, agricultural, or home repair projects.
In that case, you will love Everlast Power-i MIG 140. The inverter-based design lets you plug it into any household outlet or use a generator to power it on the job site or farm. In addition, this welder is easy to use and set up.
If you are looking to tackle thicker material or plan on doing some serious welding projects, you might have to look more. In addition, you will need some MIG consumables or an optional spool gun, which counts as an extra cost.
Pros and Cons Summarized
Everlast Power i-MIG 140E is a decent little MIG welding machine, and IGBT components provides great portability and versatility. You can use it around the home shop, in the garage, backyard, or on the farm. Yet, you won't be able to weld thicker materials or tackle any serious projects.
You will need a regular 110V household outlet or a generator to power it, and the results are satisfying. You can use this welder to Flux or MIG weld steel, or even aluminum with an optional spool gun. Still, package content is relatively limited, so you can't weld straight out of the box.
Nevertheless, IGBT components provide a higher duty cycle and amperage output while being lighter than old transformers. Even though MIG 140 E is light weight, it is still a sturdy and decently built welder. In addition, this is a beginner-friendly unit that is super easy to use and set up, while buying it won't break your bank.
Overall, the affordable price with added 5 –year warranty provides an excellent value for the money spent. Still, you will have to count on additional expenses, including MIG welding wire, flux-core drive rolls, or an additional spool gun for aluminum.