Are you in search of a reliable welder for serious work? The Everlast Power MTS 251si is the best solution for advanced work. Actually, it is a multi-process welder that offers three processes into one.
with the Everlast Power MTS 251si, you can do MIG, TIG, and Stick welding without any problems.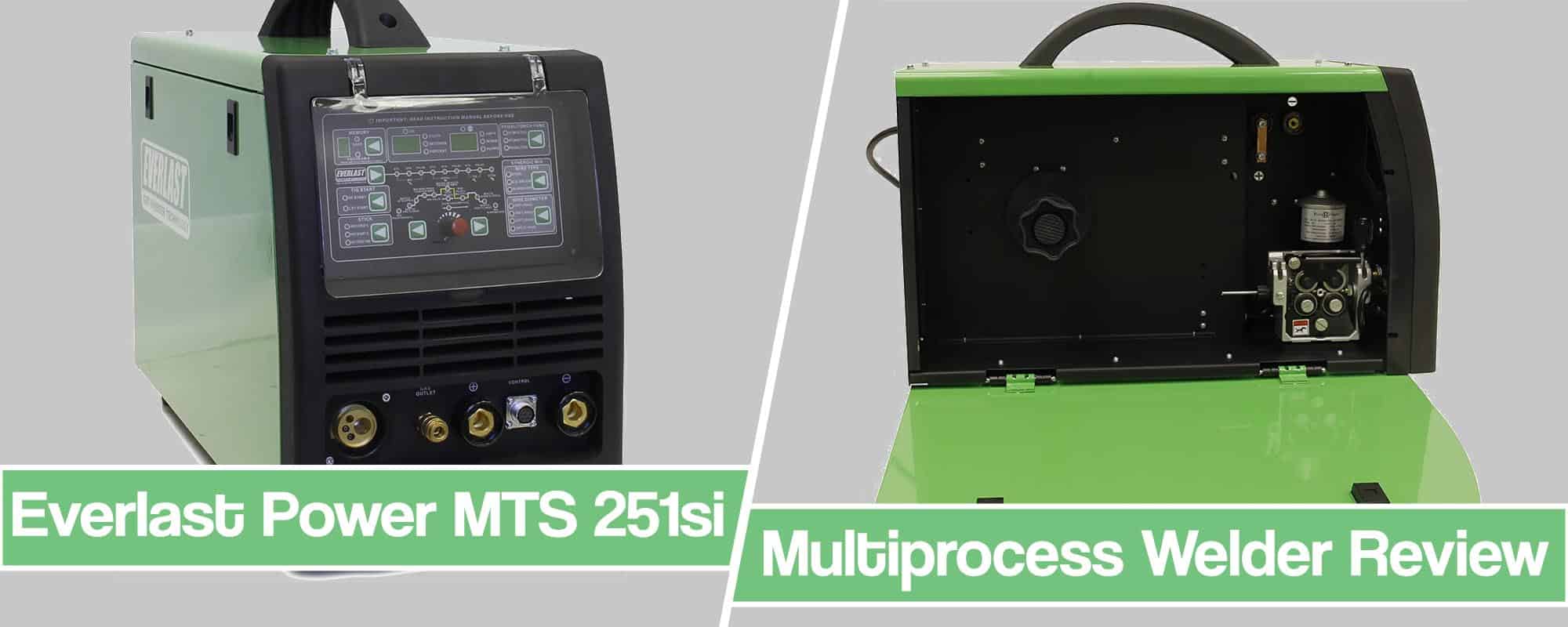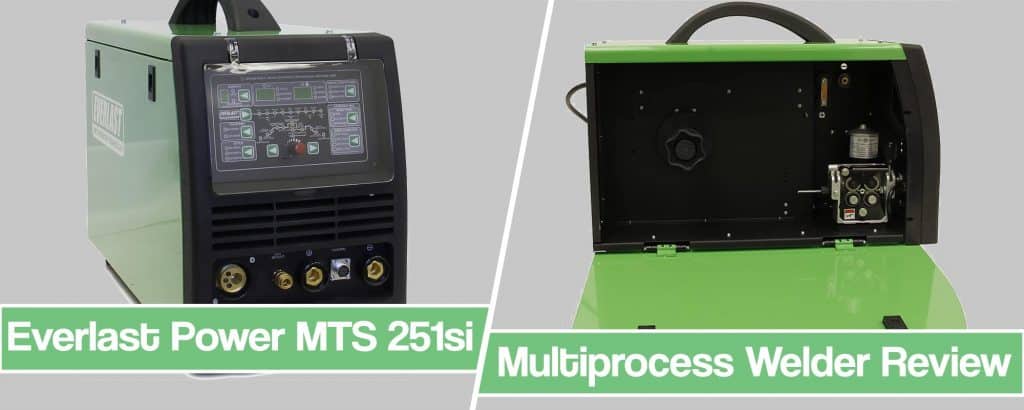 Why buy three separate welding machines when you can use the power of one. If you have andy doubts, it is best to read on ahead and find out more about it in our multi-process welder review.
Everlast Power MTS 251si Review
Everlast has done its best to make improvements on their latest MTS 251si welder. In fact, compared to the previous unit or the older version that is the Everlast PowerMTS 221 sti, the Power MTS 250si, the main addition is the High-Frequency start option to the TIG function. What they also improved upon was adding the full size 12" spool wire roll. The frame is bigger, as it can now accommodate four drive rolls, but it is still sturdy enough and easy to move around and carry.
Besides having three functions, MIG, TIG, and Stick, the Everlast Power MTS 251si becomes quite a versatile welding machine with the addition of Synergic MIG, Pulse MIG, and Pulse TIG welding modes. Using them you can weld different types of materials, like steel, aluminum, or stainless steel. Also, the added MIG spool gun increases your ability to weld aluminum.
The PowerMTS 251si also comes with dual input option, 110v and 240v, allowing you to do both industrial fabrication and home repairs.
Pros & Cons Summarized
Pros
Pulse-TIG and Synergic TIG
TIG offers lift start or high-frequency start
Included: tungsten electrode, MIG Torch, a Stick electrode holder, regulator and gas hose and a foot pedal in the box
Affordable
5-year warranty
Quiet when in operation
Robust build
40% duty cycle for TIG and MIG at a full 250 amps and a 40% duty cycle for Stick at 200 amps
Cons
Quite heavy and not really portable (80lbs)
No AC TIG welding type output (can't TIG weld aluminum)
There is no welding reference chart included
Specifications
Type: Digital/Micro-controlled IGBT Inverter
Output /Process Type: MIG, DC TIG, DC Stick
Current Type: DC
Voltage/phase: DUAL VOLTAGE 120/240 1 PHASE
Pulse: single
Max Wire Feed Speed: 600 IPM
Max Wire Roll Diameter: 12" (full size up to 44lb)
Weight: 80 pounds
Amps/Volts @ Rated Duty Cycle:

MIG: [120V: 150A/21.5V @ 40%] [240V: 250A/26.5V @ 40%]
TIG: [120V: 150A/16V @ 40%] [240V: 250A/20V@ 40%]
Stick: [120V: 120A/24.8V @ 40%] [240V: 200A/28V @ 40%]

Recommended Metals:

MIG: Steel, Stainless, Chrome Moly, Aluminum (Spool Gun)
TIG: Steel, Stainless, Chrome Moly, Titanium, Copper
Stick: Steel, Stainless, Chrome Moly, Aluminum[/su_spoiler]

Max Inrush ( I1MAX ) Amps:
Maximum Rated (I1EFF ) Input Amps:
OCV:

MIG: 58V
TIG: 58V
Stick: 58V

Output Range for types of welding:

MIG: 120V: 30-125A/15.5V-20.3V 240V: 30A-250A/15.5V-26.5V
TIG: 10A-250A/15.5V-26.5V (High Frequency or Lift Start operation)
Stick: 120V:10-120A/20.4V-24.8V 240V:10A-200A/20.4V-28V

Pulse Frequency:

MIG: 20-200Hz, Time on 10-90%, Pulse Volts: 10-90% of MIG Volts
TIG: .5-250Hz Time on 5-95%, Pulse Volts: 5-95% of TIG Amps
No products found.
Full Range of Process
The Everlast PowerMTS 251si multi-process welder can be used as any type of welder you need at the moment. You don't have to carry three different machines with you when you have a single unit that can get the job done.
You can use it as a stick welder, a spool welder, or a MIG and TIG welder. Additionally, you have the Synergic MIG, Everlast Pulse MIG, and Pulse TIG also available to you.
MIG Welding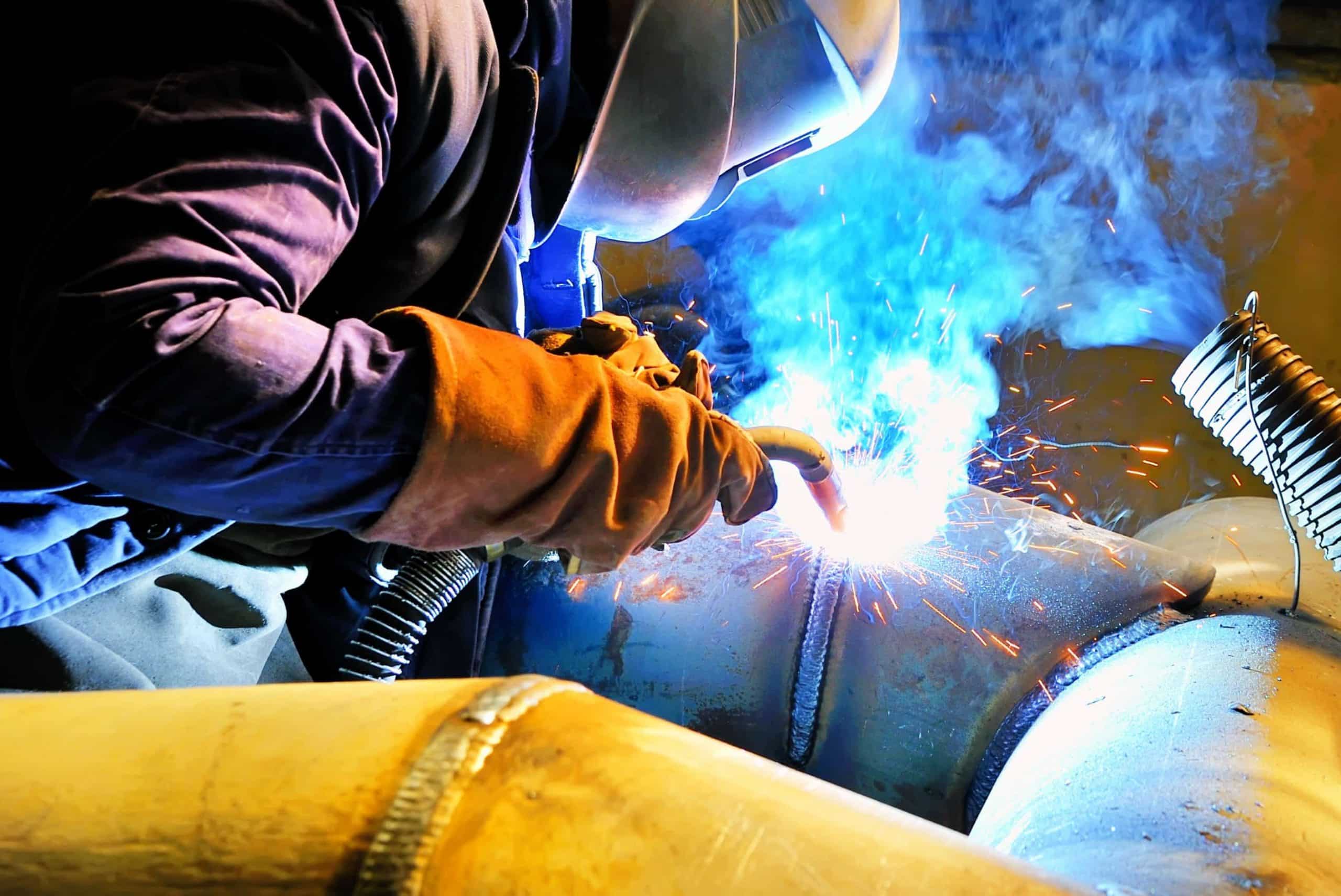 This unit is a competent MIG welder with a power output of 250 amps. More so, you can weld materials of up to 1/2 inch thickness. The MIG welder comes with a Gas arc or Flux Core wire system, that allows you to weld anything from steel, stainless, steel, and aluminum.
TIG Welding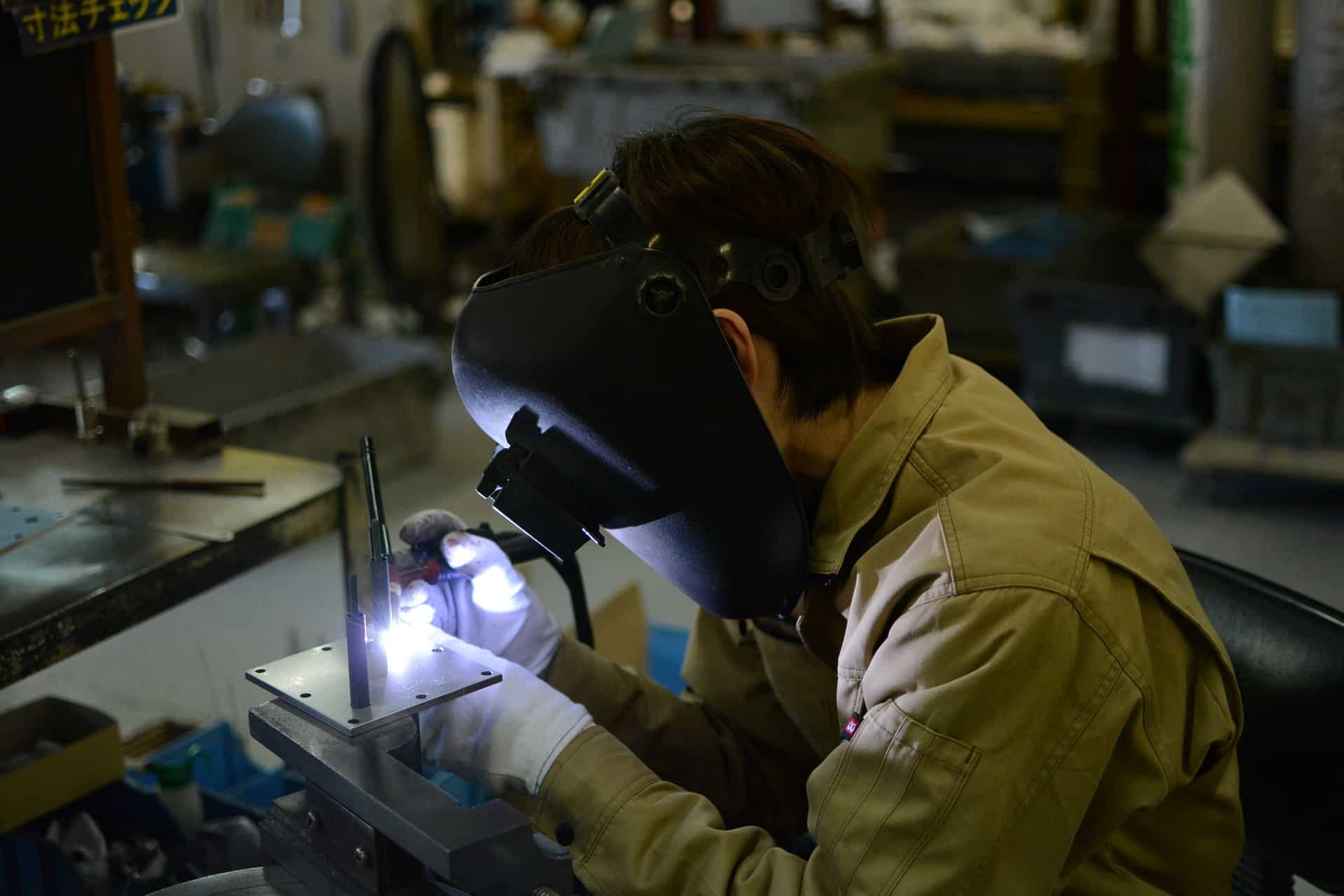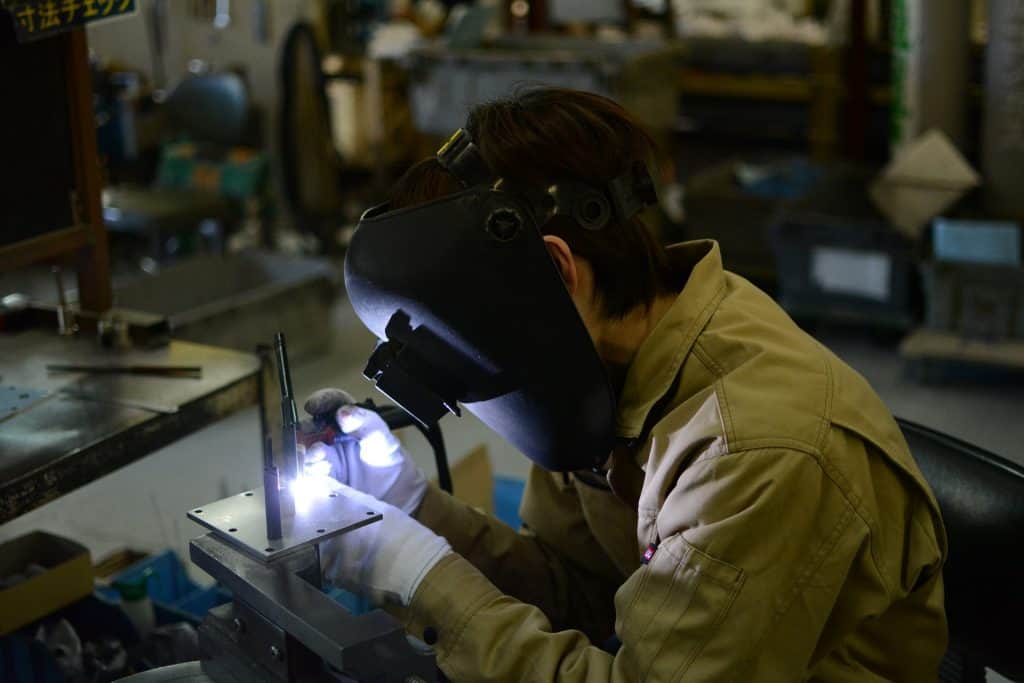 With the Everlast 251si, you easily weld thinner gauge metals with its TIG welding capability. The spool gun, regulator, foot pedal, and gas all come with the machine and all that you will be needed is also a standard power supply to avoid overheating. The High Frequency DC TIG option is something that not a lot of welders come equipped with but the Everlast model gallows you this option.
Stick Welding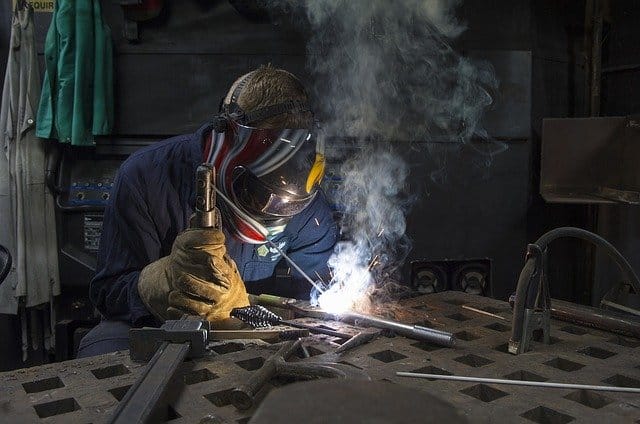 The Everlast Power MTS stick welder option allows for more adjustability. In fact, besides adding pulse MIG and TIG options, there is the Stick Arc force one. The power output of the stick welder is 200 amps, which is powerful enough to easily weld thick materials and use electrodes up to 3/16″.
Pulsed TIG
With the Pulsed TIG option welders can easily weld thinner materials especially aluminum. This feature allows for better speed and heat control. Furthermore, you can create clean welds with relatively minimal movement. This option is perfect for precise work as well as you have complete control of your welding machine.
Pulsed MIG
As far as the Pulsed MIG option goes, it will greatly increase productivity while diminishing the costs. With it, you will be able to reduce heat, minimize spatter, and create a lot fewer fumes. A welder can expect more quality results as your work will not just be done but will look really good as well.
Welding Capabilities
With the Synergic MIG option, welders are able to work on steel, stainless steel, and aluminum. But with the synergic spool, welding aluminum is made much easier and precise, making this model one of the best in its category.
Automated Multi Procedure Everlast AC/DC TIG Welding
This is definitely one of the best Everlast multi-process welders as it comes with Pulse TIG and MIG options, that not a lot of welders do. Besides that, there is also the touchless start option for the TIG setting, something that is usually found in high quality machines.
Controlled Operation System Digitally Handled
Something that you will rarely see in other welders of the same type is the digitally controlled operating system.
This means that the Everlast PowerMTS 251si welder makes sure that every process is monitored and in turn adjusted as needed.
What comes out of this is exceptional control of the welding process itself which will result in exceptional, good looking welds.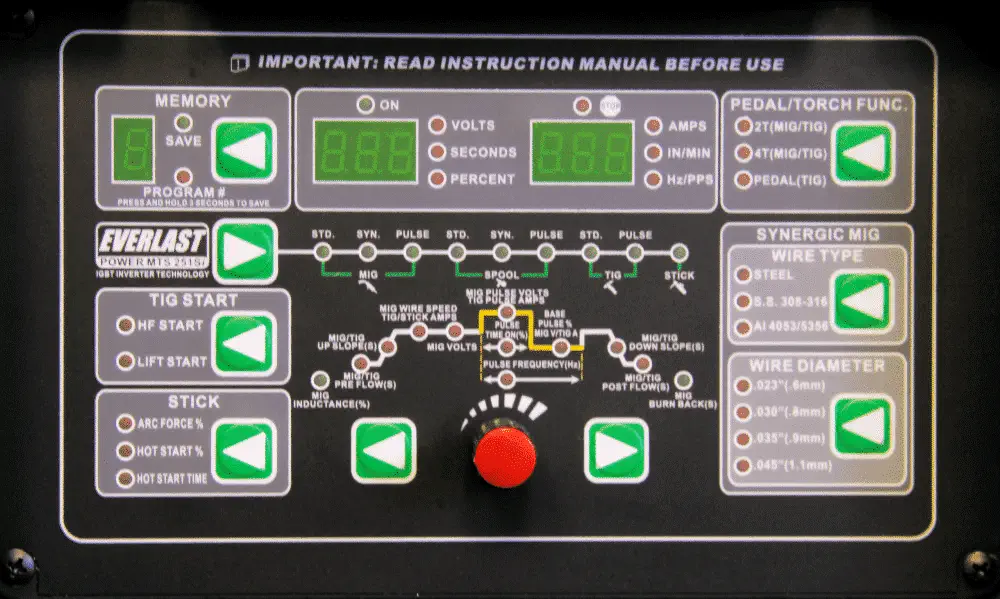 The welder simply has to do its work as all the procedures are followed by the machine. The welder can act accordingly and make adjustments during work. Also, the user is fully capable of picking from the HF start (touchless), a lift arc start or a bring start present within the TIG setting of the multi-process welder.
Double Power Input
The MTS 251si multi-process welder offers dual power inputs. You can either use the 110v one, which is standard input for many power outputs that you can find in your home. But it also comes with a 240v for different welding assignments.
The duel power input option also makes this multi-process welder from Everlast very versatile. This means that you can use it for simple work around your home as well as some more difficult and harder industrial-grade stuff. Combine that with the MIG, TIG, and Stick capabilities and you really get a welding machine that can do it all.
Frequently Asked Questions [F.A.Q]
What spool gun works with this welder?
The Everlast Power MTS 251si can be equipped with the Everlast SM3035-SMT spool gun, being that it is the most compatible with that model.
Can I use this welder in manual mode, or is it fully automatic?
Yes, the Everlast PowerMTS 251si welder can be used in manual mode. Even though the machine posses synergy function functions, the controls can be easily switched to manual. This means can easily control the amperage and the wire-speed manually as needed.
Is it necessary to buy a cooler for TIG function?
It depends. If you are using the DC TIG function, which is more relaxed, you do not need to have a cooler. However, if you are using the AC TIG option, which produces higher temperatures, then a cooler is absolutely needed.
Conclusion
As you are able to see, the Everlast Power MTS 251si is a really useful and versatile welder. Not only does it save you money by being a three-in-one welding machine, but it also offers the quality that you expect from an Everlast product. The welder is fully capable of MIG, TIG, and Stick welding and will satisfy your need for working on different tyles of materials.
You can see just how favorable it is to use this machine from our Everlast TIG review. Use its TIG and Stick welding options as you wish. The new strudy design makes it a bit bigger, but it is still quite easy to move around with it when working.
Definitely a MIG welder that you need to check out and give it a go.