Last Updated on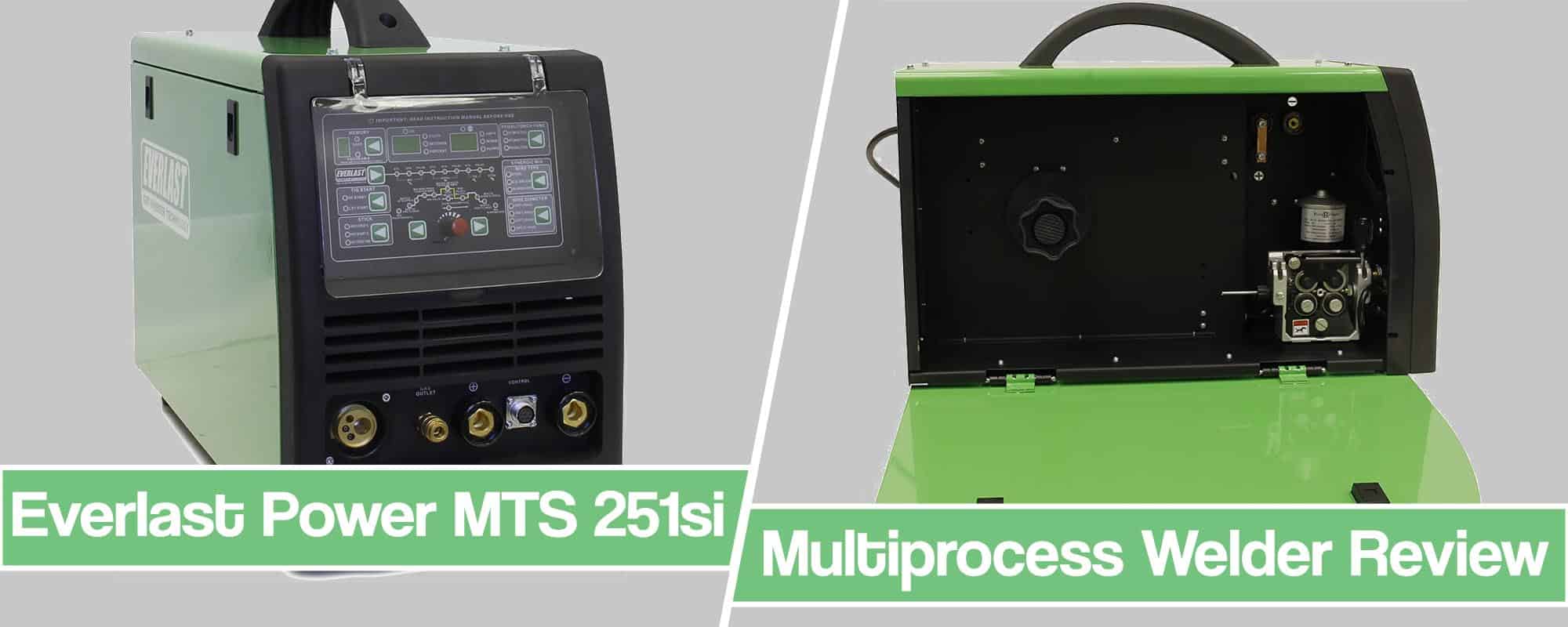 Are you in search of a reliable welder for serious work? The Everlast Power MTS 251si is the best solution for advanced work. Actually, it is a multi-process welder that offers three processes into one.
with the Everlast Power MTS 251si, you can do MIG, TIG, and Stick welding without any problems. Why buy three separate welding machines when you can use the power of one.
If you have andy doubts, it is best to read on ahead and find out more about it in our multi-process welder review.
Everlast Power MTS 251si Review
Everlast has done its best to make improvements on their latest MTS 251si welder. In fact, compared to the previous unit or the older version that is the Everlast PowerMTS 221 sti, the Power MTS 250si, the main addition is the High-Frequency start option to the TIG function. What they also improved upon was adding the full size 12" spool wire roll. The frame is bigger, as it can now accommodate four drive rolls, but it is still sturdy enough and easy to move around and carry.
Besides having three functions, MIG, TIG, and Stick, the Everlast Power MTS 251si becomes quite a versatile welding machine with the addition of Synergic MIG, Pulse MIG, and Pulse TIG welding modes. Using them you can weld different types of materials, like steel, aluminum, or stainless steel. Also, the added MIG spool gun increases your ability to weld aluminum.
The PowerMTS 251si also comes with dual input option, 110v and 240v, allowing you to do both industrial fabrication and home repairs.
Specifications
Type: Digital/Micro-controlled IGBT Inverter
Output /Process Type: MIG, DC TIG, DC Stick
Current Type: DC
Voltage/phase: DUAL VOLTAGE 120/240 1 PHASE
Pulse: single
Max Wire Feed Speed: 600 IPM
Max Wire Roll Diameter: 12" (full size up to 44lb)
Weight: 80 pounds
Pros & Cons
Pros
Pulse-TIG and Synergic TIG

TIG offers lift start or high-frequency start

Included: tungsten electrode, MIG Torch, a Stick electrode holder, regulator and gas hose and a foot pedal in the box

Affordable

5-year warranty

Quiet when in operation

Robust build

40% duty cycle for TIG and MIG at a full 250 amps and a 40% duty cycle for Stick at 200 amps
Cons
Quite heavy and not really portable (80lbs)

No AC TIG welding type output (can't TIG weld aluminum)

There is no welding reference chart included