If you got through the basics with your 140 amp-rated welders and feel like you are ready to weld thicker materials, you might consider Forney 318.
The Forney 318 is a reliable and versatile Flux core and MIG-ready welder made in the USA and rated at 190 amps. Model 318 is a decent 220V machine for DIY, metal fabrication, maintenance, repair welding, automotive, farm, and ranch projects.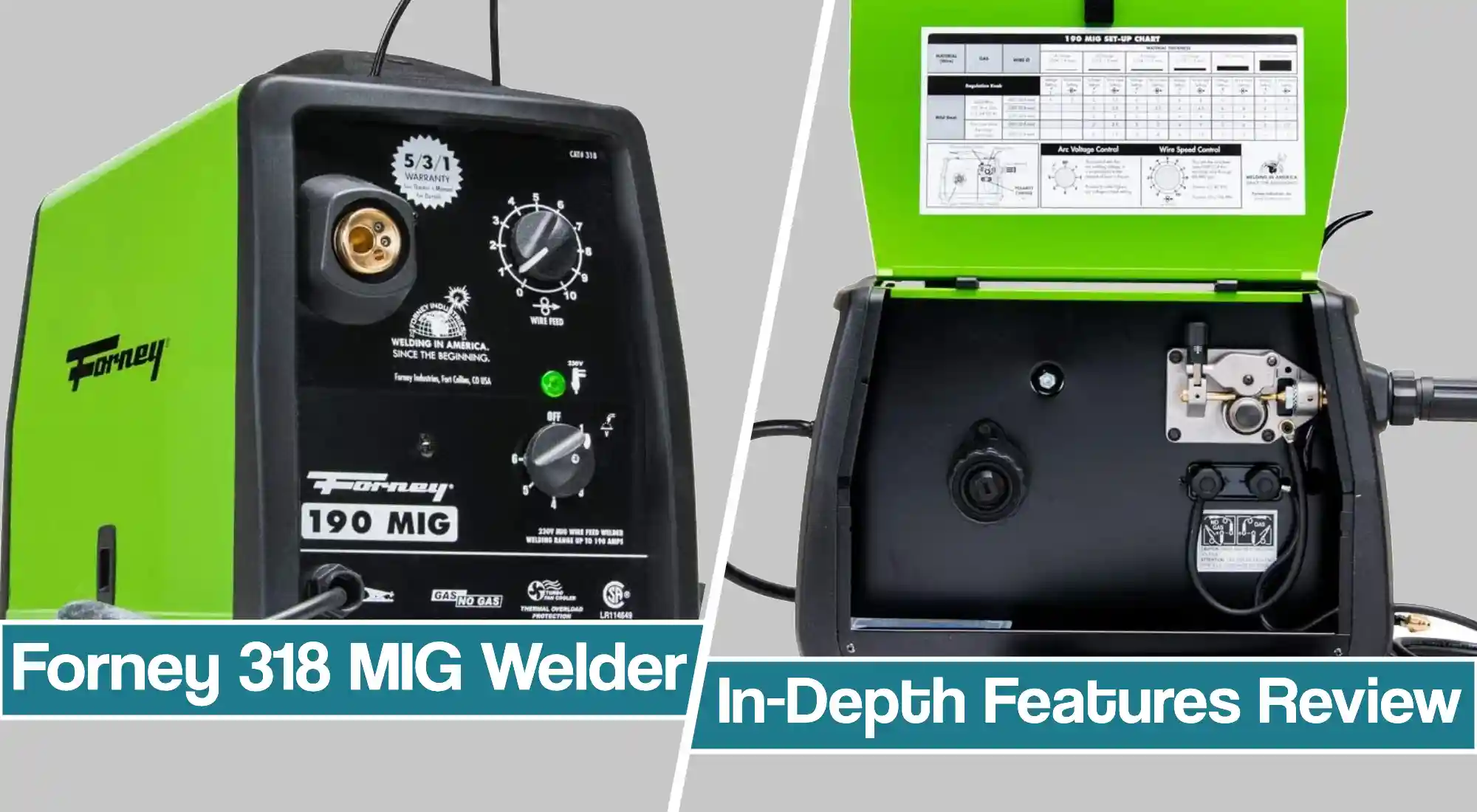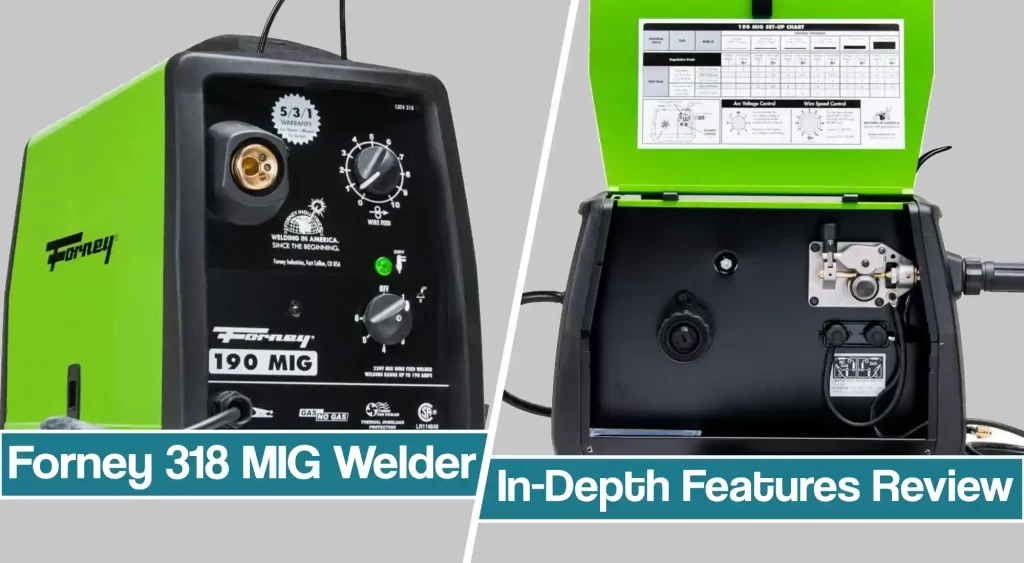 Even though it might not be as popular as Miller and Lincoln welders, Forney did a great job providing a quality build. So, read this Forney 318 MIG welder review to learn more about this MIG welder's advanced features, build, and capability, and find out if this is a suitable machine for you.
Forney 318 MIG Welder Review, Package Content, and Technical Specifications
When buying the Forney 318, for the money spent, you get:
Euro connect torch with ten ft. lead
Ten ft. ground cable with clamp
15 ft. power cord
Gas hose set and regulator
Instruction manual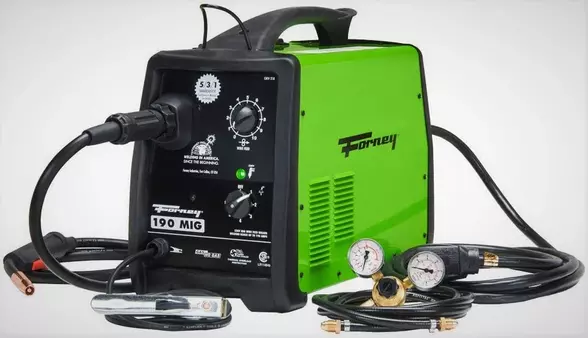 Forney provides a comfortable, TWECO style euro connect MIG gun. That means you can buy TWECO style consumables and replacement parts for your MIG torch almost anywhere, even at weekends and after-hours stores. In addition, Euro-connector provides exceptional conductivity and helps you plug the torch in or out quickly. There is also a torch wrap included that provides built-in strain relief.
Looking at package content, you can notice Forney introduced pretty long leads. For example, 15. ft input power cable is noticeable longer than Lincoln 180c, and the clamp is sturdier. In addition, you get a slightly longer ground line than Eastwood MIG180.
Keep in mind that included Argon/Co2 regulator measures cubic feet per hour (CFH) instead of PSI. Still, the gas flow regulator is precise, and there are no gas hose leaks. Nevertheless, if you are used to PSI, you might want to look for another regulator.
Forney 318 190-Amp MIG welder 230 Volt Technical Specifications
| | |
| --- | --- |
| Welding Process: | MIG/ Flux-cored welding |
| Input Voltage: | 230V |
| Weldable materials: | Mild steel, stainless steel |
| Amperage Range: | 35-190A |
| Rated Duty Cycle: | 120A @ 25% Duty Cycle |
| Plate Thickness Range: | 24 ga. – 3/8″ |
| Wire Diameter Range: | .024″ – .035″ |
| Dimensions: | 19″ x 9.5″ x 16.5″ |
| Weight: | 63 lbs. |
| Warranty: | 5/3/1 years |
No products found.
Input Power
The Forney 318 uses a transformer technology build, and to run it, you will need a 230V outlet. The required input power provides a higher output of 190 amps, but it might be limiting to some. Unfortunately, this welder can't be powered by generators.
If you have a regular 110V household output, you might consider Forney 309, a 110V only machine. In addition, Forney offers a couple of dual voltage welders, such as Forney welder 324 and 410.
Nevertheless, most 190 amp-rated welders on the market, such as Lincoln PowerMIG 180c, Lotos MIG175, and Miller Millermatic 190, are 220V-only machines. Meanwhile, Eastwood MIG 180 offers a dual voltage input.
Welding Capability
The Forney 318 has a rated output power of 35-190A, which is standard for 190 amps-rated welders. Still, some 220V only machines can put out significantly bigger output.
This welding machine offers a 25% duty cycle at 120 amps, meaning you can weld for two and a half minutes at the maximum power of 120 amps. Afterward, you will have to wait for seven and a half minutes before start welding again.
Even though you will find it hard to exceed the duty cycle, other 190 welders offer more. For example, Lincoln PowerMIG 180c has a 30% duty cycle rating at 130 amps, while Eastwood MIG 180 has a 60% duty cycle rated at 130 amps.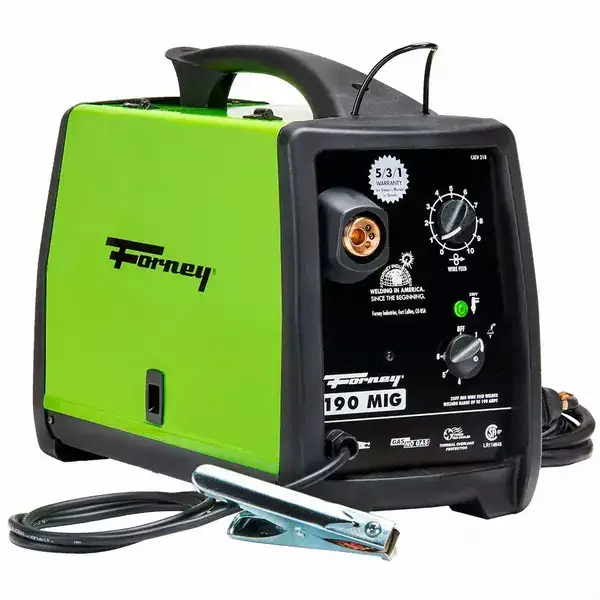 On the other hand, with Forney 318, you can weld steel 24 ga. up to 3/8″ thick in a single phase. Overall, this is a decent welding utility, best for intermediate welding projects. Most welders in this category, such as Millermatic 190, Eastwood MIG 180, or Lincoln PowerMIG 180c, can weld approximately 3/16-5/16″ thick materials.
Keep in mind that Forney 318 is not a spool gun-compatible welder machine. In addition, the wire feed speed is not high enough to provide aluminum wire feeding, meaning you cannot weld aluminum by any means. Meanwhile, most 190 amp welding machines offer a spool gun capability, which is usually sold separately.
Build Quality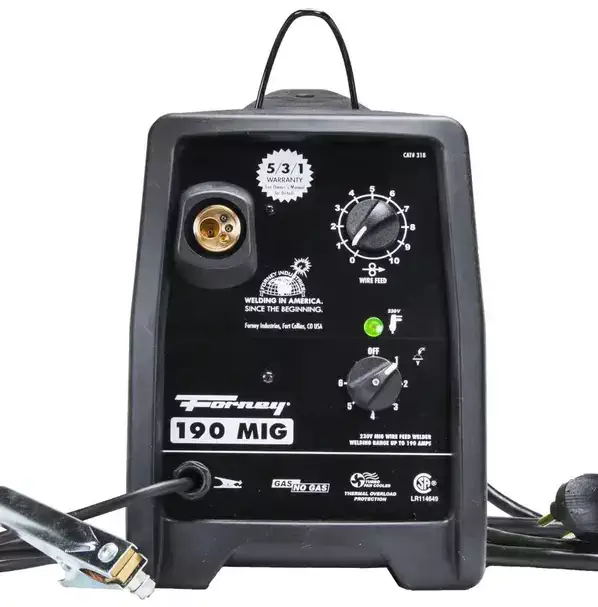 Forney Industries is a USA-based company founded in 1932 that guarantees a high-quality build. When looking at the Forney 318 MIG welder, you can notice an improved design with a sturdy built case, integrated feet, torch wrap for cable organization, and a built-in handle.
The front control panel is straightforward as it features only two knobs. There are six-tap voltage and infinitely adjustable wire feed speed knobs. That's why many welders, even beginners, found the Forney 318 easy to use and set up.
One of the things that might be unusual is that there is no standard on/off switch. Instead, the zero voltage knob position mirrors the off button. So once you start shifting up the voltage, the MIG welder starts.
The company's latest upgrades included a slightly larger cabinet and a cast aluminum wire feeder. For example, the wire cabinet can support 4″ and 8″ spools, with easy spool access.
In addition, there is a de-spooler that helps you adjust the tension and change the wire spool easier. The upgraded wire drive system is sturdy, as it features a dual geared idler and decent drive roll that offers better wire feeding.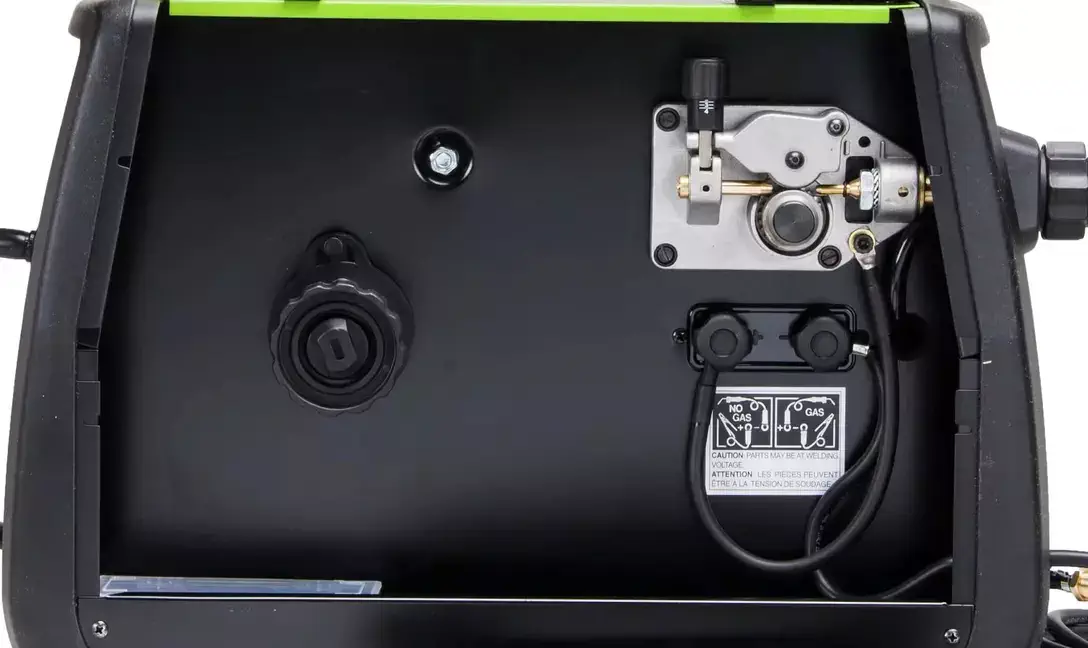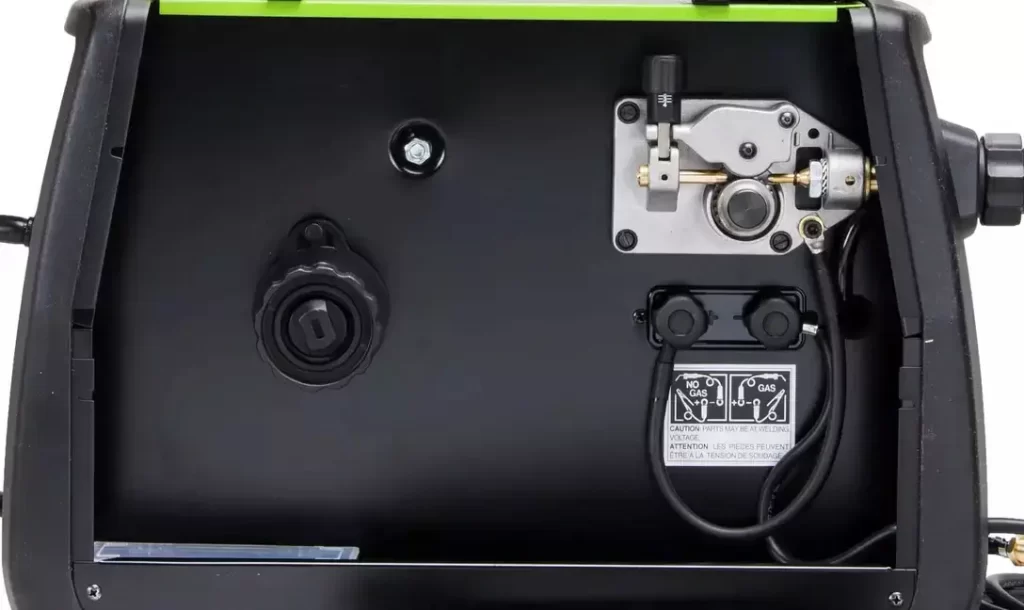 To help novice welders set up their machine, Forney 318 features a side door chart. The chart is marked, but you might want to make some adjustments if you are a seasoned welder. In addition, the instruction manual can be hard to read, so you might have to spend some time figuring out the optimal settings.
Portability
As the Forney 318 MIG welder uses the reliable transformer-based technology build, it weighs 68 lbs. As a result, it is not one of the lightest MIG welding machines on the market. Even though there is a built-in handle, you might find it hard to move around the workshop. If you include a cylinder of shielding gas for increased portability, I suggest a welding cart.
Compared to other similar units on the market, Forney 318 is lighter than Lotos MIG175, weighing 80 lbs, but slightly heavier than Miller Millermatic 190, which weighs 66 lbs. In addition, this MIG welding machine is significantly heavier than Eastwood MIG 180, weighing only 25.3 pounds.
Price and Warranty Options
If you decide to invest in Forney 318, you get great value for the money spent. Unlike cheap Chinese welders on the market, Forney Industries offers reliable machines that are built to last. In addition, to protect the investment, buyers get a 5/3/1 Forney warranty.
Welders get five years warranty on transformers and rectifiers. In addition, all the internal electrical components that couldn't be reached without opening the welder cover are protected by a three-year guarantee. A 90 days warranty covers the MIG torch, and there is 30 days return policy.
When looking at price, you can deduce Forney 318 is not one of the costly machines on the market. On the contrary, this unit is cheaper than brand-name MIG welders such as Hobart, Lincoln, or Miller. However, more versatile welders on the market might offer more power or a higher duty cycle or aluminum welding option. So buying the best MIG welder can be challenging.

Who Should Consider Buying the Forney Model 318
If you are an intermediate welder looking to tackle occasional general fabrication, ranch, auto body, and home projects, you will love the Forney 318. This MIG welder is easy to use and set up, even for novice welders. In addition, this piece of equipment provides a high-quality build, reliability, stable arc, and smooth feed.
If you plan to weld longer hours or tackle more serious projects or aluminum, you might have to consider a different MIG welder.
Pros and Cons Summarized
The Forney model number 318 is a decent 220V MIG/Flux-cored welder that guarantees a sturdy build and offers excellent value for the money spent. In addition, the package features functional and high-quality welding accessories that will help you weld straight out of the box. Still, you will have to buy mild or flux core wire to start.
Keep in mind that this is a 220V only MIG welder, so you will have to provide enough power. However, the power output of 35-190 amps is pretty decent, as it will be sufficient for medium projects and up to 3/8″ thick steel and stainless steel. Still, the rated duty cycle might be lower than other MIG welders on the market.
Keep in mind that you cannot use this welder machine to weld aluminum by any means. Nevertheless, the units still produce a stable arc and smooth wire feed.
The Forney 318 offers a 5/3/1 year warranty, and it is not as expensive as brand-name welders. On the other hand, some 220V units in the same category may provide more. So if you are looking for the best MIG welders, you might want to look further.