Are you looking for a small and adaptable arc welder?
Look no further as the Forney Easy Weld 100 ST is the perfect machine for hobbyists and weekend welders that need to do some stick welding.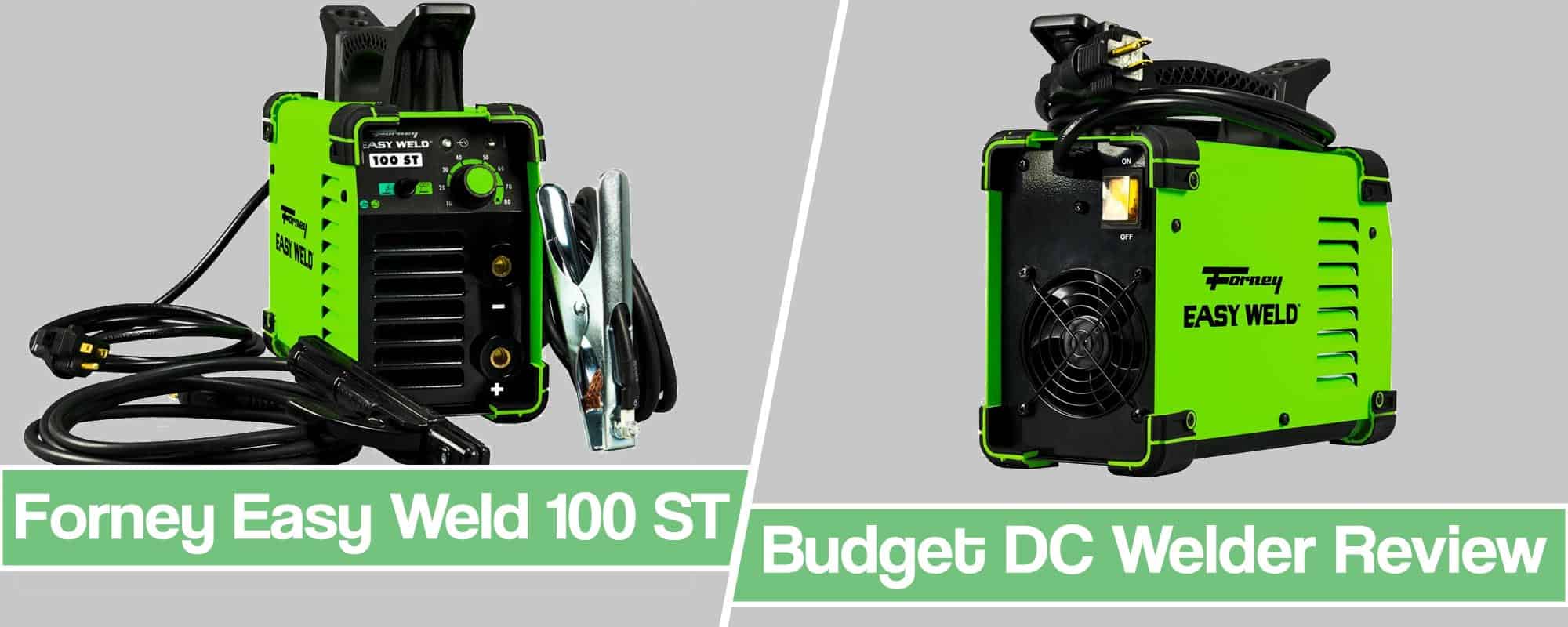 Traditionally, stick welders were known for being big and heavy. They also, most of the time, required a 230v or 240v outlets on 50 amps circuits. But in the case of the Easey Weld 100 ST the story is completely the opposite. It is light and as small as a breadbox, giving hobbyists and beginners an opportunity to do some arc welding on without additional hassle.
Let's see in more detail how the Forney Easy Weld 100 ST welding machine actually fares.
Forney Easy Weld 100 ST Review
Forney has a long tradition of making arc welders for handymen and farmers. But opposed to old Forney arc welders, the Easy Weld 100 ST is specifically aimed at people who don't need to stick weld professionally. More so, the old Forney welder was enormous and operated on 230/240v capacity. But the new one is capable of doing the same work with a 110v or 120v output.
The 100 ST is a 90 amp arc welder and is actually the smallest of its kind. The idea behind it is to have the same performance under much easier conditions. You can move it around and carry it with you with immense ease as it weighs only 9.65 lbs. (4.38 kg).
Besides stick welding, the Forney Easy welder is also capable of TIG welding as well. Making it both versatile besides being lightweight and portable.
No products found.
Pros & Cons Summarized
Pros
Portable and light
Stick and TIG capable
Great value unit all factors considered
Simple and easy to use
Infrequent arc outages
Requires low voltage input
Great price
Cons
TIG gear sold separately
Slightly underpowered
Specifications
Processes: Stick (SMAW) and TIG (GTAW).
Weld Thickness Range: Steel – 16 ga. – 1/4 in.
Weldable Materials: Steel, Stainless Steel
Input Power: 120 V, 60 Hz.
Input Phase: 1-Phase.
Current Type: Direct current.
Rated Output: 80 A @ duty cycle 30%
Amp Range: 10 A – 90 A.
Dimensions: 12″ (304.8 millimeters) x 5.5″ (139.7 millimeters) x 10.5″ (266.7 millimeters)
Weight: 9.65 lbs.
Stick Welding
When it comes to the Forney Easy Weld 100 ST stick machine, its greatest advantage is its adjustability. It possesses a continuous range of adjustments so the welder can set the amperage as low as they need it to be.
As with any other stick welder, the important thing is choosing the correct electrode. The best one for the job, in this case, is the E6013 electrode. It performs really well on most steel applications as you can start with a 3/32" diameter while setting the machine at 50 to 70 amps.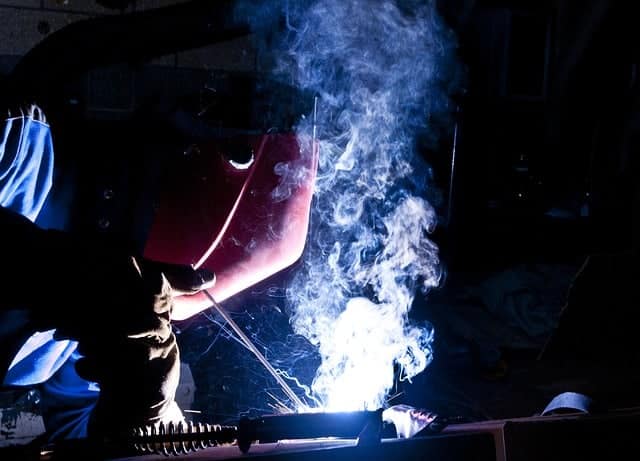 But the Forney arc welder is only good with thin materials (1/16″ or 5/64″). You can run it on 1/16″ 7018's and if you are welding metal of 1/8″ thickness or less you can also use 3/32″ 7018 AC's as well. The important thing is the keep your eye on the duty cycle at all times.
TIG Welding
The Forney 100ST is also a quite capable Forney TiG welder. In order to TIG weld using this machine one has to use a shielding gas that is 100% argon. Also, one will also need a size 9 or 12 TIG torch that has a 25mm Dinse connector.
Unfortunately, these do not come included within the package so you have to get them separately. But you still get the ground clamp and the electrode holder with the stick welder 120v.
A Note About Circuit Breakers
This 120-volt stick welder performs best with a 20-amp circuit. It would also be best if you set the welder at the highest possible amperage setting when working.
There have been situations when people ran these 110-volt arc welders at 15-amp breakers. This can trip out the breakers as they can do that below the rated current. There is also the possibility of some breakers being simply faulty.
The unit actually comes with its own internal circuitry that is supposed to detect voltage drops and other various faults. But, it still needs to get enough voltage and current from the outlet. So do not credit this as the fault of the welder itself.
[F.A.Q] – Frequently Asked Questions
Can Forney Easy Weld 100 ST be used with a low input voltage?
Yes, it can. In fact, this is one of the main features of the 120-volt arc welder as it makes it the perfect machine to use around the house.
Do you stick weld left to right?
You can do both. Actually, as most of the 110 stick welder reviews will tell you, this is mostly related to MIG welding. But it is more than possible to go left to right and right to left and you don't really need the Forney welder manual for that.
Can you hold the electrode while stick welding?
Yes, you can. As part of the package, you also get an electrode holder that is specifically designed to keep your electrodes. It accounts for the quick and easy exchange of electrodes while one works.
Conclusion
As you are able to see from our 80 amp inverter arc welder review, the Forney stick welder is a very solid machine. It is easy to use and very light to carry, making it a great choice for hobbyists.
What most Forney Easy Weld reviews emphasize is its size. We more than agree with this. This is clearly an evolution when it comes to arc welders. No more will you need to use those rustic and enormous rigs when you can do similar things with a smaller unit.
Sure, it may be underpowered but if you are not going to do any industrial work and are planning some home repairs, this one is the best unit for the job.