Grinders are an essential part of every metalworking and fabrication shop, but operators often disregard grinder safety. However, grinders are among the most frequently cited machines during OSHA safety inspections.
Grinding safety includes safety precautions during grinder installation, maintenance, and operation. There are several different standards, and OSHA 29 CFR SubPart O 1910.215 apply to grinders in the workplace regulations.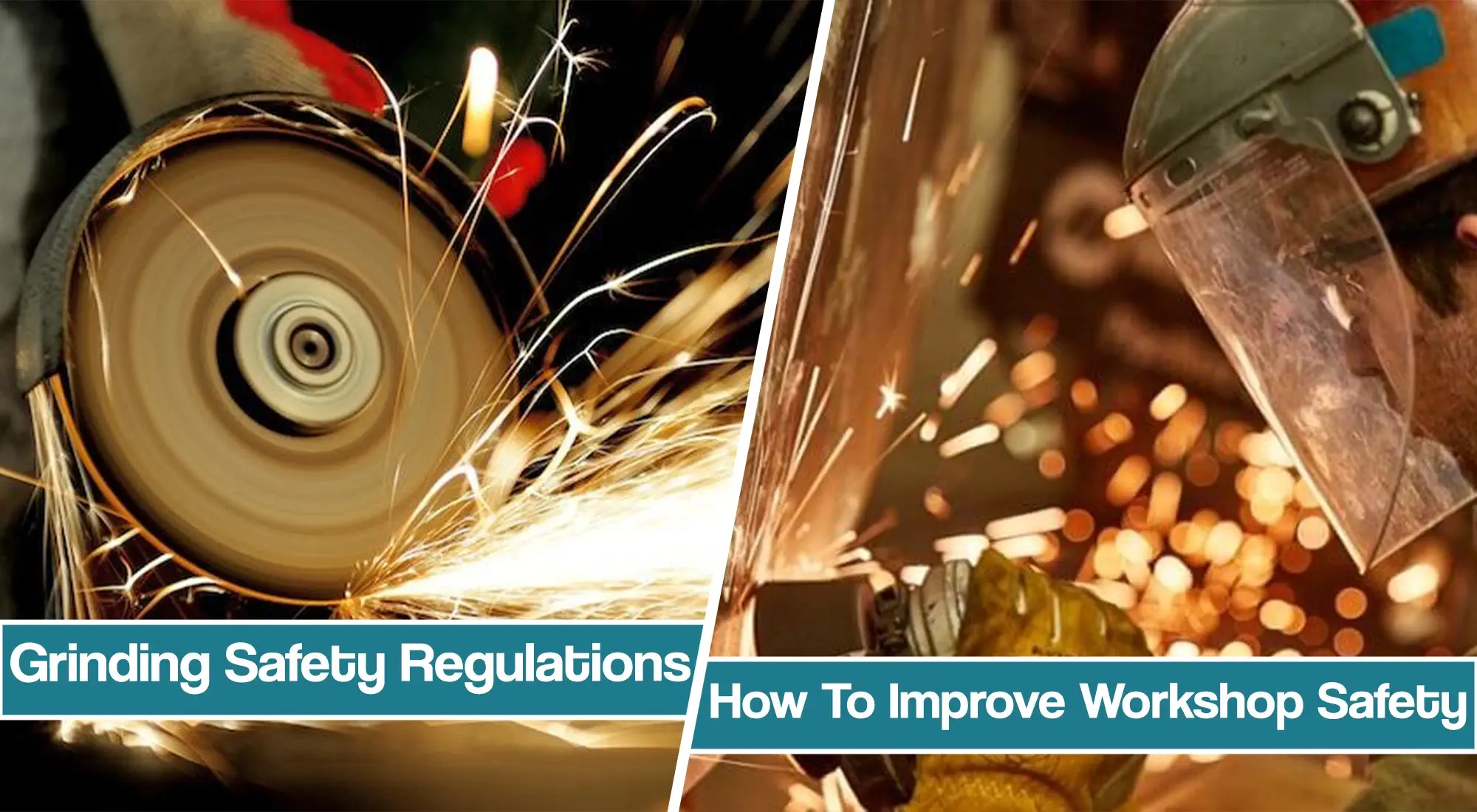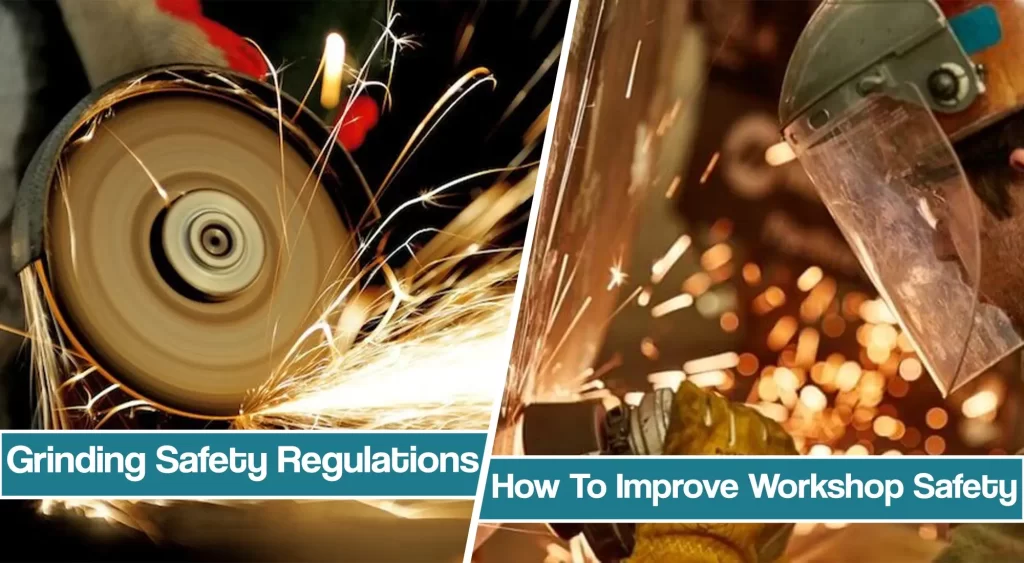 In addition to work area regulations, operators must comply with ANSI B11.9-2010 when dealing with grinders and ANSI B7.1 2000 using abrasive wheels.
Grinder Safety Tools And Precautions
If the grinding wheel operator fails to comply with OSHA regulation standards, it can be cited as a violation. That's why they should always wear safety glasses, personal protective equipment, and safety tools. In this section, we will discuss grinder safety tools and precautions.
Work Rests and Tounge Guard
Grinders often work at high RPM rating speeds, so any debris gets inside or interferes with work, they jam the grinding machine, and the grinding wheels can break or explode. Grinding wheel accidents can cause severe injuries, blindness, or even death.
To deal with potential grinding hazards with jamming or breaking the wheels, operators must use work rests and tongue guards.
OSHA specifies that work-rests be kept adjusted to within 1/8-inch of the newly mounted wheels. In addition, the distance between the grinding wheel and the adjustable tongue guard — also known as a "spark arrestor" — must never exceed 1/4-inch.
To make sure your grinder complies with OSHA's 1910.215 regulation and ANSI standards, you should use a grinder safety gauge. This is a specific gauge that will help you determine proper guard distance. However, make sure you use it once the wheel completely stops.
Ring Testing The Wheels
Before you mount new grinding wheels on your stationery or portable grinders, you should always ring test them. Ring testing involves checking new wheels for possible cracks.
To do so, take the grinding wheel by its center hole, then tap the side of the wheel with a non-metallic object. If the wheel is crack-free, you will hear a bell tone. Meanwhile, the cracked-plate sound indicates a cracked wheel.
When dealing with large grinders, grinding wheels are laid flat on a vibration table. The sand is evenly spread over the wheel, and the wheel is cracked; the sand moves away from the crack. Once the wheel is properly ring tested, you can safely mount it.
Wheel Covers
OSHA states that wheel-cover shouldn't allow more than a total of 90 degrees of the wheel left exposed. In addition, that's 65 degrees from a horizontal plane to the top of wheel-cover. A larger wheel-cover opening creates a wider pattern of flying debris if the wheel cracks and explodes.
Since the accident reports have shown that grinding wheels are most likely to shatter/explode during that first minute, you should stand well off to the side of the wheel for the first full minute test run before using the machine.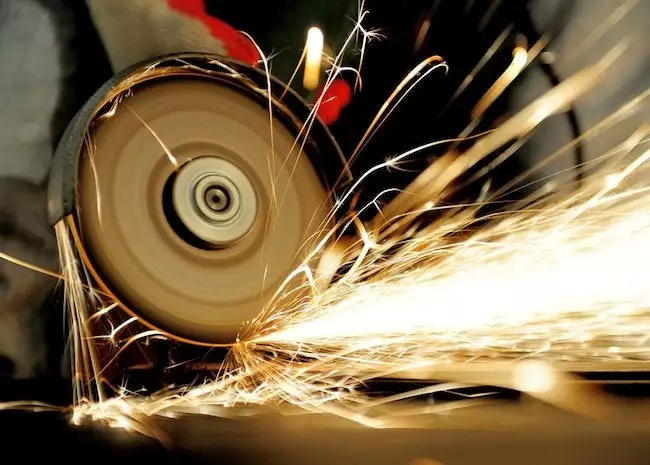 Disconnect Switch and Magnetic Motor Starter
This single-phase unit is designed for motors that have built-in over-loads. These are commonly used with power tools such as smaller crimping machines, grinders, drill presses, and all types of saws.
The disconnect switch includes a self-latching red emergency-stop palm button and a green motor control start push button. It can be used on machines with 115-V and is rated up to 1/2 HP maximum. For machines with 230-V AC single-phase motors, a transformer is required to reduce the control circuit voltage to 115-V AC in order to comply with NFPA 79.
Double Wheel and Single Wheel Grinder Shields
Grinder shields provide protection for the wheels of the grinder. The durable shield is made of clear, thick polycarbonate, and the shield bracket adds stability to the top of the shield. This sturdy, impact-resistant shield is designed for use when a wheel needs safeguarding. These shields have a direct-mount base that attaches directly to the grinder table or pedestal.
In this photo, you can see a properly secured grinder, which includes an adequate tongue guard and work rest, with double wheel grinder shields.
In addition, there is a disconnect switch and magnetic motor starter, so the grinder safety is applied at the maximum level.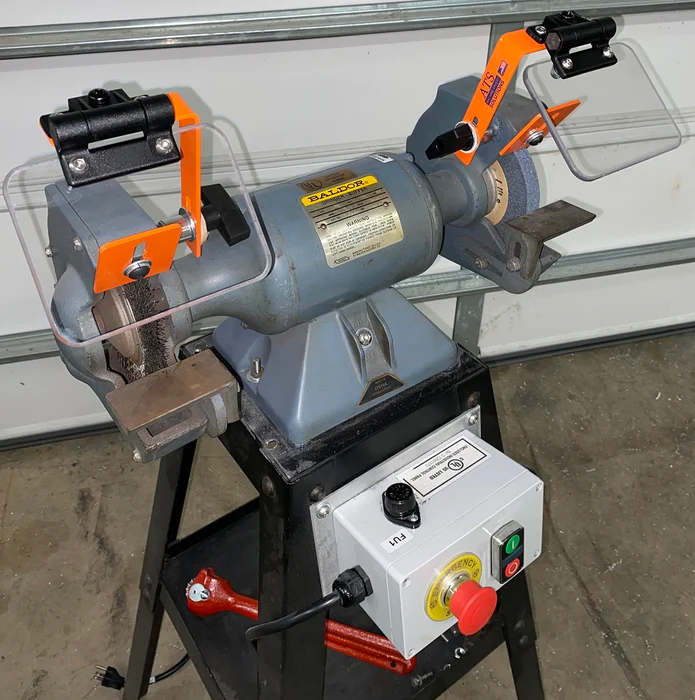 Safety Precautions In Grinding Operation
Good Practices
Before grinding, always inspect the wheel for any kind of damage, cracks, or other defects.
Make sure that the grinding machine speed does not exceed the maximum operating speed marked on the wheel.
Use and properly install an ANSI B7.1 wheel guard and make sure it offers proper protection
Ensure that the machine arbor properly fits the wheel hole or threads
Check if the flanges are clean, flat, undamaged, and of the proper type
Run the wheel in a protected area for one minute before grinding
Wear ANSI Z87+ safety glasses, and when required, additional eye and full-face shield to protect yourself from flying particles
Comply dust controls and/or protective measures appropriate to the material being ground or use a dust mask
Hold the portable grinder firmly with two hands and make sure you support the workpiece firmly to avoid serious injuries
To handle the grinder properly, read the machine manual, operating instructions, and potential warnings
Learn about different types of grinding wheels and abrasives for metal
Read SDS for the abrasive wheel, grinding disc, and the work-piece material
Things To Avoid
Avoid letting untrained people handle, mount, use or store wheels
Make sure you don't use grinding wheels on pistol grip air sanders
Discard the cracked, damaged, or dropped wheels
Avoid using a wheel on grinders rotating faster than the max RPM marked on the wheel
To be sure, ignore using grinders that do not show a max RPM speed
Don't use excessive pressure or tighten the mounting nut excessively. Instead, only make sure it fits the wheel firmly.
If the wheel's hole doesn't match, don't alter or force it onto a spindle.
Mount only one wheel on an arbor, and make sure you don't twist, bend, or jam it
If the tool motor slows or stalls, don't force it.
Always use a proper guard, and avoid using wheels in the presence of combustible materials.
Don't use a grinder if there are coworkers who are not wearing protective equipment or face protection.
Use wheels for applications they were designed, which are specified by ANSI B7.1 and the wheel manufacturer.
Don't wear loose clothing or other protection
Resources: