When choosing the best plasma cutter for the job you don't always have to look for the priciest and latest model. A premium price does not always guarantee great results. Sometimes, going for a cheaper yet reliable option could pay dividends and provide you with the results needed.
Enter the Hypertherm Powermax 30 XP plasma cutter!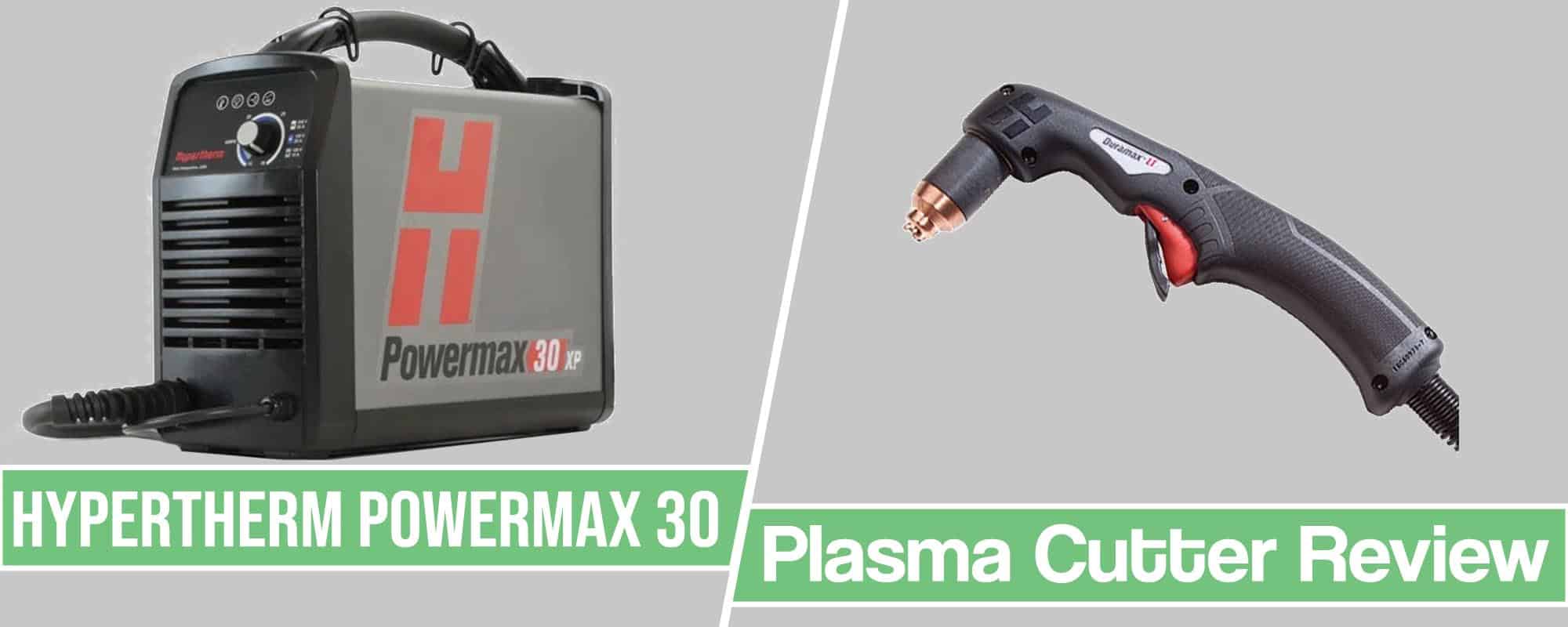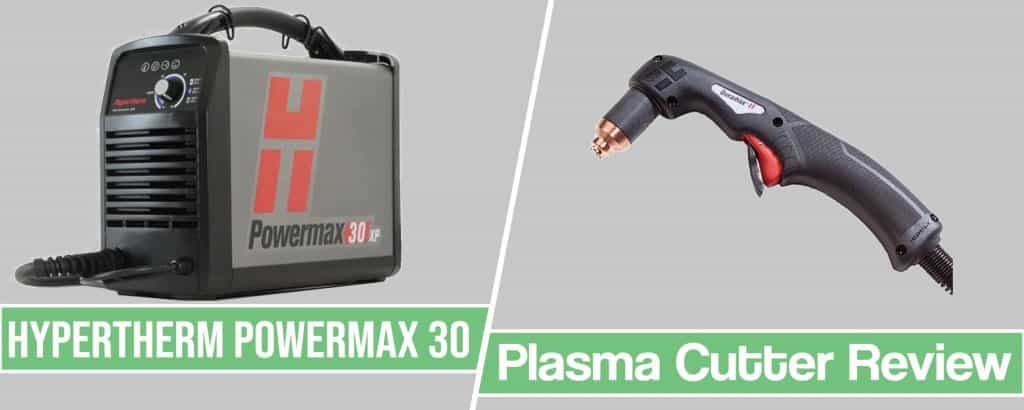 This cutting tool comes with stellar performance stats and is more than versatile for any type of cutting work.
Let's review the product and examine it a little bit further.
Hypertherm Powermax 30 Review
When creating the Hypertherm Powermax 30xp the designers had efficiency, functionality, portability, and performance in their mind. Rightfully so they have managed to end up with great results. The Powermax 30 XP plasma cutting tool provides multiple benefits and all at a low cost.
First of all, the Hypertherm Powermayx 30xp offers high-power cutting ability. It is more than capable of cutting through both thick and thin metal and can even use fine-cut consumables.
It is highly adaptable as it is able to run on both 110v and 240v. The offered voltage allows it to be suitable for any type of work in different environments and situations. Actually, it also comes equipped with auto-voltage technology that allows the machine to automatically adapt to either the 110v or 240v input power when necessary.
The Hypertherm Powermax 30 XP plasma cutter also comes equipped with a Duramax LT torch. The torch itself is made out of quality, heat resistant, and impact resistant materials. It allows the Powermax 30 to cut through materials of 3/8 of an inch.
What gives an advantage to the Hypertherm Powermax 30xp as opposed to other plasma cutters is its user-friendly design. It is made in such a way that it allows for a very comfortable grip which will, in turn, make it easy to use during any kind of work. A worker will be able to perform faster and can thus make deeper cuts.
Finally, the Hypertherm Powermax 30 air is a portable piece of equipment. It weighs only 21 pounds and its dimensions are 14×6.6×12 inches. Moving about the job site is quite easy especially thanks to the added hard carry case that accounts for improved mobility and flexibility.
Pros & Cons Summarized
Pros
It is not a high end product and yet it delivers impressive cutting results.
It is very easy to set up and use without any complications.
Users will enjoy a perfect and comfortable grip without their hands being exposed to heat and impact thanks to the Duramax LT torch.
Users will save money on gloves, shade glasses as well as on carrying case as they are included in the package.
It is a dual voltage plasma cutter running on 110V or 240V currents with an automatic switch.
It is not difficult to store as you can put it and all the accessories in the storage case it comes with. Besides, it does not have large dimension that will take up huge space.
Come with other shaded glasses, rugged case, standard consumables, carry strap and FineCut consumables.
Cons
Though it delivers precision cuts, one has to practice for some time before mastering it.
You have to acquire an air compressor.
Price
Specifications
Processes: Plasma cutting.
Cutting Thickness: Steel – 3/8in neat cut and 5/8in maximum severance cut.
Cuttable Materials: Steel, Stainless Steel, Alloy Steel, Aluminum etc.
Input Power:120/240 V, 60 Hz.
Input Phase: 1-Phase.
Current Type: DC.
Open circuit voltage (0CV): 256 VDC
Maximum output: 30A
Rated Output: 120V @ duty cycle 20%, 240V @ duty cycle 35%
Torch Lead: 4.5m (15')
Gas supply / Recommended gas: Clean, dry, oil-free air or nitrogen
Weight: 21 lbs.
Product Dimensions: 14 x 6.6 x 12 inches (H x W x D)
No products found.
What's Included When you Buy the Powermax 30?
Besides having stellar features, the Hypertherm Powermax 30xp comes with a plethora of additional pieces that make it worthwhile even more. It comes with everything that a respectable welder needs to get started and start plasma cutting right out of the box.
The standard pieces of equipment that are included are:
240V/20A Plug w/ adapters for 120V/15A and 240V/20A circuits
15′ Duramax LT torch w/ standard consumables
1 electrode
1 standard nozzle
1 FineCut nozzle
15′ Work Clamp
1 FineCut deflector
Plastic Carrying Case w/ Strap
Cutting Glasses
Welding Gloves
Note that the air compressor for the Hypertherm Powermax30 air is not a part of the standard package. Since the cutter works on compressed air you will have to get this piece of hardware separately.
Something that you also need to note is the consumables that come with the product. To ensure that your cutting tool lasts longer and performs exceptionally, high-grade consumables are provided as well. This will save you both time and money in the long run and make your overall experience a lot better.
Who Should Buy Hypertherm Powermax 30 XP?
First and foremost, the Hypertherm Powermax 30 XP is a versatile plasma cutter that can even cut through thicker and wider pieces of metal. But, at the same time, it is more than capable of precise cutting as well.
This product is more than useful for making auto repairs or during any farm or ranch work. Additionally, it is good for repairs in regards to HVAC shops, muffler shops, pipe cutting work, and plumbing jobs as well. But it is also going to come in handy when dealing with a sign or ornamental metal manufacturing or any kind of metal artwork.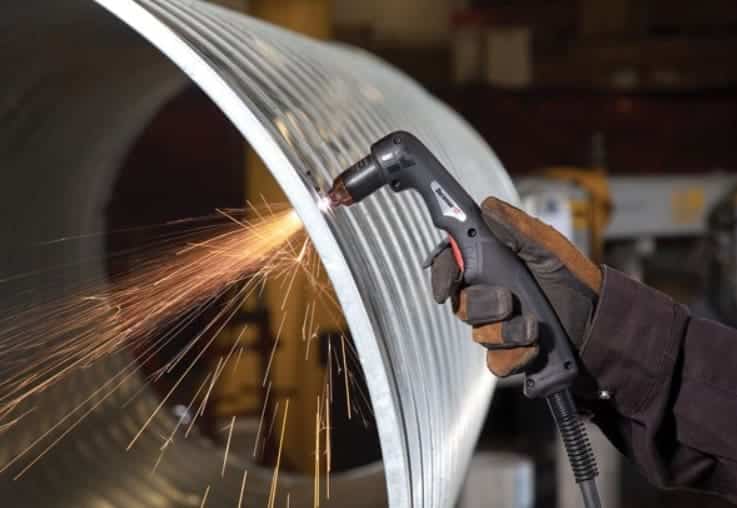 Besides professionals in the field, the Hypertherm Powermax 30 XP is also suitable for novices. Since it is quite easy to use and more than simple to set up, beginners can get the hang of it really fast. The interface is user-friendly and there are no complicated settings that need mastering. A beginner will need only a little time to master using it.
The weight is a considerable advantage. It is small and offers high portability. If you are not working at home and you need to carry your equipment to the job site, this one is available for such feats.
Finally, artists, hobbyists, craft shop people, or anyone in need of precise cutting will enjoy using this product.
[F.A.Q] – Frequently Asked Questions
Will the device work at a reduced capacity off available amps/voltage?
The device will still be able to work properly at a reduced capacity of available amps/voltage. However, its performance will be more than impaired and you are not going to get desirable results at that rate.
Is the torch changeable?
No, the torch of the plasma cutter is not changeable. The hose comes attached to the unit and is designed in such a way that it cannot be changed whatsoever.
Is the device USA origin?
The device is assembled and manufactured in the USA. However, certain parts within it originate from China.
Does the device run from an appropriately sized generator?
Absolutely! The device will be able to function under these circumstances without any problems.
Conclusion
Keen-eyed viewers will remember that Tony Stark in Iron Man made his suit in a cave using the Hypertherm Powermax 30 XP plasma cutter. That is of course not enough to show you just how good this machine really is, but I think that review and the stats that you could read above are.
It is capable of cutting through various types of materials at both 110v and 240v current. Its features are more than suitable for both amateur and professional welders. Both small and portable as well as being very light and movable. Designed for precision work and for dealing with different types of metals.
All in all, bringing our plasma cutter review to a close, the Hypertherm Powermax 30 XP is superior to most plasma cutters in the same range. But in this case, it will not only cut various metals but also your costs. It will save you a whole lot of money which is definitely an important factor to consider.