Art can quickly become an essential part of welding, and John Andrews, the artist behind the JRA Welding, is a true example. He has been involved in fabrication work for multiple downtown area businesses, including handrails, signs, and other architectural details.
However, combining creativity with a passion for welding resulted in sculptures that took our breath away.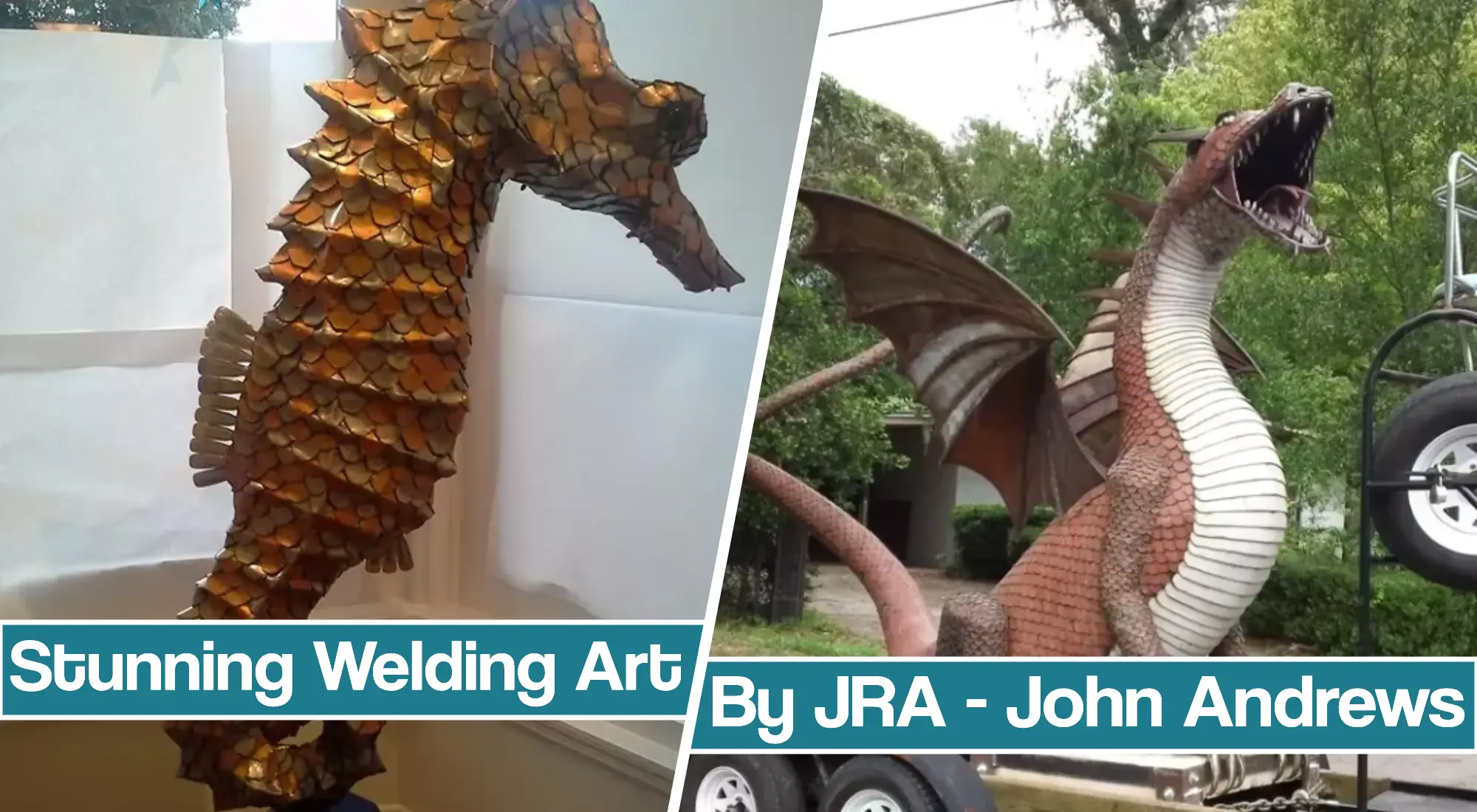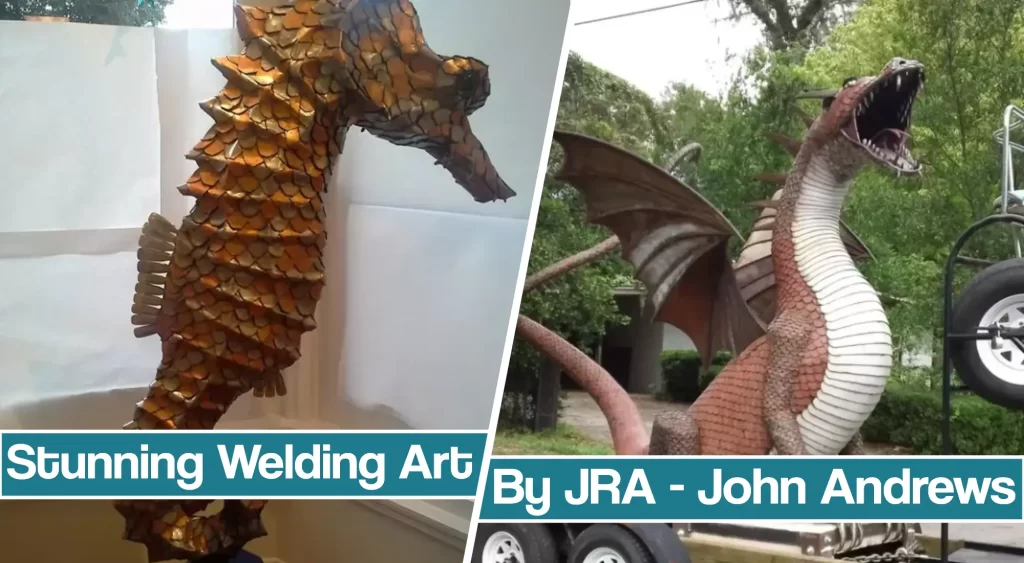 In addition, JRA Welding's work was widely acknowledged by the audience that had chances to see the sculptures at one of the numerous exhibitions.
Today we will talk about the welding art sculptures that found their ways to the satisfied owners.
Breathtaking Welding Sculptures
1. Edward the Eagle
The sculpture that stands out from the crowd is an impressive bald eagle you can notice by looking at the JRA Welding social media profiles.
The number of details and effort put into this sculpture make it a proud national symbol. In addition, this statute was dedicated to the loving memory of John's oldest brother Charles Edward Andrews, so besides artistic, it has an emotional value.
There are also a few teasers on behind the scene making of this remarkable sculpture, and I have to say it is a real piece of art.
In addition, John uses recycled metal, which really adds to the value, and fits all the green lovers out there. Finally, the feathers were hand-cut from retired shipping containers and painted to suit the art.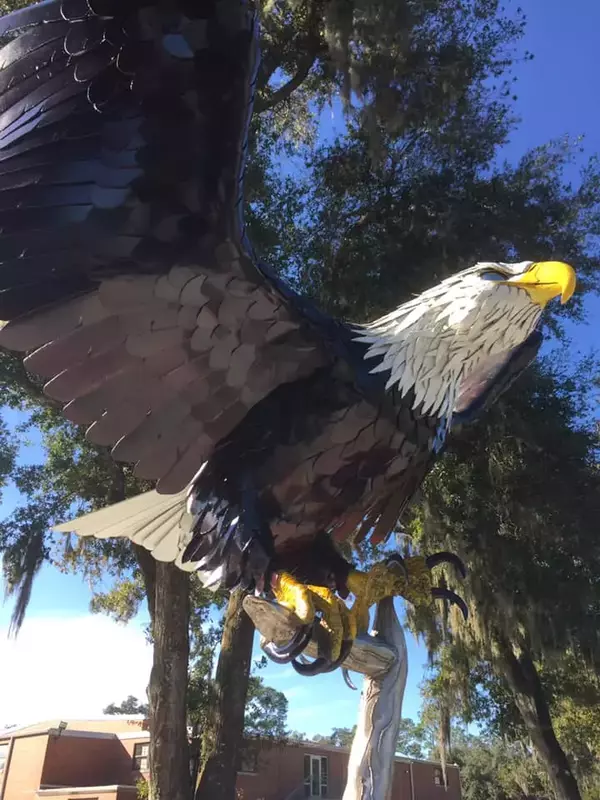 You can see this sculpture at The Reserve Park, at 8th ave in Gainesville, Florida. The statue was part of the grand opening in 2019, where the former Army Training Center was transformed into a neighborhood park, honoring the service of all branches of the military and their families.
2. Monty, a Dog Gone Dragon
Monty is a large metal sculpture made entirely of recycled materials. The statue was inspired by John's trusting dog, a clumber spaniel, who unexpectedly passed away. This dragon is free-standing with no visible support rods or base plates. He sits on his powerful tail, or he can hang to give the appearance of flight.
The armature was fabricated from heavy metal tanks and tubing covered by over 12,500 hand-cut scales. The scales were cut from retired shipping containers, utilizing their original paint.
The audience well accepted this statue, and it was among five sculptures set to be displayed at the Sculpture on the Lawn festival, held by Orange County Art department. In addition, it was temporarily exhibited at the corner of SE 2nd St and Depot Ave Gainesville, Florida.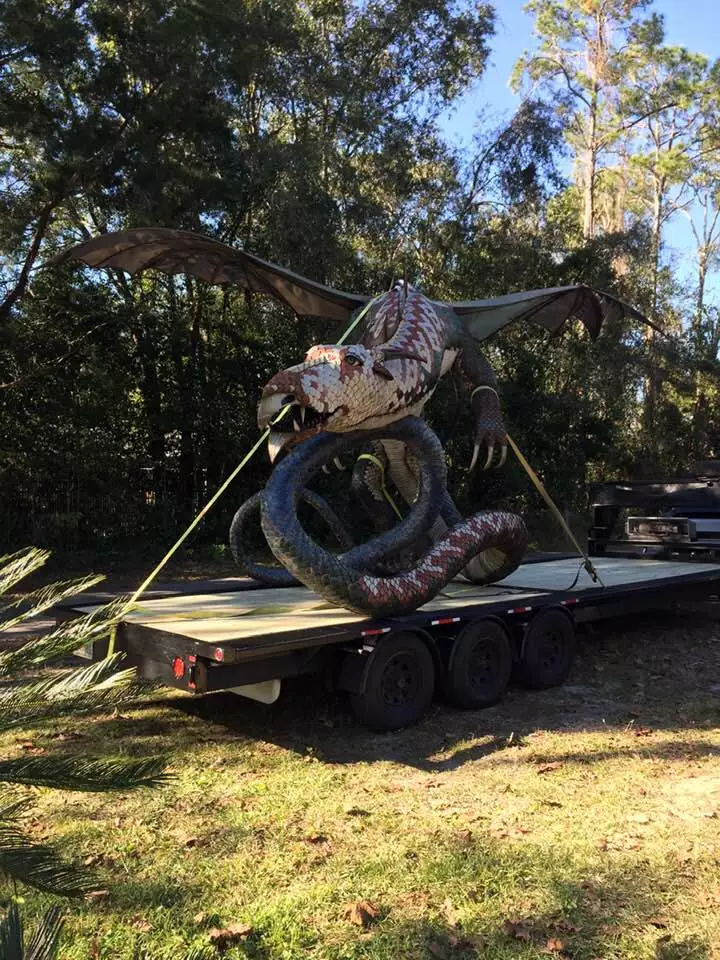 Afterward, Monty, a dog-gone dragon, had his resilience test. The statue spent 22 months in the woods, which was exhibited while hanging from a live oak tree. Then, of course, Monty returned home unharmed, displaying it at the Tom Kat Kafe / Fox Lounge to bring in 2021. But since way too many people loved it, it was eventually sold.
3. Odie the Owl
Odie, the owl, is approximately 6 ft tall and weighs about 350 lbs. The feathers are corten steel cut from decommissioned shipping containers. Each feather was cut by hand with a plasma torch and welded to the hollow steel armature (hot water tank). The feet are made of stainless steel prosthetic hip parts, while the base is stainless steel fabricated to look like a tree stump.
The stump is welded to a 3 / 8 " steel plate with a four-hole bolt pattern with 5 / 8 " holes. The beak and the talons are fabricated out of stainless steel. The eyes are made of glass. Some say Hector the Hawk served as inspiration.
Odie was first exhibited at the Gathering of the Artist show and displayed at the GFWC Gainesville Women's Club.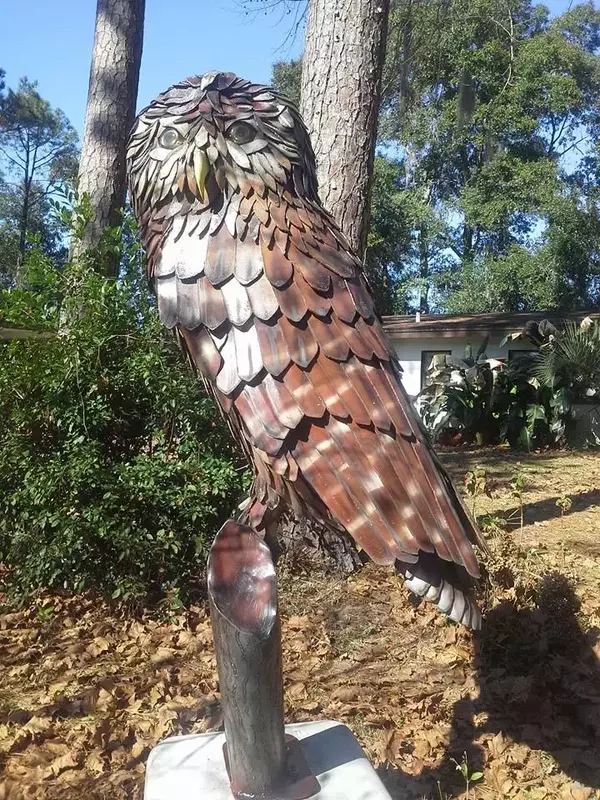 The sculpture was a great success, which led to Florida Magical Christmas Parade, where Odie was displayed alongside the Monty. As more people had a chance to see Odie, the sculpture eventually found its proud owner.
4. Norm the Green Dragon
"Norm" is a giant dragon made entirely of recycled materials. His color is red from the original paint on the recycled material he was made of.
"Norm" is 100% green, right down to his salvaged base. The artist welded over 6958 scales in 1922 person-hours for his completion. His mesmerizing scale pattern puts him into motion.
John found himself molding the spirit of hiss passed away dog into the dragon. His smile, him sitting with a bulging chest and his watchful eye.
He placed a heart inside his chest to remind that death is a natural part of life.
It was part of WoodTV's ArtPrize contest, where the dragon was among the 25 best art pieces. So norm has made his way to his new home. Castle Farms in Charlevoix, MI, is now under his protection, as frequent visitors were stunned.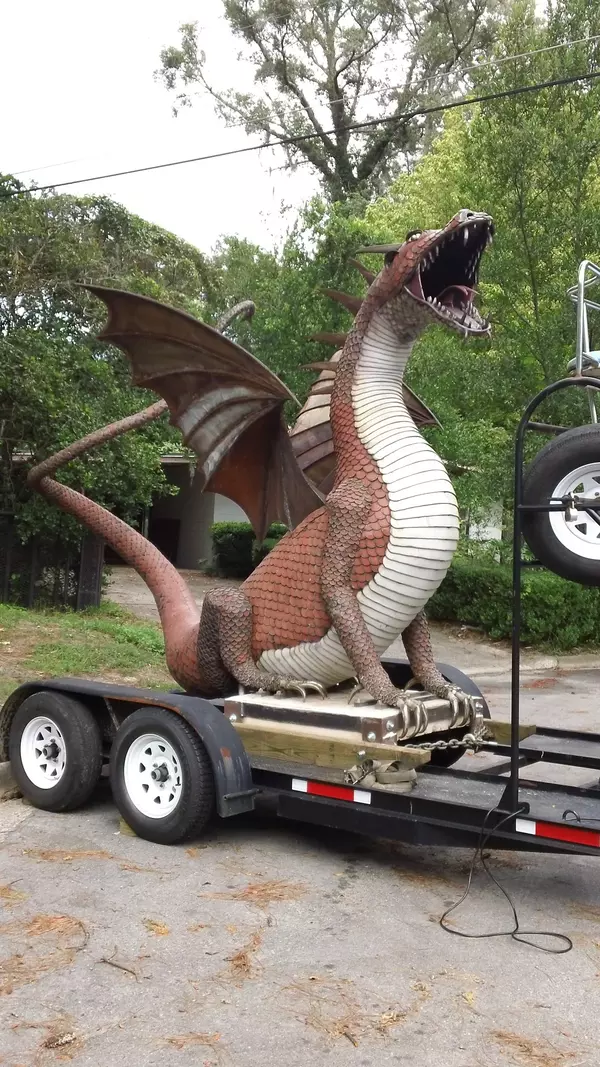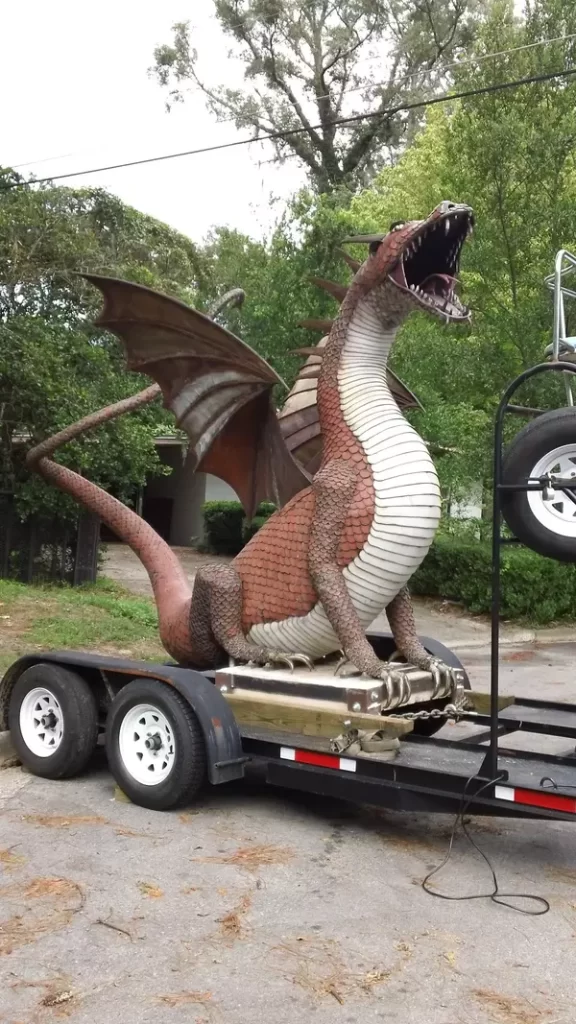 5. A Dragon Trophy
A DragonTrophy is a wall-mounted dragon head made from recycled metal. It weighs 225 lbs and comes with a mounting bracket for proper weight distribution. Over 2100 scales were hand-cut and meticulously welded to the heavy metal armature.
It has 86 hand-crafted teeth that are nothing short of ferocious. The eyes are antique glass power line insulators painted with an automotive candy metallic paint on the inside.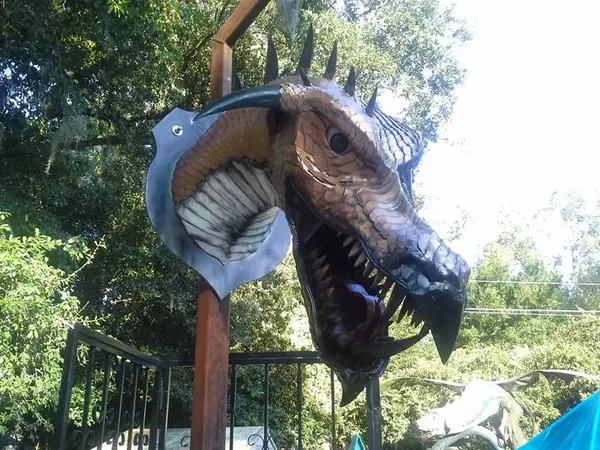 The audience had a chance to see A Dragon Trophy at the ArtPrize contest at The Mitten Brewing Company. Medieval and art lovers well accepted this art piece as it was a great success.
Then the trophy was mounted on a brick wall at a wedding reception in Florida, so many people got a chance to enjoy it. Due to popularity, this stunning sculpture was eventually sold, but John's work continues to amaze us.
6. Red the Parrot
Red, the parrot, is yet another realistic sculpture by JRA Welding we absolutely loved. Like the other artwork, Red was made of recycled metals, where John hand-cut and welded the feathers to perfection.
The original piece, which included only a parrot, was featured at the Santa Fe Community College Spring Art festival, alongside Felix the Flamingo, with very harsh competition.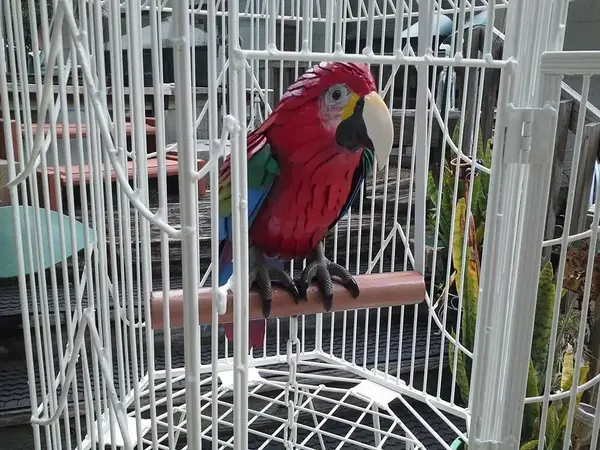 However, the audience loved the Red, so the artist decided to make him a 1950's cage. With his brand new cage, Red amazed many people who got a chance to see it. Later on, it was displayed at East End Eatery Restaurant, where he fit perfectly into the new environment.
---
These are just some of the most famous sculptures by JRA Welding we had to feature, but his work incorporates much more. Here is a gallery of his work you might like.
If you liked the work we displayed, you could feel free to contact John by following the social media and website links. I assure you, you won't be disappointed by the results.