If you feel like you started hitting the duty cycle with your 140 MIG welder, it is time to get a more powerful machine. Lincoln PowerMIG 180c is a 230V MIG/Flux-cored welder rated at 180 amps.
Lincoln Electric units, unlike cheap Chinese welders, grant reliability and high-quality build. But the quality comes with a cost.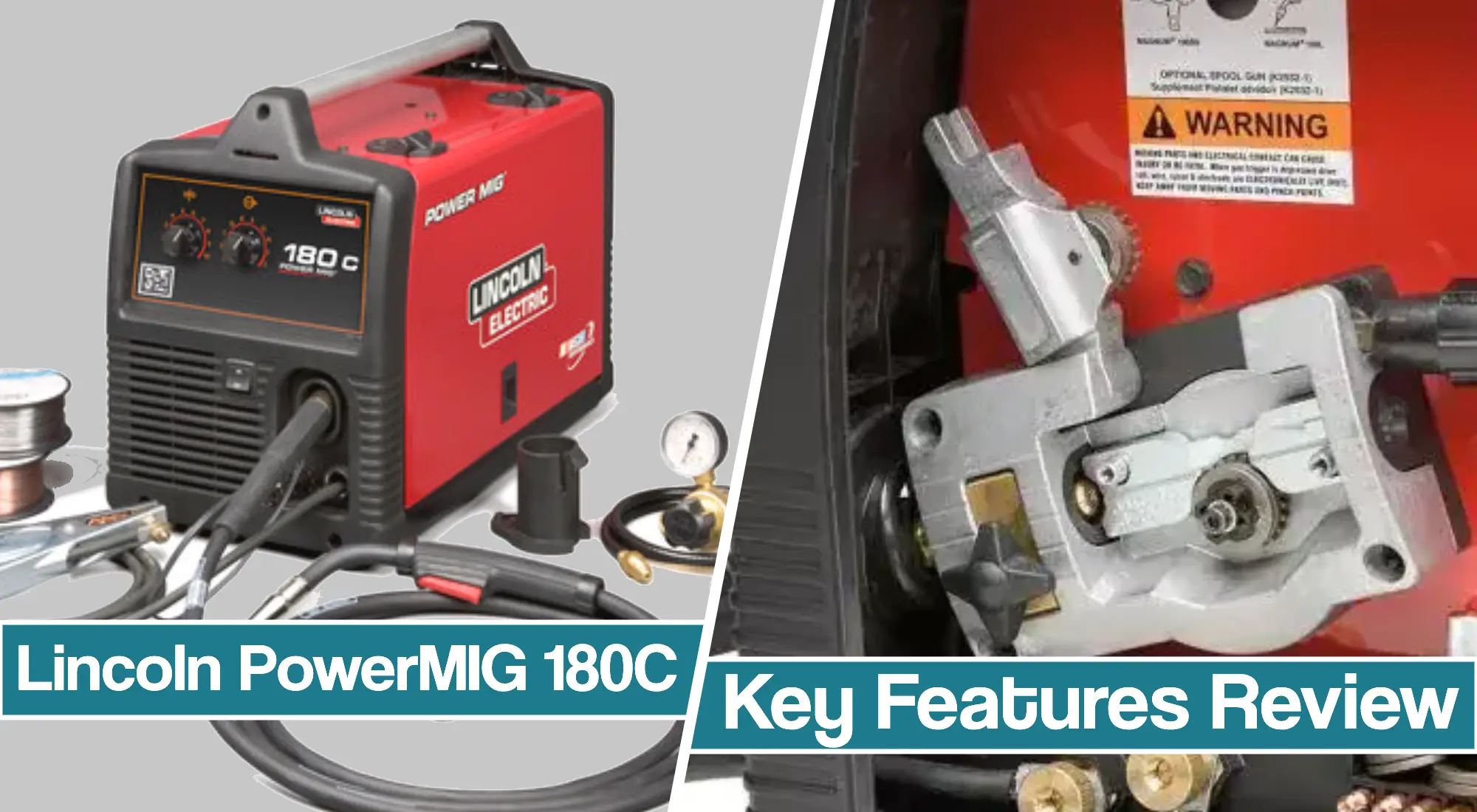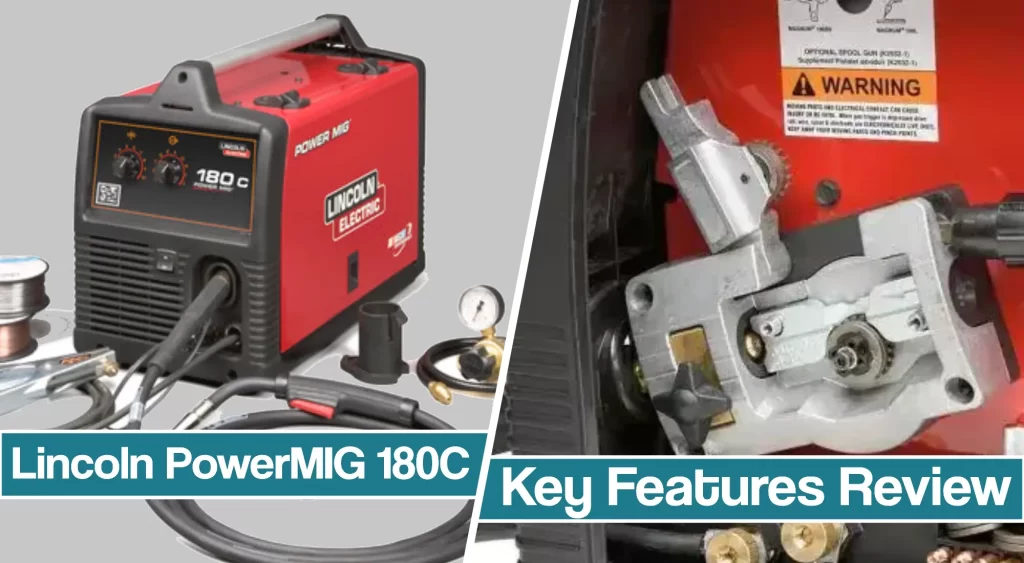 Still, this MIG welder offers advanced features and a stable arc. Farmers, fabricators, autobody shops, or backyard mechanics will love it.
So, read this Lincoln PowerMIG 180c review to learn more about critical features, package content, value, and drawbacks.
Lincoln PowerMIG 180C Review – Package content, technical specifications
With Lincoln PowerMIG 180c, for the money spent, you get:
Lincoln Electric Magnum® PRO 100L gun, 10 ft. (3.0 m)
Gas and Gasless Nozzles
Cable Liner
.025 in. (0.6 mm) and .035 in. (0.9 mm) Contact Tips
Work Cable and Clamp
Adjustable Gas Regulator and Hose
Spindle Adapter
Sample Spool of Lincoln Electric .025 in. (0.6 mm) SuperArc® L-56 Mild Steel MIG Wire
Sample Spool of Lincoln Electric .035 in. (0.9 mm) Innershield® NR-211-MP Flux-Core Wire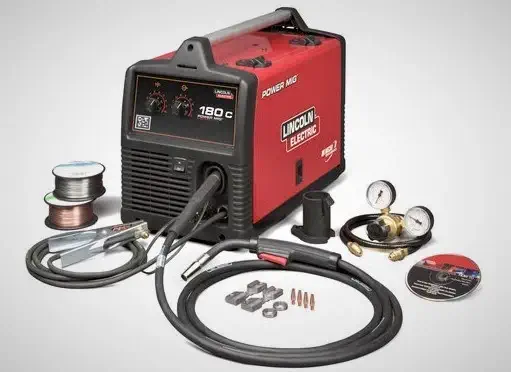 .035 in. (0.9 mm) and .025 – .030 in. (0.6 – 0.7 mm) Drive Rolls
.030 -.045 in. (0.7 – 1.1 mm) Knurled Drive Roll
.025 -.035 in. (0.6 – 0.9 mm) and .035 – .045 in. (0.9 – 1.1 mm) Wire Guides
Looking at the package, you get everything you need to weld straight out of the box. Provided clamp, leads, and MIG gun are of outstanding quality. Still, the MIG gun handle is slightly smaller, so you will love it if you have smaller hands, while those with larger hands might find it challenging to get used to it. In addition, the torch trigger is not super firm, so you should take care of the accidental press.
Budget welding machine manufacturers usually provide a couple of tips and a regulator, but with Lincoln 180c, you also get sample wire, as well as wire guides and drive rolls. Nevertheless, the provided consumables won't keep you going for too long, and some might find a power cord a bit short. On the other hand, Lincoln consumables are standard, as you won't have trouble buying them at any local welding shop.
Technical Specifications
| | |
| --- | --- |
| Welding Process: | MIG/Flux core welding |
| Input Voltage: | 208/230V, 60 Hz |
| Input Current: | 20A |
| Input Phase: | 1 phase |
| Output Power Range: | 30-180A |
| Metal thickness: | 24 ga. up to 3/16" in a single pass |
| Polarity: | DC |
| Rated Duty Cycle: | 130A/20V/30% |
| Wire Feed Speed Range: | 50-550 ipm |
| Dimensions: | 14 in x 10.2 in x 18.6 in |
| Net Weight: | 80 lbs. |
| Warranty: | 3 years |
MIG Welding Input Power
Lincoln PowerMIG180c is a single voltage piece of welding equipment, requiring at least 208 to 230V power input to run. In addition, this DC welder requires a 20 A input current with a single 60 Hz phase. So, you will need a 220V outlet in your shop or a garage to run it. If you are looking for an AC welder with the same power, consider Lincoln Pro MIG 180.
If your household outlet is limited to 110V, you might have to consider a Lincoln PowerMIG 180 dual. Capability-wise, Lincoln PowerMIG180 dual is pretty much the same machine, but it offers both 110/220V power input. Nevertheless, more significant power input ensures a decent output, with PowerMIG 180c rated at 180 amps.
Welding Capability and Power
The Lincoln PowerMIG 180c has a rated power output of 30-180A, which is pretty standard in this MIG welder category.
That means you can MIG weld steel and stainless steel plates 24 ga. to 3/16" thick in a single phase, or even join 1/2" metal by using an Innershield gasless wire. In addition, you can weld up to 3/16" thick aluminum with an optional spool gun, which is sold separately.
This unit offers a rated duty cycle of 30% at 130A, meaning you can weld for three minutes straight before having to make a 7-minute break.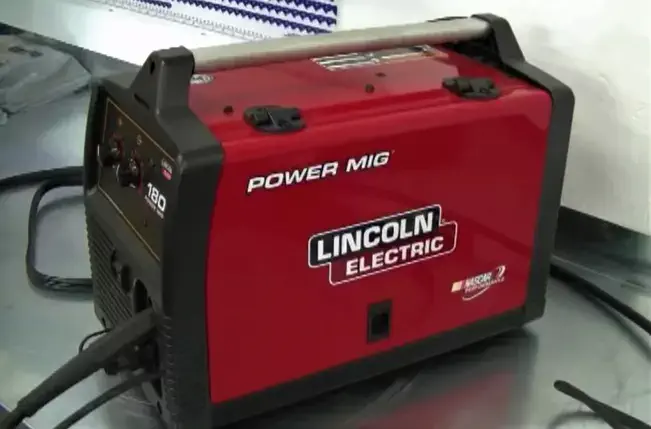 The rated duty cycle is approximately the same in the 180-amp MIG welder category, and it will get your job done. Meanwhile, the Lincoln PowerMIG 180c can tackle 1/2" thick steel, which might be challenging for welders such as Miller Millermatic 190, Hobart Handler 190, or Forney 318.
In addition, Lincoln PowerMIG 180c can weld aluminum with a separately sold spool gun, while some 180-amp MIG welders, such as Forney 318, do not spool gun ready, meaning they can't weld aluminum. However, most high-end welders such as Miller or Hobart can use spool guns to ensure smooth aluminum wire feed.
Build Quality
Once you decide to invest in a brand-name MIG welder, you can be sure you will get the quality you pay for. Lincoln Electric company builds reliable, high-quality, and sturdy welders that are built to last and perform.
Unlike cheap Chinese devices, the Lincoln PowerMIG 180c seems like a super sturdy, industrial-grade machine. This MIG welder is robust, the casing is rigid, and there is no cheap plastic. This piece of equipment features a diamond core technology, which delivers a forgiving arc.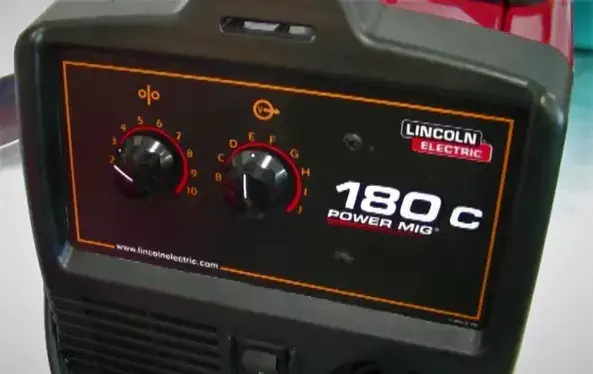 There is a low spatter and excellent out-of-position arc action. The toughest PC board protection is potted to seal the sensitive components from the dust, meaning your investment is well-protected.
The control panel is pretty straightforward. There is only a voltage and wire feed speed adjustment knob. There is no digital display that can be a liability in the workshop, but some prefer to read the exact settings. However, most 190-amp rated MIG welders use a minimalistic control panel design, and having one is a personal preference.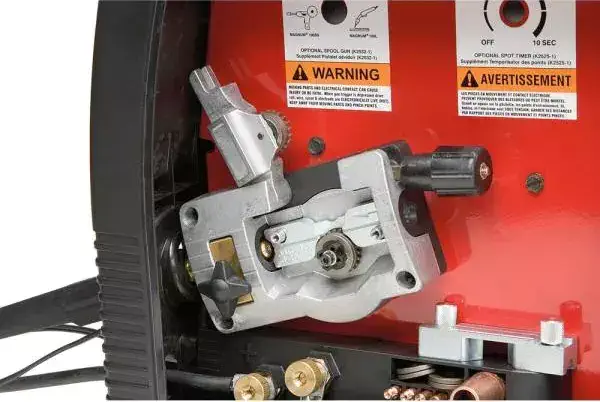 Opening the wiring compartment, you notice an industrial cast aluminum wire drive that is covered and seems super sturdy. In addition, the drive motor sounds pretty intense.
Dual gear-driven rolls deliver positive traction and ensure a smooth wire feed, even after years of use. To set up the wire, follow an alignment, and you can do it quickly, even if you are a beginner.
One of the things beginners will like is a tool-less design. You can change the polarity, input power, drive rolls and mount a new spool without using any tools. In addition, there is a detailed side door chart, which gives recommended settings for a required material thickness and shielding gas choice.
Welding Machine Price and Value
This is where it gets tricky. Once you decide to invest in a high-end, brand-name welder, you have to be ready to break a bank. Lincoln Electric Power MIG 180c is not one of the cheapest MIG welding units in the 180-amp category. The initial price is significantly higher than Hobart Handler 190, while 180c is slightly more expensive than Millermatic 190. However, the quality you get justifies the cost.
For the money spent, you get an industrial-grade welder machine that is built to last. Even though most brand-name units grant reliability and high-quality build, Lincoln 180c provides exceptional bead quality and smooth wire feed any seasoned welder will love. In addition, beginners won't find this MIG welder hard to use or set up, as it offers a forgiving arc that will help you master the art of welding.
To protect your purchase, Lincoln Electric offers an initial 3-year warranty. However, Hobart and Forney offer an industry-leading 5/3/1 warranty. So, if you have any doubts, you can pay for an additional 2-year extension.
Still, I don't think you will need it, as the Lincoln 180c proved reliable after many years of service. Nevertheless, occasional problems that occur are the result of poor shipping and packaging. So, check the unit as soon as you receive it, and make sure you buy it from trusted suppliers.
Portability
When buying an industrial-grade MIG welder, you should be aware of the weight. For example, Lincoln 180c is a robust and sturdy welding machine that weighs 80 pounds.
This might be one of the heaviest units in the 180-amp category since it is slightly heavier than Hobart Handler 190, which weighs 68 lbs. and is significantly heavier than Millermatic 190, with 35 lbs. In addition, most budget welders such as Eastwood MIG180 use an IGBT inverter technology, making them super-lightweight.
Once you add a cylinder of gas for increased portability, I warmly recommend a welding cart. However, you can build one as your first welding project with a brand-new MIG welder.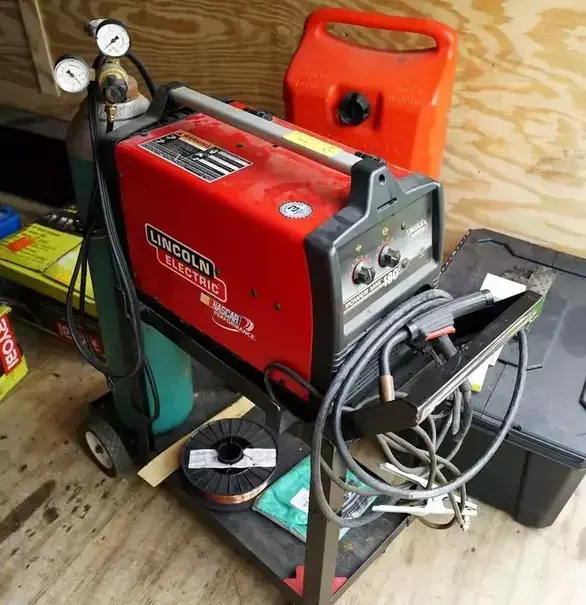 Who Should Consider Buying Lincoln Electric PowerMIG 180C?
If you are an experienced or intermediate welder that intends to weld thicker materials for autobody, farming, or repair or maintenance projects, you will love Lincoln PowerMIG 180C. Meanwhile, novice welders won't have trouble starting or maintaining a stable arc, and professionals complimented the weld quality.
On the other hand, if you plan to weld longer hours or thicker materials in a single pass, you might consider more powerful welding machines. In addition, high-price might be limiting to some, so if you are on a tight budget, you might have to pass.
Pros and Cons Summarized
Lincoln Power MIG 180C is a high-end intermediate MIG/Flux-cored welder that proved its reliability over the years. You get everything you need to weld straight out of the box, including high-quality welding accessories. Brass to brass connection protects the MIG torch from critical conductivity. However, consumables won't keep you going for too long.
The device has a rated output of 30-180 amps, with a 30% duty cycle rated at 130 amps, which is pretty standard in this category. However, this is a 220V only machine, but it is capable of joining 1/2" thick metals in a multi-pass with a gasless wire.
When investing in expensive devices such as Lincoln Electric PowerMIG 180C, you get what you pay for. However, even though the device comes with additional cost, you can be sure your investment is well protected by a high-quality, well-packed, and sturdy build.
Overall, you will love the beautiful welds diamond core technology provides, smooth wire feed. It seems like Lincoln Electric company built this welder to last and perform.