MIG welding is undoubtedly getting more popular among hobbyists and DIY lovers, and that's why more manufacturers started producing user-friendly machines.
As a result, the market is overflowed with cheap welders for occasional use, but how do you pick the right one?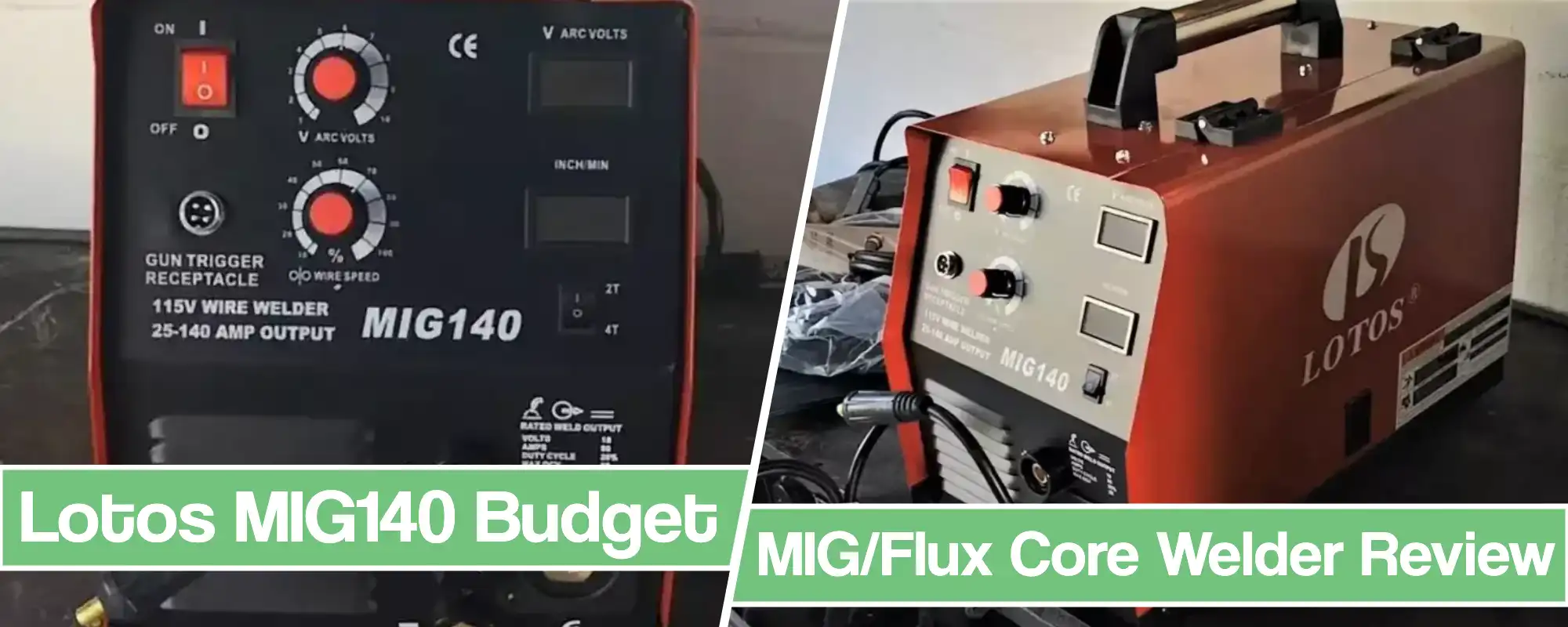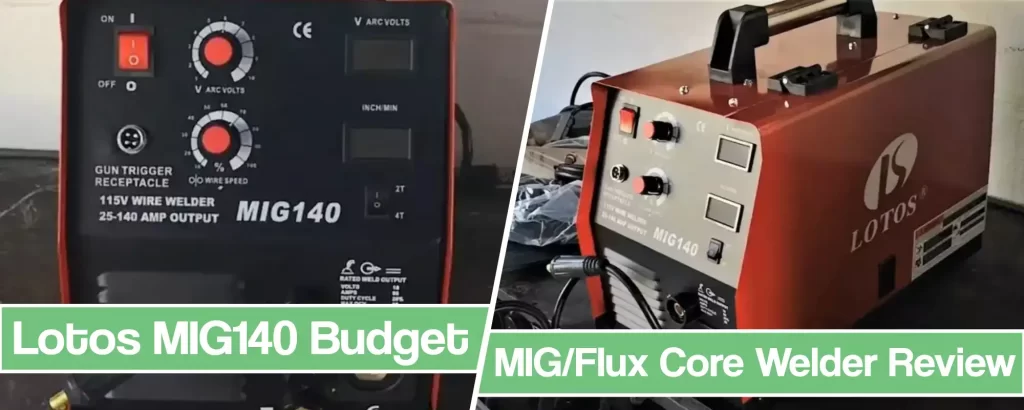 Lotos MIG140 is one of the budget-friendly welders that offers great value for the money spent. The unit provides some nice features, and it is easy enough to use, with pretty decent capability. Still, there might be a couple of flaws that won't suit every welder out there.
So, read this comprehensive Lotos MIG140 review to determine if this is a suitable machine for you.
Lotos MIG140 Review, Package Content, and Specifications
Before discussing the features, build, and value, let's briefly overview package content and specifications. You might be able to make some deductions, but I'll try to explain the capability thoroughly.
Let's start.
Package Content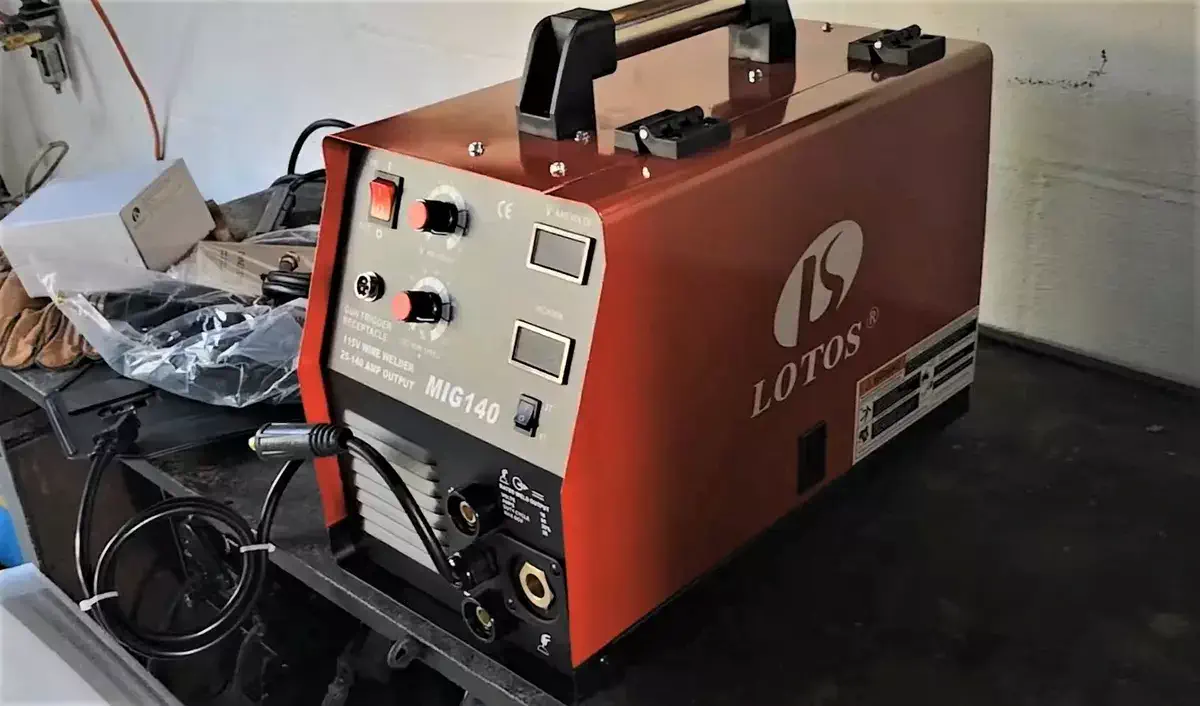 MIG torch,
Ground clamp cable
Gas Hose,
Argon Gas Regulator,
023" (0. 6mm) & . 035" (0. 9mm) Contact Tips,
Welding Mask and Wire
Instruction Manual
Even though you get a few things for the money spent, including a decent MIG gun, many welders' repot welding accessories are terrible. So, the argon regulator and gas hose might leak.
Also, there are fewer contact tips than other manufacturers would supply. In addition, you shouldn't try the welding mask, and the instruction manual is pretty useless. Instead, I suggest a proper welding helmet and manual adjustments.
Technical Specifications
Welding processes:
MIG, Flux Core
Input Voltage:
110/120 V
Weldable metal materials:
Mild Steel, Stainless Steel,
Aluminum (if you buy a spool gun separately), and other metal materials
Output Power:
30A to 140A
Duty Cycle:
20% at 90 amps
Material Thickness:
24 gauge to 3/16 inch
Wire Diameter:
.025″ to 0.30″ for solid steel wire and aluminum wire,
.030″ to .035″ for flux-cored welding wire
Dimensions:
16 inches x 14.5 inches with a height of 9.6 inches
Weight:
56 lbs.
Warranty:
1-year, 30-day return policy
No products found.
Lotos MIG140 Amp MIG Wire Welder Features
Things written on paper and practice may differ, so I'll try to explain the features and welding capability to explain how it compares to manufacturer claims.
Welding Utility
Lotos MIG140 requires 110V to run, which means you can use any household outlet to power it. However, you might notice that nearly all hobbyist machines rated at 140 amps, such as Hobart Handler 140, Lincoln Easy MIG 140, or Miller Millermatic 141, are 110V only machines. In addition, you will need to install a 30 amp circuit breaker, as the welder might burn through a 15 amp one easily.
Keep in mind that this is a transformer-based unit. Transformer technology grants reliability, but it might make units heavy. In addition, you cannot use the generator to power it. Nevertheless, you could use it in any garage or small shop.
Welding Power and Capability
The Lotos MIG140 has an amperage power output of 25-140 A, standard in the 140 amp welder category.
In addition, the machine offers a rated duty cycle of 20% at 90 A, meaning you could weld 2 minutes at ninety amps straight, then having to rest for 8 minutes. Meanwhile, most 140 amp welders have rated duty cycle at 20-35%.
With the Lotos MIG140, you can weld steel and stainless steel ranging from 24 gauge to 4/16 inch with the option of MIG and flux-cored wire welding.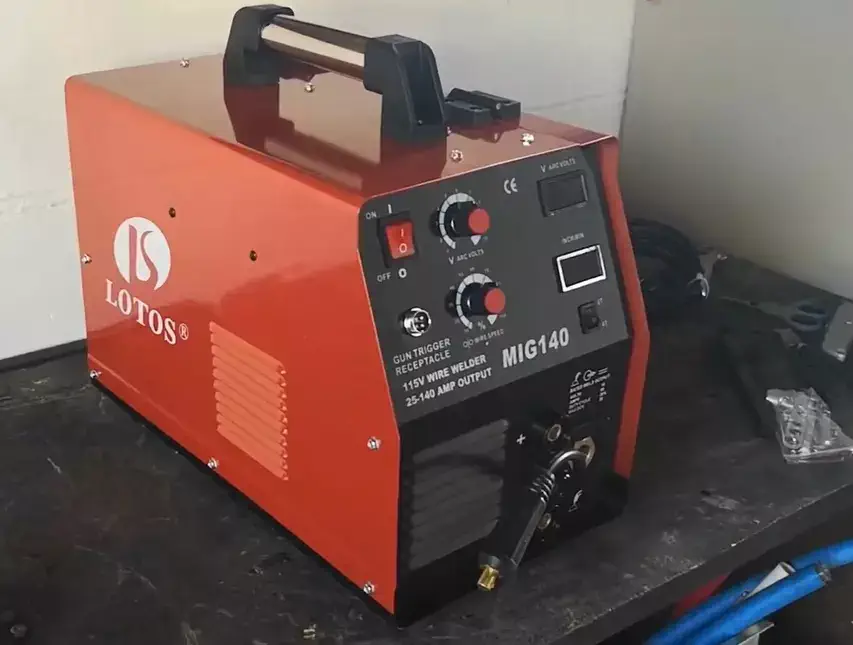 You might come across claims that guarantee maximum welding power output capable of welding 1/4 inch thick materials, which used to stand as official information. However, after numerous reports of welding experience where owners couldn't penetrate the 1/4 thick steel, the official maximal thickness was reduced to 4/16 inch.
In addition, you can also weld aluminum up to 1/8 inch thick, but only with an additional spool gun that's sold independently. There's a side door chart inside the machine to help you start welding aluminum select the proper gun.
Control Panel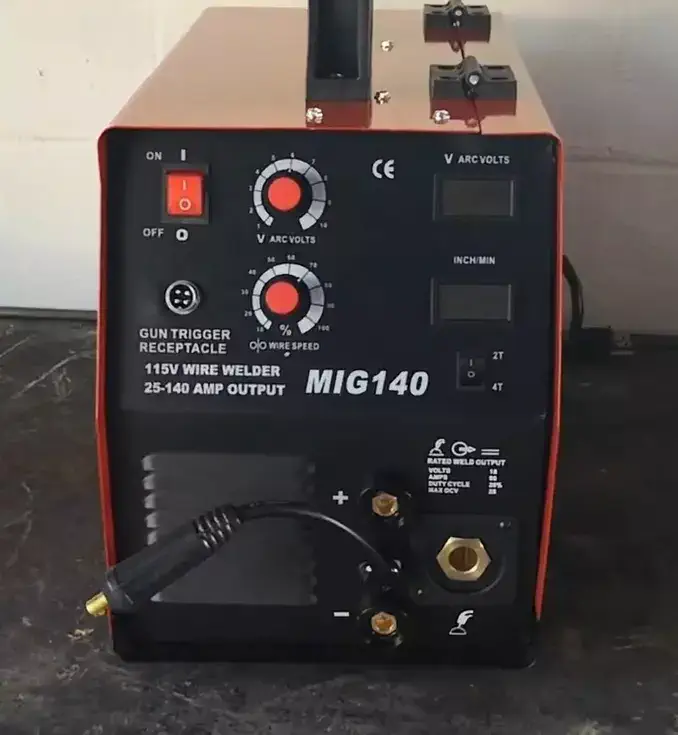 One of the things novice welders appreciate is an easy way to set the welder. Luckily, that's just what Lotos MIG140 welder offers. The machine has a straightforward control panel.
The Control panel features welding voltage and wire feed speed knobs, an on/off power switch, two digital displays, and a 2T/4T switch. In addition, with a ground cable quick connector, you can easily switch between solid and flux core wire.
You don't usually see digital wire speed display with arc volts at budget welding machines such as Lotos MIG140. In addition, Lincoln EasyMIG 140, Hobart Handler 140, and Millermatic 140 don't feature a digital display. Having one means you won't have to remember the exact position of your knobs when making adjustments, making it easier for precision work.
In addition, 2T/4T is an excellent feature for anyone that likes longer welds, as it helps you rest your hand. This switch has been introduced with the latest model of the welder.
Welder Build and Drive Mechanism
The first time you look at Lotos MIG140, you might see that the casing doesn't look sturdy. Of course, cheap MIG welders are always risky purchases, but many owners said they are surprised by the durability this hobbyist machine offers.
Some even report that Lotos welders run flawlessly after a couple of years, which seems like a good long-term investment. Nevertheless, you get what you pay when choosing a brand-name welder like Hobart, Miller, or Lincoln.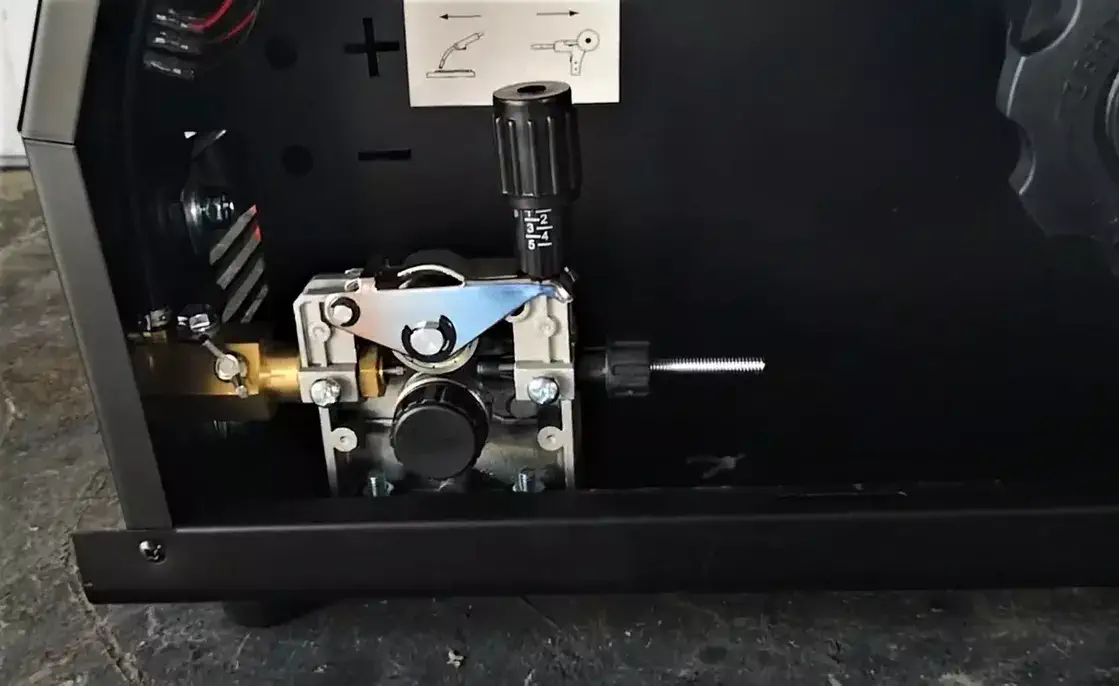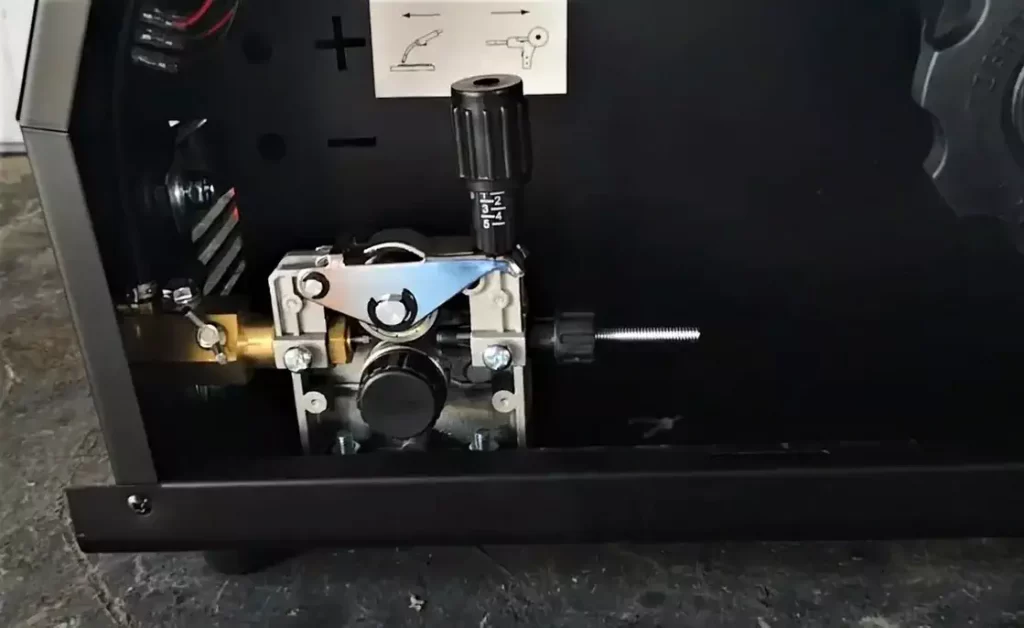 After several critics concerning the drive roll mechanism, Lotos updated the MIG140 welding machine. The company replaced an old plastic wire roll mechanism with an aluminum one. As a result, wire feed is now greatly improved, and the mechanism is sturdy and durable.
Still, some report there are problems with birdnesting and wire tangling inside the compartment, so you might need some time getting the hang of it. Nevertheless, you can fit different wire spools.
Unity Portability
The Lotos MIG140 is 16 inches x 14.5 inches with a height of 9.6 inches. It is not the smallest on the market with the given dimensions, but still, it won't take too much of your garage or shop space.
Since this welder is a transformer-based unit, it weighs 56 lbs. Most 140 amp-rated machines on the market, such as Millermatiic 141, Hobart Handler 140, Longevity MIGWELD 140, weigh around 50 lbs.
Meanwhile, Everlast PowerMIG 140e weighs only 25 lbs. Therefore, it is one of the lightest machines in the same category.
So, you might have trouble moving the Lotos 140 MIG welder around your garage, but there is a built-in handle that will make it easier. You will need a gas cylinder of shielding gas if you consider MIG welding, so I recommend building a cart, maybe even as your first project with a new welding machine.
Price and Warranty Options
Welder price is an essential factor when considering a unit, but it shouldn't be crucial. Luckily, Lotos MIG140 won't break your bank. This is a budget-friendly unit that offers decent value for the money spent. In addition, you get similar capabilities as the one you find in other welders with a greater reputation, for almost half a price.
Still, you shouldn't expect high-end build quality, advanced features, and performances as the units such as Millermatic 141, Lincoln Easymig 140, and Hobart Handler 140 offer.
There is a built-in thermal cut-out system to protect your investment, so you can rest assured that it won't become damaged from overheating or a power overload.
In addition, with Lotos 140 MIG welder, you get a 1-year warranty and 30-Day 100% Satisfaction or Money Back. On the other hand, brand-name welders usually offer a 5 to 3-year warranty.
Who Should Consider Buying the Lotos MIG140?
The Lotos MIG140 is a great choice for beginners and occasional welders that expect a trustworthy, general-purpose machine for welding steel at home, in their garage, or small workshop. In addition, the welder is simple to set up and easy to use.
So if you don't prefer all the fancy features and controls and want a straightforward machine that doesn't cost too much, this is a good choice.
If you are a seasoned welder that likes more precise control of the welding machine and expects to get the perfect bead quality, stable arc, and smooth wire feed, you might consider a high-end, industrial-grade device. Nevertheless, beginners will be pleasantly surprised by the Lotos MIG140 welder capability.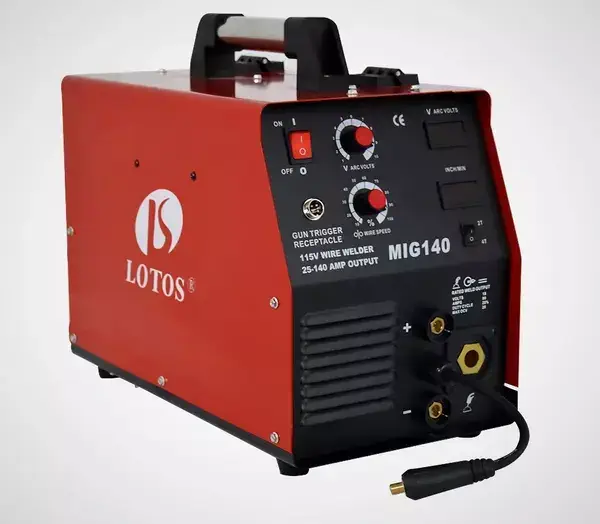 Pros and Cons Summarized
Lotos MIG140 is not the best MIG welder, but it is a great value machine for MIG and Flux core welding types, and it will suit your everyday mid to easy assignments and simple repairs. The unit is easy to use and set up, which might be one of the main advantages, especially for users that started to discover the welding profession. But you might have to spend some time getting used to it.
You will need a 110V regular household outlet you find at any garage or small shop, and you are ready to weld, but you cannot use a generator to power it. Solid wire welding capability is decent, as the Lotos MIG140 welder outputs pretty much as other MIG welders rated at 140 amps.
Still, you might find it hard to achieve a perfect bead quality and penetrate thicker materials.
The unit might not seem like a super-durable welder, but it should have a good lifespan. The drive mechanism is improved, but you might have problems ensuring the smooth wire feeder speed. The thermal cut-out system with a 1-year warranty protects your investment.
Overall, you get a decent value without breaking a bank. Once you decide to step up your game, you won't notice budget changes. Your perfectly optimized content goes here!