Are you looking for a multi-process machine that can offer you reliable 3 in 1 performance?
Multiprocess machines are all the rage currently, but there's a down to them (as with all other things), while it sounds appealing to have one machine that can do it all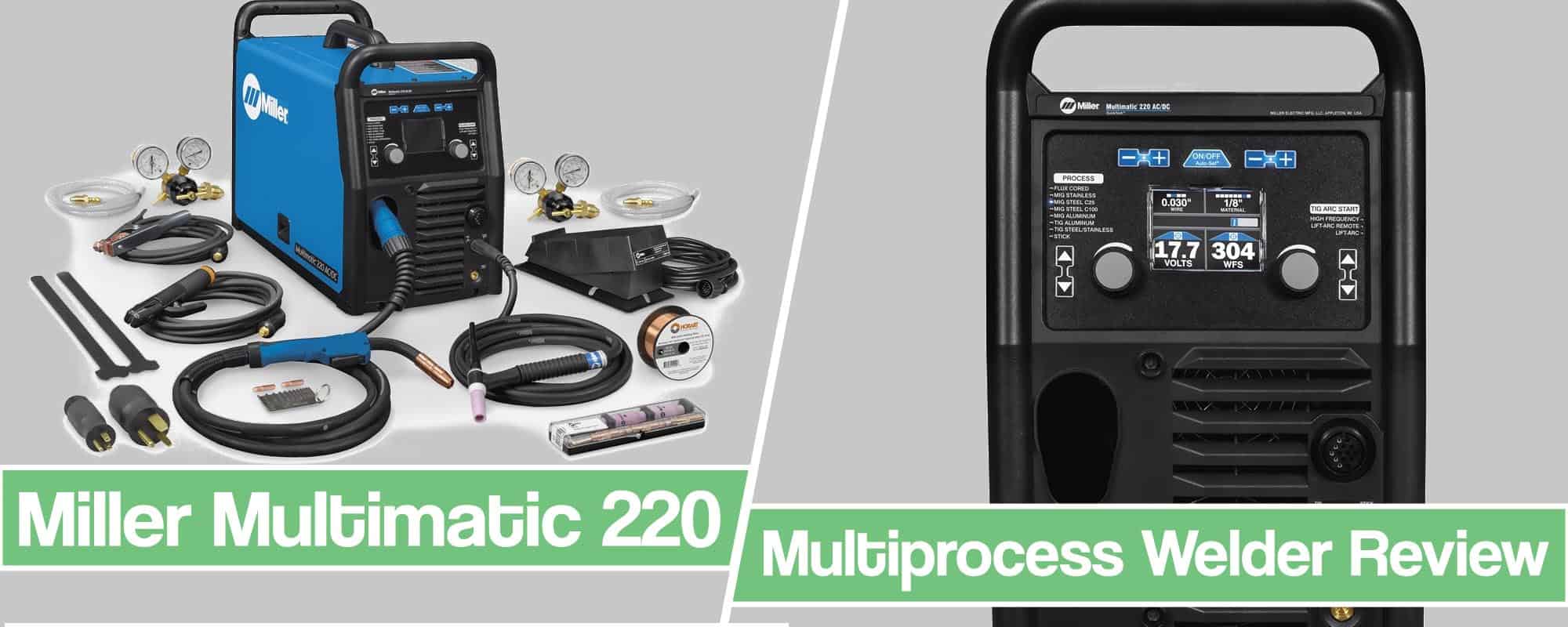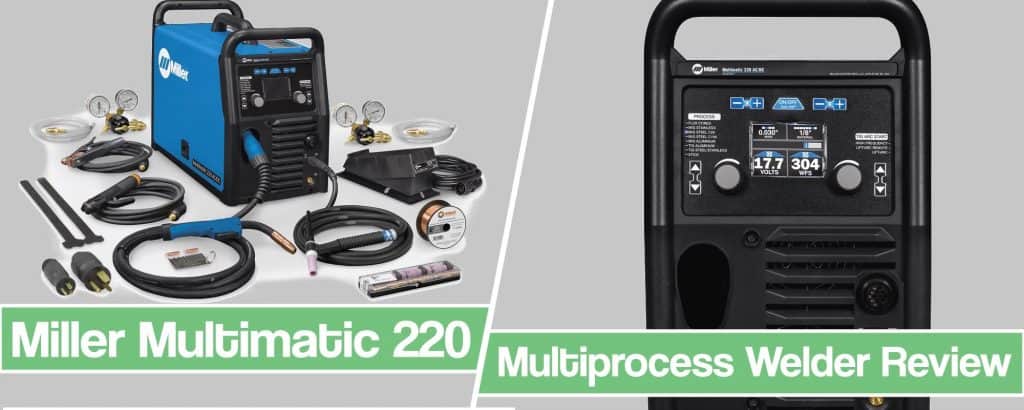 Not all manufacturers have yet been able to tackle the problem of making a machine that can handle many welding processes with equal success. (especially for 220v)
Enter Miller Electric, one of the world's largest producer of welding machines! Miller multi-purpose welder was able to show great results and by advancing their technology they have come up with almost a perfect machine. Besides being reliable it is also great for beginners, although being a bit on the expensive side.
Here I will explain in detail why you should get the Miller 220 multi-process welding machine (if you can afford it).
Miller Multimatic 120/240VAC Review
Without a doubt, I can say that the Miller MIG, TIG, and Stick welder is one of the most quality machines on the market. It is aimed at professional use but beginners can benefit from using it. However, it is a bit expensive compared to other machines on the market. But rightfully so as it is able to offer exceptional results and quality welding.
Gas Metal Arc Welding – MIG
Up to 600ipm Wire feed speed
230Amps Maximum amperage output
Up to 3/8" Maximum material thickness
Gas Tungsten Arc Welding – TIG
Up to 150Hz AC frequency
210Amps Maximum amperage output
Up to 1/4" Maximum material thickness
Shilded Metal Arc Welding – Stick Welding
30% DIG (pro-set) 30% DIG (pro-set)
DIG pro set for 7018. An example.
200Amps Maximum amperage output
Up to 3/8" Maximum material thickness
Besides MIG, TIG, and Stick welding the Miller 220 welder also does AC/DC TIG welding. Opposed to many other multi-process welders on the market, this one is able to do all three welding processes with ease and give you exceptional results. The added features themselves are enough to tell you how professional this machine actually is. A key feature to mention is the offered auto-set elite feature that makes a lot of difference.
The Millermatic 220 is a machine that can work on dual voltage input, 120v, or 240v. Also, it is very light (56 lbs/25.4kg) accounting for its portability. Finally, it offers great power as it can weld up to 3/8 of an inch with Stick and MIG welding while being able to weld 1/4 of an inch with TIG.
Pros & Cons Summarized
Pros
It does all 4 welding processes – MIG, DC TIG, AC TIG and Stick
QuicktechTM makes switching between welding processes effortless
Good weight (56 lbs)
Will work with 120 Volt or 240 Volt inputs
Everything you need to weld comes in the box
Lift and HF start are there for TIG
The LCD screen on the control panel is really easy to use
40% duty cycle for MIG at 170 amps of welding power
Shielding gases for MIG and TIG can be attached simultaneously
Auto-settings work well for high skill level welders and it offers the ability to customise settings
Cons
Cost – No way in the world for this quality to be cheap
Low duty cycles for maximum amperage outputs
Specifications
Process Type: MIG, AC TIG, DC TIG, DC Stick
Current Type: AC/DC
Voltage/phase: 120/240 1 PHASE
Pulse: DC TIG pulse
Max Wire Feed Speed: 600 IPM
Weight: 56 pounds
Amps/Volts @ Rated Duty Cycle:

MIG: [120V: 105A/19.2V @ 60%] [240V: 200A/24V @ 20%]
TIG: [120V: 130A/15.2V @ 40% ] [240V: 210A/18.4V@ 20% ]
Stick: [120V:90A/23.6V @ 40%] [240V: 200A/28.4V @ 15%]

Recommended Metals:

MIG: Steel, Stainless, Chrome Moly, Aluminum (Spool Gun)
TIG: Steel, Stainless, Chrome Moly, Titanium, Copper, Aluminum
Stick: Steel, Stainless, Chrome Moly, Aluminum

OCV:

MIG: 45V
TIG: 46V
Stick: 46V

Output Range for types of welding:

MIG: 120V: 30-125A 240V: 30A-230A
TIG: 120V: 20A-140A 240V: 20A-210A
Stick: 120V:30-90A 240V:30A-200A
The Power of the Multimatic 220
The MVP adapter allows the machine to work as both a Miller 240v welder and as a 120v one. But a much more important thing to consider here is its duty cycle and amperage.
The Miller Multimatic provides us with a maximum MIG output of 230 amps at 220v.
Additionally, the TIG maximum output goes to 210 amps while stick welding is achieved at 200 amps. All of this means that the machine can handle pretty much anything regardless of thickness.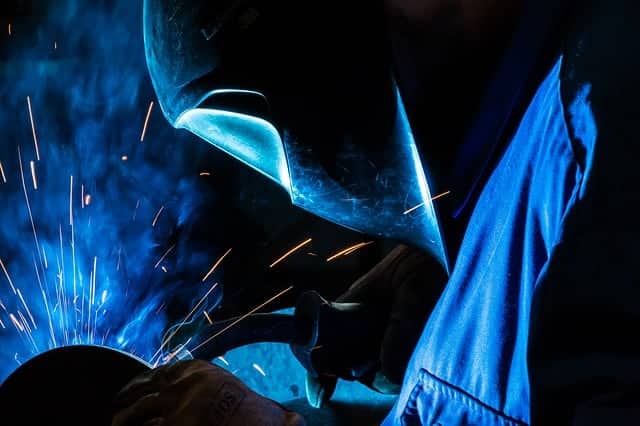 It can be used in any type of professional welding process unless you are thinking of doing something extreme with it.
However, there is a downside to it and it is called the duty cycle. Basically, the duty cycle for all three processes is lower than expected. MIG/TIG welding has a 20% duty cycle at its maximum output. On the other hand, stick welding has a 15% duty cycle at its highest. I have expected a lot more from a machine with a high profile as this one.
But the duty cycle at lower amperages is more than acceptable. The Miller 220 MIG welder has a duty cycle of 40% at 170 amps, which is more than alright. The best solution is to not use the unit constantly at maximum amperage and chances are that you are not even going to feel the duty cycle issue.
Features of Miller Multimatic 220 that I Absolutely Love
The Miller Multimatic 220 comes with some exceptional features that you are going to love. The two key ones that I want to highlight are the Quicktech and the Auto-Set Elite feature.
The Quicktech features have been specifically made for this machine and are meant to make your work immensely easier. A welder can now seamlessly switch from one process to another with a flick of a switch.
You can have both the MIG and TIG torches attached at the same time and change between processes just by touching the gun trigger. More so, you can also have two different gasses attached simultaneously to the machine.
What makes things even easier is the fact that the feature remembers all the settings so when you switch to a different one it will automatically adjust itself. The Auto-Set Elite feature provides the welder with predefined settings for different materials and processes. This means that beginner welders can be prepared to weld in a matter of minutes. However, professionals also enjoy having this as it saves a lot of time.
The Welding Experience
It is an absolute joy to work with the Miller Multimatic 220 machine, Besides being easy to set and use it offers exceptional quality and smoothness.
Miller Multimatic 220 offers a reliable and more than stable arc start no matter the welding process.
Something that I have to emphasize is the TIG High-Frequency start that pros will certainly appreciate having. This feature makes it perfect for welding stainless steel and aluminum.
The entire interface is on the front panel where you will see a 3.5" color LCD display. Very user friendly and easy to set even for first-time users.
The Portability
If we consider the fact how many things are packed inside the Miller Multimatic 220, it is actually lighter than you would think. It weighs 56 pounds (25.4kg), which is more than light for one or two people to carry around the worksite. The built-in strong handles are of great help when moving it about. The machine is not robust and has good dimesnsions.
The Build Quality
Being that this is a Miller product you can expect the machine to have exceptional quality. The Miller Multimatic 220 is a well-assembled machine made out of quality parts. Just by glancing at it, you can tell that this welder is no joke and that it is made for top-tier welding.
The accessories that come with it are of the same quality and it actually explains the price. You can start working with it immediately after unboxing it as it is made for serious work. Probably the best accessory is the MDX™-100 MIG gun that comes with the A ccuLockMDX consumable system.
Conclusion
To close my Miller 220 review I have to say that this truly is an exceptional welding unit. It is a class above compared to some similar welders on the market. Given the fact that it can offer exceptional TIG and Stick and MIG welding with AC/DC as well. and perform well at the same time, puts this welder in front of the others.
I truly recommend the Miller Multimatic welder for professional use but it is more than great for novice uses as well.
Frequently Asked Questions [F.A.Q]
Can you use a push-pull gun with the Miller Multimatic 220 AC/DC?
This machine is not able to use the Push-Pull gun. Instead one can only use the Spoolmate 100 or Spoolmate 150 Spool Gun for MIG weld aluminum.
Is the Multimatic 220 AC/DC compatible with the wireless foot control?
Yes, the Multimatic 220 uses a 14-pin connection that is compatible with the wireless foot control, so one doesn't need any adaptors.
Does the Multimatic 220 AC/DC have two gas connections for MIG or TIG, or does the gas need to be swapped between processes?
Yes, it has two gas connections. Basically, you can have your MIG and TIG gas attached at the same time.