If you're looking for an auto-darkening welding helmet then you might want to consider this Optrel helmet.
It offers a full range of shades from 8 to 12 and the crystal clear performance, when it's not darkened makes it a joy to work with even in grind mode.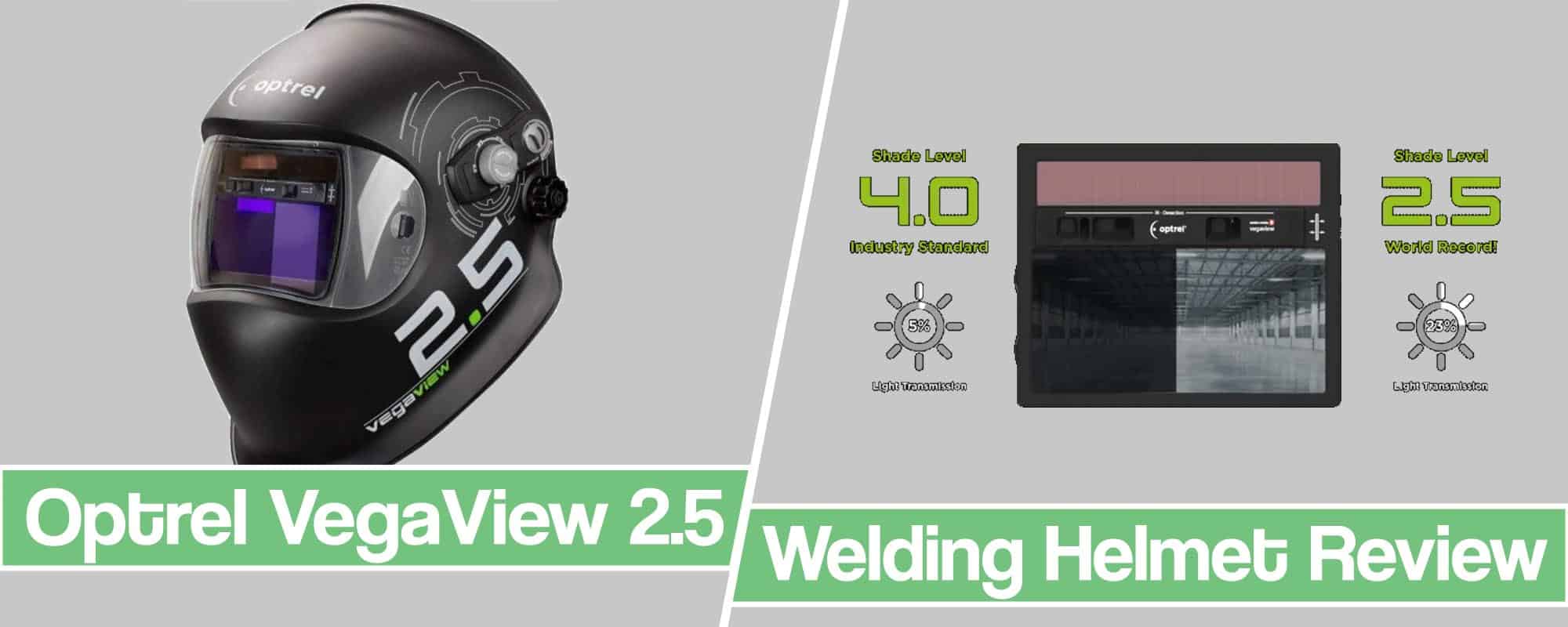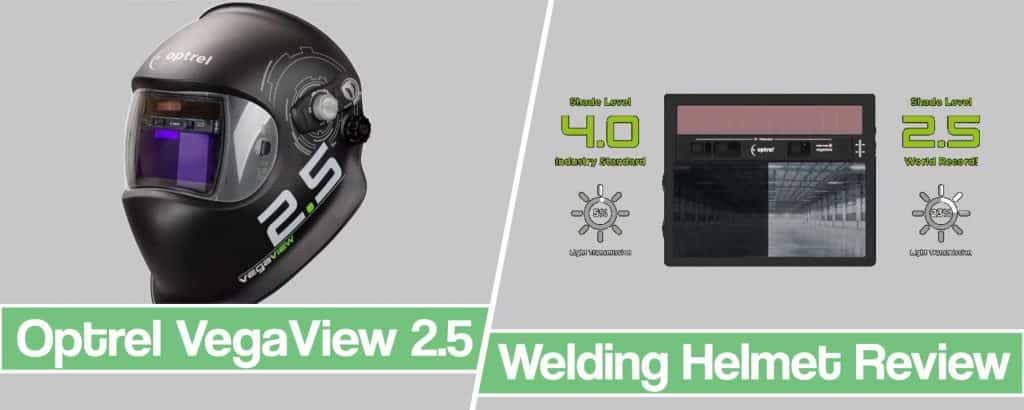 This is backed up with a solid brand name, a comfortable usable design that won't drive you crazy during the working day, very easy to use controls that you can use while you work, and a very reasonable warranty.
So, let's take a look at Optrel VegaView 2.5 review and see what makes stand out.
This welding helmet meets the expected safety stands of the United States (ANSI Z781.1), the European Union (CE EN378, EN166, and EN175) as well as the Canadian standard CSA Z94.3.
Optrel VegaView 2.5 – Review
Optrel is one of the biggest names in welding and the company is constantly innovating to deliver products that can add value in real-world situations that welders are going to really appreciate.
This welding helmet stands out from the competition in many ways and particularly in the fact that it's amazing for grinding thanks to their record-breaking 2.5 mode. We also love the fact that the most important controls can be adjusted externally and that it's absolutely made for overhead welding work.
Features Of The Optrel VegaView 2.5
2.5 Light Mode


The Optrel VegaView 2.5 light state mode system is a world record breaker! The industry standard in light state mode is to offer a shade level of 4.0. That's actually pretty dark and it can be difficult to properly inspect welds or to grind while wearing a standard auto-darkening welding helmet.
The Optrel VegaView 2.5 drops this to 2.5. This offers a 23% light transmission when compared to 5% of the traditional 4.0. It's so much brighter and so much easier to work with when your light mode allows for this much transmission.
The lenses of this helmet are proprietary and thus a little more expensive than other lenses. However, the helmet is designed so that no matter how you place it on a surface, the lens never comes into contact with it – guaranteeing the longevity of the lens.
No products found.
Can You Use Cheater Lenses With This Helmet?
The sensor slide on the Optrel VegaView 2.5 is a very simple analog control dial that allows you to fine-tune the sensitivity of the shade settings to your exact needs. I think this offers a greater degree of control than digital controls when you're working.
It's easy to grip and turn the dial to reach your preferred setting in almost any environment. The sensor slide is also well-positioned you're not going to accidentally knock it while you're working and suddenly find yourself blinded by accident.
Overhead Welding
This is a fantastic welding helmet for overhead welding and that begins with the completely secure facial covering – there are no gaps that allow anything to fall onto the faceplate and then work their way into your face.
The optical clarity means that you can easily see the weld pool and know that you're getting the kind of results that you want without having to constantly readjust your position or your welding helmet.
The Optrel Vegaview 2.5 is also a welding helmet with a great size of viewing area and that means you can get up close to the work even in the tightest of spaces and still see the outcome. This is a really valuable function.
Outside Adjustment
Not all of the Optrel Vegaview 2.5's controls are on the outside of the mask but the Grind mode, Shade adjuster and Sensitivity controls are and that means that you always have control over the amount of light that reaches your eyes.
These are designed so that they're easy to operate and distinguish with your fingers without having to look at them. At the same time, they're also built in a way that makes them very, very difficult to turn by mistake.
You don't want to be flashed by accident and the external controls on the Optrel Vegaview 2.5. mean that you don't have to be.
Super Lightweight
At 17oz the Optrel Vegaview 2.5 is one of the lightest welding helmets on the market today and it's super comfortable to wear. You might be a bit surprised when you get this welding helmet out of the box because it might appear bulky at first.
However, as soon as you have it on, you'll find that not only is it lightweight but it's also shaped so that you'll find it easy to move around in a tight space. The Optrel welding helmet is clearly built to make welding easy and we very much liked that.
2 plus 1 Warranty
Most welding helmets come with a fairly short warranty. This isn't always a problem but this one is quite an expensive model and we'd be scared of our investment going to waste without adequate back up from the manufacturer.
You'll be placed to know that you get a two-year warranty and at the same time it's possible to buy a one-year extension to that warranty for three years in total. Could one wish for more? Sure, but three years feels reasonably generous to me.
If you want to see the article with the rest of optrel welding helmet and the list of best welding helmets visit this page
Frequently Asked Questions
Can You Use Cheater Lenses With This Helmet?
Cheater lenses, in a welding helmet, are designed to help correct a welder's vision without the need for glasses. The Oprtrel Vegaview 2.5 does support cheater lenses but you will need to buy Optrel's own brand lenses.
The standard-sized commodity cheater lenses that they sell in most welding shops will not fit in this welding helmet. That means they're a bit more expensive than you might expect. They come in 1.0 a, 1.5 a, 2.0 and 2.5 magnifications.
Is This A Good Helmet For Stick Welding?
Yes, this Optrel Welding Helmet will support stick welding with shade levels of 2.5/8-12 it can protect your eyes throughout the amperage range of stick welding without a problem.
Conclusion
If we had to choose one welding helmet then this might be that helmet. It is extremely lightweight and comfortable to wear. It is suited to working on nearly all welding jobs.
The helmet is very well made and supported with a generous warranty with a possible extension of one year.
The record-breaking level of light transmission when undarkened makes it so easy to inspect your work, grind, etc. that you might almost feel like you've got no helmet on at all.