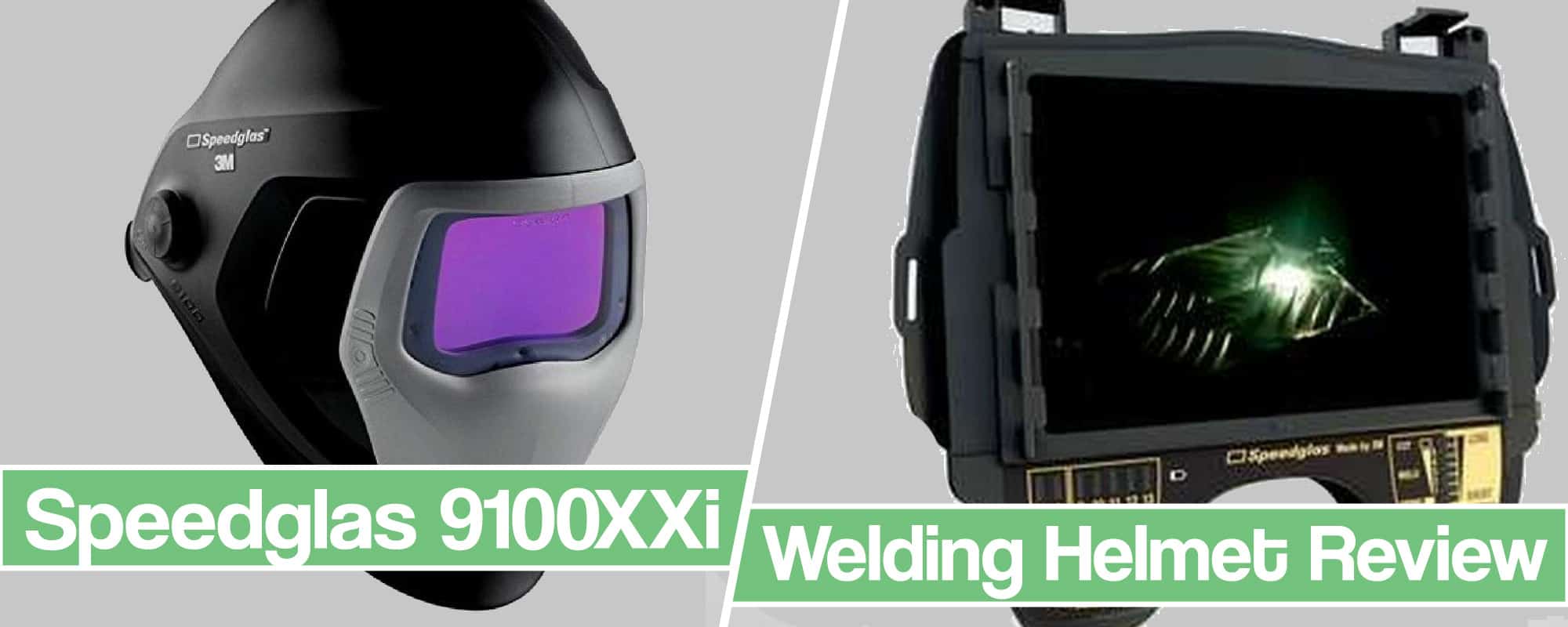 The Speedglas 9100XXi welding helmet is there to protect your eyes from heat and radiation while you work. However, experienced welders know that these characteristics alone do not make a favorable welding mask. The advanced features are what makes a quality helmet work.
Luckily, the 3M 9100XXi helmet from Speedglas has exactly that.
Besides safety, one of the features is providing the exact view of the welding area, allowing you to get better work results. Let's go through the entire description of features that the helmet possesses.
3M Speedglas 9100XXi Review
The 3M Speedglas welding helmet is aimed towards professional welders. 3M products come in different versions and riddled with add-ons that will improve your welding experience and functionality. Mainly, it possesses one of the largest viewing area seen on welding helmets if you count side windows. It allows a clear view of the weld puddle and the surrounding area to boot.
The 3M Speedglas auto-darkening filter has a shade range of 5-13, which is more than perfect for various welding projects. It even comes with an external grind mode which will allow you to do your work without stopping.
But you can't wear a helmet all day if it is not comfortable enough. Luckily, the 3M Speedglas 9XXi has a great durable hat adapter designed to fit your head in a comfortable manner. It even comes with customization options so you can personalize it and set it just the way you like it.
The 3M Speedglass welding helmet 9100 is considered one of the best welding helmets in the market as it also comes with ultraviolet sunscreen and infrared radiation protection.
Features And Specifications
Here is a quick list of the many features and specifications this helmet has to offer.
Specifications
Light states – DIN shade 3 light state.
Dark States – DIN 5, 8~13 free adjustment.
View Area Size –2.8″ x 4.2″.
Response time (light to dark)– 0.1 milliseconds.
Sensitivity  –  Adjustable low/high.
TIG Amperage – <1 A.
Power on/off – Fully automatic.
Battery Life – Up to 1800 hours.
Battery Type – CR2032 battery.
Recommended Industry –

Construction use

,

Heavy Infrastructure use

,

Industrial Maintenance use.
Features
Grab and Go Feature with ADF
Improved Optics Lens
Large Viewing Range Available With Peripheral Windows 
External Grind and Memory Mode Access
Shade, Sensitivity and Delay Settings
Ergonomic Adjusted Headgear
Sturdy and Modern Lightweight Design
TIG Amperage Less Than 1 Amp
View Area Clarity And Peripherial Vision of Speedglas 9100xxi Welding Helmet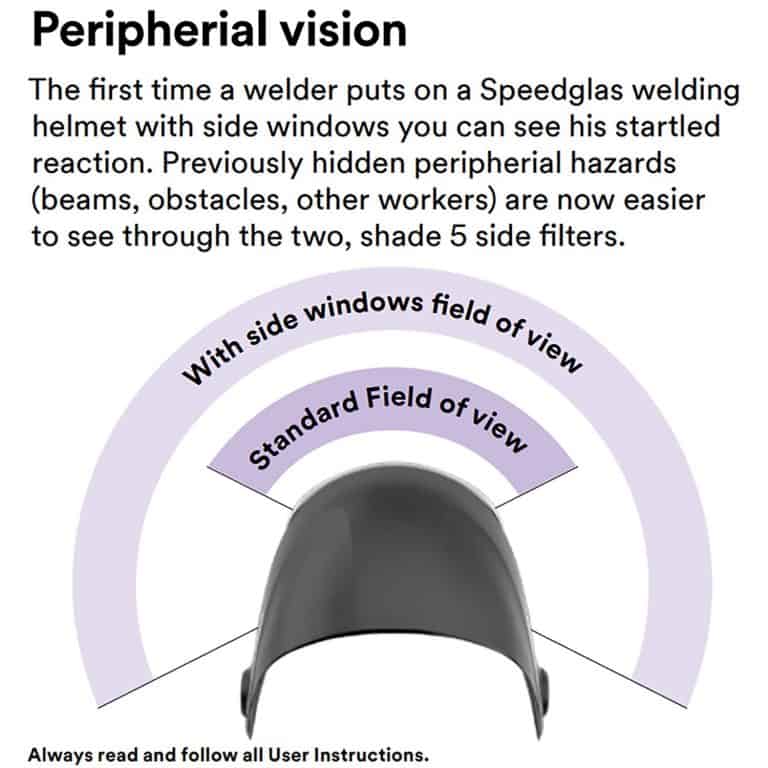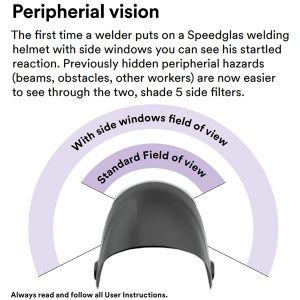 The Speedglas welding helmet 9100 comes with an auto-darkening filter and provides a large viewing area size of 2.8 inches high and 4.2 inches wide.
If you include peripheral Side Windows, you get a really handy and nice piece of headgear. So besides personal safety, you will like an improved and big viewing area and the ability to perform your work better.
Arc Sensors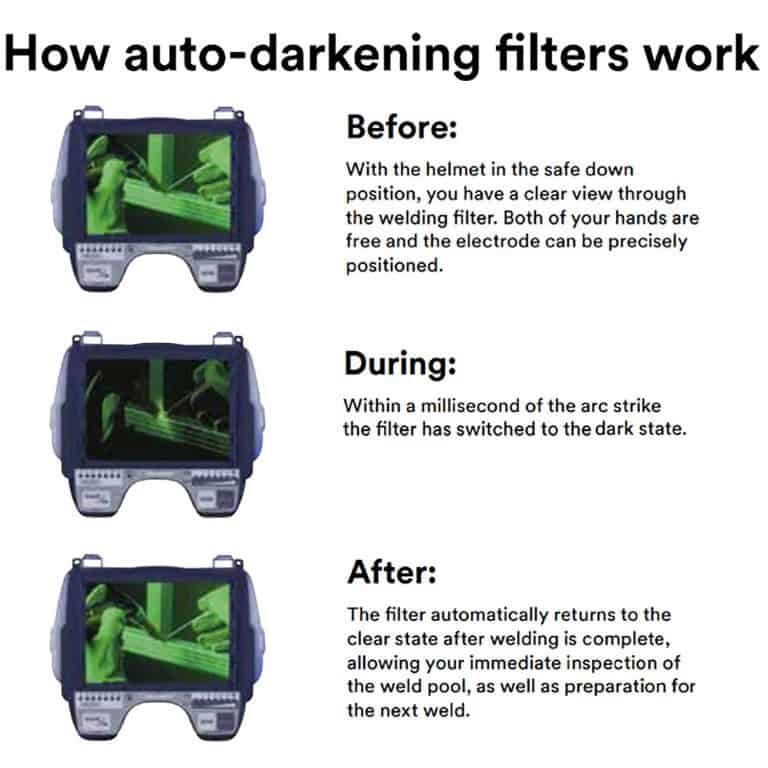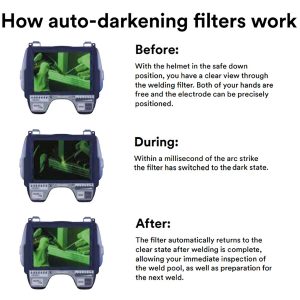 The 3M Speedglas 9100xx helmet is using arcs detection sensors. It possesses three arcs that commence switch from light shade to dark in approximately 0.1 milliseconds after beginning.
So basically, once you are done welding the hood will automatically switch the shade back into one of three arc light shade filters in around 40 to 250 milliseconds (adjusted), making it ready for your next weld.
This feature enhances safety first, as it protects your eyes as well as allowing you to see colors exceptionally at the same time. (1)
Shade Settings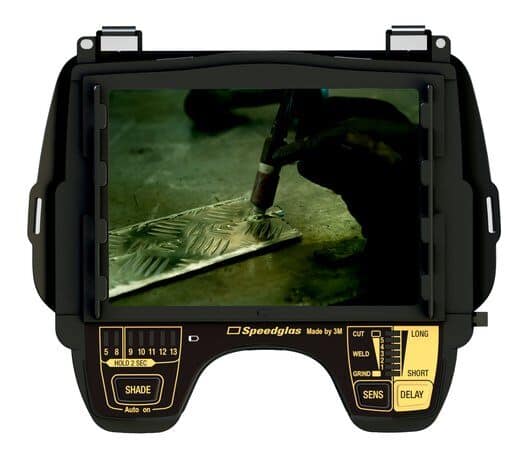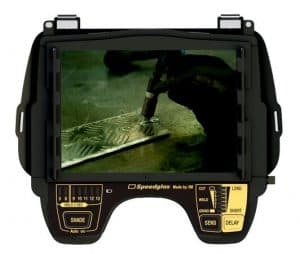 Additionally, the 3M Speedglas 9100XXi welding helmet comes with an added shade sensitivity settings panel. Simply activate the welding filter and adjust your shades.
The system comes with an on/off button and seven different settings panel to adjust shades. The dark state shade is split into two groups – 5,8 and 9-13 shade.
Grind Mode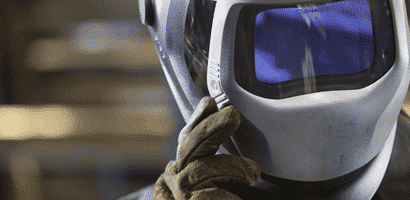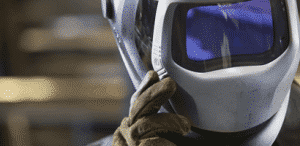 Taking off your hood mid-weld is an agonizing task, especially if you need to do it a few times. The 3M Speedglas 9100XXi helmet comes with an external grinding and memory modes button.
This means that you can be working all day without needing to flip your helm. Only press the button added on the outside of the helmet any time you need to switch to grind mode.
Comfortable Headgear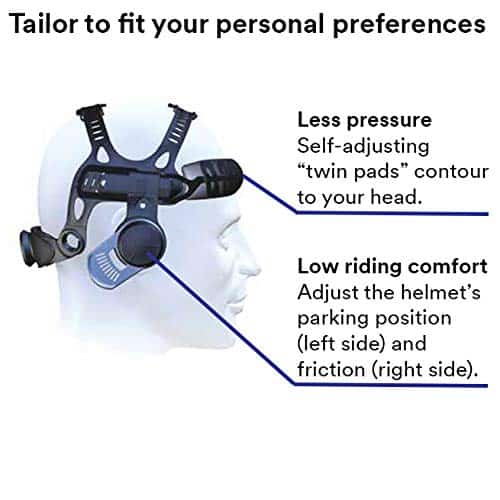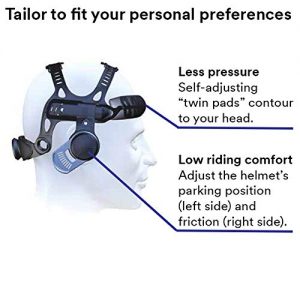 You can't weld long periods of time without having a comfortable welding helmet. Hence the added head suspension system helps with weight and pressure distribution making helmet stability better and even reducing neck damage.
A welder can custom-fit the headgear based on its personal preferences and be able to weld longer at a time without any head damage and you won't feel neck strain.
Aerodynamic Vents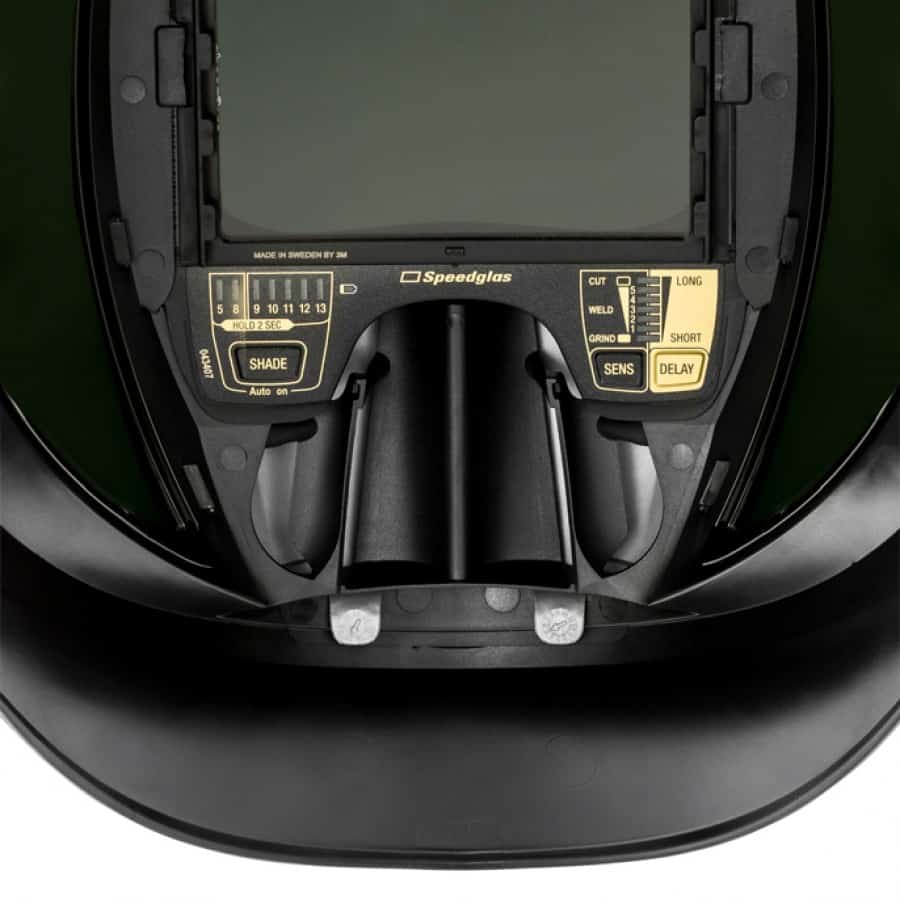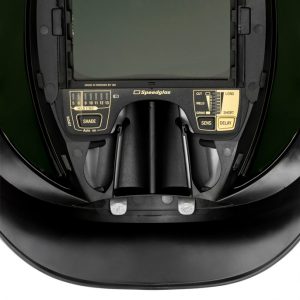 An important addition to the helmet is the exhaust vents. It comes with a three-channel exhaust system that prevents fogging of the welding lens and eliminates humidity amount.
Thanks to the two side-channels user breath will be directed outwards while allowing fresh air to come inside the helmet. On the other hand, the middle-channel allows airflow into the lens itself keeping it from fog problems.
This feature does not only makes your view area clear but also keeps you cool and improves air quality inside the mask.
Battery Performance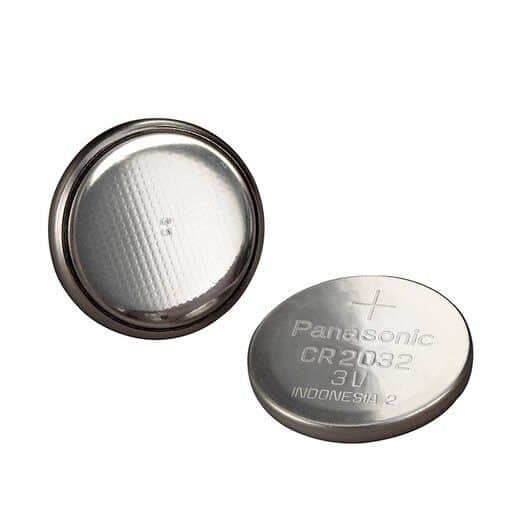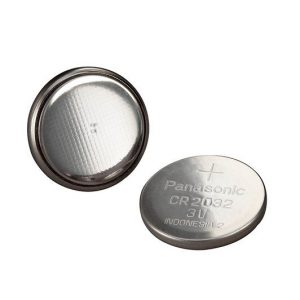 The helmet is equipped with a pair of CR2032 lithium batteries. Battery life is measured at 1,800 hours (no solar cell charge), which is enough to ensure much more welding.
Even if you do run out, it is easy change them as the new pair is easy to find at a low price ensuring years of lifetime.
Summary
To summarize, the 3M Speedglas 9100 series welding helmets sure are the perfect expert welders pick. It ensures both safety and productivity. It comes with a high comfort level supported by adjustable sensitivity levels. The shade level is changed automatically and the clarity is perfect.
The 3M Speedglas 9100 products are made to be used with all types of welding techniques as it is good for MIG/TIG welding, Stick welding, and even choose plasma cutting. It is quite stylish looking thanks to a silver front adding a modern look to it plus also serving as a shield.
You will never be able to buy a version of a helmet as good as the Speedglas 9100 model that has top helmet angles, can take lots of damage while offering enhanced eyes and face protection, and you will love comfortable headband suspension with crown straps that fits great.
You can see more of these kinds of welding helmets in this article
Frequently Asked Questions
Is this helmet cheater lens compatible?
Yes, it is. A user can easily put a cheater lens to it.
Can you TIG weld at lower amperages with this helmet?
Yes, you can. Arc detection is down to 1 amp with this helmet.
Is this helmet welding respirator compatible?
Yes, it is. You can add certain respirator models if you want to this helmet.