With positions for skilled technicians growing faster than the supply of workers, a shortage of skilled welders is predicted.
Such deficiencies can cause shops to outsource these jobs overseas and, as it becomes more difficult to find good welders, plant operators are turning their concerns toward workforce development.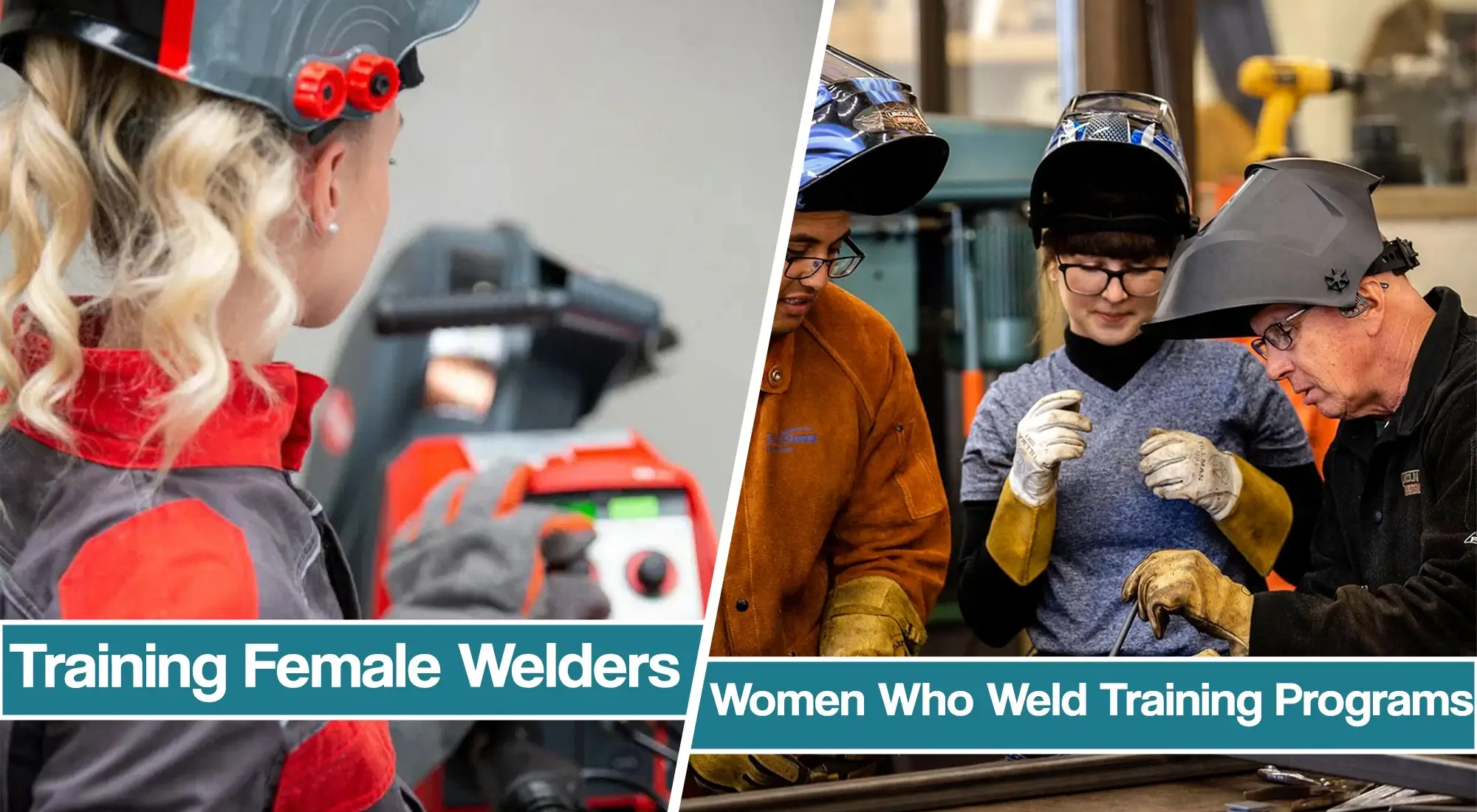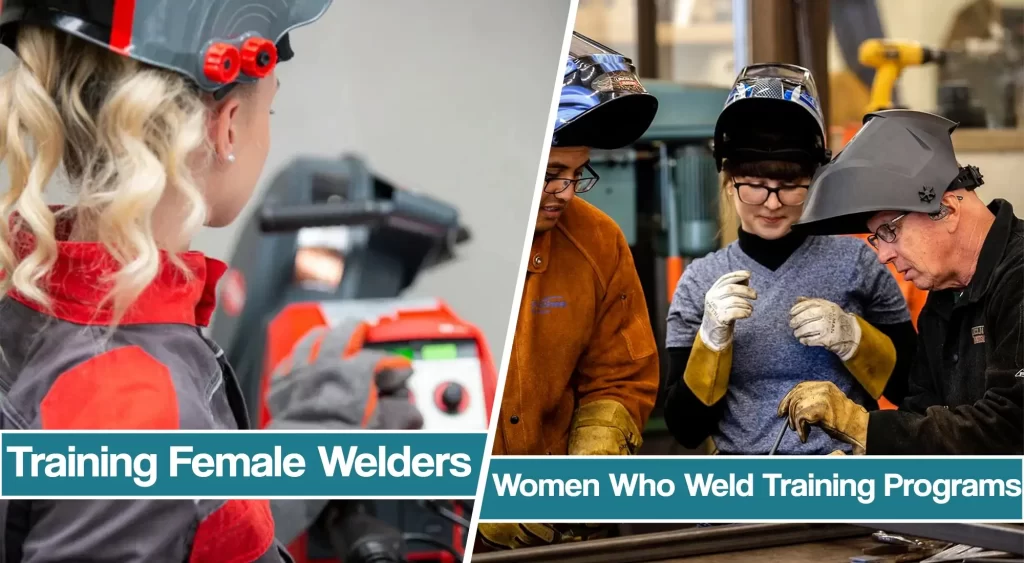 A potential solution to this problem is to interest women in the industry at a young age by motivating them to consider non-traditional careers. Many women are unaware of opportunities and applications in the field, so we are discussing training female welders.
Experienced welders can mentor young women, instill interest in their children, or teach training courses at local community colleges or through non-profit associations to inspire talented women to enter the field to keep these jobs domestic.
Training Female Welders – Training Programs
Rosie's Girls
Rosie's girls is a three-week, Cleveland-area trades exploration summer camp for girls entering sixth through eighth grades. The program is licensed by Hard Hatted Women of Cleveland, Ohio, and was designed to build self-esteem, physical fitness, interpersonal cooperation, and leadership skills.
The first-ever event included a two-day welding unit taught by Richard Hart, welding instructor at the Cleveland Municipal School District's Max S. Hayes High School.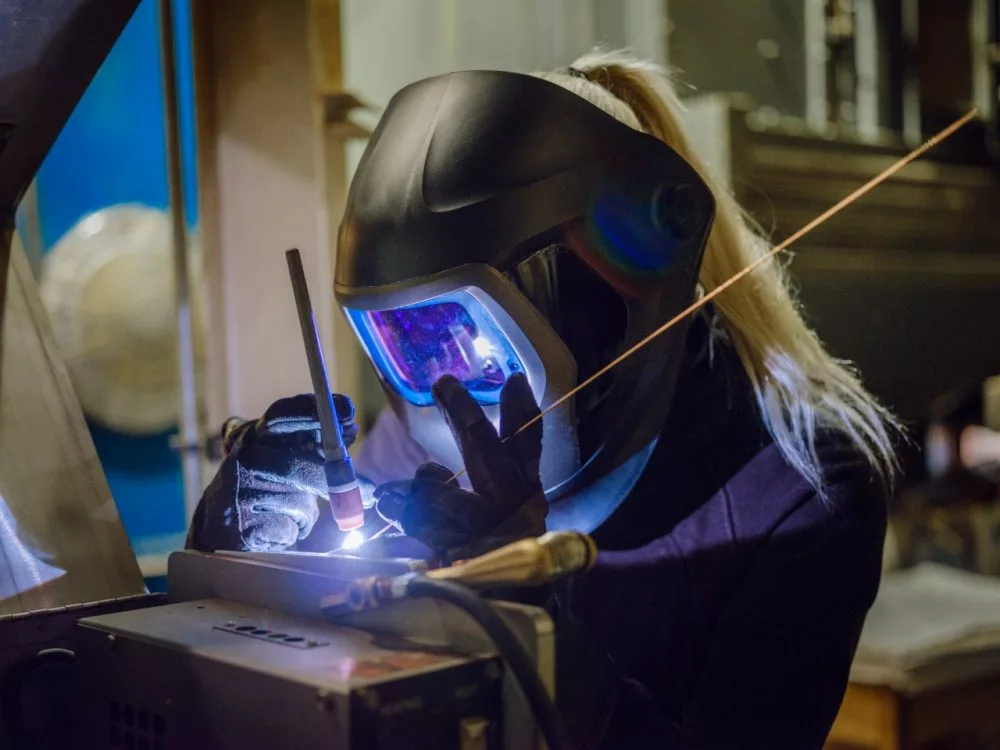 Twenty-four girls learned about welding safety, donned welding gear, and used the welding facility at the high school to make a steel nameplate. The girls enjoyed the experience but were disappointed it was so short. Hart plans four days of welding next year, and girls enrolled in the program will create a metal sculpture. He says, "When I get youngsters in my classroom like that, the only thing I want to teach them is to get rid of the fear they have. When they find their comfort level, learn they're in control and take the energy of the machine, then they can begin to learn."
The girls worked with a 6,000-degree arc and a 2,000-degree mild steel puddle. They learned stick welding using an E-6010 0.125″ electrode in the horizontal position. They used an oxyfuel torch to cut a piece of steel, then welded the two pieces together with a T-joint and wrote their names on the plate.
Project WELD
Hart teaches an adult training program and Project WELD at the high school. Project WELD (the name is an acronym for "worthy employment, leadership development") is a three-year program that covers basic and advanced arc welding and job placement. Of his 13 second-year students, three are women; of seven first-year students, three are women; and the ninth-grade introductory class is 50 percent women.
Given the opportunity, inspiration, motivation, and education, women can prove to be valuable assets to the welding industry.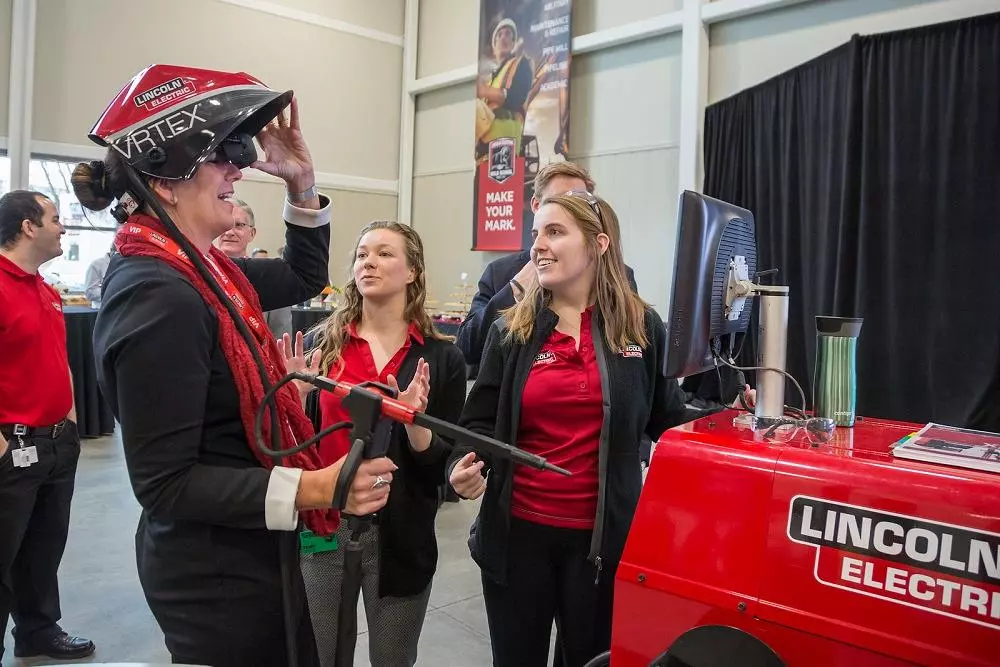 While women welders who practice their skills acknowledge that men are better at some types of welding and have greater physical strength, they contend that women offer better skills in hand-eye coordination and detail work. Together, men and women, welders can end the shortfall of skilled workers and inspire the next generation to pick up the torch.
Northwest Mississippi Community College Program
Northwest Mississippi Community College in Senatobia, Miss., offers a one-year welding certification program. Three women have completed the program and shared their experiences.
Although one of them was a premedical technology major, she is an abstract metal sculpture artist and does gate work. She enrolled in the program because it provides her with a trade in which she can earn money to put herself through school, and it gives her a sense of job security to have a skill she can fall back on.
She liked making stuff and working with metal and fire as an art. With oxyacetylene and TIG welding, welders can get detailed and also get a pretty weld without having to grind it down. She especially loves using aluminum because it is so tricky that it presents a challenge.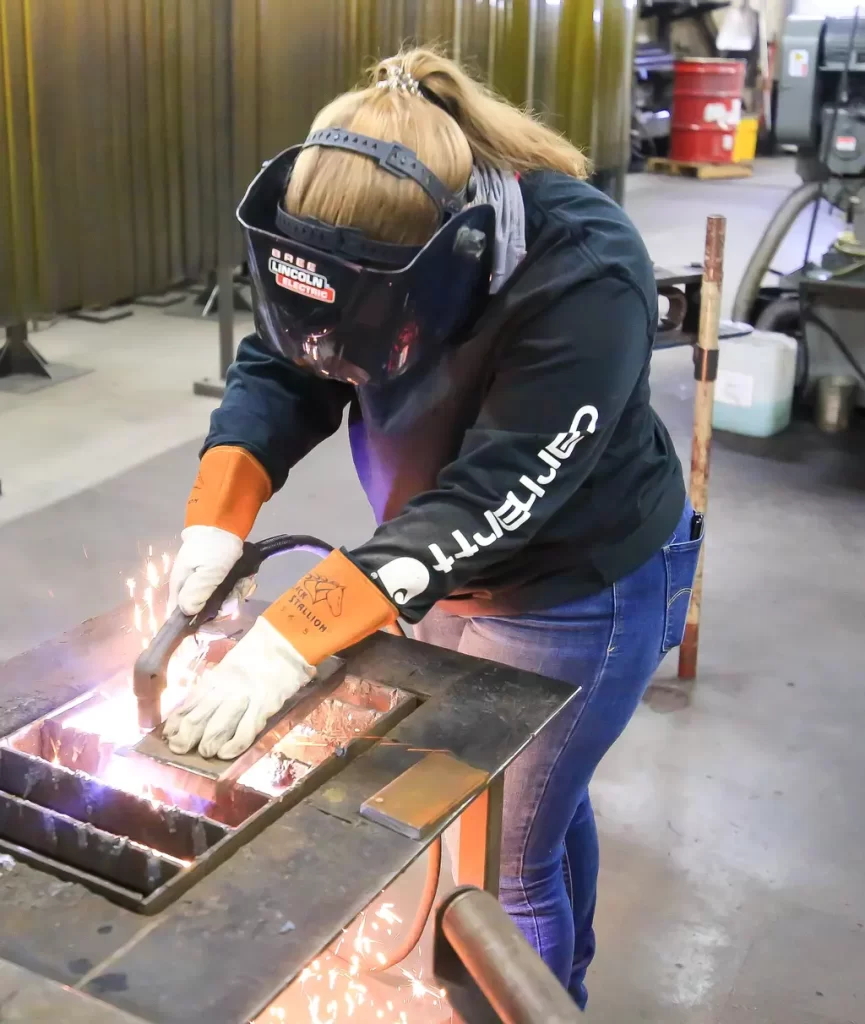 At school, she repairs tool chests in the backs of trucks for students and teachers. Welding students are allowed to repair anything except the muffler on a car due to the danger of a gas explosion.
She says welding is a hard job to do and is physically stressful. She would not want to do it every day. She also says there is only one other woman in the class and the men assumed they could not lift or carry the supplies and equipment or run the machinery. They thought she was weak until she proved herself to them. She says she is not as physically strong but can cut metal and lift more than they thought she could. She learned so quickly that she started to teach them what to do and assists the men in class with their projects.
Another girl is a journeyman ironworker with Local 17 in Cleveland, Ohio. She has her welding certificates but works as a rod buster installing a rebar. She studied welding for one year in her apprenticeship and states she hated welding because he is a sissy and didn't want to get burnt up. She passed the vertical pass test, though it is more complex than the overhead pass, and had to re-take her overhead pass test because "the slag falling into her shirt gave her a phobia about burning and melting chuckholes in skin.
With regard to women in welding, many say a woman has a better touch because they have more patience and a steadier arm. A male shop teacher, a welder for over thirty years, told the class that the best welders in his years of experience were females.
In her current position, she uses a torch and tank to cut off the end of a steel bar in an area where she cannot fit a saw. For instance, when ironworkers put up a form, it requires a 1.5- to 2-inch clearance to the rebar so that when they peel off the form, the rebar does not stick through the concrete. If the bar is too long, they nip it off with a welding torch. Seventy-five percent of ironworkers in the Cleveland local do rod work.
When Family Is An Inspiration
One of the girls who enrolled in the program had a great grandfather who was a welder, which sparked her interest in the trade. Formerly, she worked as a corrections officer and experienced career burnout. So she decided to go through Job Corps to attain her welding certification. At that time, she met a volunteer with Hard Hatted Women, who encouraged her to take the Pre-Apprenticeship Training Program.
She considers PAT looks good on a resume, prepares a woman physically and mentally for the apprenticeship program, and assists in job placement. She is now a first-year apprentice ironworker with Local 17 and MIG welds toolboxes and hitches for Tracom of Cleveland, Ohio.
In her interview, she says she like playing with fire. It's just a form of art for her. But, it's not something everyone can do. You have to have a steady hand, get burned, and wear the equipment, and it's hard for a woman. Companies say the position is filled, or they will call you back and never do. They think you can't lift parts and will complain because it's hard work.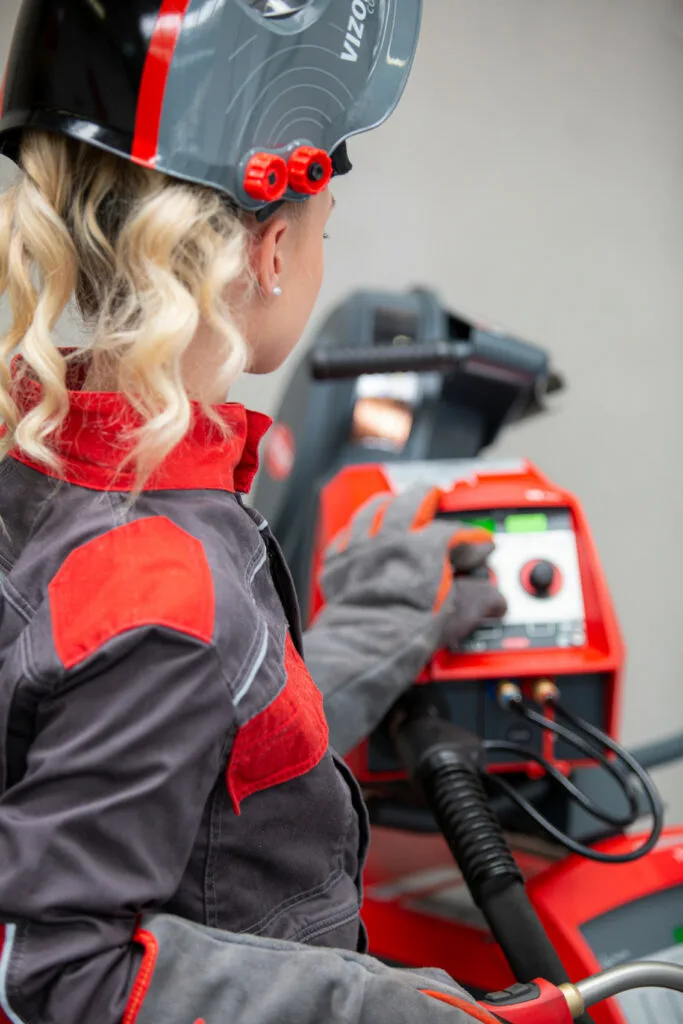 Once her apprenticeship is over, she would like to work in a construction-related field because it is more physical than plant or factory work, and she likes working with her hands. She would love to weld for NASCAR or do underwater welding. She is MIG, TIG and flux core certified and agrees that most women are better at TIG due to hand-eye coordination, though stick welding is most challenging for her. She feels the industry is still male-dominated and many men do not want women in the field. She says, "I advise women as welders, don't give up and fight to get in these doors because we can do anything a man can do. It's not a man's world."
Hard Hatted Women Program
A former temporary office worker and second-generation ironworker heard of the Hard Hatted Women PAT Program from a friend. HHW got her an interview with the ironworker's Local 17 in Cleveland, Ohio, and her first job was on the Ohio turnpike. She is now a journeyman ironworker and works short-term jobs through the union.
Her most notable position was a six-month assignment stick welding girders on the U.S. Steel job in Gary, Ind., for Pirson, a contractor headquartered in Belgium. Once completed, the project was the giant blast furnace in the world at that time. She has also done replacements and maintenance in steel mills, small specialty jobs, Crocker Park retail development's structural steel, and handrails in Case Western Reserve University's newest dormitory. She does UTNR welds, and they have to be good. They are X-rayed for quality.
She enjoyed stick welding and was attracted to ironwork because of the welding and burning aspect. Her father was a rod buster for the ironworkers, but she works structural and is more involved in the welding aspect. She says the job pays well, and she likes the environment, especially working in the steel mills.
As for being a female in the field, she considers she is pretty strong and some men assume she can't do it, but she can." Other men believe she is an ironworker and they have a "you-do what-I-do" mentality so she doesn't have to prove herself. Some men tell her not to lift something for fear of hurting herself. She says she has had no negative or bad experiences and is fortunate that there have not been many problems. She adds that being a double minority does not keep her working, and only one job kept her on because of a minority requirement.
There are a few women in her local and a few women in the field but in some areas where she works, like Dayton, Ohio, or West Va., there are no women on the job. When asked why she believes this to be the case, she says a lot of women don't know how to go about it. It is not well-publicized. Women find it more difficult than expected because it's labor-intensive and dirty.
She also gets burned a lot and has burns everywhere. She says she doesn't like getting burned, But she does enjoy the lack of repetitiveness. It may take two days to weld a project then she is on to something different. One day may be spent on a vertical weld, the next day on a flat weld. She also connects and builds up iron, puts in bolts, finishes them and connects them.
Female Welders in Big Companies
A welding engineer with Lincoln Electric, Cleveland, Ohio, states they have several women in our sales operation that are fully trained in hands-on welding. However, he is unsure how many they have in the plant welding daily. We have usually found women to be better welders than most men — better hand-eye coordination than men. We also see many women welders internationally, depending on the country and the culture. Surprisingly, there are many excellent women welders in China.
A female welder has been a technical sales representative with Lincoln Electric in Houston, Texas, for five years. In addition, she demonstrates and sells welding equipment. She graduated with a degree in mechanical engineering from Ohio Northern University. She had one year of training in welding school with Lincoln before going into the field. The students studied in a classroom five days per week for eight hours per day from June through November, then went into the facility to weld, and then on to sales classes.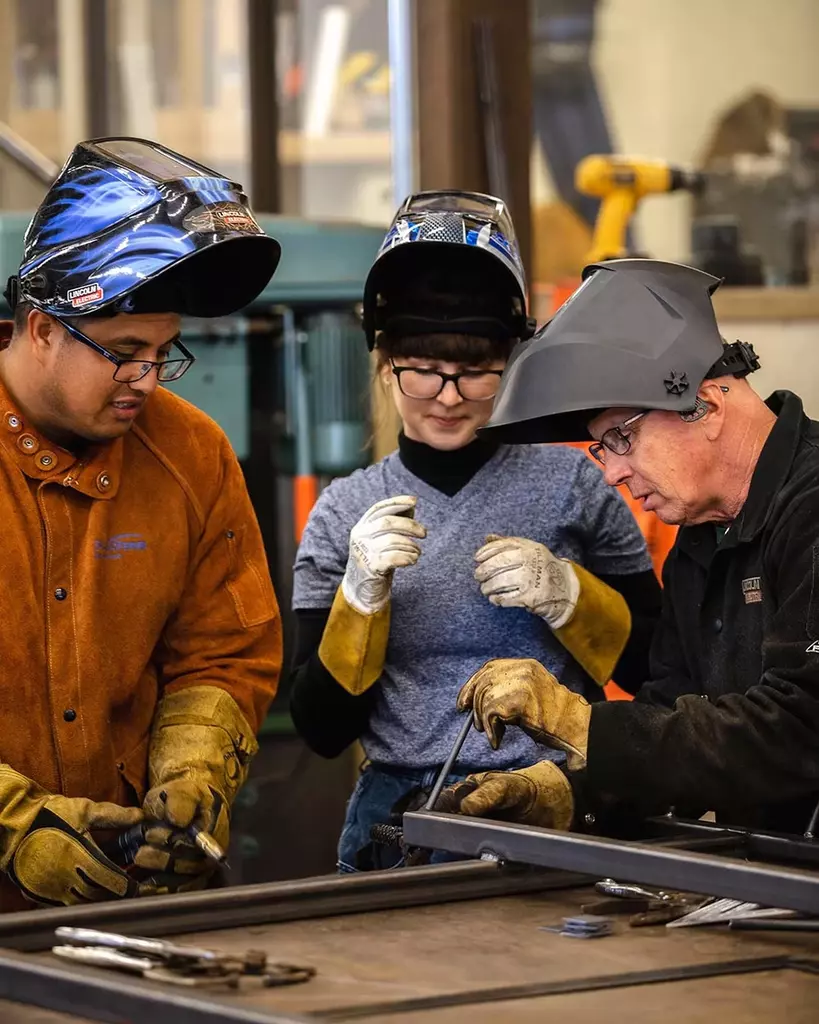 She trained on the engine driveline while welding choke assemblies. Since Lincoln does piece work, it was fast. "I had my hood down all day and welded all day," she says. Of 15 people in her training class, three of them were women. Although she had done MIG welding before, this class was the first time she tried Stick welding. She considers being harder because you put an electrode in a stinger and strike it. The challenge is to keep it lit and from sticking. She believes TIG welding is most difficult because both hands and feet are used. It takes coordination and is more labor-intensive and sweaty.
She felt that being a woman was an issue in pipe welding because she had to use a file to make the lip of the pipe and then file it down without a grinder. However, the women in the class all passed the test the first time, which she believes is due to their hand-eye coordination.
When dealing with decision-makers and end-users, she wants to make them happy, so they like the product and the process. Most of her customers feel "if a woman can do it, I can do it," which motivates them. But, inevitably, she says some men find her intimidating and feel threatened.
As for the number of women she deals with in her career, she says that high schools ask her to speak in their vocational education programs to welding and mechanics classes. She encounters many women students enrolled there, but only about 5 percent of her customers are women. Of 25 mechanical engineering students in her graduating class, there was one other woman and only six or seven women in her entire graduating class of 75 students. In her five years with Lincoln, she has met two women, welders.
She says her interest in welding began as a child. She grew up around Go-Kart racing. Her father taught her to change the oil, and her brother is a mechanical engineer. She was attracted to a male-dominated field because she believed she would find a job due to the diversity requirements. She "sees something different daily and meets new people daily." Because her territory is Texas, there are a large number of offshore platforms and pipelines, companies that build vessels, and shipyards and barges. She says it is the largest area for welding in the country.
Ohio State University Programs – Another Example
Amy Sherwood is a technical sales representative in northeast Ohio and Pennsylvania for Lincoln Electric, Cleveland, Ohio. She has a degree in welding engineering from Ohio State University, where she learned electrical, mechanical, material science and chemical engineering. Classes focused on the arc itself and the materials used in welding. She started out as an industrial systems engineering major, welded in class, and liked it so much that she switched her major to welding engineering at the end of her freshman year. The school also promised a 100-percent job placement in the field. There were two other women in her graduating class of 27.
She never wanted a desk job. Getting physically involved keeps her day exciting and makes the day go faster. She enjoys a challenge, likes to get her hands dirty, enjoys working with various people, and gets to weld while she demonstrates equipment and teaches training classes for local companies.
Due to a large number of steel mills in her territory and the repairs they require, she mostly does MIG/gas metal arc welding and sub-arc welding involving lots of heat and big, heavy welds.
As a woman in the welding industry, she says she has never been yelled at, cursed at, or thrown out of a plant like male counterparts. Instead, people are polite and respectful. Then she tells a story of a gentleman who was not accepting of her initially. He would not even look at her, kept his back to her, and avoided her until he had a major problem that she fixed, earning his respect. Now, he is one of her best customers. You have to show you know something. Weld for them or solve a problem for them.
She believes it is unfortunate more women do not consider a career in welding. So when she goes into the high schools to train students on equipment updates, she talks to the women in welding programs to be a role model and inspire them.