Are you looking for a reliable multi-process welder? We have a perfect solution for you and its name is Forney Easy Weld 140 MP. Actually, it is one of the best offers that Forney has to provide to its users.
It is a semi-professional type of welding machine that runs at 140 amp and is good for various types of jobs.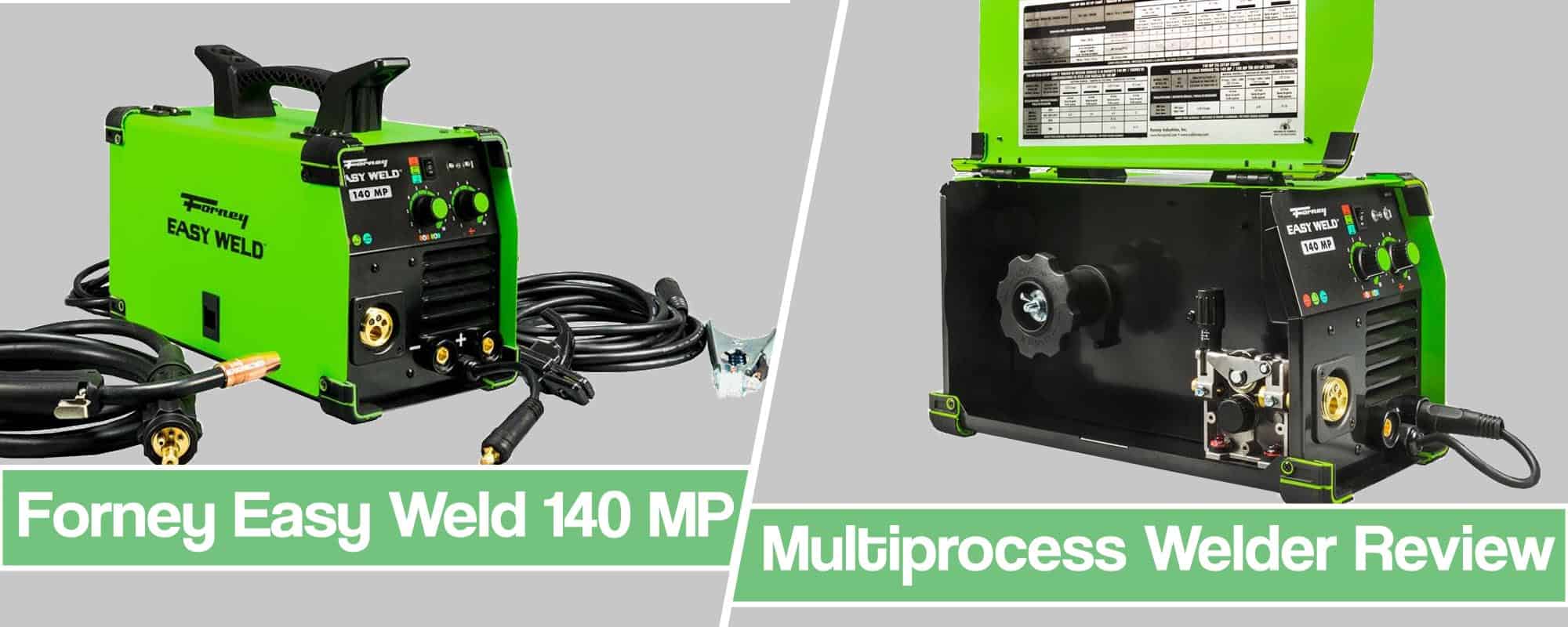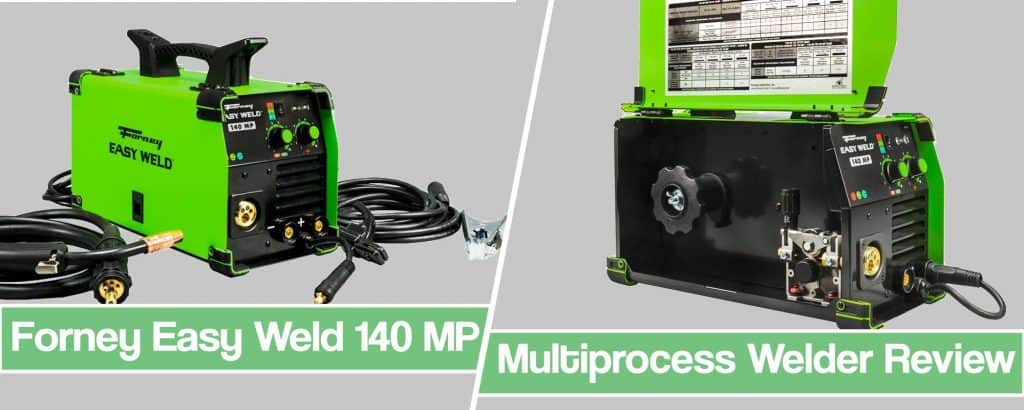 No matter if you are a pro or a hobbyist looking to do some work around the house or garage, the Forney Easy Weld is the right tool for the job. Lets s go into more detail as you will be able to learn a lot of new details with the help of our Forney welder review.
In Short Forney Easy Weld 140 MP
The Forney Easey Weld 140 MP is a welding machine that is graded as being somewhere on the low end of the mid-range level of welders. However, it is still one of the best types of welders that Forney industries are able to provide.
In terms of quality, it is pretty high and comes at a decent price for what you get with it. With it, you can do MIG and TIG welding but also go for stick welding as well.
This unit is specifically aimed at hobbyists but professionals can enjoy using it as well. It possesses a 120-volt input, making it suitable for home conditions.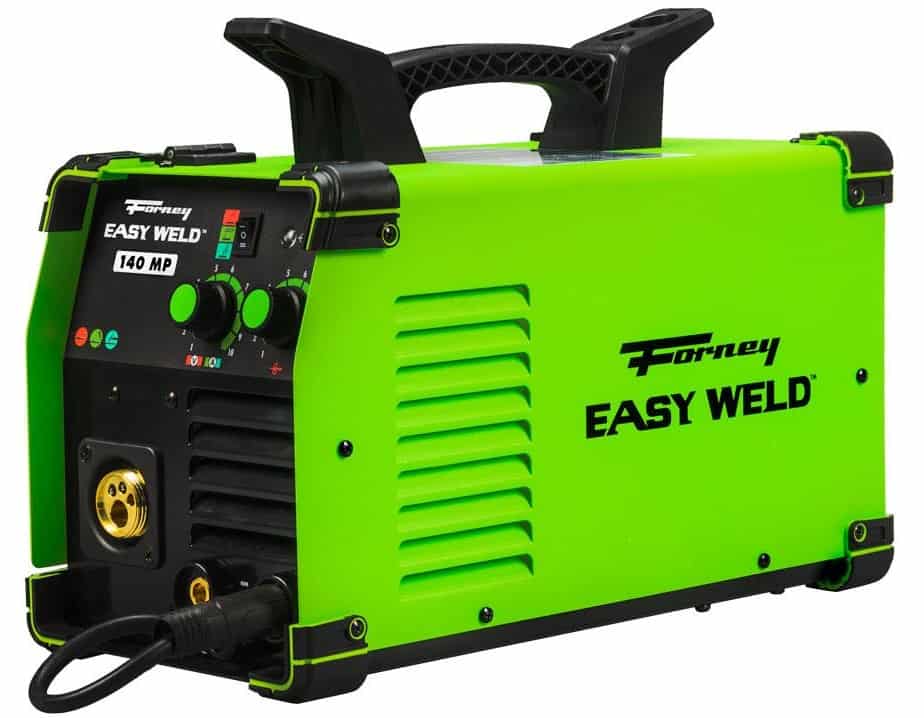 It actually has more than a decent power output if you consider the fact that it is limited to only 120v. The multi-process welder creates some very nice-looking welds as well. The MIG wheel drive is really good and it also has a TIG lift arc start for TIG welding, which is much better than relying on scratch start.
Finally, the Forney Easy Weld 140 MP has a quality build. It is both sturdy and light. It weighs about 24.81 lbs. (11.25kg) and you can easily carry it around the working site. Perfect for any garage work that you have in mind.
No products found.
Specifications, Pros and Cons in short
Pros & Cons Summarized
Pros
Wire loads easily and quickly.
Infinite adjustability feed speed
Compact and sturdy
Low skill level needed to operate
Lightweight
Multi process unit
Cons
TIG accessories are not included
Gas regulator for MIG sold separately
Low duty cycle
Specifications
Processes: Flux Cored (FCAW), MIG (GMAW), STICK (SMAW), TIG (GTAW).
Weld Thickness Range: Plate thickness, 24 gauge up to 1/4″.
Weldable Materials: Mild Steel.
Input Voltage: 120v
Input Phase: 1-Phase.
Current Type: DC.
Rated Output: MIG 30% @ 90A.
Amperage Range: 10 – 140 AMP output.
Wire Feed Speed: 79 – 197 ipm.
Weight: 24.8 pounds.
The Best Things About Forney Easy Weld 140 MP
The Versatility
Probably the best part about the Forney Easy Weld 140mp is its versatility. Basically, it is a 3 in 1 welding unit, allowing you to do various welding processes with only one machine.
You can do MIG welding, TIG welding and stick welding with it.
So why take up too much space in your storage when you can have one single welder that can do it all.
When it comes to MIG welding, the Forney Easy Weld 140 is capable of both flux core and gas shielded welding. However, the gas regulator is not included and is sold separately. You can weld up to 1/4 of an inch in a single pass. It also has a wire feed with the wire of up to 0.035in.
When it comes to TIG welding, it can only be done in DC mode. But you can't expect more from a hobbyist welder. This also means that you are not going to be able to weld aluminum with it. However, the machine has a lift arc start which is much better than the scratch start as it will protect your tungsten. Note that the TIG gear is also sold separately.
Finally, stick welding can be done with the electrodes of up to 1/8 inches, but not with the 7018 electrodes. In this case, the stick holder and the ground clamp come with the stick welder.
The Power
Certainly, an exceptional thing about the Forney Easy Weld 140 MP is its power. It is absolutely amazing that the machine is able to offer 140 amps at 120 volts.
Multi-process welders and especially home welders usually do not offer that much power.
The most you can hope to get is 90 or 100 amps. As this is a multi-process welder with high power, you will be able to weld materials of considerable thickness which is a great advantage for home use.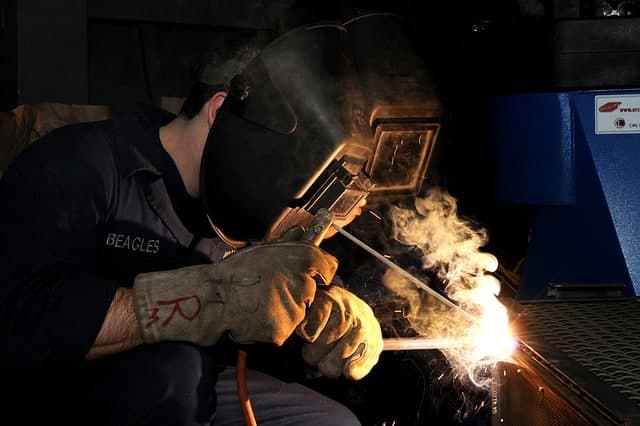 But there is a downside to it. The duty cycle is on the lower end of the spectrum, especially for a stick welder as it is rated at only 30% for only 80 amps. Welding stick is not usually done at lower amperages as this process is not usually used for thin materials. It would perform much better if it had a higher duty cycle for MIG, TIG, and stick as well.
Ease of Use
The Easy Weld 140 mp is perfect for beginners. It is very easy to use and simple to switch between the processes. There's only a single switch that you can turn to three positions – MIG, TIG, or Stick. As simple as that! The only thing that you need to set manually is the polarities and setting the needed welding torch.
The machine also comes with infinite voltage and wire speed control. This allows the welder to adjust the settings with absolute precision. An absolute joy for novices and welders who are still learning the ropes.
Build Quality
This machine may be on the affordable side, but its build quality does not look cheap at all. In fact, the entire unit is put together exceptionally well and both the plastic and the metal parts look pretty good. The case itself is rugged.
You can use the welder in various types of conditions without fear of damaging it. Also, it is also pretty light (24.81 lbs) meaning that you can move it around the workshop as you wish. So combine the weight and the sturdy build of the machine and you get yourself a very reliable unit.
Also, something that you also need to note is the build quality of the all-metal wire drive system. This adds to the reliability of the MIG/Flux welding using this welder.
The Price
What most people are going to look for is the price. Luckily, the Forney Easy Weld 140 MP has a good price to quality ratio. There are better multi-process welders out there, but this is one offers great results with the money you are about to invest in it.
More so, Forney Industries is a company that has a stellar reputation and their aim is to keep their customer base happy. You can be sure that the build quality of their machines is exceptional. with the Forney Easy Weld 140 MP, they are also offering a 1-year guarantee. This is a really good addition for a welder as cheap as this one.
Who Makes Forney Welders?
Forney welders are all designed by Forney Industries by their US and European welder engineers who use Forney specifications when doing so. Their Italian manufacturing partner has a great reputation under its belt when it comes to creating quality welding machines. The welders produced there has equal quality as the ones manufactured in the USA.
Conclusion
As you will no doubt learn from most of the Forney welder reviews is that the Forney Easy Weld 140 MP is a fabulous multi-process, 3 in 1 welder. The main thing, of course, is that it can function as a MIG, TIG, and Stick welder. But much more important is that it can provide quality work as well.
The Forney Easy Weld 140 MP has the best price to quality ratio among similar products. Its price is the biggest advantage. But by ac totally being cheaper than most it surprisingly has a much more quality build than most welders on the market.
Definitely a great buy for any novice who is getting into the welding world as it will only take you mere minutes to learn how to use it. Professionals can also benefit from having it as you don't have to buy multiple units as a single machine can do the job of three.
All in all, the Forney Easy Weld 140 MP is our best pick for you, but if you want to see more MIG welders under 500usd check this article