The AccuPocket 150/400 welding package is the world's first SMAW system with a high-performing lithium-ion rechargeable battery. With a total weight of just 11 kg (24 lb.), it gives welders exceptional mobility for executing manual electrode and TIG welding tasks.
The ActiveCharger device supplied with the AccuPocket is customized to the requirements of the welding unit and based on Fronius' Active Inverter Technology.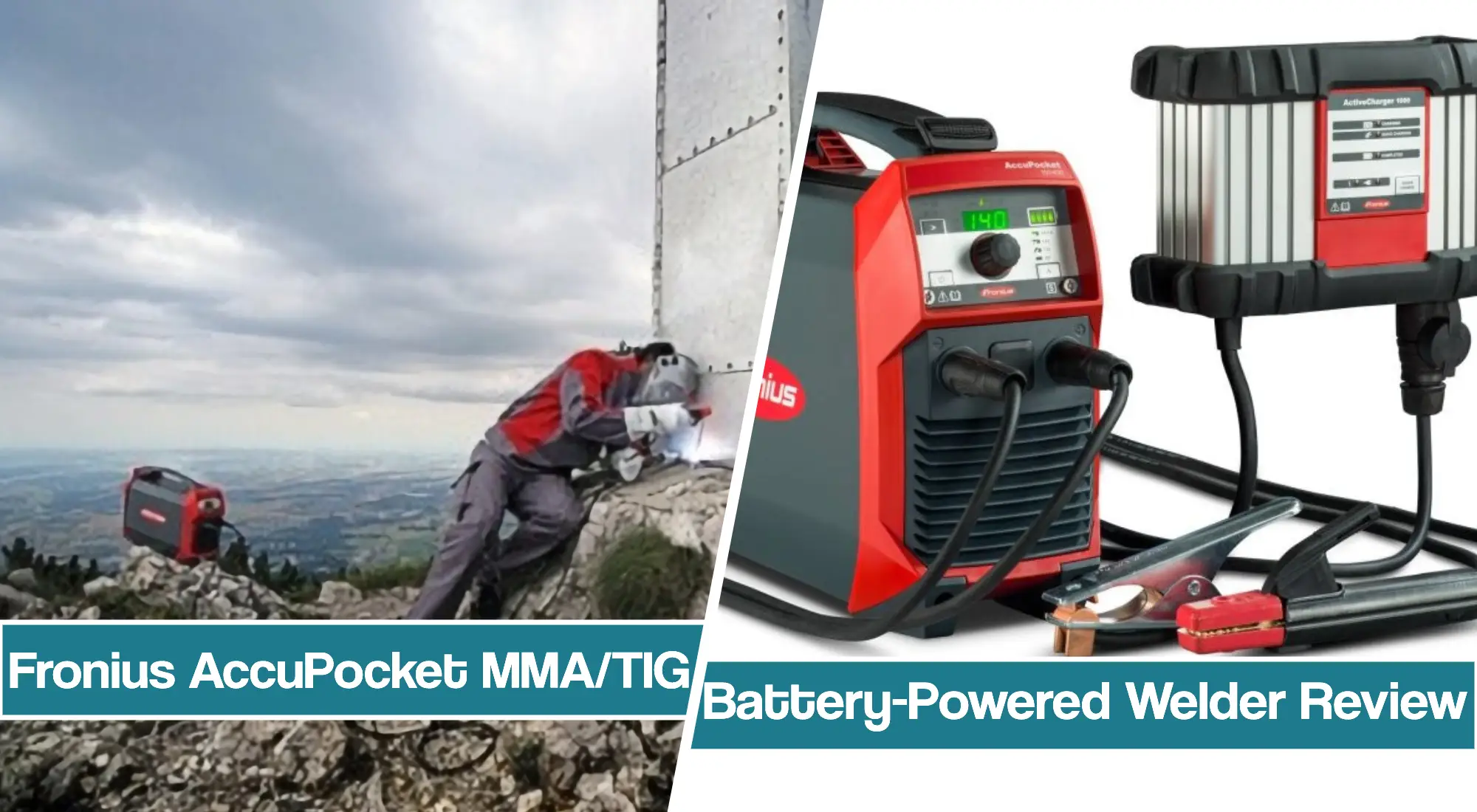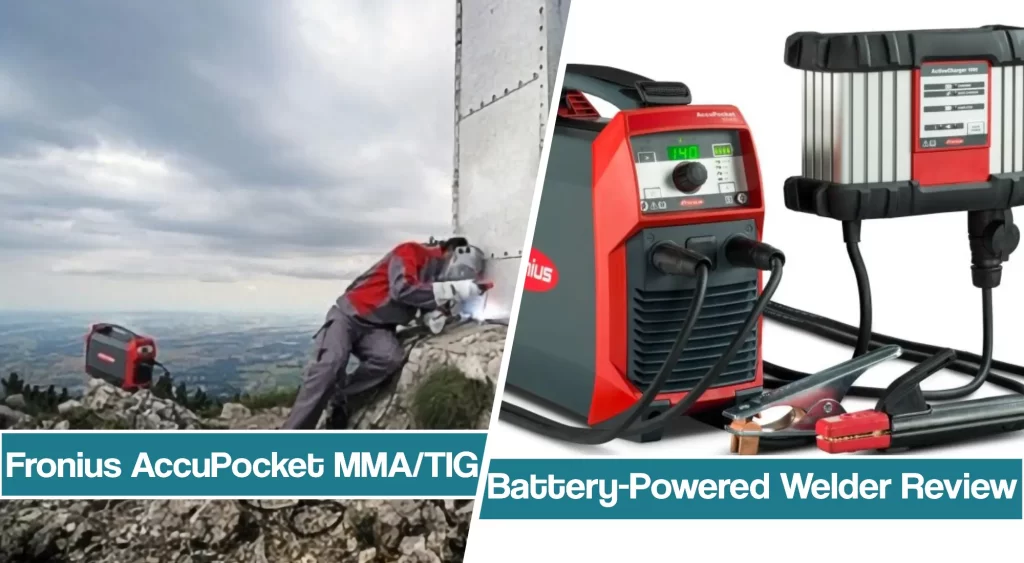 AccuPocket Battery And Welding Output
An intelligent control system using AccuBoost Technology makes sure that the battery and the welding electronics work together perfectly.
In practice, this regularly means better welding results than could be obtained with a comparable mains-only powered stick welding unit.
Weighing just 5.25 kg, the rechargeable battery delivers a rated energy of nearly 400 Wh.
Together with the unit's compact dimensions (435x160x320 mm) and sturdy constructional design, this AccuPocket is an optimal choice for repair welding or remote job-site work where there is no direct access to utility power. A fully charged battery (400 Wh) delivers sufficient power to weld up to eight 3.25-mm diameter electrodes, or 18 electrodes of 2.5 mm diameter. 
The improvements in AccuPocket 150/400 welding system — ignition properties, arc stability, and arc dynamics — are attributed to a successful combination of advanced welding technology and state-of-the-art, high-performance rechargeable batteries.
For example, the integral rechargeable battery is able to momentarily deliver above-averagely high short-circuit currents when necessary during welding, which prevents electrode sticking.
At the same time, the AccuBoost electronics ensure high welding voltage at high power and prevent the arc from breaking – doing so regardless of the battery's charge status. All the main parameters needed for professional welding can be seamlessly adjusted with a single digital control knob.
The hot start function is specifically tailored for rutile and cellulose-coated electrodes. So, the current output is maximized for a brief period (fraction of a second) when starting the arc. But, equally impressive is the AccuPockets "Soft start" that stabilizes the arc start when using basic electrodes.
High Safety And Environmentally Conscious
Compared to conventional lithium-ion batteries, the rechargeable (lithium-iron-phosphate, LiFePO4) batteries used in the AccuPocket stands out for having the highest intrinsic safety and environmental compatibility currently available, lower self-discharge, and no memory effect. 
Built-in battery-management functions and the specially adapted external ActiveCharger – with Active Inverter technology that detects the state of the battery and optimally adapts the charging characteristic – together ensure safe operation and long battery-cell life.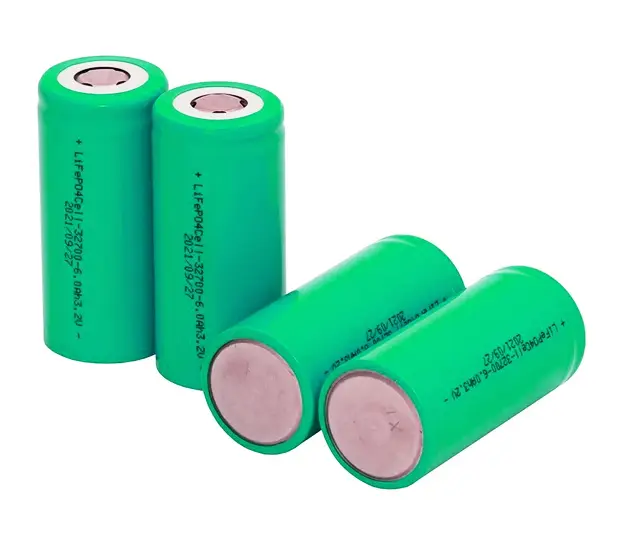 In battery mode, AccuPocket is even safe to use in electrically high-risk environments, because its internal design ensures that the highest voltage occurring anywhere inside it is always far below the permissible maximum of 113 VDC.
AccuPocket Duty Cycle
While 140A output is impressive and on par with some of the leading brands in the welding industry, the 18% duty cycle at 140A is a limit factor. Still, for a battery-powered welding machine, we can't complain too much. If you wish to learn more about how to calculate the duty cycle of any welding machine, refer to our article here.
Welding In Hybrid Mode
Even when attached to the ActiveCharger, the AccuPocket can be used to continue welding in hybrid mode. During run-times, the energy from the battery is used to ensure a constant arc under all operating conditions (e.g., grid fluctuations). Then, the welding off-times are used for recharging the battery. 
The battery exercises a buffering function that lessens the load on the supply network, in turn preventing the annoyance of circuit breakers being tripped on job sites. The full welding amperage of 150 A is available in TIG mode, or 140 A in Stick mode, even in a 110 V network.
Exceptional Efficiency When Welding Using a Generator
AccuPocket also can be run from very small generators. In this case, the integrated rechargeable battery reduces the required maximum power input, meaning that a much lower-capacity current source can be used. Instead of an 8 kV generator, a 2 kV one is now sufficient. This ties up less capital and facilitates portable deployment.
Thanks to its facility for the battery-powered operation, AccuPocket minimizes time-consuming weld preparation work. This means that in many applications, it is actually more economical, over its service life as a whole, than conventional electrode welding systems.
Build Quality
The Fronius AccuPocket 150/400 is equipped with an excellent stick holder, TIG torch, and ground clamp. It also comes with a heavy-duty case for traveling long distances. The case is exceptionally rugged and probably the best case we've ever seen shipped with a welder.
The battery charger is rugged and protected along its edges with thick rubber pads.
However, the welding machine itself could use a bit more protection. We aren't saying that it lacks durability, but that it could further be improved by adding rubber protection on the main contact points with the surface.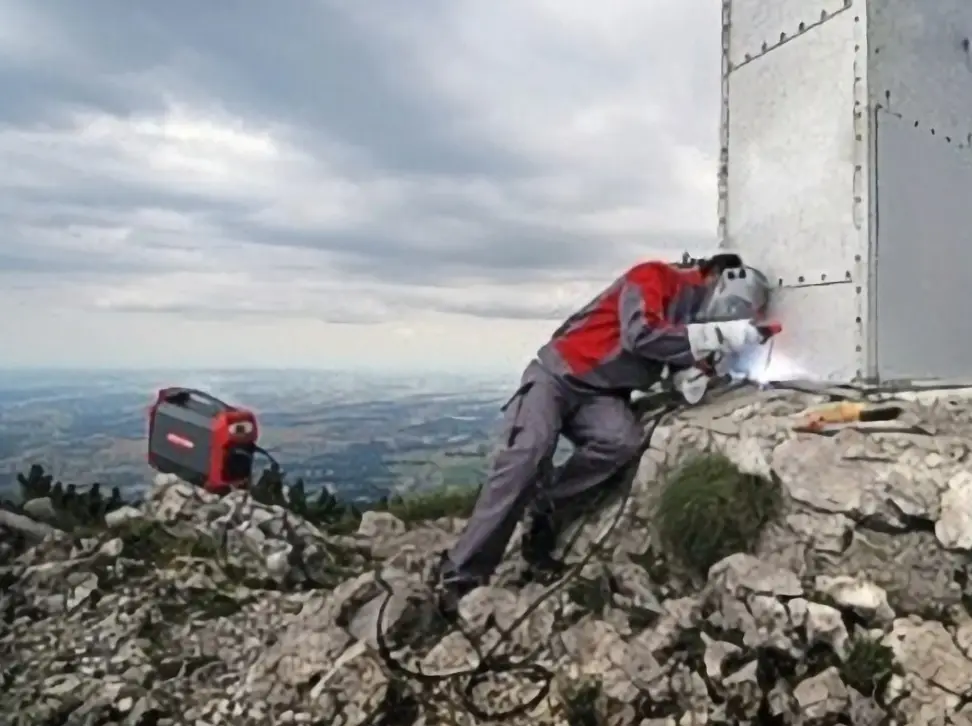 The front control panel is well-made and easy to use. Most adjustments are made using an infinite adjustability dial, while settings are accessed via surface-flushed buttons. The front panel also displays the battery status via green lines. But, this can be improved if Fronius shows the battery percentage instead.
Portability
The AccuPocket is just shy of 11 kg, which is very impressive. You have to consider the battery pack and the fact that almost all inverter-based welders are heavier than the Fronius AccuPocket. On top of the low weight, the AccuPocket is a low-profile welding machine. It's compact and easy to carry using a shoulder strap. You won't even feel it.
Conclusion
We feel like the Fronius AccuPocket is an absolute win in most categories. Yes, the duty cycle can be longer, but we can't complain, considering that this is a low-power welding machine designed for maximum portability and welding where power is not accessible.