One might say that choosing the right sort of welding machine is not a small matter.
Investing in a good machine is rather costly. Making a grave mistake right off the bat might set you back both financially and for the project you need to complete. Additionally, there are many welding units out there that are not that good.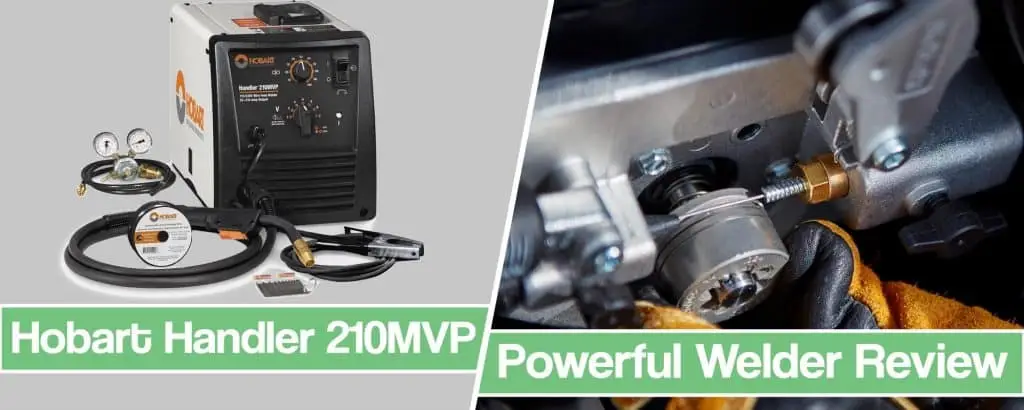 Luckily, we have a perfect solution for you – The Hobart 210 MVP welder!
What is it and what is it best for
Main Features and Specs
Pros & Cons
Handler 210 MVP one of Hobart's best sellers is a versatile welder that will suit most of the welding jobs you can have at your home, yard garage, or small shop.
What is Hobart Handler 210 MVP and What is it Best for?
The Handler 210 MVP MIG welder is a versatile wire feed welder made in the USA. As mentioned, it comes with a dual voltage input, a 115 V, and a 230V input, making it exceptionally easier for welders to plug as they have more options.
It is a Flux-Cored/MIG welder with the capability of welding 24-ga to 3/8in. steel in a single pass.
This machine is excellent for beginners as you can start using it in mere seconds after unpacking it. It is simple to use and comes with everything that a good welder will need. Power, simplicity, and versatility are its greatest advantages which are the traits that even professional welders look for when choosing their machines.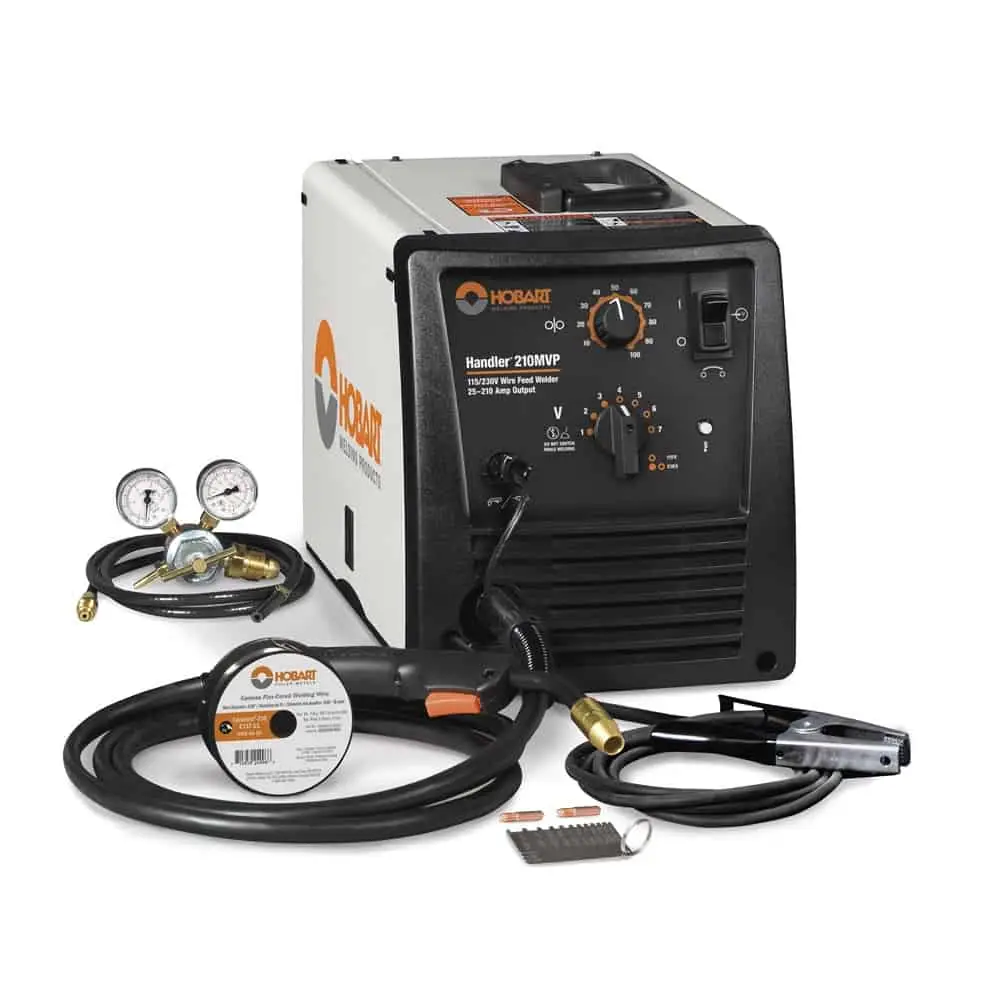 The Hobart 210MVP is also very much capable of handling some professional applications. You can use it for maintenance and repair, construction, metal art, and other welding projects. Some of these usages include fixing an auto body with ease or a boat. It is applicable for fixing farm equipment on a ranch and in construction work.
This Hobart welder provides very good arc performance regardless of the power source with less spatter which means less post-work clean up and a more beautiful bead.
A very important thing worth mentioning is that the Handler comes with a 5/3/1 Industrial Warranty. There is a five-year warranty added for on the stabilizer and the transformer and a three-year one on electronics. Finally, the MIG gun has a one-year-long warranty.
No products found.
Pros & Cons Summarized
Pros
Adaptable and versatile – Works on 120 and 220Volts, accepts wire reels 4-8 inches
Small dimensions
Max 210 amps
7 voltage settings
Easy to use
Durable – made of sturdy materials
Built in safety features
Detailed user manual
You can get optional spoolrunner 100 spool gun to MIG weld aluminum
Cons
Product weight is 79lbs
Most of the cables are too short
Only 30% duty cycle at 150 Amps
Specifications
First of all, the net weight of the welder is 79lbs, making it harder to move about due to its weight. However, the dimensions of 19 1/2 x 10 5/8 x 12 3/8 inches mean that it is not too large to carry.
Besides being suitable for MIG welding, the welder can weld steel, mild steel, stainless steel, and aluminum. However, as far as aluminum welding goes, one will have to acquire an added spool gun necessary for MIG welding aluminum.
Output parameters can be controlled easily with 7 output voltage settings for the 230 Volt and 4 voltage selections for the 115 V. It results in less spatter, an improved arc, and better bead appearance. The Handler also provides improved penetration with minimal post-weld cleanup needed.
The output amperage range for the 115V input equals 25-140A. On the other hand, the output range for the 230V amounts to 25-210 Amps.
The multi-voltage plug comes included operates at either 115V or 230V.
Capable of welding 24 ga. to 3/8 in. in a single pass.
A 30% duty cycle at a power fo 150 amps.
Equipped with a wire feeder with wire speed feed control. Offering adjustable tension and also adding a quick-release tension lever in the drive system.
Main Features of Hobart Handler 210 MVP
The most obvious pros for Hobart MIG welders are their adaptability and versatility. Safety features are also pretty high and the machine is very easy to use. Beginners and inexperienced welders will waste no time picking the product up quickly.
Adaptable and Versatile
his great welder is compatible with both the 120V and 220V outlets which eases use. You can also change the operating voltage very easily by simply changing the plug of the electric cable. Just swap the MVP plug of the welder from the 120V to the 220V input power one or vice versa and you are good to go.
You can also adjust the wire reels from 4-inch to 8-inc ones. One can easily change from one to another simply by using an adapter that comes available with the unit.
Something that also might come in handy is the Quick Select Drive roll. It shortens your setup time by offering three different grooves – two solid wires that come in different sizes and added flux-cored wire.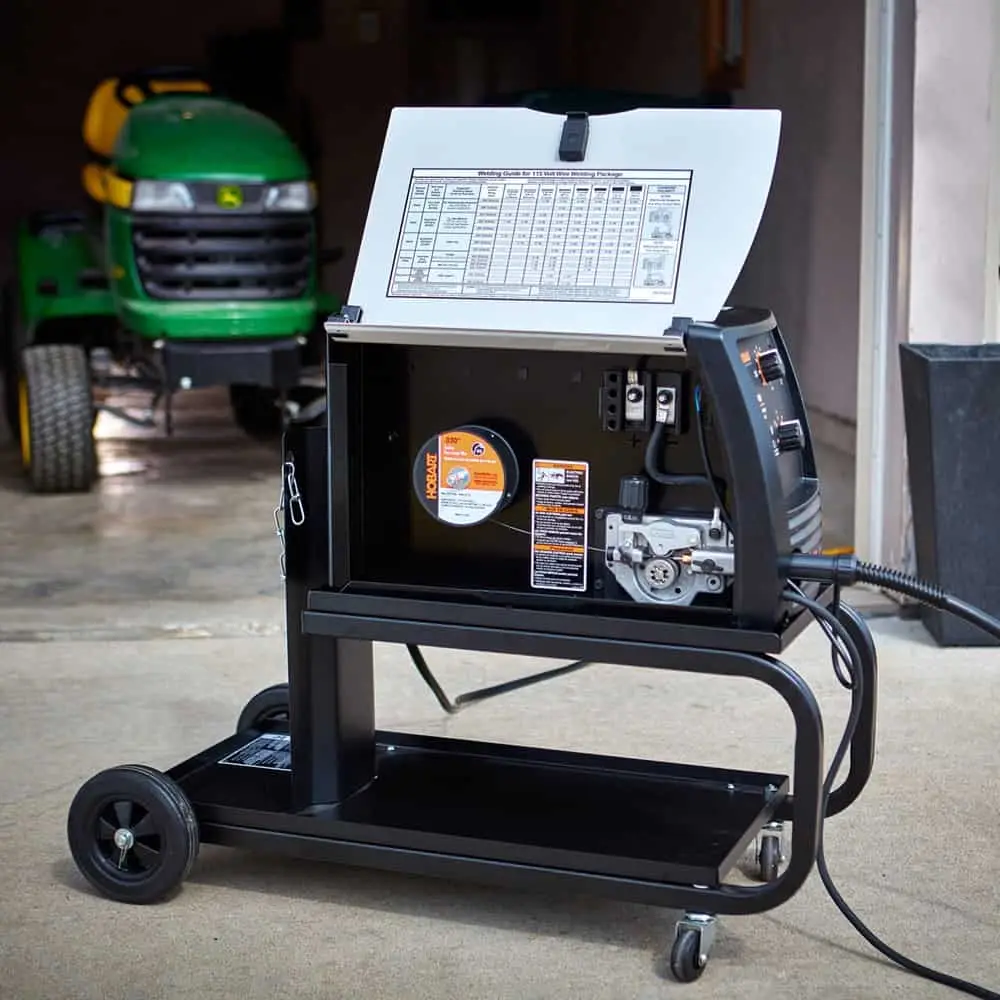 Portability
We can't really say that the MIG welder is a light piece of equipment In fact, it weighs 79lb. making it a bit on the heavy side for many. Especially experienced welders who prefer lighter equipment. However, the dimensions of 19 1/2 x 10 5/8 x 12 3/8 inches make it a small portable case and allow for easy maneuvering. Plus it comes with a portable case that will greatly help in moving your machine on the site.
Ease of Use
One of the biggest advantages of the welder is its Easy Setup. basically, you can run it immediately after taking it out of the box as it is capable of running flux core steel, aluminum, and solid wire. Additionally, the machine comes with an infinite wire feed speed offering an easier control.
It is also spool gun ready and you can run the SpoolRunner 100 gun optionally. Setting your toggle switch to MIG mode the wire feed speed will control the MIG gun and by clicking the switch for the spool gun you will be controlling its motor.
Durability
This MIG welder is made out of very sturdy and high-quality steel. The idea is that it is built so it can last longer after long hours of use. Also, it provides efficient performance years into its usage cycle.
Safety
This welding machine has a set of numerous built-in safety settings. The excellent safety feature is the added contractor that keeps the electricity "cold" until the trigger is pulled on the MIG welding gun. So you are completely safe even when the power cord is plugged in because of the wire electrically cold system.
Additionally, the self-restarting motor protection will keep the wire feed system safe from overloading. Self-resetting thermal overload is also available as well as giving you added protection from short-circuiting.
More on Cons
When it comes to cons, the Hobard Handler has some which professional welders might find a bit irritating. The weight is definitely going to be an issue. It will deter your movability for a certain project. Some minor details when it comes to disadvantages include the offered cables and the duty cycle that it functions at.
Weight
Although portable the Hobart Handler 210 MVP MIG welder is still on the heavy side. It can be a bit hard to carry from your vehicle to the place that you are supposed to do your job as it weighs 79lb. The portable case is still included and allows for better movement but some users will still find it heavy. This could become a problem when you need to move about from place to place on a specific site that you are working on.
Cables
One of the problems that you will most likely notice quickly is in regards to the cables. Most of the cables added are too short. But this is a usual problem that most welders have with their machines as most of the cables that come stocked with the unit are on the short side.
Additionally, some of the cables feel a bit stiff. The most noticeable one of them all is the work cable with clamp (ground clamp). It still works well but the stiffness can be problematic for some.
Duty Cycle
MIG welders might find that the duty cycle is too short for this machine. In fact, there is a 20% cycle at 90 amps with the 115 voltage and a 30% duty cycle at 150 amps for the 230 input. Although these settings might be good for some welders with less experience, professionals will certainly find it to be too short for usage.
Conclusion
The Hobart 210 MIG welder is a great machine. Its ease of use and adaptability allow it to be used by welders without a lot of experience. Its safety features and readability are also something to include here. And don't forget the different voltage settings which account for handler 210mvp versatility.
However, this machine is not going to be a go-to choice for professional welders. Although adding favorable settings like voltage control and great safety and overall features, the weight is going to be a problem for most.
Nevertheless, this welding unit offers good value for its money with solid performance. We recommend it for any kind of bodywork on a variety of materials. It is as solid as it is reliable.