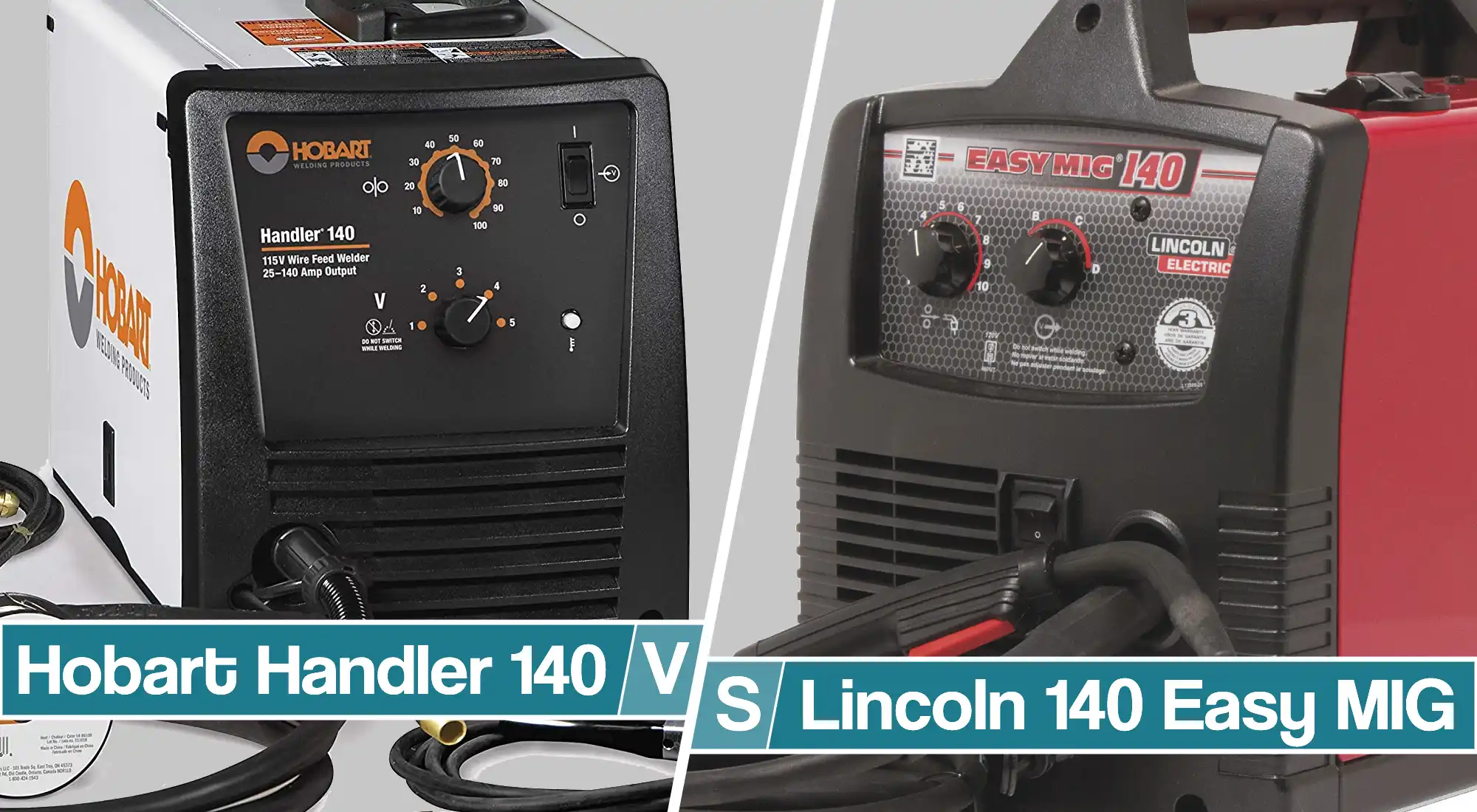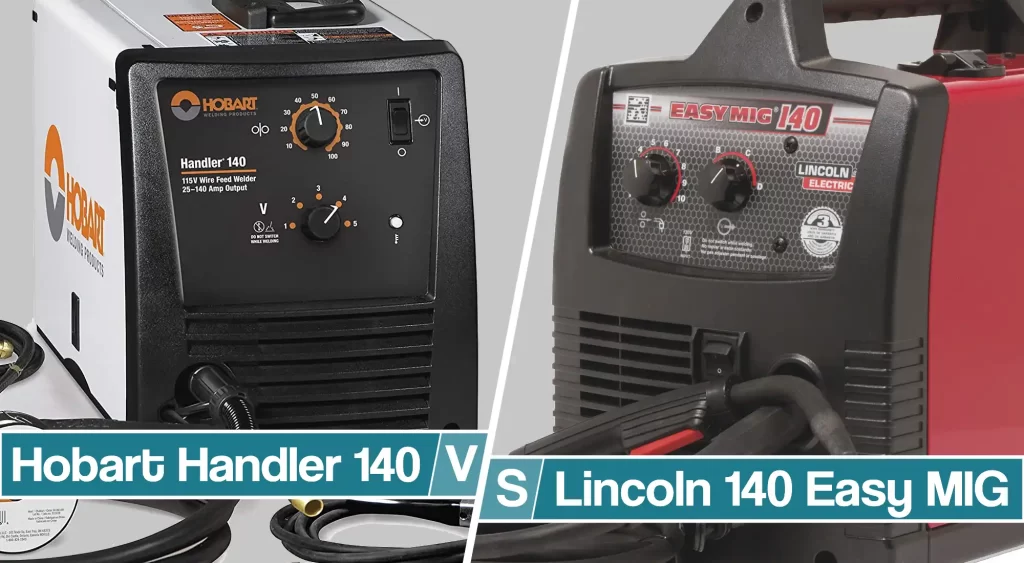 We made this Hobart Handler 140 vs. Lincoln 140 Easy MIG article to summarize the similarities and point out the differences. By comparing the essential factors, I think you will be ready to choose by the end, so let's dig in!
Hobart Handler 140 vs. Lincoln 140 Easy MIG Quick Comparison Table
| | Hobart Handler 140 | Lincoln Easy MIG 140 |
| --- | --- | --- |
| Processes | Flux Cored (FCAW), MIG (GMAW) | Flux Core, MIG |
| Input Voltage | 110/115/120V | 110/115/120V |
| Input Phase and Hertz | 1-Phase 60 Hz | 1-Phase 60 Hz |
| Current Type | DC | DC |
| Weldable Materials | Mild Steel, Stainless steel, Aluminum | Mild Steel, Stainless steel, Aluminum |
| Output Amperage Range | 25-140A | 30-140A |
| Duty Cycle | 90 A @ 20% duty cycle | 90 A @ 20% duty cycle |
| Welding Thicknesses Capability | 24 ga. - 1/4" in thick mild steel and stainless steel | 4 ga. - 3/14 in. thick steel |
| WFS - Wire Feed Speed Range | 40-700 imp (inch per minute) | 50-500 ipm |
| Welding Wire Thickness | .025-.035 | .025-.035 |
| Dimensions | 12.375 in. x 10.625 in. x 19.5 in | 13.7 in x 10.15 in x 17.9 in |
| Made in | US | Mexico |
| Weight | 57 lbs. | 50 lbs. |
| Warranty | 5/3/1 years | 3 years |
Brief Overview of Hobart Handler 140
Hobart Handler 140 is one of the best-rated beginner-friendly brand-name MIG welders on the market, as you might have noted while doing some more research. Hobart welding products are well known among professional welders and beginners, and there is a reason behind that.
Handler 140 MIG welder offers an excellent value for the money spent. In addition, this is a pretty straightforward machine that's popular among hobbyists, repair, and auto-body workers.
You will need a regular 120V household outlet, meaning you can use it in your garage, at the farm, or remote job site location.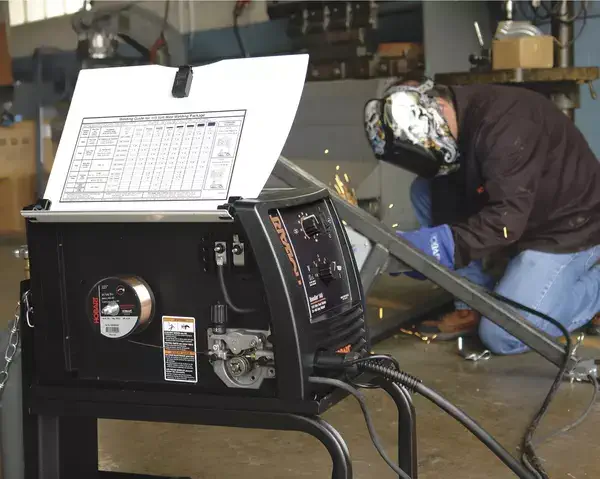 When investing in brand-name welders, you are sure you get what you pay for. Hobart 140 is a reliable machine built to last, with a decent duty cycle, and made in the US.
Build quality is exceptional, and you will love how smooth this unit welds. MIG welding stainless steel has never been easier, while you can enjoy flux core welding as well.
Brief Overview of Lincoln 140 Easy MIG
Lincoln Electric entered the welding industry in 1907, and I can tell you, they know how to build their welders. Several different names appear on the market, such as Lincoln Weld Pak HD, EasyMIG, ProMIG, MIGPak, and they all look alike. However, these are all identical machines that carry a different name regarding the market they are being sold.
Overall, Lincoln Easy MIG 140 is a versatile welder you can use for your everyday light-duty projects or in a small garage shop. Beginners will love the forgiving arc that starts quickly and maintain stability.
However, I would recommend this one for welding aluminum or thinner sheet metal welding with solid wire. Of course, you can always use it to weld stainless steel, but you might have to deal with excessive spatter, and I suggest flux core welding.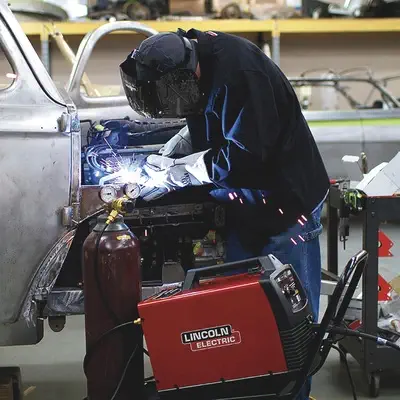 Package Content Comparison
Hobart Handler 140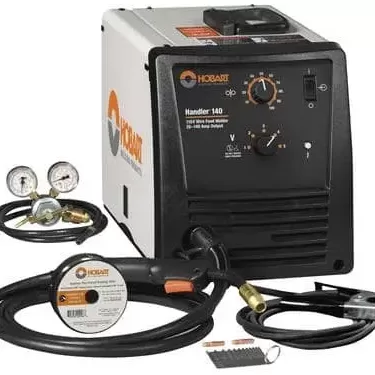 HR-100 welding gun with 10 ft. cable
10 ft. ground cable with clamp
Built-in gas solenoid valve
Dual-gauge regulator with gas hose
Spool hub assembly for 4 in. or 8 in. spools
Sample spool of 0.030 in. self-shielding flux-cored wire
.030 in. (0.8mm) contact tips
Quick Select™ drive roll for .024 in. or .030/.035 in. solid wire, and .030/.035 in. flux-cored wire
Power cord with plug
Welding guide
Material thickness gauge
Instruction manual
Lincoln 140 Easy MIG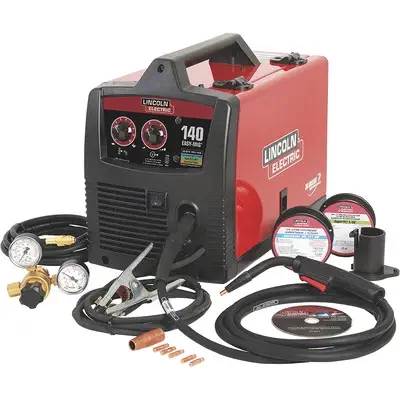 Magnum® 100L welding gun and 10 ft. cable assembly
Three .025 in contact tips
Three .035 in. contact tips
Gasless nozzle for Flux-cored welding
Gas nozzle for MIG welding
Spindle adapter for 8 in. diameter spools
Dual track drive roll for MIG and flux-cored welding
Harris® Gas Regulator
52 in. (1.3 m) hose for use with Ar/CO2 or CO2 gases
Sample spool of .025 in. (0.6 mm) diameter SuperArc® L-56® premium MIG wire
Sample spool of .035 in. (0.9 mm) diameter Innershield® NR®-211-MP flux-cored wire
10 ft. (3.0 m) cable and work clamp
How To MIG Weld DVD
Instruction manual
No products found.
No products found.
Hobart Handler 140 vs. Lincoln 140 Easy MIG – Key Aspects Compared
After a single brief overview of machines, let's now compare their essential aspects. So, we will reach the controls, build quality, welding capability, accessories, value, and protection.
Let's find out what is different.
Control Panel and Welding Settings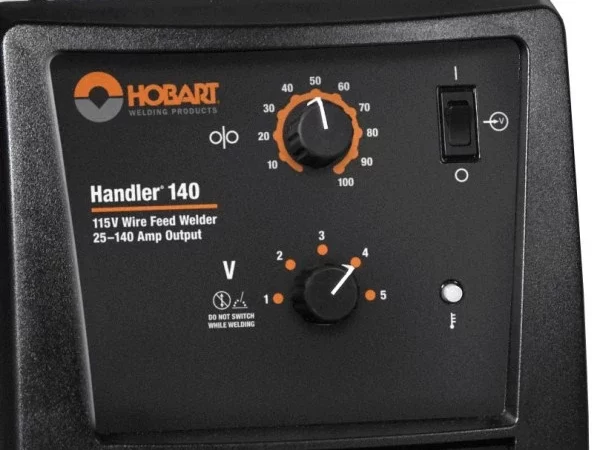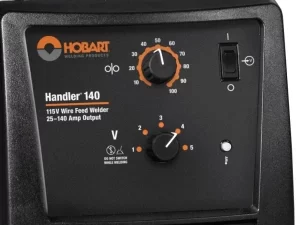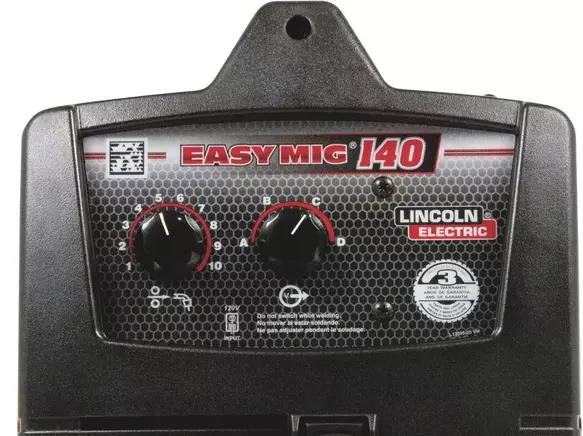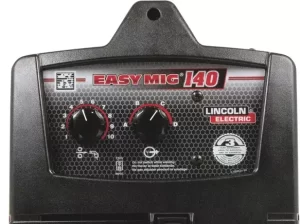 Looking at the control panels of Hobart 140 and Lincoln Electric Easy MIG 140, we can agree that both are pretty straightforward. I like the simplistic design, which features voltage and wire feed controls and an on/off button.
There are no digital displays and fancy controls, which might give beginners a headache while setting up the machine. However, some might prefer reading the exact value rather than remembering the knob position.
The only difference is the knob orientation. Handler 140 knobs are set horizontally, while Easy MIG positions the controls vertically. However, orientation isn't the essential factor, and you should fit it to your preferences.
Welder Settings
As I mentioned above, there are only two knobs – Wire feed speed and Voltage control. Both units feature infinitely adjustable wire feed speed and tapped voltage knob. However, there are some differences in weld settings.
Even though both welders use infinite wire feed settings, Handler 140 has a slightly higher wire feed speed. Handler 140 offers 40-700 inches per minute, while Easy MIG 140 limits it to 50-500 ipm. Hobart unit offers higher wire-speed for a reason, which we will discuss later.
Both MIG welders use a transformer-based technology build, meaning voltage settings are tapped. However, if you got through the quick comparison table, you might have noticed Hobart Handler 140 can weld thicker metals than Easy MIG 140. That's why Handler 140 offers one more tap on the voltage knob.
So if you are a seasoned welder that likes to fine-tune machines, you might like Handler 140 better.
Welder Build
If you decide to invest in a brand-name welder, you pay some extra bucks for the build quality. However, both MIG welders are well and sturdy constructed, so it seems like they are built to last. In addition, welder parts are reliable, and you shouldn't worry about breaking them.
Wire Drive System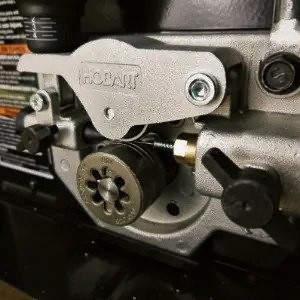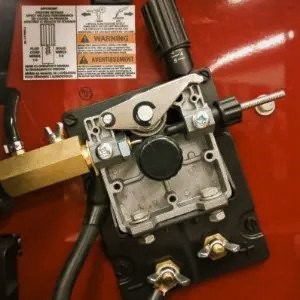 Opening the wiring compartment, you notice durable cast aluminum wire drive motors at both units.
As a result, you don't need tools to swap drive rolls, spool, or polarity, a great feature for beginners. In addition, you can manually select the spool and drive roll tension, as the tensioner is accurately marked and easy to use.
However, there are some differences in terms of quality and drive rolls. Hobart 140 features an industrial-grade and reliable wire feed system that seems sturdy. Don't get me wrong, the Easy MIG 140 drive system looks just fine, but I liked the Handler wire feed better. In addition, there are almost no complaints on the forums by the fellow welders regarding the Hobart wire feed, while you might find some referred to Lincoln 140.
Drive Rolls
One of the things I should mention is the provided drive rolls. To ensure a smooth wire feed, besides the drive system, you will need high-quality drive rolls. Luckily, both units feature pretty sturdy metal drive rolls.
Lincoln Electric Easy MIG 140 includes dual groove roll, capable of fitting both .025 and .035 inch wire. So you have to flip the roller to the other side to swap the appropriate wire. The dual roller will cover almost all your regular needs.
However, Hobart Handler 140 offers unique, Quick Select tripe grooved rolls. Two grooves are fit to feed solid MIG .025-.030 wire. The third groove uses knurled structure, which is perfect for soft aluminum wire and flux core wire. Additionally, this site supports .030-.035 gasless MIG wire.
So with Handler 140, you get a one-in-all drive roll for MIG and flux core welding, meaning there are no additional expenses. If you use soft wire with Lincoln 140 out of the box, you might have to deal with birdnesting.
Welding Capability
While both MIG welders can output a maximum of 140 amps, there is a difference in welding capability. Hobart Handler 140 can weld 24 ga. up to 1/4″ solid steel and stainless steel. On the other hand, a Lincoln welder can handle a maximum of 3/16 inch thick metals.
So if you plan to tackle thicker materials, I would suggest Hobart while Lincoln Electric does an exceptional job on the thinner sheets. Both offer decent solid wire feed on welding steel.
Hobart Handler 140 and Lincoln Easy MIG 140 offer a rated duty cycle of 90 amps at 20%. That means you can weld for two minutes straight at 90 amp output before you need to make an 8-minute break. Keep in mind that the more power you add, the lower the duty cycle gets.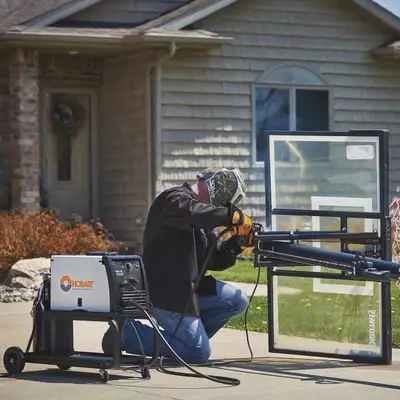 So, if you decide to tackle thicker materials, the welder might overheat and eventually turn off. Then you will have to wait until it cools down. However, if you exceed the duty cycle frequently, it might damage your machine.
It is worth mentioning that both machines offer a more than a decent welding appearance and stable arc. If you are a professional welder, you will be satisfied with the results.
MIG Welding Aluminum Capability
Aluminum welding is undoubtedly more popular among hobbyists and DIY enthusiasts. MIG is one of the most straightforward aluminum welding processes to master, so if you want to learn to work with it, you should get a proper machine. However, this is where it gets tricky.
Hobart Handler 140 is not a spool gun-compatible machine. Nevertheless, higher wire feed speed and unique roller for soft wire allow you to weld it as it is.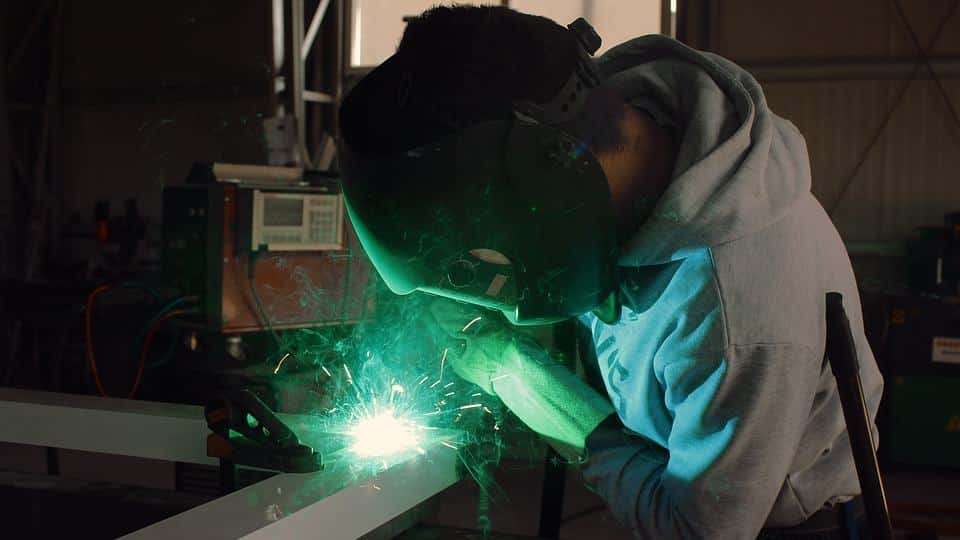 So theoretically, the Handler 140 welds aluminum straight out of the box, but you might have to deal with improper aluminum wire feed.
On the other hand, Lincoln welder 140 is a spool gun-ready machine. The Lincoln spool gun provides a smooth aluminum wire feed, resulting in higher weld quality. However, the optional spool gun comes with an extra cost or is sold in different bundles. Nevertheless, if you plan to weld aluminum occasionally, the price is worth it.
Keep in mind that Hobart Handler 140 can weld aluminum 16-12 gauge thick straight out of the box. At the same time, Lincoln Electric MIG 140 can weld aluminum 22-10 gauges with the additional spool gun.
Provided Accessories
If you read the package content part of the article above, you could notice you get a lot of accessories for the money spent. For example, the most remarkable thing about branded welders is that you get everything you need to weld straight out of the box.
Both welders provide high-quality accessories. MIG torches are comfortable and sturdy, while the leads are long enough to work around the garage and shop. In addition, ground cables are thick enough to withstand the heat.
Ground Clamp and Cables
However, the Lincoln 140 ground clamp is significantly better. The Lincoln Electric clamp is more extensive, and it holds better.
In addition, there is a braided connection between cable and jaws. A braided tie helps you set your ground better.
On the other hand, the Hobart clamp is smaller and much less forgiving. So it might take some time to start an arc.
Nevertheless, you can always replace it with a higher-quality one, but this adds the cost.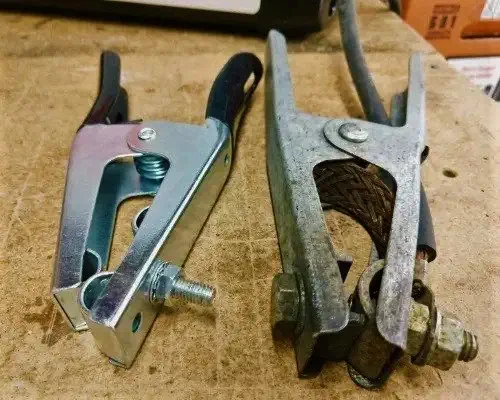 Gas Regulator
You are provided with a dual gauge gas regulator to help you weld straight out of the box. Nevertheless, the Harris regulator Lincoln includes is slightly better. Why?
With a separately bought CO2 tank adapter, you can use this regulator to run pure CO2 shielding gas. In addition, you can always use it with Argon and Argon blends.
On the other hand, the Miller-branded regulator Hobart welders provide might freeze when dealing with pure CO2 gas. So, if you are going for a cheaper, pure CO2 shielding gas option, you might consider another regulator. On the other hand, Miller's regulator deals with tri-gas mix well.
Beginner-Friendly Literature
Since these MIG welders are aimed at beginners, you will get proper literature to educate you. Both units provide instruction manuals, but with Lincoln 140, you get a How-To Weld DVD.
Nevertheless, the Hobart MIG welder manual seems more comprehensive as it includes understandable information and a MIG welder settings and beginners chart. In addition, Lincoln DVD is not that useful, as you might want to watch more YouTube videos if you are a complete beginner. That's why I suggest using both the instruction manual and internet videos, as there are many reviews and How-to guides you might like.
Welder Protection and Safety Features
To protect your investment, manufacturers included various safety features. So, to protect your welding machine against damage, both units offer wire drive motor, output overload, and thermal protection.
Wire drive motor protection shuts down the feeding system and protects it from damage. Output overload protection kicks out your circuit breaker once you exceed the maximum output, while thermal protection trips the thermal overload relay once it gets too hot.
Even though both MIG welders provide all mentioned features, Handler 140 has an overload indicator. Once your welder starts to overheat, the light will turn on. Once a unit is ready to work again, the notification lamp will shut down, so you will know when you can start welding again.
Warranty Options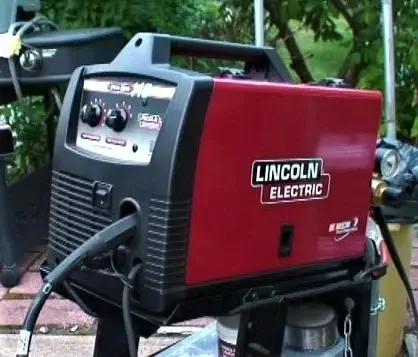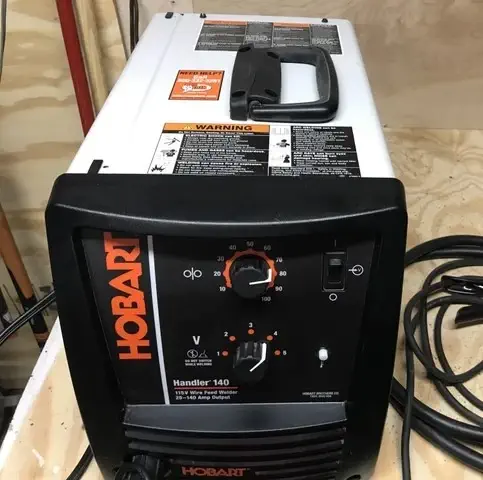 Hobart Handler 140 comes with a 5/3/1 years warranty, while Lincoln 140 offers 3-year protection.
When buying a Hobart MIG welder, you get five years of warranty on rectifiers and transformers, a 3-year warranty on the drive system, PC board, solenoid valves, switches, and controls, and one year on a MIG gun, gas flow regulator, and spool gun.
On the other hand, Lincoln welders come with a 3-year part and labor warranty. In addition, your MIG gun is protected for 90 days. However, if you are worried about slightly shorter warranty options, you can always purchase a two-year extension. Nevertheless, it just adds to the cost.
After reading tons of reviews, I honestly think you won't even need the extension. Many satisfied owners report they enjoyed the welding without any problems. However, most issues result from poor shipping and packaging.
That's why I suggest buying either of these units from trusted suppliers rather than choosing based on warranty.
Price and Value
Since we are talking about renowned welders, you should be ready to pay some extra bucks. Both units are more costly than most budget beginner-friendly welding machines on the market. However, with the build quality you get, you can be sure the money is well spent.
Hobart Handler 140 and Lincoln 140 welder rank somewhat in the same price category. Yet, both offer different values, so you will have to define your needs.
If you want to weld thinner aluminum straight out of the box, Handler 140 grants better value. However, if you need to tackle thicker aluminum, you will need a separately sold spool gun Easy MIG 140 is compatible with. Once again, the Lincoln 140 spool gun adds extra cost.
On the other hand, for the economical pure CO2 MIG welding, you will have to go with Lincoln or buy a different gas flow regulator with Hobart. In addition, a poor Hobart ground clamp will force you to invest more.
Hobart 140 vs. Lincoln 140 Pros and Cons Summarized
This Hobart welder is an excellent piece of welding equipment that offers exceptional value and versatility. Welding capability is somewhat higher than Lincoln's counterpart. In addition, the initial wire feed sped is high enough so you can weld thinner aluminum straight out of the box.
If you are looking for made in US machine with a strong warranty, Hobart Handler is your way to go. However, if you want to weld thicker aluminum with a spool gun or use 100% CO2 gas, you might have to pass. Still, Hobart welder deals with tri-gas mix accordingly.
Lincoln 140 is a reliable welder made by a renowned manufacturer. This unit does a fantastic job of joining thinner mild steel. In addition, you get moderately better accessories for the money spent, including a high-quality clamp and more contact tips. If you plan on welding aluminum often, a significantly thicker one, a separately sold spool gun, will do the job.
On the other hand, the Lincoln MIG welder is made in Mexico and provides a shorter warranty. In addition, you won't be able to join as thick metals as with Hobart counterpart, and a spool gun increases the overall cost.
Final Thoughts
After reading the detailed breakdown of all the essential assets of both machines, I think you should be ready to choose. We pointed out every feature both beginners and seasoned welders should consider before buying a MIG welder.
We did all the hard work to gather the data, so your job will be to sit down and set your goals.
Once you decide what to expect from your future MIG welder, it should be easy to say – Yup; this is the right one!
I hope this article was helpful to you, so feel free to share your feedback and tell us how you like your new MIG welder.