The Hobart line of welders has a well-established reputation among both professional and amateur welders. These welders are regarded as good products offering high quality for the prices.
This is evident in just about every Hobart 140 review you can find online.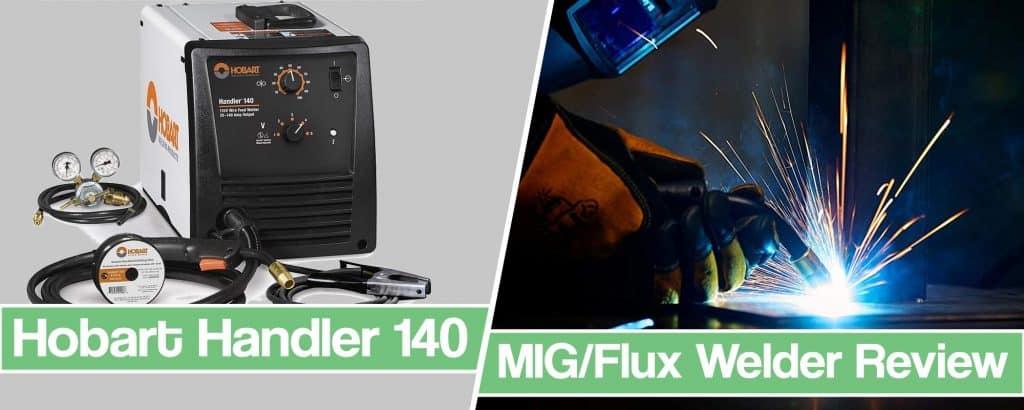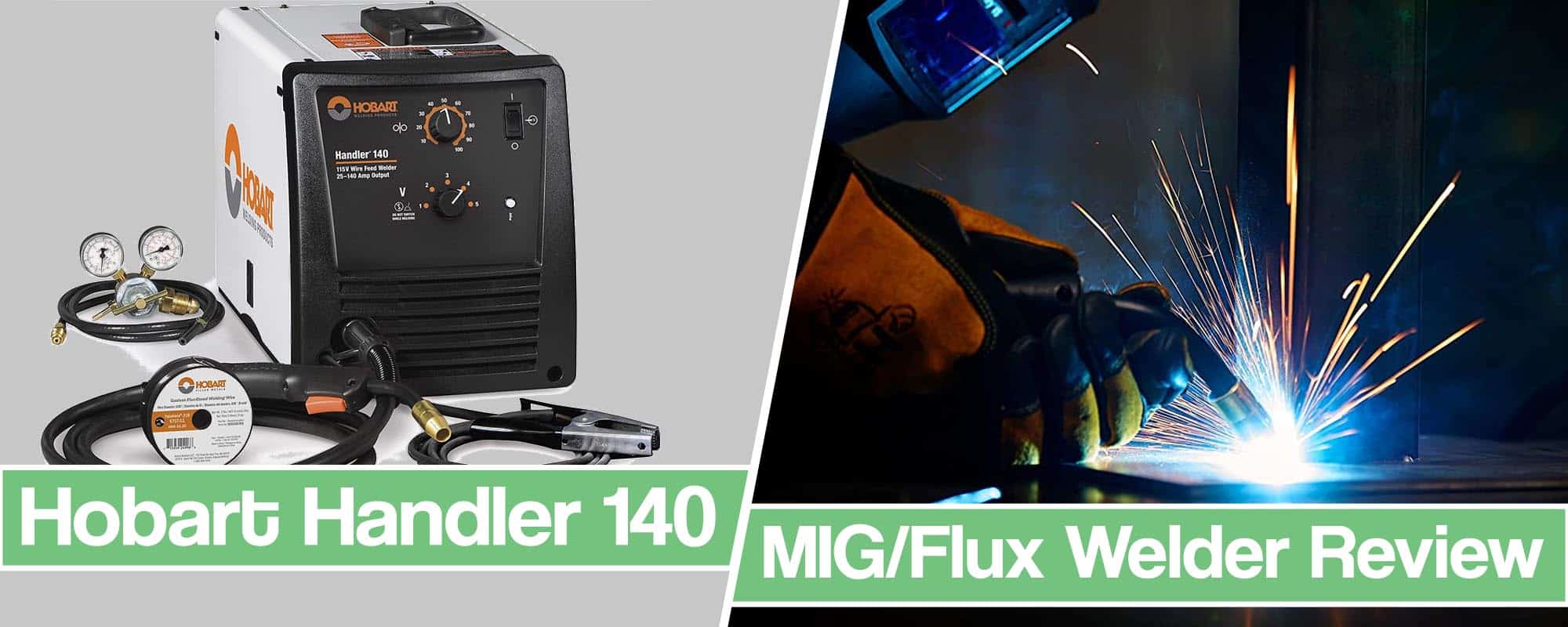 As the average Hobart welder review will reveal, this product line boasts of American manufacturing pride and a good user interface that is technologically up-to-date. High quality and excellent workmanship are apparent in Handler 140. This machine happens to be the second smallest flux/MIG piece of equipment in the Hobart lineup, thus making it suitable for homeowners and DIY enthusiasts.
The Handler can run off a standard 110v power source and weighs only 57 pounds and is, therefore, easy to move from place to place if necessary.
The Right Tool for the Job
There are always pros and cons when it comes to buying anything, especially electronic and mechanical equipment. But, when it comes to this model, there are definitely more pros than cons.
If you are looking for quality welding from a heavy-duty machine without the price-tag that usually accompanies that designation, then you have come to the right place, product-wise.
The list of things that you can weld with this machine is almost endless: BBQ pits/devices, trailers, sporting equipment, work machinery, ornamental designs, works of art, etc.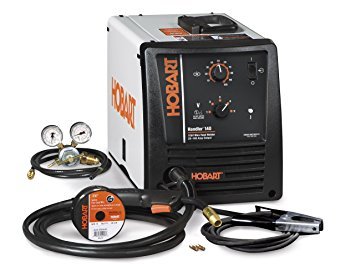 This machine isn't fragile—in fact, it feels like a workhorse type of equipment that will take the punishment, deliver excellent results, and on the next day, be ready for more work.
No products found.
Performance
The Hobart 140 is a nicely compacted MIG/Flux-core welding unit. Its popularity and simplicity are comparable to many other models out there costing more money—yet it delivers a reasonably strong power of 140A. The unit boasts of a duty cycle of 20%@90 amperes, certainly more than enough for everyday household metal-involving chores and projects.
Using MIT capacity/function, this machine can weld thin materials, including stainless steel, steel, and aluminum; by the same token, the additional flux-core option can be used on thicker stainless steel or steel materials.
This unit can weld items that are only 24-gauge in thinness but also items that are ¼ inch in thickness. The Handler is a good choice for construction, maintenance, home repairs, farm use, rental shops, and auto body work environments.
This machine is relatively lightweight (compared to many professional models), thus making it easy to transport—something not to thumb one's nose at, especially if you will be using the unit as part of your peripatetic work routines.
It also won't take up too much space in your work van or truck—and you guys know how important it is not to overload a work truck, considering the price of gas and the fact that you should only take what you absolutely need on each job.
Is This Welder for You?
Considering how affordable and cost-effective this machine can be, this is definitely a good investment on your part, considering all that you get for the price. Additionally, your investment, the company says, is fully protected by a hard-to-beat Hobart 5/3/1 super-duper industrial-quality warranty.
This gives you peace of mind knowing that the unit is protected from manufacturing defects or problems for a very reasonable amount of time.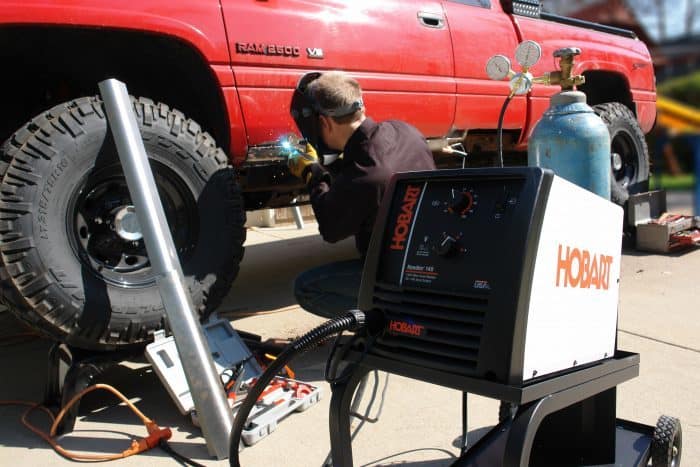 Unless abused or misused, this unit should last you a long time, by all accounts. Should it malfunction, though, you are entitled to free repairing or replacement services!
Pros & Cons Summarized
Pros
It can run on a 110-volt outlet, which is great for beginning welders
Provides great arc performance with a stable and smooth arc on every thickness
Industrial-quality cast aluminum wire driving systems; a professional piece of equipment boasting a lasting wire feeding performance
A low weight of only 57 pounds
Convenient polarity changing-over capacity
Less welding spatter while providing high-precision arc performance
Even with low electricity for the whole process, wire feed-out is accurate for every job
Dual-processing capacity makes it possible to work on a rich variety of thicknesses and materials
Low operator skills okay for this tool
Easy & quick equipment set-up time means you can be welding in a jiff, thus saving time/labour investments
Cons
Its 110-volts power usage can also be a minus in some settings
You may need a cart to carry it around on if the unit is to be moved often
For MIG welds, you may need an additional gas cylinder, thus an extra expense
Ideal for many small projects but not necessarily for big jobs
May not be suitable for use with most generators or out at sites where there is no direct AC power supply
This unit is best suited for small, independent-operators, not for full-fledged industrial operations
It can be more expensive than gas-operated units
What Do They Include in the Box?
10 feet or 3 meters cables with clamp
Ready-to-deploy, grip-friendly H100S2-10 gun
4 to 8 inches spools-accommodating spool hub assembly
Built-in dual-gauging regulator & solenoid valve plus gas hose
A sample spool (.030 inch or 0.8 millimeters) flux-cored wire that is self-shielding
Supply of contact tips (.030 inch or 0.8 millimeters)
0.24 inch (0.6 millimeters) & .030/.035-suited Quick Select, state-of-the-art drive roll
030/.035 inches (0.8/0.9 millimeters) flux-core wires & 0.8/09 millimeters solid wires
Plug-fitted power cord
Material thickness gauging & welding guide
Gas-utilizing built-in solenoid
Key Features
Units come with built-in wire feeding & rapid releasement drive roll levers.
Can weld 24 gauges up to a one-quarter inch in steel
120 VAC input voltage

Built-in, ready-to-go contactor can ease use; this is a great safety feature that makes wires electrically "cold" while the unit is not in use
4 voltage output, wire feed tracking settings that provide easy and rapid adjustments for different thicknesses and materials
Facile accessibility to polarity change-overs featuring spare-tips-accommodating storage holes
Dual grooves in drive rolls that simplify switching from one wire size to other; 1 smooth groove and 1 knurled groove for 0.30 to .035 inch or 0.8 by 0.9 millimeters wire
A self-reset thermal over-loading capacity and special motor damage protection
Five-position tapped voltage controlling selector that makes it possible for you to fine-tune your arc, thus producing a stable, smooth arc on different thicknesses every single time
All units are equipped with industrially-strong, cast aluminum drive systems and heavy-duty, reliable work clamps
Short circuit protection against current overloads
25 to 140 amps of welding ranges
24 gauge to one quarter inch material thickness
20% of 90 amps duty cycles
10 feet long Mig gun ground clamp leads make it possible to work without having to drag welders around; because the gun uses standard consumables, picking up tips at local stores is a cinch
Conclusion
The Hobart handler 140 is a versatile, trustworthy, work-horse oriented, and easy-to-use piece of equipment that's also excellent value for the price.
It is ideally suited for small-to-moderate scale projects; the Hobart welder 140 will also "handle" itself well, however, for some big projects. Then again, this unit is part of a series of other welders that can handle much bigger jobs, if your operation takes off and it expands.
If you happen to be starting out or you will mainly be using this unit at home, in your private shop or as a backup unit, the Hobart handler 140 is most probably exactly what you need. And in the case that it does not check out this blog Best MIG Welders 2021!