If you are looking for a versatile brand-name MIG welder that runs on both 110/220V and has enough power to suit your everyday needs, I warmly recommend either Hobart Handler 210 MVP or Miller Millermatic 211.
On the paper, these both look alike. In addition, both brands are owned by Illinois Tool Works. However, some differences might play a crucial role when choosing.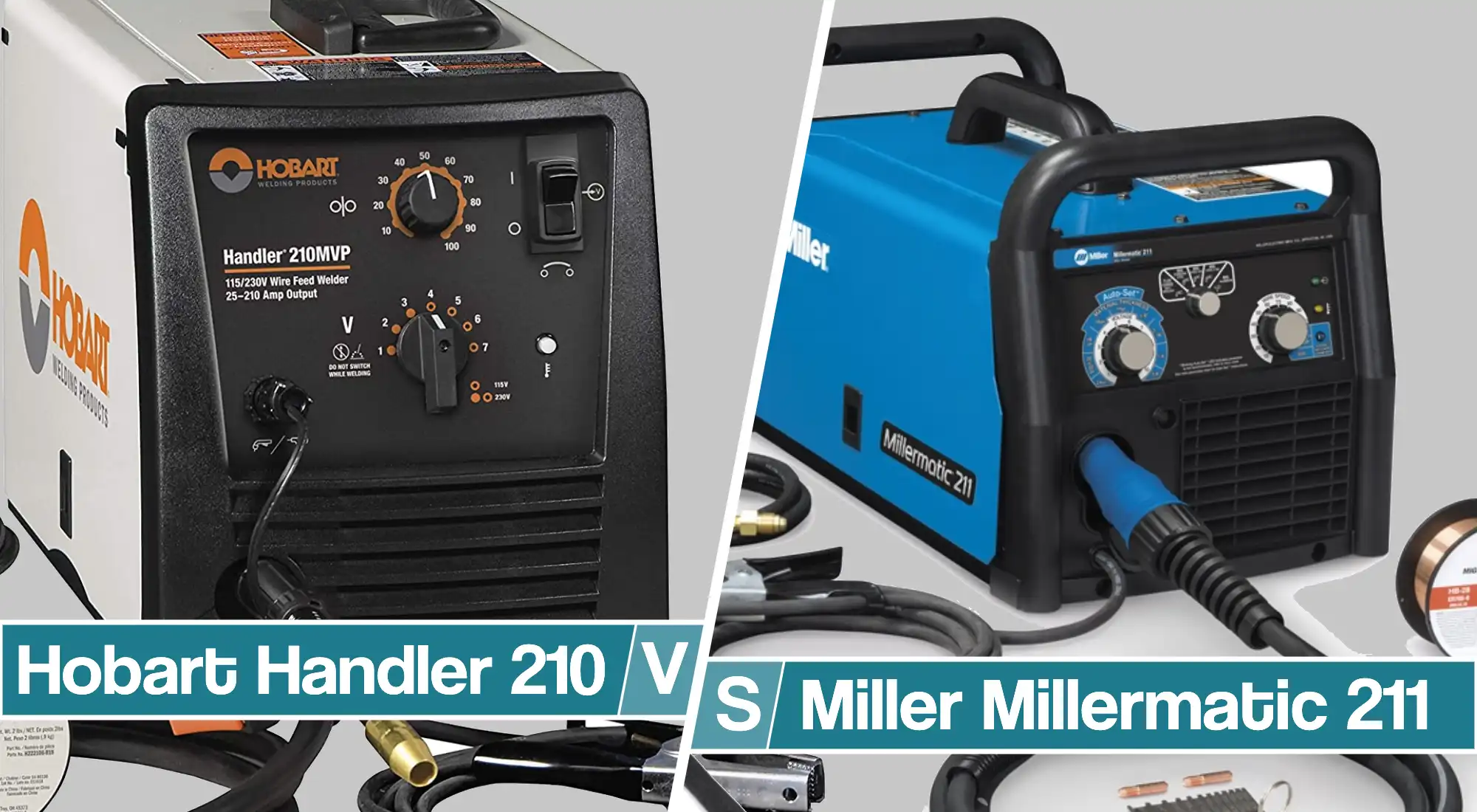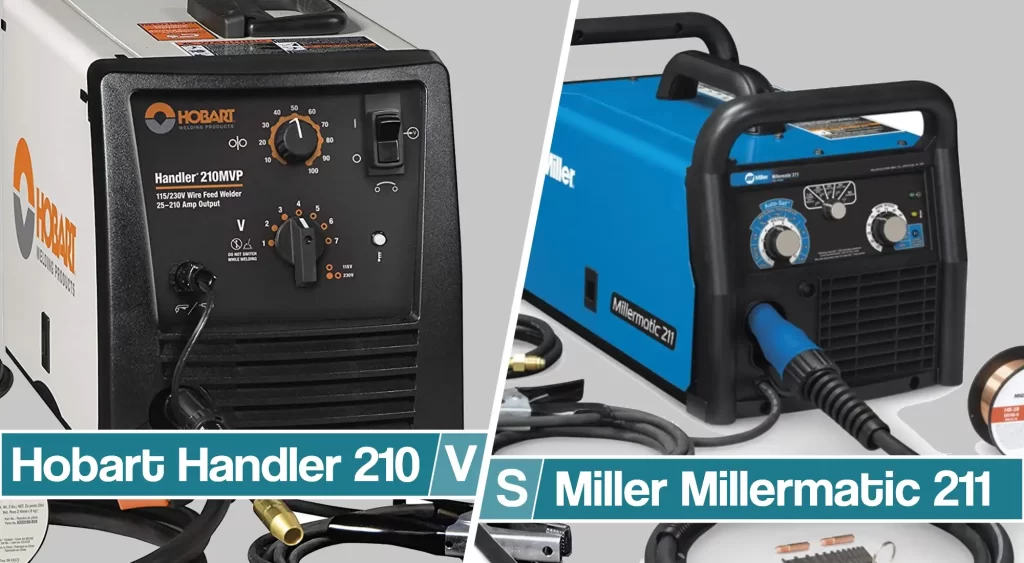 So, read this comprehensive Hobart Handler 210 MVP vs Miller Millermatic 211 article where we made a back-to-back comparison of fundamental aspects.
Hobart Handler 210 vs Miller Millermatic 211 Quick Comparison Table
Hobart Handler 210 MVP
Miller Millermatic 211
Welding Process
MIG, Flux Core
MIG, Flux Core
Build Technology
Transformer
Inverter
Input Power
110/115/120 V
220/230/240 V
110/115/120 V
220/230/240 V
Input Phase and Hertz
1-Phase 60 Hz
1-Phase 60 Hz
Current Type
DC
DC
Weldable Metals
Mild Steel, Stainless Steel, Aluminum;
Mild Steel, Stainless Steel, Aluminum
Output Amperage Range
25 – 140A (115V)
25 – 210A (230V);
30 – 130 A (120V)
30 – 230A (240V)
Rated Output
115 V, 90A @ 20%,
230V, 150A @ 30%
115 A at 19.8 VDC, 20% duty cycle (120V)
150 A at 21.5 VDC, 40% duty cycle (240V)
Max Open Circuit Voltage
34 VDC
54 VDC
Weld Output
CV
CV
Welding Capability
Mild Steel 1/4 in - 3/8 in.
Mild Steel 24 ga. - 3/8 in.
Aluminum 18 ga - 3/8 inch
Welding Wire Thickness
0.023 – 0.035 in. (steel)
0.030 – 0.045 in. (flux cored)
0.030-0.035 in. (aluminum)
0.024 – 0.035 in. (steel)
0.030 – 0.045 in. (flux cored)
0.030 – 0.035 in. (aluminum)
(WFS) Wire Feed Speed
40 - 770 inches per minute
60 - 600 inches per minute
Wire Spool Sizes
4-in., 8-in.
4 in., 8-in.
Dimensions (W x H x L)
10.625 in. x 12.375 in. x 19.5 in.
11.25 in. x 12.5 in. x 20.5 in.
Weight
79 lbs.
38 lbs.
Warranty
3 years
3 years
Quick Overview of Hobart Handler 210 MVP MIG Welder
Hobart Handler 210 MVP is a great DIY and small shop welder, and multi-voltage plug offers excellent versatility. This welding machine requires either 110V or 220V power to run, meaning you can plug it almost anywhere: in a small shop, garage, on a job site, or remote location.
However, if you are looking for more power, you should provide 220V output. Thus, you can turn it up to weld mild steel 24 ga. – 3/8 in thick. Provided power should be more than enough for your everyday light to medium-duty projects.
Featured wire feed speed is high enough for aluminum welding straight out of the box, but you can always use a separately sold spool gun for aluminum welding.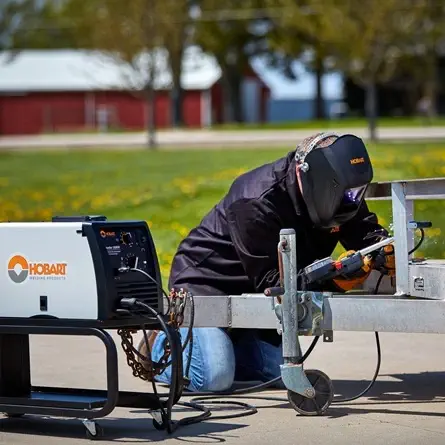 The Hobart company states Handler 210 MVP is best used in racing, customizing, restoring, DIY, home hobbyist, farm and ranch, metal art, sculptures, and manufacturing applications.
One of the great things about this welder is a pretty straightforward control panel. Beginners will love how easy to use and set up this MIG welder is. In addition, you can mount a new wire pool or change polarity without using any tools.
Hobart is renowned for durable machines built to last, and Handler 210 MVP is no exception. You can expect a top-quality build with reliable components. However, Hobart welders are somewhat aimed at hobbyists, and that's why they won't break your bank. You can view this topic if you want to learn more about owner experience with Handler 210 MVP. Here is a link to the quick spec sheet.
Quick Overview of Miller Millermatic 211 Welding Machine
Even though Hobart and Miller brands are part of the same manufacturing company, Miller welding machines are aimed at professionals. So, if you decide to invest, you will have to be ready to pay more than quite a few bucks.
Nevertheless, for the money spent, you get one of the best hobbyists, MIG welder. Miller 211 uses IGBT Inverter technology which makes it a powerful and lighter welder. That's why this MIG welder features higher output power and a more extensive duty cycle. However, you can weld pretty much the same thickness materials of 24 ga. – 3/8 in., but for extended periods.
While Hobart 210 MVP features a simplistic control panel design, Miller Millermatic 211 offers more delicate controls.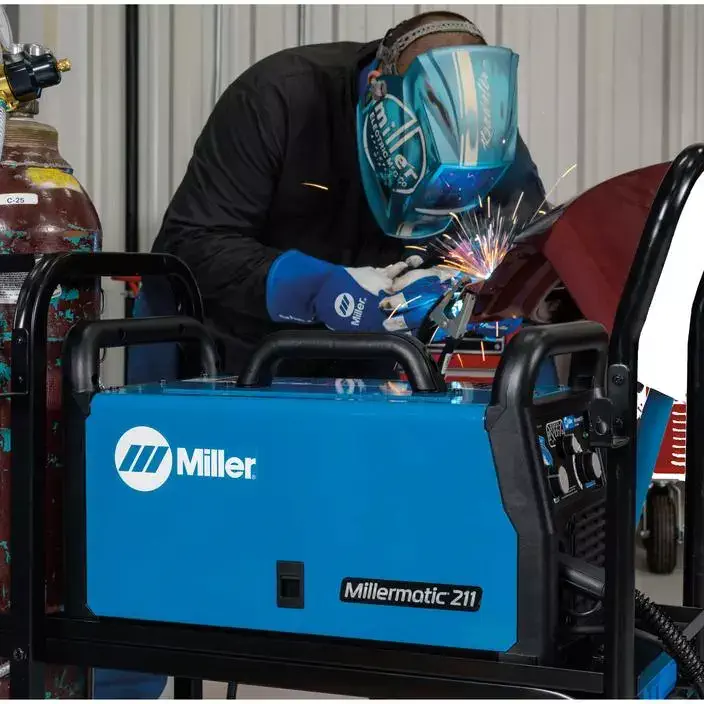 For example, besides infinite wire feed speed, you can infinitely adjust the voltage. In addition, Miller provides a unique AutoSet feature, which helps beginners. So, all you have to do is use an adequate preset, including shielding gas choice, MIG welding wire thickness, and metal thickness. Then, the welder will do the rest. Meanwhile, seasoned welders can fine-tune welding machine to perfection.
On the other hand, if you plan to weld aluminum, you a separately sold spool gun. Auto spool gun feature recognizes the device once it is plugged in. Any spool guns from the official store may be connected.
The significant part of inverter-based machines is using a generator to power them, significantly increasing versatility. Still, some transformer welding units, such as the Hobart welder we are discussing in this post, can use generator power. Nevertheless, you need at least 7000-watt power to achieve the minimum power output.
Here is a link to the brief Millermatic 211 spec sheet.
Package Content Comparison
Hobart Handler 210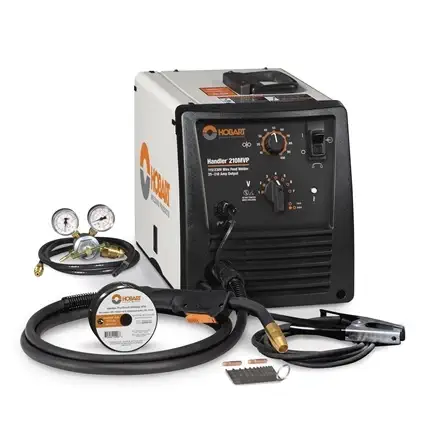 Comfortable 10 ft. (3m) HR-100 gun
Owner's manual with installation, operation, and maintenance guidelines.
10 ft.(3m) work cable with clamp and thick ground wire
Built-in gas solenoid valve and dual-gauge regulator with gas hose
Spool hub assembly accommodates 4 or 8 in. spools
Sample spool of .030 in. self-shielding flux-cored wire
.030 (0.8mm) contact tips
Quick Select™ drive roll for .024 in. (0.6 mm) or .030/.035 in.
Power cord with 5-15 P (115 V, 15 A) and 6-50 P (230 V, 50 A) MVP (TM) plugs
Welding guide and material thickness gauge
Miller Millermatic 211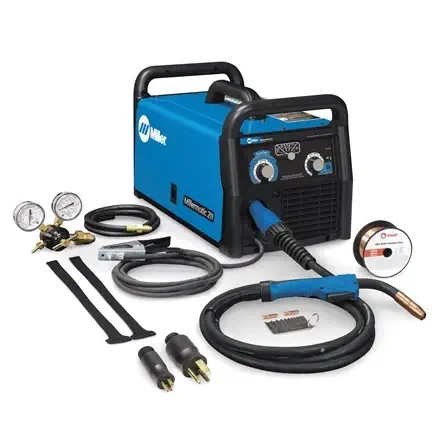 Hook-and-loop cord wraps
6.5 ft (2 m) power cord and MVP™ adapter plugs for 120V and 240V
10 ft (3 m) MDX™-100 MIG gun
10 ft (3 m) work cable and clamp
Argon and AR/CO2 mix regulator/flow gauge with hose
Spool of Hobart® .030 in (0.8 mm) solid wire
Two contact tips for .030 in (0.8 mm) wire
Quick Select™ drive roll for .024 in (0.6 mm) or .030/.035 in (0.8/0.9 mm) solid wire, and .030/.035 (0.8/0.9 mm) flux cored welding wire
Material thickness gauge
Looking at the package content, you get pretty much the same amount of consumables. Provided consumables won't keep you working for too long, but you can use them to start welding straight out of the box. Sturdy accessories are comfortable, and leads are well insulated. In addition, optional accessories increase overall value.
Hobart Handler 210 vs Miller Millermatic – Aspects and Features of Welding Machines Compared
If you read the quick overview of specifications, you might have noticed some things are the same, while some differ. To point out the distinctions, we will go through key features.
MIG Welder Build Technology
One of the most significant differences between Hobart Handler 210 MVP and Miller Millermatic 211 is a build technology. Most distinctions are closely related to the build. For example, Hobart 210 MVP uses a transformer-based technology, while Millermatic 211 is an IGBT inverter.
Transformer welding machines have proven reliable over time. However, transformers make the unit heavy, and the duty cycle is relatively limited. Nevertheless, most transformers are protected by a 5-year warranty, but they usually last more than ten years without significant issues.
On the other hand, inverter welders are part of the future. Inverter technology makes welding machines lightweight and more efficient. For example, power consumption is lower, while duty cycle and output range are higher. In addition, you can use a generator to power your welder at remote locations. However, inverter welders such as Miller Millermatic 211 still have to prove themself.
Welding Controls and Settings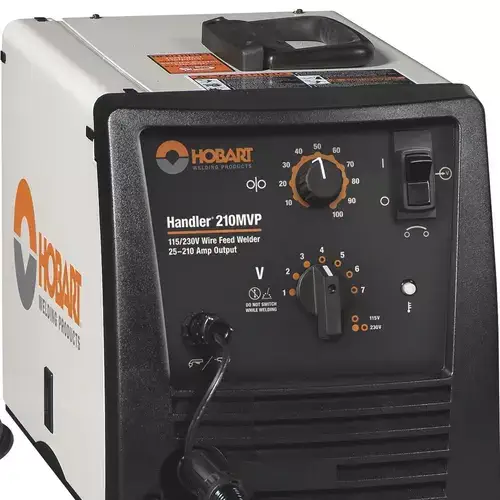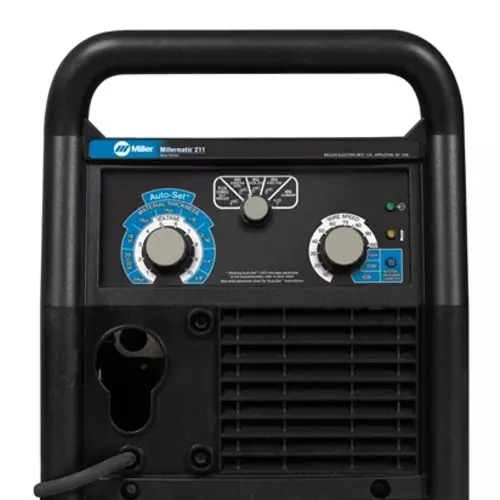 Handler 210 MVP features a simplistic control panel that is easy to use. The control panel offers a tapped voltage and infinite wire feed speed controls. You can set the voltage at one of the four when plugged at 110V or seven transformer positions at 220V. In addition, there is a thermal overload indicator and an on/off switch. Beginners will love the intuitive controls Handler 210 offers, and its functionality is outstanding.
On the other hand, Miller Electric Millermatic 211 provides more complex controls. Since this is an inverter welder, you get infinitely adjustable voltage settings and wire-speed controls. Meanwhile, the Auto-Set feature will make your setting much more manageable.
So before you start to weld, choose wire diameter, shielding gas choice, and thickness of welded metal. Nevertheless, you can also fine-tune the machine, and if you break through the recommendation, the AutoSet indicator will start blinking.
Overall, beginners with basic knowledge will like settings Miller 211 better, while absolute beginners find Hobart Handler 210 MVP easier to use.
Build Quality and Wire Drive System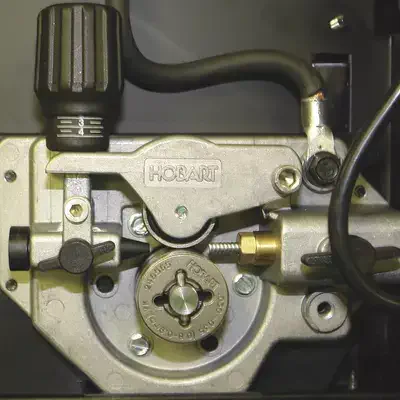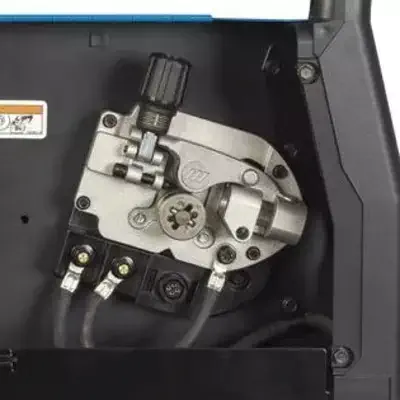 Both MIG welders offer an exceptional build quality. The sophisticated design is incorporated with a durable build, providing top-notch quality.
These MIG welding machines feature a cast aluminum wire drive system, which provides smooth wire feed. However, Millermatic 211 offers angeled drive system with a calibrated tension knob. This type reminds me of Lincoln's design wire drive mechanism, but there are no complaints about birdnesting or wire tangling.
One of the great things both MIG welders feature is a Quick Select drive roll. This roller has two smooth groves that fit both .025 or .035 solid welding wire, but the third groove is knurled. Knurled groove offers exceptional soft wire feed, and it is best used for flux core welding wire.
In addition, you don't need any tools to mount a spool of MIG welding wire or change drive rolls. Instead, push and twist the roller to adjust the wire type or size.
Welding Capability and Power
Hobart 210 has a rated amperage output of 25-140 at 110V input voltage and 25-210A at 220V power input. This means Handler 210 weld metals 24 ga. – 3/8 in. thick, precisely mild steel, and stainless steel in a single pass.
On the other hand, as an Inverter-based machine, Miller Millermatic 211 can output 30-130A at 110V input voltage and 30-230A at 220V input voltage. However, recommended welding capability is the same as Handler, as Miller unit can weld 24 ga. – 3/8 in. thick metals in a single pass.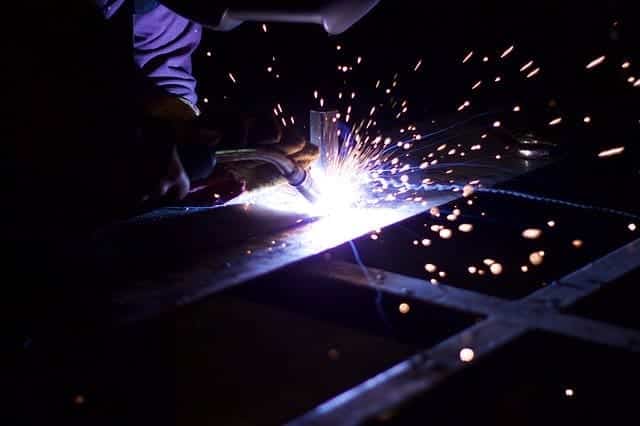 I have to compliment the outstanding arc quality, which starts easy enough. In addition, the arc is forgiving to speed and angle variations as it increases fusion between the base metal and weld metal.
As a transformer MIG welder, Handler has a rated duty cycle of 30% at 150 amps, meaning you can weld for three minutes straight before making a break. The Rated duty cycle makes it suitable for medium to light-duty welding projects. At the same time, Millermatic 211 ranks 40% duty cycle at 150 amps at 220V, meaning you can weld more extended periods.
Looking at the capability, I'd recommend Handler for thinner materials, as it has a lower minimum output of 25 amps. In addition, this welder offers a slightly higher output at 140 amps. Meanwhile, Millermatic 211 can output somewhat higher maximum power, making it suitable for more complex projects.
MIG Welding Aluminum Capability
Both Hobart Handler 210 MVP and Miller 211 can weld aluminum, but there's a catch. Hobart unit provides a more comprehensive wire feed speed range of 40 – 770 inches per minute, meaning you can use it for aluminum welding straight out of the box. However, I suggest a spool gun, unfortunately, sold separately for the best MIG aluminum welding results.
On the other hand, to weld aluminum with Millermatic 211, you will need to use a spool gun, which adds an extra cost. However, you can buy it in an additional bundle, which reduces the overall cost. In addition, once the spool gun is plugged in, Millermatic recognizes it, so you don't need a separate switch.
Weight and Portability
When reading the quick comparison table, you might have noticed Hobart Handler 210 MVP weighs 79 lbs. while Miller Millermatic is more than half the weight with 38 lbs. Inverter technology makes Millermatic very easy to move around, and the handles will help a lot.
Meanwhile, once you add a spool of wire in Hobart, you might have difficulty moving it around. That's why I suggest a welding cart for improved portability. However, you can build one as your first welding project with a brand-new welder.
Price and Value
Once you decide to invest in a brand-name welder, you will have to be ready to pay some additional bucks. Though, Hobart Handler 210 and Miller Millermatic 211 carry diverse price tags.
Since Handler is aimed at hobbyists and small shop owners, buying the welder won't break your bank. On the other hand, Millermatic is a more professional-grade machine, meaning you will have to pay extra.
Nevertheless, these two MIG welders provide excellent value for the money spent. You should expect extraordinary build quality, arc stability, weld quality, and unique features.
Warranty and Protection
To protect your investment which might be a bit higher, manufacturers offer a 3-year warranty and various machine protections. So, to protect your welding machine against damage, these two machines provide wire drive motor, output overload, and thermal overload protection.
Wire drive motor protection shuts down the wire feeder and protects it from damage. Output overload protection kicks out your circuit breaker once you exceed the maximum output, while thermal protection trips the thermal overload relay once it gets too hot.
Both the machines feature a thermal indicator. Once the device cools down, a minute lamp will turn off, meaning you are ready to weld.
One of the things I liked about Millermatic 211 is the fan on-demand feature. The cooling fan will kick in once the welder gets hot, so you won't have to worry about noise.
From reading various reviews, I feel that most of the issues result from poor shipping and packaging. So, always buy from trusted suppliers, and make sure you check your machine for defects as soon as it arrives.
Hobart 210 MVP vs Millermatic 211 Pros and Cons Summarized
Even though Hobart model 500553 and Miller 211 seem like the same welders on the paper, in reality, there are a couple of differences. The big difference is the technology used to build them.
Hobart welder Handler 210 is a reliable, transformer-based unit aimed at hobbyists and DIY projects, recommended for maintenance/repair, auto body, farm/ranch, construction, boat/marine, and metal artwork. With provided power output and rated duty cycle, this MIG welder is best used to join thinner materials and medium to light-duty welding tasks. Handler is easy to use and set up, the control panel is simplistic, and you will find it easy to use.
If you plan to weld aluminum more than occasionally, you will have to buy a different spool gun, regardless of the units. Nevertheless, you can use Handler 210 MVP for aluminum welding straight out of the box.
On the other hand, Miller welder 211 is an inverter-based unit meant for professional welders. Power output is somewhat higher, but you can join metal with a slightly higher output power level. Controls are more complex with infinitely adjustable voltage settings in manual mode, but the advanced Auto-Set feature will help beginners. In addition, Millermatic 211 is two times lighter than Hobart.
Overall, you will have to be ready to pay some extra for the branded welders. Nevertheless, Hobart Handler 210 won't break your bank. Meanwhile, Millermatic 211 is a costly welding machine. But, don't worry. Various safety features protect your device, and you get a three-year warranty.
Final Thoughts
Comparing two brand-name welders can be challenging, as there are only minor differences. However, whichever you choose, you won't make a mistake.
That's why before choosing a welding machine, I suggest setting goals. Then, once you place your goals, you will be ready to say – That's the one!
Our team spent hours researching key aspects to make it easier for you. So, we hope this article was helpful. If you are happy with your brand-new welder, feel free to leave feedback.