Hobart Ironman 240 is a transformer-based MIG welder that you buy for life.
It's an improved version of Ironman 230 and a stripped-down version of the Miller Millermatic 252 MIG welder.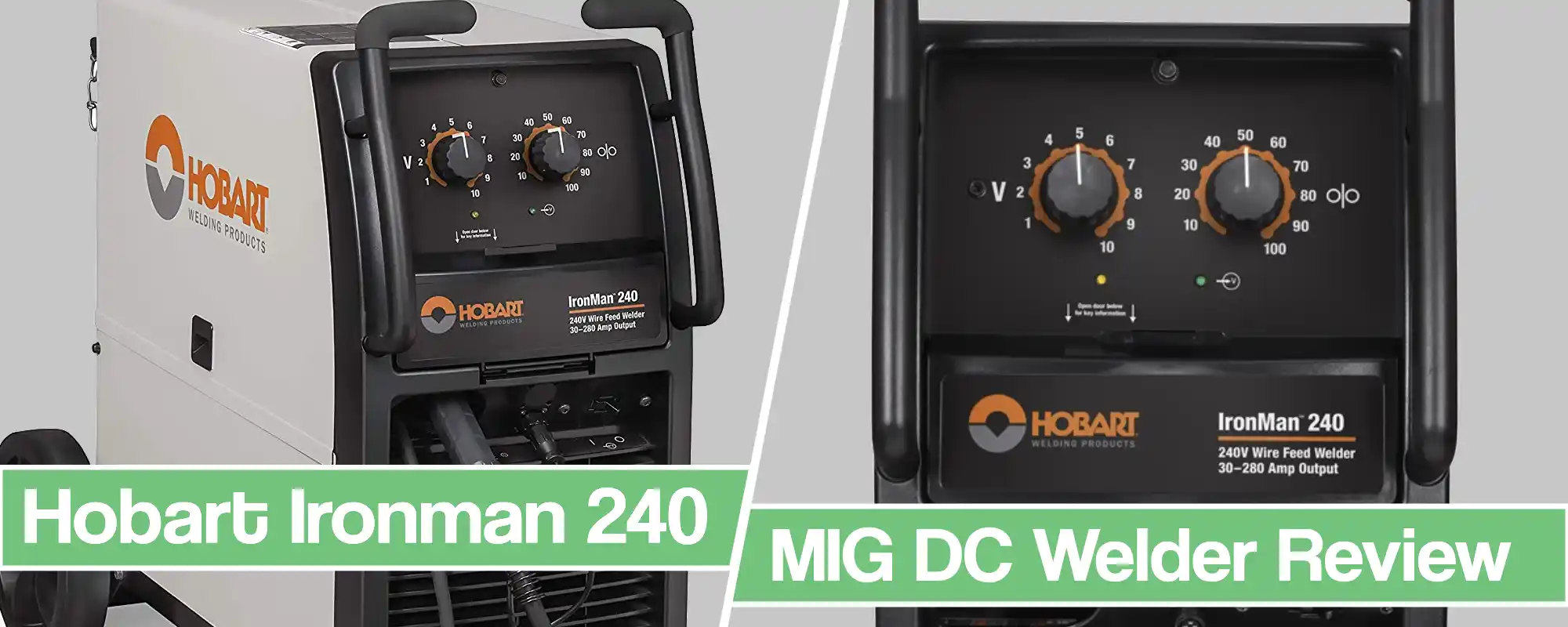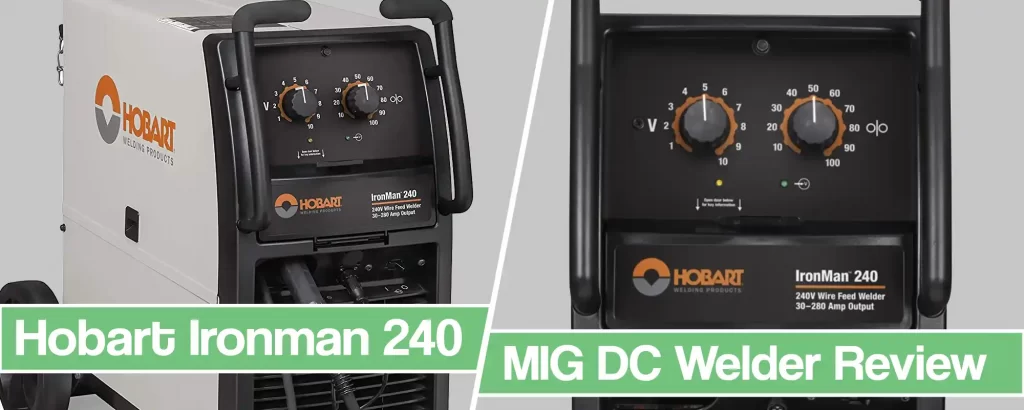 Basically, Miller owns Hobart and the insides of Miller 252 are the same as in Hobart Ironman 240 without all of the fancy Miller features. Hobart 240 is way cheaper than the 252 while providing all of the essential elements without too much electronics.
Hobart's ironman 230 (previous model) is one of the best selling MIG machines and almost everyone that bought it will use it for life. Its durable, has a beautiful crisp arc and has a lot of power.
The Ironman 240 is all of the above with more power and better voltage adjustability. The only downside? It's tough to find one since it's still new on the market.
Now let's take a look at this welder in more detail.
Who is Ironman 240 For?
Hobart 240 is for welders that don't need portability but stability and impeccable performance. If you need to weld thick mild steel, stainless or aluminum and you need the best arc quality, then the Hobart Ironman 240 will be a great choice.
If you need fancy features or portability, then look elsewhere. Might I suggest Miller multimatic 220?
The Ironman 240 offers brutal performance with a phenomenal duty cycle at the highest amperages. It's an excellent choice for a welding shop that does a lot of work with thick metal and with high-grade weld expectations.
This is a machine you buy once. Transformer based welders last for decades, generally speaking, and since we are talking about Hobart, this transformer is much more likely to live up to that expectation.
Sure, a welder can die. These things happen but the transformer welders are much more durable.
No fancy electronics means less of a chance for failure adding to its robustness. This doesn't mean that it's too bland either, as you will see below. On the contrary, this MIG welder provides all of the essential features without complicating things and creating room for failure. That's why the Hobart ironman 230 like 240 are so durable and popular.
Quick Overview of Hobart Ironman 240 MIG welder
We will now see the specification and what is included with this heavy duty MIG welder. Afterward, we will talk about some important changes that Ironman 240 brought to the table. Additionally, we need to discuss some nuances from Hobart Ironman 230, like a difference between amp draw and a possible reason why the ironman 240 has some different specs.
Pros & Cons Summarized
Pros
Built upon a proven design
Great for professional use
Spool gun support
Built in running gear and cylinder rack
Built to last
High amperage output
Very high duty cycle
Beautiful, crisp arc
Infinite voltage and wire feed controls
Everything included to weld out of the box
Hobart's industrial 5/3/1 warranty
Cons
Specifications
Processes: MIG (GTAW), Flux Core (FCAW).
Weld Thickness Range: Mild Steel – 24 ga. – 1/2 in.
Weldable Materials: Steel, Stainless Steel, Aluminum.
Input Power: 220/240 V, 60 Hz.
Input Phase: 1-Phase.
Current Type: DC.
Rated Output: 200 A @ 60% duty cycle.
Amperage Output Range: 30 A – 280 A.
Wire Feed Speed Range: 50 – 700 ipm.
Weight: 186 lbs.
What's included with the welder:
15 ft. 200-amp MIG Welding gun
10 ft. work cable with clamp
5 ft. gas hose
SpoolRunner 200 spool gun (optional)
Primary input cable with plug
Regulator/flow gauge
Built-in running gear/cylinder rack
Dual-groove drive roll (.030/.035 in.)
.030 and .035 contact tips
Weld, set-up and parts information chart
Basically, you get everything needed to run this machine except for the shielding gas. But if you use flux-core wire you can weld right out of the box.
However, keep in mind that this machine needs a 240V input, so you will need an upgrade if you don't have the necessary breaker and a receptacle. We will talk about this soon. Let's see the full specs now.
No products found.
Hobart Ironman 240 vs 230 – Changes and Which one is better
The Hobart ironman 240 is better, all things considered. That's not to say that there aren't any points in favor of Hobart ironman 230.
The increase in amperage output of 30 amps is very welcome but I find the increase of duty cycle to be more valuable. You can prepare the thicker metal by grinding or gouging to compensate for that 30 amp difference but you can't do much to get a better duty cycle.
The additional increase of OCV (open circuit voltage) from 38V to 40V in ironman 240 means an easier arc start.
This is the voltage potential between the electrode and the workpiece and if the voltage is higher, the arc has a stronger push to jump from the electrode to the piece.
The infinite voltage control means much finer adjustability. However, I believe that this change from fixed voltage points to infinite selector is why Hobart's ironman 240 requires a higher current input. The Hobart ironman 230 needed an input of about 23A at 240V to output about 175A at 25.5V, while the Hobart Ironman 240 needs more than 50A input at 240V to output about 200A at 24V.
This means that you have to pay the price (higher power consumption) for the infinite voltage control, if I am right that this is the reason for the increase in power requirements. However, this is a small price to pay. Ask any welder and everyone will tell you that voltage control is an incredibly useful feature allowing you to fine tune the arc exactly as it should be for the particular work conditions and the metal at hand.
The Ironman 240 has a brand new feature called "Run-in technology." It automatically slows down the wire feed speed during the arc start phase, which results in a smooth arc free of spatter. This is a very useful feature for beginners who don't hang the whole arc starting process.
Two less significant changes from the previous Hobart 230 model are adding an indicator light on the control panel and removing ground and torch cables from the sides of the machine.
Now let's talk a bit more about Ironman 240 itself.
The Hobart Ironman 240 Breakdown
We will now discuss its power requirements, weight management, thicknesses, gear quality, etc.
If you know Ironman 230, then most of it will be familiar but as you saw above, these welders are not the same and as a result, the details below will be different.
The Power
Ironman 240 requires either 208V input or 240V. Most people will use it with 240V but you should have an appropriate receptacle and a breaker.
240V input requires a breaker of 70A while a 208V fuse of 80 amperes. You are unlikely to have this in your home or a garage unless you installed it before, so make sure you have the appropriate breaker or you won't be able to lay a bead with this thing.
The machine won't auto detect the input voltage. Instead, you must manually set the jumper links inside of it. This is a fairly simple procedure clearly explained in the manual.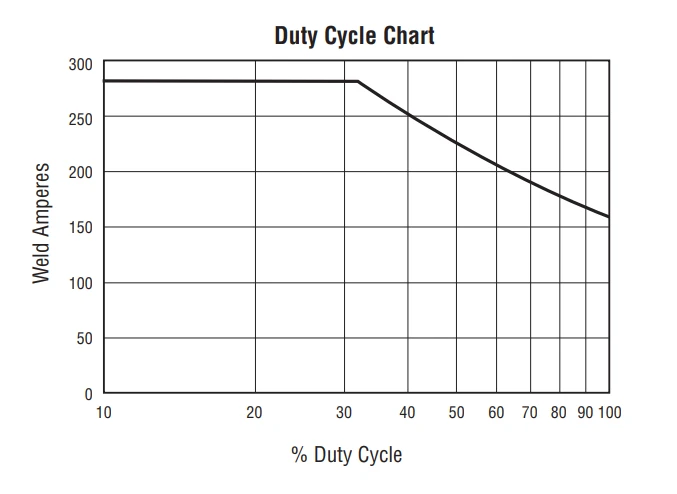 The ironman 240 has a rated output of up to 280A of pure power which is good enough for almost any use case scenario when you weld aluminum, stainless steel or mild steel. It can weld up to 1/2″ of steel in a single pass without modifying the edges of the two pieces.
But let's be honest here, you can weld pretty much any thickness other than crazy stuff like 2-3″, as long as you prepare the metal and you can do multi-pass welds.
The 280A output is followed by a 30% duty cycle and you get a 60% duty cycle at 200A of pure power output. While many welders on the market boast numbers like "60%" they don't have the reputation the Hobart does. This makes their claims borderline questionable and especially long term.
Sure, you can buy a cheap machine and test it and be surprised that it actually does a 60% duty cycle at 200A but the question is for how long? While there are quality affordable brands, they are still not meant for heavy work like the ironman 240 or ironman 230.
Using a generator
Hobart does not recommend using a generator with ironman 240. This is a bit surprising. However, the generator use will not harm the welder itself but diminish its performance.
Looking at the ironman 230 specification sheet, you will not find the warning of limited generator use like with ironman 240.
I can't tell you to use it with a generator. However, my opinion is that it should be fine. You should thoroughly inspect the ironman 240 manual and the output power of the generator you own to figure out if your generator can provide the power for Hobart 240.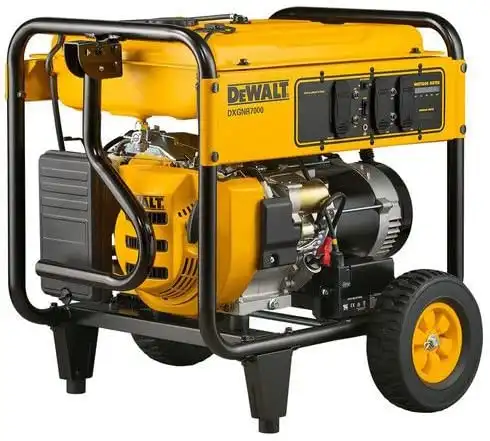 Weight and mobility
With almost 190lb of weight, this is most definitely not a portable machine. However, thanks to the in-built cart with weels, you can move it around your shop with ease. It also has a nice area behind the machine to store a shielding gas bottle and chain it for protection.
This whole setup is very mobile and you can pull it with ease, thanks to the two sturdy handles in front.
Ease of Use

Ironman 240 is a simple machine. No fancy touch screens here. You literally have two knobs on the control panel. One is for voltage control and the other is for wire feed speed adjustments and that's it really.
Inside the machine, you have your wire feed mechanism, wire spool holder, polarity and voltage connectors. This functions on a mechanical level, so its fairly easy to set up once you consult the manual. I don't see a single thing that can cause any confusion because it's all standard stuff you will find in most MIG welders.
Weld Quality
Working on mild steel or aluminum, it doesn't really matter because this machine produces fantastic welds regardless if you are using a MIG gun or a spool gun. Thanks to the infinite adjustability and how optimized Hobart's arc is, you will be able to make just about any kind of welds.
Spatter is almost nonexistent and arc starts are simple and easy. Post weld cleanup is reduced to a minimum and your consumables will also last longer with arc quality, such as in this machine.
Build Quality
Besides flawless weld experience, this machine is built to last. I am not talking just about the fact that it's transformer-based. I am talking about the aluminum housing, the durable wheel construction, power cord, ground clamp and a MIG gun and the availability of the spare parts.
This is a great machine and Hobart really made an effort for it to last as much as possible. I can't tell if there is any part where they decided to go cheap.
However, they don't provide you with a lot of consumables out of the box. So after some time, you will have to order extra contact tips but this is understandable.
The machine uses a reversible drive roll which means that a once pice drive roll will have two grooves for two wire sizes on a one drive roll. This reduces the changeover time and will cost you less money if you ever need replacements.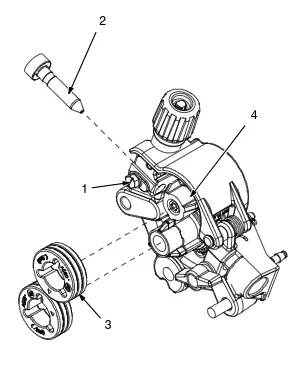 Additionally, it uses Hobart's well-known fan on demand feature that reduces contaminants drawn inside the welder and prolongs its lifespan.
Conclusion
Besides a few flaws I outlined on account of Hobart 240, this is in almost every way an improved version of the iconic Ironman 230. Providing you with extra power, less spatter, more optimized arc, more adjustability, extra features like run-in technology, etc. It does come with a bit of a higher price tag but at the same time, it feels completely justified.
Hobart welders are known for quality and the Hobart line of ironman is no exception. Doing MIG welding or flux cored doesn't matter because this welder will handle pretty much everything you throw at it. Plus, being spool gun ready, you can either buy it with the welder or later on if you need to weld aluminum.