Lincoln Electric MIG series include versatile welders that have proven reliable over time. Still, there are some differences between EasyMIG and PowerMIG units.
Lincoln EasyMIG 180 is an entry-level 208/230V welder, best for light fabrication, auto, or home projects. Forgiving and stable arc makes this MIG welder perfect for novice welders and beginners.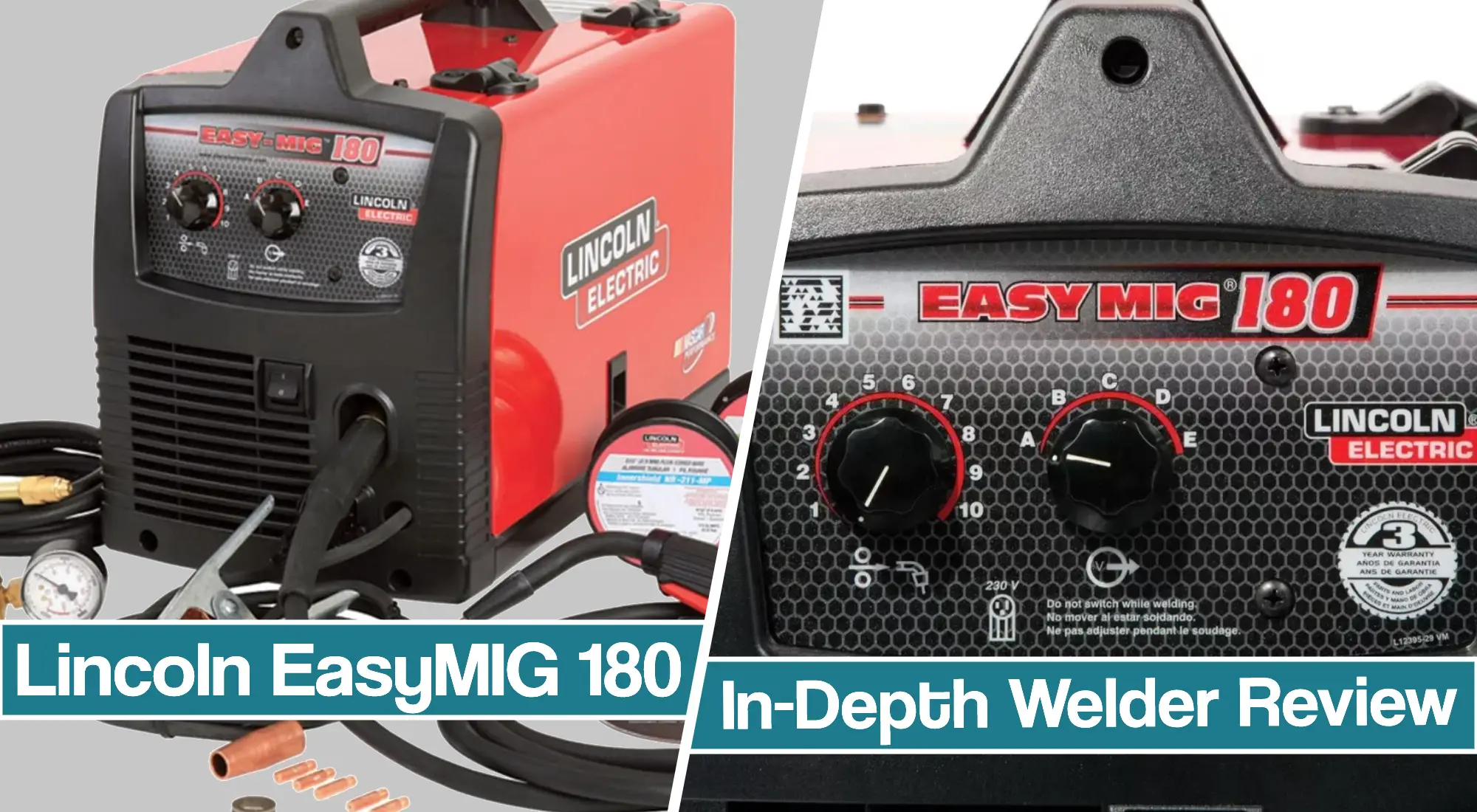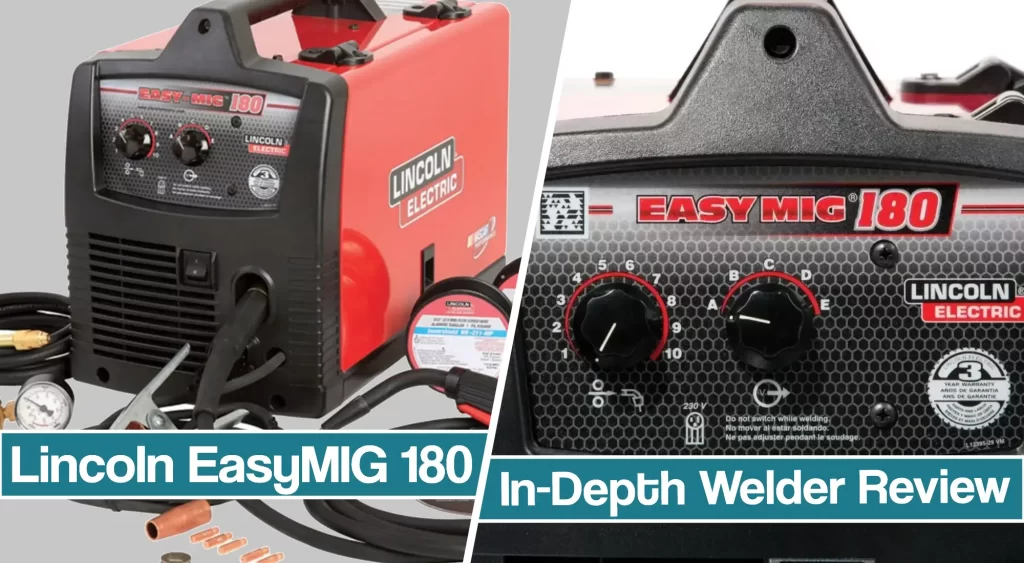 Nevertheless, compared to other welders in the Lincoln MIG series, EasyMIG is cheaper but offers fewer features. So, read this Lincoln EasyMIG 180 review to learn more about package content, technical specifications, and features of this brand-name MIG welder.
Lincoln EasyMIG 180 Review – MIG Welding Machine Package Content and Technical Specifications
While browsing the MIG welder market, you might have come across three machines that look the same but carry a different name: Lincoln Electric Easy MIG 180, Pro MIG 180, or Weld-Pack 180 HD. These are three identical units with another name regarding the market or distributor you are buying them from. The initial name you can buy from Lincoln Electric distributors is the EasyMIG.
When buying the Lincoln EasyMIG 180, for the money, spent you get:
Magnum® 100L gun and ten ft. cable assembly with brass gun connection and 4-pin MS-Type connection for trigger control
Three .025 in (0.6 mm) contact tips
Three .035 in (0.9 mm) contact tips
Gasless nozzle for flux core welding
Gas nozzle for MIG welding
Spindle adapter for eight in. diameter spools
Harris® 3000290 Gas Regulator
Work clamp and ten ft. cable
Learn-To-Weld DVD
Sample spool of .025 in. (0.6 mm) diameterSuperArc® L-56® premium MIG wire
Sample spool of .035 in. (0.9 mm) diameter Innershield® NR®-211-MP flux-cored wire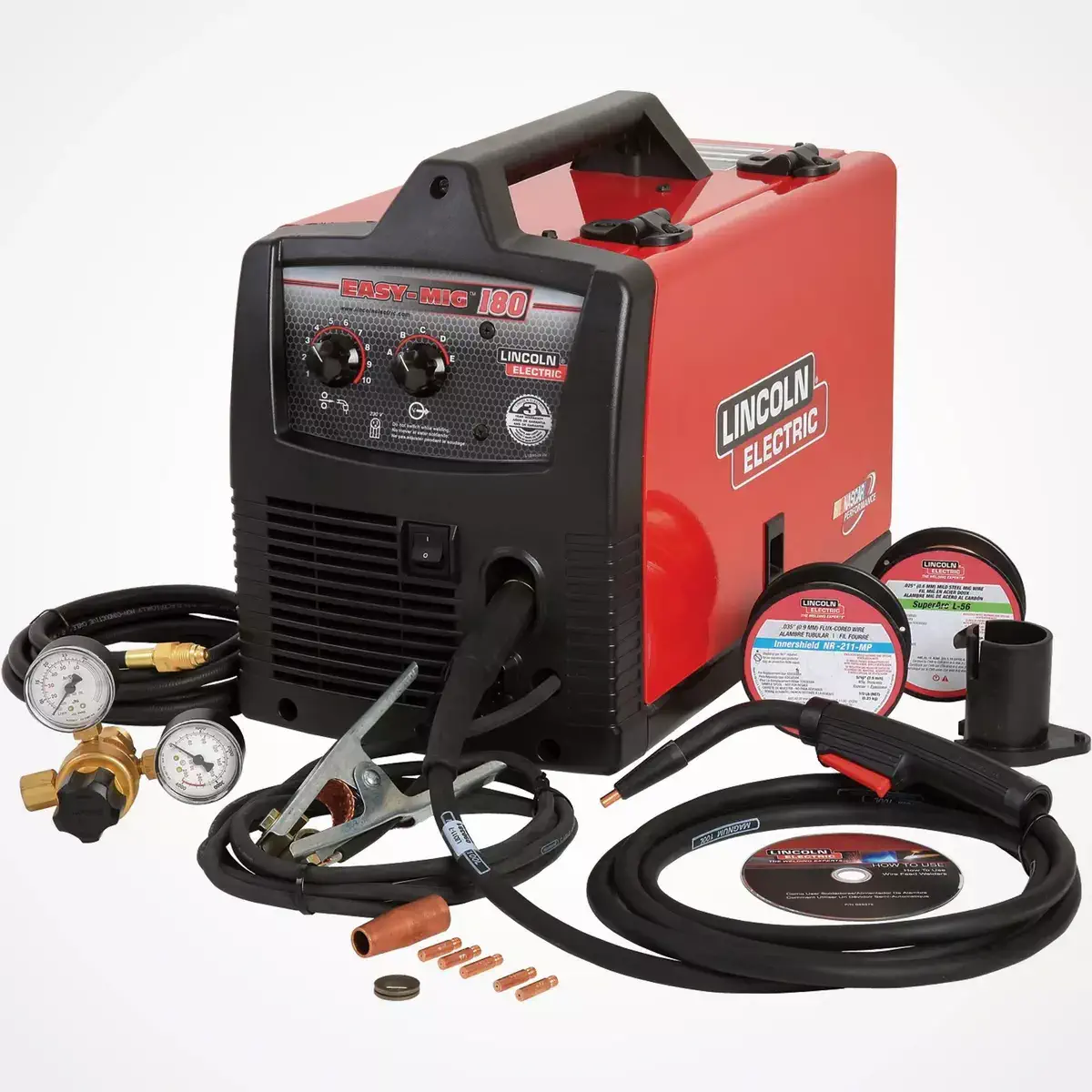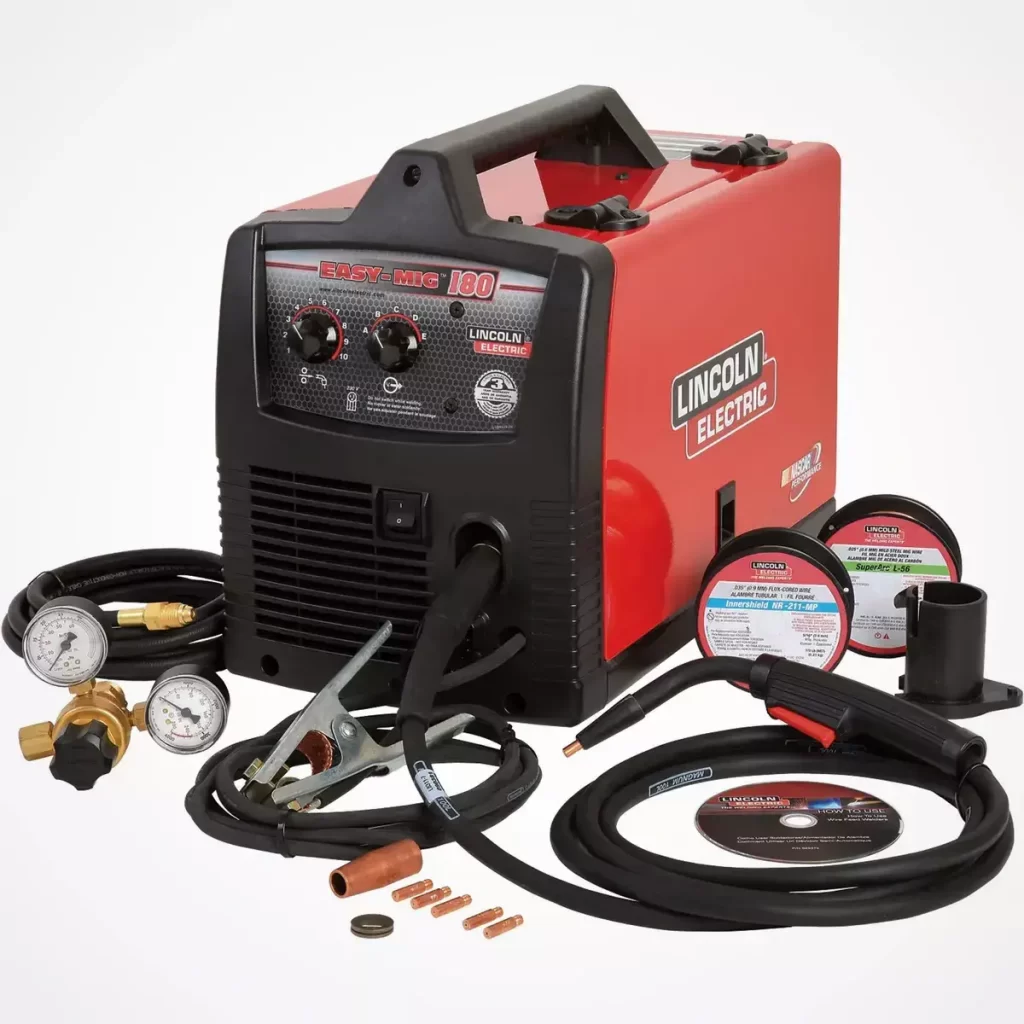 Looking at the package content, you can notice Lincoln provides everything you need to start welding straight out of the box (except the gas tank, of course). Buyers even get a spool of wire and gas nozzles, which is not expected when buying an Eastwood MIG180, while Miller Millermatic 190 offers only a solid wire spool.
In addition, provided accessories are of outstanding quality. For example, an improved MIG gun is comfortable, and a brass-to-brass connection increases conductivity. Nevertheless, some might find the 6.5 ft. power cord too short.
Since this is a beginner-friendly device, welders get a free learn-to-weld DVD. Still, some didn't find it quite helpful, so you might want to watch some how-to YouTube videos. In addition, provided consumables won't keep you going for too long, so you will have to buy some more. Luckily, Lincoln consumables and accessories are available in welding local store, so you won't have trouble finding them.
Technical Specifications
Welding process:
MIG/Flux-cored welding
Input Voltage:
208/230V, 60Hz
Phase:
Single-phase
Input current rated output:
20A
Output Amps:
30-180 Amps
Rated Duty Cycle:
208: 130A/17.6V/30%
230: 130A/20V/30%
Welding Capability:
24 gauge up to 3/16 in. in a single pass;
Up to 1/2" with gasless wire
Solid Wire Size Range:
0.025″ – 0.035″
Flux Cored Wire Size Range:
0.030″ – 0.045″
Wire feed speed range:
50-500 ipm
Dimensions:
14 x 10.15 x 18.2 inches
Weight:
56 lbs.
Warranty:
3 years
No products found.
Input Power
Lincoln Easy MIG 180 welder is a capable Flux core/MIG device that requires a high voltage 203/230V power input to run. In addition, this is a DC unit, working on a 60 Hz single phase, which might be limiting to some. So, if you don't have a 220V outlet in your shop, you might have to consider a different unit. Lincoln MIG series welding machines rated at 140 amps are usually 110V units, but if you want a higher power output, you can opt for Lincoln PowerMIG 180 dual, which operates on 110/220V.
Nevertheless, most brand-name MIG welders rated at 180 amps are single-voltage, 220V-only units. On the other hand, some budget welders, such as Eastwood MIG 180, support the dual voltage input. Since Lincoln EasyMIG 180 uses a transformer technology build, you cannot use a generator to power it. Combined with the short power cord, your welding might be limited only to the garage or shop.
Welding Capability, MIG welding, and Flux Cored Welding Power
Welding units that require a higher power input power provide higher output amperage. For example, Lincoln EasyMIG has a 30-180 amps rated power output, which is standard for welders in the 180-amp category.
This device is capable of welding 24 gauge up to 3/16" thick metals in a single pass. However, and you can weld up to 1/2" thick plates by using a gasless (flux-cored) wire. Welding power is quite decent as the Hobart and Miller welders might find it challenging to achieve it.
Lincoln EasyMIG has a duty cycle of 30% rated at 130 amps, meaning you can weld for three minutes straight at 130 amps before taking a 7-minute break. However, you will find it hard to exceed the rated duty cycle. Meanwhile, most 180-amp MIG welders offer a similar, 20-30% duty cycle capability.
Remember that Lincoln EasyMIG 180 is a spool gun-ready piece of welding equipment, meaning you can MIG weld aluminum with it. Still, spool gun is sold separately, so if you look to welding aluminum, you should be prepared for additional costs. This welder can weld aluminum thinner than 3/16" in.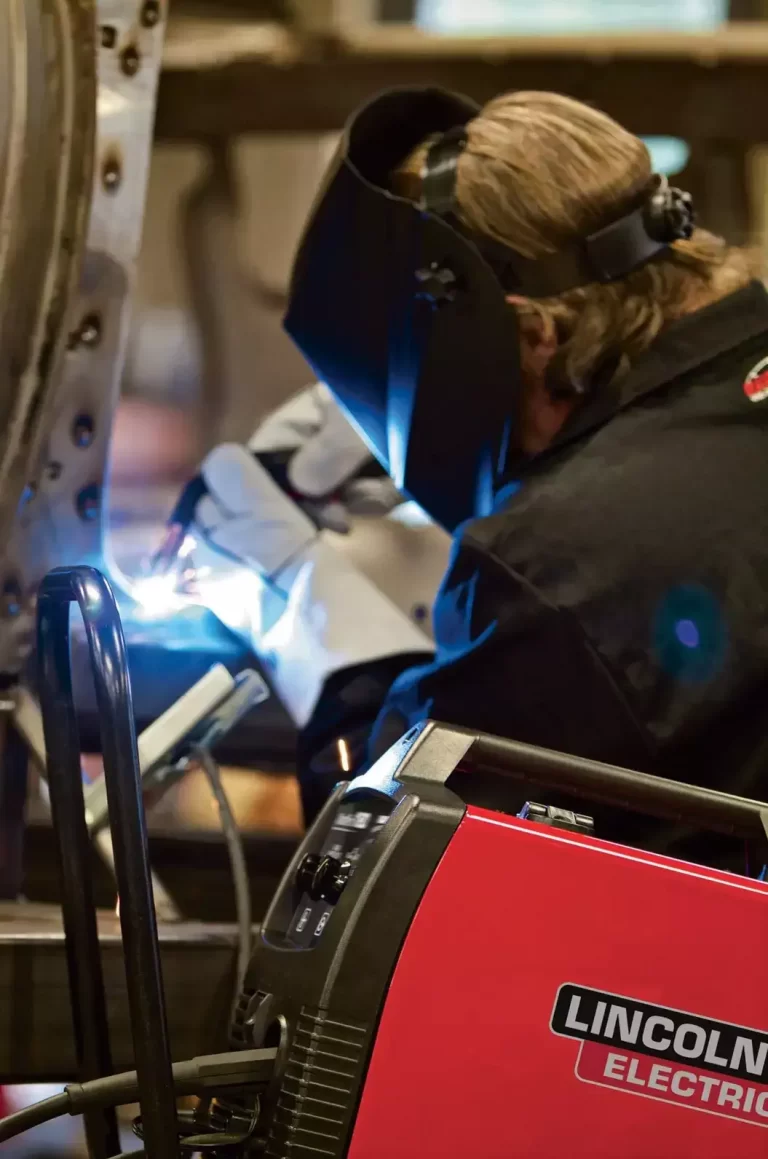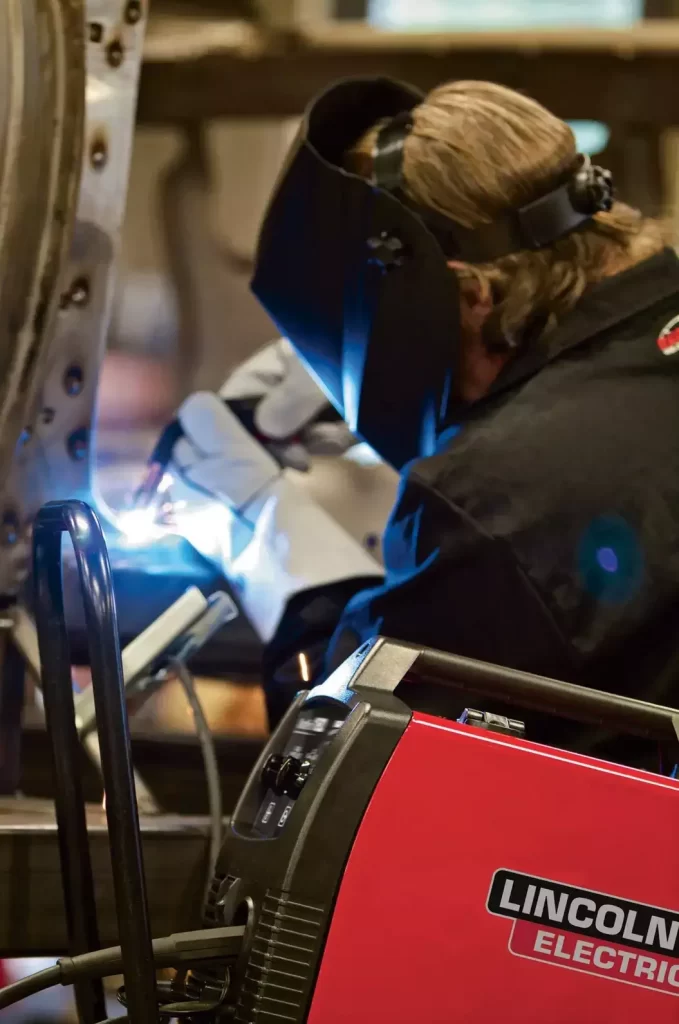 When talking about weld bead quality, there are good and bad sides. New welders will like the forgiving arc that starts quickly and doesn't cause too much spatter. On the other hand, seasoned welders might dislike the arc stability and the bead appearance. Keep in mind that PowerMIG 180 welder features a diamond-core technology responsible for high-quality, smooth arc and welds, while EasyMIG is a decent, entry-level welder.
Welder Build Quality
The Lincoln Electric company builds reliable and sturdy machines built to last, and Lincoln Easy MIG 180 is no exception. Still, this is not an industrial-grade welder, such as PowerMIG 180, meaning it is not that rugged. Nevertheless, build quality justifies the brand name.
The control panel, you can notice it is pretty straightforward, featuring a simple two-knob control that will suit beginners. There are only a wire feed speed control and voltage control. One of the things I've noticed is that the voltage knob is tapped, meaning you can only select one out of the five given positions. However, wire-speed can be adjusted accordingly. Meanwhile, Lincoln PowerMIG 180 has an infinitely adjustable voltage, which is perfect for the professionals that like to fine-tune their machine.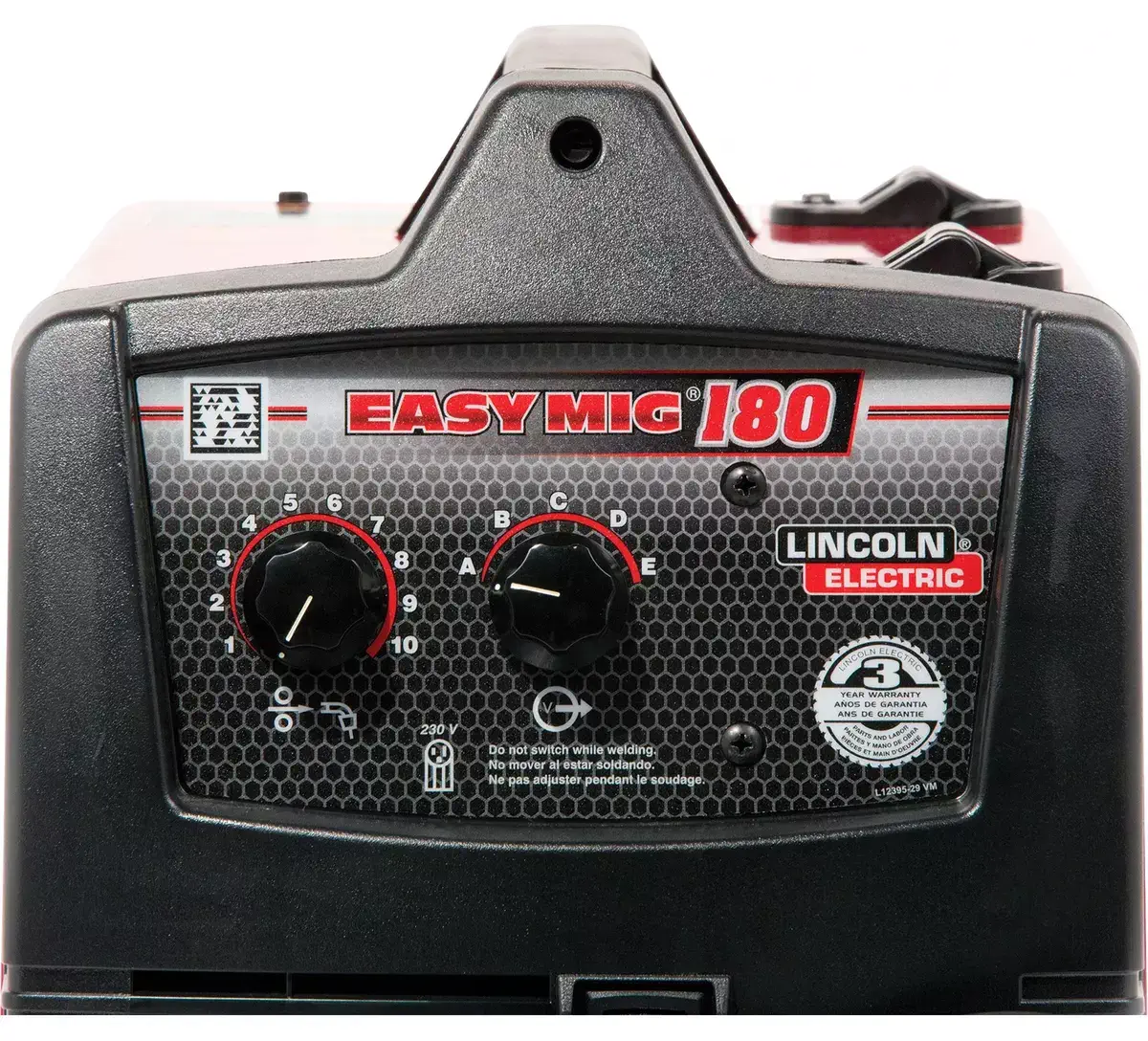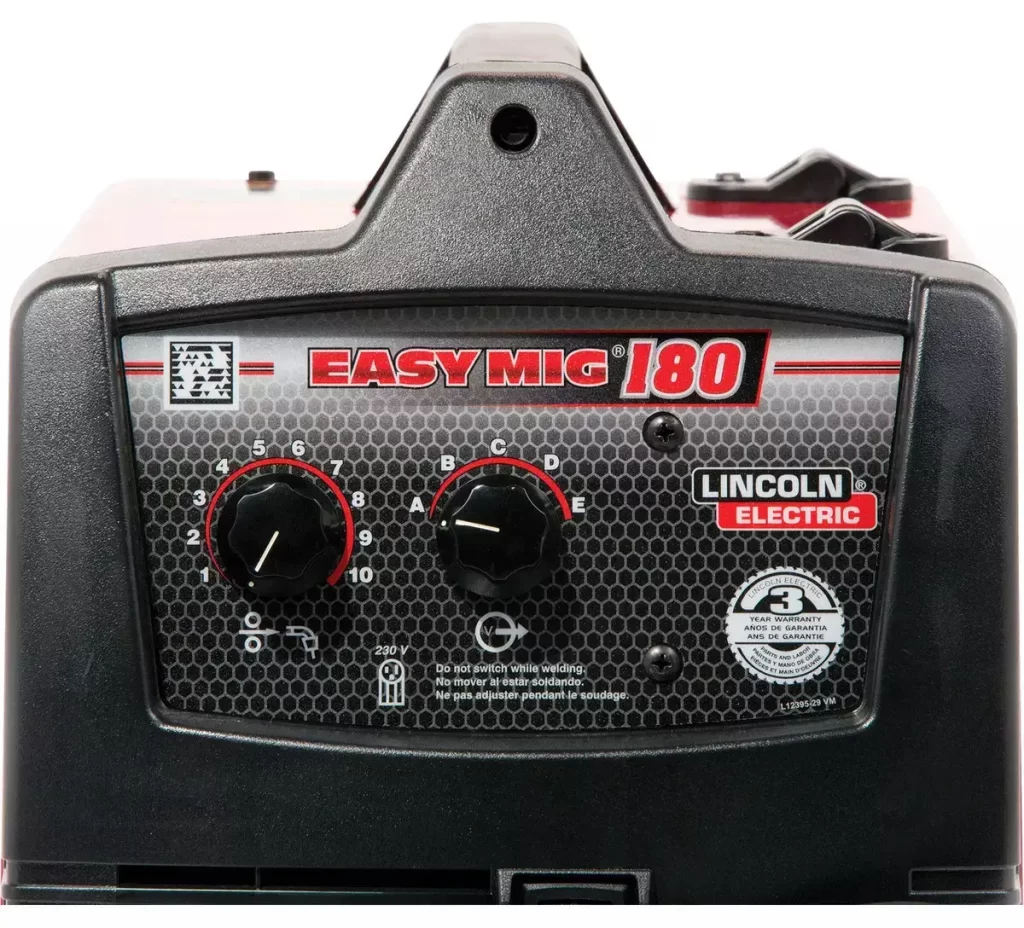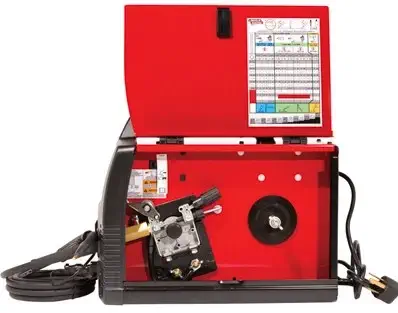 Opening the wiring compartment, there is a cast aluminum drive mechanism which seems pretty sturdy. Compared to PowerMIG 180, the wire feed mechanism is not sealed, meaning you can change the drive rolls or wire easier.
In addition, there is a fully adjustable drive system that provides quiet operation. On the other hand, some welders had issues with the wire feed, regarding the occasional wire tangling and birdnesting.
One of the things beginners will like is that you don't need tools to mount a new spool, change wire, polarity, or drive rolls. All the adjustments are easy, and there is a side door chart with recommended settings regarding the thickness of the given material. In addition, an easy-turn numeric drive tension indicator identifies optimized ranges for different wire diameters. Still, if you have a maximum 240V input in your garage, you should make some adjustments since the recommended settings might be too hot.
Price and Value
Lincoln Easy MIG 180 is a brand name but not a high-end machine. It is significantly cheaper than Lincoln PowerMIG 180, Miller Millermatic 190, and Hobart Handler 190. Still, it is slightly more expensive than budget welders such as Eastwood MIG 180, but overall, you get great value for the money spent.
As I mentioned before, this is not an industrial-grade MIG welder that offers all the fancy features. Still, EasyMIG 180 is a great first branded welder beginners will like, as the Lincoln Electric company guarantees a reliable build.
To protect the investment, buyers get a three-year warranty. Meanwhile, Hobart and Forney welders usually come with a 5/3/1 year warranty, so you can buy a 2-year extension if you are in doubt. Nevertheless, I don't think you will need it, as many satisfied owners spent years of satisfied welding. Still, most issues that occur are a product of poor packaging and shipping, so you should check your machine straight out of the box and make sure you buy it from a trusted supplier.
Who Should Consider Buying a Lincoln EasyMIG 180?
Lincoln EasyMIG 180 is a great entry-level welder, best used for light-duty work and projects around the garage or house. If you are a beginner, just getting into a trade, or an intermediate welder that needs slightly more power than your 140 amp rated MIG welder offers, you will love the Lincoln EasyMIG 180.
Still, if you are a seasoned welder that expects high-end, industrial-grade machines capable of welding thicker steel, you might have to look further. Lincoln EasyMIG 180 doesn't offer all the fine adjustments and features that professional welders like. If you would like to check the more advanced version of this welder from Lincoln named PowerMIG 180C K2473-2 There is a review of it here and and here as part of the 10 best MIG welders list.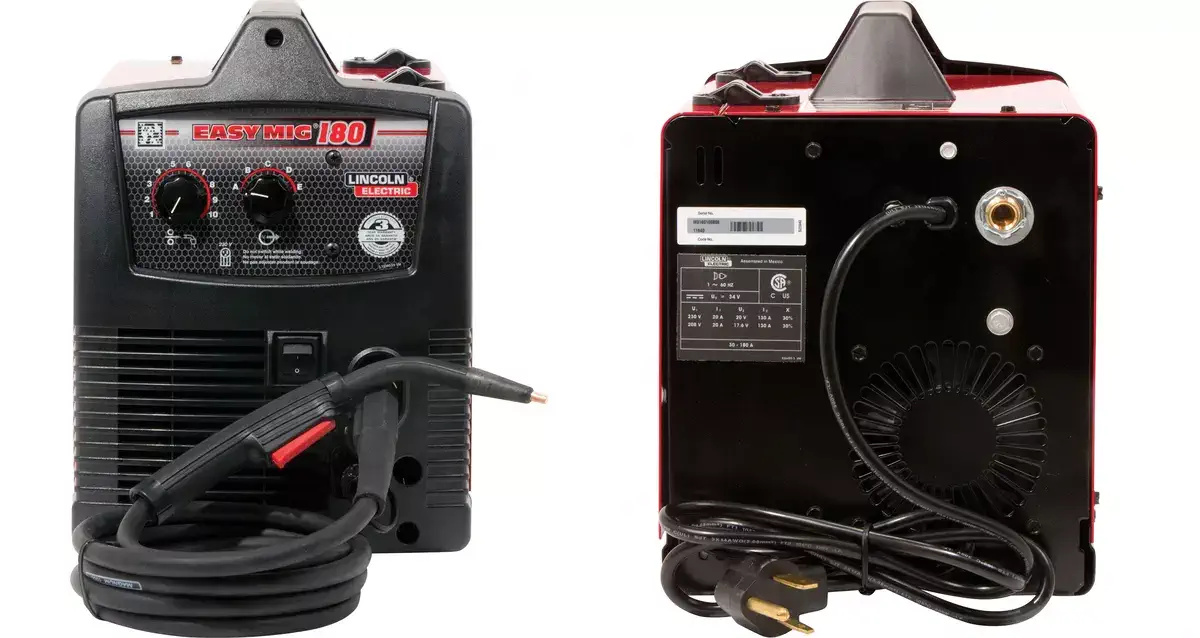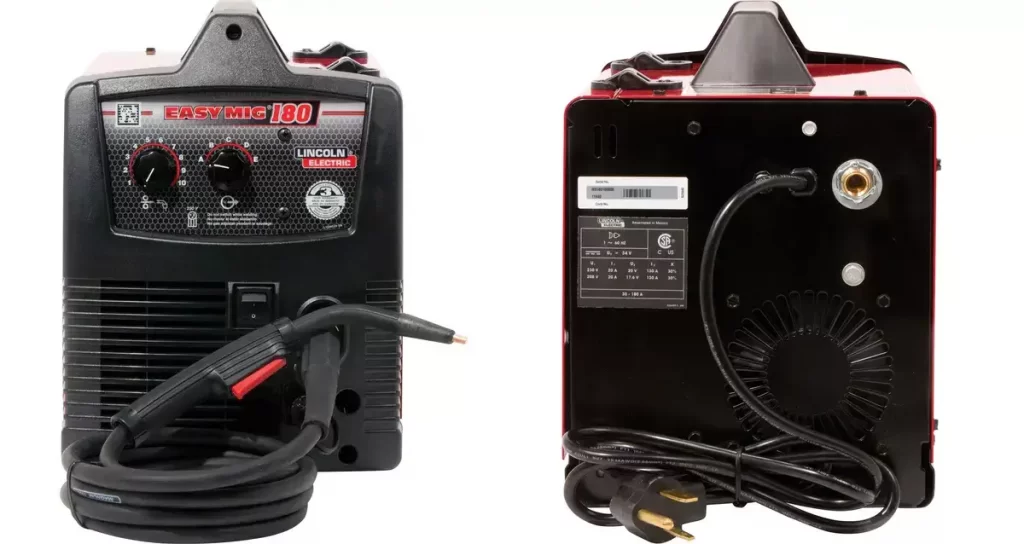 Pros and Cons Summarized
Looking at the Lincoln Easy MIG 180, I can say this is a pretty reliable but not as rugged 208/230V MIG welder you would expect. Still, the unit offers a decent welding capability, as you can weld up to ½" thick steel and stainless steel. In addition, this welder is spool gun ready, meaning you can weld aluminum with it, but you will have to buy the spool gun separately.
Lincoln Easy MIG 180 is versatile yet pretty easy to use and set up. You get everything you need to weld straight out of the box. The control panel is straightforward, and you can make all the adjustments quickly. Nevertheless, this is not an industrial-grade welding machine, meaning there might be wire feed or arc quality problems.
Overall, this is a decent and affordable entry-level welder with minimal spatter, which beginners will like. You can use it as a first welder, learn the trade, or as an intermediate welding machine, best used in light fabrication.