Welding doesn't always have to be about the salary, and people that managed to turn their passion into art can confirm that. Welding art includes various sculptures, pictures, and figurines made of scrap metal and everyday objects.
Welding artists managed to turn scarp metal people usually throw out into pieces that will leave you breathless. In addition, their creativity and vision might inspire you to try and make some sculptures yourself.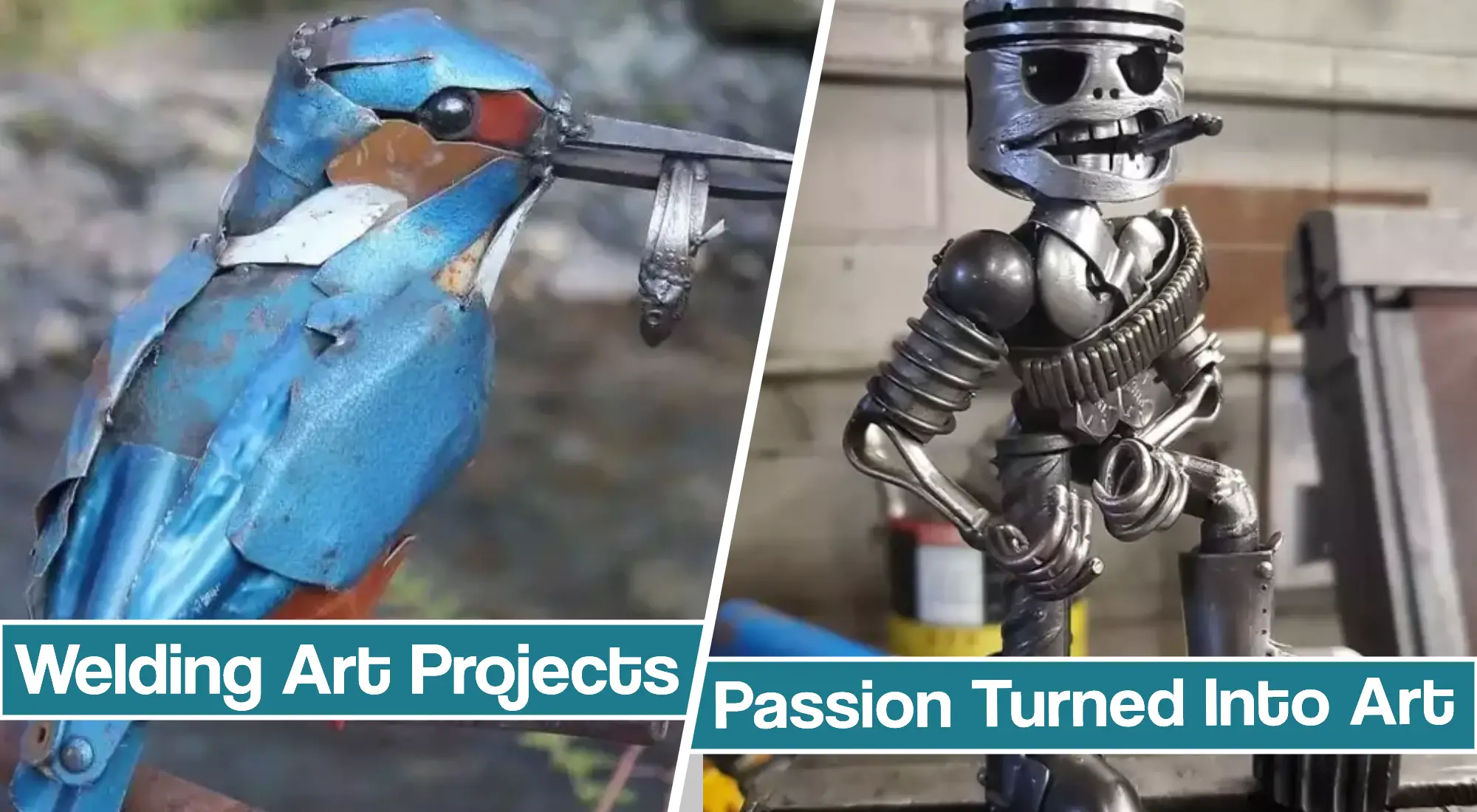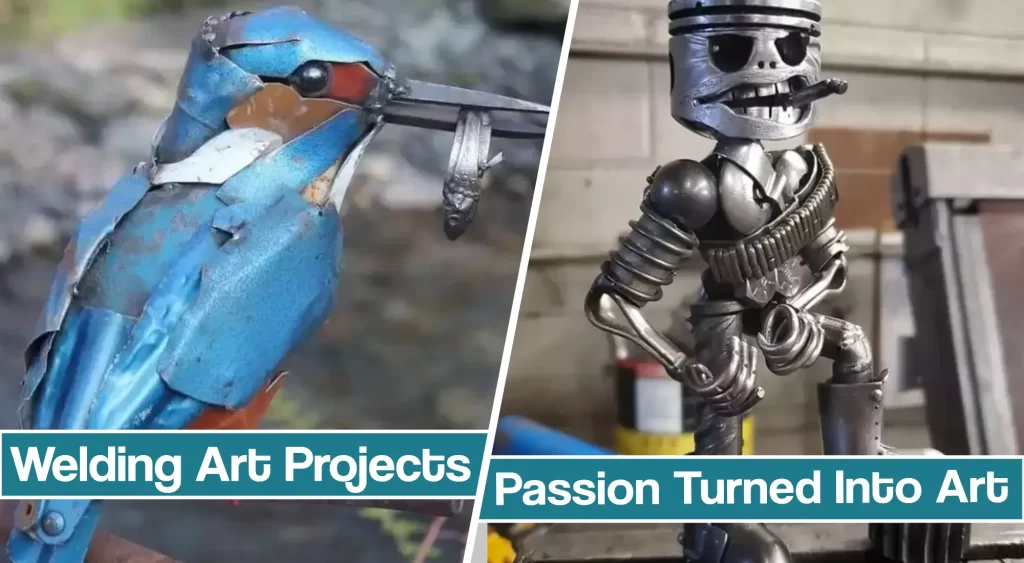 We made this list of welding art projects that took our breath away to show you what you can do with your welder and imagination.
Welding Art Projects
1. Edward the Eagle Sculpture – by JRA Welding
JRA Welding has been involved in fabrication work for multiple downtown area businesses, including handrails, signs, and other architectural details.
However, the Bald Eagle sculpture we featured today is absolutely breathtaking and a real piece of welding art!
The number of details put into it makes this sculpture worthy of being a national symbol. There are a few teasers on how it's made, so make sure you check the social media links we will feature for you. The statue is exhibited at 8th ave, The Reserve Park in Gainesville, Florida.
Besides this fantastic sculpture, the community has widely accepted John Andrews's – JRA Welding work. "Monty, a dog gone dragon" sculpture, has been exhibited in SE 2nd St and Depot Ave Gainesville, Florida.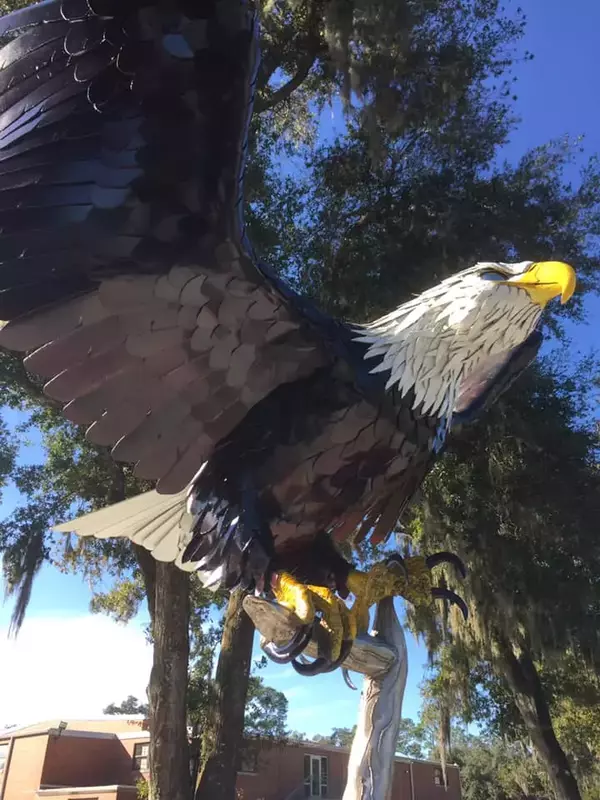 In addition, the same sculpture was acknowledged as an alternative to the Lawn program by Orange County Art department.
These unique JRA Welding art sculptures, including "Felix, the Flamingo," was also featured at the Santa Fe College Spring Arts Festival, where it found its proud owner, who loved it, and it is clear why.
Another sculpture you might like is the "A dragon trophy," which was exhibited at the Mittens Brewing Company. This sculpture was highly ranked in the race for ArtPrize as it stunned all Medieval enthusiasts out there.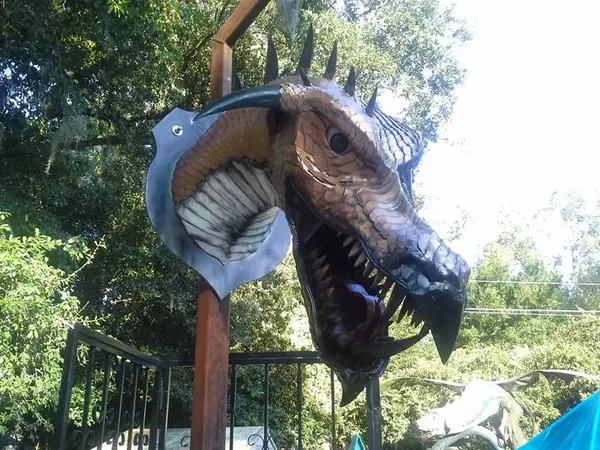 2. Eurasian Kingfisher with fish – by JK Brown
John Kennedy Brown is an artist that transforms scrap metal into astonishingly realistic animal forms. The number of details he puts into his sculptures is outstanding, which is why they look so natural.
For his Eurasian Kingfisher sculpture we featured, JK Brown used scrap metal, including bits of an old toolbox, fragments of a Fiat car door, and some cutlery painted with oil paint. The results are excellent, and the sculpture has been featured in several online blogs, including Street Art Utopia.
You can see the rest of his work by following the social media contact we will feature. You can even buy some of the sculptures, but keep in mind that most of them are made to order.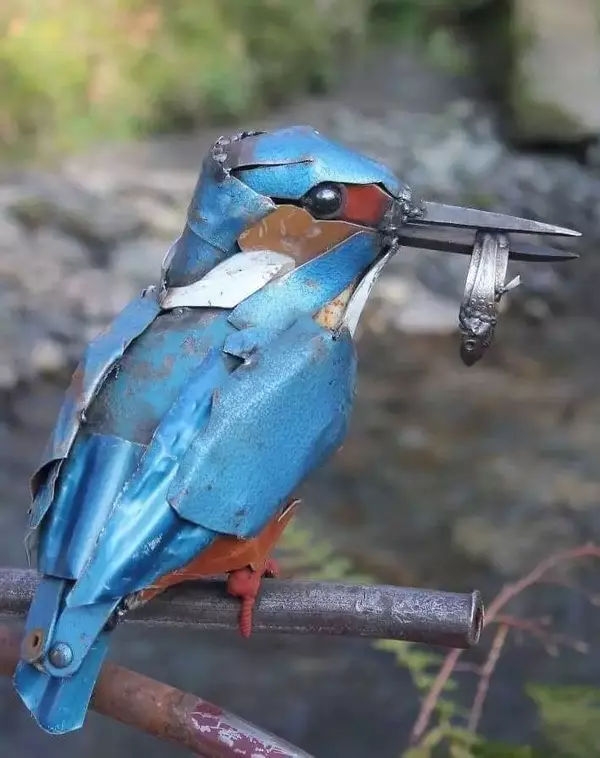 Nonetheless, these might be an ideal gift for all the nature lovers out there. In addition, we absolutely loved the scrap metal butterflies, grasshoppers, frogs, and the praying mantis, which will look great in your small artificial garden.
3. Piston Head Army – by Tigger Welding
The artist Tyler Perry that stands behind Tigger Welding, has done outstanding work and put a lot of effort into creating his line of scrap metal warriors named Piston Head army. Tyler came up with the idea while enjoying some downtime and the rest is history!
The characters named Shellshock, .45 ACP, Spray and Pray, Napalm, and Smoke' Em, are hand-welded using various engine parts. These miniature sculptures gained tremendous popularity, and simply by looking at the level of dedication, it is clear why. These little bad boys are absolutely stunning and a must-have for any wargame enthusiast out there.
However, the favor comes with a certain level of risk, so various copies appeared on the market. That's why we made sure to feature social media accounts you can browse and maybe even gift one of these badass boys to.
When considering a purchase, keep in mind that these sculptures average 40 hours to design and build. That's why it might take some time before you get your work, but the wait is well worth it.
4. Welding Art – by Brown Dog Welding
Josh Welton, the owner/operator of Brown Dog Welding LLC fabrication and art studio in Detroit, Michigan, is an established welder, fabricator, teacher, artist, writer, social media influencer, podcast host, entrepreneur, and automotive enthusiast.
Josh's love of the blue-collar world drives his desire to increase awareness of the viability of skilled trades jobs.
In addition to his dedicated work, Josh has done some fantastic job making scrap metal art sculptures.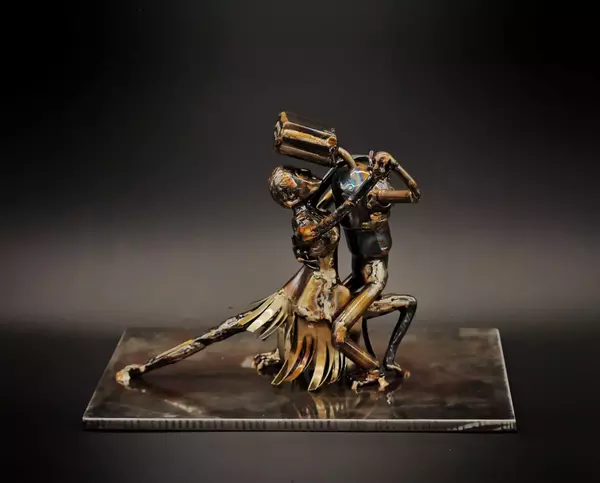 I loved his Chevy C10 and Ford Bronco sculptures, which will attract every car lover out there. His work is well covered by active social media accounts and a website.
You can use the information we left you to contact him or visit his store. The store is located on the official website, and it will take you no time to fall in love with the sculptures, small cars, or robots.
In addition to welding work, Josh published columns in "The Fabricator" and launched a community initiative called "Still Building America," with a series of kid's books and toolkits.
5. TIG Welding Art – By Daniel Ossig
Daniel Ossig is a German welder that turned his passion into art, and the results are more than satisfactory. I really liked his TIG welding art, including custom-made pictures and logos, but you can also browse for ornaments and keychains, which are adorable.
The level of dedication and effort put into his work is outstanding, and the amount of details is mastered into perfection.
So if you decide to order some, you won't be disappointed. The results are satisfactory, and you will proudly exhibit your brand new piece of art.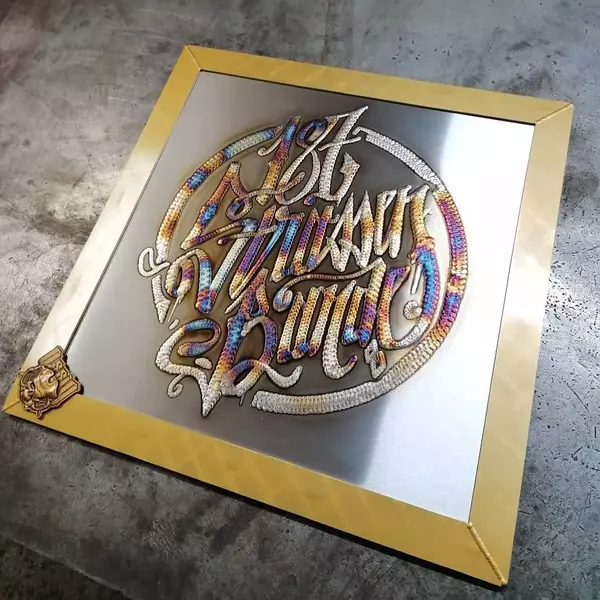 You can browse his work by following the social media links we will point out for you. There are also YouTube videos on TIG welding and teasers of how the art is made, so you can even try and make some on your own.
6. Welding Art Sculptures by Joshua Pennings
Joshua Pennings is a professional artist from the Netherlands that makes stunning metal sculptures. His sculptures were a part of various exhibitions, and they found a way to their proud owners in no time.
We featured a welding art sculpture named "Friendly Dragon," which might be the artist's favorite piece of art. This sculpture was first exhibited at the Vladivostok art festival, where it achieved great success.
Some simplistic sculptures, such as "Birdheads," really left us speechless, as the artist even incorporated movement.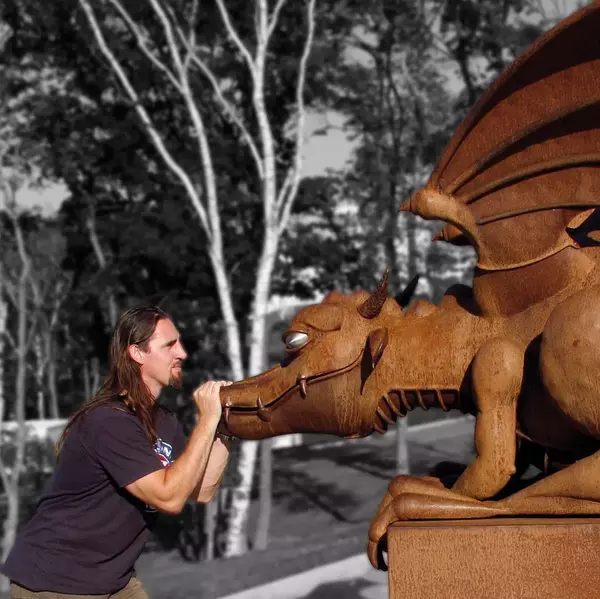 If you ever get a chance to visit Grave, Netherlands, make sure you contact the artist and book a tour through the sculpture garden. Various scrap metal animals such as bears, eagles, owls, or ox await you there. The level of details is at its finest, as you will get the feeling like you are walking through a real zoo.
You can browse his work by following the social media links we featured for you. In addition, there are some behind-the-scenes videos you can follow the process of art being born.
Quick Overview
Art, without a doubt, takes an important role in welding, and it just takes a moment to grow to your heart. You can start small by welding simple toys and figurines, eventually working your way up.
The welding art we featured in our articles is made by artists that took welding and their creativity to the next level. If you are successful in doing so, you can also earn quite a few bucks.
But keep in mind that becoming an affirmed welding artist takes time and patience. You cannot do it overnight, but with enough practice, enthusiasm, and willpower, maybe you'll get featured in an article like this one day.