Plasma cutting has made metal cutting more straightforward than ever, and plasma cutters such as Arccapttain Cut 50, which we are reviewing today, are the sole reason. Cut 50 is a portable plasma cutter that offers good cutting capacity and decent results at an affordable price.
This machine has everything you should expect from a modern plasma cutter designed for hobbyists and small shop owners.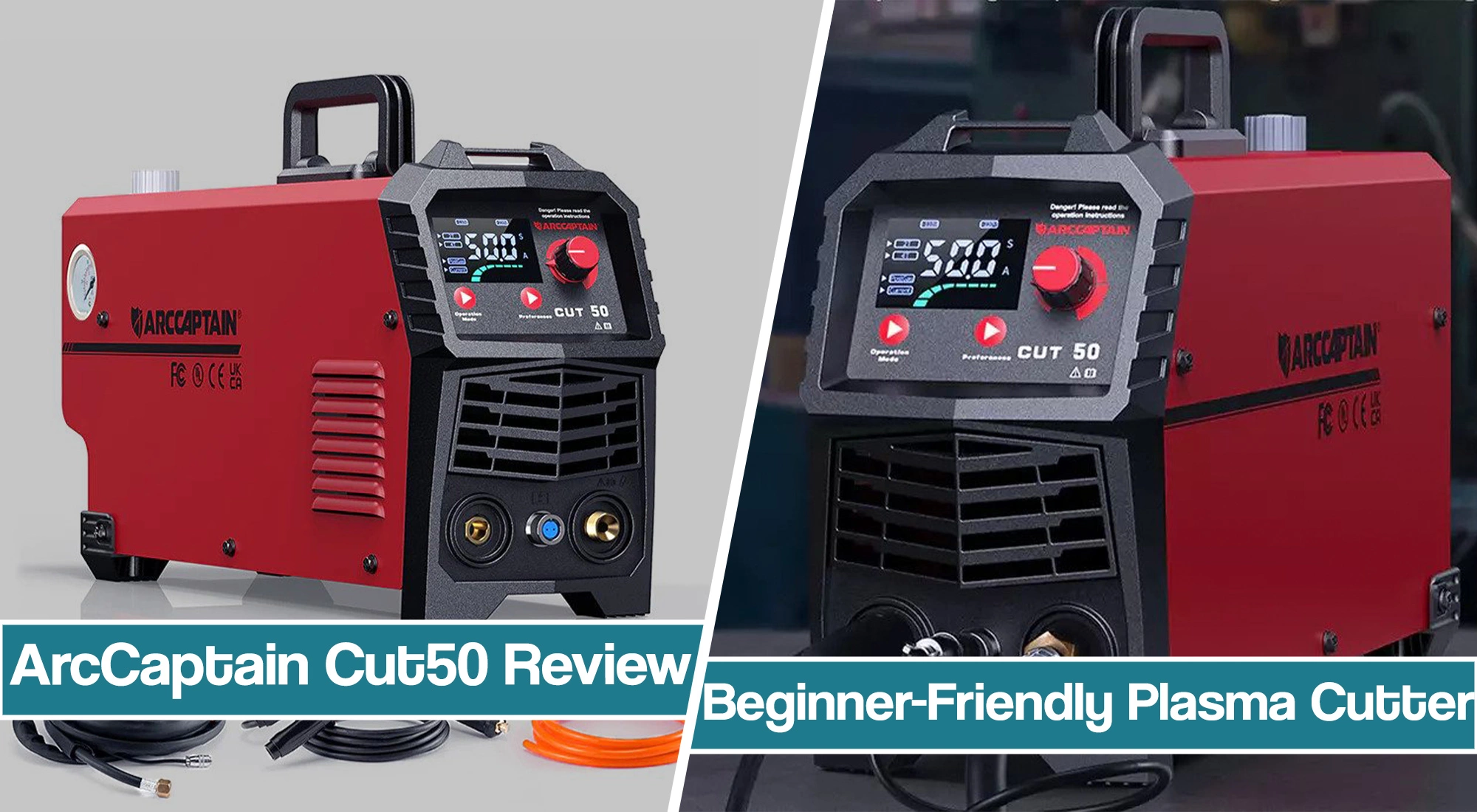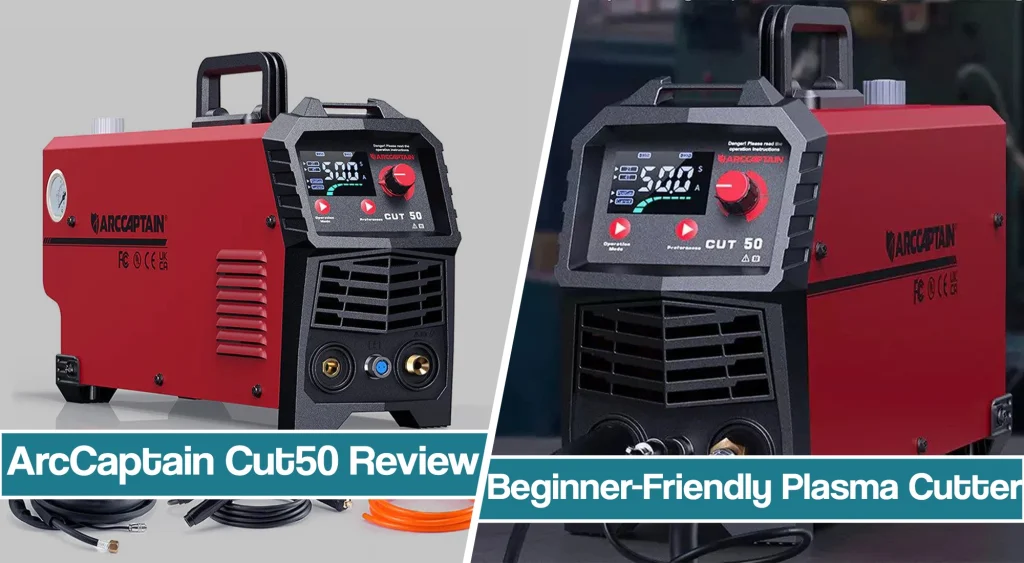 Compact dimensions and low weight will help you move it around the garage or on the field with ease. In this Arccaptain Cut 50 plasma cutter review, we will discuss its value, build quality, features, and the good and the bad.
Arccaptain Cut 50 Package Content and Technical Specifications
We will start our review with a brief overview of the package content and technical specifications of the Arccaptain Cut 50 plasma cutter. Seasoned welders and users can get a lot simply by looking at these two, but sometimes things differ on paper and in practice. That's why we will go through each crucial aspect of this plasma-cutting machine later in the text.
Affordable Beginner-Friendly Plasma Cutter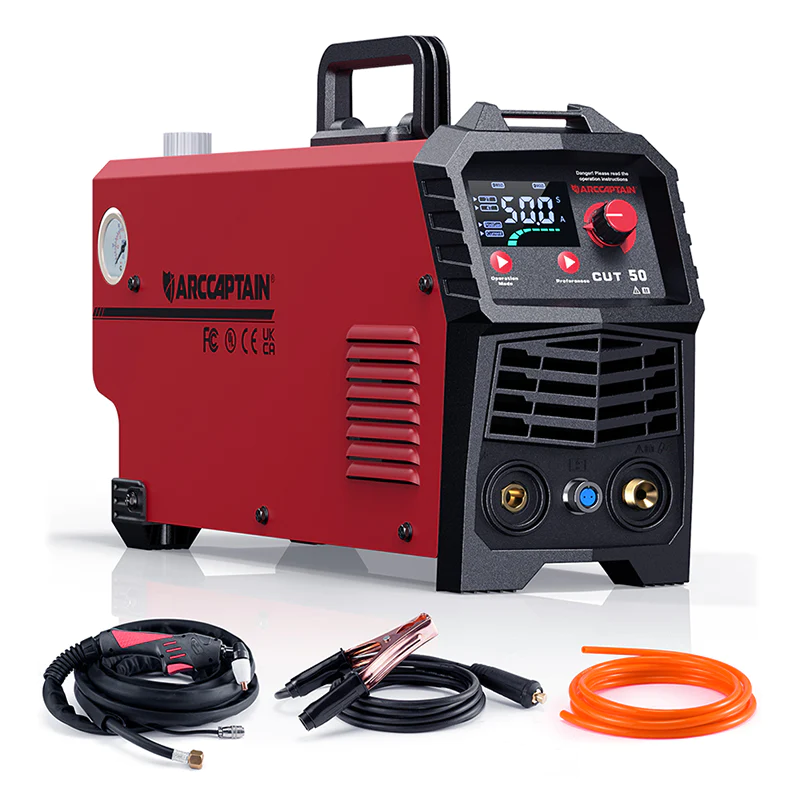 Arccaptain Cut 50 Plasma Cutter
When you invest in Arccaptain Cut 50 plasma cutter, for the money spent, you get the following:
Plasma Cutting Torch with 16 ft torch lead
Earth Clamp with 10 ft ground cable
10 ft Air Hose
110/220V Power Adapter
User Manual
Shoulder Strap
Consumables include: electrode nozzle, diverter, ceramic cup
5% Discount Code: "WELDPROS"
For convenient plasma cutting, you get everything you need to cut straight out of the box. The plasma cutter torch is pretty decent, and I like the 16 ft. long leads that are excellent when cutting outside or away from power output. In addition, you get one set of torch consumable components.
Don't be surprised because you don't see an air pressure regulator in the package. Like other Arccaptain machines, Cut 50 is designed for quick setup and installation, so the regulator is pre-installed. As a result, it takes you less than a minute to hook up the machine and start cutting. I like the fact you get a shoulder strap with it so that you can carry it around conveniently.
Technical Specifications
Rated input voltage:
Single-phase 110V 50Hz;
220V50 Hz
Rated input capacity:
5.0,
7.9 kVa
Rated duty cycle:
60%
No-load voltage:
280V
Output current range:
20~35;
20~50
Arc ignition mode:
HF contact
Post-flow time:
5~15s
Gas pressure range:
0.3~0.5 Mpa
Enclosure ingress protection:
IP21S
Efficiency (%)
84%
Cutting thickness:
1/2 inch Clean cut
3/4 inch Severance thickness
Weight:
13lb
Arccaptain Cut 50 Plasma Cutter Review – Build Quality, Features Cutting capacity
This section of the article will focus on everything you need to know when considering Arccaptain Cut 50. We will review its build, features, and cutting ability to make sure everything stated on the paper, which you could read from the start of the article, is actually true.
Plasma Cutter Build
The latest Arccaptain machines, including the plasma cutter Cut 50, surprised me with their build quality. These welding machines and cutters seem like they are built to last and perform. In addition, all machines are tested against water splashes, condensation, impact, vibrations, and metallic dust. These are all conditions that can occur in your garage, and the IP21S rating shows the durability.
Meanwhile, Cut 50 is quite compact and lightweight. With approximately 13 pounds, you can easily carry it around the garage or on the field, and there is a shoulder strap to increase portability.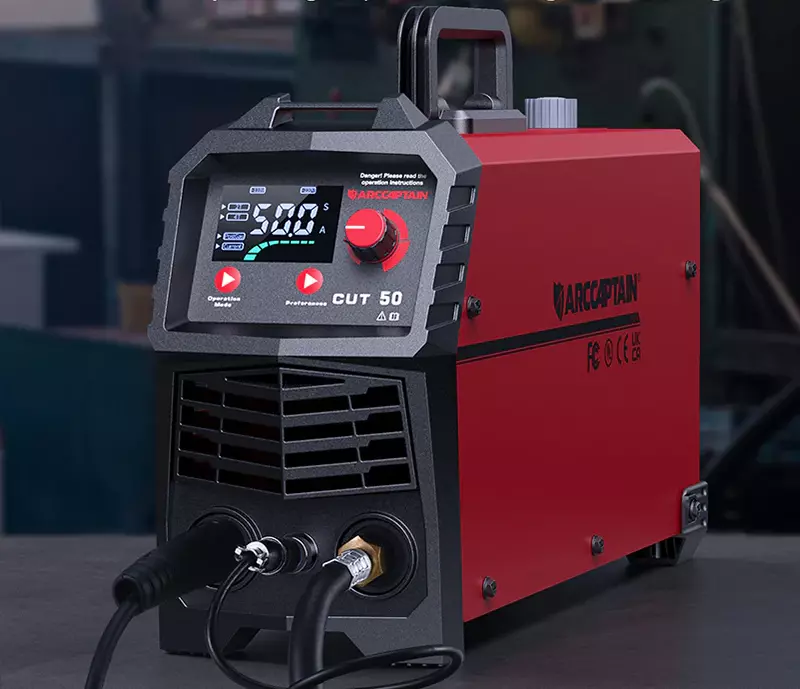 In addition, compact dimensions mean it won't take up too much space in the garage or the truck once you need to move it.
I liked the built-in air pressure regulator that also captures moisture which can be devastating to your plasma cutter. All good quality plasma cutters include the air regulator, but you usually have to install it on your own. That can be an issue for new users, so having one already installed will take you straight to plasma cutting. Since many aspects are dedicated to ease of use, I think Cut 50 is one of the best plasma cutters for beginners.
Arccaptain Cut 50 Controls and Settings
The control panel of Cut 50 is straightforward and also dedicated to ease of use. Seeing a large LED digital display at this price range is pretty rare, and it will help you fine-tune the plasma cutter to your habits. Besides amperage, you can set the post-flow timer to 5-15 seconds to promote torch cooling and extend the lifespan of consumables.
In addition, you can opt for a 2T/4T cutting mode. 2T is on by default, and your plasma cutting arc will run as long as you hold the torch button. 4T mode is useful when cutting longer pieces, as the arc activates and stops by pressing and releasing the button.
Plasma Cutting Torch
The plasma cutting torch of Arccaptain seems durable and comfortable, and I liked the 16 ft long leads. Remember that the torch utilizes a high-frequency start that is exceptionally easy to achieve. However, high-frequency emits electrical noise, which means you cannot use it around electrical equipment and, most importantly, CNC tables.
Another thing you should know is that there is no non-contact pilot arc. That means you will have to touch the base metal with your torch to cut. That way, you get excellent cut precision, but the consumables can get worn out more when dealing with painted or rusty metal. Nonetheless, you can successfully cut alloy steel, stainless steel, copper, mild steel, and other color metal materials.
Plasma Cutting Capability
Arccaptain Cut 50 is a dual-voltage plasma cutter with an output power of 50 amps, and you can use it to cut both sheet metal and thick metal. Dual voltage increases versatility, so you can plug the cutter into a regular 110V household outlet to cut lower metal thickness. However, this plasma cutter performs best at 220V, where it reaches its full power output of 50 amps.
As a result, you can use it to clean cut up to 1/2 inch stock at ad decent cutting speed. The cut quality is excellent, and there is almost no dross on the backside.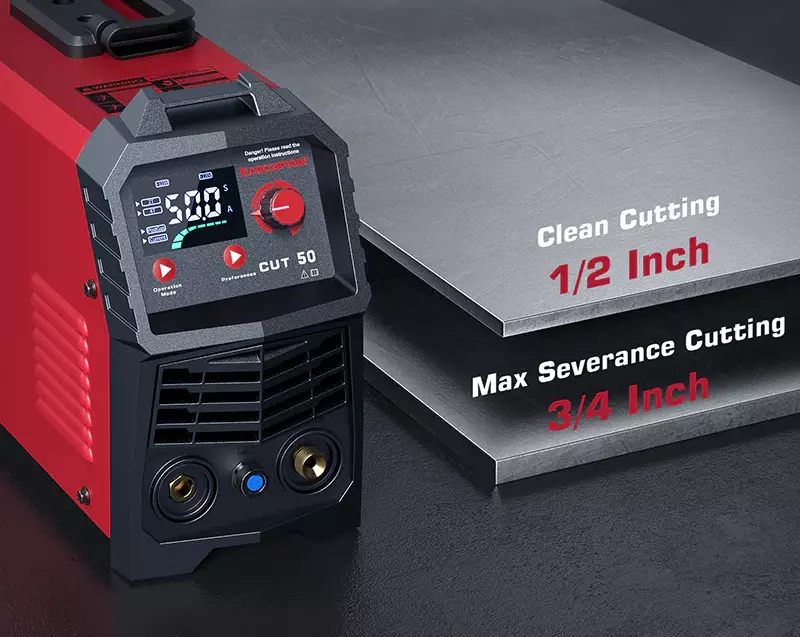 You can even cut thicker materials, with maximum severance thickness rated at 3/4 inch. You can achieve it with a 60% duty cycle, but it will take some time, so I suggest staying at the clean-cut limit, where you don't have to stop for cooling. Since you rarely get a chance to cut over 1/2 inch in your garage or small shop, this is the best plasma cutter for medium to thick metal.
IGBT inverter technology provides a reliable and smooth plasma arc with a longer duty cycle and high efficiency. The arc relies on the intelligent chip, which provides consistent results of the electric arc for each Arccaptain Cut 50 commercial unit in the stock.
Remember that you will need an air compressor to run Arccaptain Cut 50. The plasma cutter requires a recommended air pressure of 40-70 PSI. Some latest cutters, such as the YesWelder CT2050 combo machine, have a built-in air compressor for increased versatility, but the compressor limits the output power.
Arccaptain Cut 50 Protection and Value
One commonly asked question among potential buyers is whether this machine is worth the money. With its low cost, it most certainly is. You get great value out of this 300-ish dollar machine. Build quality, performance, and available cutting thickness are amazing for the money spent.
Even though it is not the most expensive plasma cutting machine, Cut 50 still has many protection features and a long warranty. The IP21S rating tells a lot, but there are also built-in overload, overcurrent, temperature, and voltage protections that shut down the cutter to protect the permanent damage to internal components.
In addition, you get a 2-year warranty, which is scarce with budget manufacturers that usually protect their machines for a year. Therefore, you can be sure your investment is well protected.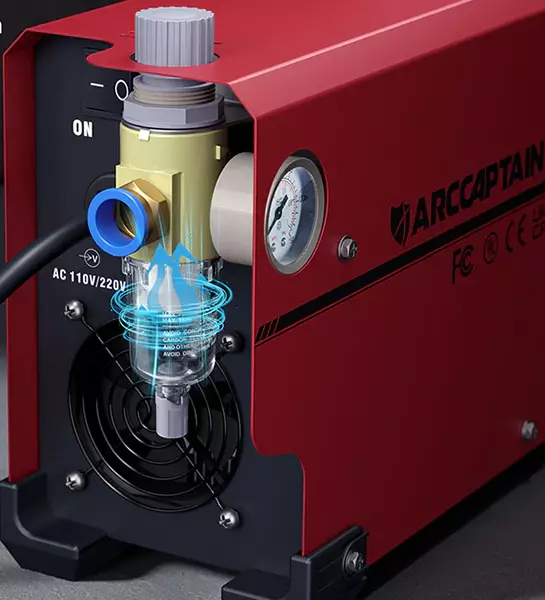 Pros and Cons Summarized
Arccaptain Cut 50 is a great value plasma cutter that offers good cutting capability, reliable and consistent performance, and a high-quality build. It seems like Arccaptain focused on ease of use, so their Cut 50 seems like the best plasma cutter for beginners. However, the power output of 50 amps allows you to cut up to 1/2″, which surpasses the beginner's needs.
This portable plasma cutter seems like a well-built machine for everyday needs, metal fabrication, home shop cutting, or metal artwork applications. However, there are no modern features such as a non-touch pilot arc, built-in air compressor, or CNC table compatibility.