Welders seeking the best possible welding wire are often left confused by the number of options available to them.
Fortunately, it's quite easy to narrow down your options and pick the right wire for the job once you know how to look at these products.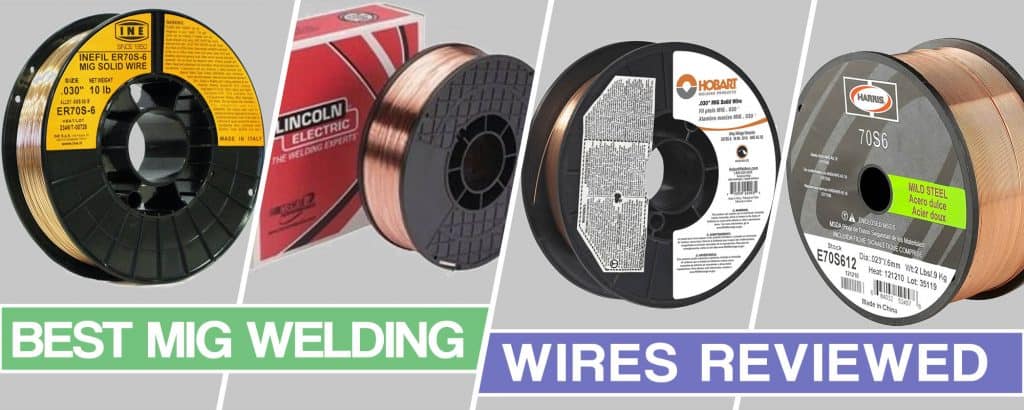 So, to help you find the right wire for your work, we've tested a bunch of different MIG wires and worked out the key properties that separate their performance on different tasks. So, all that's left for you to do is read our guide and see which of the wires in our reviews is going to be best for your project.
If you want to check our reviews of the best MIG welders visit this page
Best MIG Welding Wires Quick Comparison
Spool Image
Brand Name
Specials
Made in:
Check Price


YESWELDER Carbon Steel MIG Solid Welding Wire
Best For Money Wire



Get 10% Off With Coupon: "-10% WELDPROS"

China
Check Current Price YesWelder


Lincoln MIG Welding Wire, L-56.030, Spool
Best Brand Name Wire
Mexico
Check Current Price Northern Tool


INEFIL ER70S-6 .030-Inch on...
Best Overall Wire
Italy
Check Current Price Amazon


Hobart MIG Welding Wire - ER70S-6
Affordable Brand Name Wire
China
Check Current Price Northern Tool


Eastwood ER70S-6 Mild Steel MIG Welding Wire
Great Value Wire
China
Check Current Price Eastwood


Forney ER70S-6 Steel MIG Welding Wire
Reliable Wire
China
Check Current Price Amazon
The Best MIG Welding Wire Review
1. YesWelder Carbon Steel MIG Solid Welding Wire ER70S-6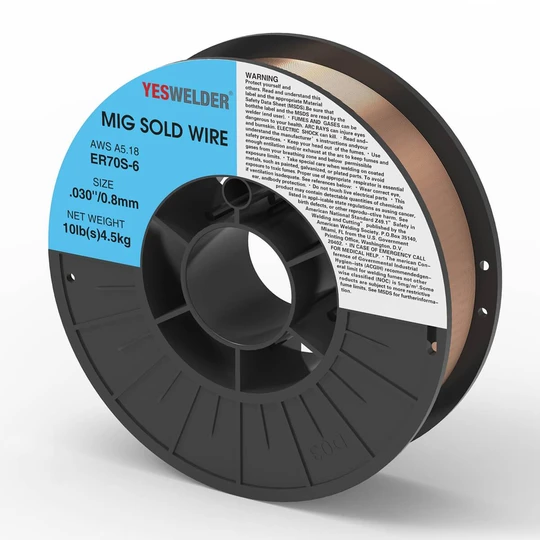 This MIG wire from YesWelder is a high-quality wire that comes at an affordable price. It contains higher than average levels of manganese and silicon, which allow it to produce great welds. Much better than what standard MIG wires offer.
The composition of the wire allows you to use it with high welding currents, 100% CO2 shielding gas, or a combination of 80% Ar and 20% CO2. Whichever way of metal inert gas welding you choose, it will result in a smooth weld bead with almost no need for any cleanup.
This filler wire is suited for a wide range of use like construction work, farm, welding tanks or truck bodies, shafts, fabrication, or general welding shop welding on oily or rusty plates.
Keep in mind that this mild steel wire produces a low spatter in all position welding, and it is suited for work on mild or moderate alloy steel. Recommended polarity is DCEP, and it comes wrapped in moisture-resistant plastic film, which protects it from corrosion.
Compared to other products in this article, YesWelder wire offers the best price to value ratio. That's the reason we crowned it as best for the money MIG welding wire.
Get 10% Off With Coupon: "-10% WELDPROS"
Pros & Cons Summarized
Pros
High levels of manganese and silicon deoxidizers tolerate medium to heavy mill scale surfaces
No porosity in welds
The price is reasonable (low to medium)
It flows nicely, no feed issues
The copper coating doesn't end up interfering with the tip or the liners
Cons
Longer delivery time (around 20 days)
Features
Suitable for a wide range of use.
Suitable for single pass or multi-pass welding.
Applications include tanks, boilers, steel structural works, earthworks and construction works.
To be used under the shield of Ar+CO2, Ar+O2, or pure CO2 shielding gas.
Can be used on higher currents
Recommended polarity is DCEP
2. Eastwood ER70S-6 Mild Steel MIG Welding Wire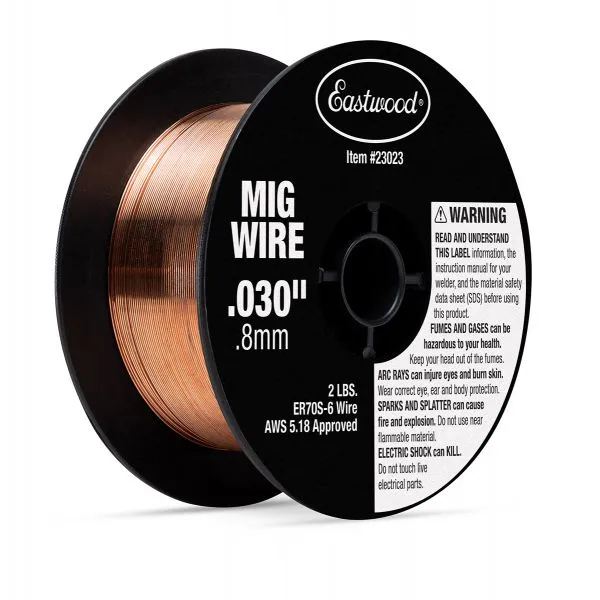 Eastwood ER70S-6 is an affordable, but professional-grade mild steel wire that meets AWS 5.18 Standards. Besides the low price, 4″ and 8″ spools are designed to fit any GMAW welder.
You can opt for different wire diameters such as .023, .030, and .030 but the spools are limited to 2 lbs and 11 lbs. Regardless of wire size and spool weights, all spools are level wound to ensure consistent quality with low post-weld cleaning.
You can use this fire for automotive repair, farming, construction, and heavy equipment repair applications. Even minimum tensile strength is high enough to produce strong welds, and feed quality is more than decent.
This is an all-position wire you can use a single-pass approach on thinner materials or multi-pass welding on thicker metals. However, the manufacturer suggests Argon/Carbon dioxide mixture for clean welds.
In addition to decent welding work performance, high feed ability, and smooth beads, I have to compliment great customer service. You get a 1-year warranty, and when you buy the wire from a US brand, you can be sure there are no spool cracks or feeding problems.
However, the warranty does not cover wire that has been subject to misuse, neglect, negligence or accident, or that has been used in any way contrary to the purpose intended.
Pros & Cons Summarized
Pros
Great quality for the price
A very smooth weld bead
Excellent flow with real consistency
The best MIG wire for mild steel
Cons
Some users have reported that they received damaged plastic reels of this product
Features
Great for sheet metal applications or structural plate steels which are moderately rusted
Commonly used for construction work, farm implement fabrications, welding shop applications with poor fit-up or rusty, oily plates, steel castings or forgings
3. Lincoln Electric, ED023334, MIG Welding Wire, L-56.030, Spool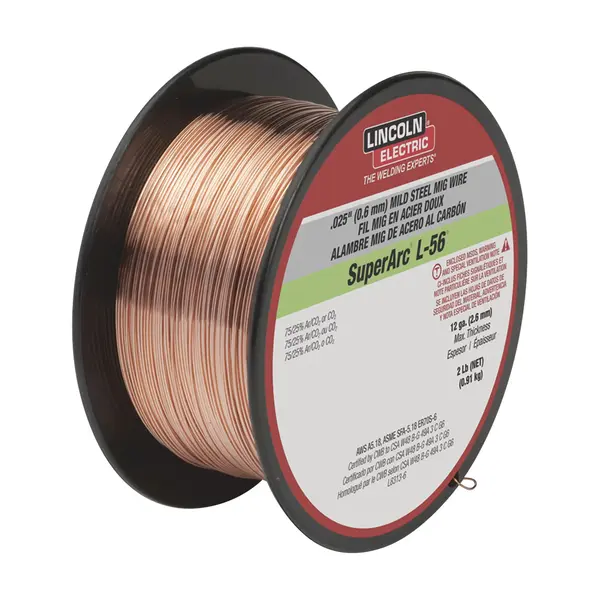 Assuming that you have plenty of storage space and a good budget for welding wire, then you might want to consider the Lincoln ElectricSUperArc L56. This is a great quality, copper-coated premium, and maybe one of the best welding wires on the market.
However, you will have to be ready to pay more than a few bucks, and spool choice is limited to 2 lbs and 12.5 lbs. which is a serious quantity.
Many owners that tried it report bead was among the best appearing of all the wires they have tried. In addition, you will find it more than easy to use it.
It's excellent for tackling medium to heavy mill scale base materials and the results are more than satisfying.
Amazon reviews are also very positive, where all the customers rated Lincoln Super Arc L56 wire as a solid purchase. It also supports globular, pulsed spray transfer, axial spray, and short-circuiting which can add a little more flexibility to the way you work.
The only other downside is the price, but that's not as high as it seems. Many other reviews seem to have failed to take into account the large quantity of wire you get in return.
Pros & Cons Summarized
Pros
High levels of manganese and silicon deoxidizers tolerate medium to heavy mill scale surfaces
Excellent toe-wetting provides optimal bead appearance
Copper coated for long contact tip life
Supports short-circuiting, globular, axial spray and pulsed spray transfer
Cons
Some find price and spool size choice limiting
Features
Medium to heavy mill scale base material
Sheet-metal to 380-485 MPa (55-70 ksi) yield strength material
Welding wire can be used for automotive repair, robotic or hard automation, structural steel, pressure vessels
4. INEFIL ER70S-6 .030-Inch on 10-Pound Spool Carbon Steel MIG Solid Welding Wire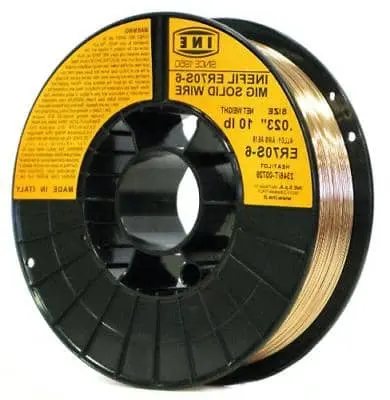 Given the incredibly low price of this MIG wire, you'd be forgiven for expecting a low level of performance but I think you'll be as pleasantly surprised as I was.
INE is a USA brand with a long tradition, but this cheap MIG wire is produced in Italy from high-quality materials and it's received the approval of several professional bodies too.
I found that it produced particularly smooth welds and there was so little to no spatter. INEFIL ER70S-6 is just a good and reputable wire you will love, and buy all over again once you try it.
Compared to brand-name wires that cost more, such as Hobart, you won't notice any differences in end results. I have heard that this MIG wire can occasionally arrive cross-wound but that wasn't the case with our order which turned up in an excellent condition with no rust or flaking either.
If you want to tackle projects with Carbon steel and/or Carbon-manganese-steel and you're happy to shield with Argon/CO2 or pure CO2, Inefil ER70S-6 is probably going to be the best welding wire you can buy and at an incredible price point.
If you plan to tackle thin sheet metal applications, you should opt for a .023 wire diameter, while .030 is just fine for thicker stock and farm implement fabrication. Overall, this might be one of the best MIG wires, but it is certainly one of the most popular choices.
Pros & Cons Summarized
Pros
Creates very little spatter
Porosity free
Feeds well into almost all welding machines
The price is reasonable (low to medium)
It flows very nicely
The copper coating doesn't end up interfering with the tip or the liners
Can tackle dirty steel with no problems at all
Cons
Some users have reported that plastic spool was damaged in transport
Features
Suitable for single pass or multi-pass welding.
Applications include tanks, boilers, steel structural works, earthworks and construction works.
To be used under the shield of Ar+CO2, Ar+O2 or CO2 shielding gas
5. Hobart MIG Welding Wire – ER70S-6 Carbon Steel – H305408-R19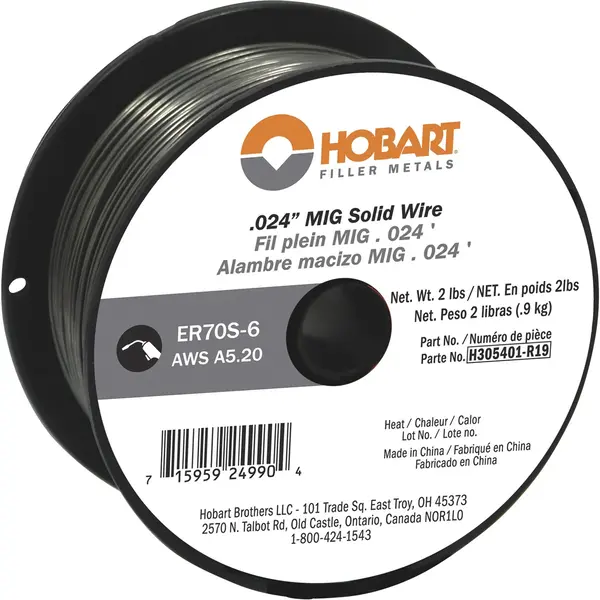 The lowest price branded welding wire on our list is the Hobart H305408-R19 ER70S-6 Carbon Steel wire.
But don't get me wrong, an affordable price doesn't mean that you will be compromising your welding with a bad quality product, though.
In fact, the biggest issue with this welding wire was the packaging which was cheap and flimsy. Even though Hobart is a US-based manufacturer, this specific product was made overseas, in China.
I admire cost-cutting in things that ought not to matter but with the welding wire, the packaging isn't completely unimportant and there are several users reporting that they received broken spools, even after refound.
Still, I found this good MIG wire surprisingly easy to work with. The feed and flow were exactly what you would expect from a branded wire. Wire can tackle dirty materials with absolute precision and that might be the biggest advantage.
Besides poor packaging, the only other drawback is the spattering problems. If you need neat welds, this wire might take quite a bit more clean-up than you want to be putting in. Otherwise, there's a lot to recommend with this particular wire from Hobart.
To make sure you get the best possible package, you should always buy from trusted suppliers such as we listed below.
Pros & Cons Summarized
Pros
Best price
The feed is very consistent
The flow is really nice
You can easily weld when there is rust, oil, or dirt on the base metal
Sound, porosity-free welds with powerful deoxidizers for your work with shielding gases.
Cons
To avoid delivery damage, make sure you buy from trusted suppliers
Features
Great for construction work, farm implements, fabrication, shaft buildup, tanks, truck bodies and general shop applications with poor fit-up or rusty, oily plates.
Preferred shielding gas is 75%Argon/25% co2 OR 100%CO2.
Can be used with straight CO2 shielding gas
6. Forney ER70S-6 Steel MIG Welding Wire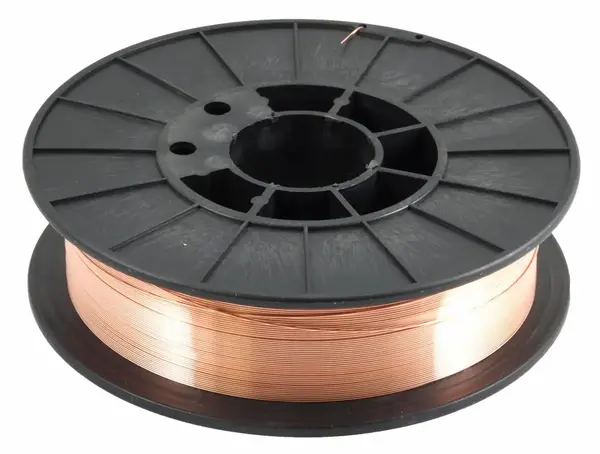 The last of the ER70S-6 wires we decided to put on our list is made by Forney, but it certainly isn't the worst of them.
Firstly, it's worth noting that choice is limited to 10 lbs spools, so if you're used to working with lighter wires, or you own a heavy MIG welder, you will have to get a cart.
However, despite the weight, there aren't any real issues with feeding. High silicon content provides fluidity, so the wire flows well when you're working with it and copper plating is solid.
This wire is ideal for autobody repair and fabrication on most ferrous metals, in addition to butt and fillet welding of carbon steel sheet and plate in industrial, farm, construction, and automotive equipment applications. To use it, you will have to provide Argon/CO2 mixture and DCEP reverse polarity.
The results you get are respectable, indeed, and I didn't feel that the weight was impinging on the finished product at all. Keep in mind that Forney ER70S-6 wire is meant for mild steel or pure carbon steel. For other metals, such as aluminum, you will have to get a special aluminum wire.
The quality of the provided spools is excellent, so you get the feeling that they would last a reasonable amount of time in the workshop. However, some buyers found their delivery really poorly packed, and that's why we suggest buying from trusted suppliers like the one we listed below.
Pros & Cons Summarized
Pros
Won't miss a beat when welding rusty steel
Feeds without a problem
Great flow when working
The spool offers real longevity
Cons
Limited spool and wire size choices
Few users report that they had received a corroded spool or a broken one
Features
Contains additional de-oxidizers
Commonly used with the 75/25 (argon/C02) or with the higher amounts of argon shielding gas
Can be used with 100% CO2 shielding gas
7. WeldingCity 2 Rolls of ER70S-6 ER70S6 Mild Steel MIG Welding Wire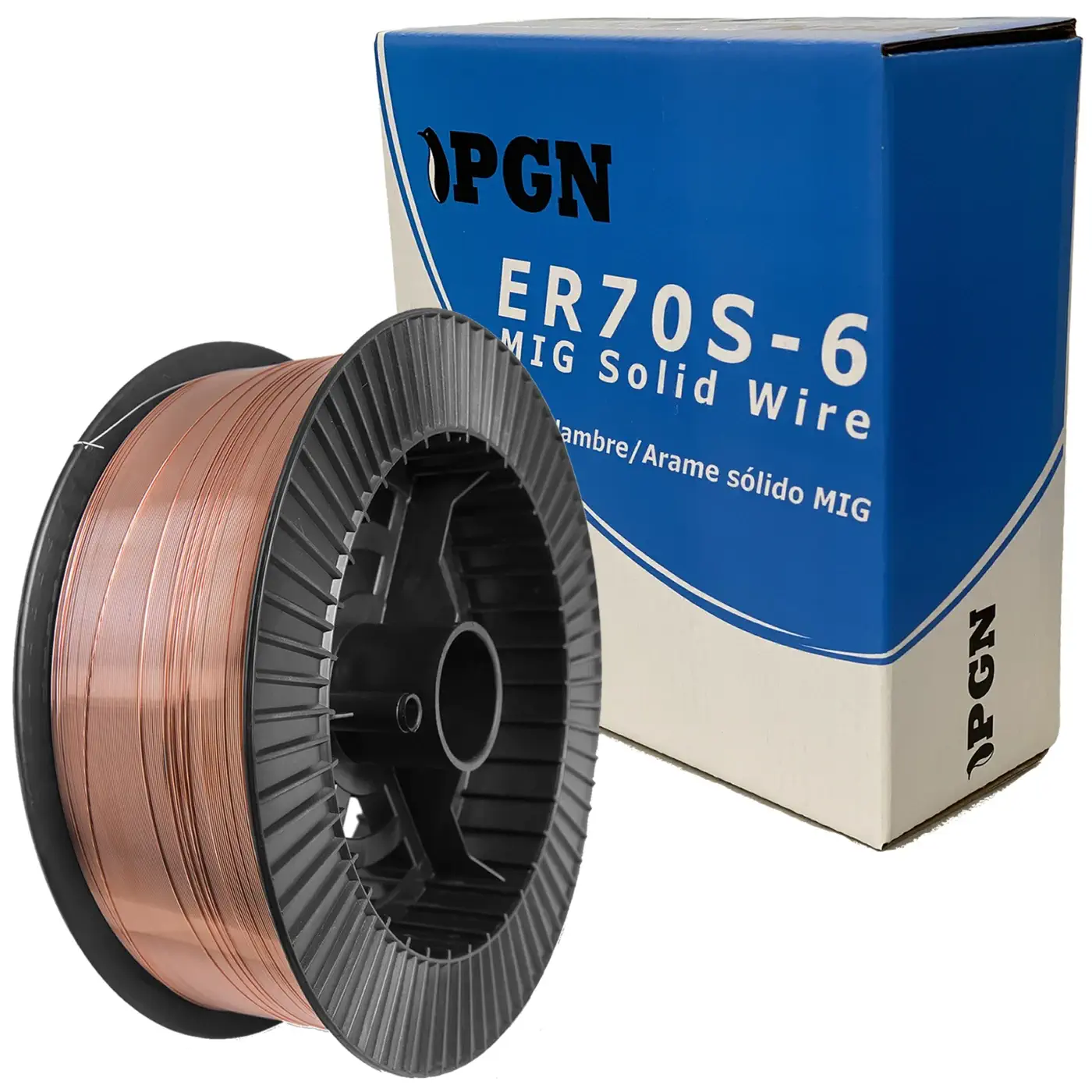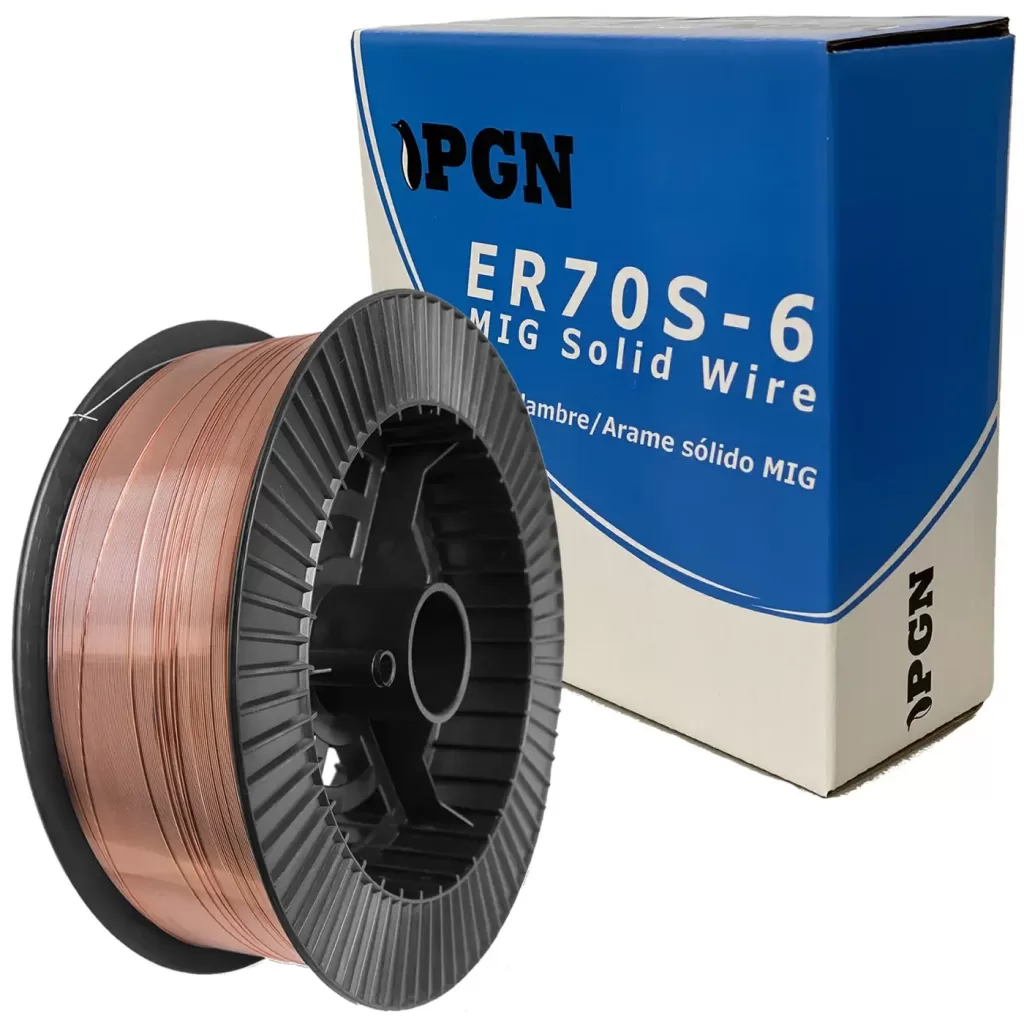 The price of this welding wire is higher than average, but it is worth bearing in mind that the reason is you get two rolls for every package you buy. The dual-roll package is in stark contrast to all the other products where you only get one.
This is handy if you want to keep stock available in the workshop all the time. Many satisfied owners report that the winding is quite precise and the feed performance reflected this. It just sails through at the right speed as you work.
The ones that tried it say spatter was kept to a minimum and it always ran smooth. The appearance of the bead was excellent and for the price, so this might be an excellent wire for people looking for value.
Overall, you will love working with WeldingCity's products. However, there are a couple of minor grumbles. I don't understand why the manufacturing date isn't kept on the packaging, this really ought to be standard for any consumable product for professional use and it's a bit disconcerting to find it missing here.
We'd also note that though our order arrived in good condition – there are users reporting that they have had broken packs shipped to them. I hope that these are exceptional cases but it's worth keeping in mind before you order.
Pros & Cons Summarized
Pros
I found the feed to be particularly smooth
1 package contains 2 packs of wire
The packaging is top-notch
I found that the bead appearances were better than average
Cons
Some users have reported that they received damaged plastic reels of this product
What You Need To Consider When Selecting MIG Welding Wire
The Wire Feed
Welding machines each have a different setup for rollers and for the torch nozzle, however, they all have one thing in common – the better the wire you use, the better the wire feed.
Poor quality wire interferes with the feed because of irregularities in the surface due to flaws in the coating or material. The other factor which affects the feed is the spool.
The wire must be wound onto the spool correctly and at the right level of pressure to ensure that it can unravel effectively when the machine is in use.(1)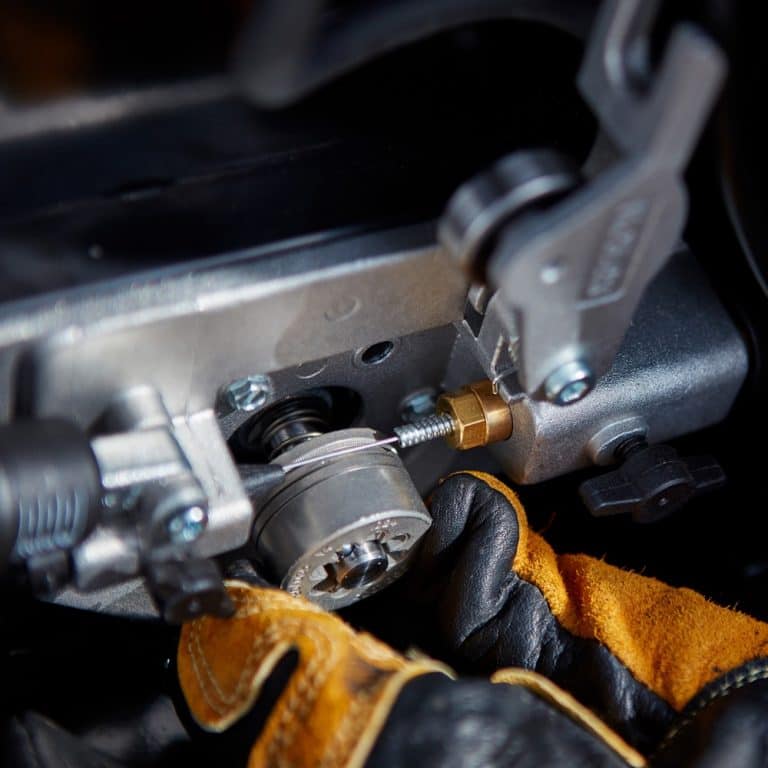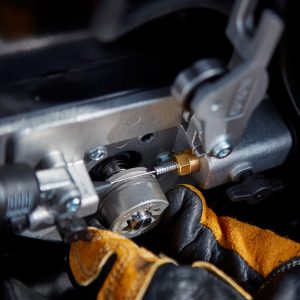 Poor feed makes it much harder to lay consistent MIG welds and thus you're less likely to get a smooth bead.
The Spatter Volumes
The spatter is created when the MIG wire melts onto the metal surface. It's the collection of little blobs of excess material that are sprayed out from the center of the weld during the fusion process.
Excess spatter is a serious problem when it comes to productivity in welding as it takes time to clean up the weld. You can reduce the amount of spatter and improve the bead appearance by investing in low spatter welding wires.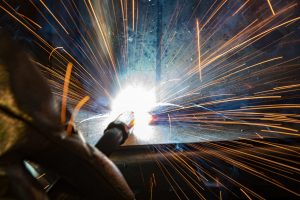 This is going to make life much easier when using GMAW welding and you should find your projects move much faster with a low spatter weld.
The Flow Of The Weld
The more fluidity that your wire provides the easier it's going to be to control the overall quality of your weld. All MIG wire is designed to melt and that means you're going to end up pushing it over the joint that you are working on.
If your wire lacks fluidity it's going to resist being pushed and create an ugly bead appearance and an ugly weld.
Tip: When you have the level of fluidity you want in the wire, it can help force out impurities from the surface of the metal (think dirt or coatings on the surface) and ensure a clean weld.
The Size Of The Wire
It shouldn't come as a surprise to learn that the size of the welding wire matters. There are two different sizes to consider when it comes to welding wires: the size on the spool and the wire size itself.
Different welding machines have different spool capacities. This relates to the size of the spindle.
Other machines are going to struggle with certain diameters of welding wires or won't be able to support them at all.
You need to make certain that you know what your machine is capable of using before you buy welding wire.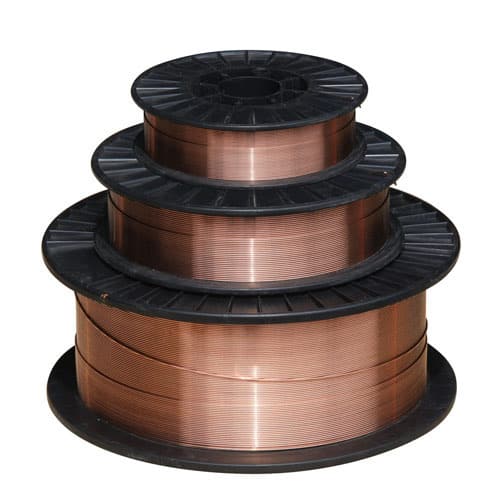 However, the other thing you need to consider at this point is the type of welding you want to do. 030 welding wire is an all-purpose choice as is 0.035 inch.
The general rule of thumb is simply that the thicker the materials you are welding, the thicker the wire should be. That's because you're going to need more material to connect and hold the joint.
The Diameter Of The Wire (Consistency Counts)
You want the wire to flow smoothly through the contact tip and the key to this is to make certain that your wire diameter is constant.
---
Caution:
If you use a wire that's too small – you'll find that it triggers arcing between the top of the tip and the wire itself. Over time, this is going to cause damage to the tip and if you don't correct it, it's going to end with the tip fused to the wire.(2)
On the other hand, if you use a wire that's too big you're going to end up with a blocked tip, the wire will slip and you may end up feeding with too much force – all of which is likely to result in downtime.
---
The consistency of the diameter of the wire is on the manufacturer. They need to pay attention to the moments when they join wire ends using butt welds – poor butt welds are guaranteed to cause fluctuations inconsistency.
Even when your wire only fluctuates within the AWS specified range – you can find that your weld consistency varies by up to 8%.
Manufacturers that want to guarantee consistency in this area can use laser micrometer inspections to deliver a truly consistent MIG wire.
The Chemical Composition Of The Wire
You can probably imagine the reason that the chemical composition of your MIG welder wire is going to affect performance.
The more consistent the composition, the more consistent your performance, the better quality that the final product will have.
In addition, when you use consistent MIG wires you can set your procedures and then forget about them because you won't need to keep making adjustments as the quality of the MIG wire fluctuates.
You should be aware that while there is an AWS standard for chemical composition – they don't have any policing for compliance. So, many industries have their own standards for MIG wires. If in doubt, the industry-standard should take precedence
Some of the typical industry standards are set by Lloyds, the American Society of Mechanical Engineers (ASME), the American Bureau of Shipping (ABS), etc.
The Packaging Of The Wire
One final thing to think about is the quality of the packaging of your MIG wires. The spools are heavy due to the spool size and that means if they're packed poorly, they can easily burst out of the packing while they're being shipped.
These can lead to corrosion of the wire as it gets exposed to the air and any moisture in it.
We'd recommend that you buy your wire in bulk because it's going to keep the price down of the inventory (manufacturers are happy to discount because it means less handling, overall, of the wire that they supply). Just remember that having a lot in stock means greater inventory costs for you.
Frequently Asked Questions (F.A.Q)
Why Is MIG Welding Wire Copper Coated?
MIG welding wire is copper coated in order to prevent rusting (or oxidation) of the wire below and to reduce the amount of tip wear as well as to promote the ideal level of electrical conductivity.
It's important that you don't allow this coating to come off or to leave a residue behind. That's because this can result in the wire feed becoming clogged as well as the gun becoming clogged. Keeping the levels of copper in the coating to a minimum will help reduce fumes and flaking while you are welding.
What Is MIG Wire Made Of?
The most common MIG wires are made of Carbon Steel, Stainless Steel, or Aluminum. They will tend to have a thickness of between 0.023″ and 0.045″.
However, you can also find wires that include manganese, silicon, and titanium blended with the core components of your wire. That's because they can help deoxidize the weld and promote a strong arc.
They may also be coated with copper, particularly when you're looking to work with steel.
What Wire Is Used For MIG Welding?
It really depends on what projects you are working with – the main deciding factor is going to be the metals you are welding – the wire should contain the primary metal.
Then you need to decide on the quality, the thickness, etc. of the wire that is best for the projects you are working on.
Conclusion
The INEFIL ER70S-6 was our biggest surprise, this low price but quality results, wire from Italy was truly excellent. If you're in need of a product that won't let you down for the materials that it supports, you can't go wrong with this wire.
If you're operating on a budget the Hobart wire is not a bad choice, though the packaging is cheap and I don't think you'll want to store this product for very long because of it. However, the price is incredibly attractive.
All of the other wires in our tests performed more than adequately though all of them had some small drawbacks which meant they weren't quite our top pick too.
The best thing to remember when choosing MIG wire for your project is to review the characteristics you need to get the job done and then select a wire that delivers on those characteristics. You should also consider using a flux core wire and flux core welding
process if your welder allows it and if you are planning on welding in windy conditions.