Last Updated on
If you are looking for the best of the best, look no further than brands like Optrel, 3m, Miller and Lincoln. However, knowing the brands and models is only half the battle because you should buy a PAPR welding helmet system that satisfies your specific needs.
Do you need Optrel's crystal clear view or do you need 3m's ability to stack more filters? Do you need Miller's Dualtec airflow system for better and evenly distributed airflow? The decision is hard and there is a lot to discuss.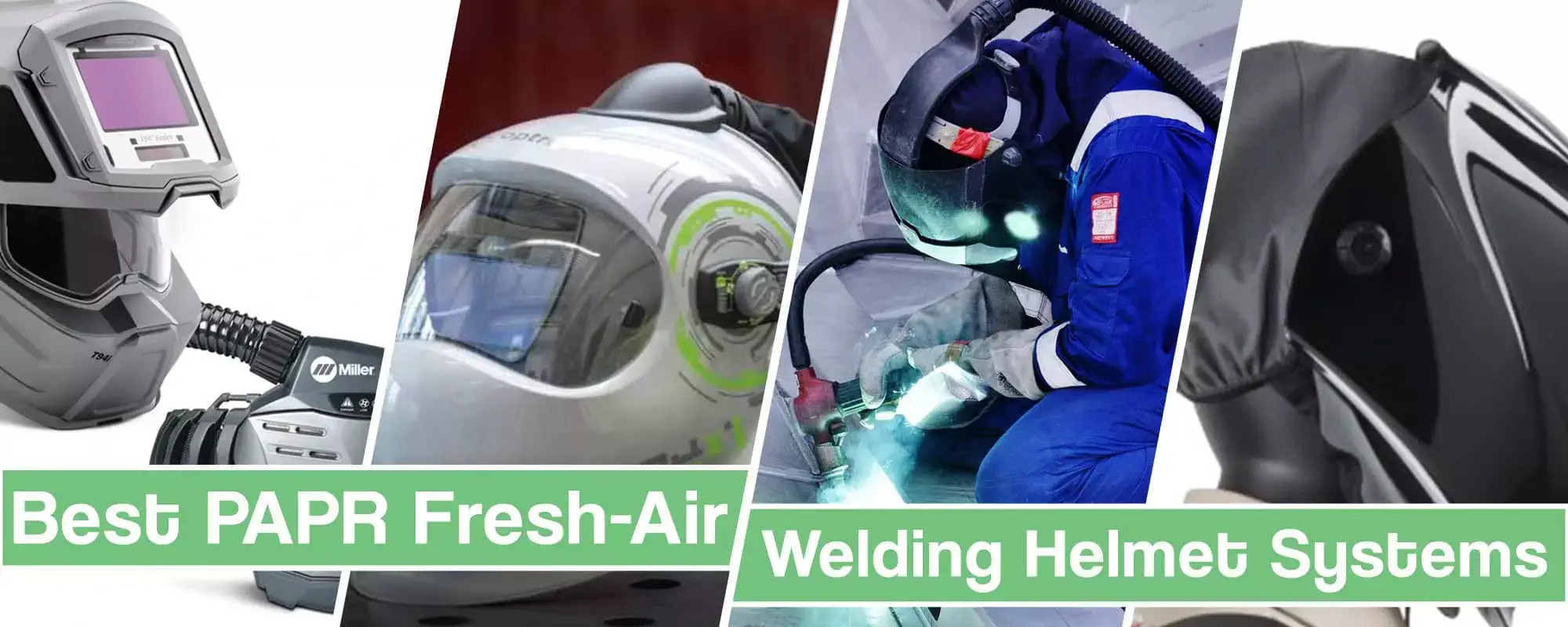 Your needs can vary from job to job, but if you nail your supplied air-welding helmet choice, you will have a much better welding experience. Not to mention that you won't waste money on the features you don't need. PAPR welding helmets are expensive, so you should use your resources to target exactly what you need.
Please pay close attention as we dissect the welding helmets to show their most important characteristics and their systems below.
Best PAPR Welding Helmets
First things first, the powered air purifying respirator welding helmets or PAPR systems only work with their own welding helmets.
These systems are not designed to work with any other welding helmet, even if it's the same model from the same brand.
You can't take Optrel's crystal 2.0 that is not a PAPR model and pair it with their PAPR system. The same goes for other brands. The manufacturers create a powered air purifying respirator and a welding helmet to work as one system. The welding helmet has to be PAPR modified by a manufacturer to work with the system.
Now that we got that out of the way, we can proceed to the reviews of the welding helmets.
1. Optrel Crystal 2.0 e3000x PAPR System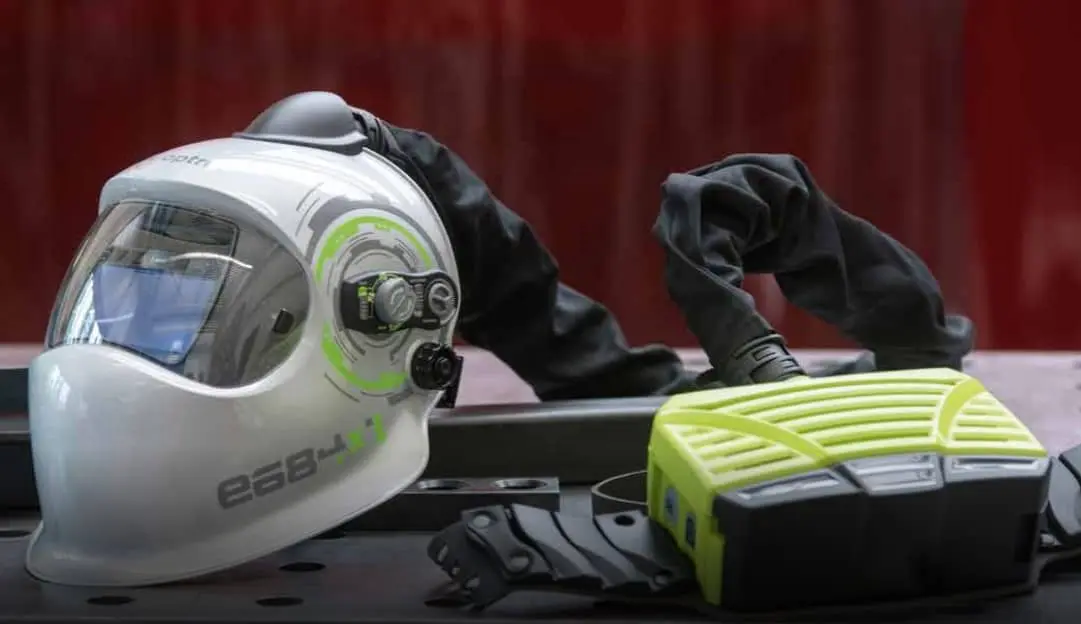 All things considered, this is the best PAPR welding helmet system, but I strongly encourage you to read the reviews of other systems below. The Optrel Crystal 2.0 and E3000X PAPR system combo may be great, but they don't offer the same airflow method as other systems.
What I love about this PAPR system the most is the welding helmet itself. Optrel Crystal 2.0 is a professional welding helmet that can significantly improve your welding experience.
Optrel offers a unique shade 2.0 light state found nowhere else on the market. Seeing clearly before you start your weld will significantly improve your workflow. Additionally, the grind mode is much lighter than what you get with DIN4 or even DIN3 grind modes on other helmets.
The Optrel's TRUE COLOR technology lets the wider range of visible radiation through the lens giving you a much clearer picture before and during the welding itself. The 3M welding helmet reviewed below offers a similar quality color transmission, but Optrel is the best in its class when it comes to visual clarity.
I also love the autopilot mode which automatically detects the arc brightness and darkens the viewport in a range of 4-12 (otherwise known as the Twilight mode). No more adjusting or thinking about which shade is the right choice for the given arc brightness and ambient illumination – this will save you time and effort.
What I don't like is the fact that it darkens up to level 12 only. 3M auto darkening welding helmet below will go up to DIN 14. Higher shades can be useful when working with high amperages, so this limits the Optrel to either working below a certain amperage threshold or working with uncomfortable arc brightness. This will depend on your individual light sensitivity, but I don't think that many welders will need more than DIN 12 anyway. For those of you who do, it's probably best to try other hoods.
Without going overboard with the welding helmet itself, it's one of the lightest helmets in the industry, probably considered one of the prime pieces of welding equipment in terms of technological achievements and I don't know a single welder who wouldn't kill for one of these.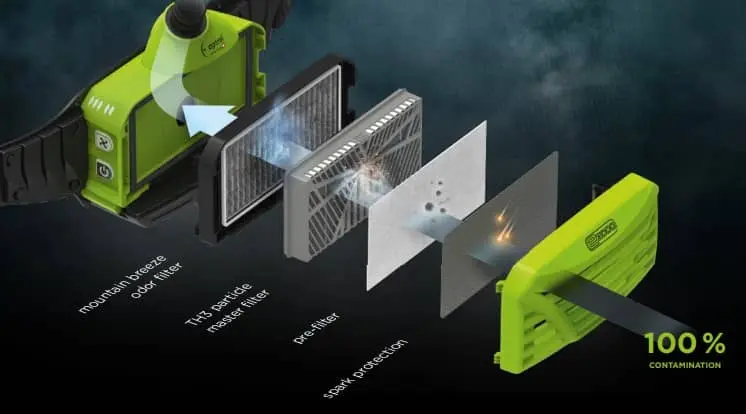 As for the PAPR, it's definitely very good and a simple-to-use system. It has an easy-to-replace filter, the airflow is sufficient, it uses a standard flexible neck and rears back head guarder to keep the outside particles from entering underneath it and the battery is the longest-lasting in the industry with up to 18h of use per charge.
The battery itself can save your skin sometimes. Imagine forgetting to charge it the day before. If your workplace demands PAPR for compliance, you could be out for the day and not get paid. Luckily, this battery can easily last up to two workdays on a single charge.
The HEPA filter is TH3 rated (EN 12941 standard). This means that it offers the best protection you can get. There are no better filters for welding PAPR systems. HEPA filter blows MERV filters out of the water. That's because HEPA is the only filtration method tested and certified to meet a specific safety level for specific particle size.
This means that this system is excellent for passing compliance tests. If your employer or state demands HEPA, this system may be the way to go.
The filter will protect you from oxides like aluminum, zinc, copper, cobalt, cadmium, chrome compounds, manganese, lead, and many others.
It has a maximum flow rate setting which provides a minimum of 250l per minute of airflow. Contrast that with the 170l/min of 3M system below and you will see that Optrel's PAPR is one of the best.
The unit is quiet with a maximum noise output of 70dbA, lightweight at about 3.5lb (1.6kg), with a very compact design which is good for tight spaces. It also comes with backpack-like shoulder straps to help alleviate the weight and let your shoulders take the weight. Older welders with back problems will appreciate this, but many PAPR systems come with a similar feature.
The only downside of this welding respirator system is that it's too simple. The air enters at the top of the helmet and is evenly distributed, but that's about it. You can't do much to influence where you want the air to flow. The Miller system which is to be discussed in this article too has a better airflow design for example.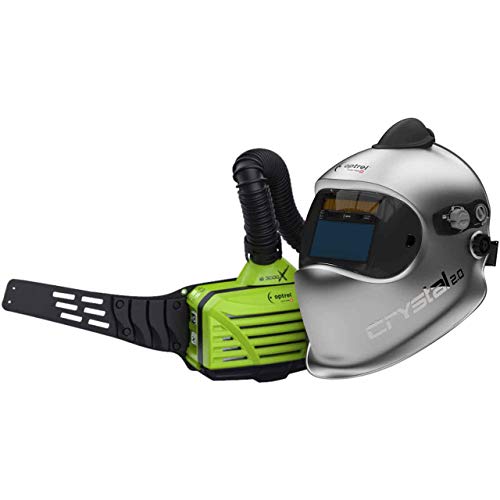 Optrel Crystal 2.0 e3000x PAPR System, 4530.051
Crystal lens technology with shade 2.0 light state - See clearly what happens before, during and after the welding process.
AUTOPILOT - Detection of the arc brightness and fully automated shade level adjustment from 4 to 12. Adjusts automatically to the changing light conditions of the current welding process.
TRUE COLOR - The color perception in light state is almost like looking through clear window glass and in dark mode, you enjoy a detailed and high-contrast view of the welding pool with...
Grind Mode - Switch quickly and easily between weld mode and shade 2.0 grind mode using external controls. There is no need to remove the welding helmet to grind.
Last update on 2021-09-19 / Affiliate links / Images from Amazon Product Advertising API
Pros & Cons Summarized
Pros
Best in class True Collor View
Automatic sensitivity control
Lightweight
Premium brand
Outside adjustments
Comfortable
Excellent build quality – made to last
HEPA Filter – TH3
Extreme battery life
Powerful motor
Lound alarm noise
Affordable PAPR and Helmet combo
Cons
No protection for sensitive PAPR elements
Maximum shade DIN12
Not enough control over the air distribution
Features
Welding Helmet:
Shade Range: inactive: shade level 2.0, active: DIN 4-12. Lightest shade level in the industry.
Arc sensors: 3
TIG rating: less than 3 amps. Excellent choice for TIG welding work due to high sensitivity and visibilty.
Weight: 18,7 oz / 460 g. One of the lightest welding helmets in the world. Especially when you consider everything packed into it.
Grind Mode: External button. Easily accessible and durable.
PAPR:
Protection level: HEPA filter, TH3 (EN 12941). Removes up to 99.8% particles.
Flow rate: 150-250l/min. One of the highest flow rates on the market. It will create a strong positive pressure on the inside to keep hazardous particles out.
Noise: max. 70dbA
Weight: 3.6lb or about 1.6kg. Not the lighest system but thanks to its weight distribution it feels light.
Dimensions: 222 x 213 x 92,6 mm
Battery Life: Up to 18h. Best battery life among all PAPR devices on the market.
2. 3M Speedglas Heavy-Duty Welding Helmet G5-01 w ADF G5-01 and 3M Adflo High-Altitude PAPR Assembly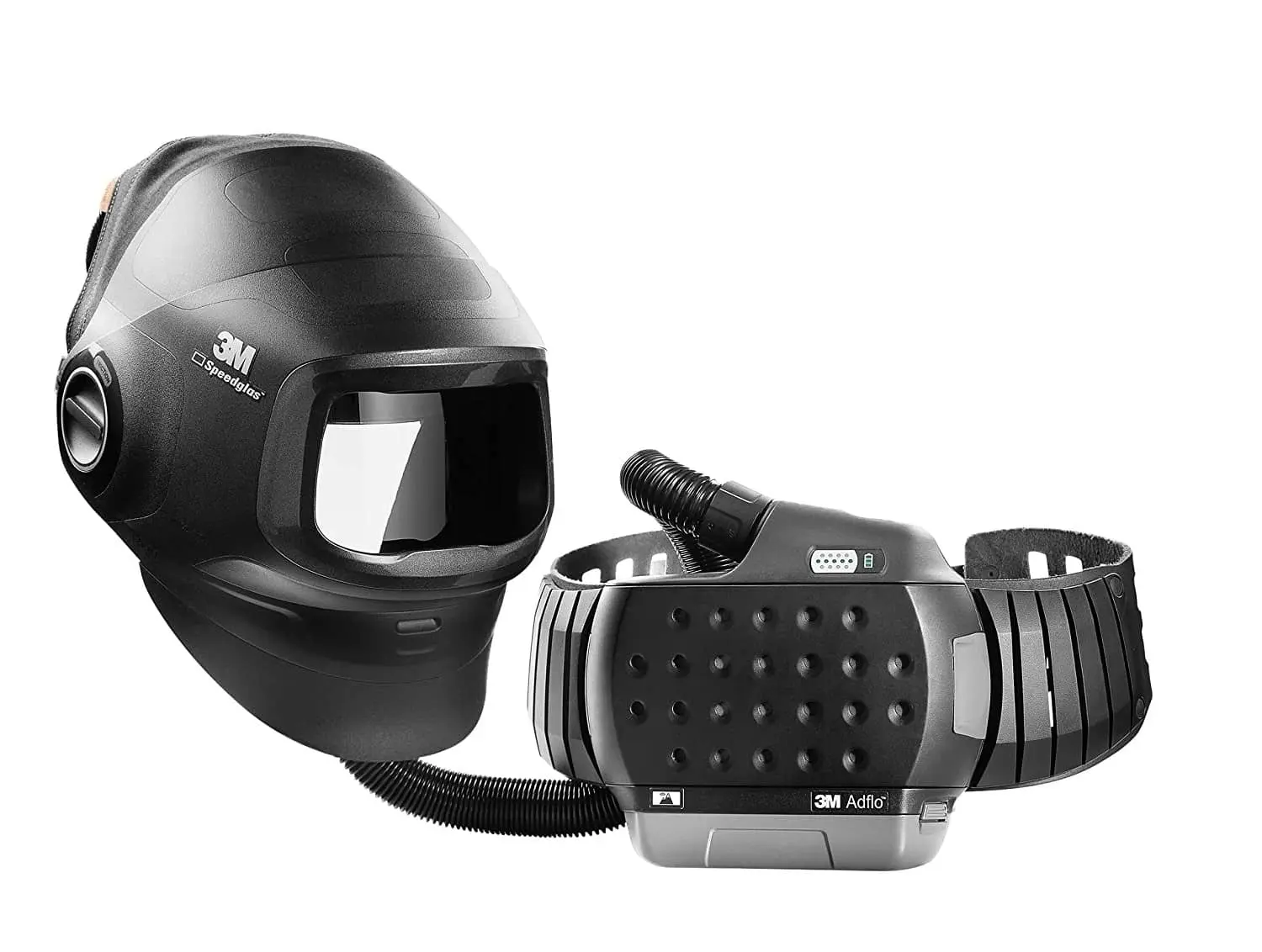 It was tough to put 3M in the second place and you shouldn't consider it inferior to Optrel above. It is different. It has some flaws and advantages. It's up to you to decide which one is better for your needs.
3M PAPR welding helmets are notorious for their quality. In fact, I know many guys who swear by them and would never even try other systems.
The 3M Speedglass G5-01 is their heavy duty model meant for industrial use. This means high heat and grinding are everyday things and this helmet is designed for it.
There is no "light shade grinding here". Instead, you just lift the ADF cover lens and use a clear grinding shield. This is generally a way to go when grinding because you can't forget to push a button to turn off the grind mode.
This welding helmet has a shade range of 8-13 with an option of shade 14 with ADF G5-01VC and supports a tack welding mode. This mode uses an intermediate shade level 5 during the light transition modes when you are tack welding and, as a result, your eyes will feel much less strain.
The 3M's natural color technology mode lets a wider color spectrum through the filter lens and your image becomes much clearer. Pair this with a big viewing area of 104 x 170 mm and you will have a premium welding experience.
However, the clear protective visor in front of the ADF lens can sometimes skew the light transmission and interfere with the image quality when welding and using certain kinds of ambient shop lights.
The powered air purifying respirator is one of the best in the industry. While it does have a lower airflow rate than the Optrel's above, it also uses a HEPA level filtration and it's considered one of the best solutions for heavy-duty industrial hazardous fumes.
However, the best part is its ability to stack the filtration system for extra safety. You can add additional filters depending on your needs and the job at hand. These additional cartridges can protect against certain organic vapors, acid gases and even prevent nuisance odor.
That's why 3M's powered air purifying respirator is one of the best on the market. It's also one of the most expensive ones, so unless you really need these features for compliance, you might want to look at Optrel above or other options below.
The battery will last you about 10-12h depending on the airflow rate settings but if you add the additional filters, you might get less than 6h of use. Like with most Li-ion batteries, you can expect about 500 cycles before the battery starts showing significant signs of wear and tear.
What both Optrel and 3M are missing is appropriate protection for the hose that supplies the air and the connector on the back of the welding helmet. These elements are sensitive, made of plastic and any damage will render them non-compliant and expose you to dangerous welding fumes. The Miller and Lincoln helmets below tackle this issue, so let's get to it.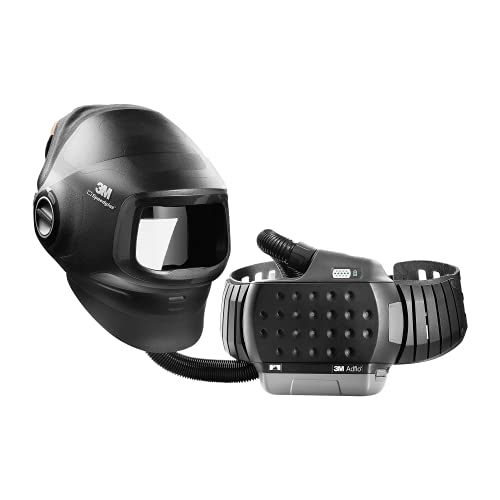 3M Speedglas Heavy-Duty Welding Helmet G5-01 w ADF G5-01 and 3M Adflo High-Altitude PAPR Assembly,...
The G5-01 welding filter features 3M Natural Colour technology which makes the filter view seem lighter, more detailed and colourful. Auto-ON/OFF.
Speedglas welding filter G5-01 offers variable dark shades 5, 8-13 and tack welding comfort mode. May be utilized for most types of arc welding.
The big (104 x 170 mm), clear protective visor is curved, with excellent views up, down and peripherally.
For more control over your comfort, the innovative G5-01 helmet airflow optimization system lets you direct the airflow to either your face, visor or somewhere in-between.
Last update on 2021-09-19 / Affiliate links / Images from Amazon Product Advertising API
Pros & Cons Summarized
Pros
High quality True Collor View
Lightweight
Premium brand
Flip up for grind mode
Comfortable
Excellent build quality – made to last
HEPA Filter – TH3
Stackable filter design
Lound alarm noise
Durable battery
Cons
No protection for sensitive PAPR elements
Expensive
Not enough control over the air distribution
Features
Welding Helmet:
Shade Range: inactive: shade level 3, active: DIN 8-13 (14). Choosing the ADF G5-01VC version will give you shade 14.
Arc sensors: 4
Viewing Area: 2.8 in x 4.3 in.
TIG rating: less than 1 amps. Combine the large view area with high TIG sensitivity and you get a perfect combo for precision work.
Weight: 34.4 oz. (975g)
Grind Mode: Flip up. With the flip up grind mode and an exceptionally wide grind protective lens you will almost feel like you are not wearing a helmet at all.
PAPR:
Protection level: HEPA filter, TH3 (EN 12941)
Noise: max. 80dbA
Weight: 3.6lb or about 1.6kg. Same weight as the Optrel's PAPR unit but the battery lasts about 6h less.
Battery Life: Up to 12h
3. Miller Electric T94i-R PAPR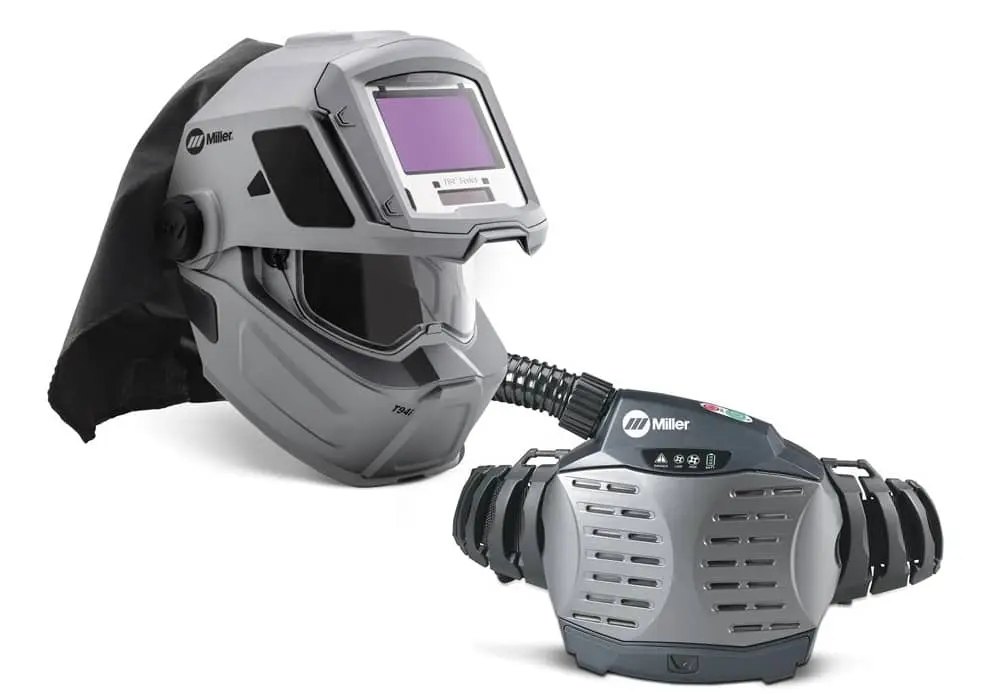 Miller's PAPR solution is very popular and also deserves to sit among the best. It isn't easy to choose between the 3m, Optrel and Miller. They are all great in their own ways.
However, Miller has a few issues that I find troublesome like a very high price and difficulty accessing the inside settings. Things like adjusting your sensitivity, shade level and changing the mode are handled on the inside and the helmet is very crowded because of the airflow system, guarders and headgear. Even headgear adjustment is difficult, so I believe that Miller has a place to grow in their future iterations of this design.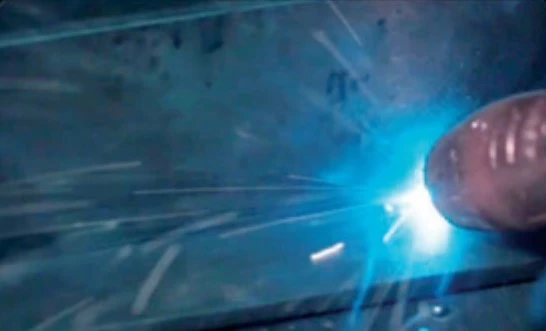 Despite that, this is a VERY good welding helmet. It offers phenomenal light transmission, beautiful looks (I know, I know, it's not that important, but it's true), excellent visibility + optional side shade 5 view areas for a panoramic view, lift up for grinding shield etc. There are too many positive things to squeeze into a review like this one. We should focus on its PAPR system, but let me tell you a bit more about the hood first.
You get Miller's X-mode which is a significant jump in arc detection technology from using sensors. The X-mode uses an electromagnetic radiation detecting mechanism to detect arc specifically. This means that the auto darkening filter won't go off from the shop lights or the sun. This offers a much less annoying welding experience. As a welder, I wish all helmets had something like this.
This respirator welding helmet also uses a HEPA filter and it's OSHA-approved. It's meant for use in extreme welding environments and the filter can remove up to 99.97% of contaminants. There is also an option to add an additional nuisance organic vapor pre-filter, but I imagine this would reduce the battery life.
Speaking of that, this respiratory protection system comes with two batteries out of the box. This can practically give you unlimited welding time because you can charge the other battery while working with the one in the unit. The battery can last about 8 hours while the charge time is about 3 hours.
The unique aspect of this PAPR system is the air distribution. Miller's dualtec manifold system produces a much better airflow distribution and reduces neck strain and fatigue. Since the dualtec system sits flat and comfortably in line with the neck and upper back area, you won't have to perform any difficult movements because your mobility won't be restricted by it.
This powered air purifying respirator has a six-point distribution system. As a result, you will have significantly better control over the airflow inside the helmet. This means that your eyes and nose don't have to go as dry as with the other systems. That's the best selling point of this PAPR system overall.
Thanks to their adjustable air vents and dual airspeeds, Miller has created the most adjustable air distribution in the helmet so far.
Finally, the air hose and the back of the head area where everything connects with the helmet are protected with FR-rated material. These covers are easily replaceable if they get damaged and they will protect the sensitive equipment parts from sparks, slag, and other heated debris.
Last update on 2021-09-19 / Affiliate links / Images from Amazon Product Advertising API
Pros & Cons Summarized
Pros
Excellent True Collor View
X-Mode
Premium brand
Flip up grind mode
Side windows
Very Comfortable
Excellent build quality
FR protection for sensitive PAPR elements
HEPA Filter – TH3
Dualtec system – Superior air distribution
2 batteries included
Powerful motor
Lound alarm noise
Cons
Expensive
Difficult to adjust settings on the inside of the helmet
Features
Welding Helmet:
Shade Range: inactive: DIN3, active: DIN 8-13. Side windows have a fixed shade of 5. They are optional so you can close them if you needed.
Arc sensors: 4. While Miller makes some of the best sensors on the market, its X-Mode is really what makes the "arc deteciton" the best on the market.
Viewing Area: 9 sq. in
TIG rating: less than 3 amps
Grind Mode: Flip up
PAPR:
Protection level: HEPA filter, TH3 (EN 12941)
Flow rate: maximum 215l/min
Weight: 2.2lb or about 1kg. The weight of this unit is much lighter than that of Optrel and 3M but it has a significantly weaker battery.
Dimensions: 203 x 216 x 83 mm
Battery Life: 4-8h. While the battery doesn't last very long, it charges quickly and you get two batteries in the package.
4. Lincoln K3930-1 PAPR with Black Viking 3350 Welding Helmet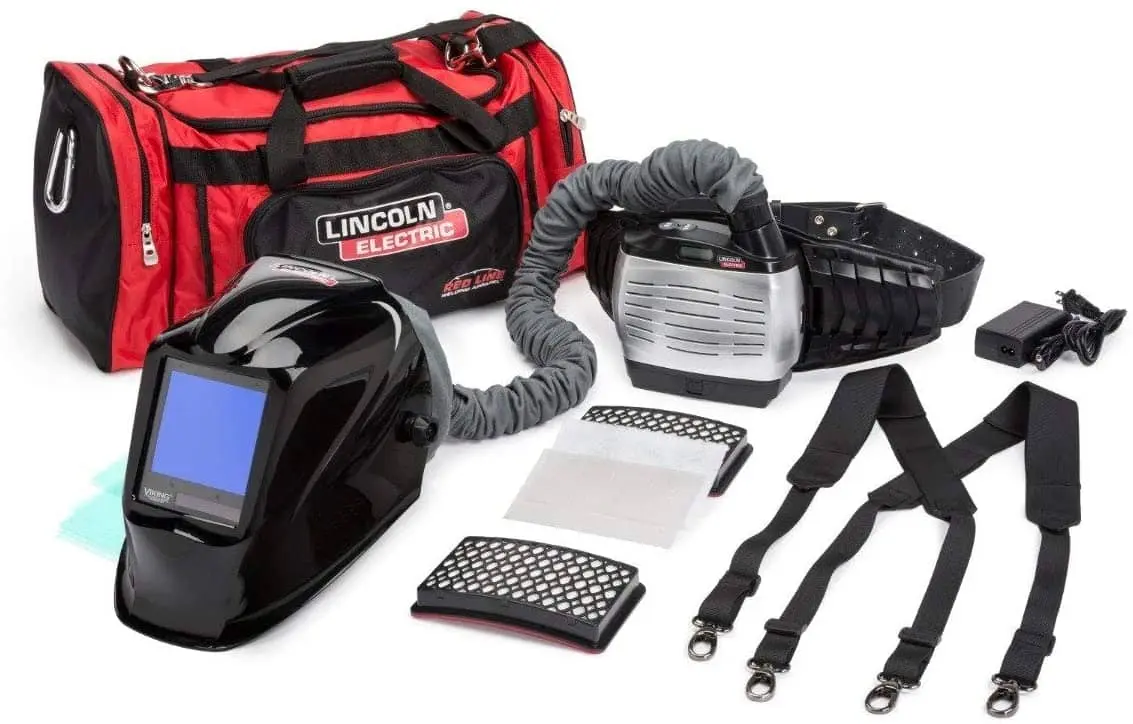 Lincoln's Viking 3350 is one of the most widely used welding helmets in the welding industry and you can get the PAPR air intake system version too.
The Viking 3350 is a simple-to-use and very effective hood with a high-quality auto darkening filter. It has a huge view screen with Lincolns' 4C lens technology. This means you get excellent optical quality with a high quality color and image transmission.
You won't get any other fancy features, but it does come at a lower price. Additionally, since this welding helmet is so widely used, you can find spare parts for it everywhere in the US. That's a big plus because not all of us are keen on stockpiling the replacement lens in advance.
Another big con is the internal grind mode control. Considering that PAPR systems are a bit of a hassle to put on and remove, you might not want this welding helmet if you have to grind a lot.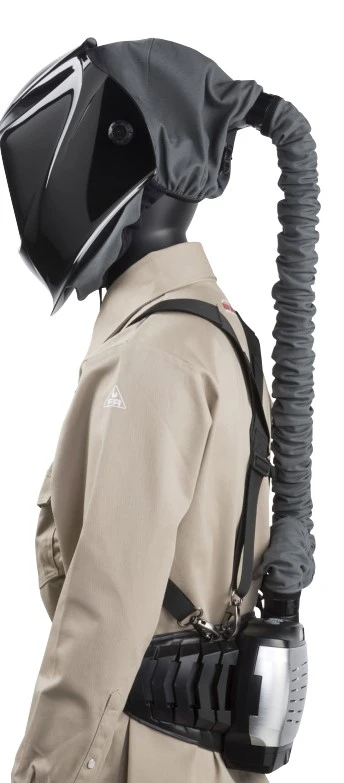 The PAPR system is using a TH2 HEPA filter that's OSHA approved. It is one of the best in the industry and it should pass most of the regulatory compliance tests. Their welding respirators are EN12941 approved.
While this entire setup is usually considered as a mid-level premium PAPR system that's affordable, you should definitely check the price of the Optrel PAPR welding helmet setup again. For a very similar price, Optrel offers a better welding helmet and a PAPR system that's similar in performance.
On the other hand, Lincoln's PAPR system allows for better airflow management inside the welding helmet. For example, you can adjust the airflow away from the eyes to prevent them from going dry.
The Lincoln offers a Flame Retardant protection for the hose, just like the Miller's system but it seems to be a bit of better quality. This may be subjective but I feel like the back of Lincoln's helmet has more tightly closed protection from sparks.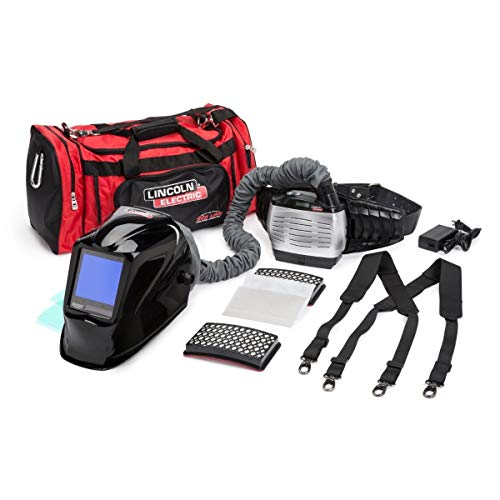 Last update on 2021-09-19 / Affiliate links / Images from Amazon Product Advertising API
Pros & Cons Summarized
Pros
Very good True Collor View
Premium brand
Very good build quality
FR protection for sensitive PAPR elements
HEPA Filter – TH2
Adjustable air distribution
Powerful motor
Lound alarm noise
Cons
Expensive considering other options on the market
internal grind button
Features
Welding Helmet:
Shade Range: active: DIN 5-13. A consistent high quality ADF filter with a 1/1/1/1 optical class.
Arc sensors: 4
Viewing Area: 95 x 85mm
TIG rating: less than 2 amps
Grind Mode: internal button, DIN3.5. Considering that this is a 1/1/1/1 optical rating helmet, its not supposed to have a grind shade lower than 4, so a 3.5 is a great achievement by Lincoln.
PAPR:
Protection level: HEPA filter, TH2 (EN 12941). TH2 offers significantly less protection than TH3 found in other helmets in this buying guide. TH2 is also very good but not for the most dangerous envriorments.
Flow rate: maximum 210l/min
Weight: 2.2lb or about 1kg
Dimensions: 203 x 191 x 76 mm
Battery Life: 8h. This PAPR unit is lightweight considering that it offers 8h of battery life.
5. Jackson Safety Lightweight, Belt-Mounted Airmax Elite PAPR System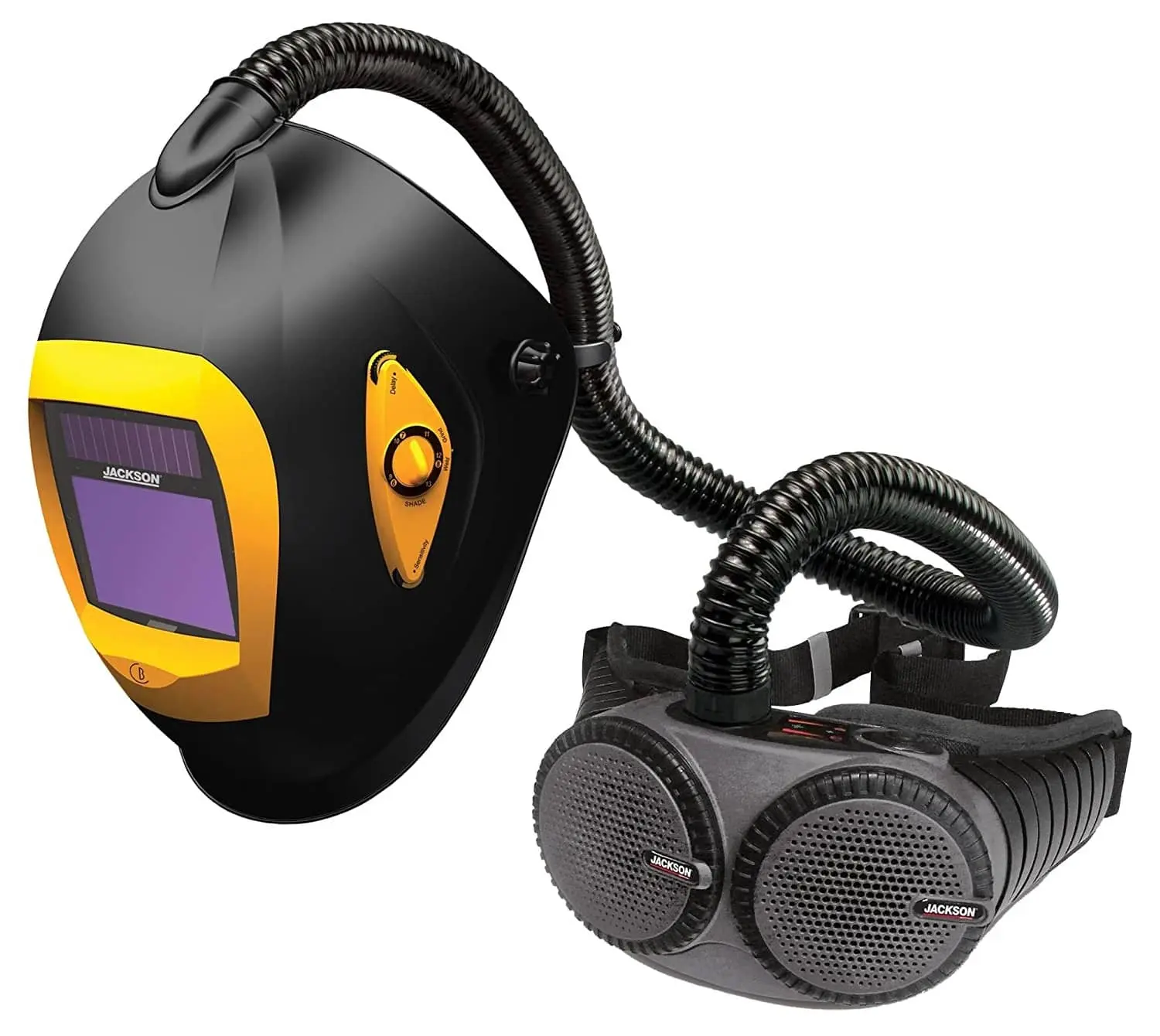 Jackson Safety is another brand offering a decent powered air purifying respirator system. They are affordable and sit in a range similar to Optrel's and Lincoln's system above so it's up to your preference which one you will like the most.
The welding helmet has a very large viewing area with an optical class of 1/1/1/1, meaning that you will get the best optical quality, but not necessarily the highest color transition like what Optrel or Miller offers.
It uses external controls for shading, sensitivity, and the grind mode. The hood is of good quality and has a shade range of 9-13 with DIN4 for the grinding mode. While this is an industry standard, helmets like Optrel, Miller and 3M above offer a better solution for the grind mode.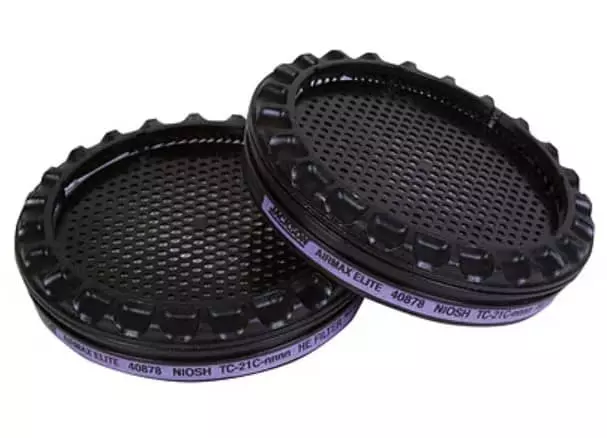 The powered air purifying respirator uses a HEPA filter and it's EN 12941 which means that it will meet the compliance needs.
The battery life is pretty good with 8h of battery use. Unfortunately, the battery life is only 300 cycles which means that it's most likely using outdated Li-ion chemistry. One possible good reason they have for it could be that they needed chemistry that can output more power. I am unsure of that, but I wish it could last for 500 cycles like with other welding respirator models above.
This respirator welding helmet also has FR protection, but for the hose only, leaving the back of the head and connection with the hose vulnerable to damage. Depending on the welding process and the welding position, this could be troublesome.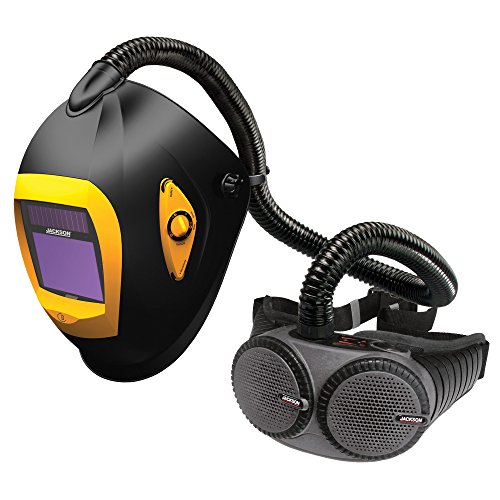 Jackson Safety Lightweight, Belt-Mounted Airmax Elite PAPR System with BH3 ADF Welding Headpiece,...
System: Powered Air Purifying Respirator (PAPR) System with BH3 ADF Welding Helmet protects from the respiratory dangers of welding fumes and heat stress
Features: BH3 Welding Headpiece comes with an extra-large 3.78" x 2.70" viewing area, variable auto-darkening filter with 1/1/1/1 optical classification, and a flame-retardant flexible face seal that...
Benefits: Airmax Elite PAPR includes a dual-speed blower (160 lpm and 210 lpm) that maintains constant airflow regardless of battery level; Three-layer filter provides NIOSH approved HE filtration...
Battery: Rechargeable lithium-ion battery provides up to 8 hours of power and a "Smart" battery charger indicates when charging is complete and does not overcharge; Audible & vibrating alarms signal...
Last update on 2021-09-19 / Affiliate links / Images from Amazon Product Advertising API
Pros & Cons Summarized
Pros
Premium brand
Extra large view area
Excellent build quality – helmet is rated for high impact AS1337.1
Lightweight
FR protection for sensitive PAPR elements
HEPA Filter – TH3
Adjustable air distribution
Powerful motor
Lound alarm noise
Cons
Expensive considering other options on the market
Battery cycle life is rated for just 300 cycles.
Features
Welding Helmet:
Shade Range: active: DIN 6-13. A high quality ADF filter with a 1/1/1/1 optical class.
Arc sensors: Dual sensors with an intelegent sensing technology. The sensors have an increased ability to detect a welding arc even if the surrounding area has other light sources.
Viewing Area: 3.78″ x 2.70″
Weight: 28.2 oz. (800g)
TIG rating: less than 1 amps
Grind Mode: External button, DIN4. The shade of 4 is a standard to expect from a grind mode but I would like to see better from an expensive piece of welding equipment.
PAPR:
Protection level: HEPA filter, TH3 (EN 12941).
Flow rate: maximum 210l/min
Weight: 3.3lb or about 1.5kg
Dimensions: 228 x 127 x 65 mm
Battery Life: 8h. The battery life is good considering the size of the unit. But its a bit more heavy than I would like it to be. Optrel is just 100grams heavier but it has a much higher battery life. However, Jackson offers the thinnest unit yet with just 65mm of thickness.
Powered Air Purifying Respirator – PAPR Helmets Buying Guide
The reviews above were written with the assumption that you already know how to choose your welding respirator system. Most welders will already know how to do that because if you are considering a PAPR system, you are already working, so there is no need for me to address you as a total newbie.
However, if you are unsure or still need some additional help, the buying guide below will let you know about some things you might overlook.
Did you know that you can experience the PAPR system benefits even if you are a small-time welder? Maybe you weld in your shop or do some gigs here and there and you don't use any sort of solution for harmful welding fumes.
A regular welding respirator will be sufficient for fumes produced in such scenarios, but if you use a powered air-purifying respirator, you will have a more comfortable welding experience and your health will not suffer long term.
The Welding Helmet Selection
Don't neglect the welding helmet in a PAPR system. Both your helmet and the powered air system have to match your needs and work demands because they are essential protective equipment.
The welding helmet should be of lighter weight, with as high optical rating as possible, preferably with some of the true color systems (especially for a professional welder), a large viewing area, a lift-up visor for the grind mode or an external button, as many arc sensors as possible (minimum of 4) and be of high-quality build.
You can read our entire guide about selecting the best auto darkening welding helmets on the market and then come back here and apply similar principles for the respirator welding helmet selection.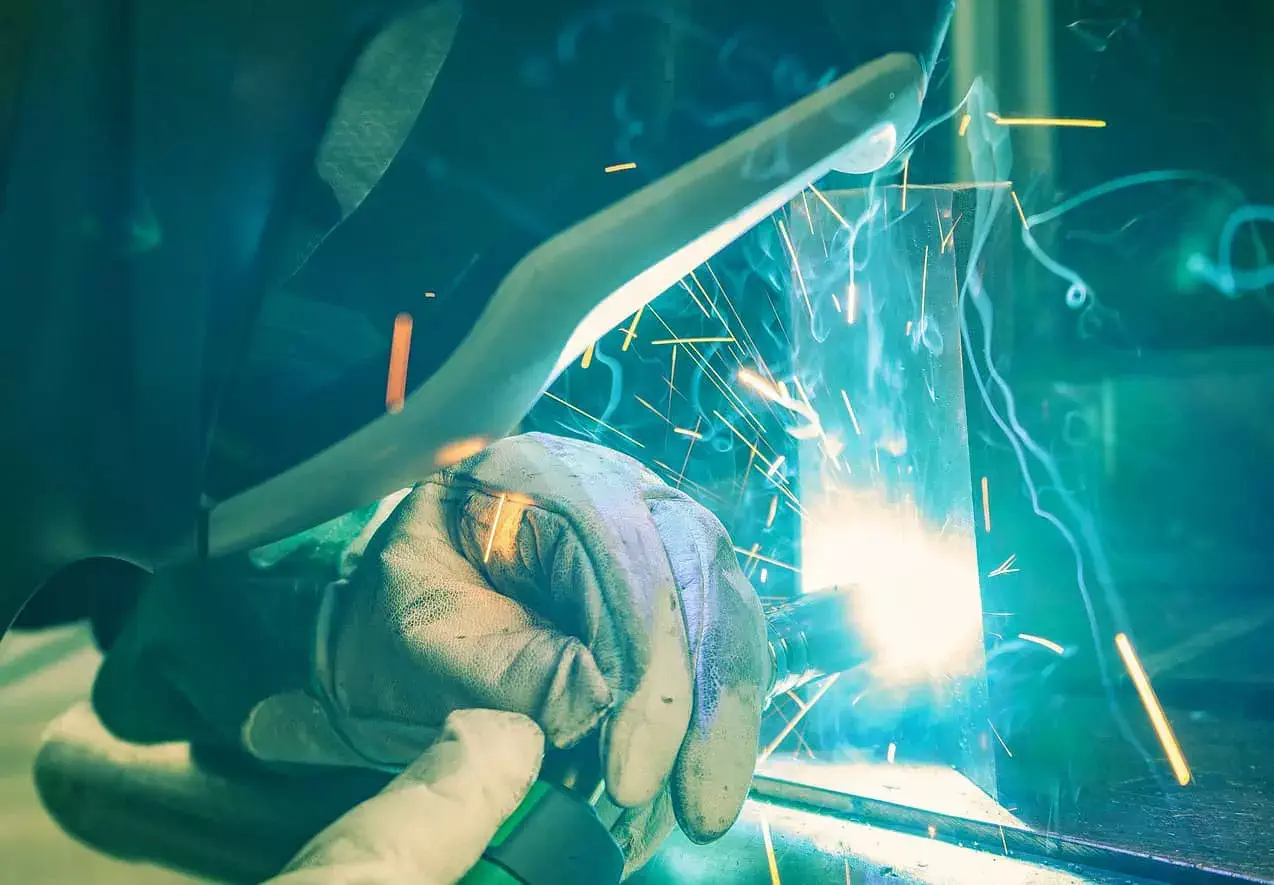 TIG welding
If you do TIG welding then you must get a helmet that's rated for low amp TIG. Almost all helmets reviewed in this article are TIG rated but some have higher sensitivity for amperage than others. Look for the lowest TIG rating possible. Less than 1 amp arc detection is ideal.
The Hazards You Are Working With
Depending on the metals you are welding and the available ventilation, you may be able to work without the powered air-purifying respirators and use a regular mask respirator instead.
However, if you are working with more dangerous metals or limited ventilation, you will need a PAPR helmet system for complete protection.
PAPR power system can protect you from dangerous compounds like chrome (III) and chrome (IV) aka hexavalent chromium compounds, oxides like cadmium, titanium, nickel, copper, aluminum, lead, iron, cobalt, molybdenum and other harmful particles.
A HEPA TH3-certified filter is the best you can get and it should meet all of the compliance needs.
If you need additional protection, you might need a stackable filter to get maximally clean air free of organic vapor, acid gas and odor nuisance. However, you should know that the PAPR should never be used only with OV/AG or odor nuisance filters. It is imperative to use them in conjunction with a HEPA filter for toxic fumes.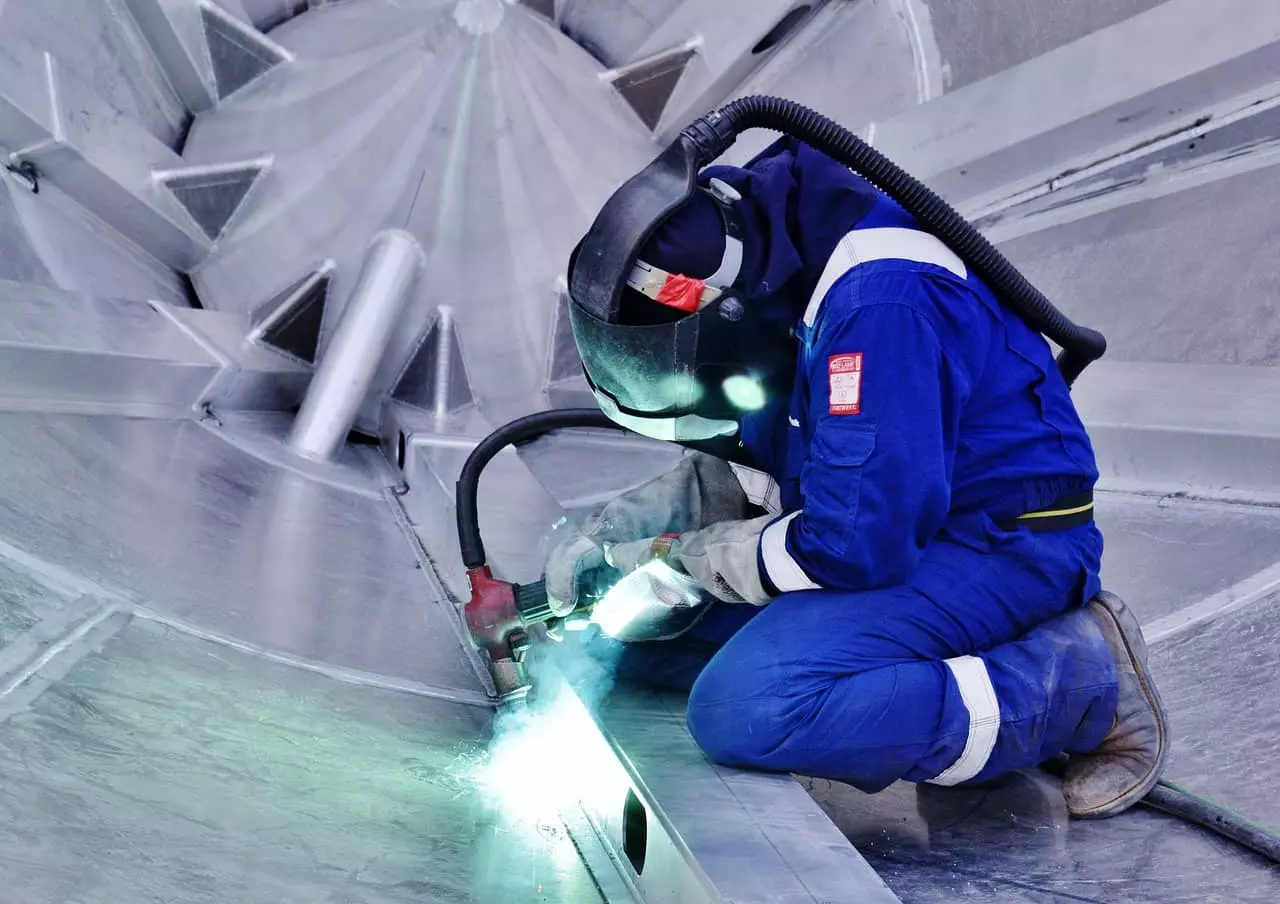 Important Things You Should Know About PAPR System Elements
If you want to choose a proper ventilation system like PAPR, you should understand its individual elements.
Otherwise, you could experience a buyer's regret of about $1500-2000. We don't want that to happen, right?
The Mask
Mask is basically your welding helmet with the addition of synthetic cloth that makes a sealed enclosure around your neck and back of the head area.
This "mask" has a positive pressure on the inside because the filtered air is being pumped from the respiratory system unit and this means that the outside harmful fumes can't enter through the tiny crevices around your neck. But, let's be honest here, the cloth is not going to make a 100% seal around your neck.
It's the positive pressure that keeps you protected.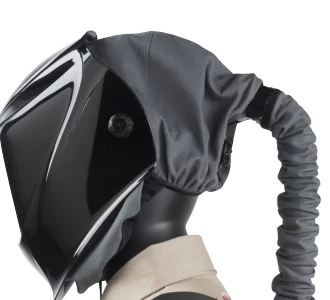 Air Supply System
The contaminated air is sucked into the PAPR unit, purified from pollutants by going through the filter and then pumped through the breathing tube inside the welding helmet.
The volume of air that is pumped depends on the setting of the PAPR device. Most devices offer multiple settings.
You have the option to go crazy here. Bear in mind that you may not use high volume air supply all the time. Still, the device should be able to pump out high volumes in case you are working with particularly dangerous material and you want to increase that positive pressure as much as possible.
The breathing hose that connects the unit and the welding hood has to be in pristine condition. There are multiple ways the connection is made between these elements and the common one is the ring connector. This ring must not be damaged and the hose itself can't have any punctures.
This hose is made of plastic in all of the models on the market. Some models offer Fire Retardant cloth as protection which is a big plus. If the hose gets damaged, you will need to buy a new one and in most cases, you can't use a hose from another brand, especially if you want to stay compliant.
I advise only going with HEPA filter devices. All of the devices in this article use it so you are covered there.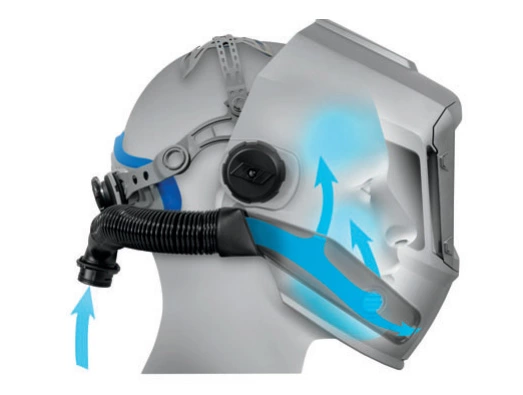 The Battery Power
All of these systems use lithium-ion batteries which is expected in today's day and age. However, not all lithium-ion batteries are made the same.
The Li-ion is actually the name for a group of batteries and there are multiple subcategories. Have you noticed how one of the welding hoods above came with a PAPR that can be recharged only 300 times? Some Li-ions can be recharged more times than others. Most of these systems don't really disclose the actual chemistry inside the battery pack, but we should pay attention to the cycle count. I don't advise getting a system that has less than 500 cycle counts for the battery.
Also, this is an arbitrary number. It will depend a lot on the usage, the ambient temperature when the device is working and when the battery is being charged and how low you discharge the battery. It's best if you never drain it down to zero.
This means that you should get something like the E3000 PAPR system from Optrel because the rechargeable lithium-ion battery offers 18h per charge. That way, you will not be draining it too low before each charge and the battery life will be much longer.
Additionally, the lithium-ion batteries must provide a steady voltage output even when running low. If the voltage drops, then the electric motor will have less power and the airflow will suffer. Only quality brands will source quality cells. Optrel, Miller, Lincoln, 3M and Jackson are unlikely to cheap out in this area.
The Alarms
All of the systems above offer minimally required sound alarms. These go off when the filter is overly saturated with contaminants and needs to be replaced, when the battery is low and if there is any other problem.
The alarms need to be loud enough for you to hear them. Some systems like Optrel and Miller are very loud and Miller even offers vibration in case you don't hear the alarm.
Conclusion
If you want to protect yourself from dangerous fumes, especially in tough environments, the PAPR helmets are irreplaceable.
When it comes to the quality of the welding helmet itself, I can't find any faults with Crystal 2.0 from Optrel and their E3000 PAPR system is one of the best on the market. Moreover, it's one of the most affordable in the article. In my opinion, it's a definite choice for most of you out there.
However, if you need a more specialized approach with stackable filters and chemical fumes, the 3M Speedglas is the industry standard for heavy industrial demand.
Miller is outstanding in all areas and gives you the X-mode as well. There is a little bit of a hassle with its internal settings, but the quality of the hood and PAPR make up for it.
Lincoln and Jackson safety might offer less in terms of auto darkening filter features, but they are very popular and Lincoln is especially good in terms of spare part availability.
Ultimately, you have to choose a welding helmet and a system that will satisfy your workplace safety needs, but there is still a lot of room for personal preference.