Having a reliable welding helmet is everything that every welder needs. However, most novice welders have the opinion that passive welding hoods are a thing of the past. Actually, passive welding helmets are still being used even with new, modern and more comfortable ones being introduced in the industry.


What every experienced welder need is reliability. Sure, Auto-Darkening Helmets have their own specifics. But what if the ADF gives up on you when you need it the most?
This is why experienced welders turn to Passive Welding Helmet and why many beginners should start using them first.
Let's see which are some of the top passive helmets currently available!
Overall Best Passive welding helmet – Jackson Safety 14975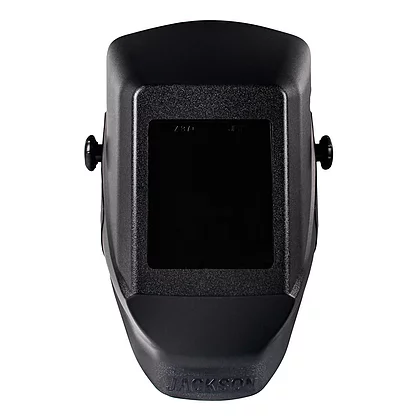 As our prime choice of welding helmets we would like to single out the Jackson Safety 14975, also referred to as the "HSL-100" or simply as "The Shadow." It is a really light piece of safety equipment aimed for comfort.
What this helmet primarily offers is a narrow style enabling you to weld in tight spaces. It even has an extended front which is meant to give added defense from sparks and slags or any other hazards that may occur while arc welding. The Jackson Safety Helmet also comes with a shade 10 polycarbonate filter and is hard hat adaptable and AQDF adaptable.
You should also know that this particular helmet is ANSI Z87.1, is fully CSA Compliant and is also CE Marked. Consider Jackson Passive Welding Helmets for your needs.
Best Passive Welding Helmets Review
We have prepared for you a list of some of the best Passive Welding Helmets that money can buy. We hope that a short review of each one will help you understand how good they actually are and what is their advantage as opposed to some modern versions.
1. Jackson Safety 20508 Passive welding helmet
Great Value Passive Helmet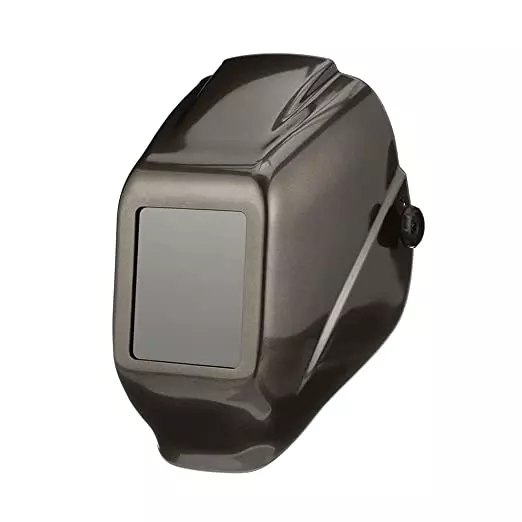 This is a Jackson Passive Welding helmet 20508 that is perfectly suitable and priced for any kind of a welder. It uses a shade 10 polycarbonate filter, allowing a clear and unobstructed view of the weld puddle while working. Besides a clear view, it is really light and does not create added discomfort nor tension on the head. The hat weighs only 6 oz, making it perfect to move.
The design of this Jackson Safety helmet is sleek and balanced, helping you in a variety of jobs. It possesses a Hydraflex shell, which is pretty durable, and one that provides added flexibility during work. Note that this passive welding helmet is both hard hat adaptable (using 187-S) and auto-darkening filter adaptable. It comes with standard shade 10 filter cover plates.
Pros
The Hydraflex shell
Hard hat adaptable
Comfortable
Lightweight
Big view area
Cons
Not great for really hot stick or flux core use
2. Jackson Safety 14975 Passive welding helmet
Budget Alternative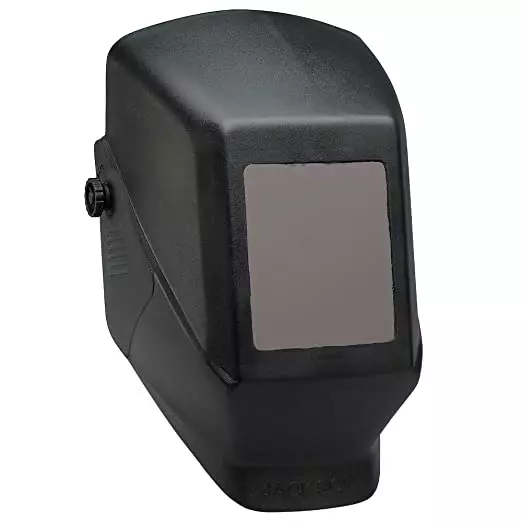 Many people find the Jackson Safety 14975 helmet the perfect one for both starters and experienced welders as it suits everyone's needs. And an old school welding hood that has an affordable price for all sorts of welders. It has a narrow shell and an extended front for added safety, protecting the neck are from slag and other physical hazards. It also looks pretty good with a very solid black style.
The Jackson Safety 14975 helmet is both hard hat and auto-darkening filter adaptable. The shell of the helmet is also narrow, allowing work in tight spaces. It comes with a standard shade 10 filter plate. Furthermore, it meets ANSI Z87.1 – standards for arc shielding and is CSA compliant.
Pros
Affordable and great for beginners
Protects the neck too
Hard hat adaptable
Comfortable
Lightweight
Big view area
Cons
Not great for really hot stick or flux core use
3. Fiber-Metal Pipeliner Fiberglass Passive Welding Helmet by Honeywell
Passive Helmet For Pipe Welders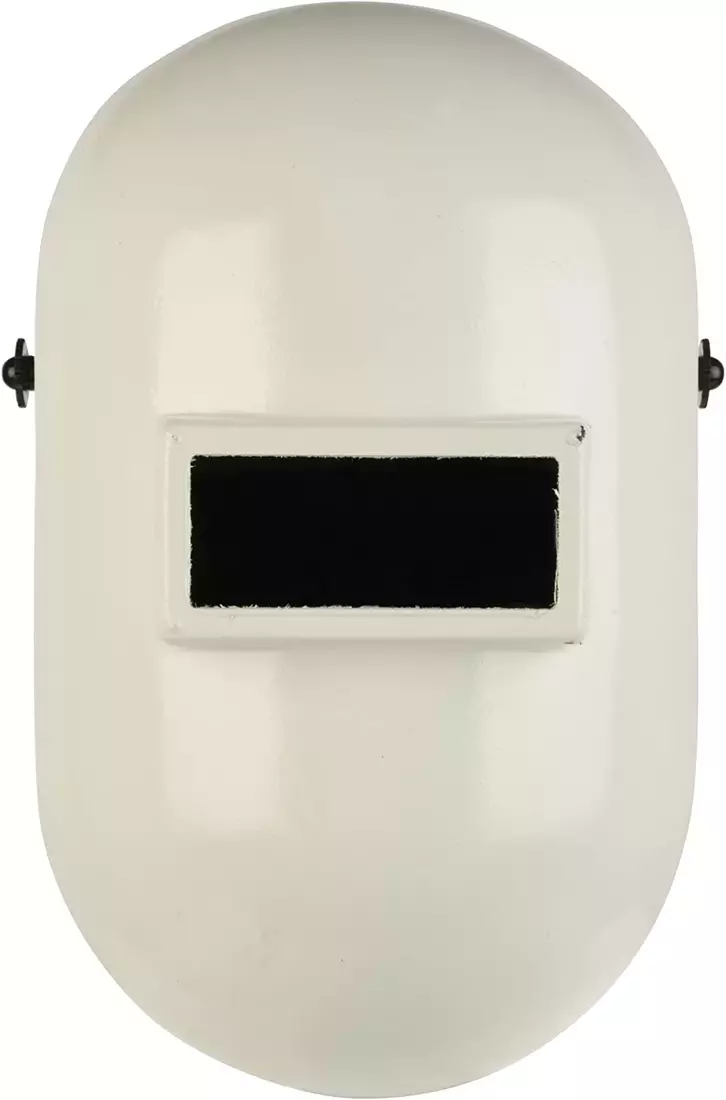 Honeywell Fiber Metal Helmet
The Pipeliner Fiber-Metal welding helmet is a perfect one for pipe welders. It gives you everything that you need to be safe but also more than productive in harsh conditions. This fiberglass welding helmet is characterized by a compact design allowing welders to reach and work in places where it would be hard by using a standard one. To ensure comfortability, it is equipped with a constant-fit rubber headband that you can re-adjust when needed. It also utilizes the help of free-floating arms that are supposed to minimize pressure points for further comfort.
This passive welding helmet comes with a 2″ x 4″ 10 polycarbonate filter plate and a P242 CR-39 clear coverplate. Besides safety and usability, the helmet is very durable. In fact, it is impervious to moisture and is also impact resistant.
Pros
Made of fiberglass
Comfortable with good headgear
Impact and moisture resistant
Deflects sparks
Designed to use in tight spaces
Lightweight
4. Miller Electrics Passive Welding Helmet, Black, Classic, MP-10, 8 to 12 Lens Shade
Brand-name Passive Helmet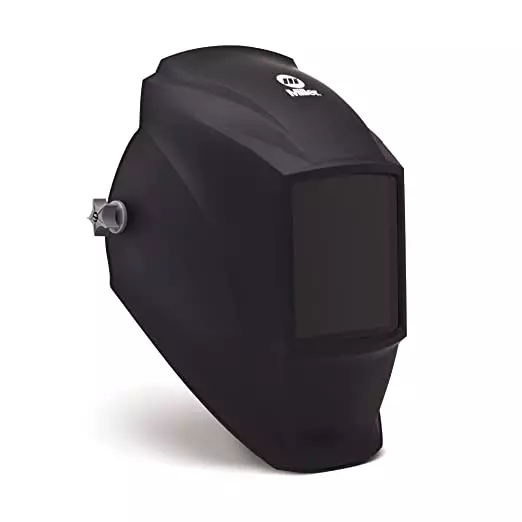 Miller Electric Passive Helmet
Miller Electric classic Passive shade welding helmets have a passive #10 lens which provides great shielding. You can actually upgrade it to an auto-darkening lens if you need it. Furthermore, you can also use the magnifying lens holder as well. It is a lightweight shade 10 welding helmet that weighs only 18 oz (510g), creating less strain during long jobs.
Additionally, the passive welding helmet provided by Miller meets the Meets ANSI Z87.1-2003 (High Impact) standard. More so it is has a hard had adapter accessory for added safety. It meets the ANSI Z87.1-2003 (High Impact) standard. It comes with an industry-standard size filter plate with a viewing area – 4 x 4 in (102 x 108 mm) and a passive #10 lens. Finally, it has an old welding mask style.
Pros
Huge view area
Lightweight and comfortable
Hard hat adapter
Compact size
Great build quality
Cons
Doesn't come with extra lenses
5. Jackson Safety 138-14535 Passive Welding Helmet
Pipeline Welding Helmet Alternative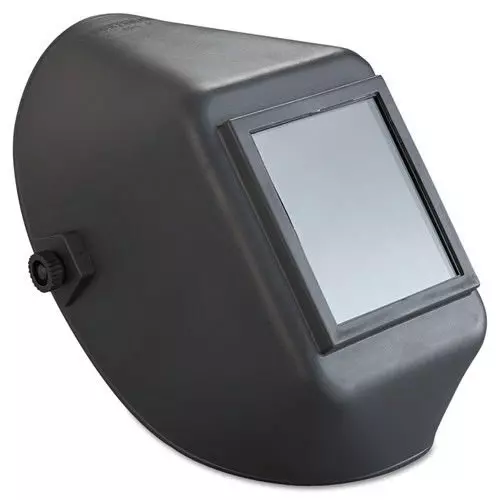 Miller Electric Passive Helmet
This is a very nice Jackson pipeliner welding helmet. In fact, the Jackson Safety 138-14535 passive welding helmet is very versatile in its use. This passive helmet is lightweight, easily washable and more than durable. The Jackson Safety also has a 1.0 x 1.0-inch lens for better coverage and visibility.
This Jackson Safety old welding helmet is really light, only 372 grams. It is 9 5/8 inches wide and 13-5/8 inches long. It comes in Black of course, 951P, 4 1/2″ x 5 1/4″. This type of passive welding helmet is auto-darkening filter adaptable (AV1005VXL only).
Pros
Large view port
Very lightweight
Old school design
Pretty good headgear
Cons
Looks a bit too basic but the beauty is in the eye of the beholder
6. Sellstrom Super Slim Bucket Style Passive Welding Helmet
Super Slim Bucket Style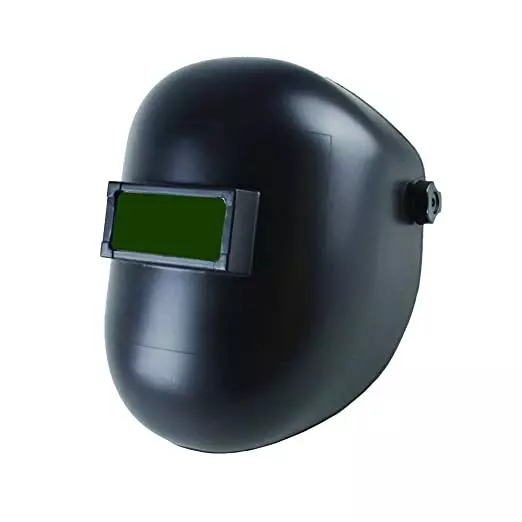 The Sellstrom Super Slim is one o f the best old school welding helmets. It comes with 4-1/4-inches plate width by 2-inches height lift front. The helmet itself is made out of nylon, making it more durable than a standard fiberglass welding helmet. It is very resistant as it is molded from the world's toughest thermoplastic resin. Thanks to the extended crown, users get greater overhead shielding. More than ideal for all sorts of operations.
The Sellstrom flip lens welding helmet comes with a flip lense welding hood of 2″ x 4 1/4″ and a cover plate. Furthermore, for safety, there is the extended head and chin coverage for added safety against welding spatter. It meets ANSI Z87.1 Standards and CUL Certified to CAN/CSA Z94.3. Finally, it offers a traditional "bucket style" design for nostalgic welders.
Pros
Made in USA
Extremely durable
Lightweight
Extended coverage for additional safety
Old school bucket design
Comes in black and silver
7. ArcOne H-0300 Black Hawk Passive Welding Helmet
Lightweight Passive Helmet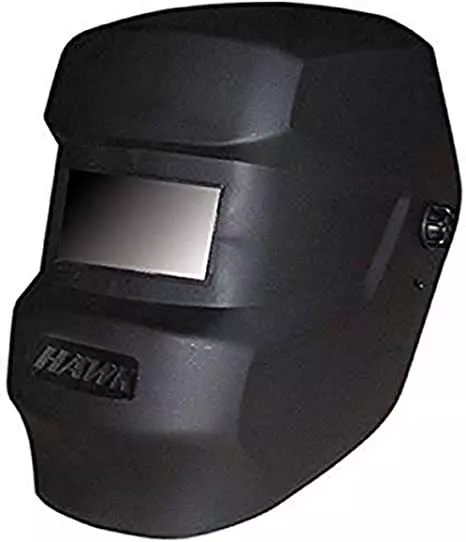 ArcOne H – 0300 Black Hawk passive welding helmet is one of the lightest passive helmets on the market. It offers excellent head, ear, and neck coverage. This Black Hawk passive welding helmet has a perfect shell that is comfortable for all-day use. the idea behind it is reducing welder fatigue and making it easier. These sorts of old school welding hoods come with front changing curved poly-carbonates that greatly enhance the visual quality.
This Black Hawk Passie Welding helmet is actually perfect for general applications. It comes with a "nod-down" that helps to minimize carbon monoxide buildup. Viewing area of 5.25 inches.
Pros
Not heavy
Offers good coverage and protection
Comfortable
Passive Helmet Buying Guide
Passive welding helmet may be an old school welding helmet, but over time their usage has become immensely popular even compared to modern welding helmets.
Namely, these kinds of helmets are cheaper and are a good choice for novice workers both economically and experience-wise.
Starting out with this sort of helmet allows a beginner to obtain much-needed experience.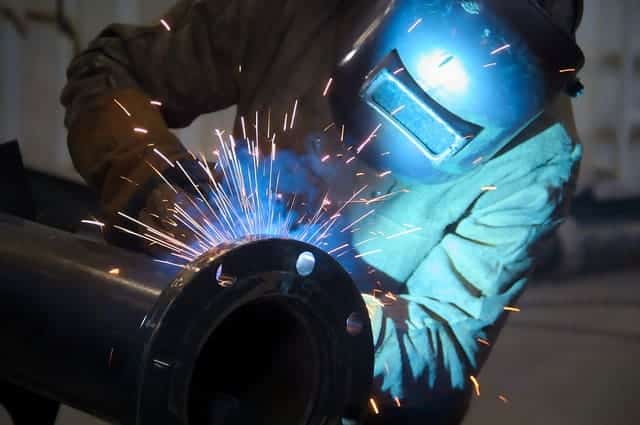 The problem with auto-darkening lens helmets is that you may run out of batteries in the most sever moment. There is also the issue with shadow settings or even with getting flashed. This can result in you damaging your eyes and having unwanted repercussions.
Most of the experienced people use passive helmets throughout their entire careers. Old-school welders don't even want to try the new ones as they are fully satisfied with everything that a passive welding helmet offers.
Here is what makes Passive Welding Helmet great to use.
Comfort
Comfort is one of the main points when choosing a helmet for welding. A comfortable helmet makes a big difference and one needs to pay attention when buying one. Remember, you may need to wear one for the better part of the day.
What you need to look for are the pads that the helmet comes with and the way it clamps to your face. Spending prolonged periods of time working requires you to be comfortable so it does not interfere with the quality of work.
Another important aspect to consider here is the weight. Having a too heavy helmet will make it uncomfortable for your head.
Lens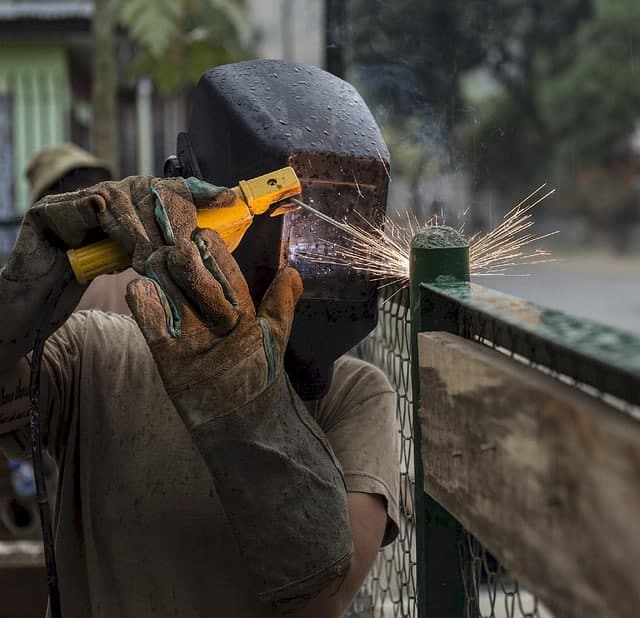 The best and easiest way to differentiate a passive welding helmet is through the lens. Basically, there are two main characteristics of the best passive welding lens – the shade and the size.
A passive helmet usually comes with a10-factor lens. But there are other sorts of lenses that you can swap instead of this one. The majority of helmets have a whole range of shades that you can swap between depending on the work you are doing or personal preferences.
When it comes to the size of a welding helmet, the bigger the lens the better.
Actually, there is not much to improve when it comes to lenses of passive helmets. So increasing the size of the lens allows the welder more moveability due to greater coverage and safety.
Helmet Shape
When it comes to the size and shape of a Passive Welding Helmet, they come in various sizes. Welders can choose based on appearance and size. This is important for the viewing area and also for the comfort of the welder.
When choosing a helmet one should not only look for the appearance of the helmet. Some good-looking welding helmets may not be suitable for working in certain areas, tight spots for instance. This is going to be especially uncomfortable of you knock your helmet somewhere as it is going to be rather painful for you. In this case, choosing a flexible helmet with softer plastic could work much better. It may not look good but it is certainly more practical.
Also, be sure to consider welding helmets that have a good shielding range. These sorts of helmets are much thinner and allow you to squeeze in and finish the job even in the tightest places. You can even fit respirators or hard hats under for better protection.
FAQ
How long do welding lenses last?
A welding lens can last for a very long time, but it mostly depends on the years of usage. They usually last for 7 to 10 years. After that, replacement lenses would be preferable. Make sure to use a protective glass in front of the passive lance because IF you are using your passive welding hood with no protective glass for MIG and Stick welding or for grinding the lens will get filled up with spatter and will impair your vision very quickly.
How do you change a lens on a welding helmet?
Changing a lens of a passive welding helmet is pretty easy and everyone can essentially do it. Sometimes it does vary depending on the type of helmet but the process is usually the same. Find the finger tab near the lens frame and pop it open by applying gentle pressure. Remove the old shade lens. Make sure to remove the protective film from your new lens before putting it in. Remount the lens frame into the mask.
Can you go blind from welders flash?
Not having proper passive helmets or not being careful enough can cause you to welder's flash, or photo-keratitis. This is a condition when a worker is exposed to intense ultraviolet radiation during the welding process. It usually leads to extreme discomfort and temporary blindness. However, in most extreme situations it can lead to permanent blindness. But this can happen mostly after long term exposure or repeated eye damage.
What is the lightest welding helmet?
There are a lot of lightweight welding helmets that you can find. Actually, most of the best passive welding helmets are made to be as light as possible in order to relieve tension on your neck. The best choice would be using a fiberglass welding helmet as they are made from lighter materials. However, sometimes it is best to determine your headgear based on your personal preferences.
Conclusion
This would be our selection of some of the Passive helmets currently available. As you were able to see, an auto darkening welding helmet vs passive ones can be an important aspect to consider. Passive welding is much more reliable. Although technologically advanced, the auto-darkening ones can sometimes give up on your and impair your viewing area.
Consider these important advantages next time when you go shopping for your welding gear.
Ps: If you need more info on what helmet to chose visit this article about other brands and types of welding hoods