Figuring out which TIG torch to buy can be a nightmare.
In today's market, there are numerous TIG torch types and sizes created by different manufacturers designed for various purposes. It is enough to make your brain hurt just by thinking about it.


Nevertheless, picking a good one from a slew of TIG torches can make or break your future project. Based on our research we give you advice on how to pick one for you and also give a reviews of the best TIG torches based on our opinion.
Best TIG Torches Comparison Table
| Image | Name | Specials | Cooling Mechanism | Rated Power | Lead Length | Check Price |
| --- | --- | --- | --- | --- | --- | --- |
| | YesWelder Water Cooled Flexible TIG Welding Torch 25FT 250A | Discount Code: 10% WELDPROS | Water-cooled | 250 A | 25 ft | Check Current Price |
| | Weldtec Speedway SW-320SA-25DX Deluxe | | Water-cooled | 320 A | 25 ft | Check Current Price |
| | YesWelder Air Cooled Flexible TIG Welding Torch 12FT 150A | Discount Code: 10% WELDPROS | Air-cooled | 150 A | 12 ft | Check Current Price |
| | CK FL150 Aircooled TIG Torch Kit | | Air-cooled | 150 A | 25 ft | Check Current Price |
| | Weldcraft 366-WP-20-25 | | Air-cooled | 250 A | 25 ft | Check Current Price |
| | WledingCity TIG Welding Torch | | Air-cooled | 150 A | 12 ft | Check Current Price |
Best TIG Torches Reviews
If you are a beginner welder and are only getting into the welding trade, chances are you are going to spend long hours picking a good TIG torch for you. The problem lies in having so many options these days. This should not be something to complain about as having options is a good thing. But even experienced welders sometimes have trouble picking good features on the TIG torch.
Getting a correct TIG torch, even for practical usage, can take you a long time to get the best results. Many times brands claim that their product has the best features. In reality, there are a whole lot of different things that you need to look at first and. Some people always go for the most expensive piece of equipment selection with a well-known brand stamped on it, which is wrong.
Check out the list of the best TIG torches reviews information and everything we have devised for you.
1. YesWelder Water Cooled Flexible TIG Welding Torch 25FT 250A
This TIG torch from YesWelder is an affordable replacement for the much more famous models Masterweld WP20 25r. But besides not being expensive, it comes with many premium TIG torches features.
One of the features is the fact that this TIG torch handles heat pretty well thanks to its built-in water-cooled torches system.
Heat can be devastating for torches and they wear off after a while, meaning that you will be shopping for a replacement really soon.
But the cooling operation ensures that the torch lasts longer and extends the cool-down period, meaning that people can work longer periods without stopping and not having to worry about the torch overheating.
The YesWelder Water Cooled Torch rated at 250 amps DC @ 100% DC 250 AMP and 100% AC 175 A. It also possesses a 25 foot-long lead which allows you to move about without it hampering your productivity.
Get 10% Off With Coupon: "10% WELDPROS"
Pros & Cons Summarized
Pros
Best for money value water-cooled torch option
Has high amperage output
Flexible head, changeable cups
Long lead
Some decent features, for great price
Great replacement for expensive Masterweld wp20 25r
Cons
Pay attention to cooling lines before welding to avoid leakage
Specifications
Cooling method: Water cooled torch.
Rated amperage: 250 amp @ 100% DC, 175 amps @ duty cycle 100% AC
Head type: Flexible head torch.
Gas line connector: 5/8″-18 RH
Water supply connector: 5/8″-18 LH
Torch connector: 7/8″-14 LH with 45V11 brass Adapter.
Lead length: 25 ft.
2. YesWelder Air-Cooled Flexible TIG Torch Set 12FT 150A
If you want a quality TIG torch without having to pay the outrageous prices that big brands are asking for, then the YesWelder model is a great choice.
This one comes with an air-cooled TIG torches system and a maximum amperage of 150 amps ( torch rated 35% DC 150 amp, 35% AC 120 amps).
You can weld even beyond 150 amps, but it is not advised to do so as the air-cooling system operation is not meant to handle that kind of power.
Nevertheless, with the flex torch head with a gas valve and the 12 FT medium-length cord, you can get into all kinds of positions while TIG welding. However, due to the air-cooling mechanism which is a bit large, it might be difficult to work in tight spaces. Also, the cable is not so long as some other leads so you will have to carry your machine with you around the workshop.
Considering all the features, it is worth investing in the YesWelder Air-Cooled torch as it offers high value for the price you pay for it.
Get 10% Off With Coupon: "10% WELDPROS"
Pros & Cons Summarized
Pros
Best value air-cooled option
Has high amps output
Flexible head, gas valve
Great for workshop and beginners
Welds great, decent materials
30 days return policy
Cons
Cooling method makes torch larger
Specifications
Cooling method: welding torch Air cooled.
Rated current amperage: 150 amp @ 35% DC, 120 amps @ duty cycle 35% AC
Head type: Flex torch head with gas valve.
Power/Gas cable connection: 3/8″-24 RH with 105Z57 fittings Adapter
Lead length: 12 ft.
3. Weldtec Speedway SW-320SA-25DX Deluxe Water-Cooled TIG Torch Set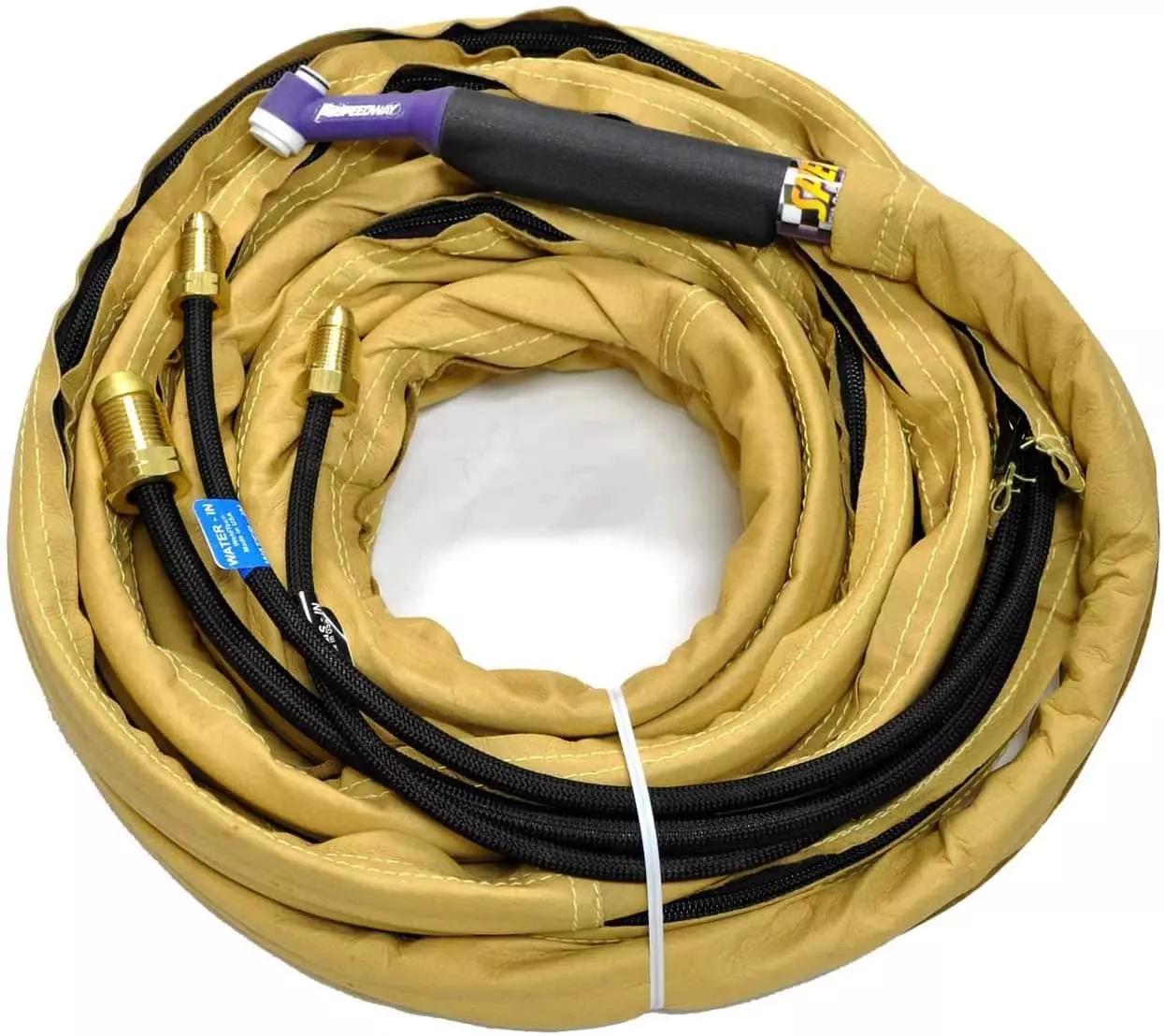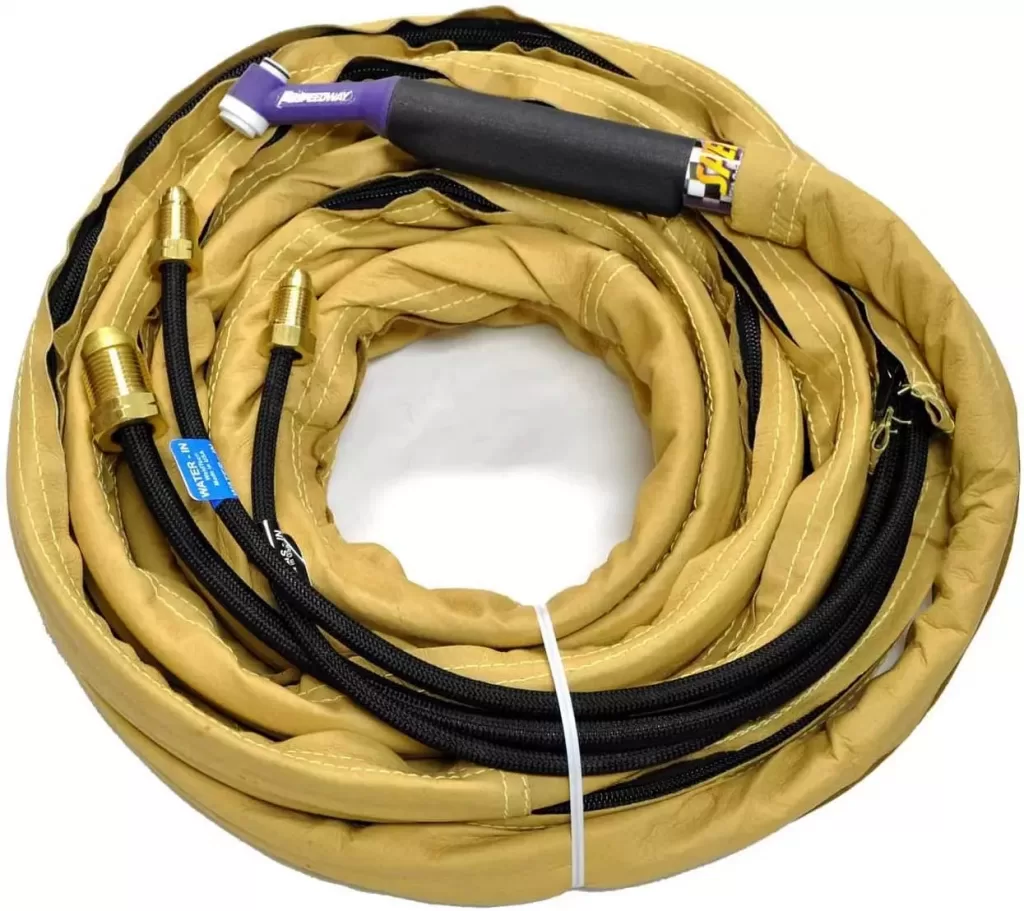 The Speedway SW-320SA from Weldtec is among the best TIG torches on the market.
It is made out of quality materials and has a great design.
The entire package guarantees exceptional performance that can only suit high-quality, pro-TIG welder. Hence the higher price as opposed to some other products on this list.
The SW320SA-25DX Deluxe products have a larger current capacity, due to larger copper conductors used, resulting in being able to use with higher amperages and best performance. The insulation material can even withstand temperatures of up to 930 F.
This is the best TIG torch on the market in terms of maneuverability. Thanks to the 25-foot-long power cable hose, you can move around with your welding machine with ease. The torch also possesses an ergonomic handle giving you ability you to move it at a 360-degree angle and use on any welding projects you want even tight spaces.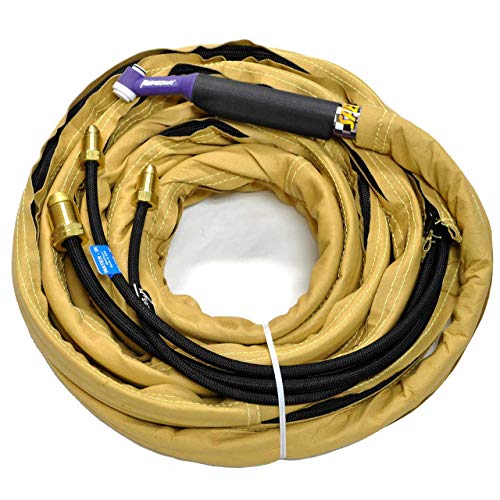 Last update on 2022-10-07 / Affiliate links / Images from Amazon Product Advertising API
Pros & Cons Summarized
Pros
One of the best water cooled TIG torches
Best TIG torch overall, some premium welding features
Has high amperage welding output
Premium quality construction, parts, and accessories
Great cooling mechanism
Lots of quality materials braided rubber hoses cover
Best TIG welding pro-choice
Cons
Specifications
Cooling method: Water cooling.
Amperage rating: 320 amps.
Speed angle: Offset body offers access to difficult weld locations.
Speed nut: High quality hose connectors and fittings eliminate leakage
Construction: Silver brazed copper construction parts and materials offers more heat resistance.
Hose: Modern flexible over braided rubber hoses.
Lead length: 25 ft.
4. CK FL150 Air-Cooled TIG Torch Kit


If you are looking for a premium air-cooled TIG torch, then the CK FL150 model is the one to get. CK Worldwide fl150 products are known for their quality and they make some of the best air-cooled torches on the market.
This one in particular is great for both outdoor and indoor use. It uses a flex lock head and a 12.5-foot flexible lead. That allows working in various positions while the power cable is long enough to reach medium weld distances.
The rated output is 150 amps, which is more than enough for a lightweight welding project's use. Torch allows you to work in various positions as it can rotate in 360 degrees. Furthermore, the ergonomic design of the torch body removes hand fatigue from the picture and also prevents the TIG welder from heating up.
The CK Worldwide FL150 also uses silicone lines which both have high-temperature resistance and also high durability as they can withstand constant tear. Resulting in items lasting far longer weld periods than others. Ideal to use in pipe welding projects.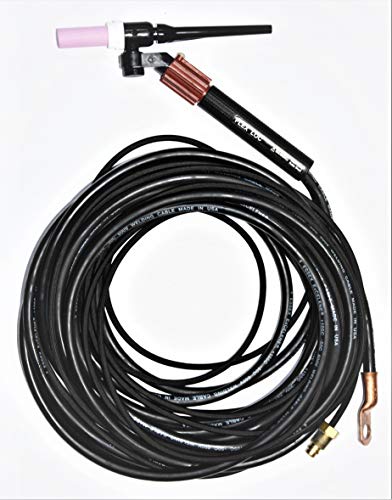 Last update on 2022-10-07 / Affiliate links / Images from Amazon Product Advertising API
Pros & Cons Summarized
Pros
High quality CK Worldwide torch
Lightweight but rigid body, decent parts
Flex lock head
Perfect welding in all positions, grip fits hands great
Some super flexible hoses
Great for pipe welding job
Cons
Manufacturer recommends to warm TIG torch up before bend and use
Specifications
Cooling method: Air cooled torch.
Rated amperage: 150 amps
Head type: Flex lock type torch.
Design: Ergonomically designed to help eliminate welders fatigue.
Interchangeable heads: They allow different tungsten electrode size to be quickly and efficiently changed.
Lead length: 12 ft.
5. WeldCraft 366 Water Cooled TIG Torch Kit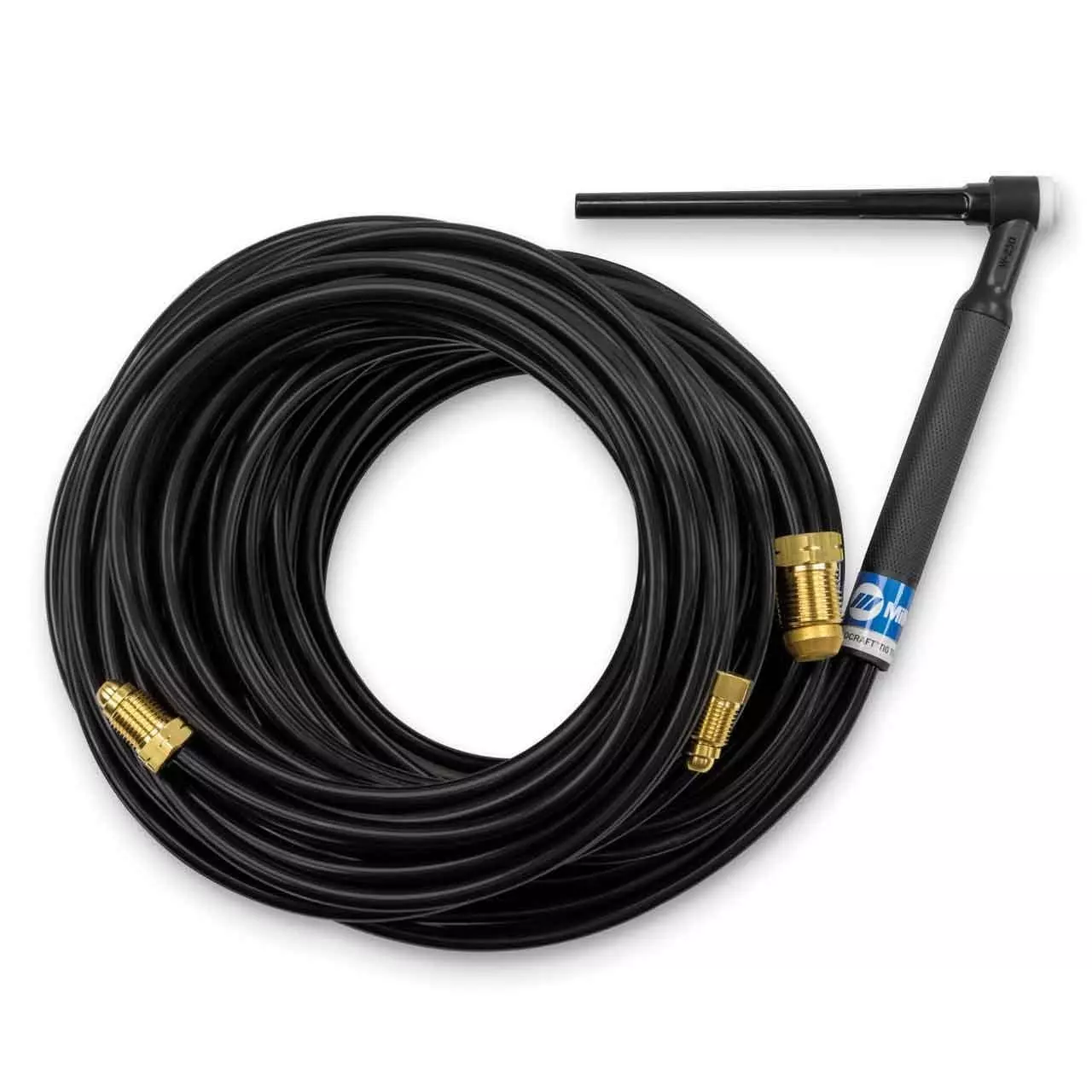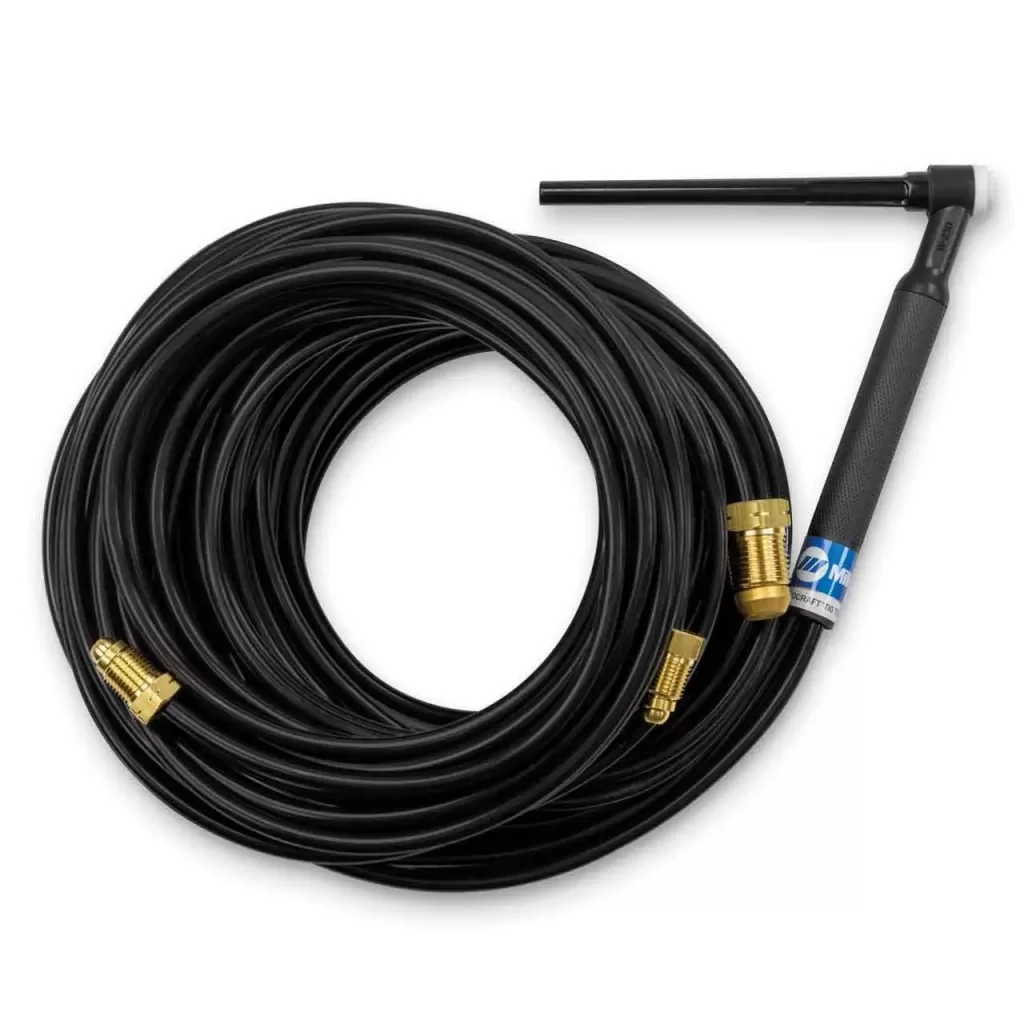 Miller Electric company has taken over the WeldCraft products line and is bringing us the 366 WP20 25r series TIG torch kit.
This is one of the best water-cooled TIG torches in terms of maneuverability, thanks to its size.
It has a slim profile (25 ft.) and is very lightweight (3.85 oz) and combine all of that with a 70-degree angle between the handle and the head users get a premium water-cooled TIG torch.
The compact design allows you to get into cramped places and work without any issues as well as achieve comfort. Working in tight spots is always a problem for water-cooled TIG torches, but not with this one.
Besides flexibility, the machine is pretty strong, being rated at 250 amps. The build is rugged and it makes great use of consumable parts and accessories (cups, caps, nozzle, collet body). Additionally, thanks to the water cooling system it is able to handle heat really well.
Since it is now produced by Miller Electric, the availability of WeldCraft parts and items will be improved as well as customer service and maintenance. This WelcdCraft TIG torch comes with a 1-year-long guarantee and a 25-foot cord. Make sure you protect it from impact and remove excess dirt. With this torch TIG welding is easy.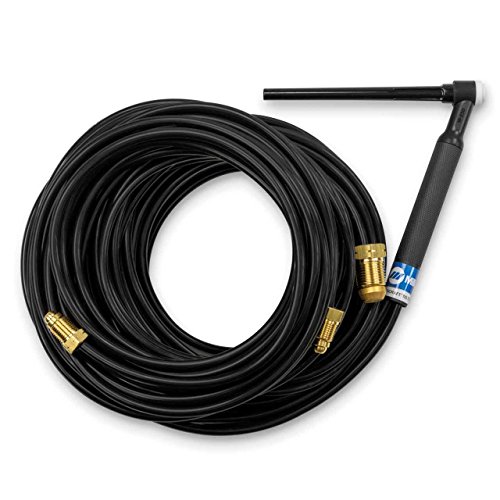 Last update on 2022-10-07 / Affiliate links / Images from Amazon Product Advertising API
Pros & Cons Summarized
Pros
High quality WeldCraft water cooled TIG torch
Slim profile, lightweight but sturdy, nice nozzle cap
High amperage output, for experienced welders
25-foot long lead, great parts, and insulation
Comfortable torch handle elements, nice grip and which reduces hand fatigue
Cons
Fixed welding torches neck
No cable cover that covers hoses on the TIG torch
Specifications
Cooling method: Water-cooled.
Power rating: 250 A
Head design: 70 degrees fixed type
Handle: Smooth style 3/4″ size handle
Design: Slim profile, compact and lightweight body (3.85 oz)
Lead length: 25 ft. hose
6. WeldingCity TIG Torch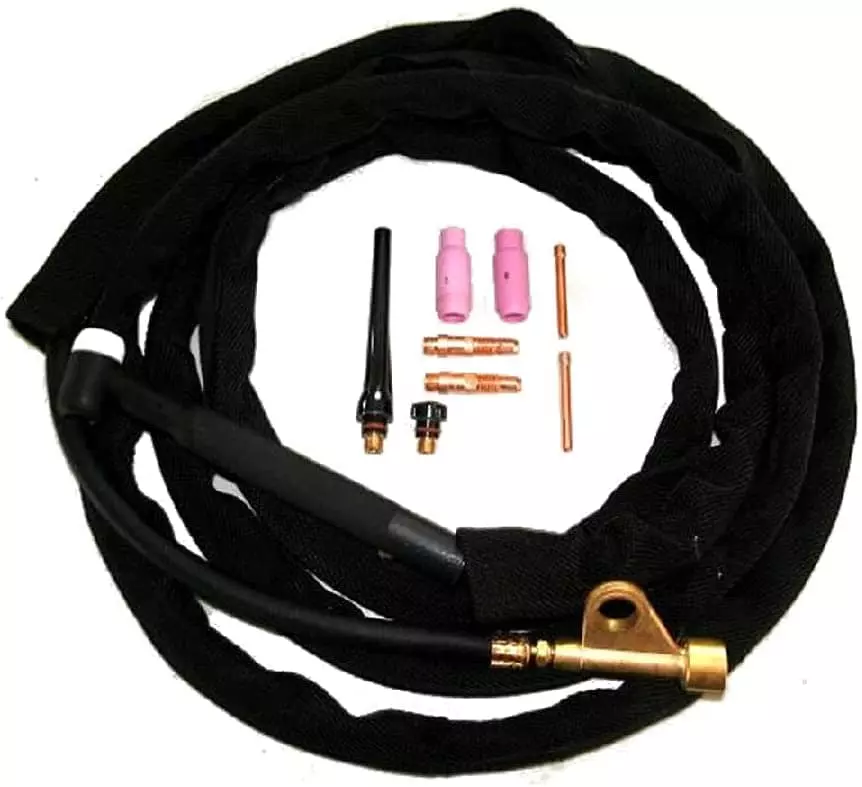 The WP 17F series TIG torch created by WeldingCity company is a low-cost (budget) product choice use. You can see that based on its low price. But don't let the price tag fool you as it is quite capable for any heavy-duty project use.
However, it can't be used for high-frequency and automatic gas settings welders. It is still an excellent choice for beginners, touch or scratch start welder users.
It possesses a 12.5 feet medium-range cable, which is good for most users, but it compensates with the addition of a flex head and gas valve. These characteristics will allow efficiency in working at various angles and valve control of gas.
This is the best TIG torch for both outdoor weld projects and when users need to use it in a garage due to its low amperage requirement. But be careful that your needs don't exceed its maximum ratings while working. Although you can use in it these in conditions, the air-cooled torch is not meant to handle higher power and heat. One of pros- flexible neck and gas valve.
Something added within the entire package are TIG gloves, a power cable adapter, and a cable cover. They are not really high quality cables but are useful nonetheless.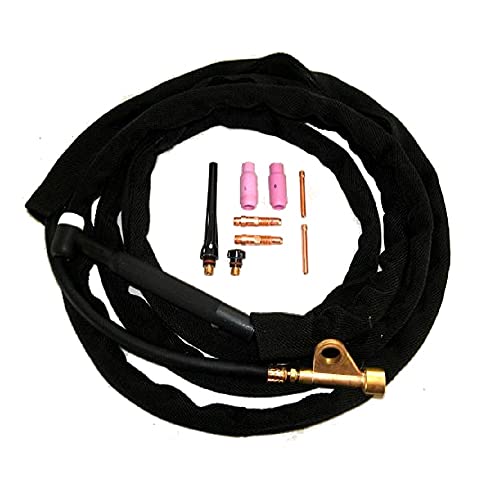 Last update on 2022-10-07 / Affiliate links / Images from Amazon Product Advertising API
Pros & Cons Summarized
Pros
Budget air-cooled torch
Comfortable grip and fits hand
With this torch TIG welding is easy
Some decent material collet body, gas valve control
Great for hobby and home shop weld needs, and most welding project progress
One free gift included (either pair of welding gloves, welding glasses or welding goggles)
Cons
A bit low quality accessories and parts
Specifications
Cooling type: TIG torch air cooled process.
Power rating: 150 amps
Head design: Flexible gas-valve control type torch
Hose: Rubber flexible hose with nylon cable cover
Design: Great quality, comfortable in hand but bit larger body torch
Fittings: WeldCraft brass connection adapter part.
Hose length: 12 ft. hose
Note:
Check your TIG welder for matching.
TIG Torch Buying Guide
When on the lookout for good TIG welding torches, one of the best pieces of advice is that you should not only look at the price range. Even if you are on a budget, there are a few elements and tips that you should consider. TIG Torches selection, consumables, and accessories (cap, collet bodies, chuck, electrode) setup, care, safety gear, protection gear, and maintenance are something you should have in mind.
In order to achieve comfort and welding performance, every piece of equipment is important. (1) (2)
The Power Ratings for Light-Duty TIG Torches
Every torch and lead uses a predetermined welding amperage range with maximum amperage allowed.
For instance the amperage rating you plan to weld with will determine the type of torch you need. Of course, this mainly depends on the intensity of the application and jobs you are doing.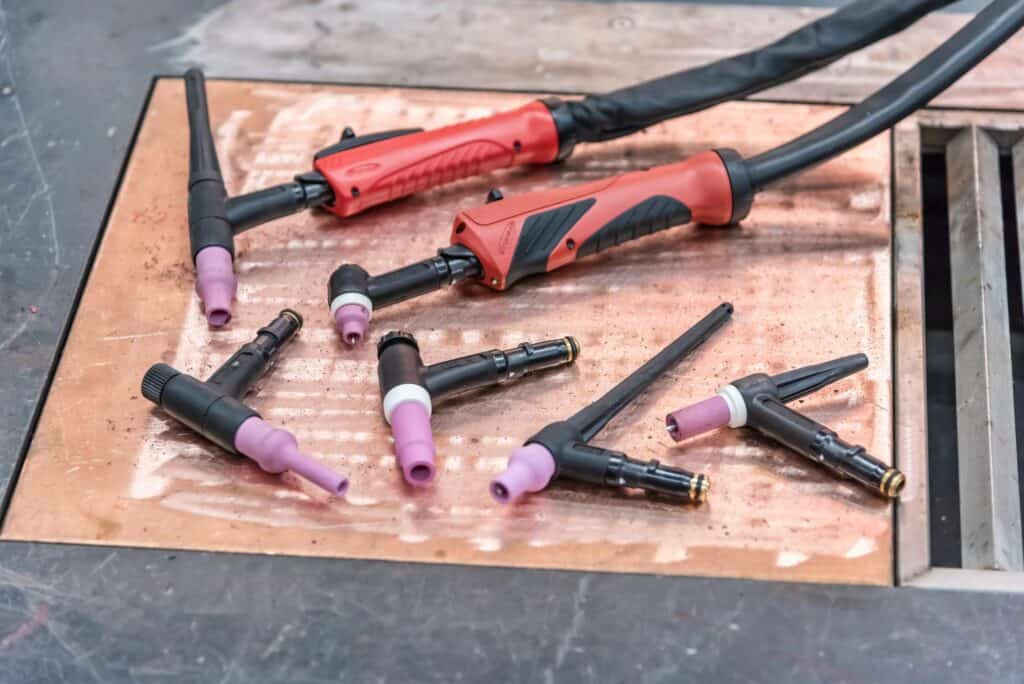 A hobbyist does not need more than 200 amp (200 amps) for light-duty applications. 200 amp ability is ideal for weld projects in your garage and thin metals. But for more heavy-duty weld needs, requiring thicker metals, you will need a torch that is rated at least at 200 amps. This will allow you to finish all types of welding projects or welding tasks with ease.
Cooling Options (Water Cooled or Air Cooled Torches)
There are two types of torch cooling that torches usually come with – air-cooled and water-cooled torches.
Air-cooled torches are lightweight and easy to use. Through torch, air flows through plastic tubing.
Most of them have larger bodies and tend to overheat due to the high amp rating. This makes them unsuitable for high-amp applications use where heat can cause damage. They also cost less to buy for a given reason.
Water-cooled torches are best used for continuous production as they can withstand a high-amperage rating use, heat, and needs to weld longer periods.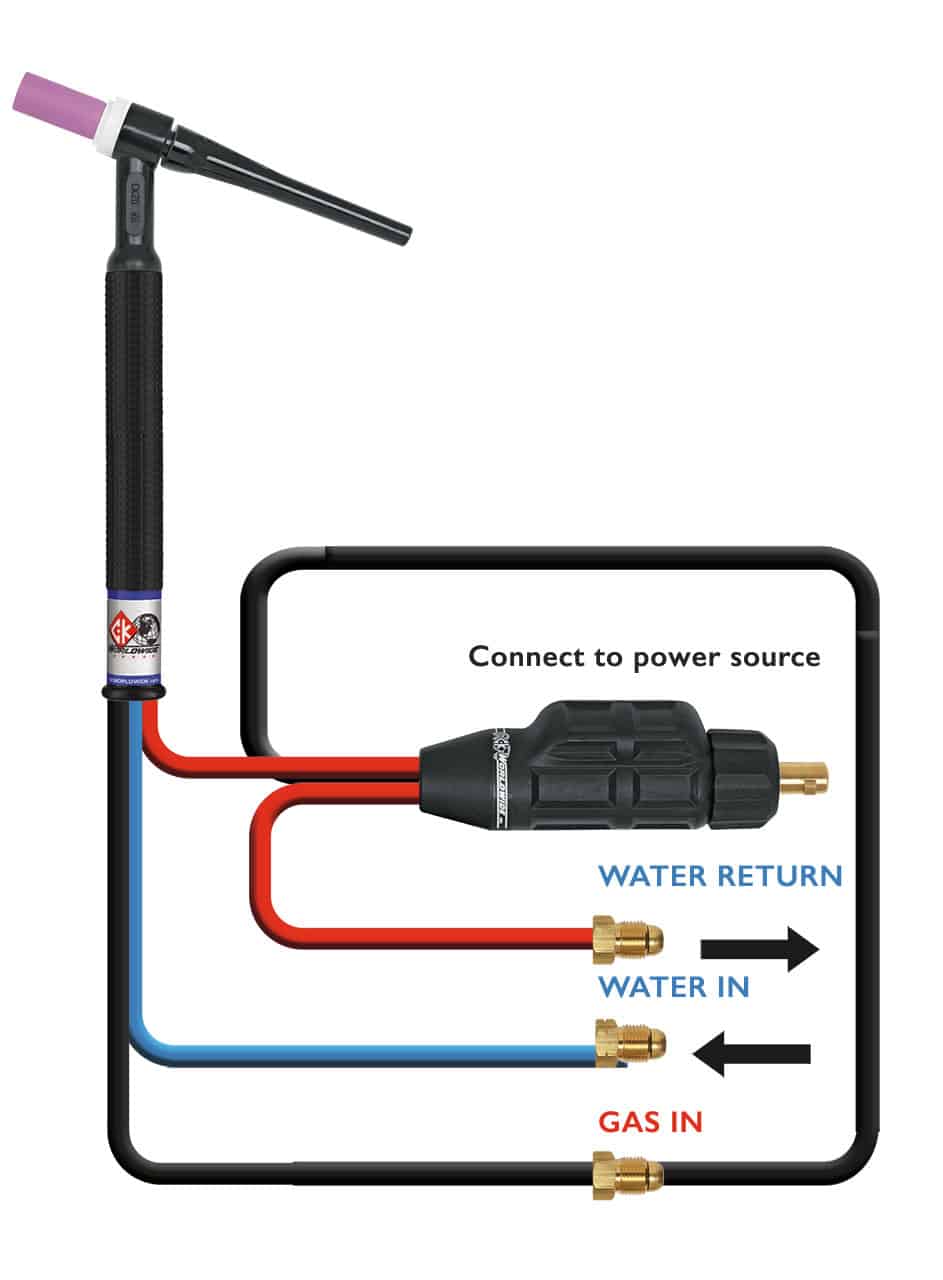 They can be compact (small bodies) and easy, they handle high temperature as well. They are also usually rated over 200A. However, thanks to the opportunities of the whole water cooler system some coolant leaks, tubes and pump failure issues can happen. They cost more for a reason compared to the air-cooled ones and you need a water outlet use.
The Way That You Start The Welding Arc (Lift Start, Scratch Start Or High Frequency)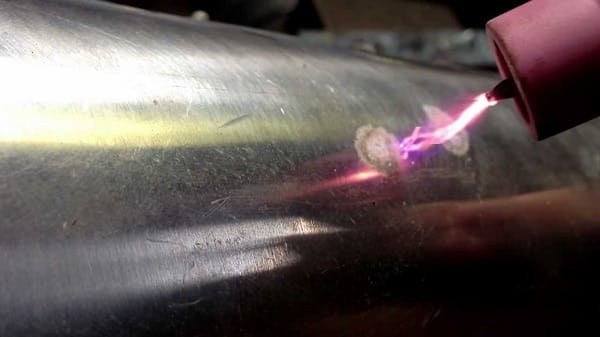 There are several arc start touch welding techniques to consider here. High-frequency (HF) non-touch start ones are meant for weld machines that control the gas flow based on your settings.
The torch comes with a button that affects the control of gas flow. It comes either at a flat or sloped rate and it is best used to weld aluminum.
Scratch staring capability includes scratching the metal with tungsten electrodes so a weld arc can be initiated. It is similar to starting a stick welding arc but is the least used technique as it doesn't have a consistent start rate.
Lift arc starting capability includes touching the metal and the weld arc will initiate as you move it away from the metal. For example, this is a very easy arc start, but the downside is contamination due to the tungsten electrodes touching the metal. These starts depend on your welding method and needs.
More on this you can find in this article.
Head Style (Fixed torch heads, Flex head or Flex Lock heads)
There are different kinds of torch heads, designs and styles, each with its own characteristics.
A flex head torch is probably the most desirable one as it allows the most flexibility. Flex heads adjustment fits a variety of angles and get to different types of positions and spots in most welding process results in better comfort.
A fixed torch head is set at one angle, it does not give you the freedom to adjust in any other way.
There are far difficult to use due to their fixed angle and it is a lot harder to get into most of difficult places and area spot when using them.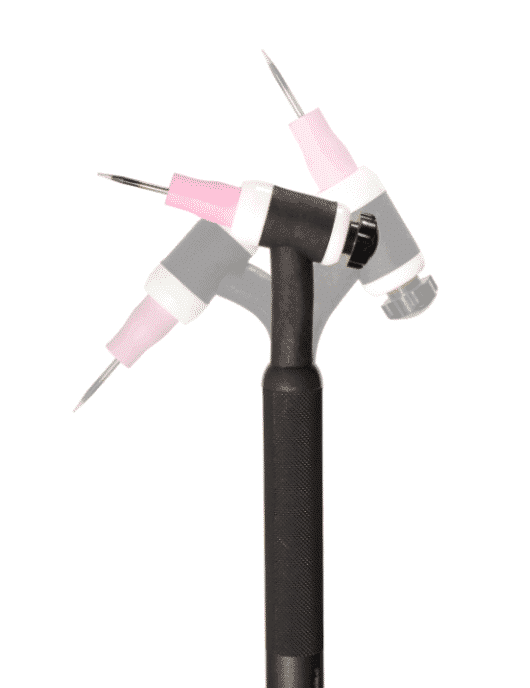 Advantages of flex-lock heads are that they can spin at a 360-degree angle direction and can be locked in the most desired position. It offers the most amount of adjustment and results with stability as you can lock your TIG torch in the position you are most comfortable working in.
Leads Length
Hose (leads) and cable lengths and designs mostly depend on your personal preference and distances. Depending on what type of weld projects you are doing longer hose may be needed. If you need to move about a lot and don't want to carry your welding machine with you all the time, longer leads are better. But if your welding process concentrates on a bench, nothing to worry about, shorter leads are okay as well.
What do the Numbers and Letters Mean
You probably already noticed while reading that every TIG torch has a variety of model numbers, these are the reasons. Generally speaking, the smaller numbers described a smaller torch with lesser amperage. A higher number will mean the opposite results.
As far as the letters go, reading the V means that a TIG torch body possesses a weld gas valve control. Gas valve control is important if you plan to set a scratch or lift start weld applications on your machines for your shielding gas.
The letter F is for the flex-head option, important for being able to adjust the torch at different angles. To achieve the best performance and comfort, explore the best option cuts and pieces of equipment.
Frequently Asked Questions [F.A.Q]
What is the difference between air-cooled and water-cooled TIG torches?
A: Water-cooled torches allow you to weld without stopping as opposed to air-cooled ones. An air-cooled TIG torch will require you to make a few weld stops for it to cool down.
Are 150A torches better than 250A ones?
A: 150 amps are aimed at light-duty application. On the other hand, 250 amps are more suitable for heavy-duty weld project applications. The main difference is what you plan to work on and whether you require a higher amp rating use.
Is the size of the TIG torch important?
A: It is important if you are planning to work in tighter areas. If your weld projects require you to work in a cramped area, a smaller and less-robust TIG torch will be much more appropriate. A bigger one will only get in your way.
Are expensive torches better than cheaper ones?
A: Bigger brands make more quality torches, but that doesn't mean that less expensive ones don't get the job that. If you want to see some quality, different price range TIG torches anyone can use, check out the guide above.
Conclusion
Choosing the correct TIG torch for your work will require a lot of thinking. But it doesn't have to be if you only take into account all the things mentioned in the guide above. You also don't have to spend big on eBay. There are far less-expensive torches that will help get the job done. Consider some of our choices mentioned above and we promise you that you will not regret your decision in the end. A combination of practice and good equipment makes your welding applications perfect. If you want to check the reviews for TIG welding machines you can check this article.