When it comes to TIG welding, the right welding glove is critical for ensuring maximum productivity and safety.
Not only does the proper welding glove protect you from potential burns and other injuries caused by spatter, but it can also enhance dexterity to help maximize your efficiency.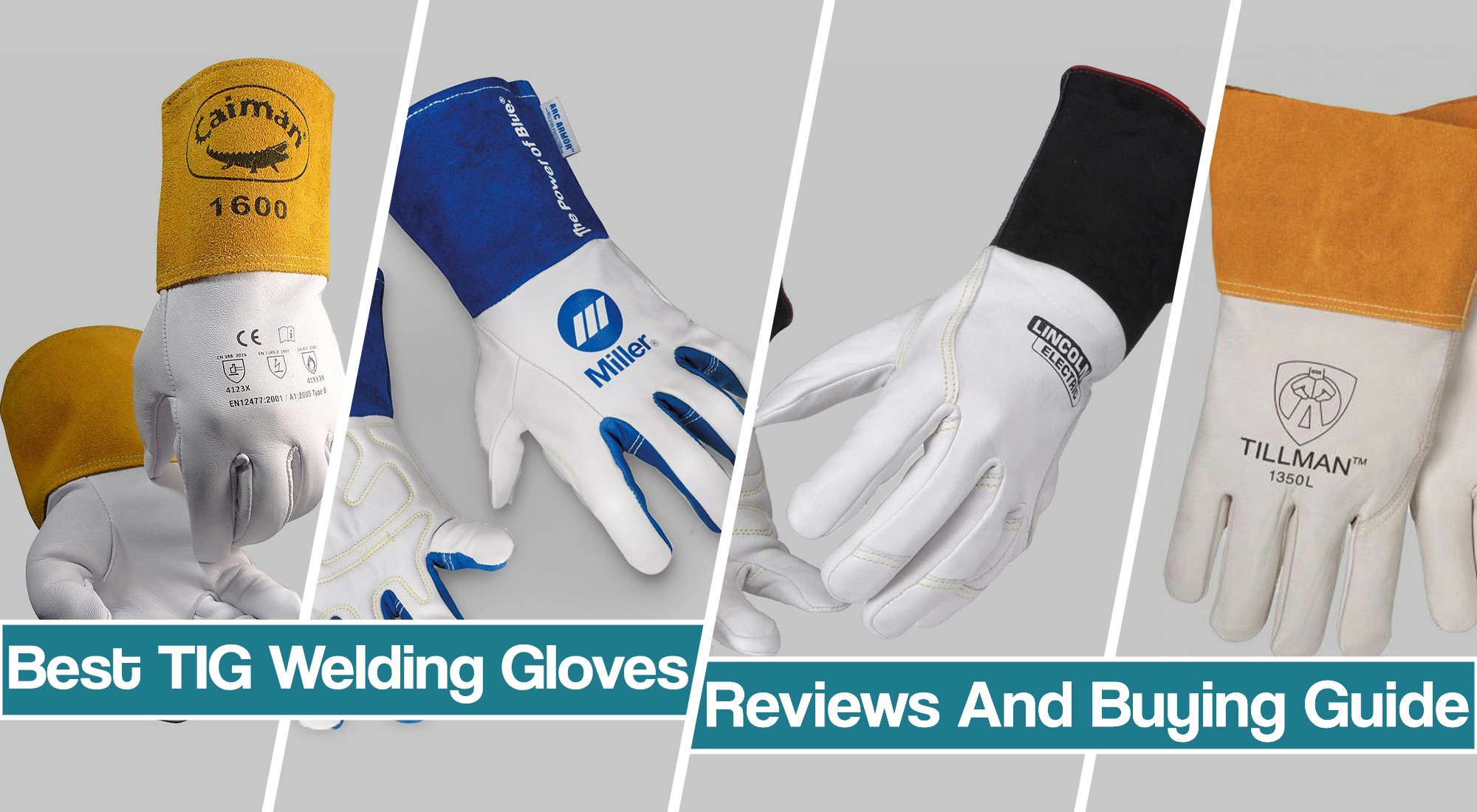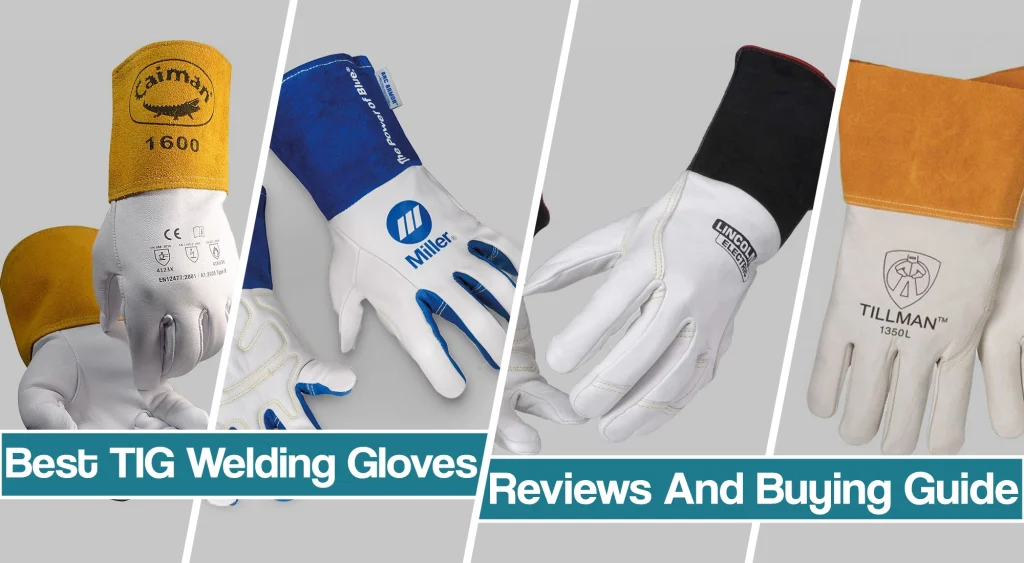 Finding the best TIG welding gloves can be a daunting task due to all the options available on the market today. That's why we've done all the research and testing necessary in order to bring you an authoritative list of what we believe are currently some of the best TIG welding gloves available today.
Best TIG welding gloves Comparison Table
Best tig welding gloves review
There are countless brands offering their own versions of this essential piece of protective gear. Heat resistance is an important factor when choosing a welding glove for TIG applications; having a pair of gloves that can withstand intense heat will keep your hands safe and comfortable throughout your work session.
While some TIG gloves offer excellent protection, they may not provide enough comfort or flexibility for optimal performance in specific tasks. That's why our list will be focusing on those that offer superior protection, comfort, agility, durability, and heat resistance. So without further ado, let's explore these top-rated options, which include:
Lincoln welding gloves for TIG welding
Tillman TIG gloves
Eastwood TIG welding gloves
Hobart leather TIG welding gloves
Miller Welding gloves
Ironcat TIG welder's glove
Caiman TIG Welding Glove
1. Tillman 24C Kidskin Premium TIG Welding Gloves
Best Welding Gloves For Professionals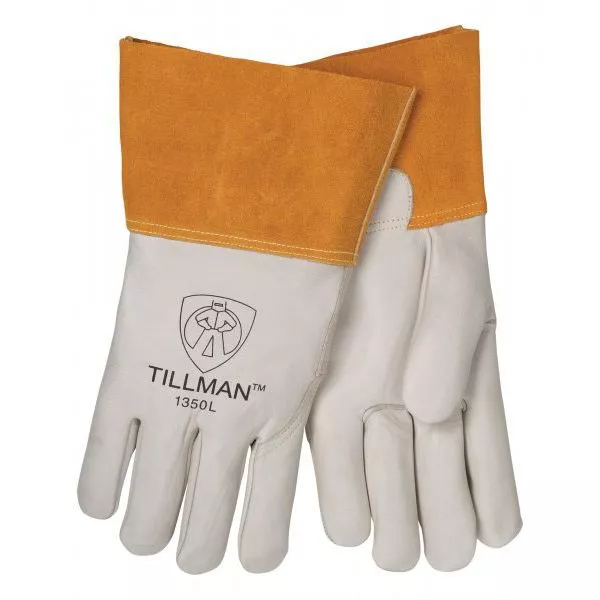 Tillman 24C Premium Gloves
Tillman top grain gloves are renowned among fellow welders, and there is a reason. Their 24C are among the best-selling TIG welding gloves in the US, specifically appreciated by professional TIG welders.
What distinguishes them from other TIG gloves on our list is the top-grain pearl Kidskin leather. This material enhances the feel and durability while providing enough heat protection.
The biggest advantage of the top-grain Kidskin leather is its smoothness. The leather allows you to feed the TIG filler rod freely, which is crucial for TIG welding applications. In addition, Tillman 24C is an unlined glove, which makes them highly comfortable and not bulky, which is essential in TIG.
Even though TIG produces a significantly lower amount of heat compared to MIG welding Stick welding, these Tillman gloves still feature kevlar stitching. The kevlar runs through the entire glove to provide the highest durability. The design features a straight thumb which improves the TIG torch grip and manipulation.
Finally, Tillman top grain gloves for TIG welding have a long, 4″ cuff for increased protection. The cuff is made of cowhide split leather, which makes it a bit thicker, but it still offers excellent comfort and protection against excessive heat.
Pros
Professional-grade TIG welding gloves
Ultimate TIG welding glove for professionals
Kidskin leather is super soft and heat resistant
Offer more dexterity than MIG gloves
Kevlar stitching for increased durability
Long and thicker cuff
Perfect balance between dexterity and protection
Cons
Not suitable for high amp MIG/Stick applications
High price
2. Lincoln Electric Premium Welding Gloves For TIG
Top-Rated TIG Welding Gloves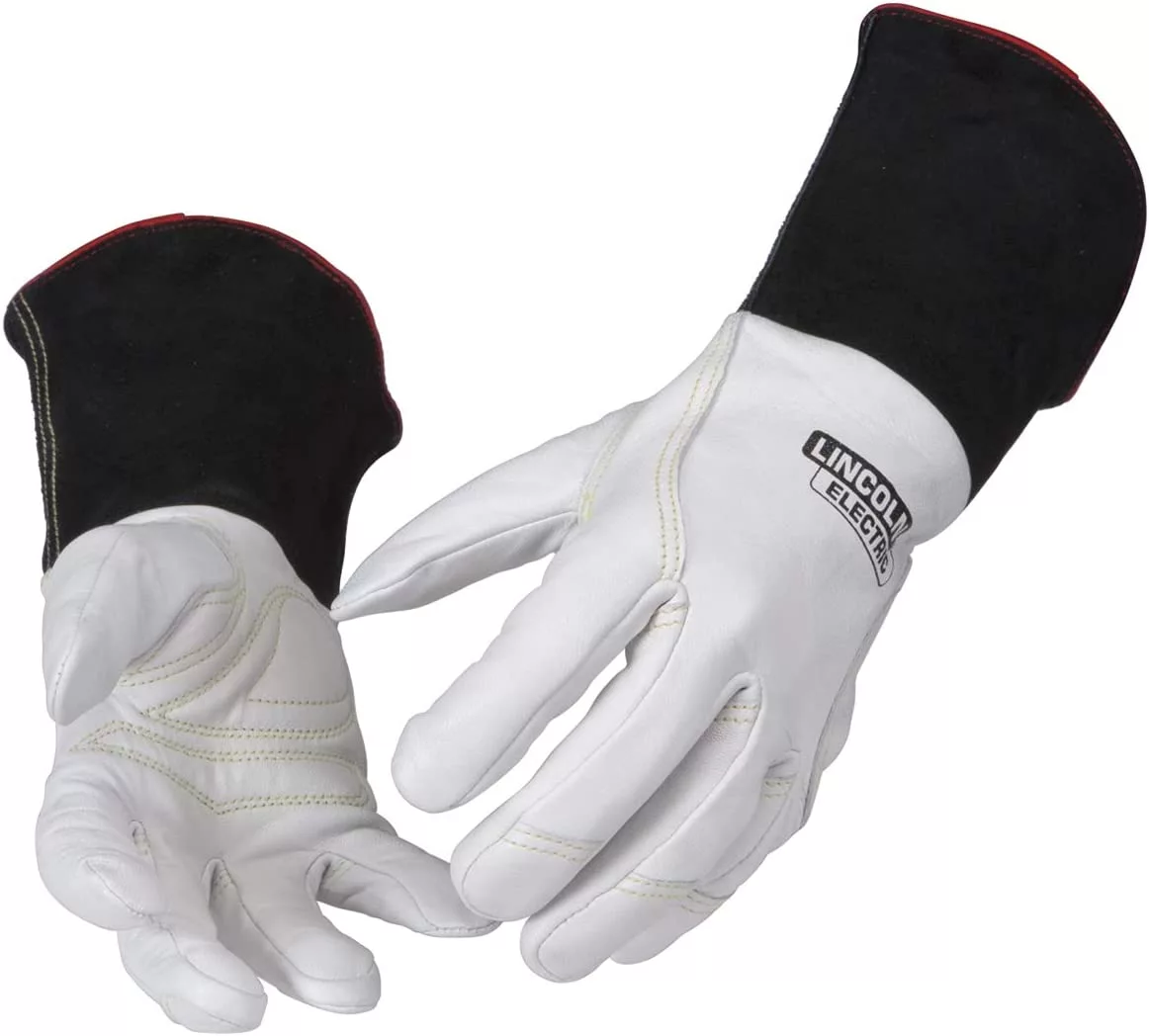 Lincoln Electric Premium TIG Gloves
Lincoln Electric is known for its excellent and state-of-the-art welding machines, and its personal protective equipment is no exception. Lincoln Electric offers good TIG gloves for TIG welding tasks.
These gloves are made of white top-grain goat leather, which is very pliable and flexible, but still offers excellent protection.
These are yet another premium TIG welding gloves, but there are some differences when compared with Tillman gloves. Lincoln TIG gloves have padded, cushioned palm for improved grip comfort. I personally prefer smooth palm gloves because kevlar stitching can show signs of wear over time. However, the keystone thumb design with 3 piece finger structure improves ergonomics, control, grip, and comfort.
I liked the durability of these welding gloves. They have a knit cotton top hand liner and unlined bottom hand for balanced protection and feel. In addition, there is a leather-reinforced finger, and that's where in my experience, most welding gloves fail.
Like Tillman, Lincoln gloves have a 4-inch leather cuff that provides excellent abrasion resistance and also protections the wrist from heat, sparks, and flames. In addition, premium gloves are pricier, and these are even more expensive than Tillman's gloves, which is why we placed them second.
Pros
Premium quality welding gloves
Goat grain leather TIG welding gloves
They offer great balance or ergonomics, control, comfort, and grip
Excellent durability and reinforced finger
Great for the TIG welding process
Long leather cuff
Cons
Expensive
Cannot withstand extreme temperatures like MIG welding gloves
3. Eastwood Leather TIG Welding Gloves
Best Cheap Welding Gloves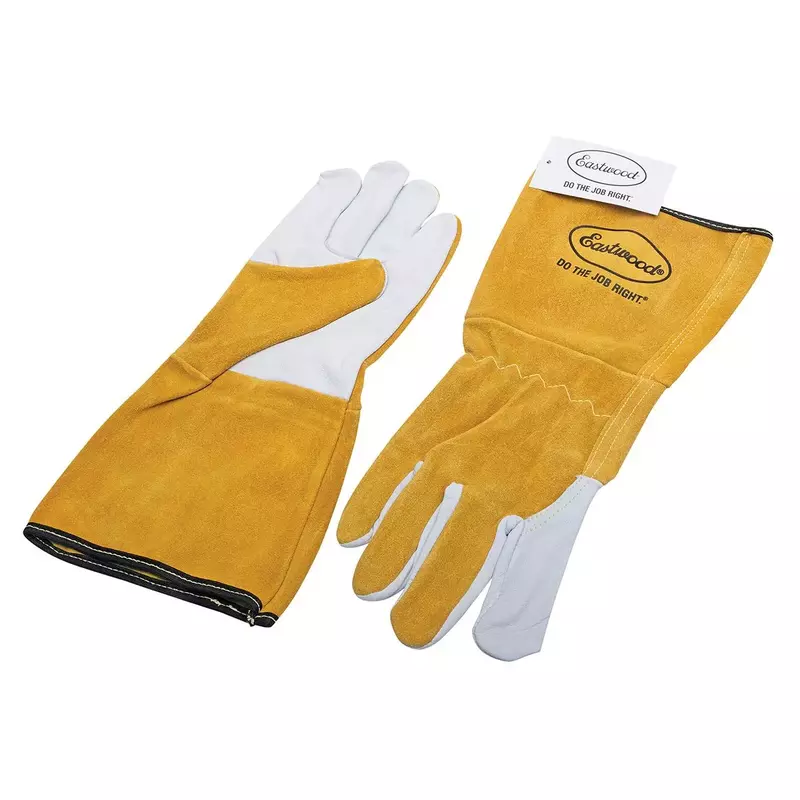 If you are an occasional welder that's not ready to spend too much but still looking for decent gloves for TIG welding, you should consider Eastwood.
Eastwood is another US-based manufacturer that provides excellent equipment for the autobody industry, where TIG welding shines. Their gloves are an affordable option, but there are certain differences when compared to the two premium gloves we listed.
Firstly, you can notice the difference in the build. Eastwood uses goatskin grain leather for the palm of the gloves, but the top palm side and cuffs are made of cowhide leather. Cowhide leather is thicker, which can interfere with dexterity,
However, I liked the wing thumb design with smooth palm without seams. Thumb stitches are a common failure point when feeding the filler rod or manipulating the torch, so these Eastwood gloves are built to last.
The back side of the Eastwood TIG gloves has a built-in elasticity for improved hand ergonomics and comfort. Split leather cuff with cotton binding In addition, these torch-wear TIG gloves will protect your hands from hot metal sparks. The big surprise here is that you get a 1-year warranty but only manufacturer defects – so you can't return them if you punch holes.
Pros
Affordable TIG gloves
Great for hobbyists and occasional welders
Goatskin leather on the palm
Durable and comfortable
Provide nice grip and filler rod manipulation
One piece leather palm
Cons
The top palm is made of cowhide leather
Not for high amp TIG welding and extreme heat
4. Hobart Leather TIG Welding Gloves
Brand-name TIG Gloves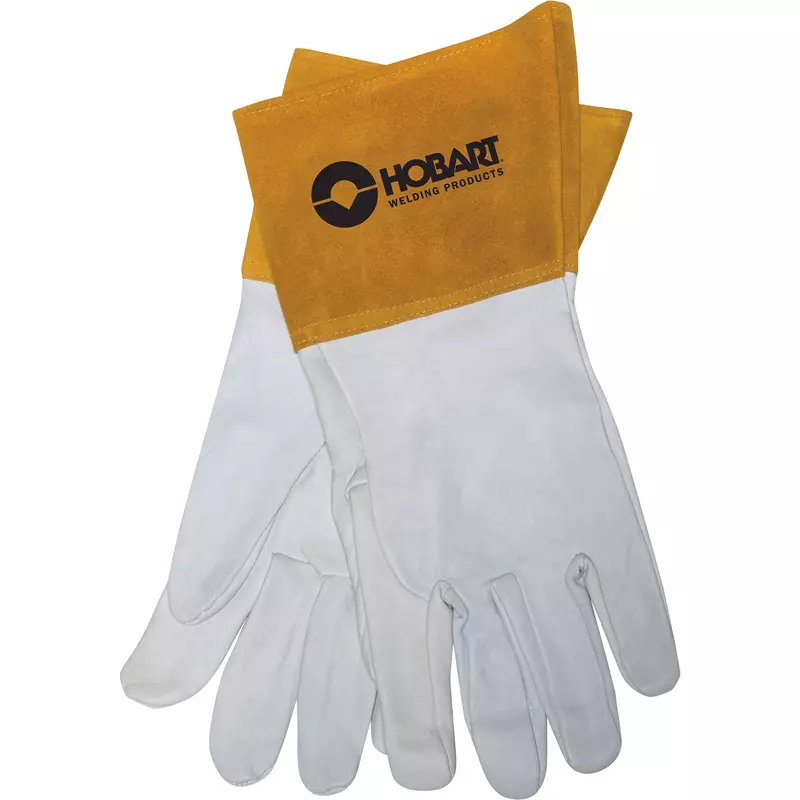 Hobart Gloves For TIG Welding
Appereance-wise, Hobart TIG welding gloves remind me of Tillman 24C, but with a somewhat more affordable price and less quality. Still, Hobart gloves are made of goat grain leather which provides good flexibility, protection, and the dexterity you need for TIG welding.
As a result, you can use them for metalwork, general maintenance and repair, and a variety of other applications.
Compared to Eastwood, Hobart gloves have an entire palm made of goatskin leather. Heavy-duty Kevlar stitching is extremely strong and heat resistant and combined with soft leather, you get a durable and safe piece of welding equipment. The stitching runs through critical points, so you know your glove is well protected. Like with other TIG gloves we mentioned, the 4″ cuffs are made of cowhide leather.
Like most TIG gloves, the design allows you to manipulate the torch and feed the TIG rod precisely. In addition, there is a direct-touch heat-resistant material at the handrest. Overall, this is another fine TIG glove for your medium to low-heat TIG welding duties. Of course, you shouldn't expect the same protection as with Arc welding gloves, but the protection to dexterity ratio is overall positive, which is essential for most TIG welders.
Pros
Decent quality welding gloves
Goat grain leather
Kevlar stitching
Ergonomic design and comfortable
Great for various tungsten inert gas (TIG) applications
5. Miller Electric TIG Welding Gloves
Super-comfortable TIG Gloves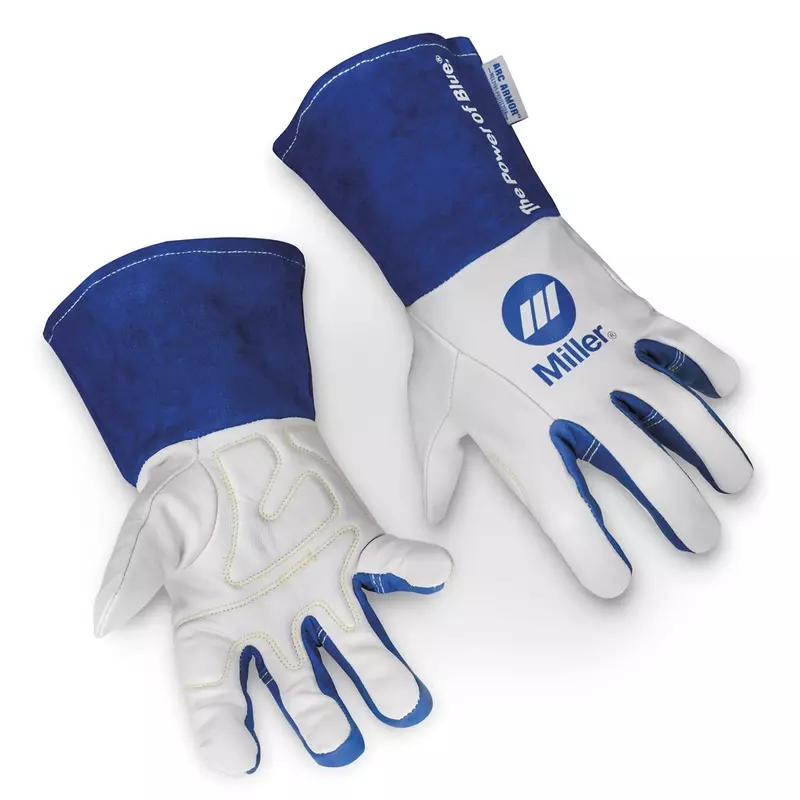 Miller Performance TIG Gloves
If you are a fan of blue TIG welders and equipment, Miller premium TIG welding gloves are the right for you. Besides the premium looks, these TIG welding gloves provide exceptional protection and comfort, so your productivity is unaffected. The palm is made of premium goat grain leather which offers superior comfort and dexterity.
I liked the completely unlined design, so you can move like you don't have the gloves on at all. Like with Lincoln gloves, there is a triple padded palm for added comfort when working around the shop, but as I said, I'm not the biggest fan of it. The gloves are sewn with 100% flame-resistant Kevlar thread for maximum seam strength.
My experience with Miller products, whether welders, accessories, or protective gear, is overall super positive. I feel like you can't go wrong if you get Miller welding gear, and their welding gloves stood up to expectations. These are really premium pieces of equipment, but like with other products, you will have to spend quite a few bucks.
Some fellow welders had complaints about longevity. During everyday applications, they might show signs of wear or holes after 6 months or one season. In addition, some had issues with the blue color staying on hands from cuffs or fingers.
Pros
High-quality TIG welding gloves
Premium goatskin leather
Super soft and comfortable
Unlined design for maximum dexterity
Triple padded palm
Sewn with 100% kevlar
Cons
Expensive
Can show signs of wear or blue color on hands
6. IRON CAT 6141 Kidskin TIG Welding Gloves
Budget-friendly TIG Gloves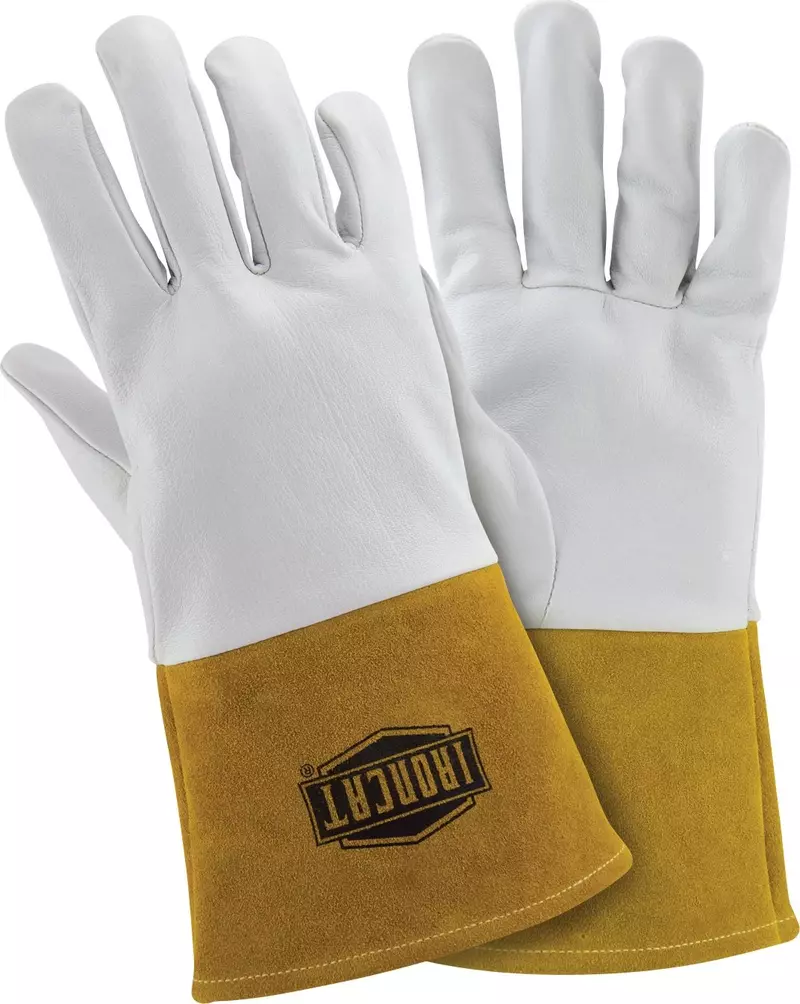 Ironcat TIG welder's glove is an excellent choice for welders on a tight budget looking for decent protective equipment. Like pricier Tillman's, these are made of premium-grade kidskin leather, which makes them perfect for welding applications in steel mills, manufacturing, automotive, glass welding, and torch work.
Similarly, Ironcat TIG gloves have a one-piece palm with a suitable design that provides smooth operation and TIG torch manipulation.
The Kevlar threading protects the seam from sparks, while the extended cowhide leather cuff protects the hand and lower arms from burns. In addition, kidskin allows good maneuverability, which is crucial for the TIG welding process.
Straight thumb design also reminds me of Tillman's gloves, as this Ironcat TIG welding glove provides excellent grip. In addition, you can freely and easily feed the TIG rods. In my opinion, these offer excellent value for the money spent, and they will serve you well if you are an occasional welder or hobbyist that's not looking for professional-grade TIG gloves.
Customer reviews are also positive, and rare complaints talk about the inability to work at high amp applications and extremely hot metal. You really shouldn't expect that from TIG welding gloves that are made of thin leather.
Pros
Budget-friendly gloves
Good value for the money spent
Kidskin leather provides excellent flexibility
One-piece palm with straight thumb design
Kevlar stitching provides durability
Cons
Goatskin TIG welding gloves are thin and cannot handle excessive heat
7. Caiman Goatskin TIG Welding Gloves
Entry-level TIG Gloves
Caiman Goatskin TIG Gloves
I recommend Caiman long welding gloves as a budget-friendly alternative, as they also provide excellent value for the money spent.
Compared to Ironcat, these are made of white goatskin leather, and appearance-wise, they remind me of pricier options. However, there are a couple of differences in design.
Even though Caiman gloves are also completely unlined, I disliked the thumb design. Most TIG gloves we featured don't stitch the thumb since it is known as a critical wear point. However, if you are an occasional or hobby TIG welder, you shouldn't worry too much. Gloves usually fail if you use them every day for welding, grinding, and cleaning the parts, but given the price, even if they do, it is not a big hit to your budget.
There is a 4-inch cuff that is long split leather fire-resistant fabric, so your hands are well protected. However, thin leather is delicate, so you should be careful when putting them on or working with high-heat applications with Stick welding or FCAW.
Nonetheless, thin leather will provide you with maximum control over the entire TIG welding process. Overall, you get what you pay for, so make sure you treat these Caiman TIG welding gloves properly.
Pros
Good entry-level gloves for hobbyists and occasional welders
Decent build quality
Completely unlined
They provide enough comfort and control
Good protection in low-amp TIG applications
Cons
Can wear fast if you use them for everyday applications
What To Look For When Buying TIG Welding Gloves
Generally, the biggest factor determining which welding glove will fit the job is the work conditions. We have to analyze every danger factor causing unintentional hurts and incidents during work processes.
This allows us to choose the item to provide us with the security we need. It is advisable to pick gloves with an outstanding grip for a particular job.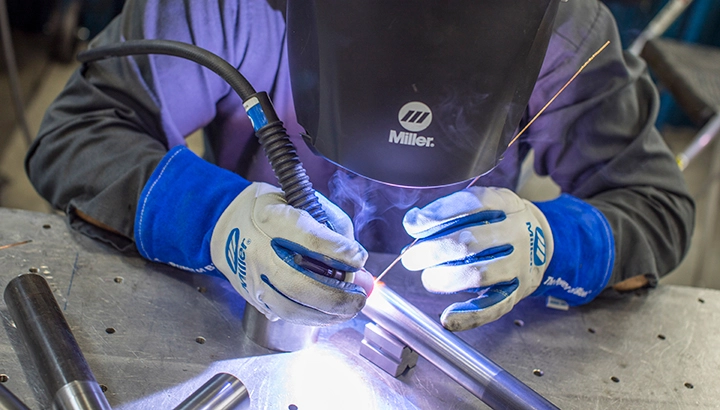 The material needs to be thin and flexible in order to provide maximum control over the work area. Often people who need these gloves choose goat leather.
Regular Vs TIG Welding Gloves
Regular welding gloves are usually made from thick, heavy leather, which provides excellent protection from sparks and spatter, making them suitable for welding in harsher environments. They are also tough and durable, able to withstand the wear and tear of regular welding. However, their thickness and bulkiness also make them less flexible and provide less dexterity when working with small parts.
TIG welding gloves, on the other hand, are made from thinner, more flexible leather, which allows for better dexterity and movement when welding small parts. They also typically have higher heat resistance, making them suitable for welding at very high temperatures. However, they do not provide the same level of protection from sparks and spatter as regular welding gloves, so they are not suitable for welding in harsher environments.
TIG Glove Materials
TIG welding gloves are made using high-quality materials that provide protection and comfort. Leather is typically used on the palm and outer areas, while Kevlar and Nomex are used in the inner areas.
Leather has excellent heat resistance, while Kevlar and Nomex are both lightweight and flame-resistant. The leather, Kevlar, and Nomex all work together to provide durable protection from sparks, spatter, and intense heat.
TIG welding gloves are often lined with fire-resistant cotton on the inside, which helps to reduce heat transfer and improve comfort. The stitching of the gloves is usually reinforced with Kevlar thread to ensure that it doesn't unravel under the intense heat and sparks of welding. The cuff of the glove may also feature a Kevlar or leather inner layer to further protect the hands and wrists. Finally, some TIG welding gloves feature extra padding on the palm and back of the hand to reduce fatigue while welding.
The Durability Of The TIG Gloves
The durability of TIG welding gloves is affected by several factors, including the material used, the thickness of the material, the number of layers, the type of reinforcement, and how frequently the gloves are used and maintained.
The material used affects the flexibility of the glove and its resistance to heat and sparks. The number of layers and type of reinforcement affect the glove's flame resistance and overall strength.
The frequency of use and maintenance also affect the durability of the gloves, as they can become worn down over time if the gloves are not regularly cleaned and maintained.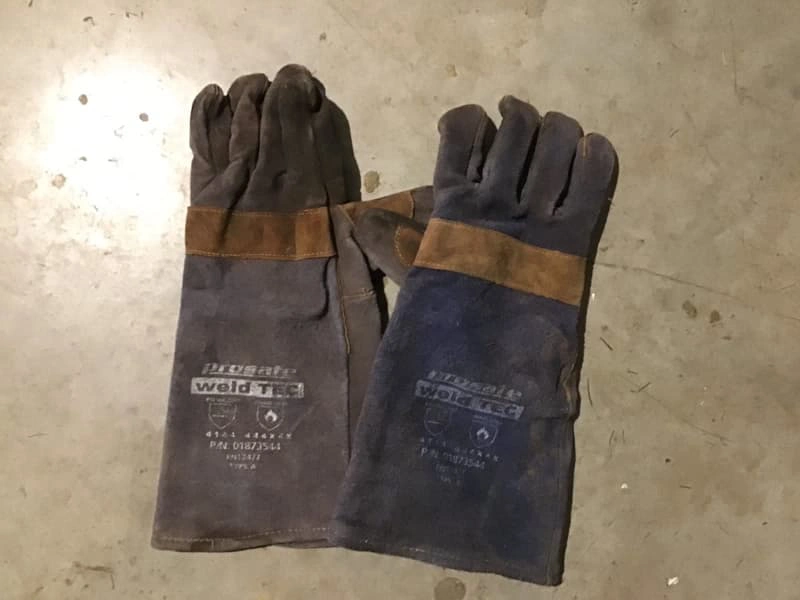 The durability of TIG welding gloves is also affected by the quality of the craftsmanship and design. Poorly designed gloves may have weak seams that can break under stress or may not fit properly, leading to an uncomfortable experience. The quality of the material used also affects the glove's durability, as higher-quality materials are more resistant to wear and tear.
Maintaining The TIG Welding Gloves
TIG welding gloves should be inspected regularly and replaced when they show signs of wear and tear. To maintain the gloves and keep them in good condition, they should be wiped clean of dirt and debris after each use and stored in a cool, dry place away from direct sunlight.
Washing the gloves is not recommended, as it could cause the leather to break down or the material to shrink. Other methods of keeping the gloves in mint condition include regularly conditioning them with leather conditioner and wax and periodically replacing the elastic wrist bands.
Conclusion
The best TIG welding gloves are an important part of any welding job. They help to protect the welder's hands and arms from the intense heat and sparks of the welding process.
With the right pair of gloves, welders can enjoy maximum safety and comfort while working. With a variety of styles, sizes, and materials to choose from, there is something for everyone in the world of TIG welding gloves, and we hope our list got you there.