Last Updated on

In the market for some of these "best welding glasses" but confused by all the choices out there and wondering what's best for you? Also, can you weld with all of them or not?
Should you just use them for welding or only for plasma and oxy – cutting and what's the point of buying them then at all…
Well, you can do both but…
I found this fairly confusing myself when I first started looking, there really are a lot of options out there and I wanted to make certain that I (and you) had a wide choice of welding goggles to select from whilst ensuring that they met the standards I'd want myself for each job.
I've rounded up 10 options that fit all welding uses and all budgets. You'll be pleased to know that you don't have to spend a fortune to get the job done.
They are quite cheap but are they safe?
So, if that is out of the way let's check out the top 10 and then see how to work through your options to make the right choice of glasses for your needs.
Best Arc Welding Safety Glasses Comparison Table
Best Welding Safety Glasses Reviews For Arc Welding
1. Miller Electric

Auto Darkening Welding Goggle
These are the most expensive welding goggle products that I tested and these offer a similar service to the server auto shade darkening welding glasses that you'll find in the possession of top-end welding professionals.
They are the best safety glasses on the market in this round-up but the price puts them out of most budgets and while they work great under a hard hat, are lightweight, and come with a face shield sort of lets you use this instead of using welding masks. It only offers the same welding glasses shade protection as my top pick, which is less than half the price of these.
These safety goggles are best used for: gas welding & cutting, MIG, TIG, Stick.
Last update on 2021-07-24 / Affiliate links / Images from Amazon Product Advertising API
2. YesWelder

Auto Darkening Welding Goggle

R100A
3.YesWelder Auto Darkening, Solar-Powered Arc Welding Goggles | Z200F
4 . Novel Safety Glasses Of Shade 10

Arc Welding Goggles
These Shade 10 welding glasses are much more suited for being worn while welding. They're extremely lightweight and very comfortable. The earpieces can be fully adjusted to suit your head which is a very nice touch.
They're also good value and reasonably priced for what they are. I like the fact they're made in Germany, a country with a reputation for solid engineering. However, welders, be warned – they won't cover your face and you need to be careful when you weld to avoid burning yourself.
They can be used for short term or observing a MIG and TIG applications, but lens Shade 10 is not enough to protect you from any serious welders light.
Last update on 2021-07-24 / Affiliate links / Images from Amazon Product Advertising API
5 . Titus Cup Type C

Arc Welding Goggles
These two-piece welding glasses are ideal if you want to be able to change the shade of your glasses without auto-darkening. These are going to best suit someone who is a hobby welder who flits between many different types of projects.
They won't work with ordinary glasses though and you might be better off with a welding hood if you want to do a lot of arc welding as they won't give your skin any protection from UV rays. They come with optional lenses shade 5, 8, 9, 11 or 14 which makes them great for almost all arc welding applications (MIG, TIG, Stick)
Last update on 2021-07-24 / Affiliate links / Images from Amazon Product Advertising API
Best welding glasses For Oxyacetylene Welding And Plasma Cutting (Only!)
1. Pyramex Safety Emerge Safety Glasses With Reader Lenses Option
Note, these glasses are for filtering IR and UV light. Don't use them to view a solar eclipse, though. Why not? Because a solar eclipse will leave you near blind if you do stare at it wearing these. You should have a welding glasses shade 14 to view a solar eclipse.
In fact, while enjoyed these safety glasses for wearing, I'd only use them for working alongside someone who was welding. They're not good enough in terms of shade lenses (5) to keep your eyes safe while working yourself.
Last update on 2021-07-24 / Affiliate links / Images from Amazon Product Advertising API
2. Hobart 770095 Cutting and oxyacetylene Welding Glasses
These flip upfront screen goggles are again limited to a low glass shade number but unlike some of the other models – you can get the lenses replaced using McMaster-Carr brands replacements and then you can get Shade 10 or even Shade 14 if you want.
They will fit superbly well over your prescription glasses and are dark enough so that you can work alongside someone who is TIG welding or MIG welding without any problems being flashed by the welding arc.
Last update on 2021-07-24 / Affiliate links / Images from Amazon Product Advertising API
3. Hobart 770726 Shade 5 0 Only Cutting and oxyacetylene Welding
Simple, cheap, and cheerful. If you want welding safety glasses that you can rely on but don't want to pay the earth for them – these may be your best option. These are mirrored shade 5.0 only, which means you can only use them for cutting or brazing – don't arc weld with these.
Shades lenses dark enough for these tasks and if you want to carry out welding processes they won't protect your eyes adequately. You'd end up with, possibly, permanent flash burn. They won't fit over prescription glasses either.
Last update on 2021-07-24 / Affiliate links / Images from Amazon Product Advertising API
4. Sellstrom Ultra Comfortable Only Cutting and oxyacetylene Welding
This anti-fogging pair of safety glasses shade level 5 will help you with your everyday Plasma cutting, oxy/acetylene processes. That means you need to keep them away from anything other than brazing or cutting. However, they are very comfortable to wear.
Lenses will stop both IR and UV rays within reasonable limits. That means they provide enough UV protection to be worn outside on a sunny day. They offer an air vent system that keeps fogging to a minimum.
Last update on 2021-07-24 / Affiliate links / Images from Amazon Product Advertising API
5. Miller Electric Shade 5.0 Only Cutting and oxyacetylene Welding
These Miller Electric welding glasses again only cover up to shade 5 that's enough to protect someone who is cutting or brazing form light exposure or who is working near someone welding to prevent being flashed but it's not enough to weld yourself.
This pair of safety glasses are, however, extremely comfortable to wear and the Oakley-style means you might even swap your regular shades for them. They're not made for welding but they're dark enough (glasses shade 5) to fit your everyday Plasma cutting, oxy/acetylene processes.
Last update on 2021-07-24 / Affiliate links / Images from Amazon Product Advertising API
Features To Consider When Buying Welding Glasses
If you're going to buy welding glasses you need to keep this in mind:
They must be able to provide full protection for your eyes from both the front and the sides

They must fit you properly and be comfortable when you wear them

They should allow you to move around fully without ever restricting your view

They should be hard-wearing and durable and they should clean without leaving smears on the glass

They should never interfere with or restrict the way that you weld
Sizing And Fit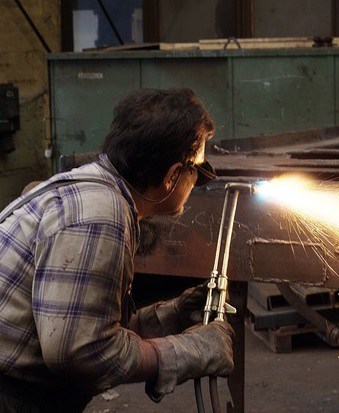 Safety glasses absolutely must have adequate side protection. When particles start flying, they rarely obligingly come from straight in front of you. Wrap-around frames or those with side shields can help you keep your sight.
You welding safety glasses should also feel comfortable when you put them on. You ought to try them out for weight and their overall fit – you will be wearing them for long periods of time and if they're not comfortable to wear, you may be tempted to leave them off.
Check the padding around the nose and ears too – not enough and they can start rubbing. The easiest way to decide what works in this respect is to try on many different pairs until you find the most comfortable to wear.
Materials
Impact Resistance
This will protect your eyes when your safety goggles are hit with debris, sparks, splashes, etc.
Level of Protection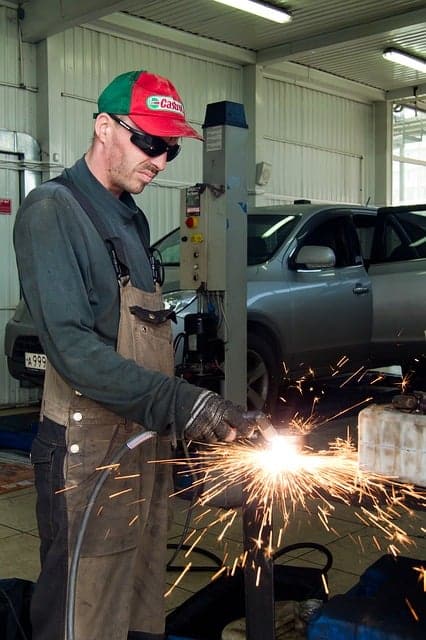 You also need to ensure that you select your welding safety glasses for the appropriate level of lens shade. Mostly you will find this comes in a range between shades 5 and 14. (2)
Shade 5 to 8 is suitable for most forms of gas welding whereas shades 10 to 14 are suitable for electric arc welding. You may see lower than shade 5 welding glasses on sale but these are for soldering, brazing, and cutting only and they cannot be relied upon when welding.
In the case of Shade 5 only googles, we'd recommend that you keep these for brazing, cutting or working alongside someone who is welding. They might also be worn under a welding helmet but we wouldn't recommend them as your primary form of eye protection.
Dust is a genuine hazard when welding and you should choose welding safety glasses that are as well-sealed as possible to keep the dust out of your eyes, welding safety drops a lot when you have something caught in your eyes.
Anti-Fog Design
Fogging occurs when your breath gets trapped inside the glass and causes your safety glasses to mist up.
Frequently Asked Questions
Is It Safe To Wear Safety Glasses All Day?
Yes, not only is it safe to wear safety glasses all day long, (there is absolutely no risk of damaging your vision whatsoever), it's much safer than the alternative of losing an eye when not wearing them. If you're working and need eye protection then you should always be using welding safety goggles.
Can Dirty Glasses Cause Headaches?
Yes, anything on the lens of your welding safety goggles can cause headaches. This is because it can prevent you from properly focusing your eyes. It will reduce the clarity of your vision at first, and eventually, it can trigger a headache. This is why you should always keep them clean.
Can You Weld With Sunglasses?
Technically, you could. Once. After that, you would almost certainly have permanent eye damage. Sunglasses do not provide shade 5-14, they don't even come close. Nor do they provide enough eye protection while welding. In short, don't ever wear sunglasses for welding they're for tackling UV light only.
How Much are Welding Glasses?
Well, it depends on your needs. The cheapest welding safety glasses are very cheap, indeed, though they won't last long. The most expensive offer automatic shade darkening (welding time) and a shade darkening welding goggle don't come cheap. You can spend hundreds of dollars on a top tier professional set of safety glasses.
Price Range
At the end of the day, how much you spend is going to be up to the way you use your safety glasses. The best guide is to buy for every use that you will have – if that's mainly working alongside welders – take something like the Hobart or Jackson glasses which come in at less than $20 each.
My top pick is only around $70 RRP and the YesWelder safety glasses pack a lot of punch into a pair of glasses. Though they aren't a replacement for a welding hood.
If, on the other hand, you really need an alternative to your welding hood – the Miller auto-darkening glasses are probably your best bet but they're going to cost you the best part of $200.