Have you tried welding on the ground or on any other table not made for welding purposes? I have and it's horrible.
Besides back pain, knee pain, and perpetuity to set yourself on fire the work you do can often be categorized as garbage.


So the next first thing I did was to get myself a proper welding table for my next job! (you can turn to DIY if you don't have the money).
It is a well-known fact that to weld a nice bead you need to be comfortable and you need a nice straight leveled metal table. Yes, your best welding table, the welding table of your dreams, can probably be made by you and just the way you want it.
But here in the real world one simply does not have time for DYI projects that don't make money.
You have (at least I did) to go and buy one. However, now comes the problem of choosing the best one. That is precisely why we wrote this article (15 min read) to tackle that problem (successfully I hope).
We made a list of the best welding tables on today's market and a neat buyer's guide to help with choosing the best one for the least amount of money. Please take a look at the reviews and with their help make a well-educated decision afterwards.
Best Welding Table Comparison Table
Best Welding Tables Reviews
Having a good welding table will improve your work and efficiency. More importantly, it will improve safety around your workshop. A good smooth table with a flat surface set at a comfortable height will enhance your stability and allow you to finish the end product as best as possible.
Welding tables come in different shapes, table size, designs, and heights. You should always choose one based on your personal preference and needs.
Best Portable Welding Tables
A portable welding table allows more flexibility. If you are not regularly working from your shop, a portable welding table is going to be of much better use than a fixed one. These types of tables can easily be folded and carried around. They even come with wheels to move them easily without folding them up.
1. Strong Hand Nomad Portable Welding Table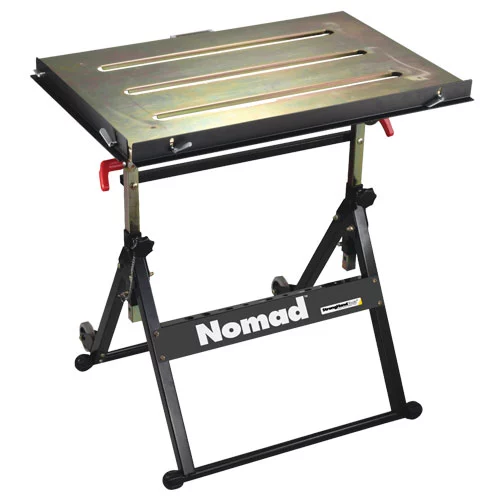 If you are looking for a quality welding table with great durability, then the Stong Hand Nomad portable table is the way to go. The table is completely foldable, allowing improved maneuverability, and comes with two caster wheels.
The surface area is measured at 20" x 30" and it also comes with three horizontal 1.1" x 22" clamp slots, which is more than favorable when working on different items of various shapes. The table has a weight capacity of 350lb max load, more than enough for a hobbyist.
It can easily be moved around as it weighs about 44lb. The height can be adjusted from 26″ to 32″.
Besides being sturdy and light, it has wheels and a handle on the side, allowing you to move it with ease. The surface area is quite enough, but if you are looking for something bigger you also have the option of buying two Nomad tables and join them with a Nomad Connector plate, extending your welding surface to 7.5'.
Pros & Cons Summarized
Pros
Great value for money
Powder coating instead of paint
Sturdy and functional
Easily foldable
Tabletop can be tilted
Cons
Not suitable for heavy duty work
Manual not well written
Specifications
Type: Portable Table
Material: Steel
Material Thickness: 14 Gauge
Dimensions (LxW): 30″ x 20″
Height: Adjustable 26″ to 32″
Tabletop Position: Horizontal, 30°, Folded
Clamp Spot: Three 1.1″ Slots
Weight: 42.8 lbs
2. Miller Portable ArcStation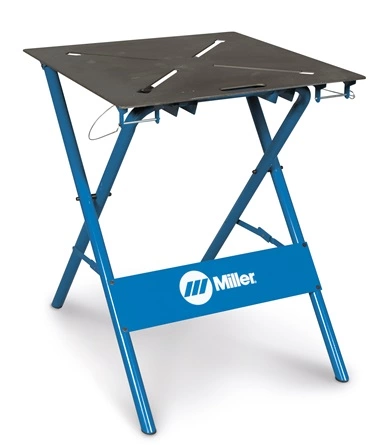 The Miller Electric ThePortable ArcStation is similar to the Strong Hand Nomad, except it is more expensive while not giving you as much as the Nomad. It is better in quality, though, and is more stable thanks to its incredible leg structure. It can carry a bigger load, compared to most portable tables, but as a consequence, it is heavier and cannot be moved around as easily as it should.
Some favorable additions are the removable gun holder and the powder-coat finish surface, which prevents MIG slag from sticking. So it can be more than helpful if you are feeling a bit lazy or simply don't have the time to clean off the slag.
It also comes with an X pattern which allows you to use Miller welding clamps, but the downside is that they are sold separately. The weight is definitely an issue at 74lbs, making it difficult to fold, but it has the ability to support a 500lb max load. Overall height is 48″ folded and 35″ unfolded.
Pros & Cons Summarized
Pros
Sturdy and quality built table
Best for DIY and home projects
X pattern tabletop
Removable welding gun holder
Cons
High weight for portable table
Expensive
Specifications
Type: Portable Table
Material: Steel
Material Thickness: 3/16″
Tabletop Style: Solid
Dimensions (LxWxH): 29″ x 29″ x 35″
Height: Adjustable 26″ to 32″
Overall Height: 48″ Folded and 35″ Unfolded.
Clamp Spot: Three 1.1″ Slots
Net Weight: 74 lbs
Weight Capacity: 500 lbs
3. Hobart Folding Table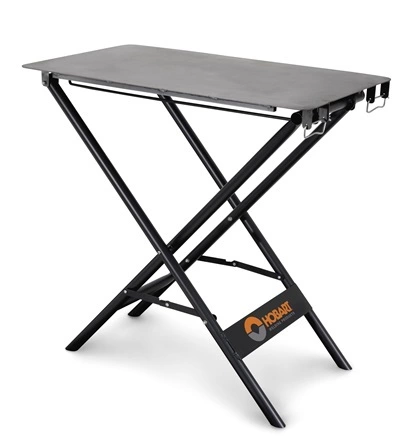 The Hobart folding table is a simple welding table for anyone on the budget. It requires no assembly and you can use it right away after unpacking. The tabletop is set at a height of 34 inches but is unfortunately not adjustable. Nevertheless, it is a good height for most people.
The entire surface is 35 X 19.5 inches and the table weighs 47.5 lbs. It can hold a load of up to 350 lbs and the thickness of the tabletop is 20 gallons. The rust-resistant steel tabletop is a good addition as well.
Compared to the Nomad table, it is sturdier and more solid but doesn't have some of the nice features for holding your hand tools like table slots for a welding clamp. Nevertheless, it can endure some heavier pieces that you plan to work on.
Pros & Cons Summarized
Pros
Great value for money
Sturdy and quality built table
Easily folded
Best for small projects
Cons
Specifications
Type: Portable Table
Material: Steel
Material Thickness: 1/8″
Tabletop Style: Solid
Dimensions (LxW): 35″ x 19.5″
Height: Adjustable 26″ to 32″
Overall Height: 34″ Fixed.
Clamp Spot: Three 1.1″ Slots
Net Weight: 47.5 lbs
Best Fixed Welding Tables
Fixed welding tables come with their own advantages. If you are planning to do some heavy-duty work from your workshop, then a fixed table is a much better choice. These tables are bigger, sturdier, and can support the added weight. There are variations with modular options and ones with wheels or casters and additional holes.
1. Miller 951413 60SX ArcStation Fully Loaded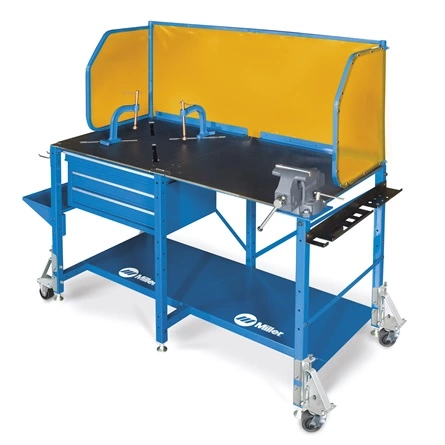 The Miller brand 951413 60SX ArcStation is an upgraded version of the ArcStation Workbench. It comes with a much wider range of features perfect for both a DIY worker or a commercial welder.
The surface top is a solid 3/8 inch of steel and it also comes with X-patterns for clamps. Underneath it, you will find a dust tray and drawers where you can store your hand tools. Additionally, it comes with a welding curtain for protection, a 5-inch vise with the mouth, a gun holder, S-Series caster wheels, and adjustable leveling.
It does need assembly as it will be delivered to you in 14 boxes and may take about 5 hours to erect. However, the invested time in putting it together will pay off as you will have a really nice table to weld on after you are done.
Pros & Cons Summarized
Pros
One of the best work stations on the market
Comes with welding curtain, vice kit, caster kit, toolchest, convenience kit
For professional welders
Fully loaded, and fully customizable
1 year Miller warranty
Cons
Surface not flatExpensive
Takes 5 hours to assemble
Specifications
Type: Fixed table
Material: Steel
Material Thickness: 3/8″
Tabletop Style: Solid, X-Pattern
Dimensions (LxW): 29″ x 58″
Height: 35″ Adjustable
Load Capacity: 1000 lbs
Net Weight: 318 lbs
2. Klutch Steel Welding Table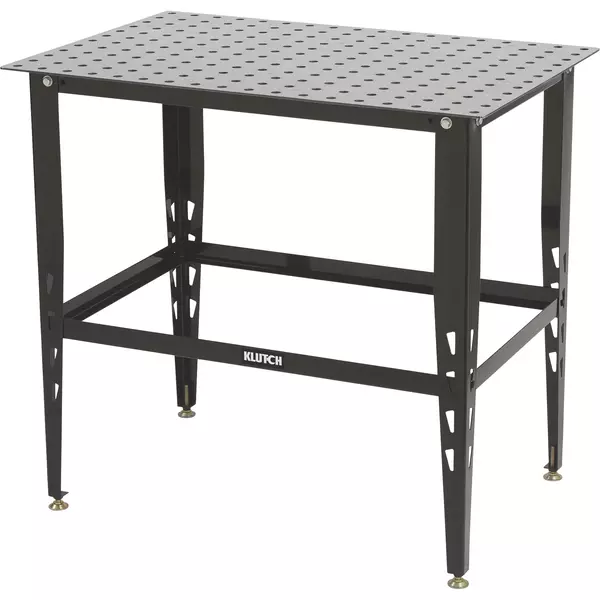 The Klutch steel work table is an exceptional product as it represents great value for money. It is small but is able to help you complete various welding projects that you have in store.
The worktop dimensions are 36 x 24 inches and have a 4mm thick surface. The max load is 600lb, making it more solid than a foldable table. The highest is not adjustable but the legs do have adjustable leveling feet.
The surface has several 16mm holes spaced at 2 inches apart.
The holes allow you to fix any piece of sheet metal firmly into the desired position. The Klutch table also includes a 24 piece kit in which you will find 4 stop bases with stop plates, 4 threaded adapters, 8 V-blocks, 4 magnetic rests, and 4 magnetic rests.
It is a quality table with plenty of amenities that enable you to work on any project and can be perfect feet if you are able to go past the absence of height adjustability.
Pros & Cons Summarized
Pros
Sturdy and quality built
Great value for money
Flat, fixed surface
24 pcs. toolkit included
Easy to assemble
Best for DIY and beginners
Cons
Heavy fixed table
Low quality toolkit included
Specifications
Type: Fixed table
Material: Steel
Metal Fit-up Kit: 24 pcs
Holes: 16 mm, 2″ apart
Tabletop Style: Modular
Dimensions (LxW): 36″ x 24″
Height: 34″ Fixed
Load Capacity: 600 lbs
Net Weight: 72.6 lbs
3. Strong Hand Tools FixturePoint Table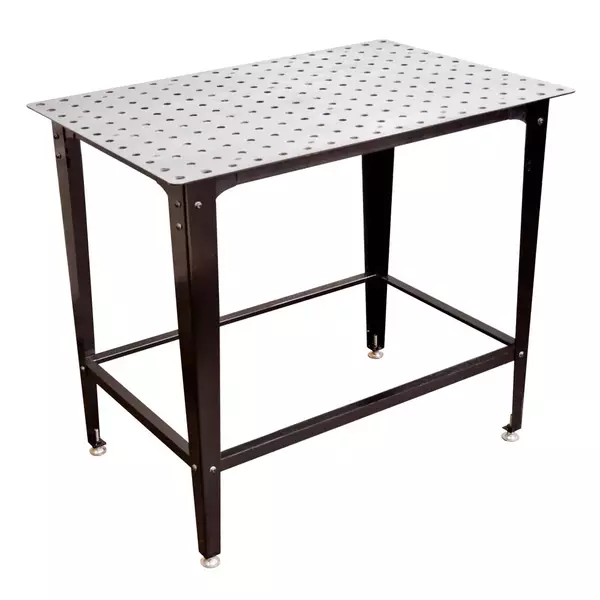 The Strong Hand FixturePoint table is perfect for a small shop and can be easily put together. Even though it is small, it is pretty sturdy with a load capacity of 500lb, a 4mm thick top, and an overall weight of 85lbs. It is 34 inches high, but can only be used as a tabletop at 34 inches high.
The top has many 16mm holes and the holes are spaced on a 2"x2" grid pattern. It also has a 28-piece component package where you can easily fit all of your hand tools and the metal piece in place.
Unfortunately, this model also comes a bit on the expensive side, so it might not fit in every welders' price range.
The best part of it is the clamping fixtures for working with MRO parts. Investing a little bit of more money into this kind of table might prove to be favorable in the long run.
Pros & Cons Summarized
Pros
Sturdy and quality built
24 pcs. toolkit included
Easy to assemble
Best for light projects
Cons
Specifications
Type: Fixed table
Material: Alloy steel
Metal Fit-up Kit: 24 pcs
Holes: 16 mm, 2″ apart
Tabletop Style: Modular
Dimensions (LxW): 36″ x 24″
Height: 34″ Fixed
Load Capacity: 600 lbs
Net Weight: 82 lbs
Welding Table Buying Guide
An important welding project will require a sturdy surface to work on, which only a good welding table can provide.
But in order to choose the best table to hold the metal piece that you plan to work on, a buyer has to think about several things before getting one.
Construction Quality
When considering the construction quality of a table you have to think about safety, durability, quality of material, and overall performance. It is always best to choose a table that is made out of quality and strong materials, like steel for instance. Also, never compromise on quality to save on costs.
Better quality also means a larger lifespan. You don't want a table that will go to waste fast, no matter if it costs you a bit more. It works even better if the table can be easily assembled and possesses user-friendly operations.
Materials
Choosing the right materials improves the safety and quality of the products you are welding. Steel welding tables work the beast because they can endure the damage create by heat and sparks. A wooden table simply won't do as it poses a fire hazard with no heat reduction.
Portability
Portability is important depending on the work you are going to do. If you are doing a lot of heavy-duty projects, then a big, fixed table is the one to go with.
However, if you plan to do a lot of outfield work or simply want more space in your garage, a carbon steel foldable table is the way to go.
A welding table that allows more portability can be carried wherever you need it.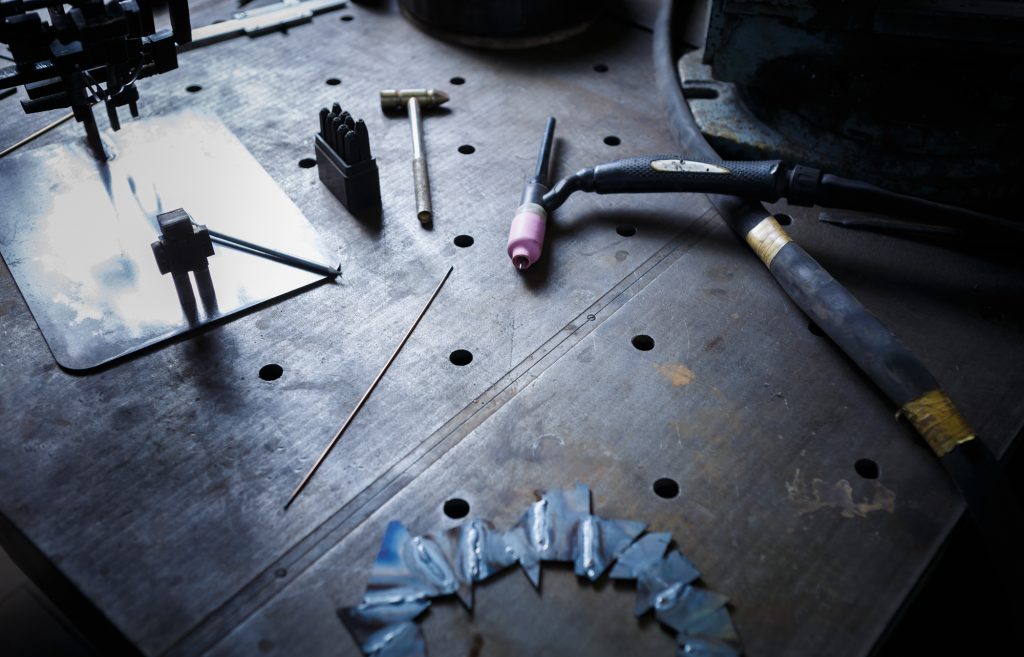 Additionally, you can fold it up and hang it on the wall of your workshop allowing you to have more free space.
Size
The table size definitely matters depending on the difficulty and volume of the project you are doing. A welding table can range from 30″ square surface area to well off over 100″. These are also a bit taller than your regular table and can range anywhere between 25″ and 40″ tall. The best ones are adjustable.
Weight
Weight is important whether you are using a fixed or a portable table, but for different reasons. If you are using a fixed table, a heavier one is a lot better option as it allows stability. Some welders prefer anchoring a table down to prevent it from moving.
However, if you are required to move about then a lightweight portable table is a far better choice. A table that you need to move is going to be a lot suitable for welding projects done outdoors.
Motion Variation
A table with 360-degree movement allows for more flexibility. That way you can weld a work piece at a good table angle. You can secure workpieces with the help of X-pattern or horizontal clamping slots or corner clamps. This way, you are not going to be limited and can work from any position.
With optimal motion variation, you will be able to work on several joint types without issues, including cross joints and edge joints.
Load Capacity
Weight-bearing capacity will depend on the type of work you are going to do. Light-duty and medium-duty welding tasks do not require high load capacity so a welding table that supports between 300 – 500 pounds is more than enough.
However, if your work involves a heavy-duty industrial type of work, then a table that has a load capacity of 1,000 pounds or more is suitable.
Accessories
Welding tables with added accessories can greatly improve your work. However, if you find some that have holes in them, this means that you will have to provide the accessories by yourself and buy them. But the ones that come with C-clamps are a much better value for money as you don't have to spend additionally.
Some accessories that welding tables come with are angled braces, corner joints, trays used to catch debris, angle iron, a welding gun holder, guide rails, a welding screen, etc. There are actually plenty more useful ones available.
Price
When it comes to the price of a welding table, it is quite natural that the pricier ones are going to last longer. They have better-built quality and are meant to take up more work than others. Also, they could be easily fixed if something breaks.
On the other hand, cheaper options are necessary. We can't say that some aren't good but the quality cannot be matched. A cheaper table will not last as long as a pricier one and may not be fixed if something breaks.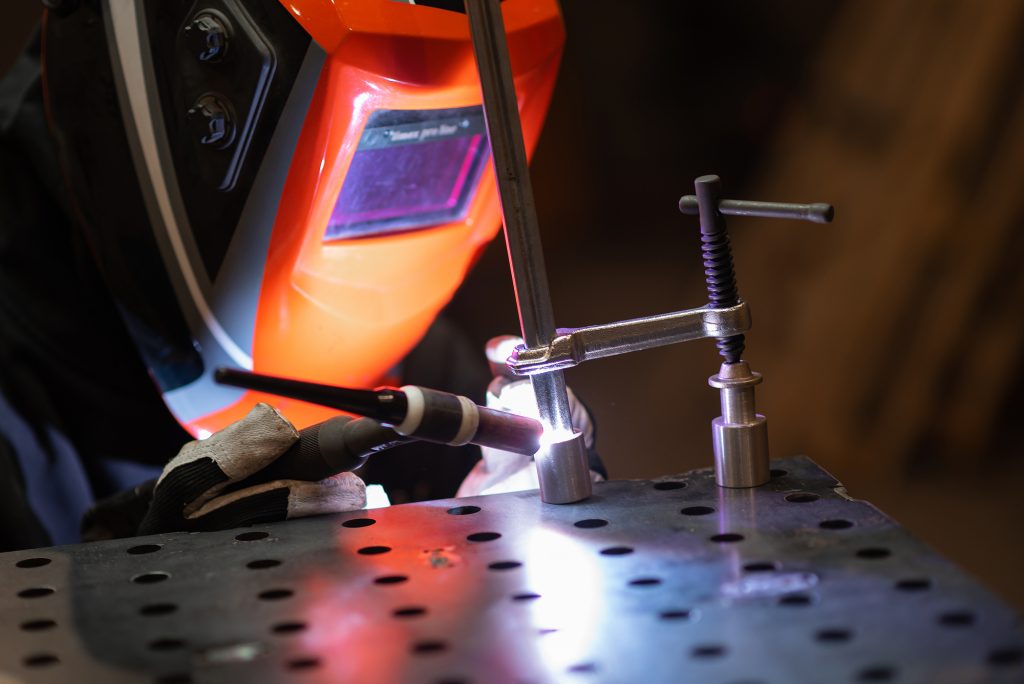 All in all, it still depends on your budget, but if you want to save money in the long run, it is quite okay to invest some more money in your new table.
Frequently Asked Questions [F.A.Q]
What are the uses of welding tables?
A welding table's main purpose is to provide a worker with a stable and solid workspace where they can weld
How do you prevent the welding table from rusting?
It is best to opt for a corrosion-resistant worktop when buying a table, but you can also use a non-aerosol Trigger Pro spray bottle to prevent corrosion.