When you're doing a full-scale auto restoration or looking for an all-in-one machine for your shop, a multipurpose welder might be the best choice.
However, many welders are skeptical when looking into a multi-process machine since they are usually one welding process favorited.
But, that's not the case with the latest and improved Eastwood Elite MP250i. Instead, elite MP250i is an all-around machine that performs well whether MIG, DC TIG, or Stick arc welding.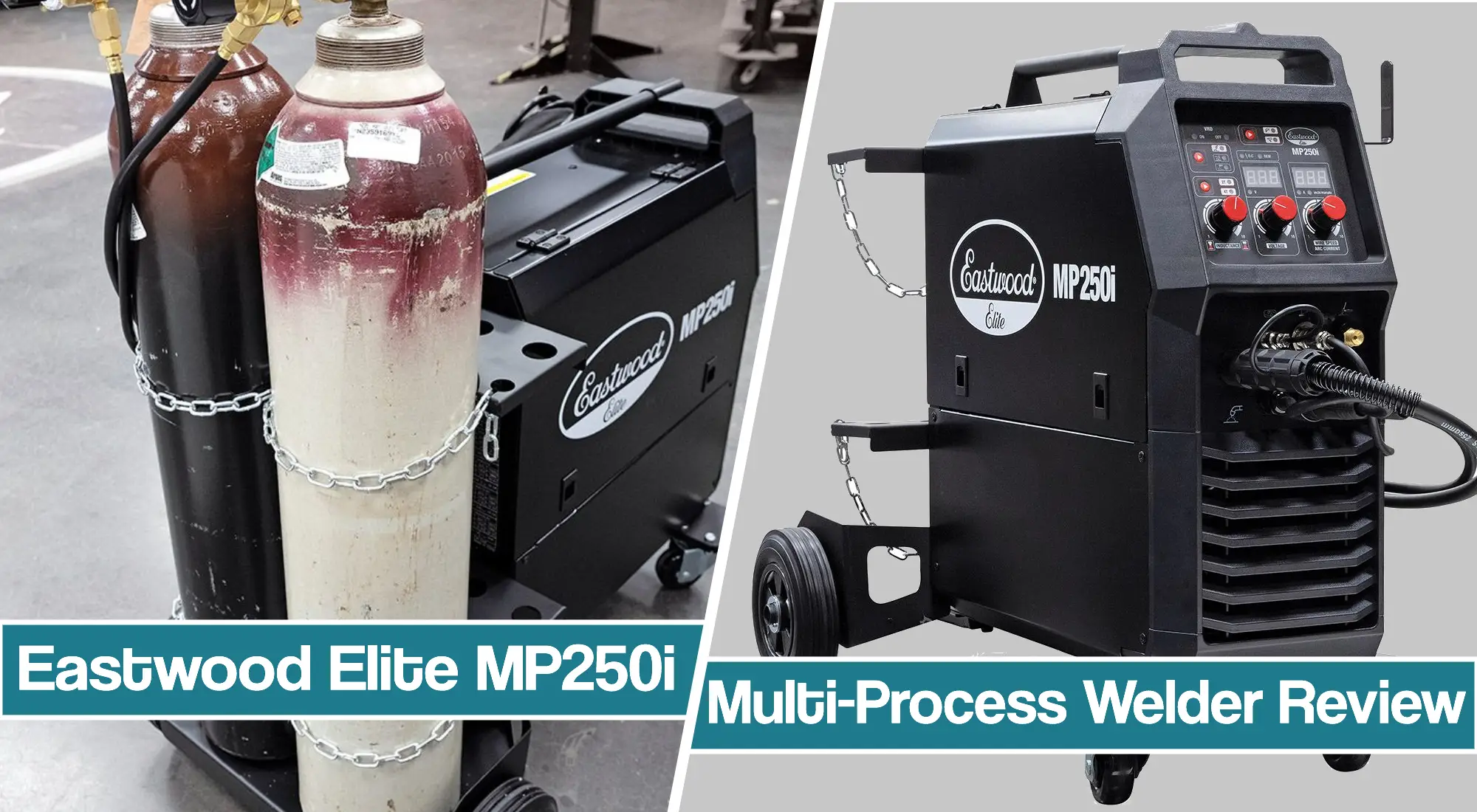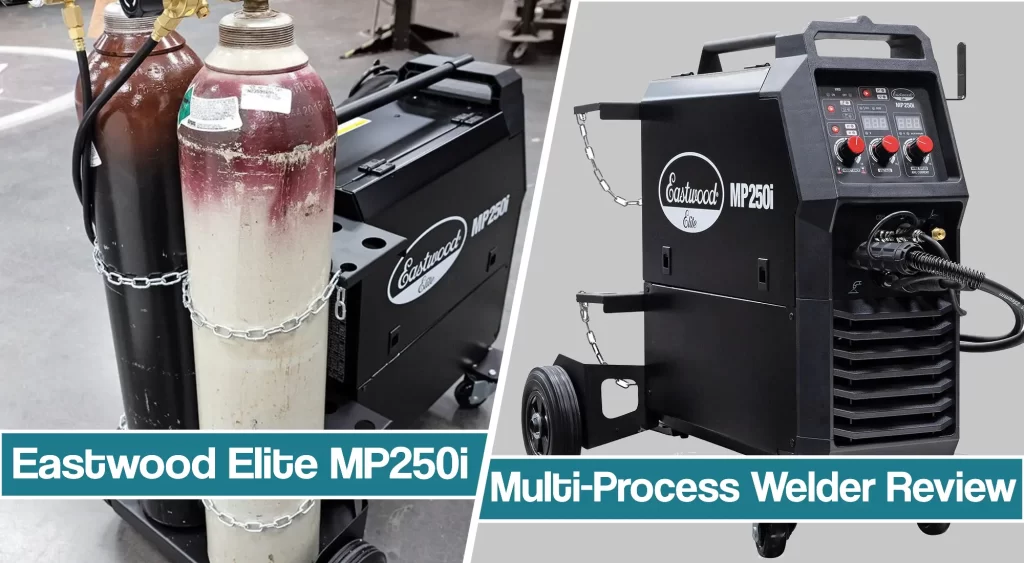 If you think my claims are biased, look at this Eastwood Elite MP250i review, clarifying the build, controls, capability, the good, and the bad.
Honest and Detailed Eastwood Elite MP250i Review
To start with this review, we will first take a look at the package content and technical specifications. You should know what you get for the money spent, which is why I highlighted it first.
In addition, as a seasoned welder, you can recognize the value just by reading package content and key specifications. But, don't worry, we will explain each asset comprehensively.
Eastwood Elite MP250i Package Content
When investing in Eastwood Elite MP250i, for the money spent, you will get:
ERGO24 MIG Torch (14.8 feet)
WP17 TIG Torch (12 feet)
300 amp Electrode Holder (14.8 feet)
300 amp Ground Cable (14.8 feet)
Adaptor Cord (24″)
TIG consumables
0.030 and 0.035 MIG tips
Gas Bottle Chains
Gas Hose
Two Standard Gas Regulators (C02, Argon)
Cable Hooks
Contact Tip Wrench
Front and Rear Caster Assemblies
Bracket to Hold Two Gas Cylinders
Foot Pedal for TIG Welding (15.9 Feet)
Instruction Manual
Looking at the package content, you notice you get everything you need to start welding straight out of the box. MIG gun and Electrode holder are comfortable and durable, but the pleasant surprise is TIG welding equipment.
Getting a TIG torch and a rocker-style foot pedal is scarce in this price range, as hobbyist multi-process machines such as YesWelder MIG205DS sell it separately. In addition, "the big three" (Lincoln, Miller, Hobart) will often include TIG accessories in a separately sold bundle.
I also have to highlight the long leads. Included torches come with 14,8 ft. long lines, meaning you don't have to move your welder occasionally.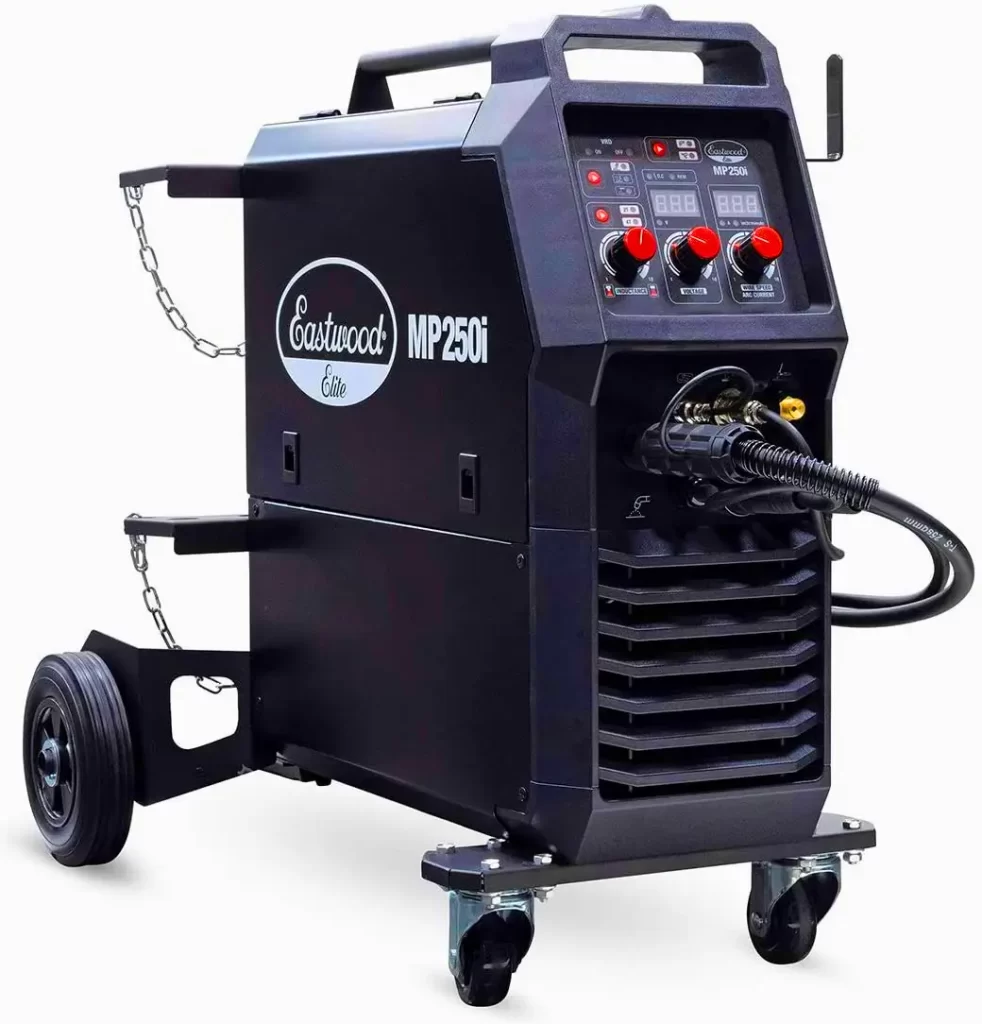 Many buyers complained in the past about Eastwood 6 ft. long power cord. So, we definitely see an improvement here
One of the things welders disliked was the standard-issued ceramic gas diffusers. Most torches include replaceable brass diffusers that are more durable. For example, you can break ceramic parts if you accidentally hit hard or drop your torch.
Remember that the older MP250i model didn't include a gas regulator. However, the package now features two shielding gas regulators, suitable for Argon and CO2.
Technical specifications
| | |
| --- | --- |
| Name: | Eastwood mp250i Multi-Process 250 Amp Welder |
| Image of a Welding Machine: | |
| Welding processes: | MIG/TIG/Stick welding |
| Power Voltage (V):  | 1 phase 240V+/-10%, 1 phase 120V+/-10% |
| Frequency (Hz): | 50/60 |
| Rated Input Current (Amps) 240V:  | MIG = 47.3, TIG = 35.7, ARC = 53.5 |
| Rated Input Current (Amps) 120V: | MIG = 42, TIG = 31.2, ARC = 51.1 |
| Output Current Adjustment (Amps) 240V:  | MIG = 50-250, TIG = 15-250, ARC = 25-250 |
| Output Current Adjustment (Amps) 120V: | MIG = 50-140, TIG = 15-140, Stick Welding= 25-140 |
| Duty Cycle:  | 60% @ 250 AMPS @240 VAC; and 60% @ 140 AMPS @120 VAC |
| Weldable Materials:  | Mild steel, Stainless steel, Aluminum |
| Wire Size: |  .030 to .045 |
| Efficiency:  | 80% |
| Wire Feed Speed (in/min):  |  78-629 |
| Post Flow Time(seconds):  | MIG 1.0+/-0.05 and TIG 5.0+/-0.5 |
| TIG Welds Starting Method: | High-Frequency Start  |
| Gas System: | Fully Independent MIG and TIG Systems |
| Gas Flowmeter:  | Brass, CO2/Argon Compatible |
| Welding Gas Bottle Capacity: | Two 80 cu ft Cylinders |
| Wire Spool Sizes: | 8 or 12-inch wire spools (44 lb. max weight) |
| Weight:  | 159.83 lbs. (72.3 kg) |
Link to the operator instructions
Input Power And Dual Voltage
Eastwood Elite MP250i is a dual voltage machine, meaning you can use both 120V/240V sources with an adapter cord to power it. Dual voltage increases the unit's versatility, as you can use it in the garage, small shop, or remote job site location.
When working with thinner metals, you can always use a 120V power supply. However, once you feel you need more power, you can plug it into a 240V power outlet and weld thicker stock.
For 120V, a minimum of a 30 amp breaker is required. When using on 240V, a minimum of a 50 amp breaker is required.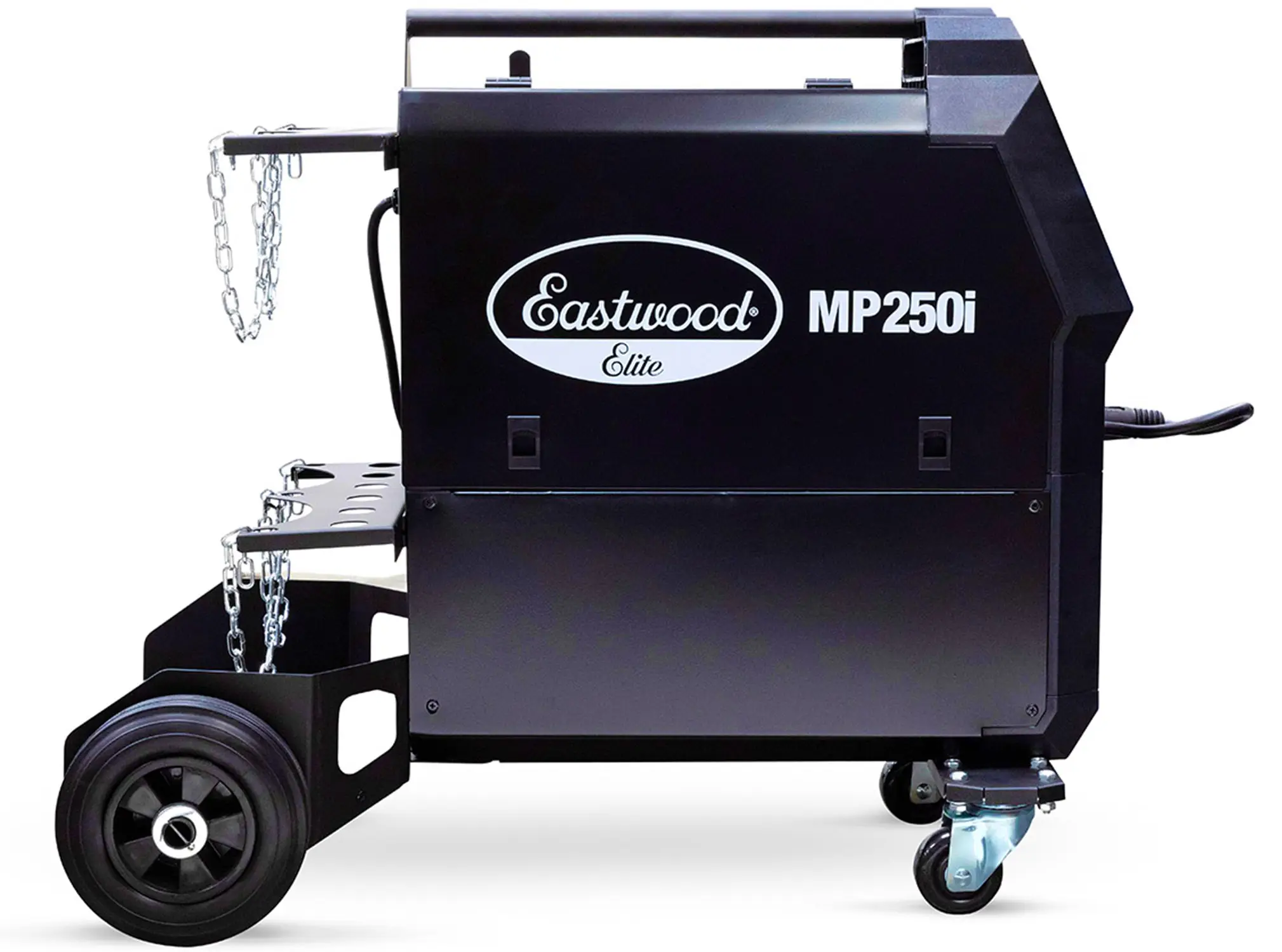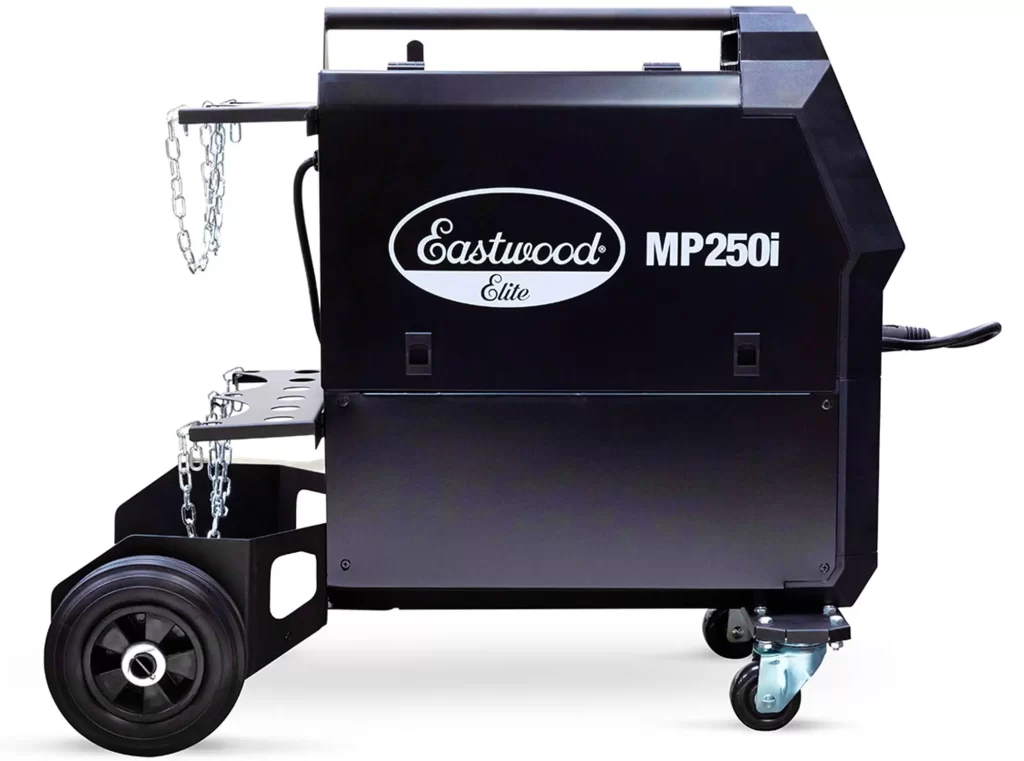 Since Elite MP250i uses a square wave inverter-based technology build, you can use a generator to power it. Manufacturers recommend a 12,000 Watt Generator to run at max capacity and a 7200 running watt to run at half capability.
Remember that Eastwood Elite MP250i utilizes DC current, meaning you cannot TIG weld aluminum. Nonetheless, AC/DC multi-process welders are rare and costly. If you genuinely need an AC/DC multi-process machine, you should consider ESAB Rebel EMP 215ic.
MIG/ARC/TIG Welding Power and Capability
With a maximum rated output of 250 amps, Elite MP250i is a real workhorse. If you are looking for full welding power, you can use MIG or Stick processes to weld up to 1/2″ inch steel plate. Meanwhile, TIG welding will help you weld chrome-moly tubing, thin sheet metal, or stainless up to 3/8 inch thick.
Even though maximum welding power is moderately weaker with TIG, a wide amperage range of 15-250 amps allows working with thinner materials.
One of the most impressive parts is a duty cycle 60% rate at 250 amps. The productivity is unmatched by allowing you to weld continuously for 6 minutes at the maximum output power.
In a nutshell, Eastwood MP250i allows you to weld body panels, roll cages, auto work, and heavy-duty fabrication.
Aluminum Welding/Spool Gun Compatability
As many wonders, can this welding machine weld aluminum? you should know Eastwood MP250i utilizes a DC current only, indicating you cannot TIG weld aluminum with it. However, this unit is spool gun-ready, meaning you can enjoy aluminum MIG welding.
With a separately sold spool gun, you can weld up to 1/4 inch thick aluminum. Unfortunately, nearly all manufacturers sell the optional spool gun independently or as a part of a more expensive bundle. So if you are looking to weld aluminum often, the spool gun will add an extra cost.
Welder Build and Wire Feeder
The first look at Eastwood MP250i multi-process welders leaves an impression of a massive, rugged, and well-constructed welding machine built to last. However, with the 159.83 lbs. this is not one of the most lightweight units on the market.
Luckily Eastwood brand improved the portability by adding heavy-duty wheels and carters. Wheels will allow you to move around the shop quickly, but it doesn't end there.
Eastwood company designed two independent shielding gas mechanisms for MIG and TIG.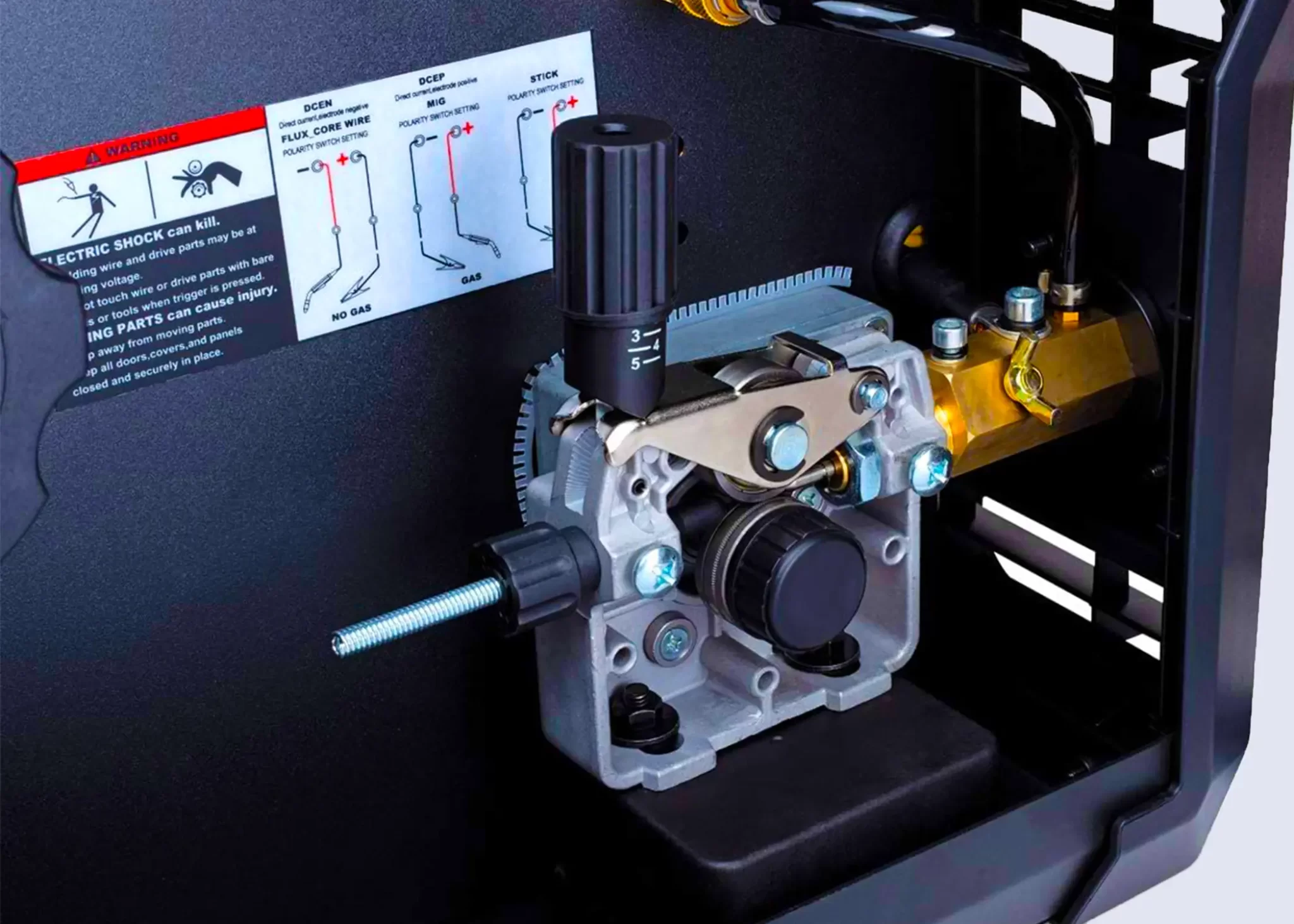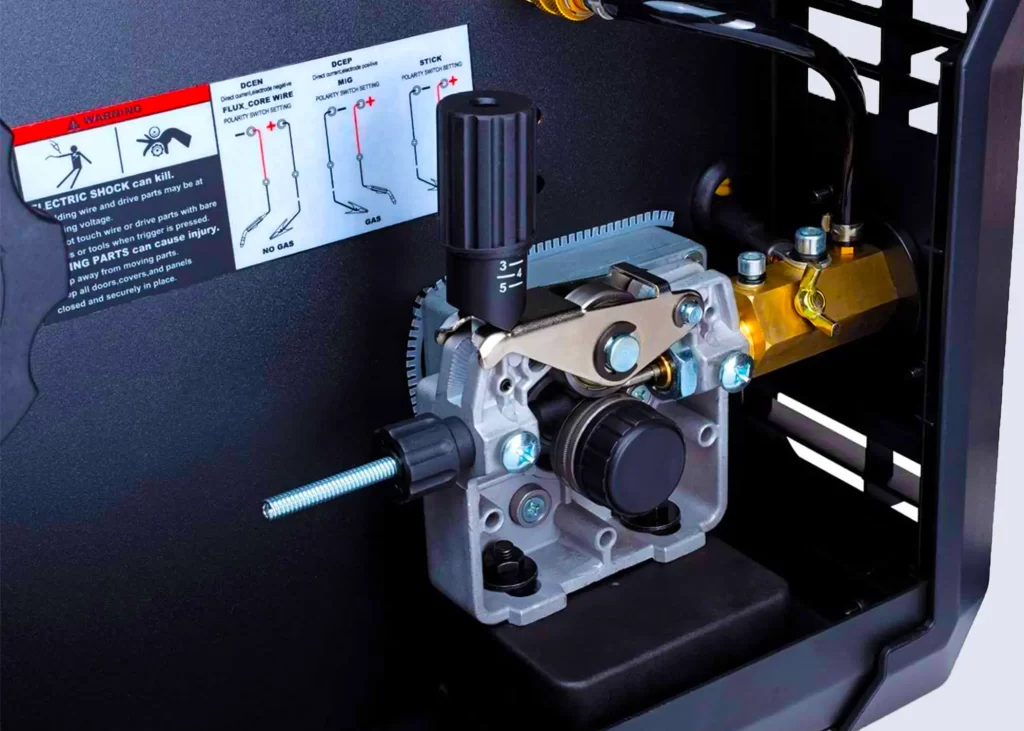 That's why you don't need to swap the regulators when changing a process. And yes, you get two gas regulators as part of the package. Build incorporated transfer storage space for two separate gas bottles for MIG and TIG welding. In addition, you get the equipment to chain the cylinders to transfer them around the workshop safely.
Two hooks for hanging cables that are included will help you deal with cable management. All the features will help you transport your welder, shield gas cylinders, and lines around with ease, even though you are dealing with a gigantic unit.
Wire Feed Mechanism
Eastwood MP250i welder features a heavy-duty, dual-roll wire feed mechanism. In addition, two built-in tensioners will allow you to set the perfectly smooth wire feed.
However, there are a couple of things you should know:
Due to long MIG torch leads, this welder doesn't support MIG wires less than .030 inch diameter.
Spool sizes are limited to 8 or 12 inches.
The welder will sustain up to 44 lbs of wire.
So as versatile as it is, it seems like the Eastwood MP250i is designed to tackle more intense and challenging projects. However, if your work includes medium to light-duty welding tasks, you can consider Eastwood Elite MP200i.
In addition, Eastwood does not provide knurled roller specialized for flux-core welding. Nonetheless, many that tried MP250i claim soft flux-cored wire feed is unaffected by grooved rollers.
Welder Settings
The control panel of the Eastwood MP250i welder seems like the perfect mix of simplistic design with enough settings.
For example, you can adjust voltage, wire feed speed, and inductance or choose between 2T/4T mode or given process and torch.
Besides the standard controls, you can use an inductance setting to opt for more penetration or choose a broader and flat bead.
In addition, the 2T/4T mode will help you reduce hand fatigue when dealing with longer beads.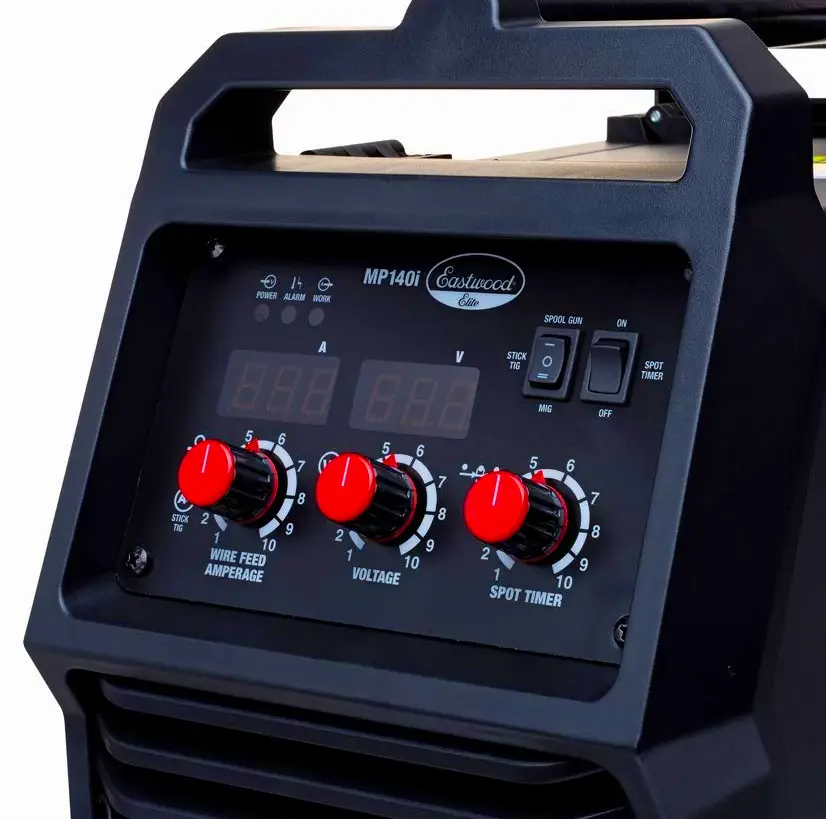 One of the things I liked was a high-frequency DC TIG start. The older model featured a scratch start, which didn't perform well when cleanness was crucial.
In addition, the latest model comes with a rocker-style pedal that helps you fine-tune the amperage when TIG welding. However, there is no torch trigger control, so you will have to deal with a foot pedal.
If you are an absolute beginner, a welding chart will help you get the basic settings up and running. And trust me, overall setting the welding machine is a piece of cake.
Price and Value
Eastwood Elite MP250i's affordable price ranks it somewhat in the moderate price range. The unit is significantly cheaper than Miller Multimatic 250 and slightly less pricey than Hobart Multihandler 200 or Lincoln PowerMIG MP. However, the value you get for the money spent is excellent.
On the other hand, this unit might be pricier than some same price budget multi-process welders such as YesWelder MIG 270K, or MP200. In addition, other welders such as YesWelder MP200 even offer a plasma cutting option. There are more multiprocess welding machines in this article that we made not long ago. If this Eastwood welder turns out to be not what you were looking for you can check some of these.
Welder Protection And Safety
Eastwood welders and internal components are protected by a standard 3-year warranty and 90-days return policy. So you can always try Eastwood Elite MP250i and find out if it suits your needs.
Reading the reviews, welders complimented the technical support. There are very few cases where the welding machine malfunctioned straight out of the box, but the replacement was sent immediately.
In addition to safety measures, there is a voltage reduction device (VDR) you can switch on. The device lowers the welder's open-circuit voltage (OCV) to prevent electric shock from welding current when changing an electrode.