Multi-process welders are great machines for occasional welders, welding enthusiasts, or DIYers, as you can do anything at home.
YesWelder stepped up the game by making MP200, a 5 in 1 welder that combines the four most popular welding processes, and plasma cutter, into one lightweight and portable machine.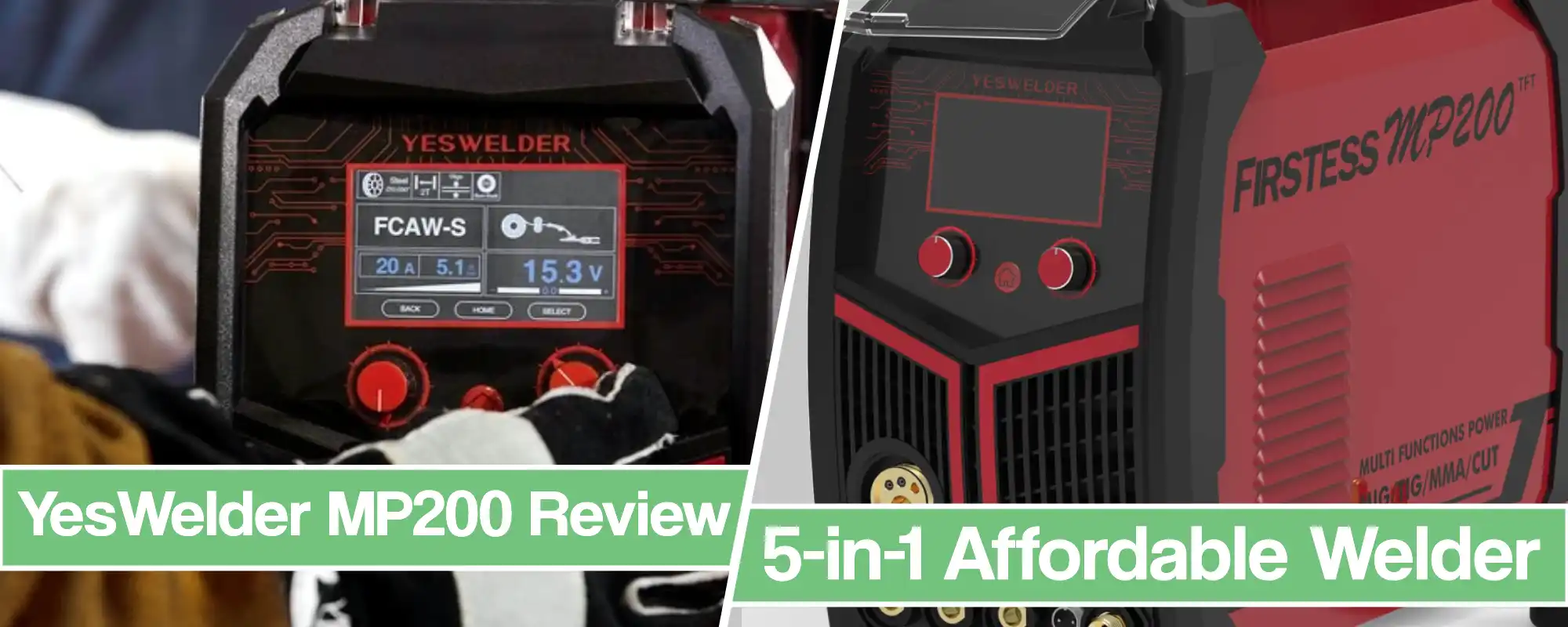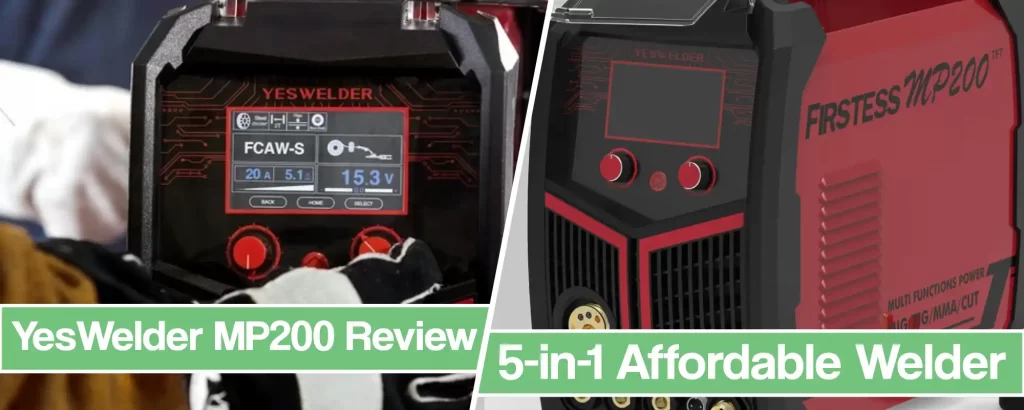 YesWelder stepped up the game by making MP200, a 5 in 1 welder that combines the four most popular welding processes, and plasma cutter, into one lightweight and portable machine. Yes, you read it right, it supports MIG, TIG, Stick, Flux Core welder, but also a Plasma cutter.
That being said, this is a perfect machine for hobbyists that have many exciting projects in mind, as they can build them right at home.
This idea sounds great, but is the MP200 of that caliber?
You can find out in this detailed YesWelder MP200 review where we explained the build, performance, and value.
The Original Idea Behind YesWelder MP200
Looking at today's welding market, you can notice quite a few limitations. Most welders are built to handle a couple of welding processes or a single power input option. In addition, you rarely see a plasma cutter combined within the multi-process welder.
One of the great things YesWelder does well is that company recognizes the modern market needs. They don't claim to be the best at anything, yet they make pretty decent and functional machines that suit hobbyists and small shop owners.
So, the original idea behind the YesWelder MP200 is to get the best value out of one machine. That means you save your money, patience, and shelf space, and yet, you get a capable device.
What Do You Get For The Money Spent?
To help you start welding straight out of the box, YesWelder makes sure they pack everything you need. The torches and consumables are pretty average but offer great value.
You can see a description of the primary package content below, and more about the machine in the rest of the YesWelder MP200 review.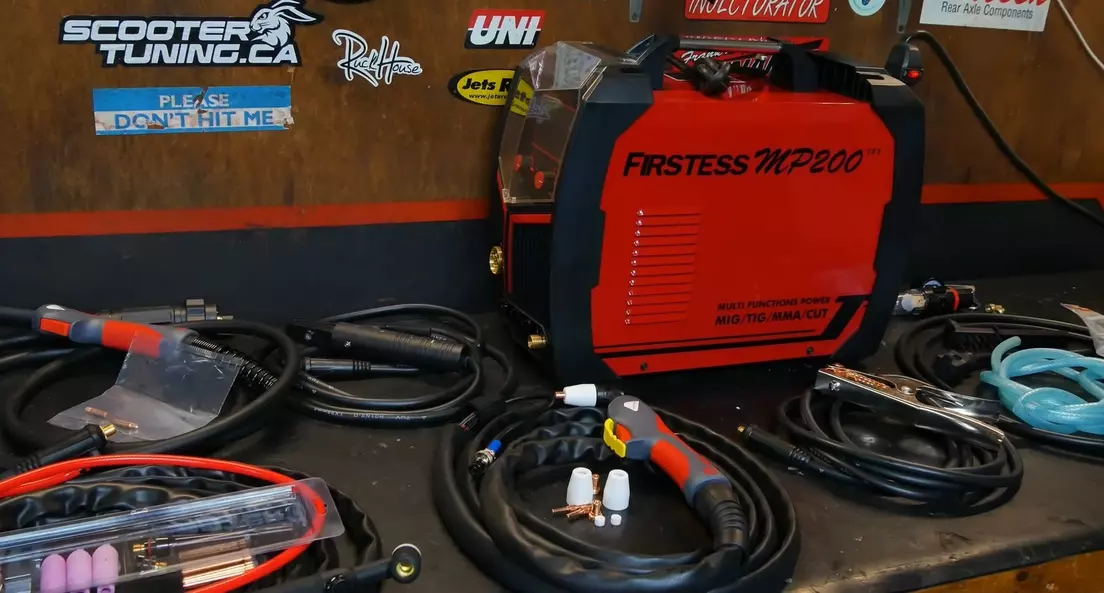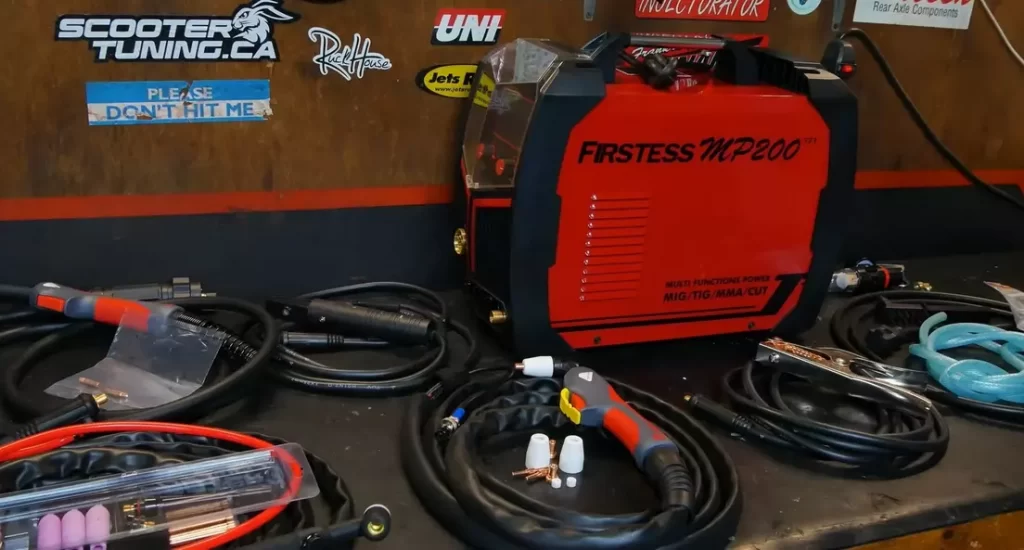 220/110V Power Adapter
10 ft Ground Clamp and Cable
Brush
10f t YesWelder L150-10E MIG torch
8 ft. Gas Hose with 5/8″ "-18 Connector
8 ft. Air hose
0.030″ and 0.035″ W-grove Roller for Solid and Flux Core Wire
13 ft. WP-17V TIG Torch
10 ft. Electrode Holder & cable
13 ft. PT31 Cutting Torch
Air Filter
Specifications
Welding Process:
MIG, Flux Core, Stick DC TIG, Plasma Cutting
Rated power input:
110/220V +- 10% 50/60 Hz
Phase:
Single Phase
Current:
DC
No Load Voltage:
MIG/FC/Stick/TIG 72V;
Plasma 252V
Output Current Adjustment Range 110V:
MIG/FC/Stick/TIG 20-160A,
Plasma 20-30A
Output Current Adjustment Range 220V:
MIG/FC/Stick/TIG 20-200A,
Plasma 20-40A
Rated Duty Cycle:
60% at 68F,
25% at 104F
Wire Feeder Type:
Internal Feeder
Wire Feed Speed:
Approx. 2.2 yd/min – 16.4 yd/min
Recommended Wire Diameter:
Solid (MIG) Wire: .030″/.035″ (0.8/0.9mm)
Flux (FCAW) Wire: .030″/.035″(0.8/0.9mm)
MMA Electrode: 3/32",1/8 ,5/32", (2.4-4.0mm)
Tungsten: .039″ – .093″(1.0 – 2.4 mm)
Recommended Welding thickness:
MIG 0.031" -.27";
TIG 0.031"- 0.098",
MMA 0.059" – 0.19"
Recommended Cutting Thickness:
Max Severance Thickness 0.5" @ 220V,
Max Rated Clean Cut: 0.27″
Dimensions:
18.89×8.26×14.76 inches
Weight:
25 lbs.
Warranty:
1 year
Get 10% Off With Coupon: "-10% WELDPROS"
YesWelder MP200 Build, Features, and a Realistic review
The first thing you notice when looking at the YesWelder MP200 is a sturdy case. You get the feeling the MP200 is built to last. In addition, the red case makes the welder stand out from the crowd, as the rest YesWelder units are blue.
The dimensions of the machine itself are 18.89×8.26×14.76 inches, so it is not the most compact one.
Still, it weighs only 25 lbs, making it lighter than Eastwood MP200i with 34 pounds, Lincoln PowerMIG 200 MP with 40 lbs, and Hobart Multi-Handler 200 with 38.4 lbs.
In addition, there is a built-in handle, so you can move it quickly around your workshop or carry it outside.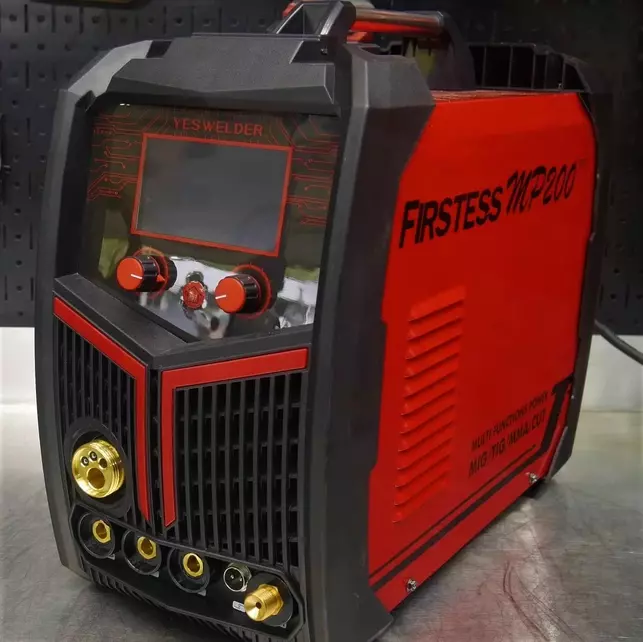 Sturdy build and steel unibody construction are tough enough to withstand bumps, hits, flying debris, or accidental drop. Nevertheless, considering 1 – year warranty, I don't recommend you test it.
The MP200 features an efficient, high-frequency transformer that ensures a stable current. That means your arc will remain stable, weld clean, and bead smooth. In addition, you can use either a 110V or 220V outlet to power it.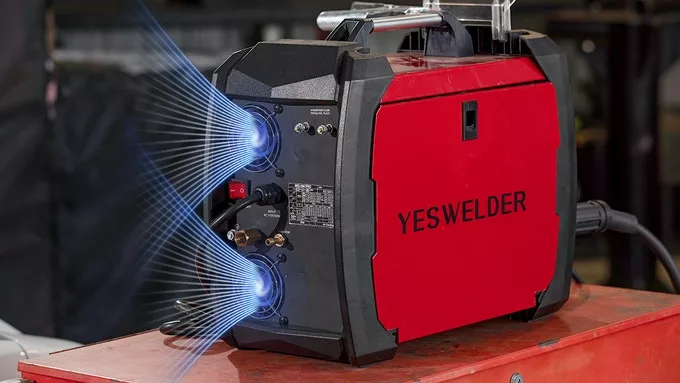 To boost productivity and make sure MP200 doesn't overheat, YesWelder built two high-speed, seven-leaf fans. They suck in the air and make sure all to components are cool enough.
Fans run silently sufficient, but you might have to get used to the sound since there are two. You usually find a dual-fan cooling system in more expensive units, such as Lincoln PowerMIG 210 MP.
Control Panel
YesWelder MP200 is equipped with an intuitive 4.3″ high-pixel display. The screen is bright, colorful, and big enough but still easy to understand and use, even if you are a beginner. Many modern-day machines feature a digital display, such as Miller, Hobart, and Lincoln welders. Still, you don't find them in budget machines such as Eastwood MP200i or Everlast MTS200si.
Besides the display, the control panel features two dials and a home button. That's it! The board reminds me of the control panel of the Hobart Multi-handler 200, while I find it much easier to use than Everlast PowerMTS 211SI.
Once you turn on a machine, there is an engaging YesWelder animation. Afterward, you can select your process.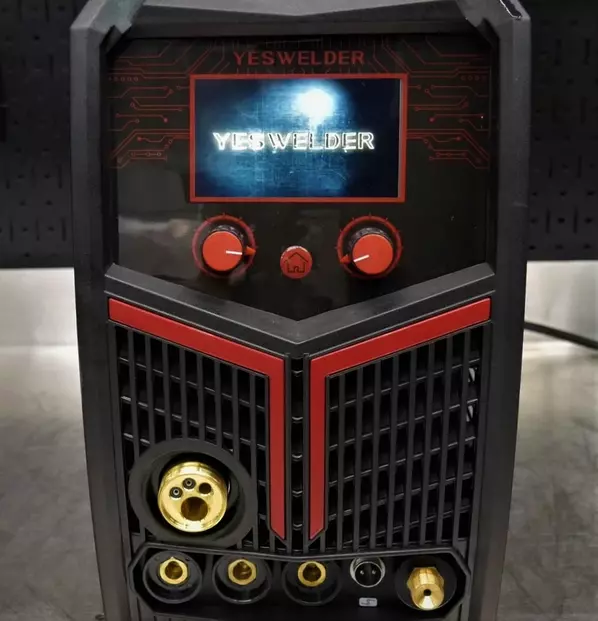 All the images are intuitive and easy to recognize; you need to turn to the knob and select the right one.
Some additional options vary depending on the process. For example, you can input the MIG wire type, electrode size, shielding gas choice, material thickness, and many more.
The MP200 will display both imperial and metric units, making it easy to use for the welder worldwide. In addition, the display will recommend the clamp polarity for the selected process, so you need to change the plug.
I am aware digital display can be a liability in busy workshops whit sparks and debris flying around. Luckily, like some other YesWelder machines, such as 250DS, or TIG-250P, MP200 features plastic control panel protection.
So you can clip it to make sure your display and knobs are well protected. Still, if you change your settings occasionally, you might want to take the protection off since lifting it can take your valuable time.
Welder Settings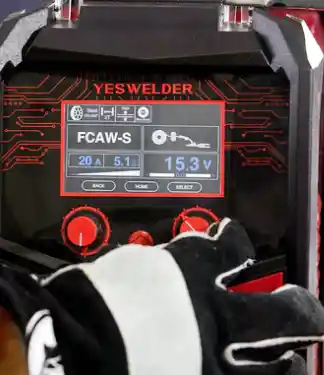 In my opinion, the MP200 is maybe one of the most user-friendly welders YesWelder has built. You need to input the material thickness and shielding gas type, and the machine will do the rest.
You can find a similar feature in a couple of times more expensive Miller Multimatic 210. In addition, synergic settings will adjust the suggested current and voltage, making it the perfect guide for beginners.
If you are an experienced welder, you might feel that recommended settings are maybe a bit hot or cold. Nevertheless, you can override the default current and voltage settings and make the adjustments manually. Manual adjustments are perfect for welders who like to fine-tune their machines to ensure the ideal bead quality.
One of the features you don't usually see on hobbyist machines is the Memory mode. If you spent ages perfectly adjusting your voltage and current for the given material, with MP200, you could store up to 10 memory settings. So next time you turn on the machine, you won't have to spend your precious time remembering the parameters. Instead, tap the dial, and you are ready to weld.
Drive Mechanism
YesWelder made the access to a wiring compartment easy enough, as the door will open quickly. Since the welder features smart settings, there is no side door chart as you find at Eastwood MP200i.
The MP200 drive mechanism is pretty typical and durable, as the one you see at YesWelder 205DS. I've never had problems with the feed regarding the mechanism in the past. You can run two up to ten-pound spools, meaning you can use almost any size you want.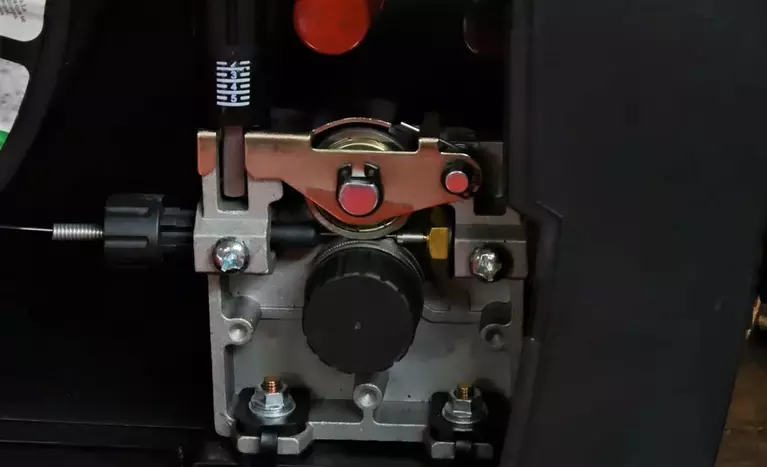 There is a marked, spring-loaded tension adjustment knob that is easy to read. However, once you decide to change the wire type from solid to flux-cored or wire size, you must change the roller. Luckily, the package includes both solid and knurled aluminum rollers. Both rollers are precisely marked and capable of running 0.030″ and 0.035″ wires.
Keep in mind that some other hobbyist multi-process units, such as Hobart Multi-handler 200, feature a single Quick Select drive roll capable of running both solid and flux-cored wire. On the other hand, other budget units such as Eastwood MP200i and Everlast Power MTS200SI provide smaller rollers capable of running 0.023″-0.030″ wire, while Everlast doesn't offer a separate flux core wire roller.
YesWelder MP200 Welding and Cutting Capability
It seems like the YesWelder MP200 is one of the most versatile multi-process welders, designed for home DIY, small shops, or maintenance projects.
Even though the idea sounds great, you have to wonder, is it capable enough? To answer this, I'll go through each process separately to explain the capability closely.
MIG Welding
MIG welding is one of the most popular processes among beginners, welding enthusiasts, and DIY lovers. YesWelder recognized this and made a simple MIG welding even more effortless by introducing the synergic control mechanism.
You get a pretty decent but comfortable YesWelder, kind of a Tweco style MIG torch, with a couple of extra tips to start welding. Torch is rated at 150 amps, and there is a Euro connector that holds pretty tightly.
Once you are ready to MIG weld, you simply have to choose the shielding gas, size, and type of your MIG wire, 2T/4T mode, and burn back. After that, the rest is up to a machine. Still, you can tweak the recommended settings if you feel the weld is too hot or cold.
As for the capability, YesWelder MP200 has a max MIG input current of 45A @110V and 29A @ 220V. You can achieve 20-160A output at 110v and 20-200A output at 220V and adjust it from 15-22V and 15-24V. That means you can MIG weld 0.031"-0.27" thick materials.
Keep in mind that YesWelder MP200 is not spool gun ready. In addition, wire feed speed is not high enough to ensure smooth aluminum wire feed, meaning you cannot MIG weld aluminum. You can notice the same problem with YesWelder MIG-200DS, while YesWelder improved it with MIG-250 PRO.
On the other hand, most popular multi-process welders, such as Hobart Multi-handler 200, Lincoln PowerMIG 210MP, Eastwood MP200i, or Everlast MTS211SI, are spool-gun ready. So even though you have to buy a spool gun separately, you can still weld aluminum.
Flux Core Welding
If you choose Flux Core welding, you get the same capabilities as MIG welding but a somewhat higher power. Keep in mind that a smooth roller is not capable of guaranteeing the stable flux-cored wire feed. Instead, you will have to use a W-grooved, also known as a knurled roller which, fortunately, is supplied.
Once you are ready to Flux core weld, you have to select the size and type of your wire, opt for a 4T mode if you plan to use longer welds, include the metal thickness and optional burn back. The welder will estimate the recommended settings, but you can still fine-tune the voltage and current manually.
In addition, to swap between MIG and Flux Core welding, you will have to switch polarity. Many more modern machines offer front panel polarity settings, but with YesWelder MP200, you will have to open the wiring compartment. Nevertheless, changing polarity is simple as you can do it in seconds.
MMA/Stick Welding
When choosing a Stick welding, you should know that the MP200 can run 6010 rods, which will help you finish your DIY projects, regardless of conditions and without shielding gas. To start Stick welding, you get a rather fair-quality electrode holder that feels sturdy. Spring will hold the electrode tightly so that you can focus on your welding.
Before you start, you can select the rod type, either 60xx or 70xx series, and the diameter of the rod and the machine will give you the recommendations.
When choosing Stick, the maximum current input goes up to 45A @ 110V and 29A @ 220V. So you can adjust output current from 20-160A at 110V and 20-200A at 220V, with voltage adjustment of 20.8 V to 26.4 V, and 20.8V up to 28 V. That means you can Stick weld materials ranging from 0.059" up to 0.19" thick.
TIG Welding
The MP200 is equipped with a lift start to help you reduce the spatter. Still, this is a DC-only unit, meaning you cannot TIG weld aluminum with it. On the other hand, most multi-process welders are DC-only machines. You find AC TIG at ESAB Rebel EMP 205ic, which is three times more costly machine than YesWelder MP200.
Nevertheless, you get a decent quality 13 ft. WP-17V TIG Torch, with a bunch of consumables that are itself worth quite a bit. In addition, the hose is well insulated, meaning you don't have to worry about leaks. Finally, keep in mind that some multi-process welders on the markets provide TIG torches in different, more expensive bundles. That's the case with Miller Multimatic 200, Lincoln PowerMIG 200 MP, and Everlast MTS211SI.
When choosing a TIG welding, you can use a max input current of 30A at 110V or 21.6A at 220V. The unit has the same output power as the other welding processes, or 20-160A at 110v and 20-200A at 220V. That means you can TIG weld steel and stainless steel ranging from 0.031" up to 0.098" thick.
Remember that you don't have all the fancy TIG settings on the screen, as the gas is not running directly through the welder. You can only set the amperage, and you control the post-flow and pre-flow by using the TIG torch valve.
Plasma Cutting
A revolution into multi-process machines, YesWelder MP200, offers a plasma cutting option. Before you start plasma cutting, you can select the gas pre-flow and post-flow duration. In addition, if you are planning longer cuts, you can opt for a 4T mode, making sure your hand doesn't get tired from holding the trigger.
To start cutting, you get a pretty decent 13 ft. PT31 Plasma torch, which might seem a bit bulky, but it feels great in hand. In addition, there are few consumables to start cutting straight out of the box. Finally, the plasma torch is equipped with a guard to prevent accidental triggers once you put it away.
You can input a maximum current of 38.6A @ 110V and 27A @ 220V. Therefore, this welder can output 20-30A at 110V or 20-40A at 220V. Thus, the rated output voltage goes from 88-92V to 88-96V.
YesWelder MP200 offers a maximum severance thickness of 0.5" at 220V or 0.31" at 110V and total output power. In addition, maximum clean cut thickness is rated at 0.27" at 220V or 0.19" at 110V at maximum output power.
Still, the plasma cutting arc might be inconsistent at 110V input. YesWelder confirmed the statement, and they are currently working on resolving the issue. Nevertheless, 220V plasma cutting ability is unaffected. In addition, there might be a little more dross on the cut piece than you would expect, but you can grind it off promptly.
Moisture can kill the plasma cutter quickly, so to ensure the clean cuts, YesWelder provided an air dryer to help you keep the water out of the gas supply. You can install it easily on the back of the welder.
Welders also get air pressure gauge hose, hose clamps, hose fittings so you can install the separator smoothly, even if you are a beginner. Make sure you remove excess water before you start plasma cutting.
---
So, in a nutshell, this is a pretty decent machine capable of welding and cutting various metal thicknesses. You get great value out of this all-in-one welder. Nevertheless, it won't suit the welders that like to tackle the more serious projects and thicker materials or aluminum.
YesWelder MP200 Welder Protection
YesWelder MP200 features a safer, more innovative chip than other YesWelder units. The processor is focused on safety, as well as performance. There are built-in overheat, overcurrent, and insulation protection that guards your investment.
So, once the processor detects you are surpassing the rated duty cycle, the MP200 will automatically cut off the power supply, protecting your work and keeping you safe. In addition, the same thing will happen if there is too much current. Finally, one of the great things is the insulation protection to protect electrical products from external loads caused by accidental contact, humidity, or dust.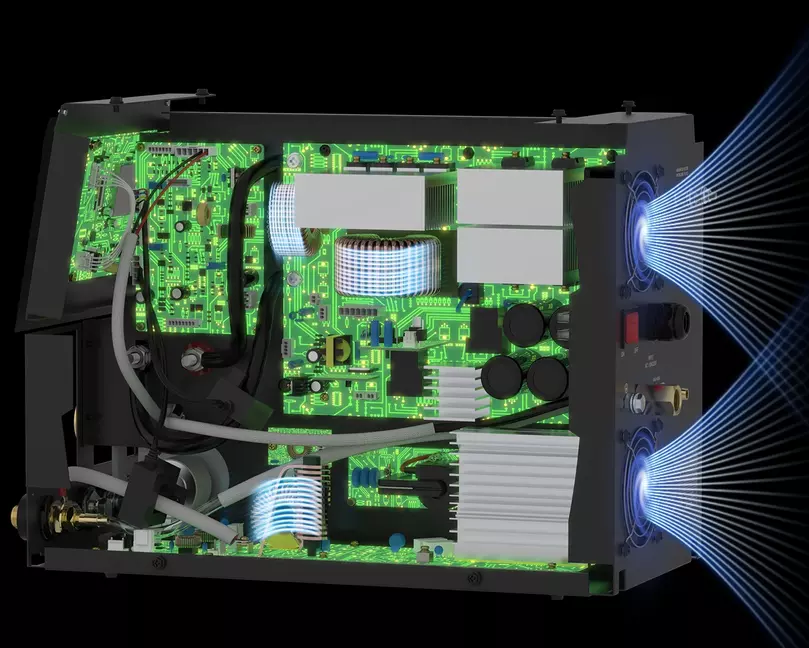 Warranty
YesWelder offers a 1-year warranty since the day you receive the device and stand-free replacement of the machine if there is any natural quality problem within that period. That's less than you would expect, as brand-name welders such as Hobart, Miller, or Lincoln usually grant a five or three-year warranty.
Nevertheless, YesWelder is well known for dedicated customer support and a pretty decent number of positive reviews. So if you run into a problem, they will work on resolving the issue. In addition, the company might even grant you a new unit if the welder malfunctions out of the box or is damaged during the transport.
Welder Price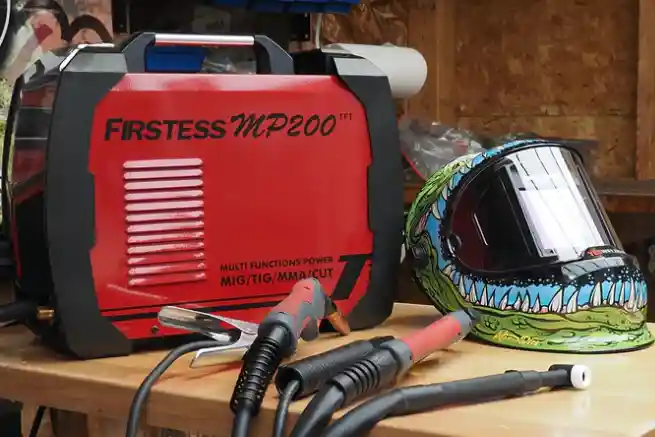 Getting the best value out of the money spent is one of the first things you should consider before buying any welder. But, when looking into a YesWelder machine, you can be sure you get the best value since the previous multi-process units, such as YesWelder MIG-205DS, were one of the best for money investments.
The early price of the YesWelder MP200 for the first Kickstarter pledges was $499.99! Yes, you heard it right! Only $500 for a 5 in 1 machine, which is pretty unbelievable. Unfortunately, there was a limited number of devices at this price.
On the other side, the current Kickstarter end deal offers the YesWelder MP200 with the accessories we described in the article for $699. In addition, you can opt for a bundle with an incredible number of MIG welding gun, TIG torch, and Plasma cutting torch consumables for $764. Finally, if you own a small business, you can buy two YesWelder MP200 machines for an incredible $1329.
The retail sale price is not yet determined, but I expect it around $1000. Remember that brand-name multi-process welders that offer the four most popular welding processes, such as Miller Multimatic 210, Lincoln PowerMIG 200MP, cost approximately $2000. On the other hand, budget multi-process welders on the market, such as Eastwood MP200i or Everlast MTS211SI, cost about $1000, but you don't get a plasma cutting option.
That's why, in my humble opinion, you can't get any more value for the money spent on the multi-process welder market at the moment.
Who Should Consider Buying a YesWelder MP200
Anyone new at welding or with a moderate need to weld in their garage or small shop should consider the YesWelder MP200 model. You are unlikely to find this much value packed in one unit.
If you are interested in doing multiple welding processes and don't want to spend a ton of money or garage space to get an individual welder for each, then you should give it a go.
Many plasma cutters on the marketplace with similar performance would cost you almost as much as the entire MP200 unit. YesWelder machines have proved reliable over the years as valuable and trusted if used correctly and in accordance with their purpose.
YesWelder MP200 5 In 1 Pros and Cons Summarized
YesWelder MP200 is a MIG, Flux Core, TIG, Stick, and Plasma cutter machine that can run both off 110V and 220V input, making it super flexible. Still, this is not a professional machine made for heavy-duty use and welding thicker materials.
The duty cycle is rated at 60%, as most multi-process machines go up to 30-40%. On the other hand, the amperage goes down to 20 amps, meaning you shouldn't weld materials thinner than 18 ga.
This is a sturdy-built yet lightweight welder, weighing only 25 lbs, making it one of the lightest units on the market.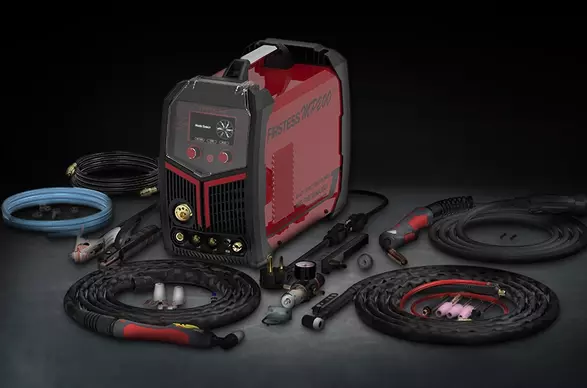 The Control panel features a large, intuitive display which is pretty straightforward, while synergic controls make it even easier to use. In addition, seasoned welders can fine-tune the machine.
You get everything you need to weld straight out of the box, including the decent but bulky MIG, TIG, and Plasma cutting torches with consumables, as well as a Stick electrode holder. Nevertheless, YesWelder MP200 is a DC-only machine that is not spool gun-ready, meaning you cannot weld aluminum by any means. Still, you will find it capable of welding various thicknesses of steel and stainless steel.
The plasma cutting option is a unique feature that might be a breakthrough on the multi-process welder market, meaning you get everything you need for your garage in a single unit. But, keep in mind that the plasma cutting arc might be inconsistent when running at 110V, and you might have to deal with slag.
Overall, YesWelder MP200 offers an excellent value for the money spent for occasional welders, small shops, hobbyists, DIY lovers, welding enthusiasts. The deal is protected by thermal, circuit, and insulation protection and a 1-year warranty.
In the past year, we have written a number of reviews on welders and plasma cutters from YesWelder. If you are still interested in this brand and wish to read them, you can find links to the rest of them here.